These gluten-free desserts will satisfy every sweet tooth! From cakes to pie, cookies to cheesecake, you'll find a delicious gluten-free recipe to make. Some of them are even better than their traditional match. Our favorites are the Gluten-Free Chocolate Chip Cookies and Peanut Butter Cup Tart. No more missing out on dessert!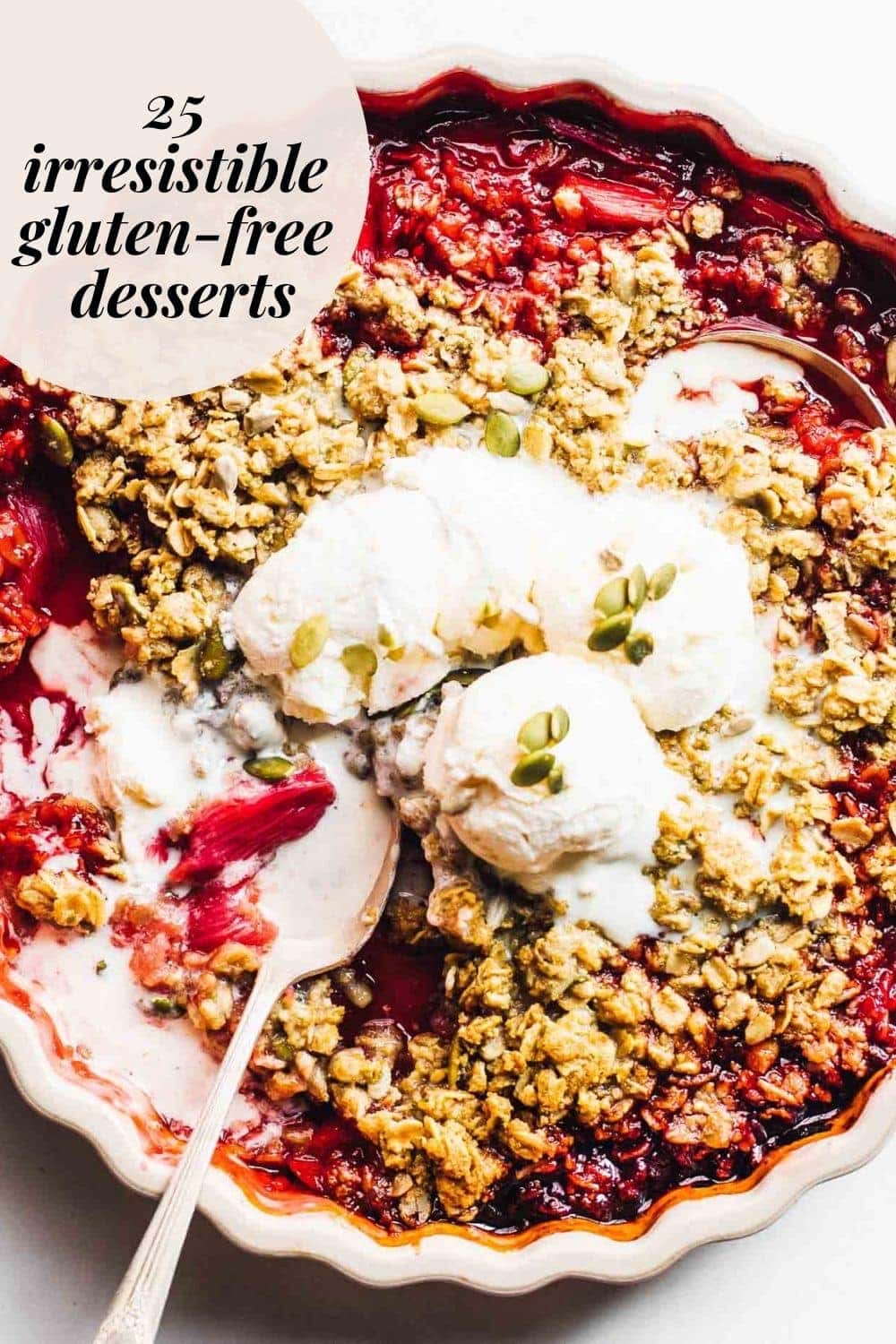 There's so much to love about these gluten-free desserts, you might not even know they're gluten-free! Some are classics with just a few ingredient swaps, some are naturally gluten-free, and others are completely unique.
A few staple ingredients are used often in gluten-free desserts, and are good to have on hand.
Gluten-Free Baking Tips:
Making gluten-free desserts isn't difficult, but there are a few things you'll want to keep in mind to make sure things turn out as expected.
Measuring your ingredients by using a digital scale instead of using cups to measure is the most accurate way to bake. The reason being that not all ingredients weigh the same amount. And because gluten free flours are particularly fine and powdery, measuring a cup of a gluten free flour by volume can vary WIDELY. Precise measurements are incredibly valuable when baking, which comes down to a lot of science and chemical reactions.
Mix dough more than you think. Yes, this is counterintuitive! With traditional baking, you're warned to not overmix otherwise goods become tough and flat. That is simply the effect of overworking gluten, but since there is not gluten in gf baking, that isn't an issue. In fact, mixing more actually helps gluten-free batter and dough have air lifted into them and it creates structure.
If your recipe is batter based, like this Gluten Free Oatmeal Raisin Cookies, let the dough/batter rest for 15-20 minutes after mixing if possible. This is because gluten-free flours and starches need more time to absorb liquid than regular flour. Your recipe will turn out with a better structure if you let the batter rest.
Below you'll find no-bake gluten-free dessert recipes too, if that's more your style!
Any of these desserts would be a great addition to birthday celebrations, the holidays, or just your every day sweets craving! And they're the perfect finish to one of these satisfying Gluten-Free Dinner recipes.