About these Coffee Chocolate Chunk Gluten Free Cookie Bars:
They're all I've ever wanted in a vanilla brownie, enrobed in a magical trio of coffee, chocolate, and pecans. Not to be outshined by brown sugar and butter, lending notes of toffee. No mixer needed. And once you've shared a pan with friends — you'll be expected to tote to every picnic, potluck, and barbecue from now on.
The tops are crackly, the crumb is soft, yet dense. Far from cake, but not as chewy as a cookie. Uniquely rich, but not too sweet.
I adapted this recipe to be gluten-free, originating from The Vanilla Bean Baking Book, by Sarah Kieffer (more about her, and the brilliant book below). It took me several tries to find success, but my gut instinct to use teff flour turned out right, it was just the ratio of starch that needed tweaking. I also wanted to make them gum-free, so initially I used a small bit of psyllium husk to act as the binder, but two important things through testing:
The regular version in Sarah's book is for a 9×13 inch pan, and calls for one egg. I wanted to make a half batch (8×8 inch pan) since it's just the two of us, but halving one egg isn't realistic. Turns out that using one egg in the half batch makes up for the loss of binding that you'd normally get from all-purpose flour. So no psyllium husk needed.
As much as you want to eat them warm from the oven, they need more time than you think to cool and relax. This allows them to sink into their best selves and cut into perfect slices. When I didn't do this, the bars shed more crumbs than I preferred.
About The Vanilla Bean Baking Book:
Minnesota may be known as the land of 10,000 lakes, but it's also home to some very talented food writers and creatives. Sarah Kieffer is one of them, the natural beauty, the baker by nature, the maker of The Vanilla Bean Blog. I love what she creates for numerous reasons. Her writing for its classical heart and soul. Her photographs for their simple, stunning beauty and emotions they evoke…..
A giant cinnamon bun that one could only be lucky enough to tear layers from. Tiny treats, with her babes tiny hands that whisper "mother."
I've gotten to know Sarah since meeting her at Zoe's house, about 5 years ago. She told me about her love for the place where she started – The Blue Heron Cafe in Winona, her quest for the perfect pie crust, and aspiration to create timeless recipes to pass on to her kids.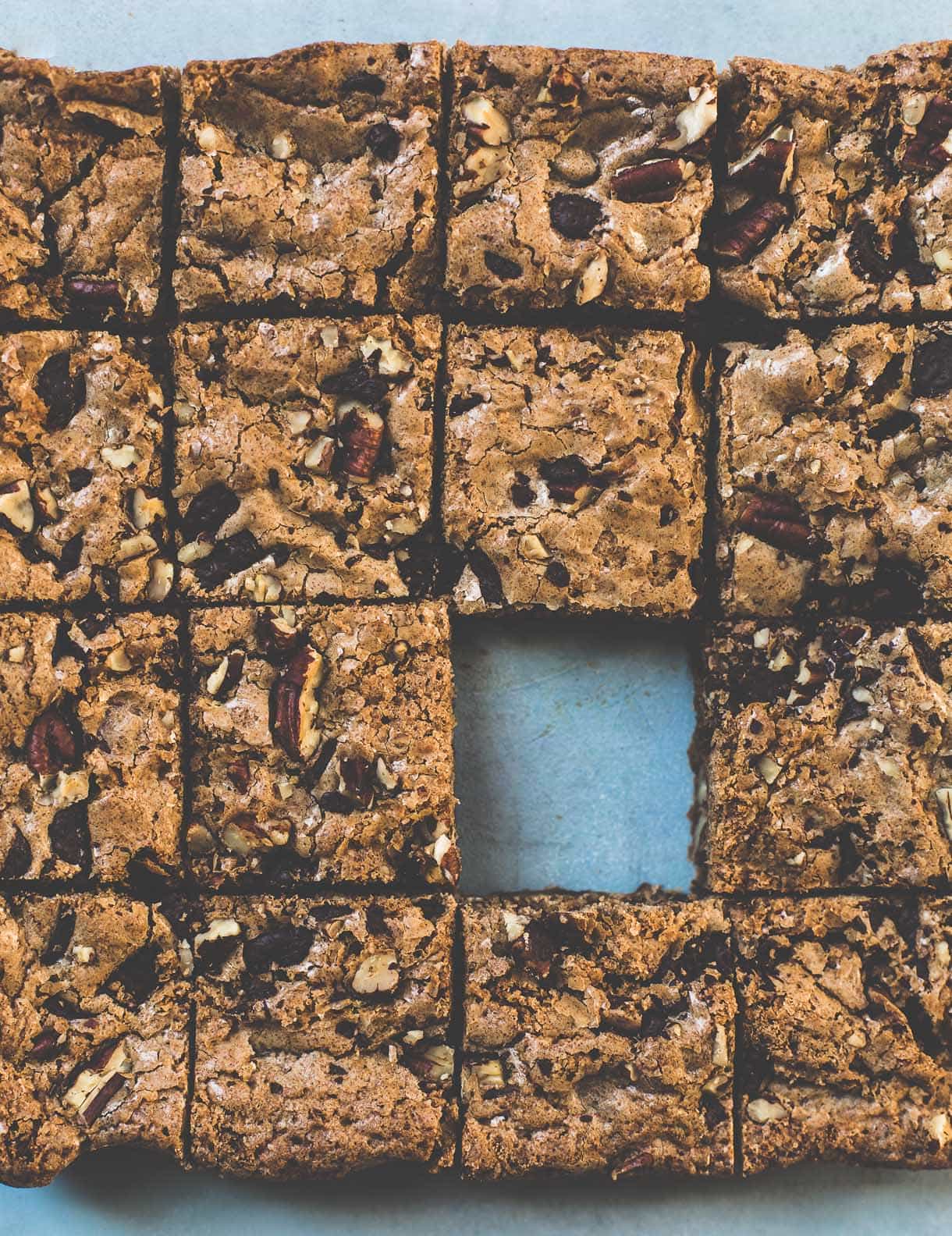 As I read Sarah's blog religiously, every entry made me wish there was a story or recipe every day, instead of once a week. She made me think, and rethink.
To not rush.
To embrace the process.
To make mistakes, in life and cooking.
To share food, and wisdom.
To delight in the result.
From Sarah herself:
"Take recipes you love, and make them yours. Change them, expand on them, simplify them. Make meals with them for your family and friends: let them set up atmosphere; invoke laughter. Create your own food history."
The Vanilla Bean Baking Book is not just one that will sit on your coffee table because it's shockingly pretty. It will become your baking bible that's shockingly pretty, that acquires stains and tattered pages. For its techniques that Sarah has perfected, to timeless classics for every level, and flavor combinations we wouldn't dream of on our own. These are recipes for today's baker, for our generation.
xo, Amanda
If you make these Gluten Fee Cookie Bars, be sure to tag me on Instagram with hashtag #heartbeetkitchen or @heartbeetkitchen!
Preheat oven to 350 degrees F.

In a bowl, whisk together teff flour, tapioca starch, baking powder. Set aside.

On the stovetop, melt the butter on low heat, then whisk in brown sugar. Remove from stovetop, whisk for 20 seconds, then pour in coffee and vanilla. Whisk thoroughly, then add egg and whisk until smooth.

Whisk in dry mixture, in three additions. Then stir in pecans and chocolate. Let batter sit for 15 minutes.

Pour into a greased, parchment lined pan. Bake for 18-20 minutes, until set. Remove from oven and let cool completely, minimum of 3 hours.
Don't doubt the heavy dose of vanilla, and never use imitation vanilla extract. *As much as you want to eat these warm, let them cool for several hours, even refrigerator them if you'd like for a few hours. If you don't they will slice with more crumbs than you'd like.
*This post contains Amazon affiliate links, which I may receive a small amount of commission from should you decide to purchase.