Preserve an abundance of apples by making this extra smooth, caramelized apple butter! This delicious fruit spread is simply an apple puree that is cooked down, concentrating the tart, sweet flavors. A stovetop recipe that includes water bath canning instructions.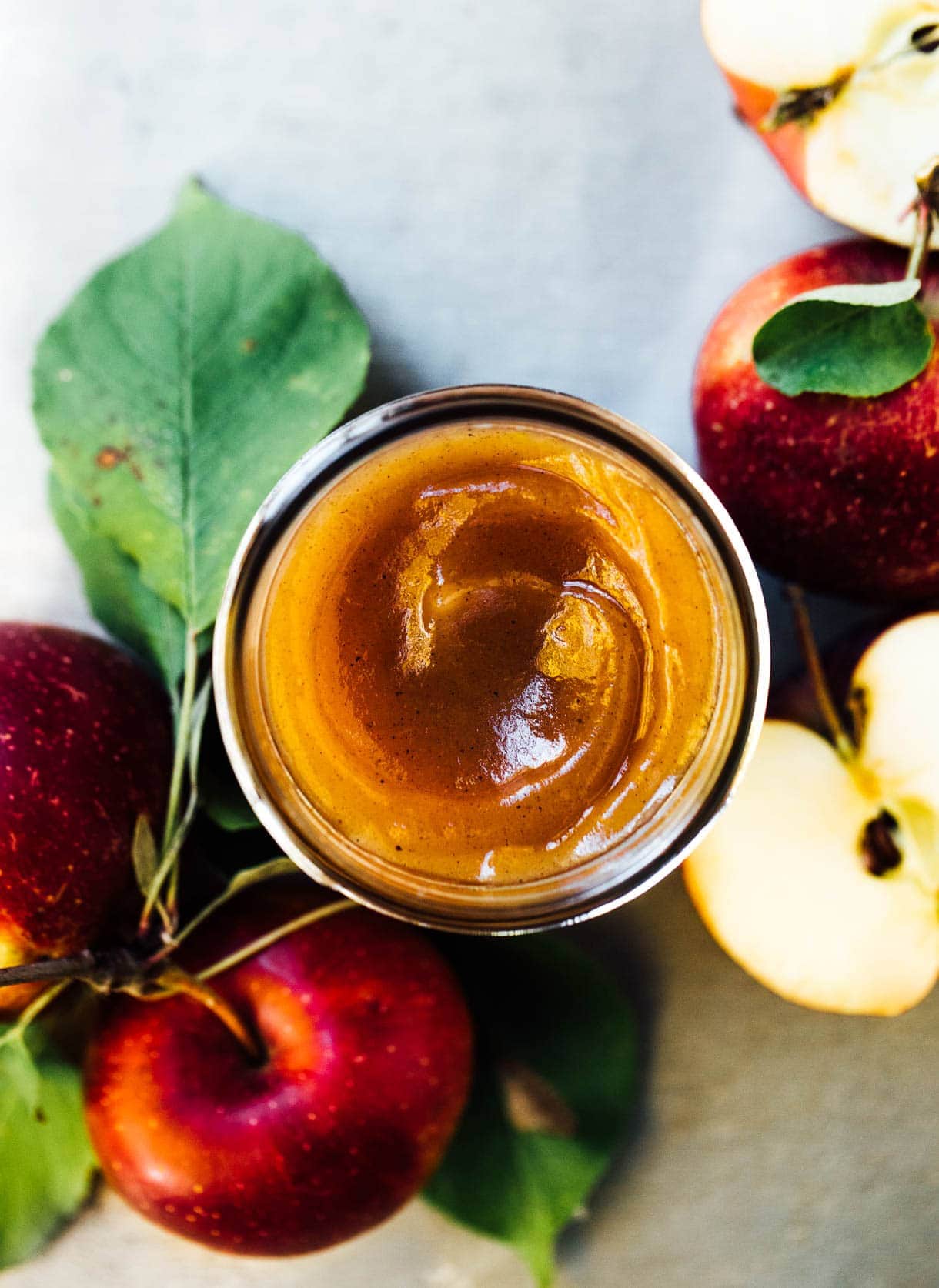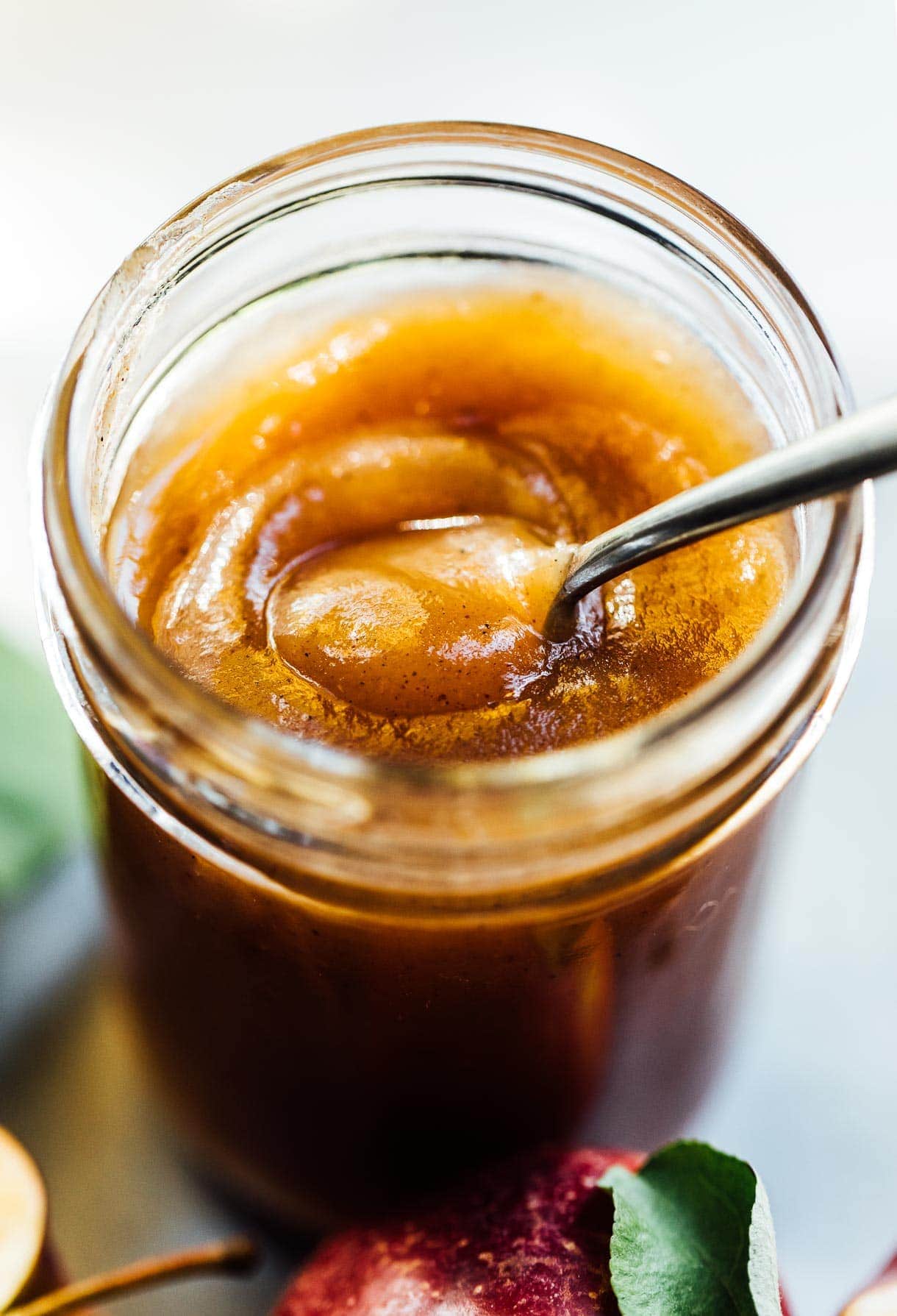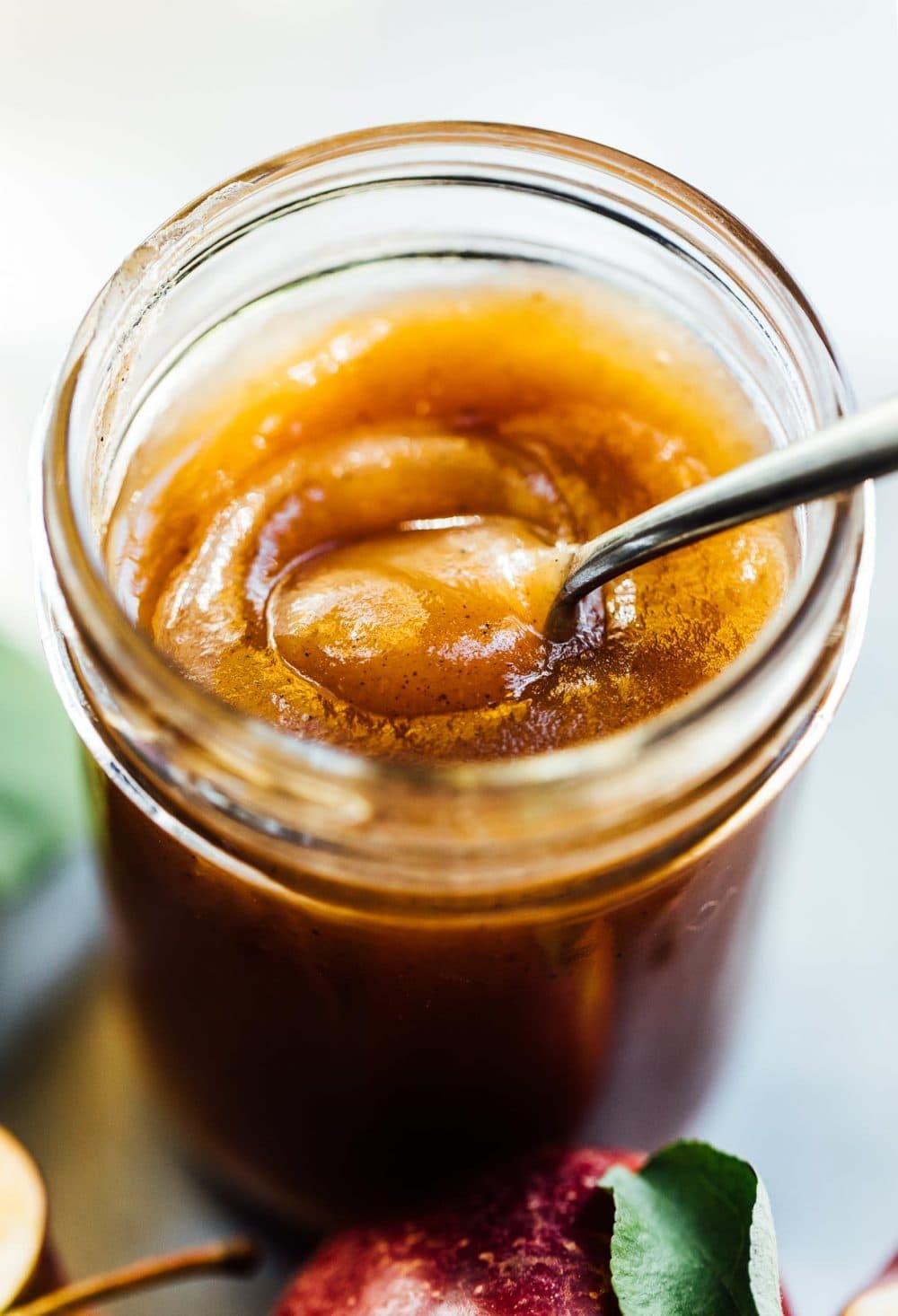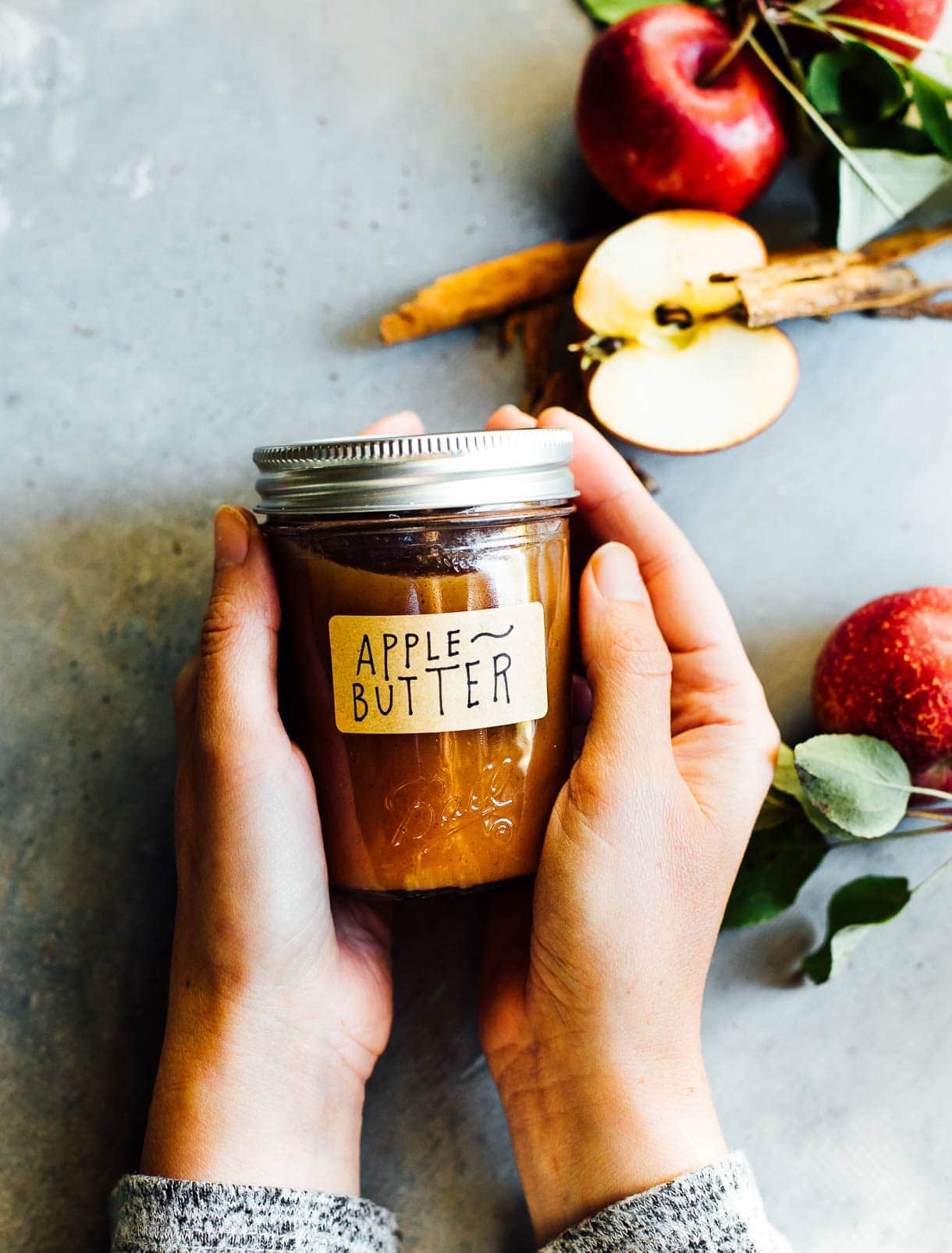 You can find more of my canning and preserving recipes, here.
---
Homemade apple butter is a taste of fall in a jar.
Each spoonful has a rich, caramel flavor, silky smooth texture, and just the right amount of warm spices.
It's very easy to make on the stovetop, where the low heat causes the natural sugars of the apples to caramelize and thicken, resulting in a deep brown color and decadent flavor. It's a wonderful ingredient to use in both sweet and savory ways, and I can't wait for you to make a few of these delicious recipes that use apple butter!
This luscious fruit spread is the perfect way to use up an abundance of apples, similar. You'll use 4 pounds of apples, which will make 5-6 half pint jars of apple butter. The jars make the perfect gift when paired with a loaf of sourdough bread, as well as any of my canning recipes!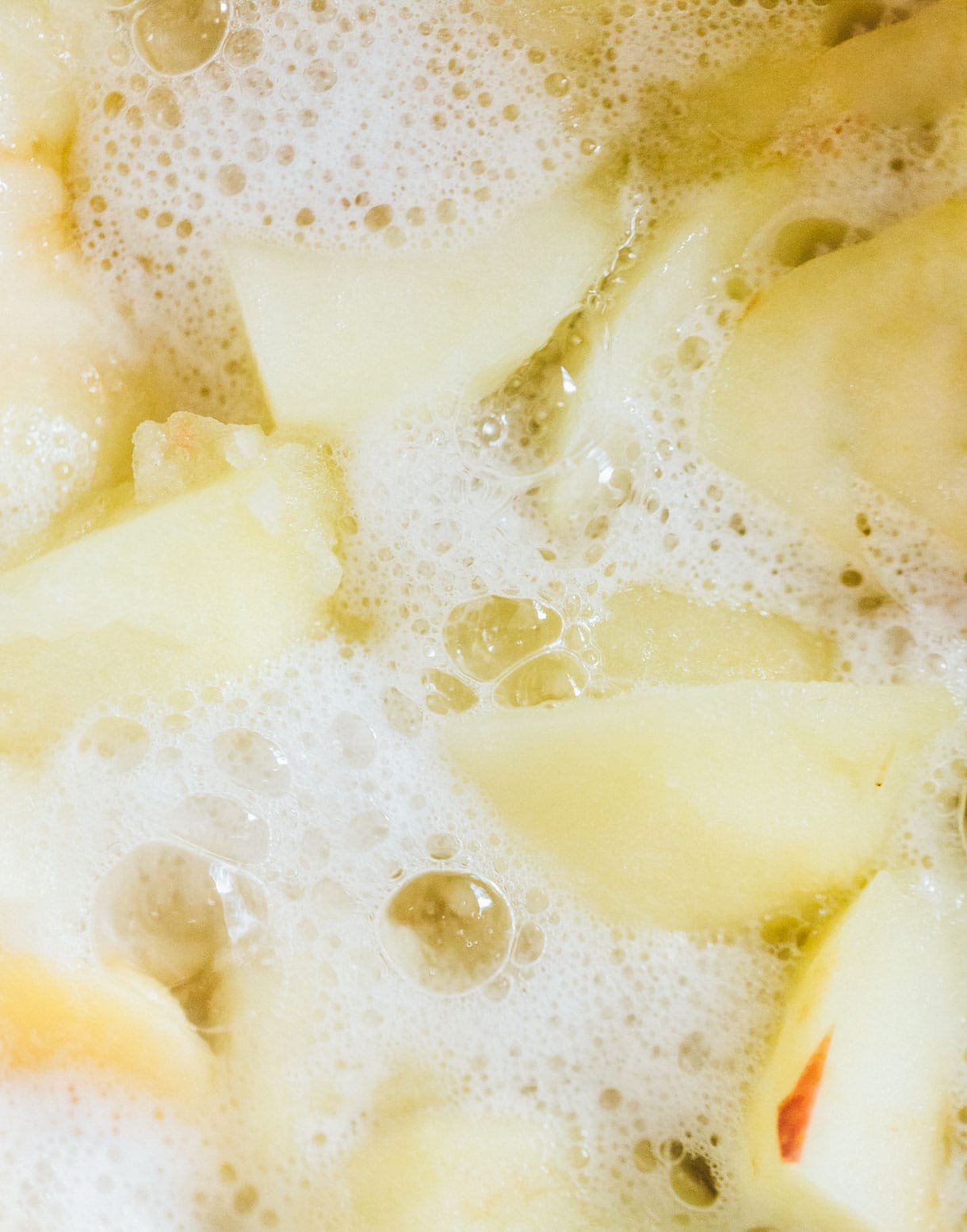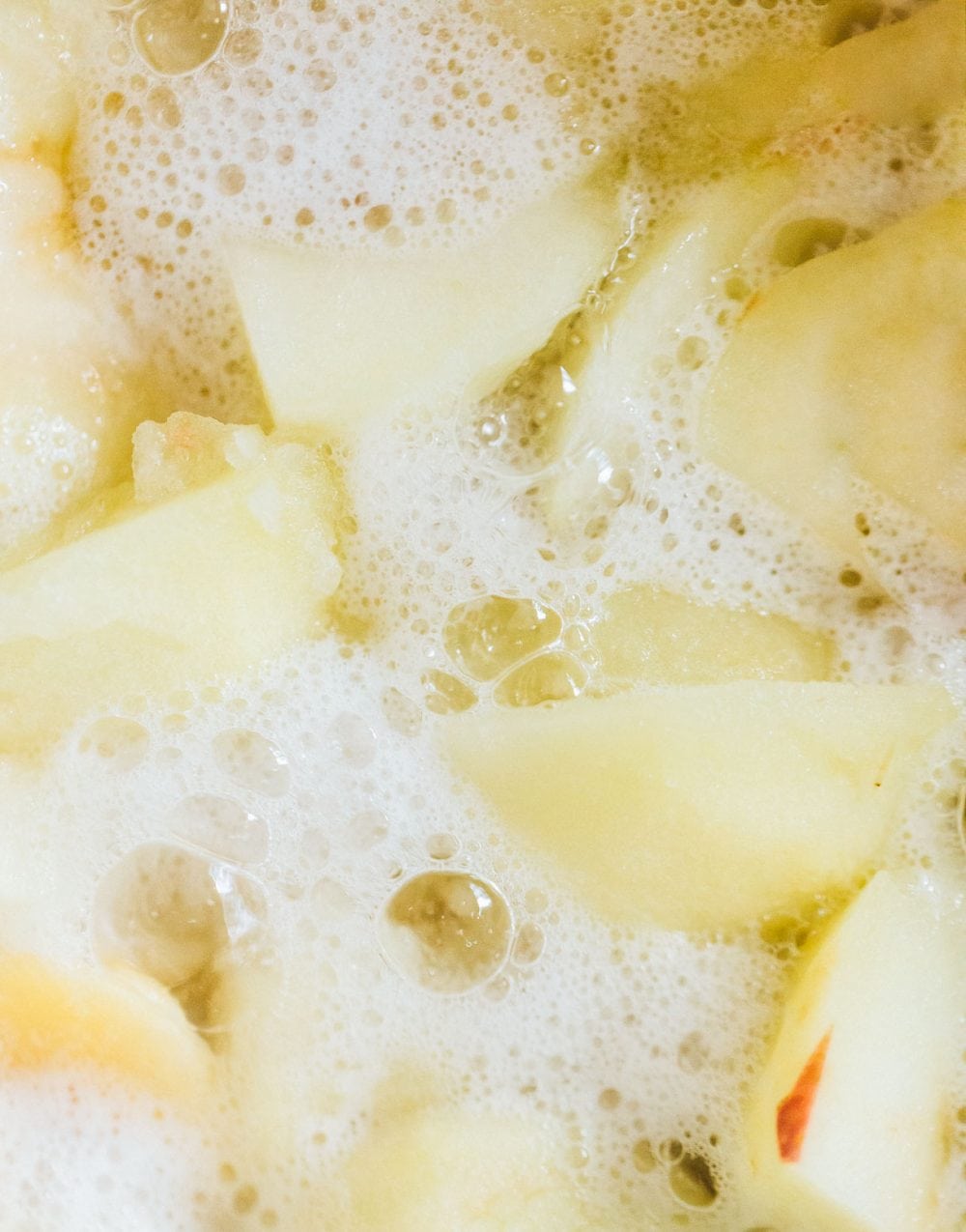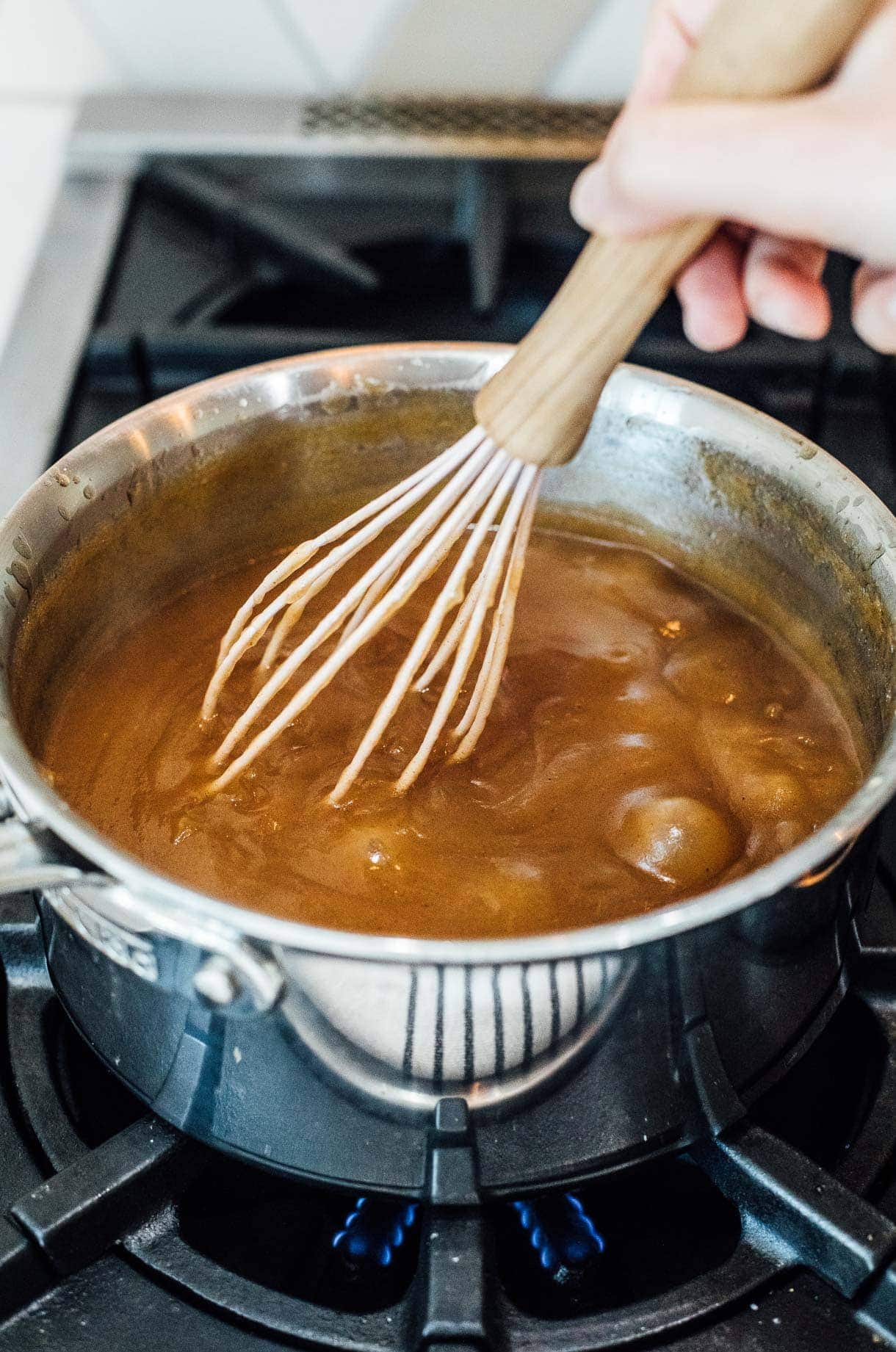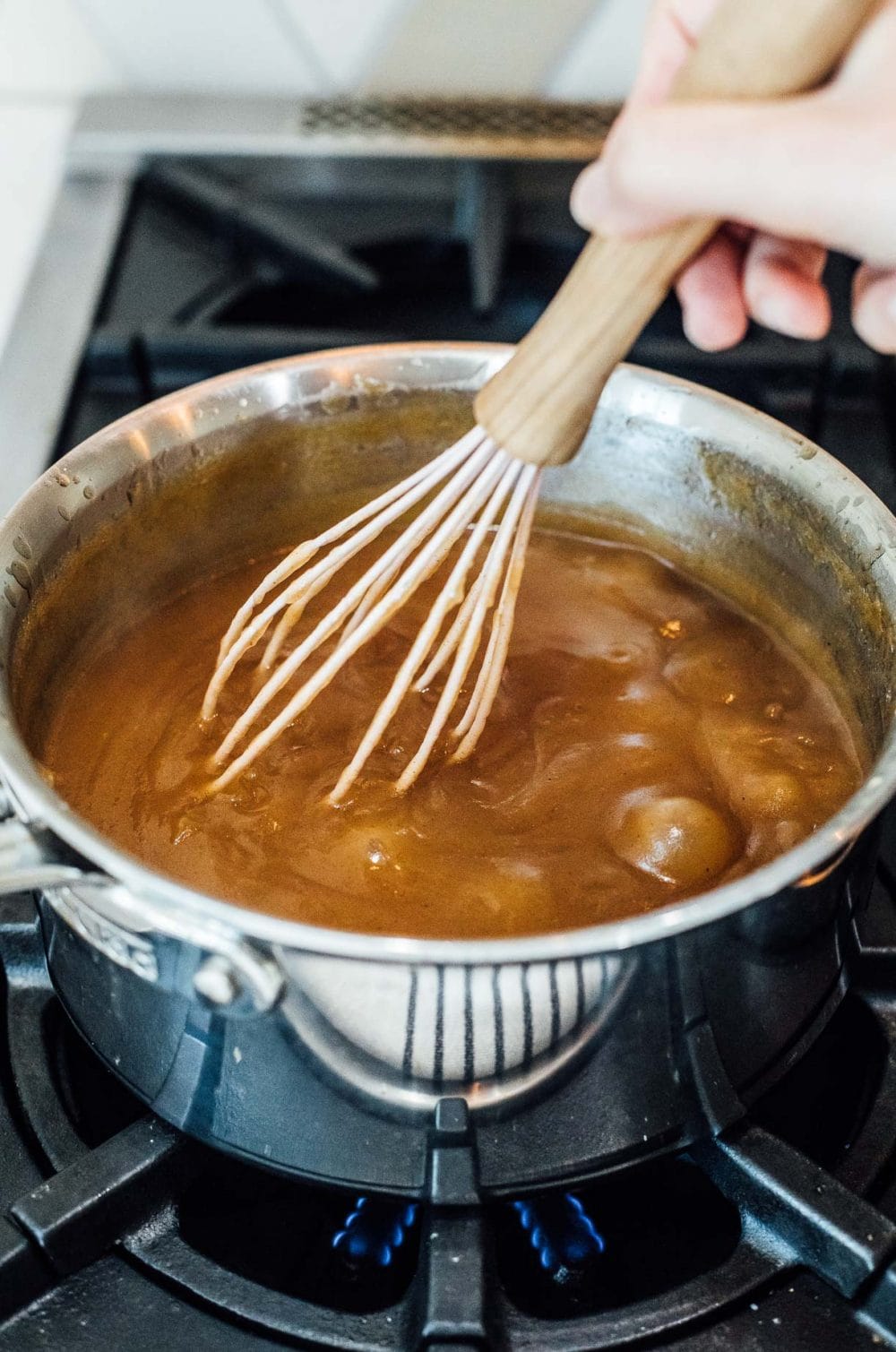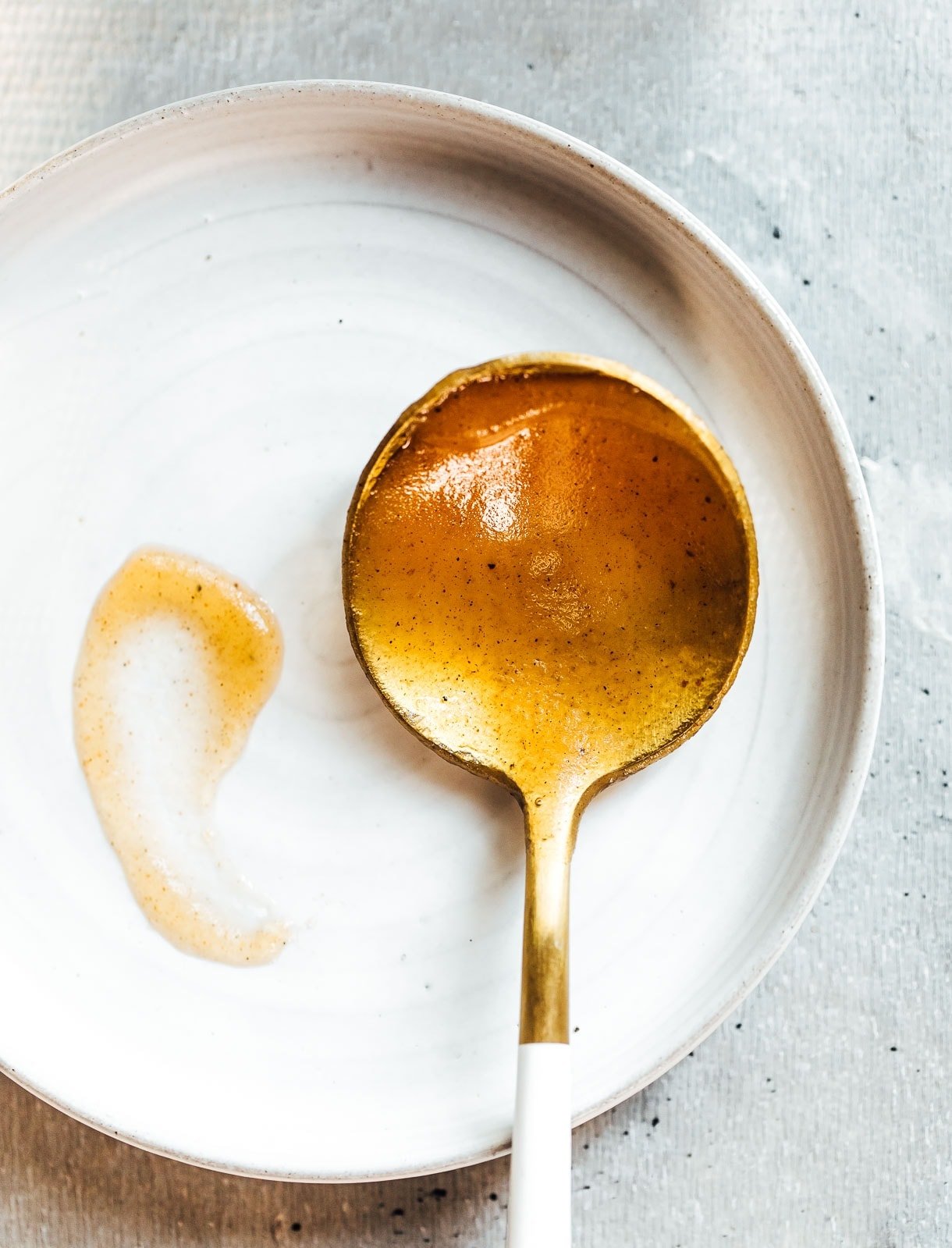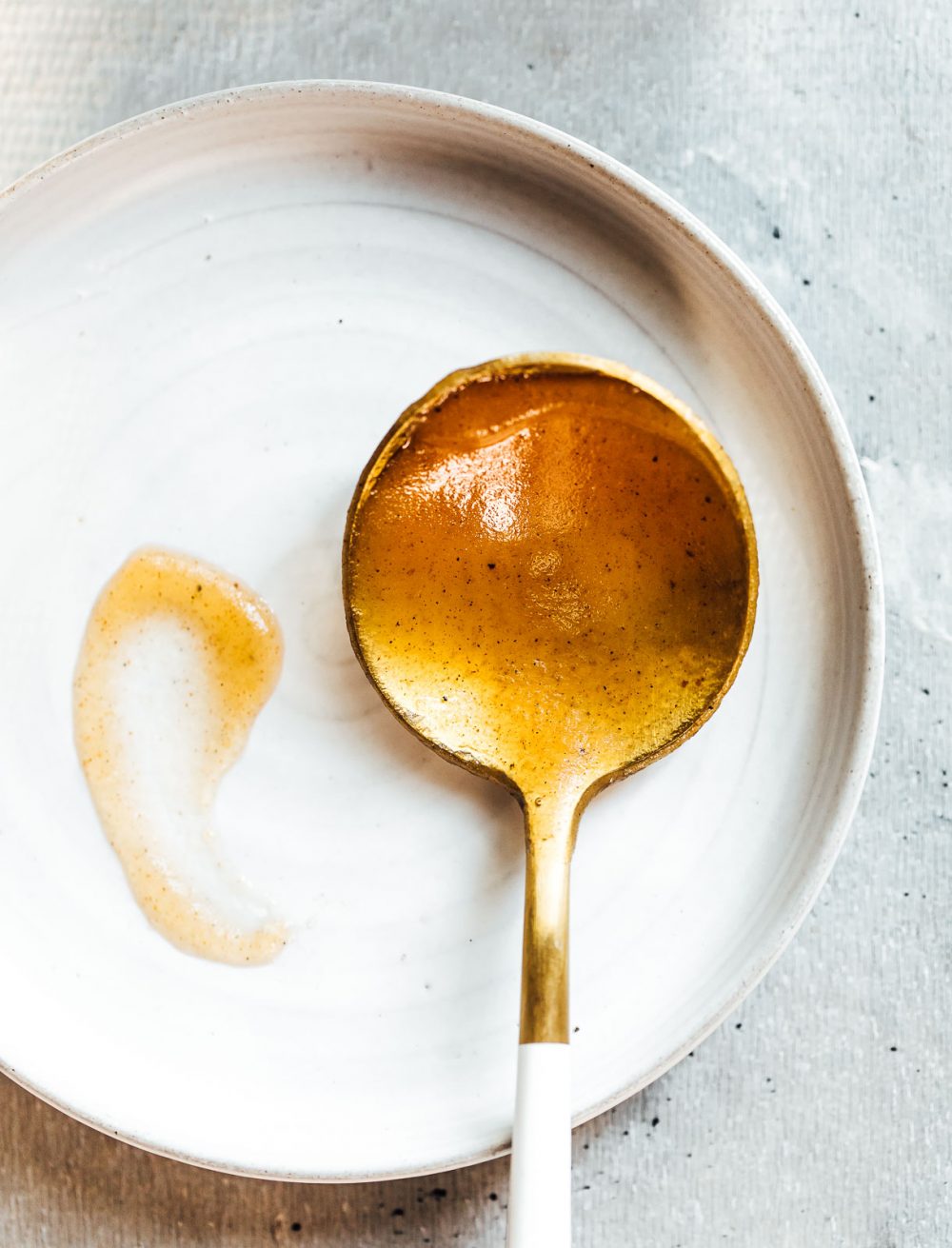 How to Can Apple Butter:
What's most important is having your canning tools ready before you start.
Start by sterilizing your Ball® jars and lids with warm soapy water.
Peel and core your apples. Then chop into rough chunks.
Add apples to a saucepan with water, and boil until soft.
Use a food mill or high speed blender to process until completely smooth.
Return puree to saucepan and add sugar and spices, whisking until combined. Simmer on stovetop until reduced, thickened, and takes on a caramelized brown color.
Meanwhile, heat sterilized jars so they are hot, in your water bath canner. Have your jar lifter, towel, funnel, and spatula within your reach.
When apple butter is ready, fill each jar individually with apple butter leaving 1/4 inch headspace. Screw lid on until finger tight.
Put each jar back in your water bath canner once filled, and repeat. This is not an assembly line process. Once you've filled all jars and returned them to canner, bring it to a boil.
Process jars 15 minutes, adjusting for altitude. Turn off heat, remove lid, let jars stand 5 minutes. Remove jars and cool 12-24 hours.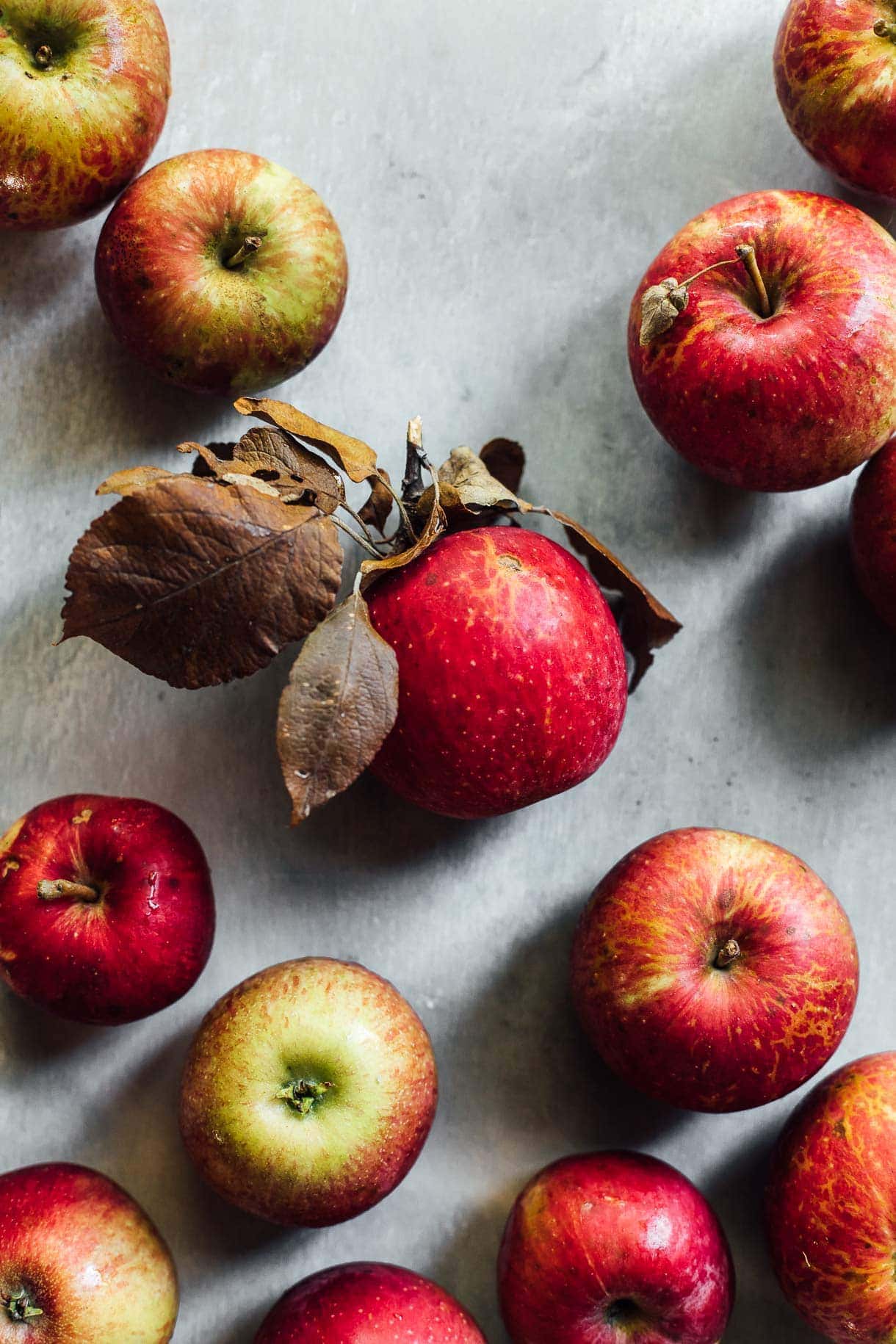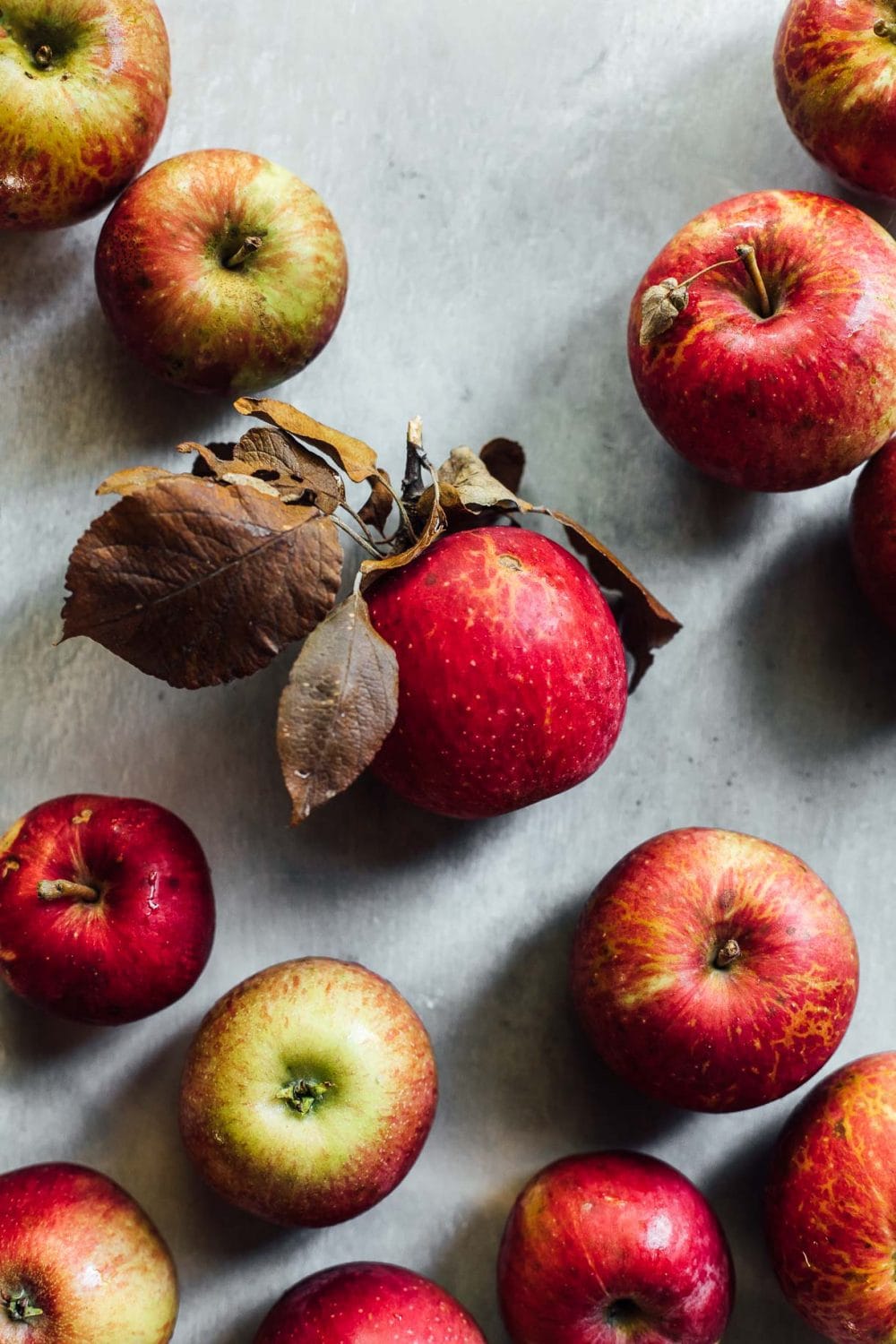 What Variety of Apples Make The Best Apple Butter?
Apple butter is as pure as it gets. Just apples and a bit of sugar and spices cooked down, concentrating the flavor of this autumn fruit. For that reason, I like to use a mix of tart and sweet apples rather than just one variety. My favorites are:
Cortland
Liberty
Sweet 16
Pink Lady
Honeycrisp
Unlike apple pie, in which you need to use firm apples to stand up to the heat of the oven, softer textured apples work well for apple butter because they cook down faster.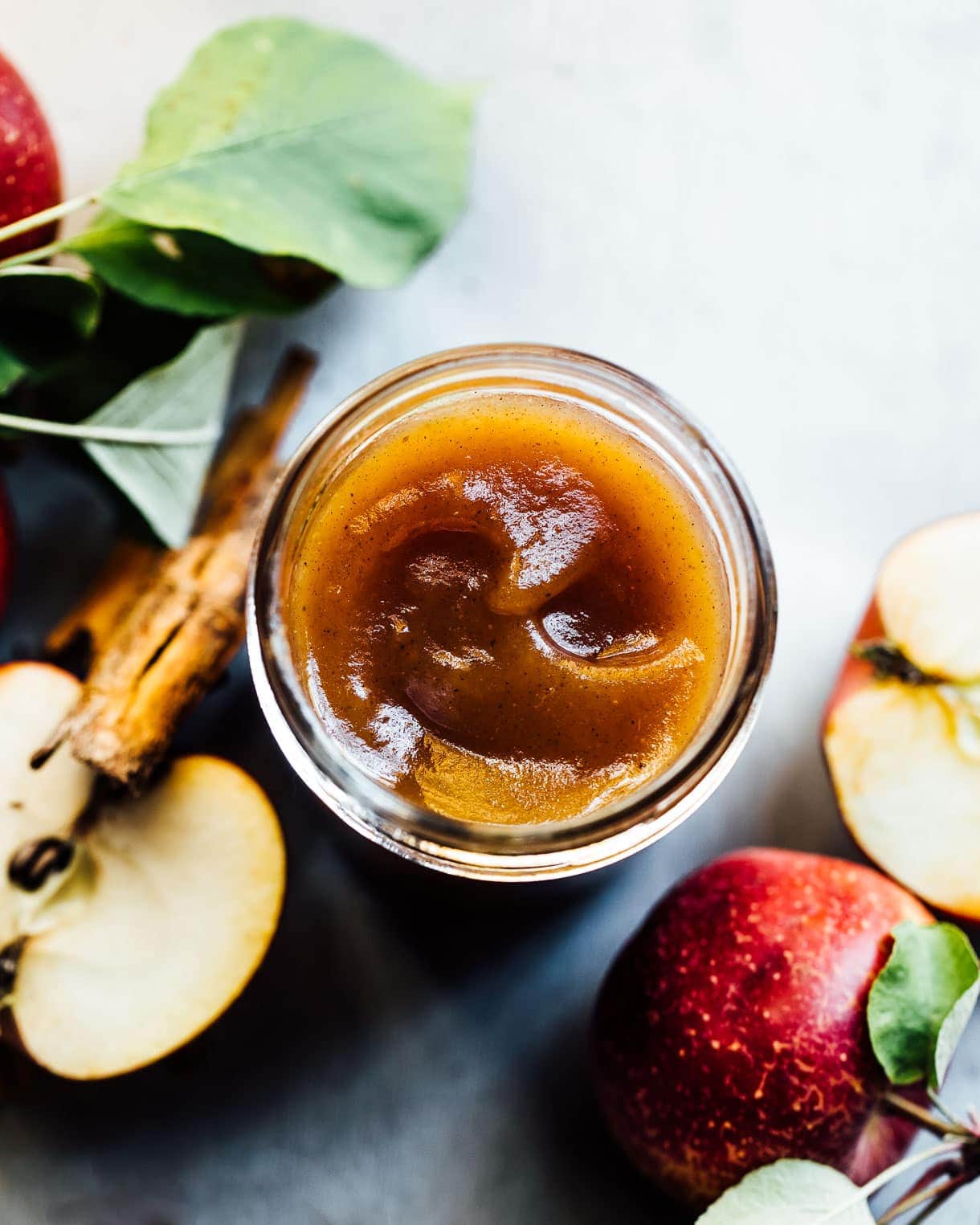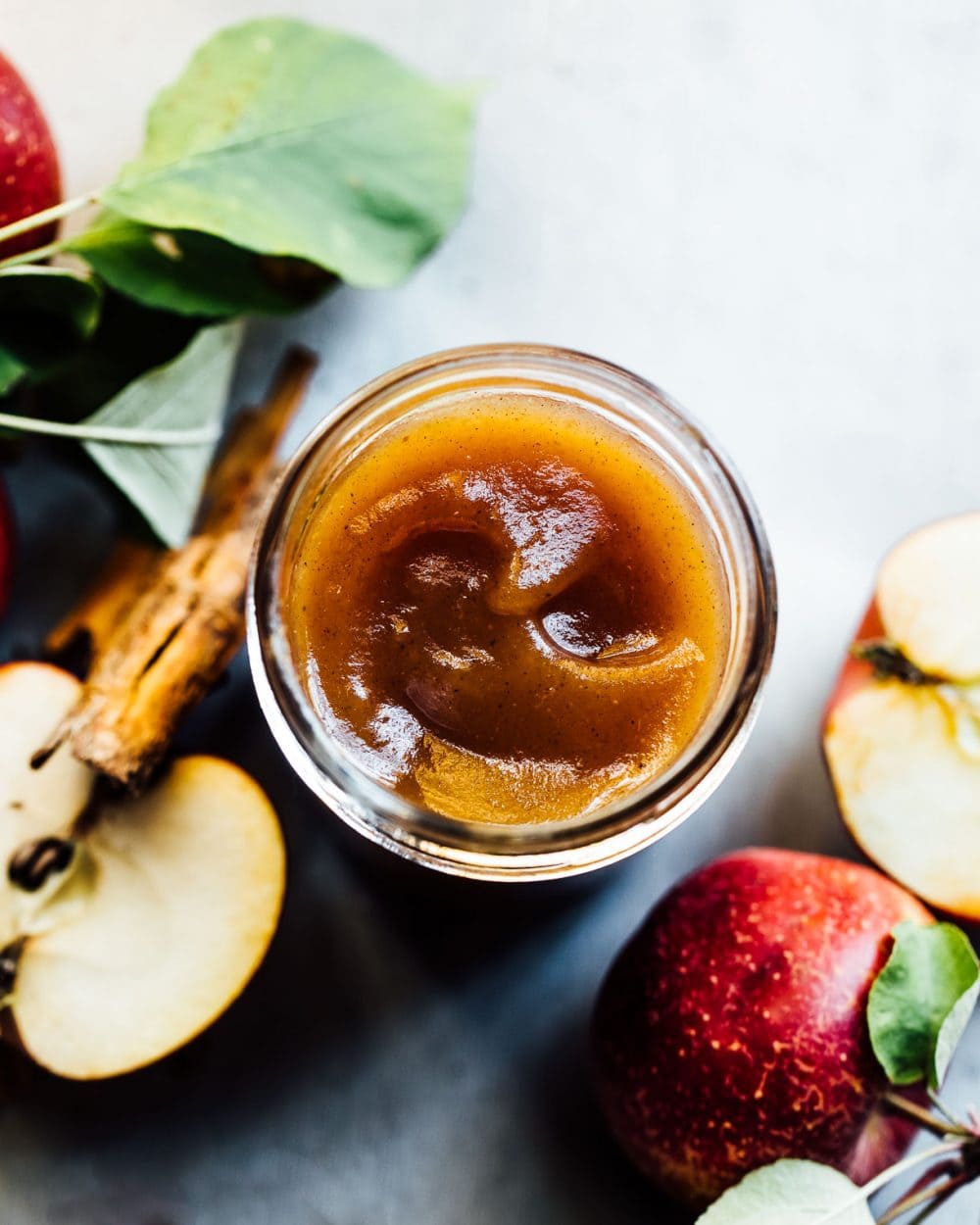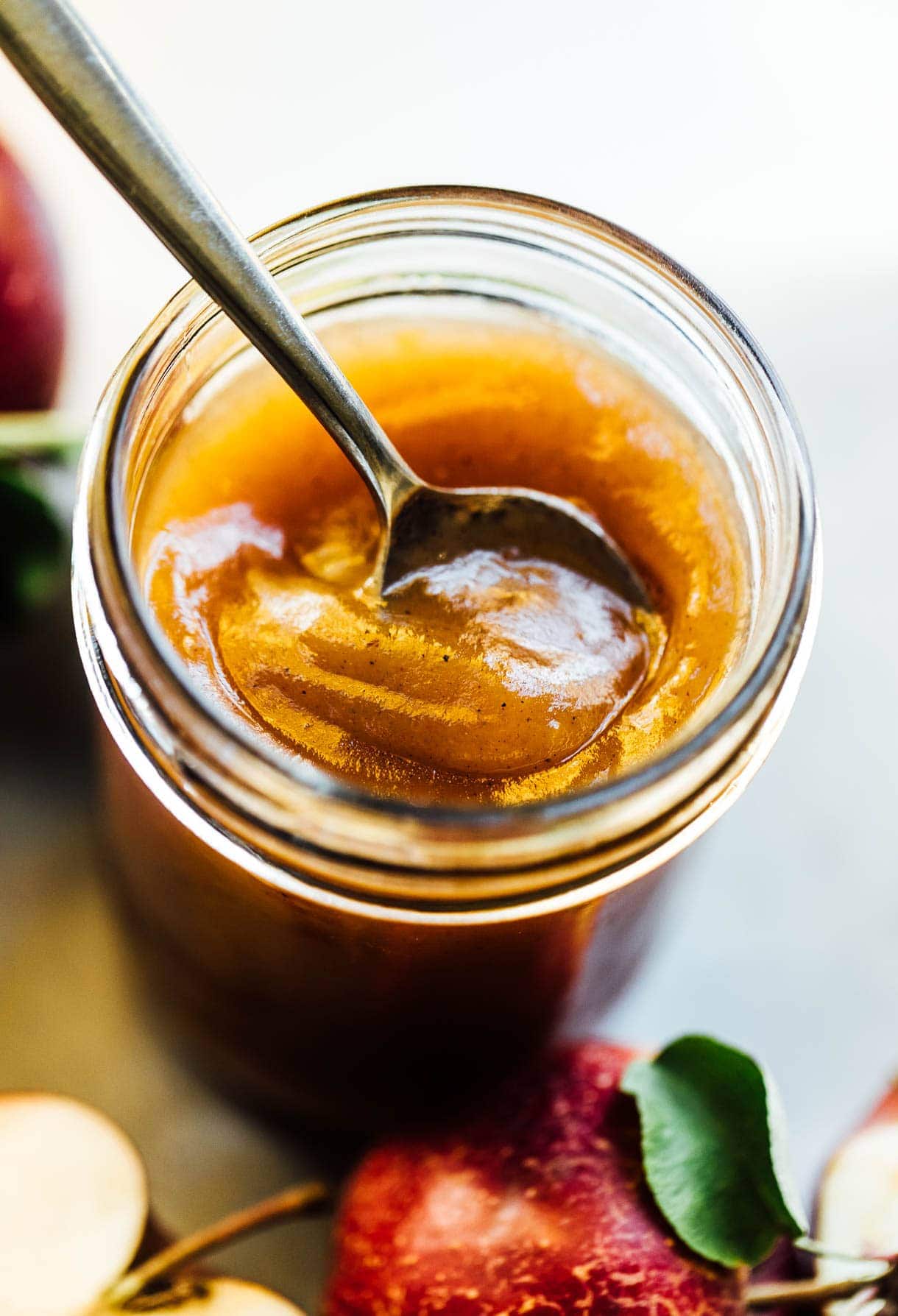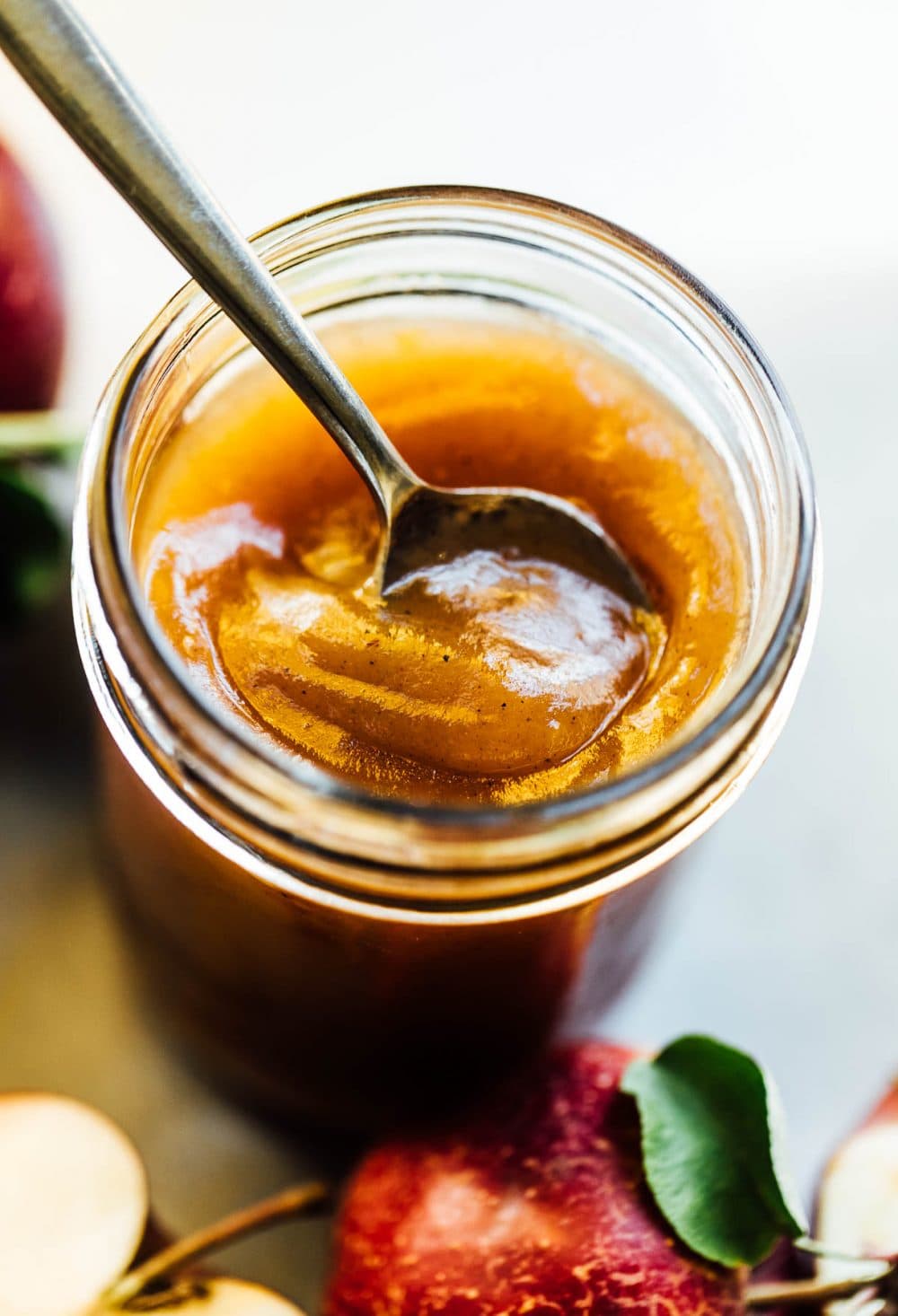 The Secret to Extra Smooth Apple Butter
I've used a food processor and a food mill to puree the apples for apple butter, but nothing breaks them down as well as a high speed blender! Simmer your apples until they give no resistance to a fork, then blend until they are silky smooth.
When reduced on the stovetop, this smooth apple puree will turn into a glossy, caramelized apple butter.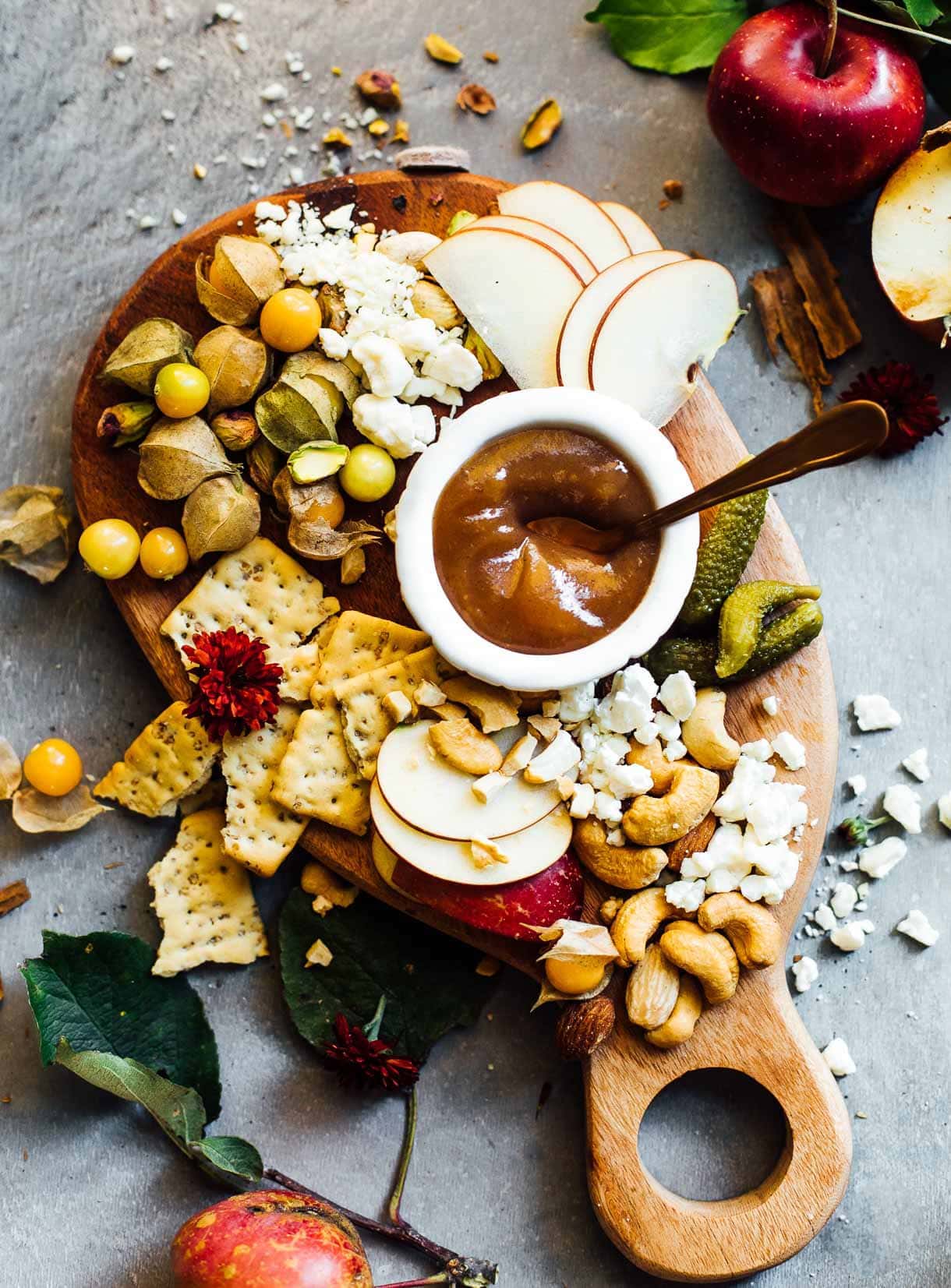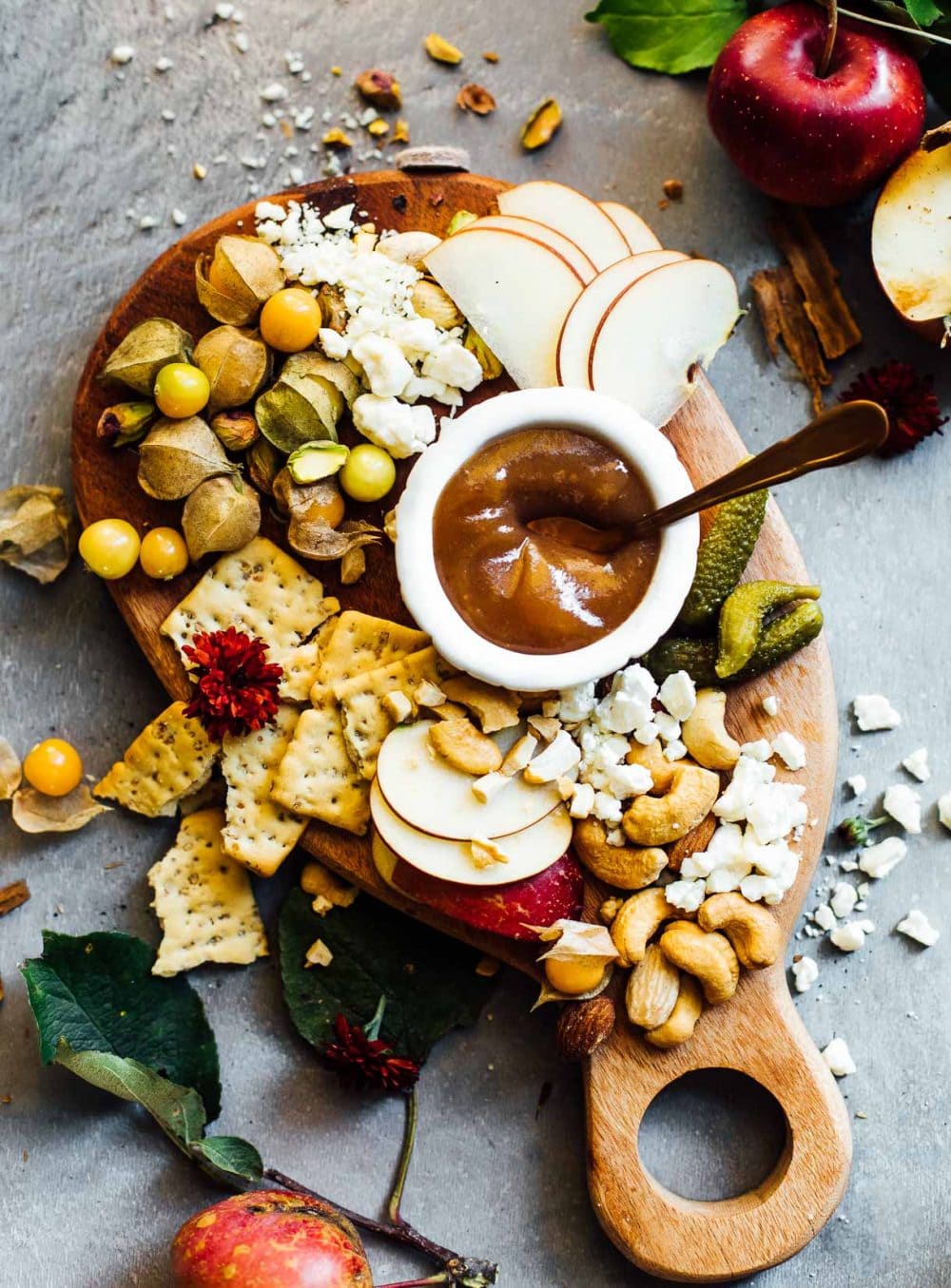 More Heartbeet Kitchen Canning Recipes: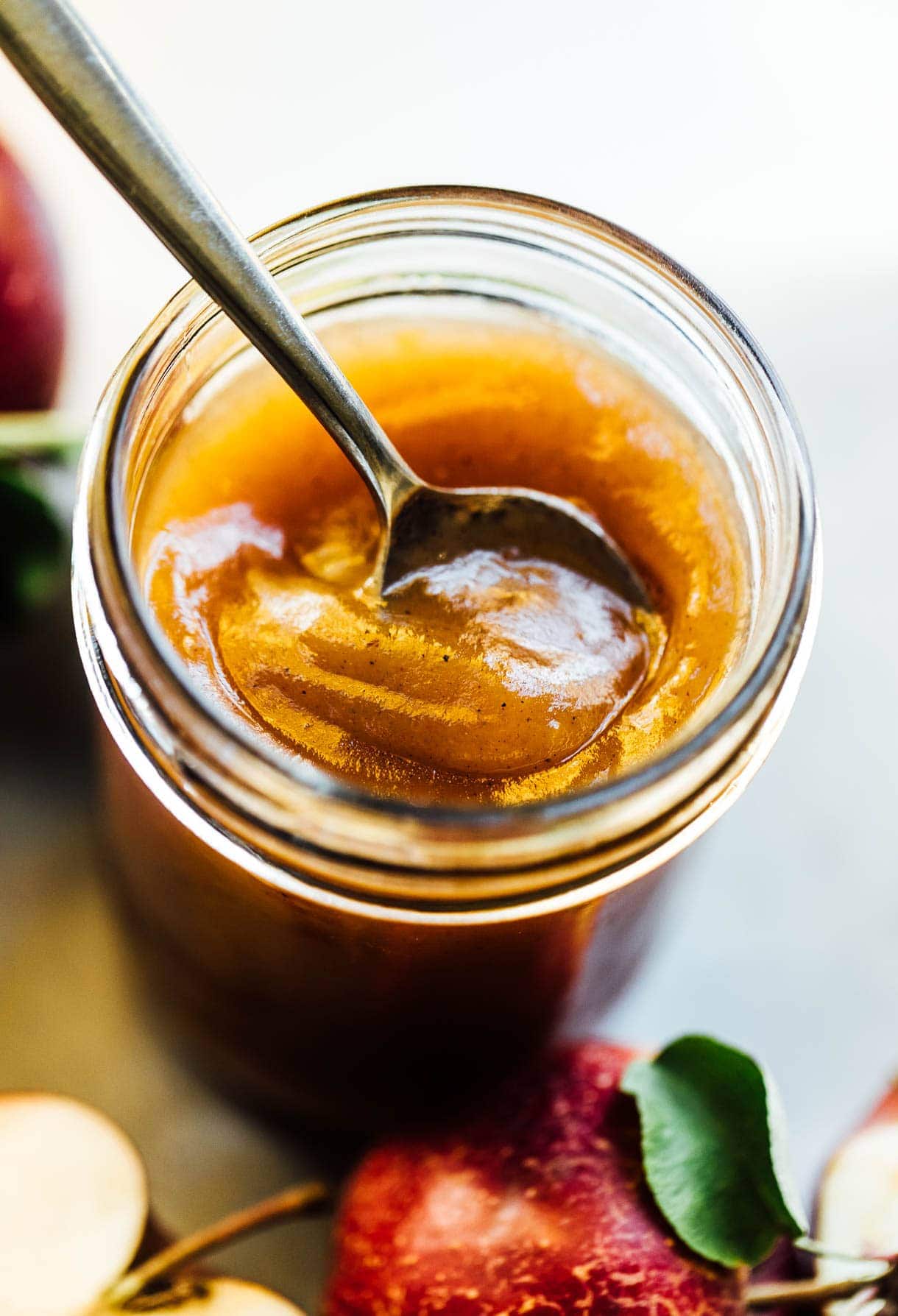 4

pounds

apples

(Cortland, Liberty, Sweet 16, Pink Lady, and Honeycrisp are great options)

2

cups

water

1 3/4

cups

organic cane sugar

2

teaspoons

cinnamon

1/2

teaspoon

ground cardamom
You'll need 5 or 6

half pint jars

for this recipe.

Core and peel apples. Cut apples into quarters.

Combine apples and water in a large saucepan. Cook apples at a simmer until soft. Puree mixture using food mill or high speed blender.

Return apple pulp to saucepan. Add sugar and spices, stirring until sugar dissolves. Cook at a gentle boil over medium heat until apple mixture is thick enough to mound on a spoon, stirring frequently to prevent sticking. Remove from heat.

Ladle hot apple butter into a hot jar leaving a ¼ inch headspace. Remove air bubbles. Wipe jar rim. Center lid on jar and apply band, adjust to fingertip tight. Place jar in boiling water canner. Repeat until all jars are filled.

Process jars 15 minutes, adjusting for altitude. Turn off heat, remove lid, let jars stand 5 minutes. Remove jars and cool 12-24 hours, listen for the pop to know they are sealed. Check lids for seal 12 hours later, they should not flex when center is pressed.

Now that your pantry is full, here are 23 recipes that use apple butter for you to make!