If you're planning your Easter menu, this spring filled charcuterie board is the perfect appetizer to start with! Composed of yummy cheeses, cured meats, fresh berries, vegetables, pickled eggs, and jelly beans or chocolate! Flowers and greens outline the board, making it extra beautiful.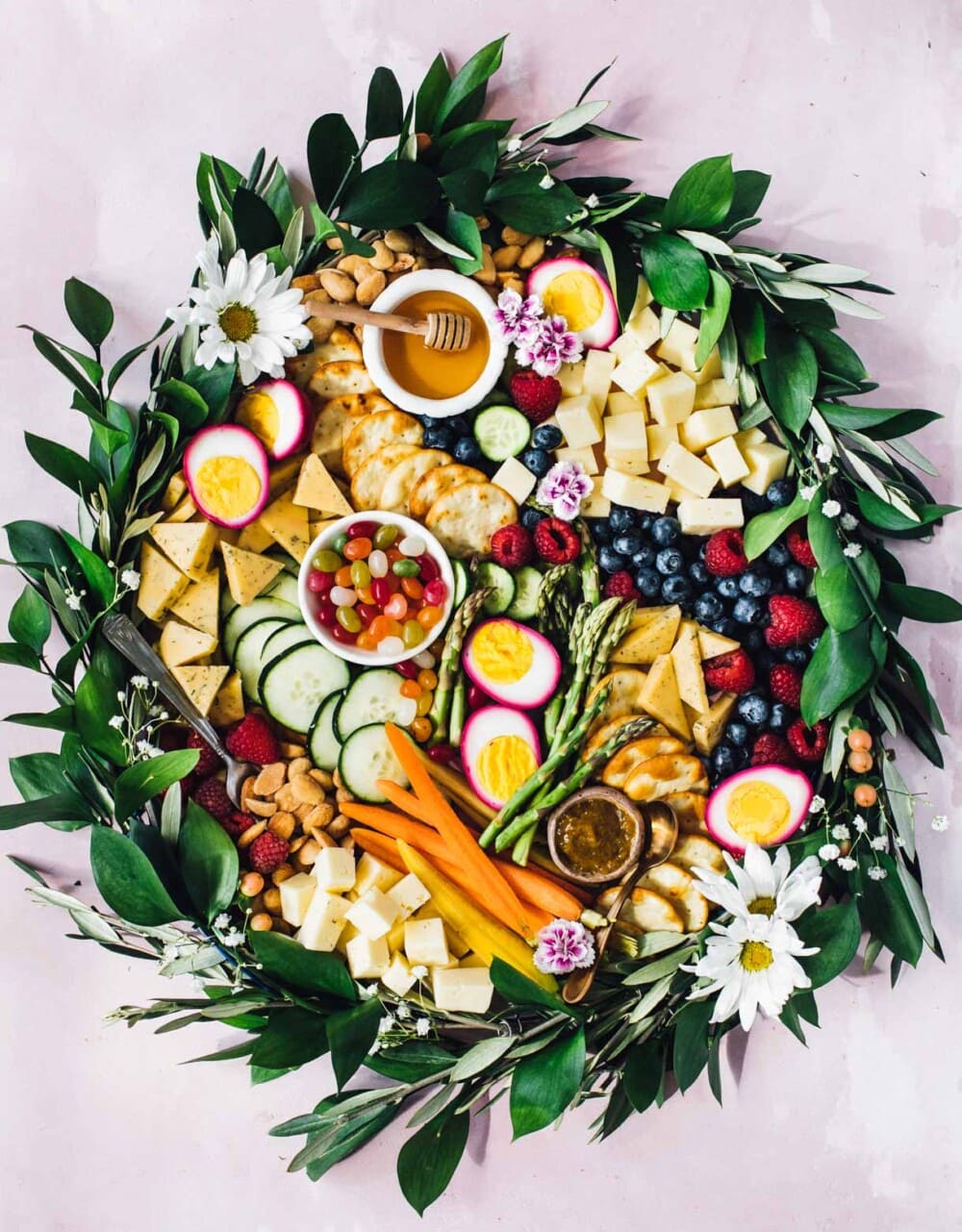 I love creating holiday themed charcuterie boards, and I'm excited to share this bright, fresh, full-of-Spring Easter board with you! Do you see the beautiful beet pickled eggs, their white edges naturally dyed pink? I love making them every year.
And it's not Easter without jelly beans, right?
This is the perfect no-cook appetizer if you're hosting, and could even be transported if you make the board on a large baking sheet.
Ingredients to make an Easter Charcuterie Board:
I like to use softer cheeses on a board because they have a lightness to them that speaks to Spring. My favorites are gouda and havarti. Roth Cheese makes a dill havarti that is so delicious and perfect for Spring, and you can do a mix of plain and smoked gouda for contrasting flavors.
cured meats
Spring veggies like rainbow carrots, cucumbers, and steamed asparagus
a variety of crackers
fresh berries – I prefer blueberries and raspberries for their tart and sweet flavor
buttery marcona almonds
honey, jam, and mustard
spring candy like jelly beans!
Using fresh greens and flowers on cheese boards:
You can easily elevate charcuterie boards with colorful flowers and greens. I like to purchase my greens and flowers at Trader Joe's because they a large variety and it's affordable.
For this particular board, I took two clothes hangers, unraveled them, them formed them into a circular shape (kind of like an Easter egg). The flexibility of wire hangers gives you the ability to make them into shapes! The next step is to thread larger greens into the wires, as you would a wreath. You can use thin craft wire to secure the greens.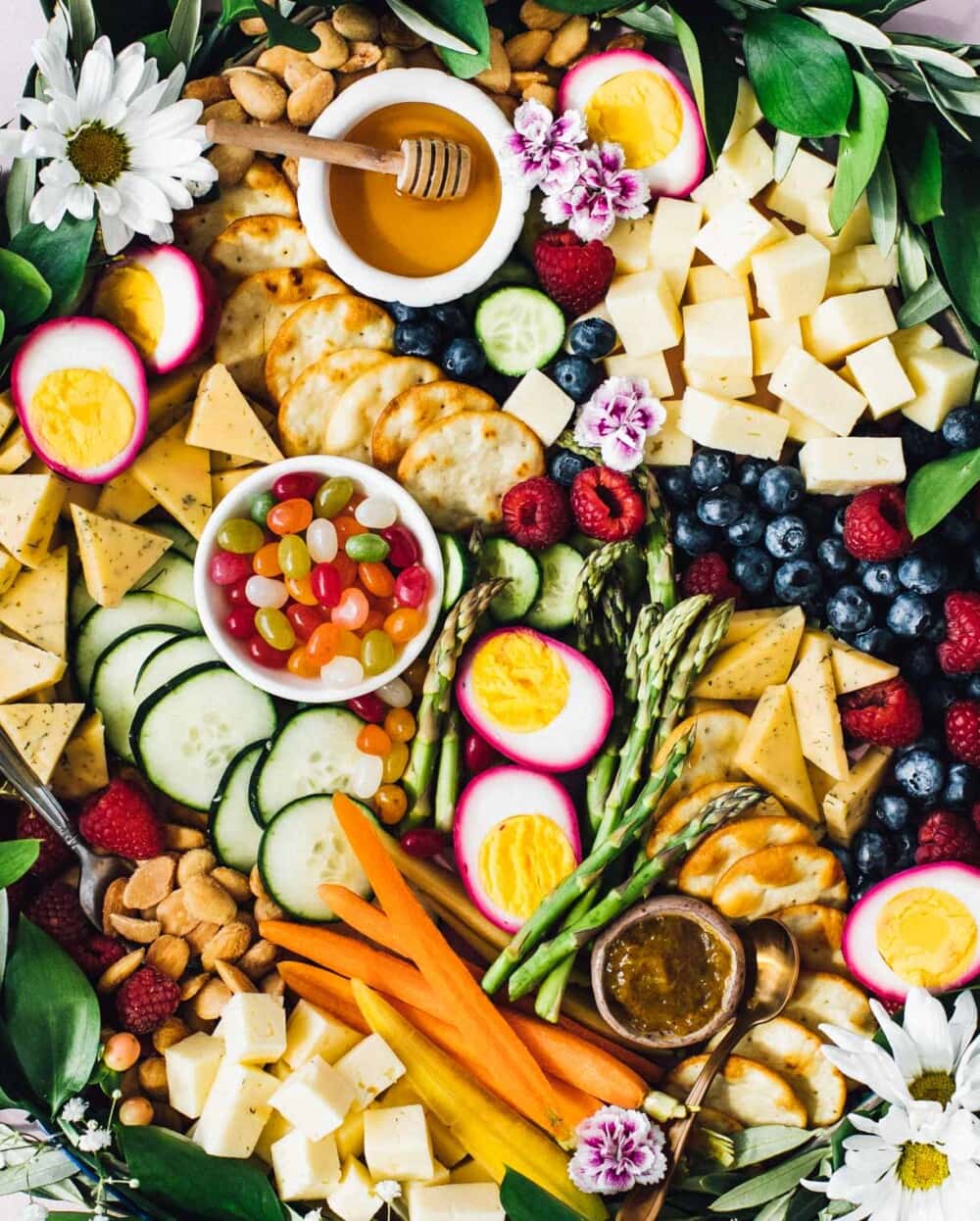 Foolproof tips for building charcuterie boards:
Vary the textures on the board. I like to make this easy by dividing into crunchy, creamy, fresh, filling. That might look like crackers and nuts, creamy cheese, and fresh fruits and vegetables, and cured meats.
Fillers are the fun part, the unique things on the board that make people's eye light up. This might be candied nuts, fancy chocolates, beef sticks, marinated olives, etc.
Include jam or honey, and mustard so guests can build little bites.
Don't stress too much about building it perfectly. What seems to work best is for me to put things onto to the board from largest to smallest, giving me the ability to fill in at the end. Overlapping is good, too! It makes the board seem full.
Add knives, toothpicks, and spoons last to make it easier for guests to serve themselves.
What kind of cheese board is best to use?
Cheese or charcuterie boards can be made from a variety of materials. It's best to use a board that's non-porous so that they don't absorb the flavors and oils of the food you put on it. I prefer boards made from marble or treated hard wood, like teak or maple.
Although slate cheese boards are popular, I don't like using them because the oils from the cheese and other ingredients show on the surface, resulting in messy look.
More Easter Recipes:
20

ounces

assorted cheeses

like gouda, havarti, aged cheddar

8

ounces

cured meats

carrots

asparagus (the thinner the better)

cucumbers

a variety of crackers

8

ounces

fresh berries

6

ounces

marcona almonds or cashews

honey,

jam, and mustard

spring candy like jelly beans

peeps, chocolate eggs
Cut cheese into cubes and triangles. If using petite carrots, cut them in half vertically. Break woody ends off of asparagus. Thinly slice cucumbers into rounds.

Start building your board by putting your cheeses down first, I like to put them across from each other in quadrants. Add meats next to the cheese.

Fill in with crackers, then your small jars of honey and jam.

Place berries into open areas, and the deviled eggs or pickled eggs. Fill in any empty holes with jelly beans and nuts.