This easy vegan salad dressing is so good it's drinkable. You can make it at home in just 5 minutes with a few pantry ingredients that you most likely have on hand already. With deep flavor from nutritional yeast and garlic, it's the kind of dressing that will make you want to eat more greens!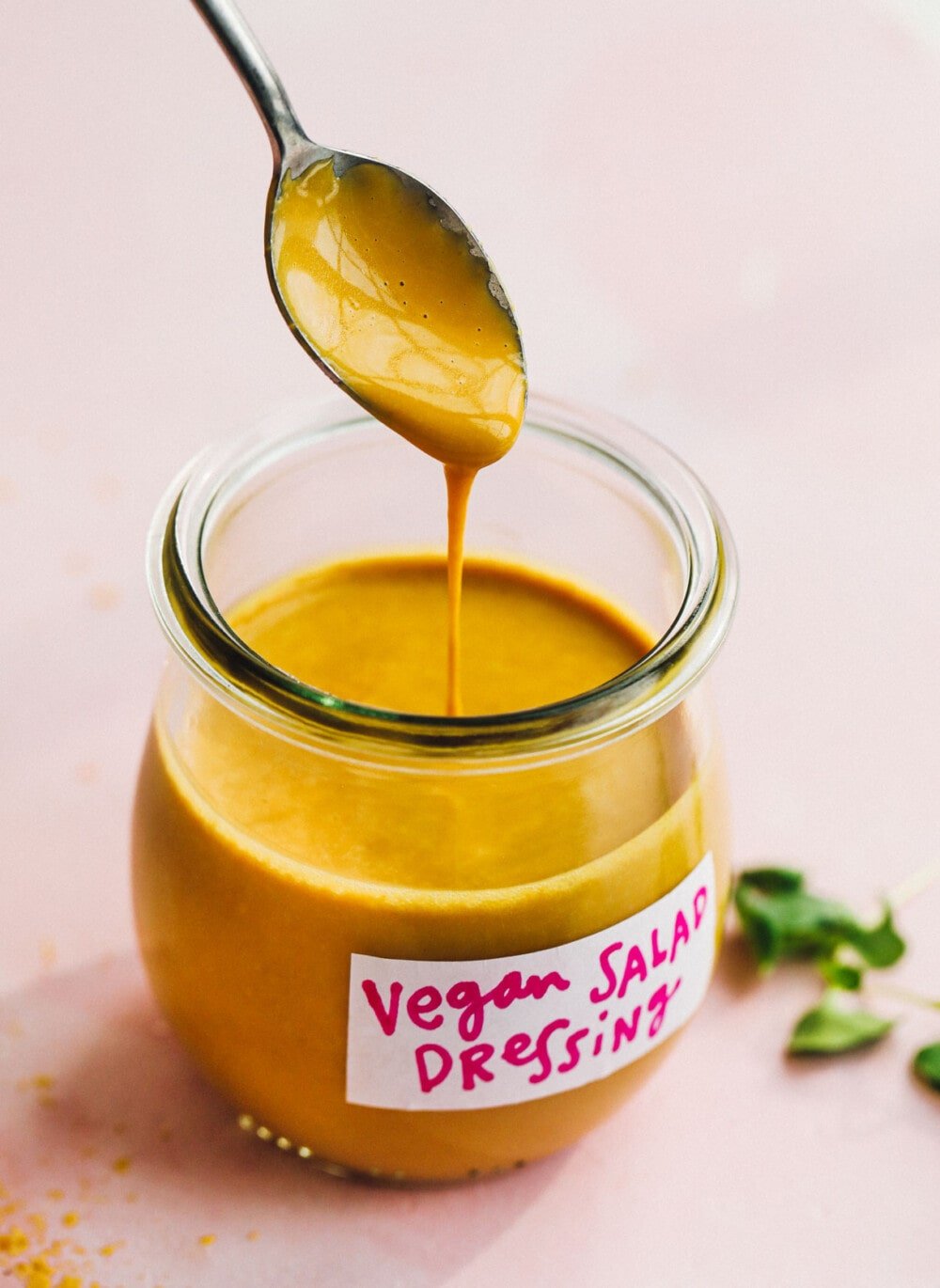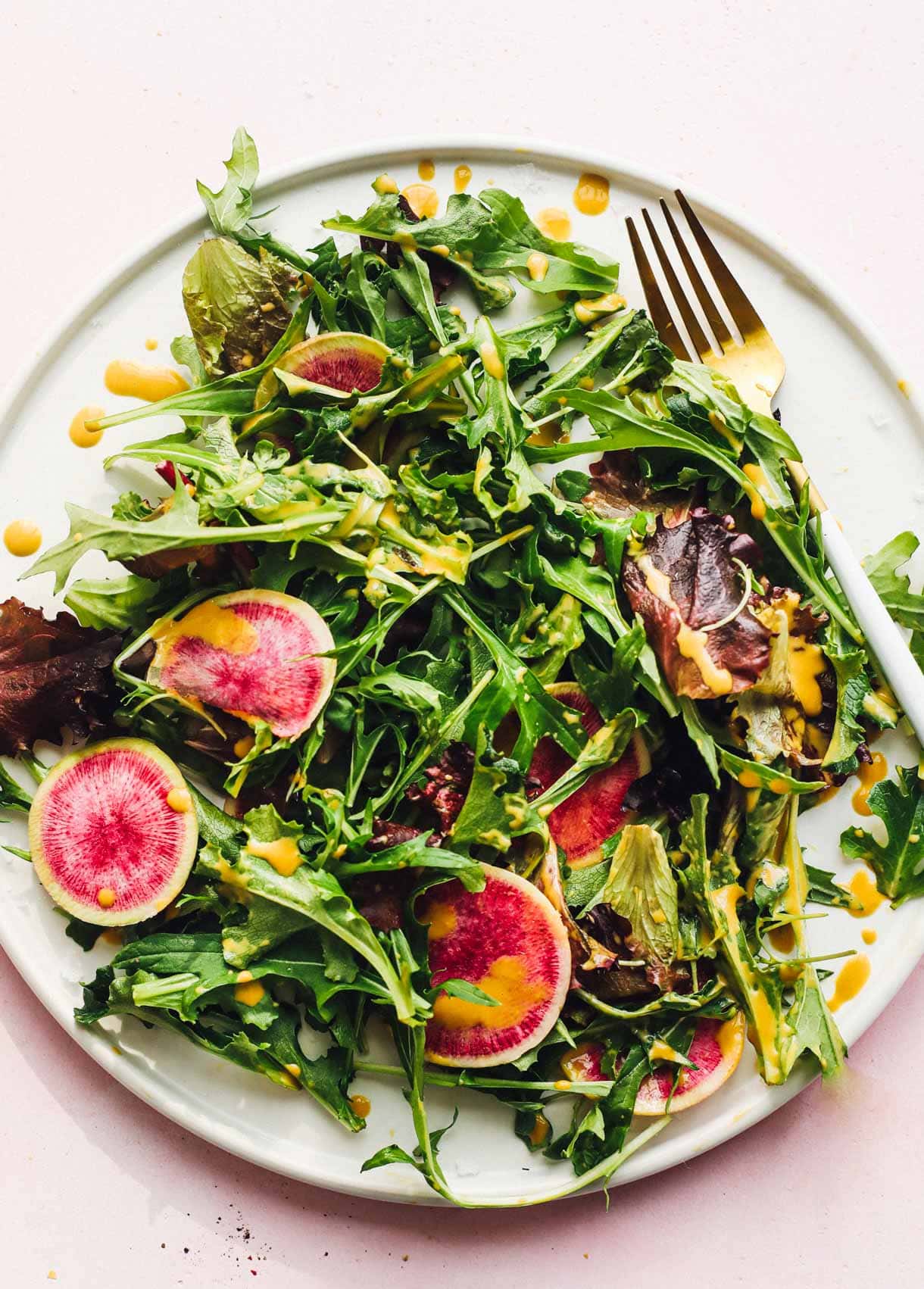 This is a salad dressing that will change your life. It changed mine, for real.
So good it's drinkable. So easy to make it's laughable.
And it has Brian and I eating more fresh greens than we ever have.
If I had to describe the flavor in a few words it would be zingy, bursting with umami from nutritional yeast, and deliciously addictive. Kind of like caesar dressing can be, but without dairy or anchovies.
This vegan salad dressing recipe is adapted from the quite famous Yeast Dressing in the Hollyhock Cooks cookbook, published by the Hollyhock Lifelong Learning Centre on Cortes Island in British Columbia. This centre is described as "an educational retreat center nestled in the tall forest of an island paradise where the sea laps at the beach below. Now add the most delicious food imaginable, created by a host of talented artist-cooks using vegetables and flowers gathered from the center's lush gardens, and presented with delicate care."
A week there sounds *SO* perfect, doesn't it?
My adaptions from the original recipe were slight, but I felt it made for a more balanced dressing.
I add just a few tablespoons water to the dressing rather than the higher amount in the original recipe. I like the creaminess and weight it has without it.
I changed the ratios of apple cider vinegar and tamari to suit our tastes.
I added a touch of maple syrup to balance the savoriness, and black pepper to give it a bit of depth.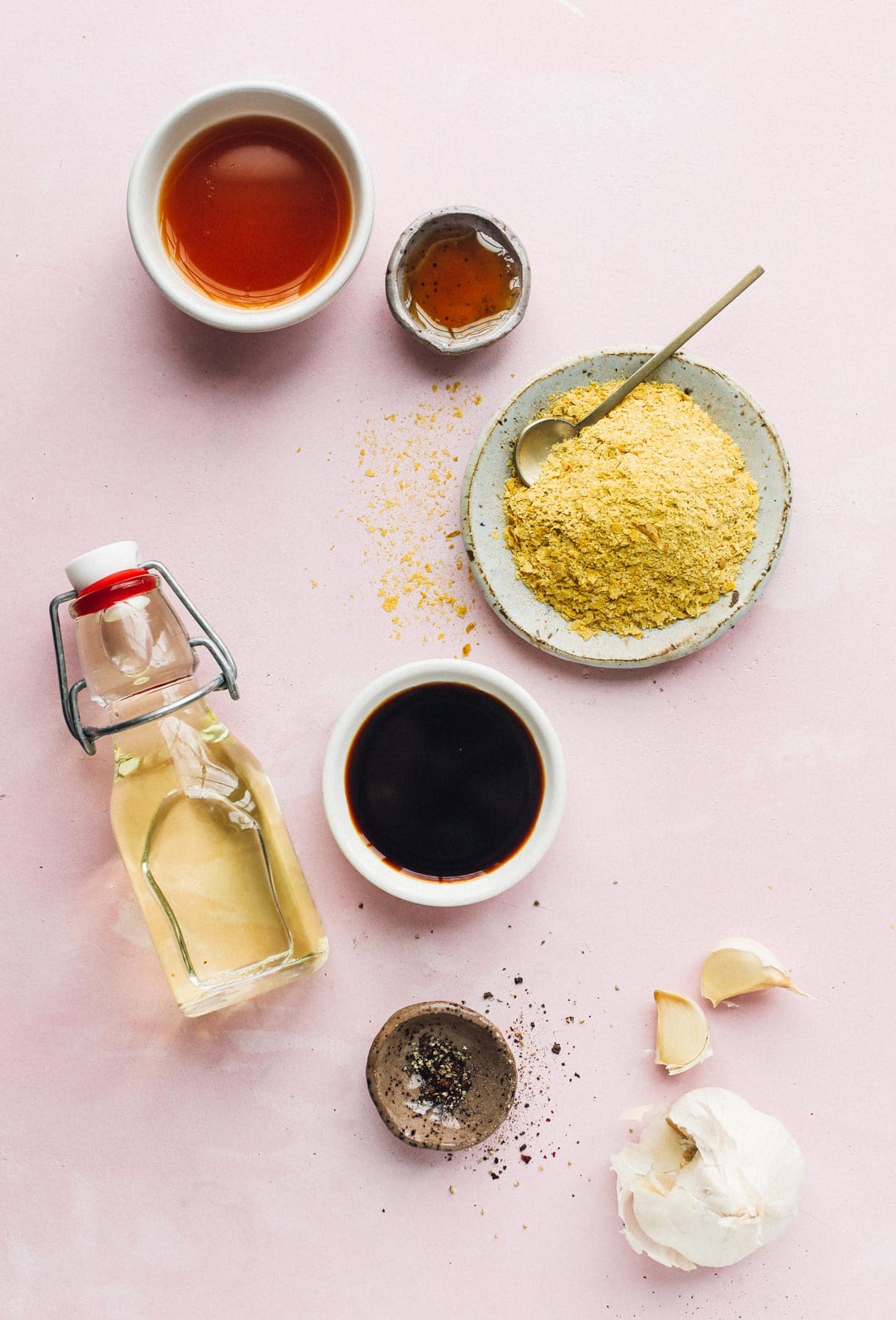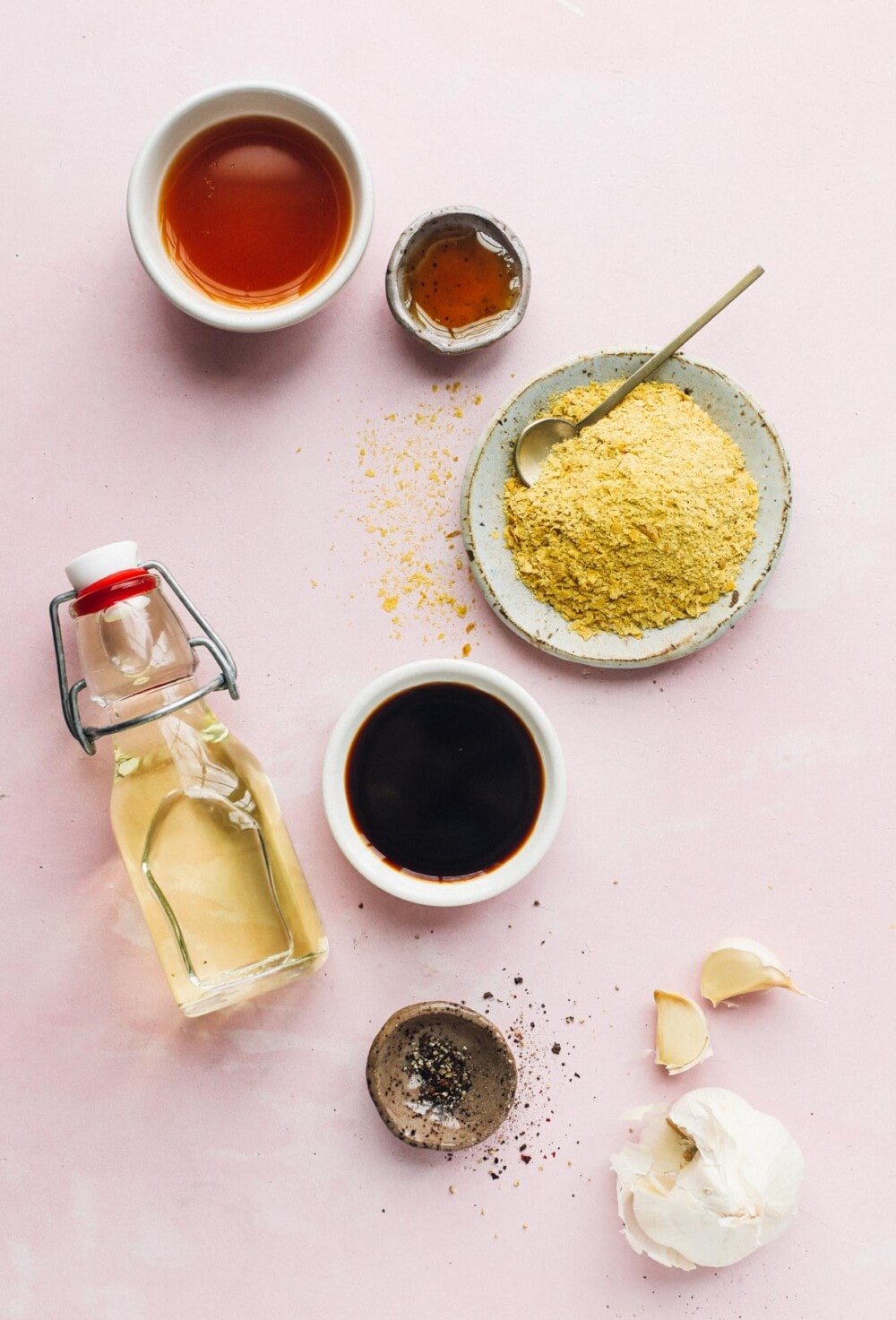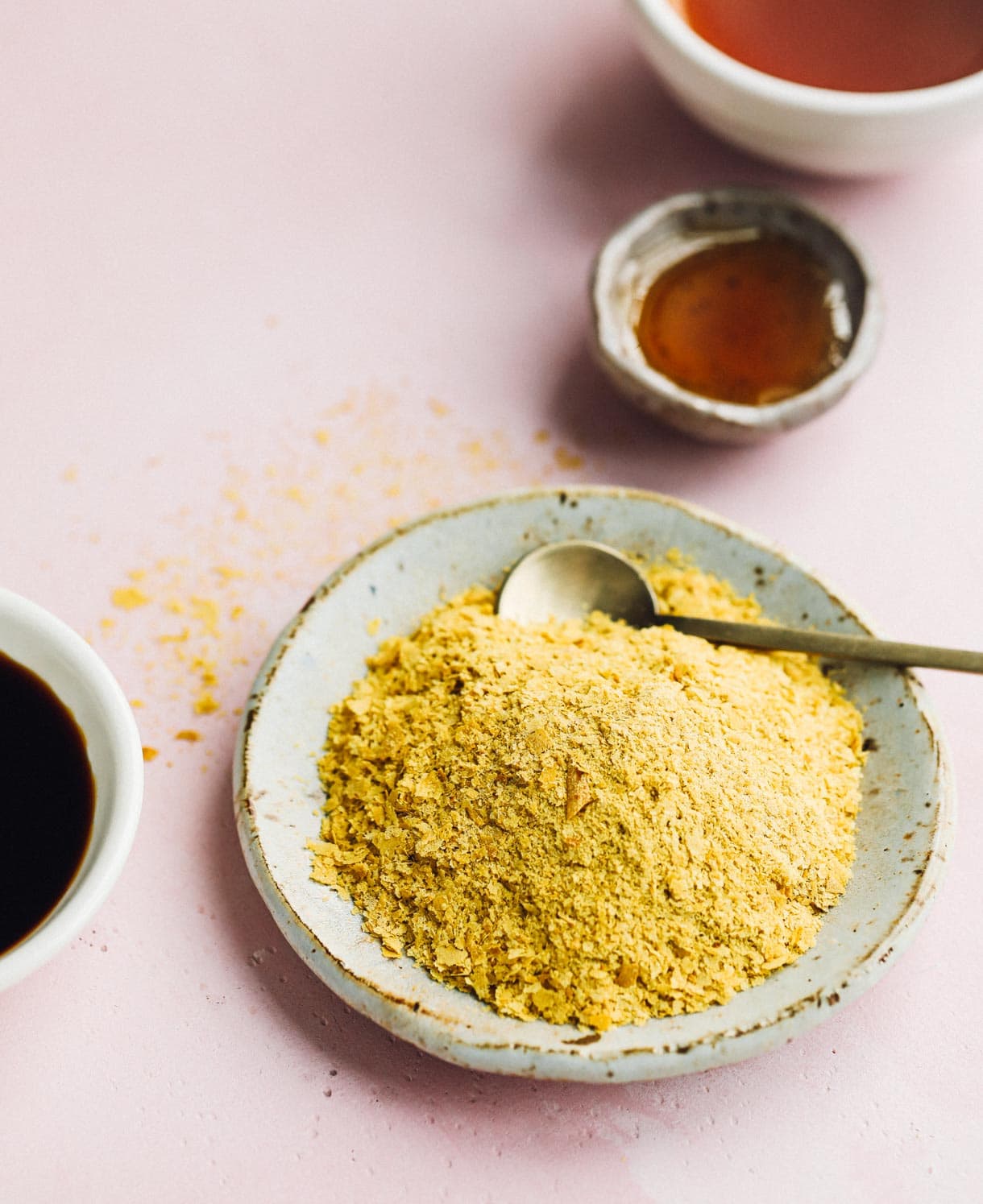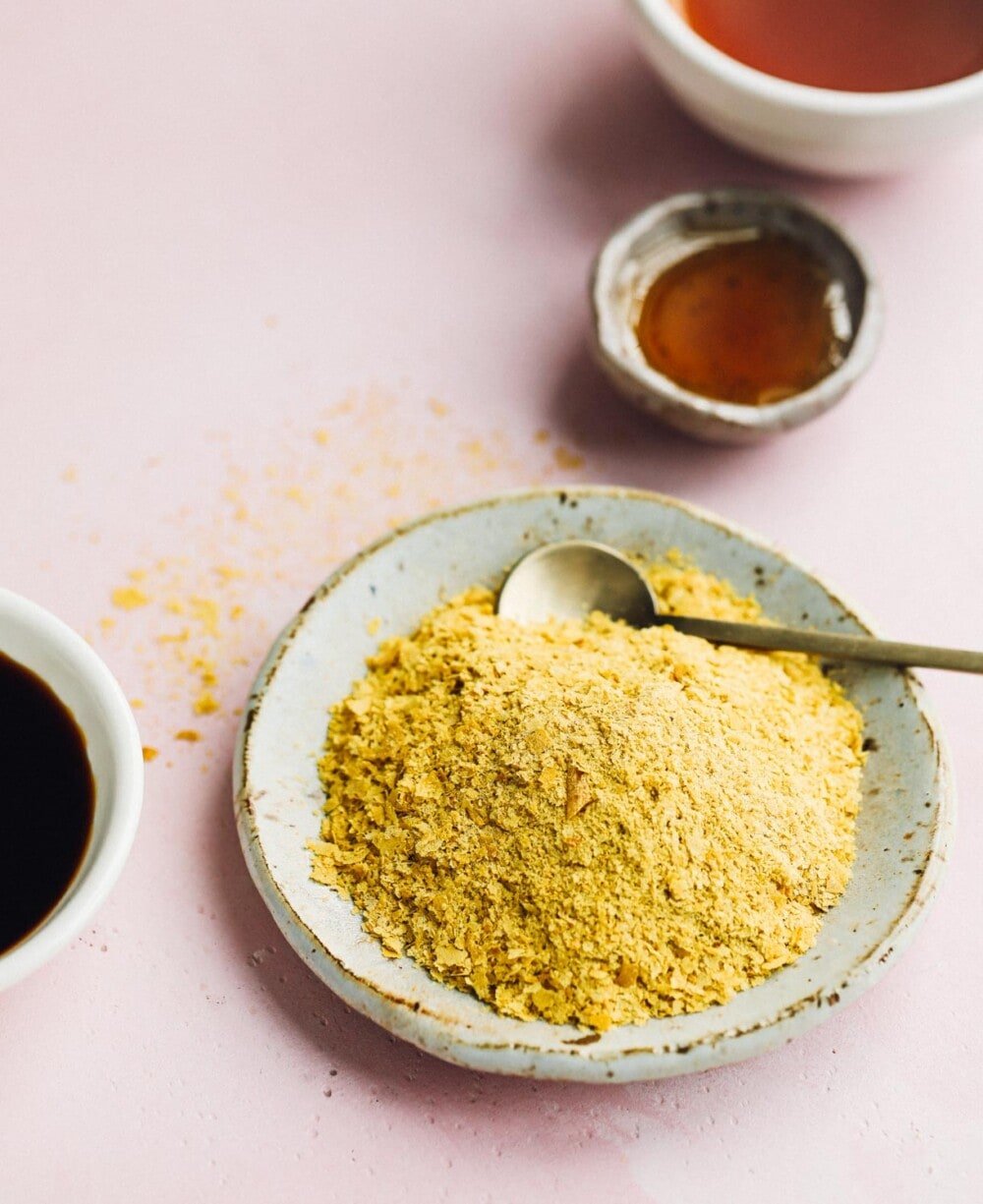 What Ingredients are in this Vegan Salad Dressing?
Sunflower Oil (or grapeseed oil)
Tamari (or soy sauce if you don't need the dressing to be gluten-free)
Garlic
Maple Syrup
Apple Cider Vinegar
Black Pepper
How to Make Vegan Salad Dressing At Home
Are you ready to make the easiest dressing ever? Grab your blender and let's go.
Add all ingredients except the oil to small blender jar (or use an immersion blender). Blend until smooth.
Slowly stream in the oil while the blender is running on low. It will thicken and emulsify by doing this. (My bright and gingery, vegan White Balsamic Vinaigrette is made the same way, making for another easy salad dressing to have on hand.)
Pour into a jar for storing in the fridge. That's it!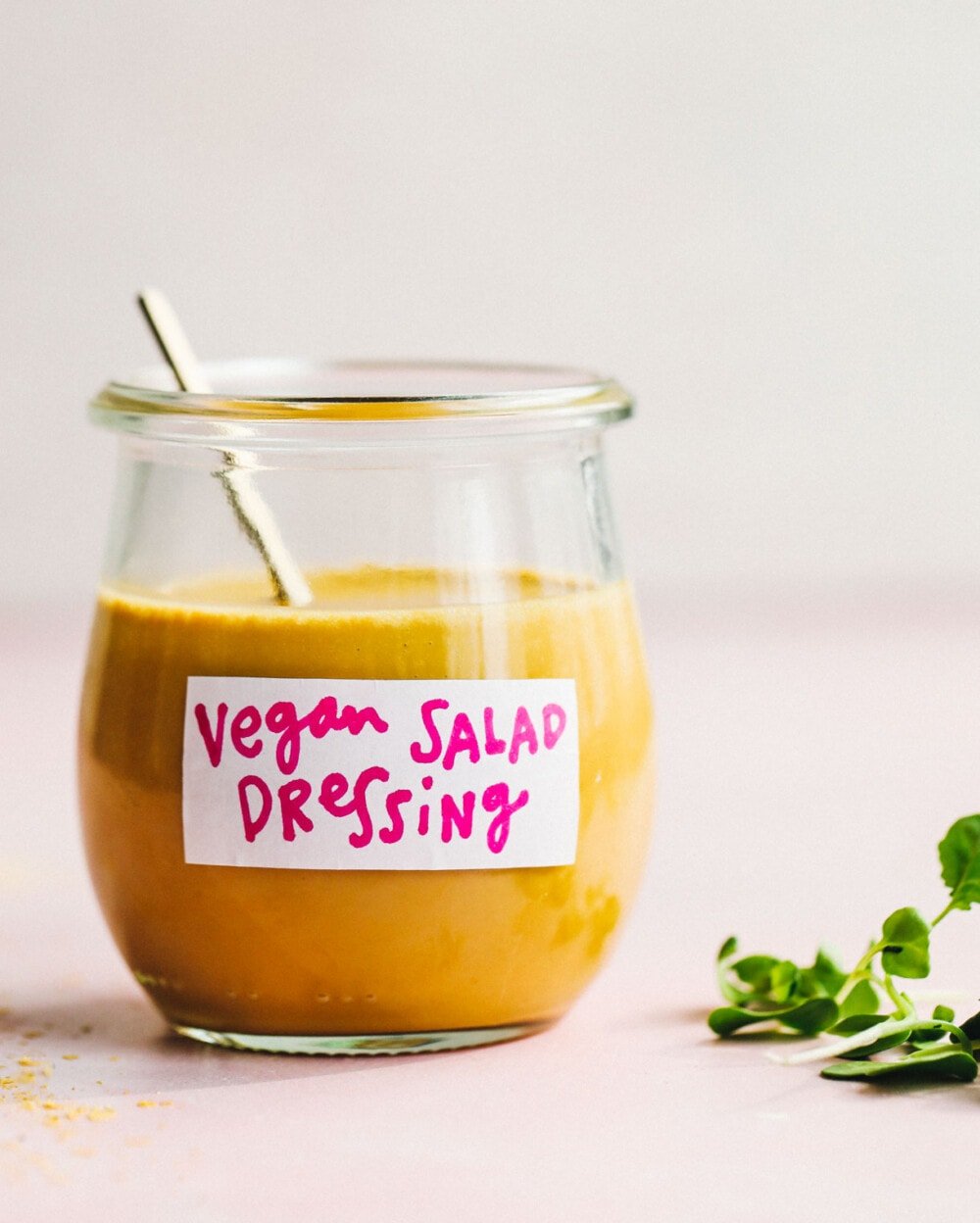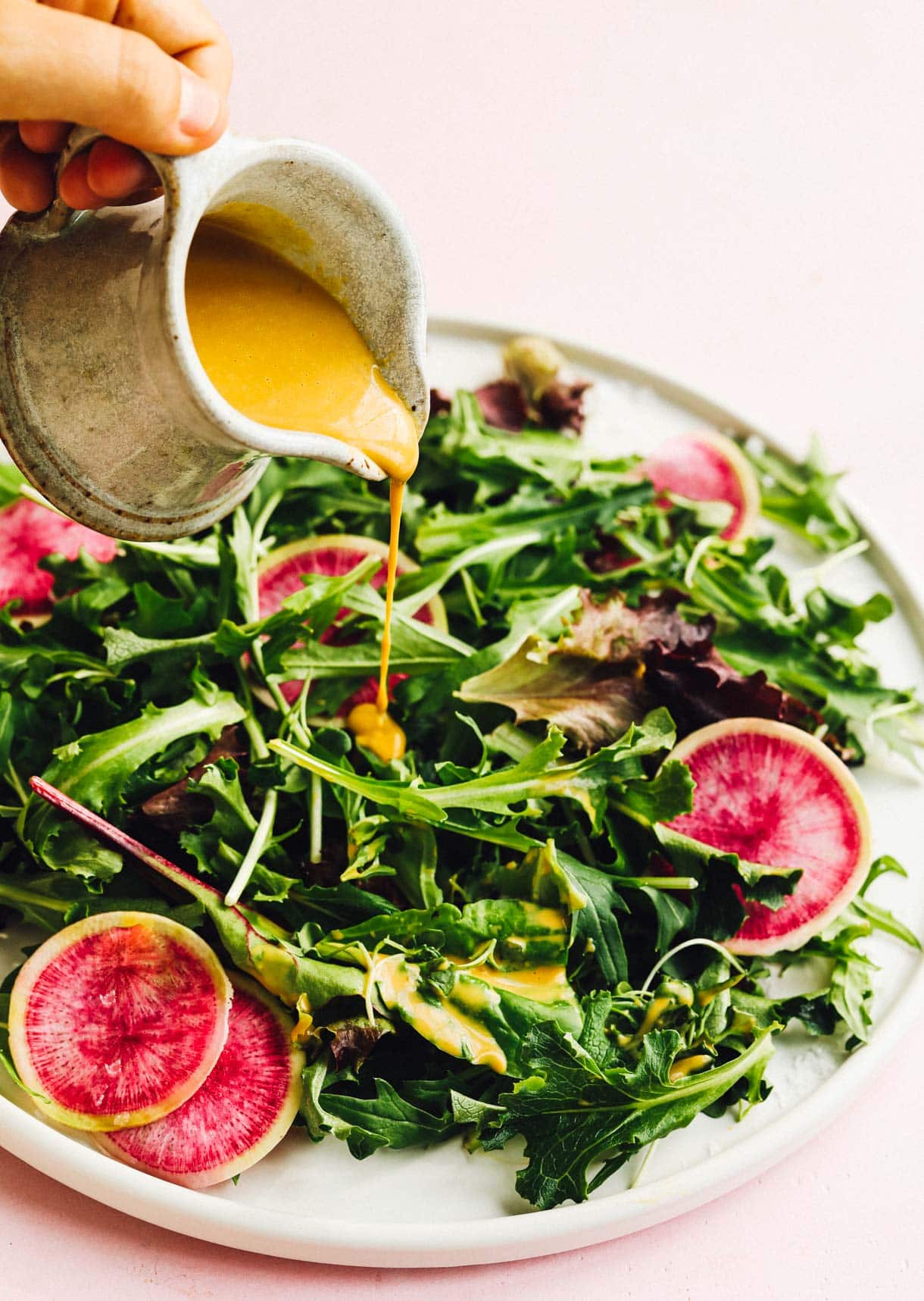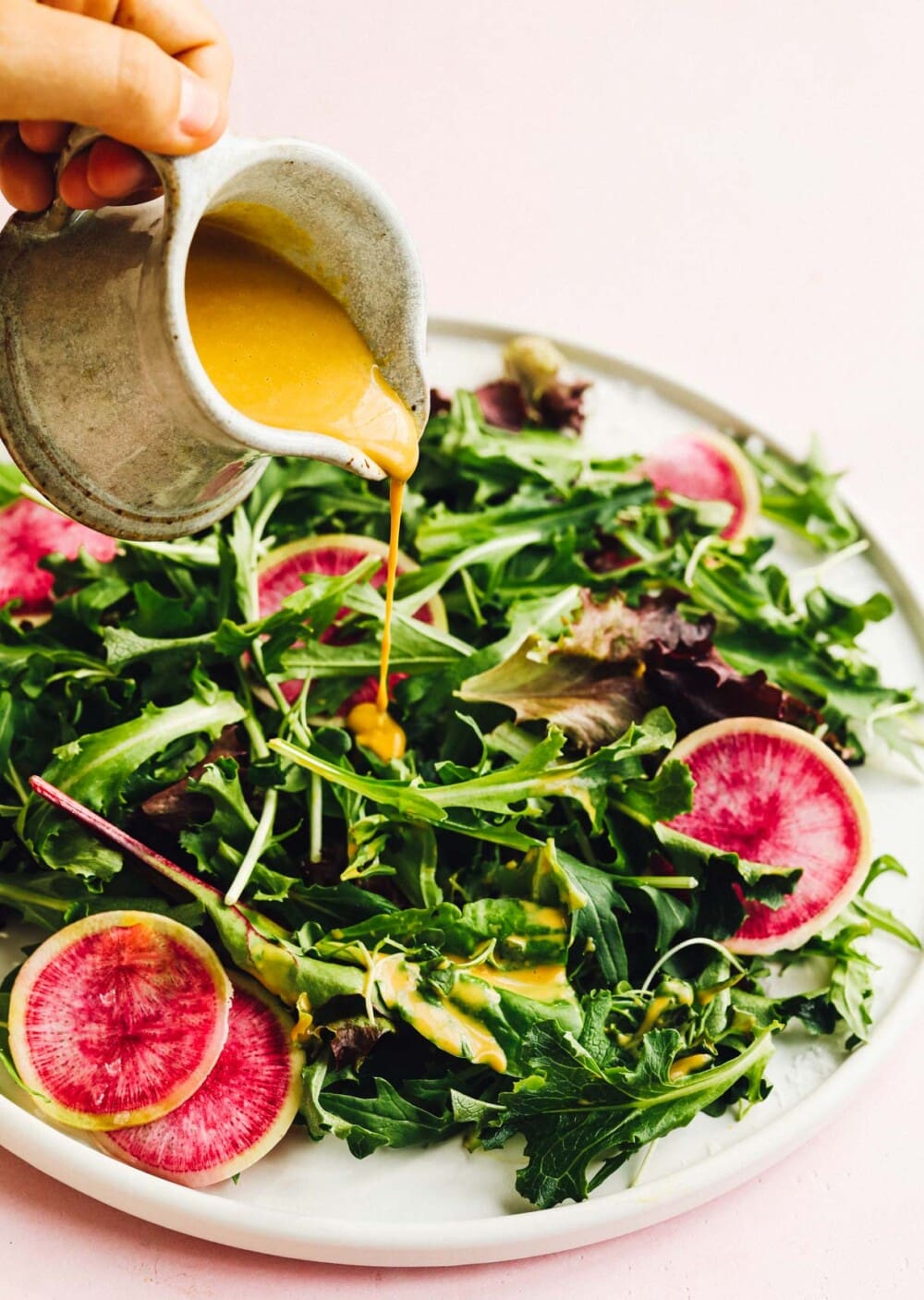 What is nutritional yeast?
This flaky yellow powder, also known as "nooch", made from living saccharomyces cerevisiae yeast, which is fed a sugary carbohydrate in fermentation vats so it grows. Next, it undergoes heating, pasteurization and drying, to be processed into the flakes you can buy at the store. The yeast is deactivated during those processes, which imparts the cheesy, nutty flavor that makes nutritional yeast so delicious.
How long does this dressing last in the fridge?
Another reason I love this salad dressing is because it lasts a long time if you need it to! It stays good for 3 weeks when stored in a sealed jar in the refrigerator. And I think it gets even better with time, as the flavors mingle and deepen.
More Vegan Salad Dressing Recipes: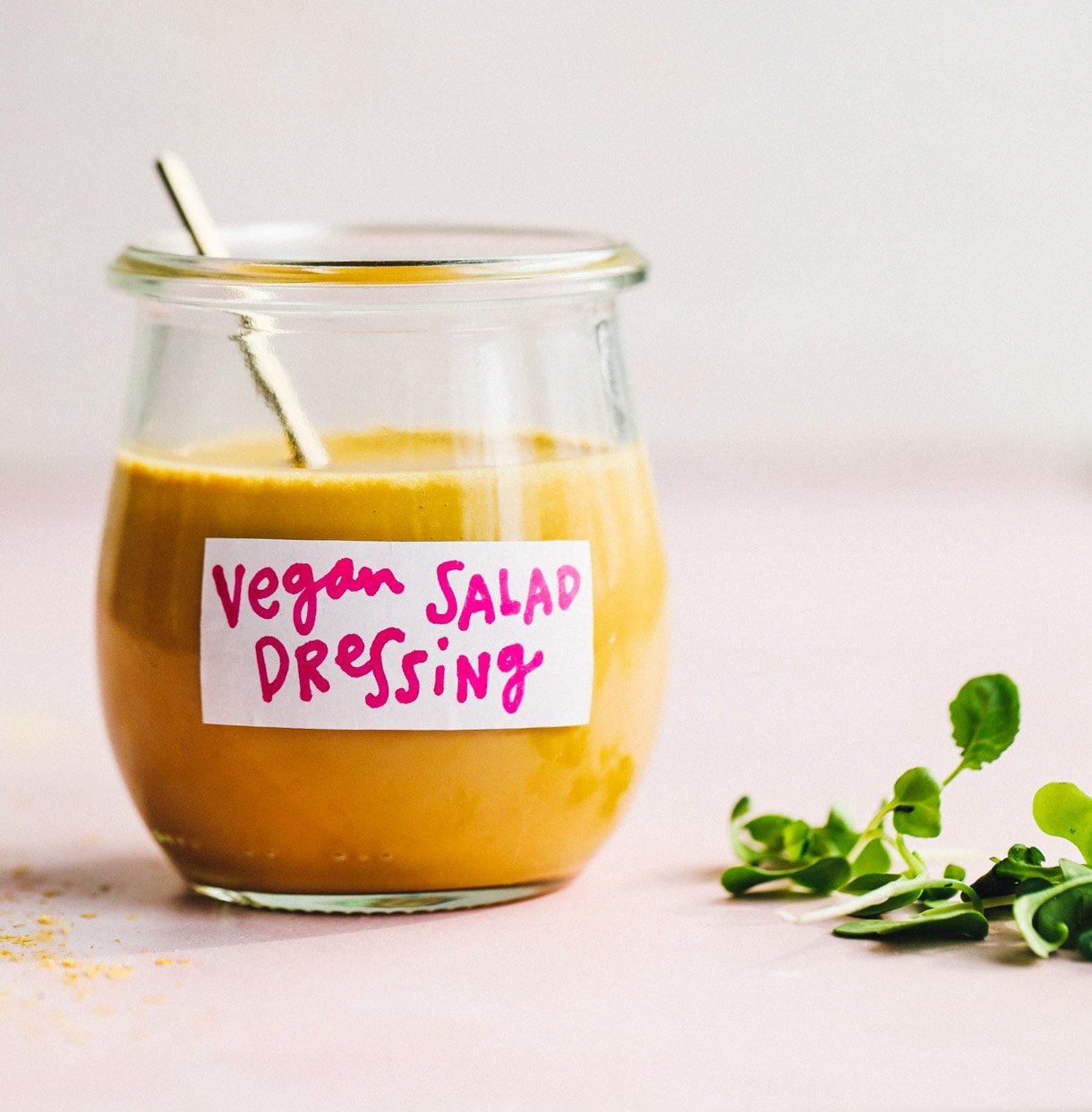 Add all ingredients EXCEPT oil to a small blender jar (or a wide, tall sided mason jar if you want to use an immersion blender).

Blend about 20 seconds until smooth.

With blender running on low, SLOWLY stream in oil through the top hole (or into glass jar), so that it emulsifies and is very smooth. If you pour the oil in too fast, it will not emulsify.

Pour dressing into a jar and refrigerate for an hour before eating, so that the flavors have time to mingle and the dressing will also thicken a bit. Will keep in the refrigerator for up 2-3 weeks.