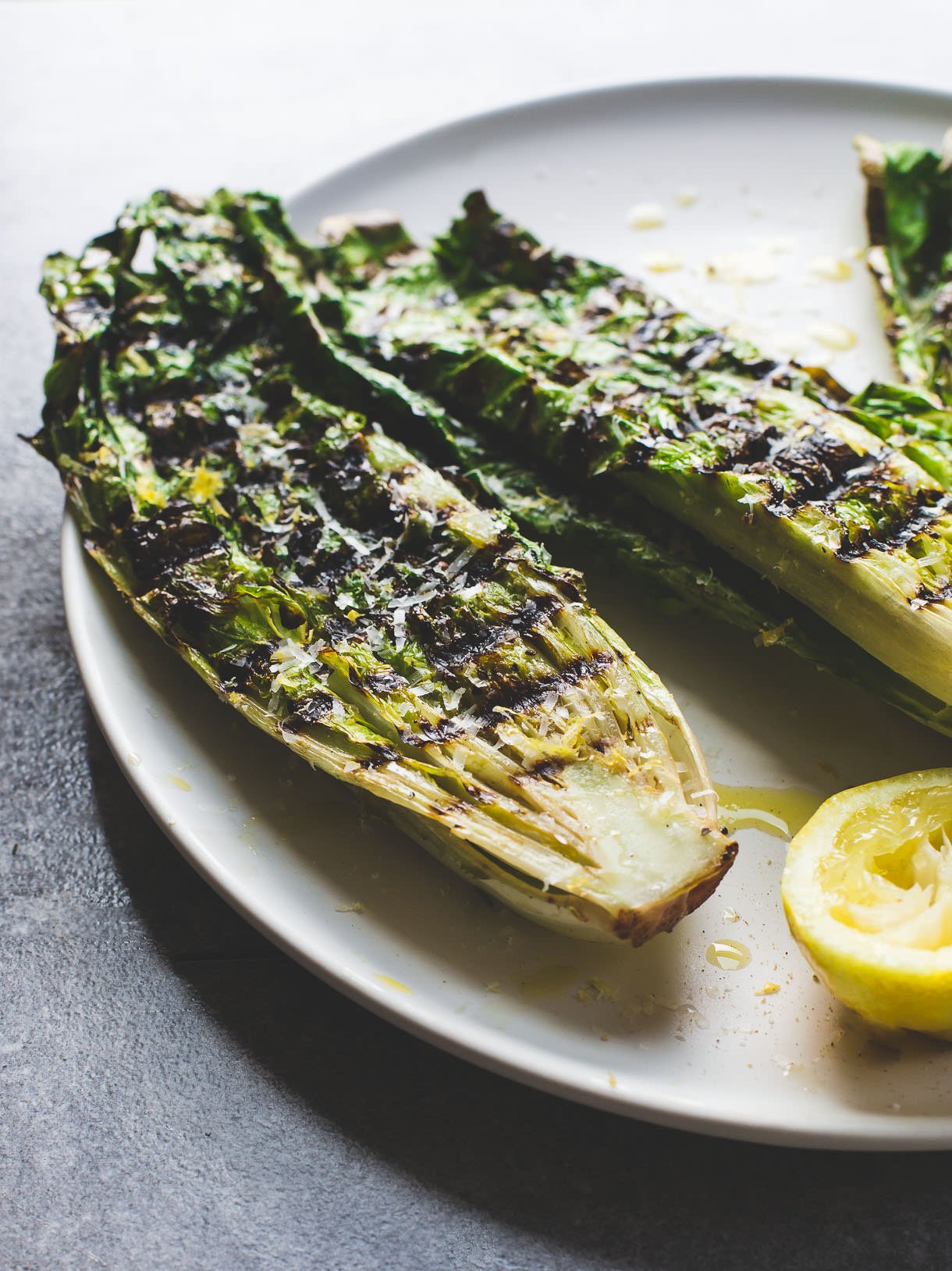 If you've never grilled lettuce, I don't blame you. A few years ago I too thought, "lettuce is so delicate, won't it just burst into flames? I mean, I've proven how good I am at burning marshmallows."
But I gave it a whirl anyways after hearing Bobby Flay say it was the simplest way to feel like a grill master. And he was right.
Because without an ounce of effort it turned lettuce into something so different, and so good.
Hot and crisp, with browned ruffled edges. Tender on the inside, yet still some crunch to give. A drizzle of good olive oil, a splash of bright lemon, and a dusting of fresh parmesan cheese. It's the absolute perfect side to this juicy Ribeye steak recipe!
This grilled lettuce technique is pretty much foolproof, but here are a few things to keep in mind:
Most important: slice the head of lettuce VERTICALLY, think lengthwise. This keeps the leaves connected to the core, thus your leaves staying together, nice and firm.
Make sure your grates are clean, and brush them with a little oil.
Turn that grill up to medium high, no need to be shy. This will give the lettuce those beautiful sear marks and infuse a smokiness.
Don't forget the fresh lemon juice. This is key to making the natural flavors of the lettuce sing, and brightens the entire dish.
You can watch this Grilled Lettuce video to help guide you in making it as well!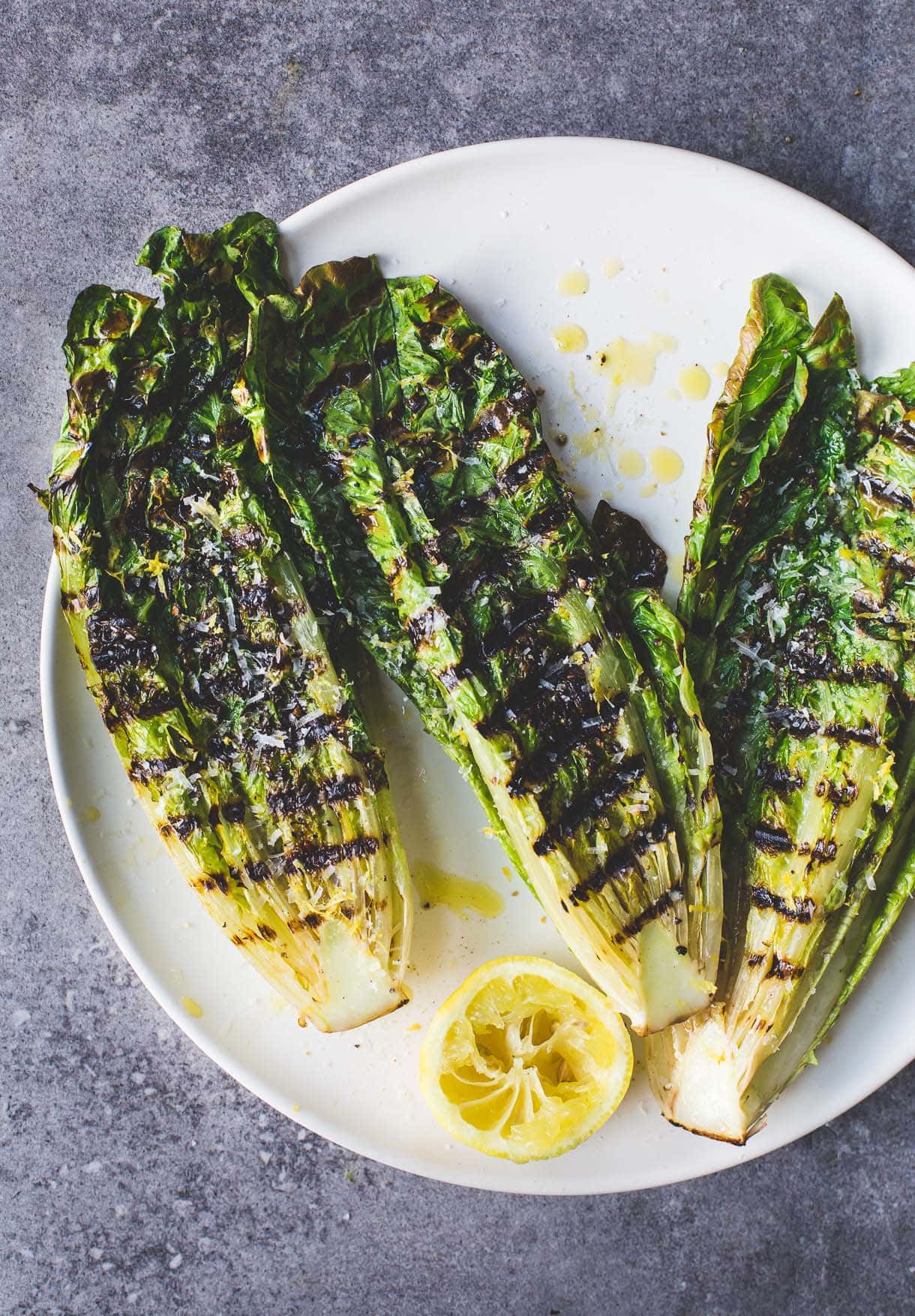 This might just be the technique that turns your salad naysayers into believers. When I was filming this video with my talented friend Wale, him hustling with the camera while I brushed, grilled, and ate, the least I could do was offer him was the of result of our work. I offered, and he hesitated…. "I'll try it, but I don't like lettuce."
He took one bite, sat silent, and then… "Okay, I guess I like lettuce". Three days later he texted me a picture of grilled lettuce, the starter to the dinner he had made for his girl. I'll take that as a win. Hope you enjoy it just as much, xo.
If you make this Italian Grilled Romaine Salad, be sure to tag me on Instagram with hashtag #heartbeetkitchen, or @heartbeetkitchen!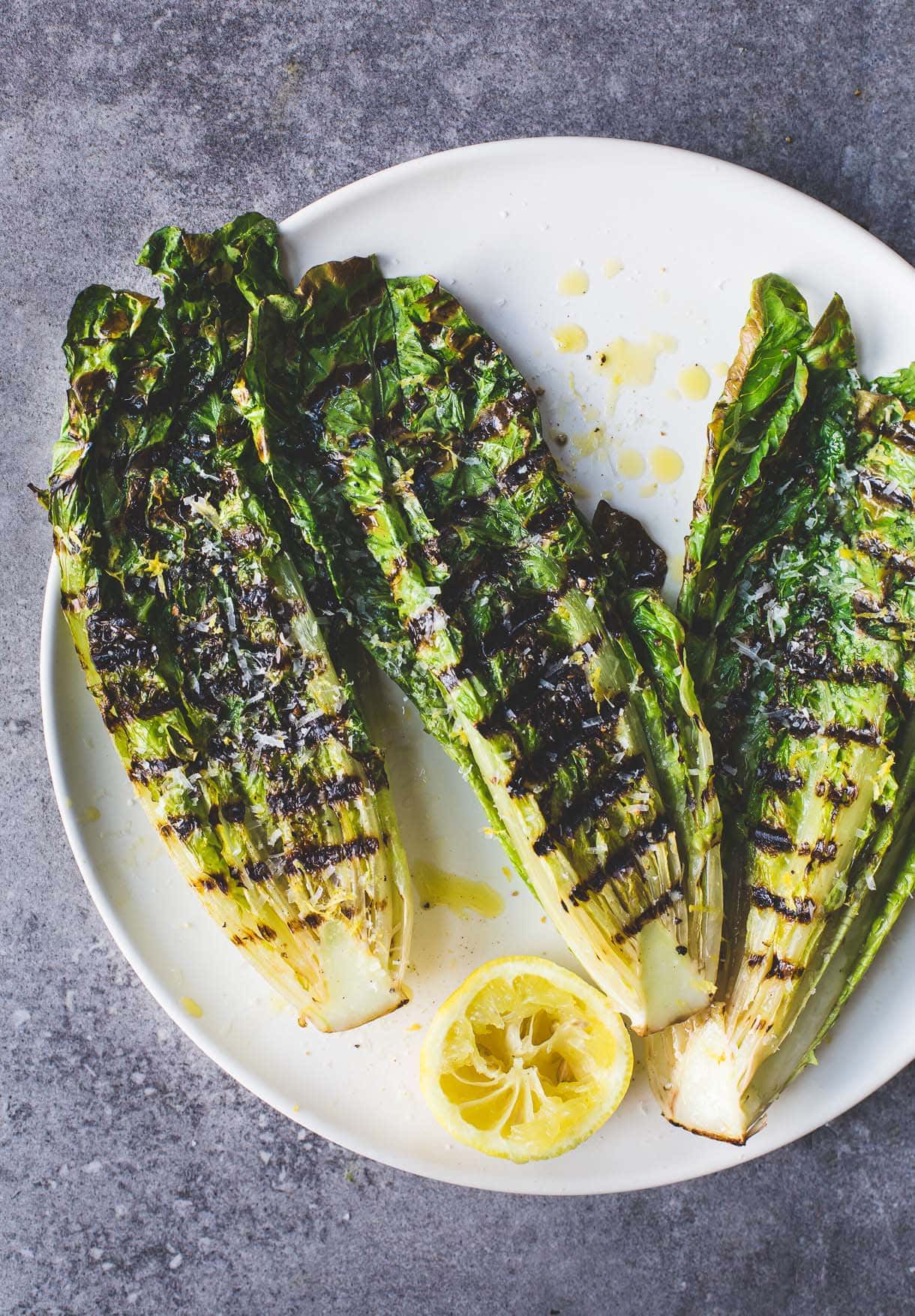 2

heads of fresh and firm romaine lettuce

cut vertically (you will have 4 halves)

3

tablespoons

olive oil

kosher salt

divided

black pepper

one medium lemon

cut in half

fresh parmesan cheese
Make sure grates of grill are clean and turn to medium high.

Brush lettuce halves liberally with 1 1/2 tablespoons olive oil, cut side and back side. Then sprinkle each halve with some salt.

Grill for 3 minutes, cut side down, pressing with your tongs to make sure the lettuce gets a good sear. Flip and grill for one or 2 more minutes.

Remove from grill. Sprinkle with more salt and pepper, drizzle with remaining olive oil. Squeeze fresh lemon juice over each half. Use a grater to shave lots of fresh parmesan on each halve. Serve.