These tasty mini angel food cakes (gluten free) are baked in a muffin tin to makes things easy. The texture of the cake is light, airy, and pillowy soft! Just like the classic. Top with homemade lemon whipped cream and fresh strawberries and serve. Recipe yields 16 mini cakes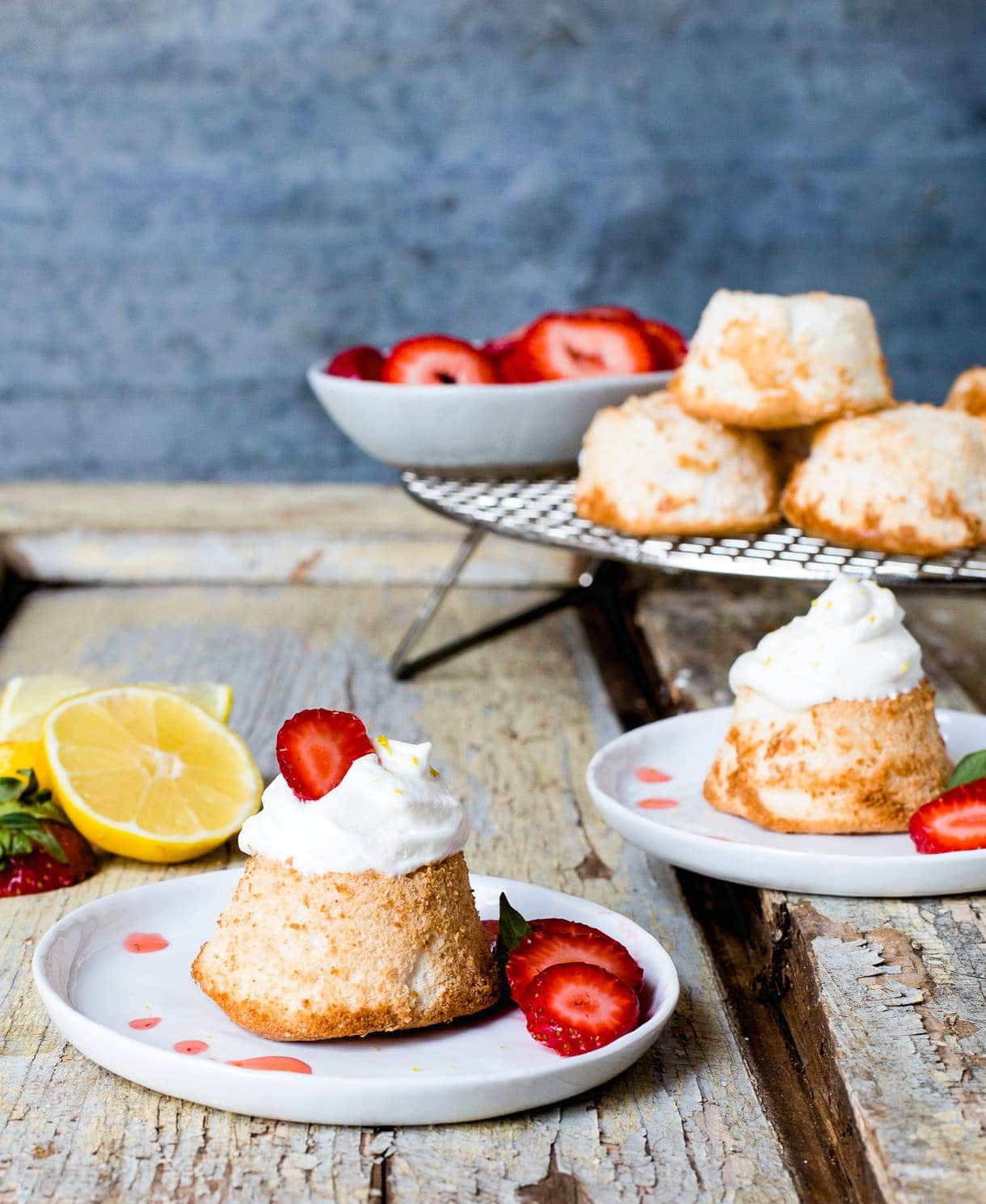 When you mention Mom and berries in the same sentence, the first thing that comes to my mind is Mom's angel food cake. Her signature style of serving it, with crimson red strawberries she'd somehow sliced perfectly using a scraggly pairing knife. She'd let them sit amongst a dusting of sugar, coaxing out their sweet juices that begged to be absorbed by the light and airy cake. The tender, juicy strawberries nestled atop homemade whipped cream, it was my favorite summertime delight. had to spend hours turned upside down, balancing on a bottle of Worcestershire sauce, which I can still picture clear as day.
It had been years since I'd had a piece of this cake, and I realized it was up to me to create a light and airy gluten-free angel food cake that could hold its structure. I've developed many other delicious gluten-free dessert recipes, but this nostalgic cake was not one of them. Yet.
I needed to learn the phases of egg whites so that I could get them firm and glossy, a must for it's lift and airy quality.
After several trials, this "from-scratch" version is one that I'm confident you can do! Because I didn't think many people had an angel food cake pan (in the 1980's, yes – but not anymore), I decided to make them into minis using a standard muffin tin.
A mix of tapioca and cassava flour (which makes them grain-free too!) was the perfect equation for making gluten-free angel food cake. The batter light enough to let the egg whites do their thing, but starchy enough to get away without using gums.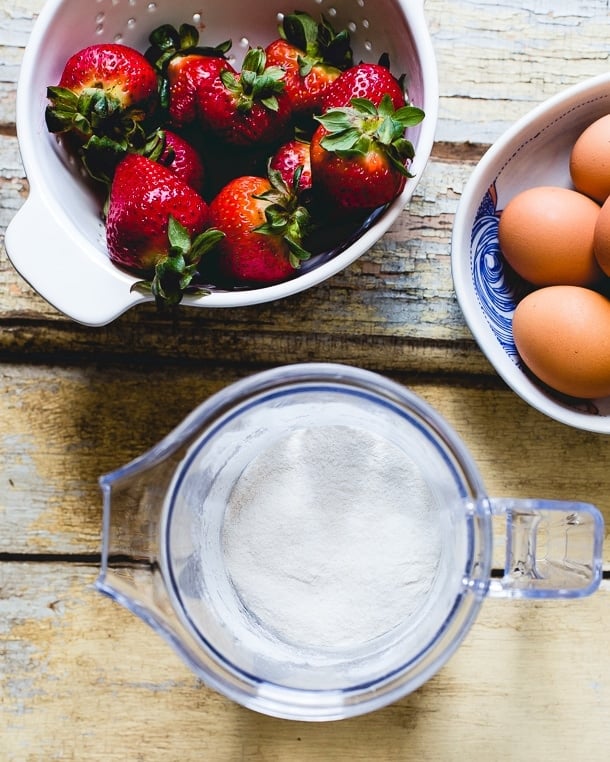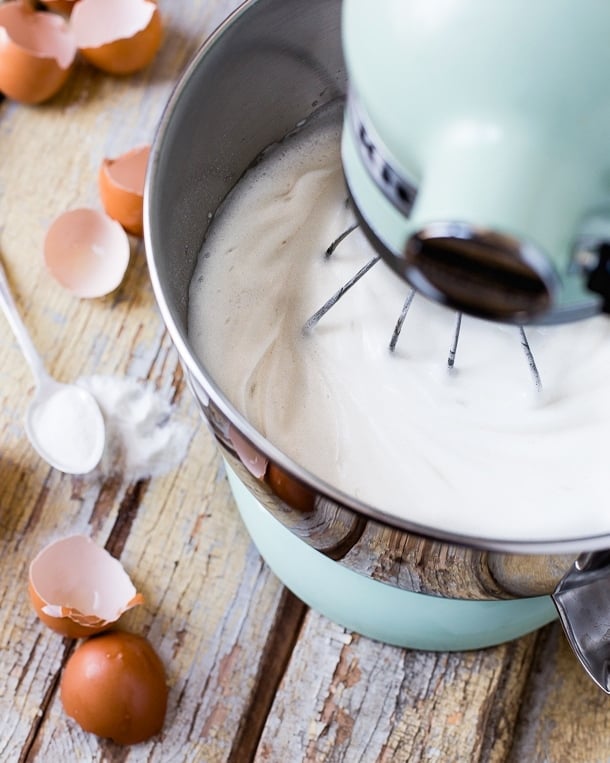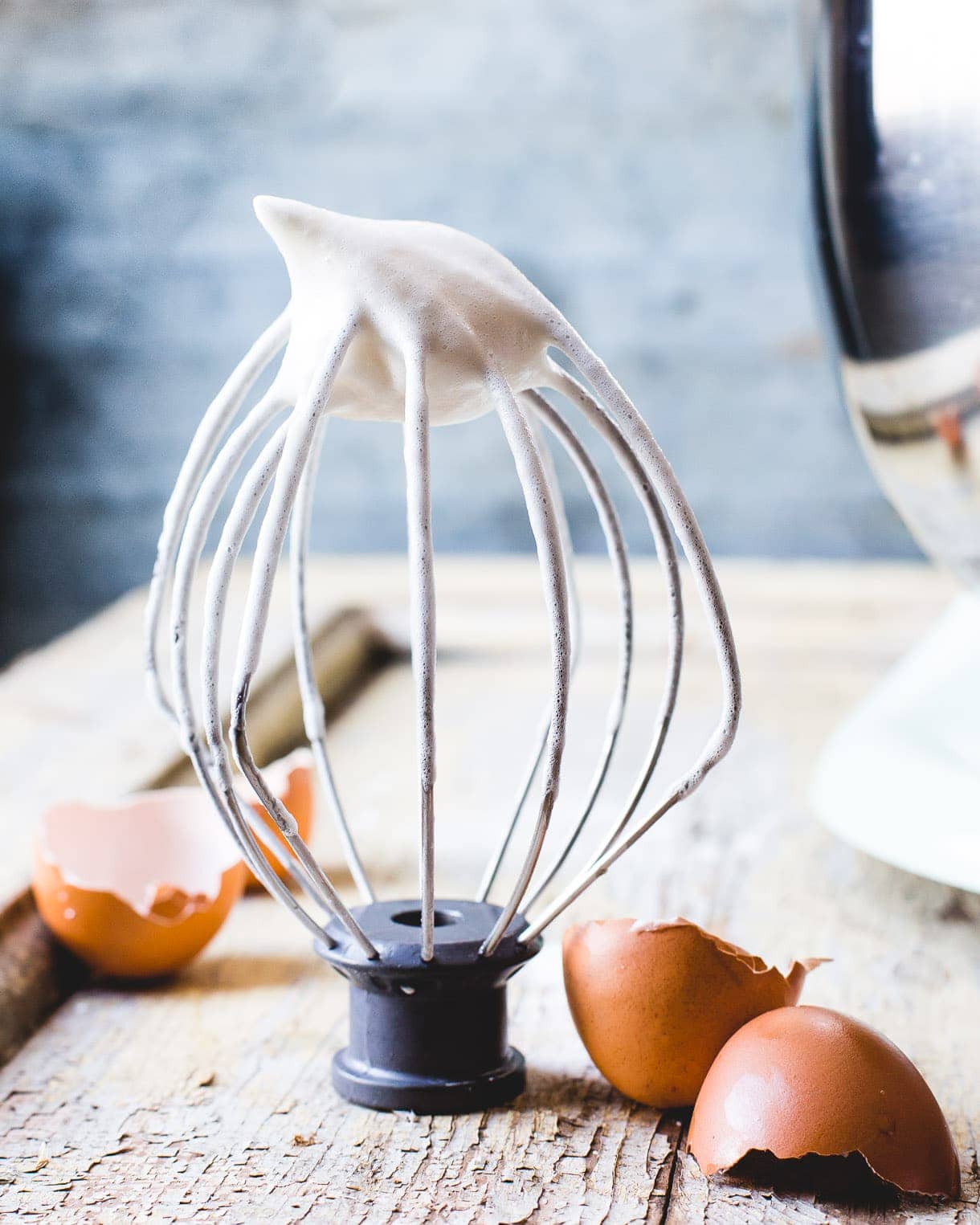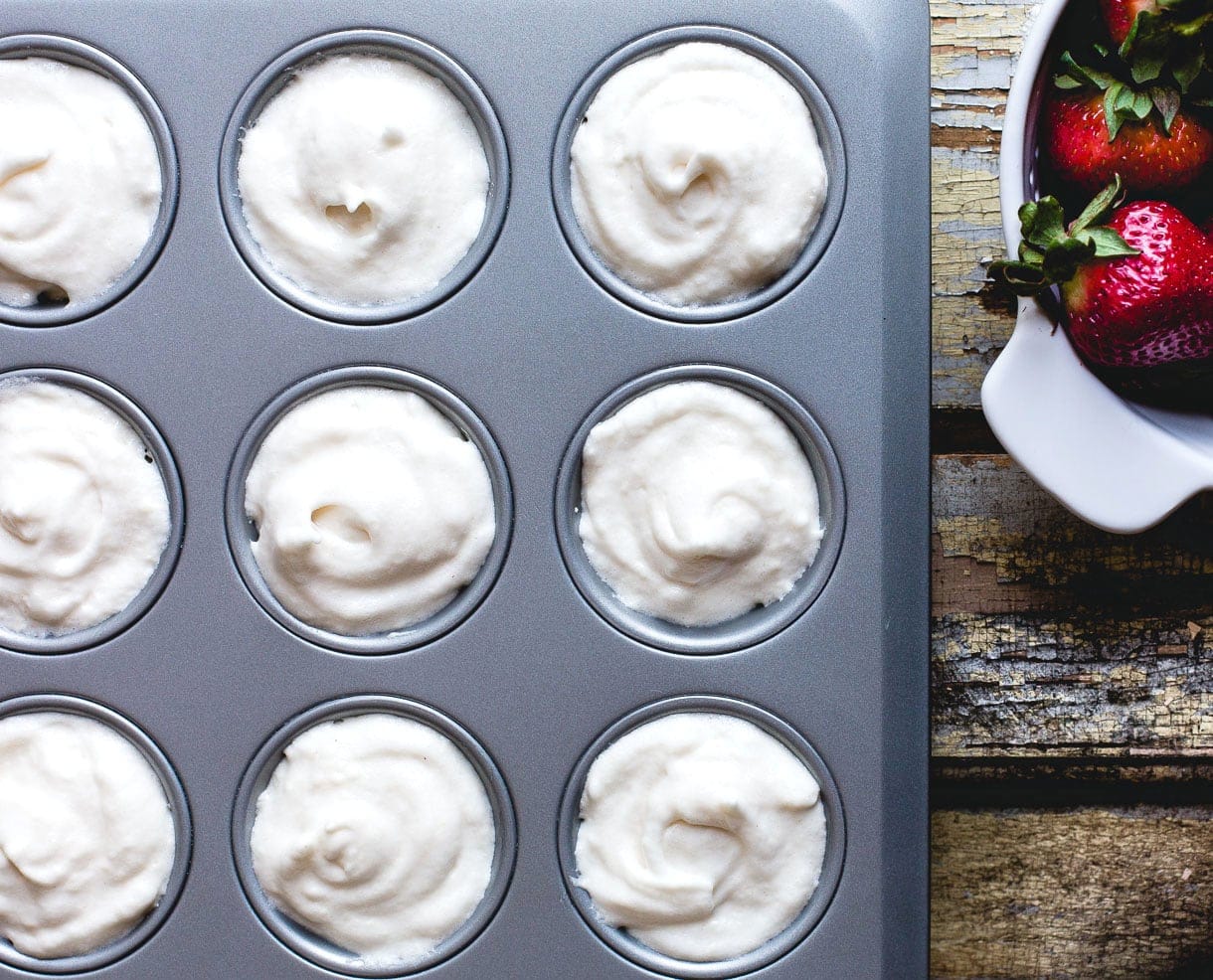 Tips for making Gluten-Free Angel Food Cake
The pictures above show what firm and glossy egg whites look like. To be sure they whip, use room temperature eggs and make sure your bowl is completely clean. No speck of egg yolk should enter the bowl either.
You must use super-fine sugar and since I don't ever hand this on hand, I made my own by putting into my blender and whizzing until it was very fine, like sand. They do sell super-fine sugar, but I haven't ever found an organic one. By making my own, I could use organic evaporated cane sugar, and save a tripe to the store.
You must sift your dry ingredients (flour & sugar mixture).
To keep a smooth consistency, you add the flour mixture literally 2 tablespoons at a time, folding by hand to mix, not stirring. It is the step that takes the longest, but it is essential.
You'll let your berries sit in a bit more of the superfine sugar as the cakes bake and cool, or even better, do this step the night before. This is where the juiciness comes from, macerating so that they create their own "simple syrup". The best.
The mini cakes have just the right amount of toasty crunch on the outside, and cloud-like fluffiness on the inside. Topped with homemade whipped cream, a divine dessert.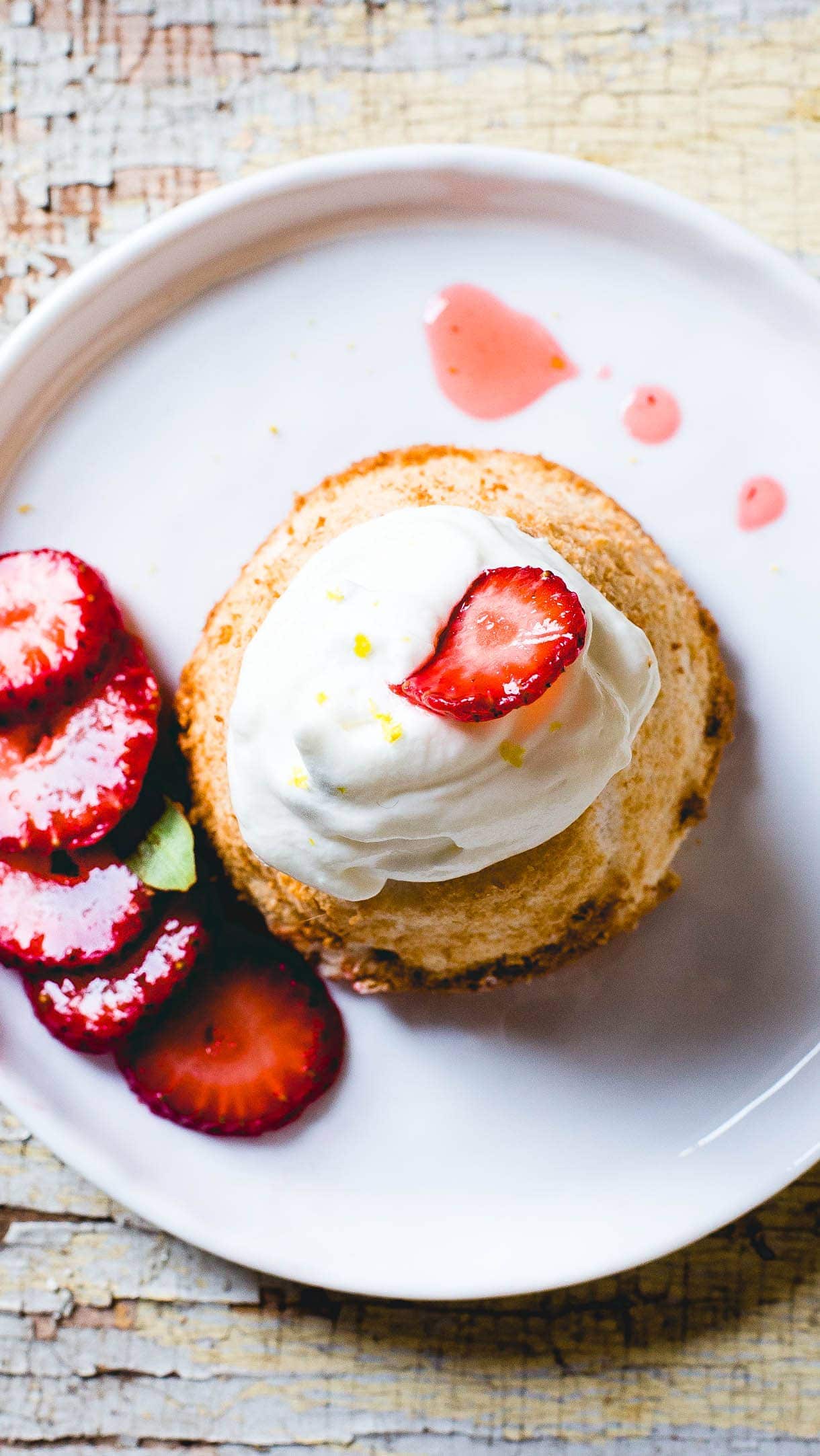 How to Store Angel Food Cake:
You can store your gluten-free angel food cake on the counter, tightly wrapped in a covered container for 2 days. Or you can securely wrap in plastic wrap and store in the refrigerator for 4 days, leaving it come to room temperature before serving.
Can I Freeze Angel Food Cake?
Yes! Angel food cakes freezes well, lasting about 4 months if securely wrapped in foil, then in a plastic storage container. De-thaw on the counter when you are ready to eat. Leave frosting or other ingredients off the cake if you are going to freeze it.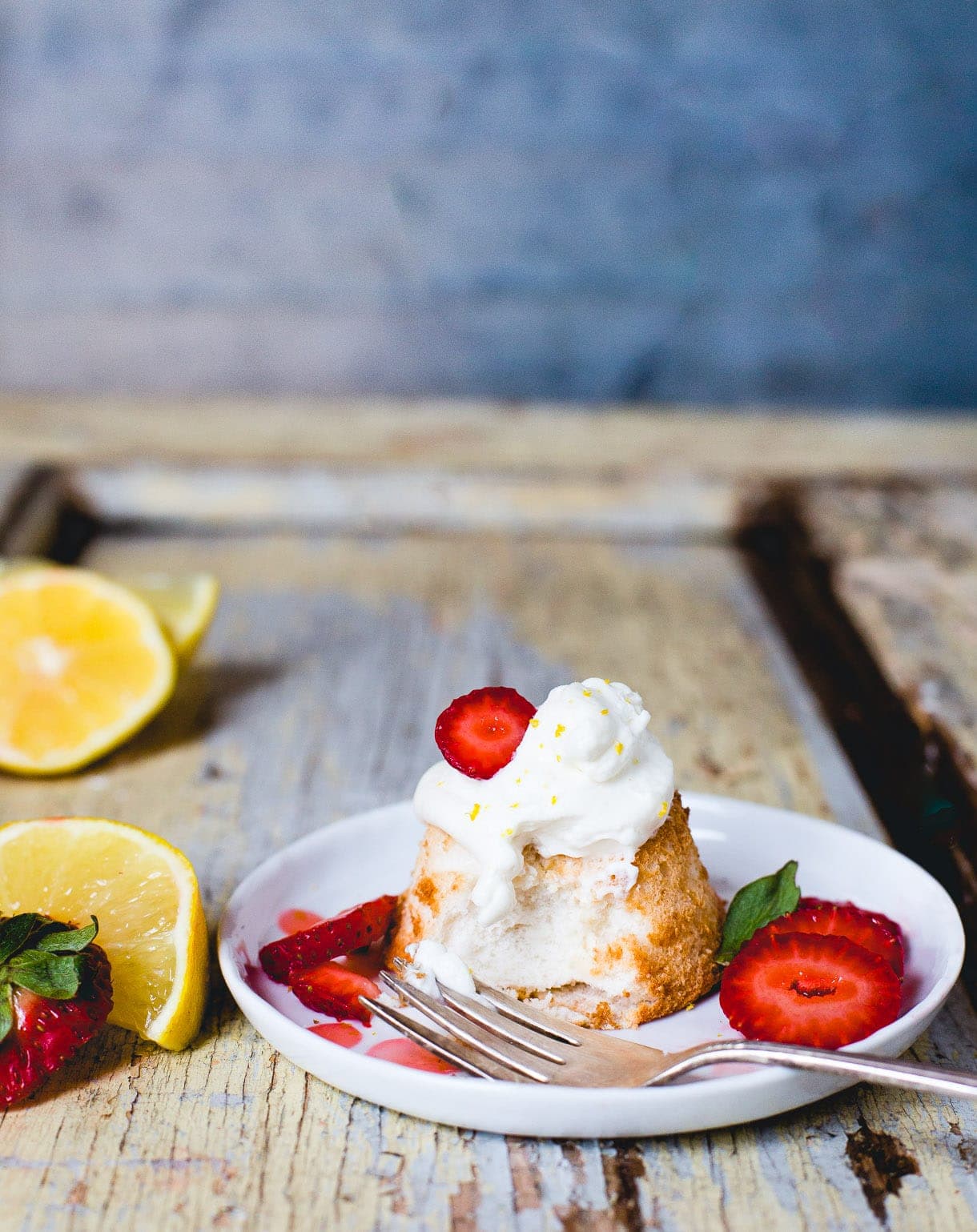 More Gluten-Free Cake Recipes:
Cakes:
3/4

cup

(150 grams) superfine sugar, divided

1/4

teaspoon

fine salt

1/2

cup

cassava flour

1/4

cup

(25 grams) tapioca starch/flour

6

large egg whites at

room temperature

1

teaspoon

cream of tartar

1 1/2

teaspoons

pure vanilla extract
Strawberries and Cream
2

cups

sliced strawberries

2

tablespoons

sugar

regular will work, or you can use leftover superfine

1

cup

very cold heavy whipping cream

1

tablespoon

sugar

regular will work, or you can use leftover superfine

1/2

teaspoon

lemon extract

zest of one lemon
Preheat oven to 350 degrees. Place flours, 1/2 cup superfine sugar, and salt in a sieve set over a bowl. Sift into bowl and set aside.

With a mixer, beat egg whites on medium-high until foamy, about 1 minute. Add cream of tartar; beat until soft peaks form. Continue to beat, gradually adding remaining 1/4 cup superfine sugar; beat until firm and glossy stiff form, about 2 minutes. Add vanilla; gently beat just to combine.

Remove bowl from stand mixer. Add the flour/sugar mixture In five batches, using the sieve or gently sprinkling over the egg whites, folding in gently each time. You'll use a rubber spatula to fold in the mixture by cutting down the center and coming up the sides.

Gently spoon batter into a lightly greased, 12 cup muffin tin, filling each one to to the top. (You'll have leftover batter, which I put into more muffin tins and bake after the first round is done.) Cut a knife or small spatula through each muffin cup to release air bubbles. Bake for 5 minutes at 350 degrees, then turn heat down to 325 degrees and bake for about 15 minutes, until cakes are golden and spring back when lightly pressed.

Let muffin pan cool completely. Run a knife around the inside of each little cake to release and unmold.

Stir together the strawberries and 2 tablespoons sugar, let sit for at least 30 minutes. To make the whipped cream, use a handmixer or whisk to whip the cream with 1 tablespoon sugar, and lemon extract in a bowl, until soft peaks form.

To assemble place each cake on a plate and top with whipped cream, and strawberries on the side and a bit on top. Sprinkle with lemon zest. (I added more strawberries to the top of mine after photographing, so the juices really sank in).

Cakes are best eaten the day they are made, but will last another day in an airtight container, out of the refrigerator.