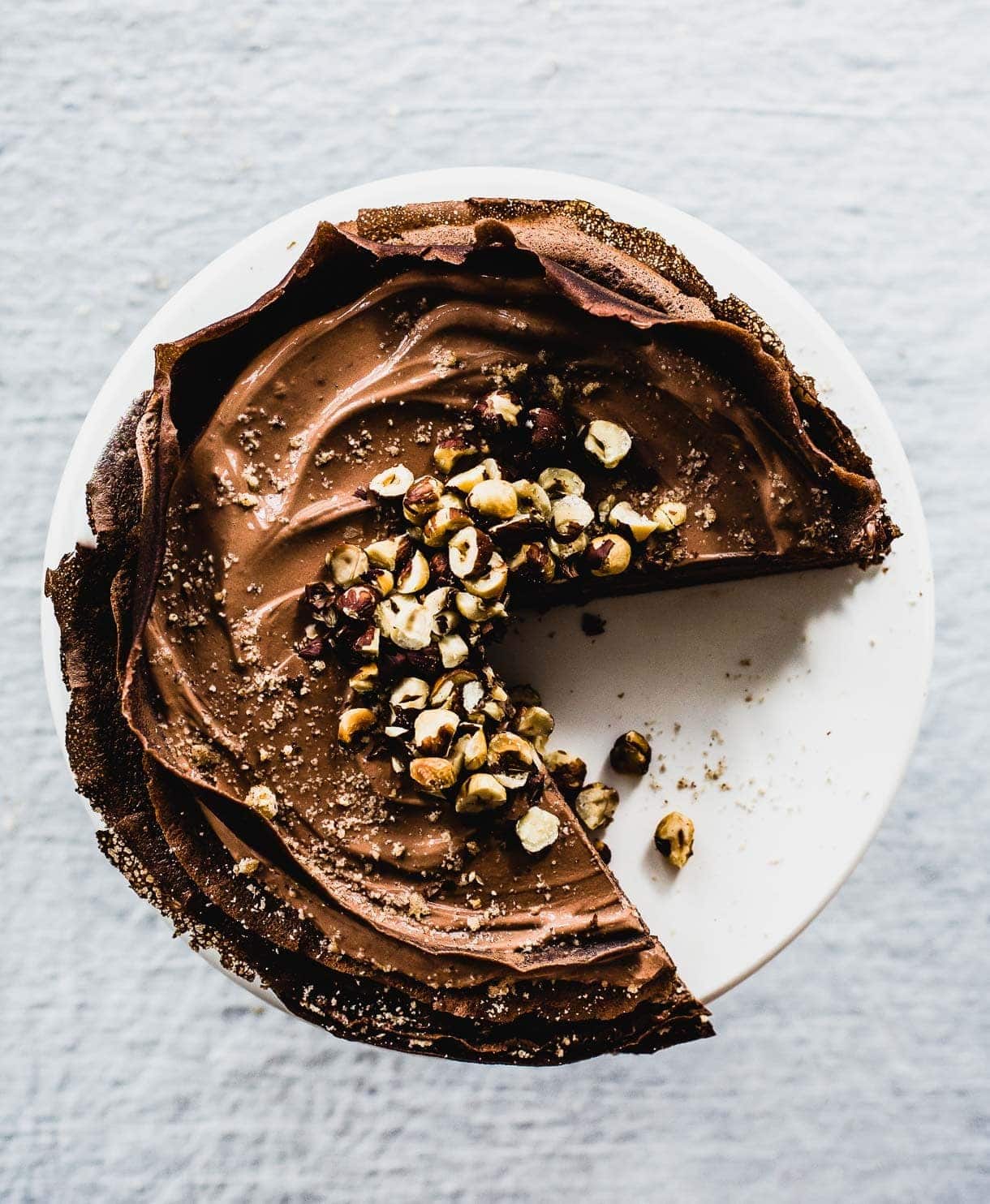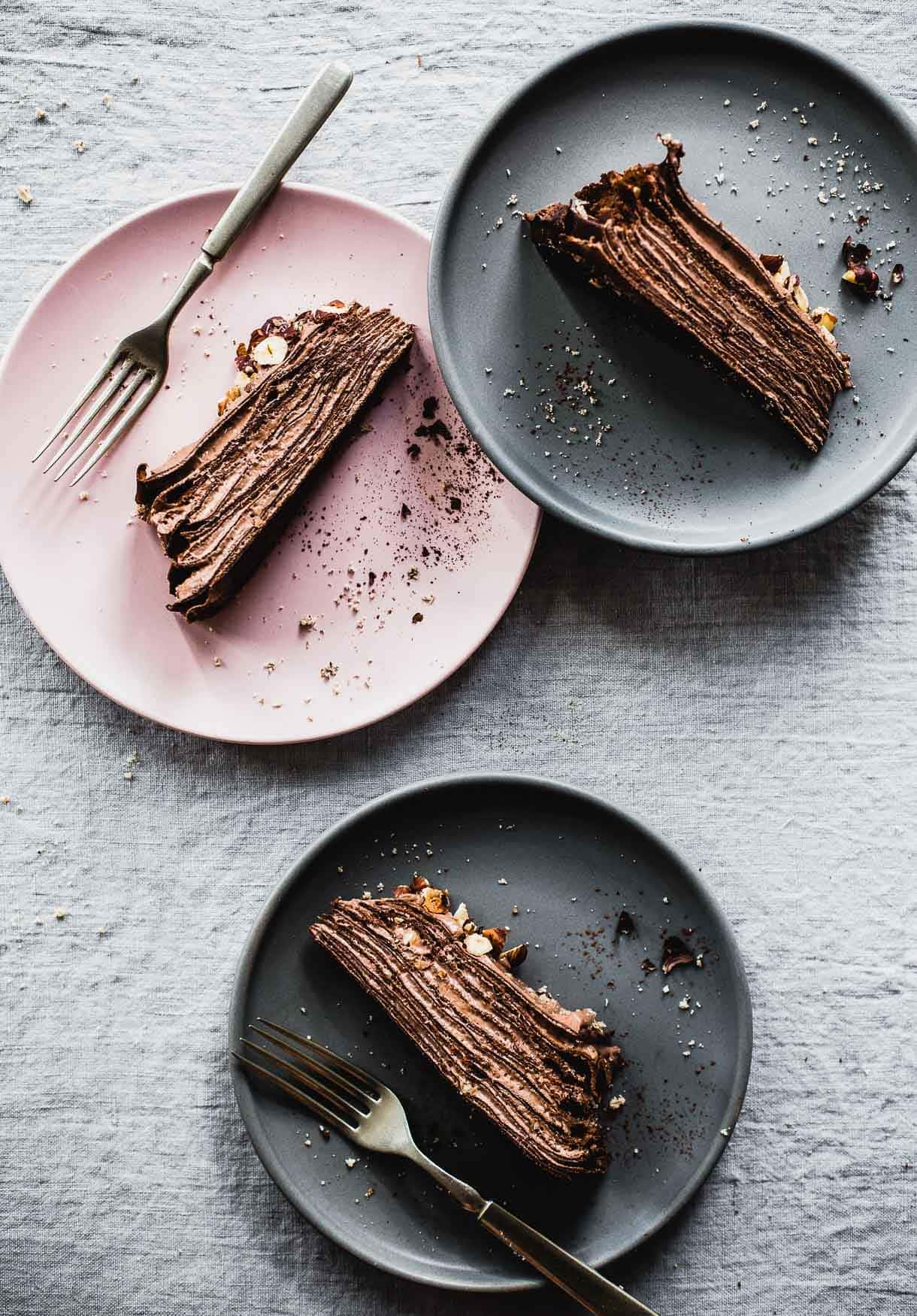 A gluten-free crepe cake!
Is there not something incredibly inviting about layers upon layers, thin and symmetrical, glued together with a shimmer of pastry cream? Whimsical to look at and comforting to eat. Beautiful, flared edges. Imperfections giving it character, as each crepe comes off the pan a little different. And easy to make. Yes, EASY! Even when lots of layers might seem intimidating.
I'll be the first to admit I suspected the joke would be on me when attempting a crepe cake for the first time. But it's truly a breeze to make compared to other types of cakes! And maybe even therapeutic. In fact, it'll be my new go-to gluten-free dessert recipe for special occasions.
The version you see here is a scrumptious trio of cocoa, espresso, and hazelnut. Chocolate lovers, I'm looking at you with this one.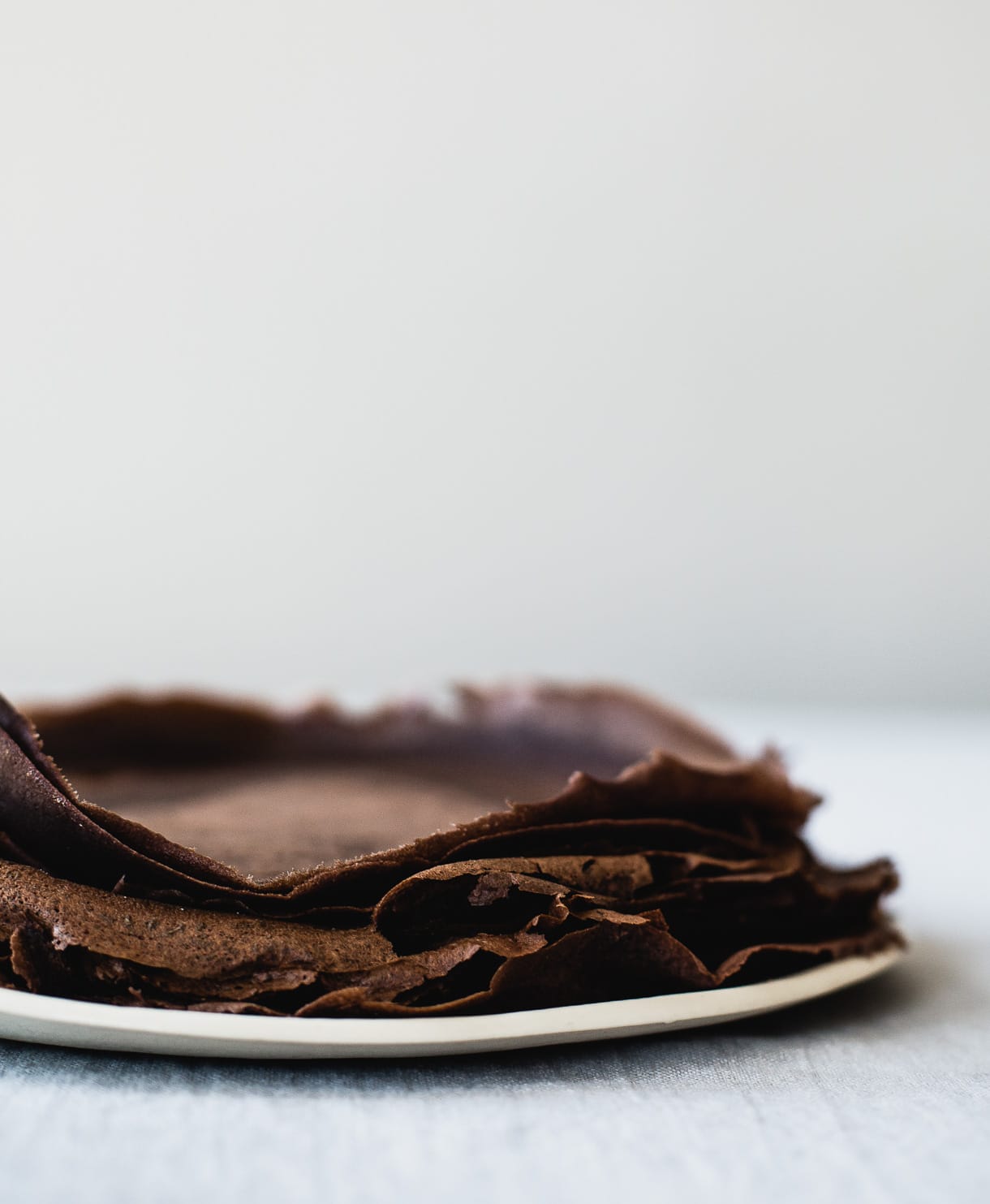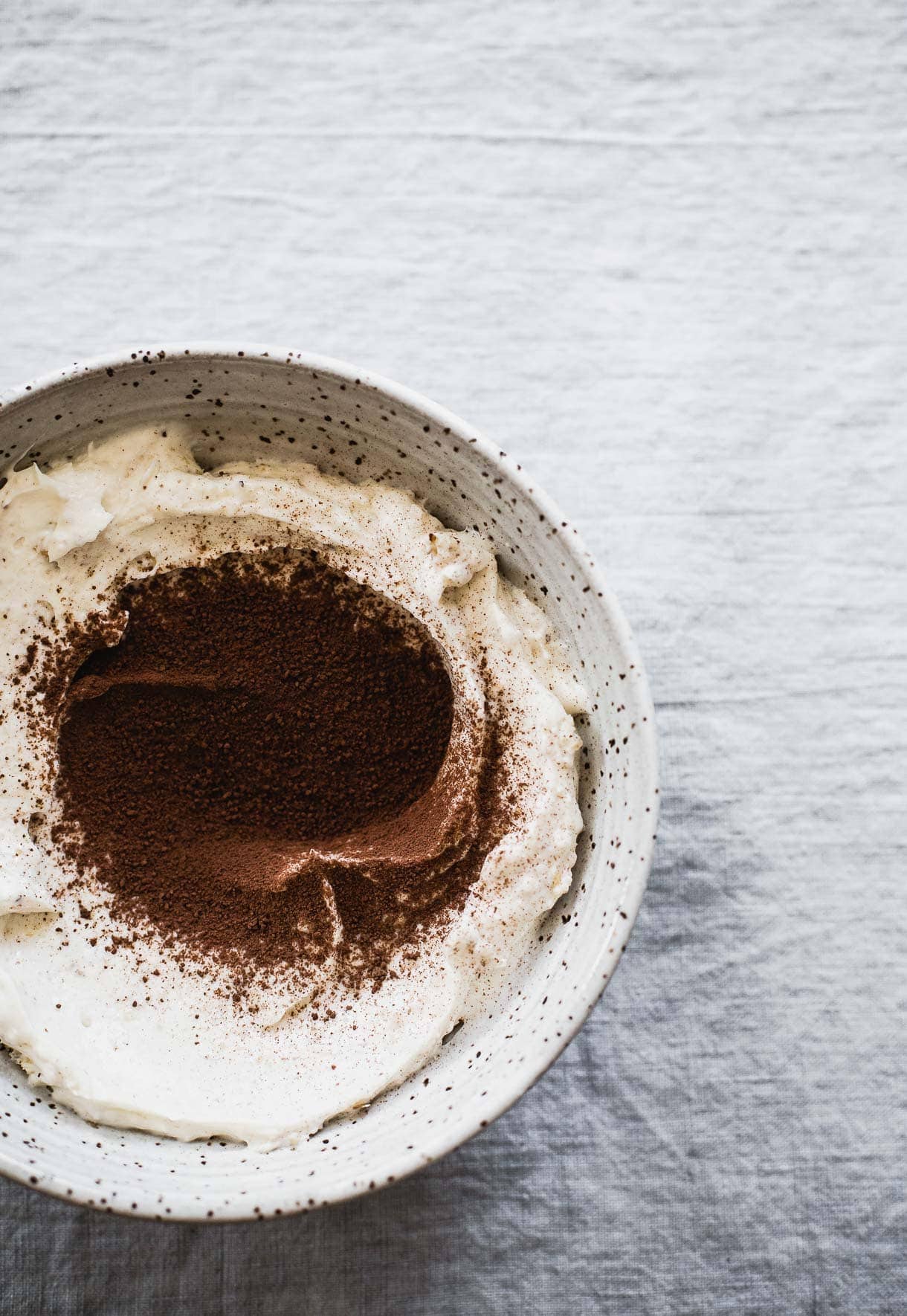 How to Make a Gluten-Free Crepe Cake:
You'll begin by making the crepe batter in a blender. Everything goes in at once, simplicity at its best. A mix of teff flour and dutch-processed cocoa (one of the only alkalized, organic cocoa powders on the market, ensuring consistent results in each recipe) makes for a chocolatey, malty flavored crepe that lends itself so well to cake.
Don't be too worried about each crepe turning out perfect – you'll be able to hide imperfections quite easily with the cream.
French in origin, a crepe cake is usually filled with pastry cream, which is quite involved and uses upwards of 5-6 egg yolks. I didn't want to have to find another use for the leftover egg whites, nor want it to be a complicated technique.Instead, the base of this filling is cream cheese and greek yogurt, blended with more cocoa, espresso powder, and toasted hazelnuts.
During testing, I tried the filling with and without vanilla extract, and couldn't believe the difference it had in bringing out the true flavors of the other ingredients. Another reason I love Rodelle, they make their vanilla with the highest quality Bourbon vanilla beans from Madagascar. The difference in floral, balanced flavor is noticeable, and why it's the only vanilla in my kitchen.
You can make the crepes ahead of time, just be sure to let them cool separately, then slide into a plastic bag and store for one day in the refrigerator. And you can make the pastry cream ahead of time too! Just be sure to let it sit out about an hour before you plan on assembling.

More Gluten-Free Cake Recipes:
Gluten-Free Chocolate Crepe Cake with Cocoa Hazelnut Cream
Thin, lacy crepes are layered with cocoa hazelnut cream to make this delicious gluten-free chocolate crepe cake. Easier to make than you'd think, as the crepe batter is made in a blender, and the cooked crepes are stacked with the pastry cream in between!
Cream
1

8 ounce package cream cheese,

room temperature

1/2

cup

full fat greek yogurt

2

teaspoons

espresso powder

2/3

cup

Rodelle Dutch cocoa powder

1

cup

powdered sugar

1/2

teaspoon

kosher salt

2

teaspoons

pure vanilla extract

1/3

cup

toasted hazelnuts,

blitzed in a coffee/spice grinder, until a fine powder

1/4

cup

toasted hazelnuts for garnish
Blend all crepe batter ingredients in blender for 25 seconds, until smooth. Let sit for 15 minutes.

When ready to make crepes, heat a 10 inch non-stick skillet over medium heat. Melt a dab of butter in pan, and pour in about 3 tablespoons batter, tilting the pan so that the batter covers the surface entirely.

Let cook for 2-3 minutes, until you see bubbles and the edges flare a bit. Then using a long spatula, flip over and cook for 2 minutes on the other side.

Set on a wire rack to cool.

When you're ready to assemble the cake, add all cream ingredients to a large bowl or the bowl of a stand mixer. Mix on medium until all combined and smooth. Then fold in hazelnuts.

Place one crepe on a cakestand or plate, then spread a thin layer of pastry cream over the top. Stack another crepe, then another thin layer of pastry cream. Repeat until you reach the top of the cake, and put any leftover cream on top in the middle, with a mound of toasted hazelnuts. Refrigerate for 15 minutes if possible, as it slices easiest this way.

Cake will last, covered, in refrigerator for up to 3 days.
Use a 10 inch non-stick skillet for this recipe.