A naturally gluten-free almond cake recipe with a buttery, moist texture. It's absolutely delicious when topped with fresh figs and honey! This is a great gluten-free cake for beginners, with few ingredients and easy to make.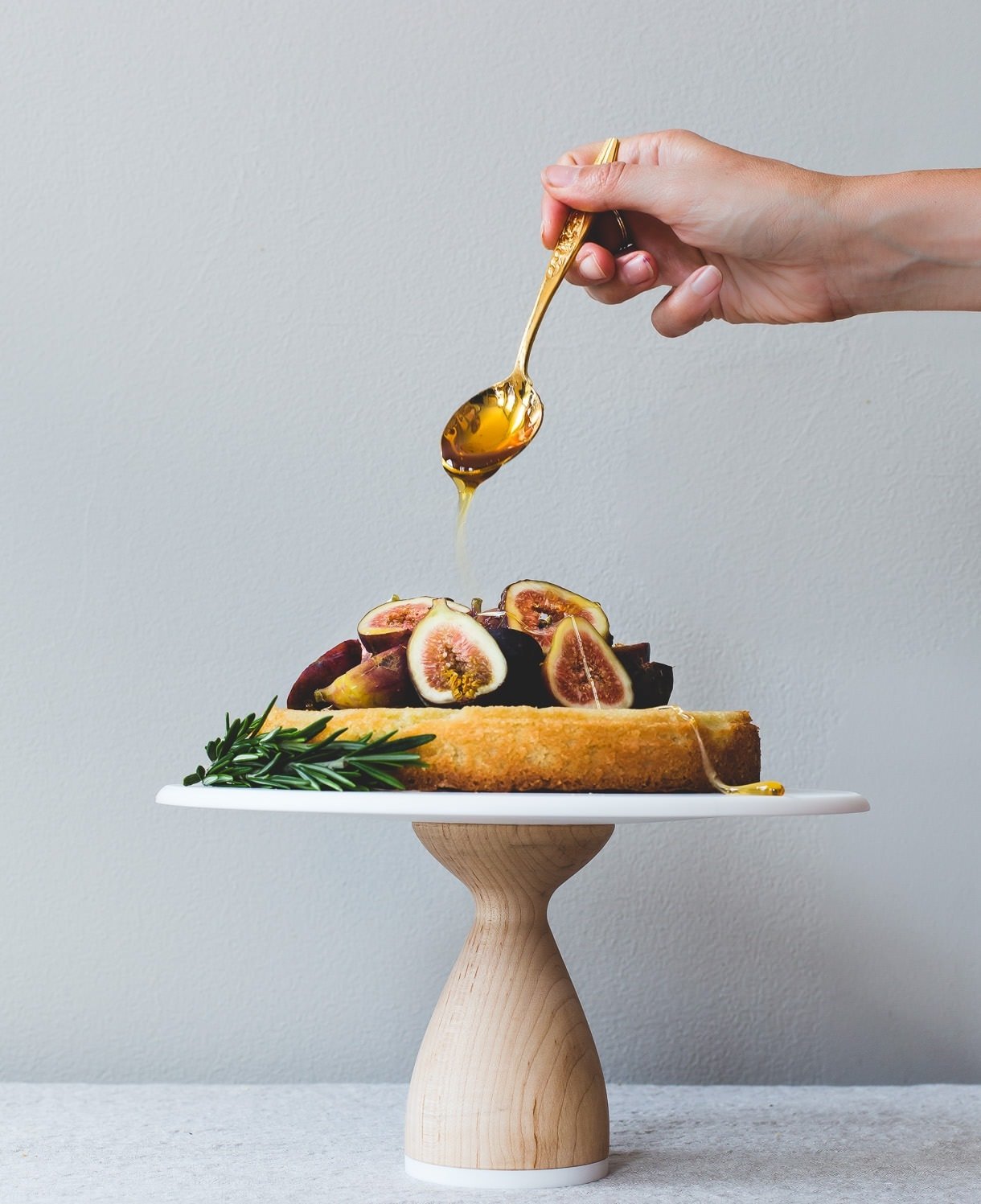 A few weeks ago I made this Almond Fig Cake Recipe as a surprise for my friend Sherrie's birthday. It's lightly adapted from The Farmette Cookbook, the gorgeous and inspiring work of another friend, Imen McDonnell. Imen lived in Minneapolis for several years before marrying an Irish farmer, and moving across the Atlantic to build a life with him.
She was back in town this summer, and several of us got together for an afternoon tea (as the Irish do) to celebrate her new book. As I've been making my through it, I've been just as engrossed in the colorful stories of her adventures in learning to cook the Irish way, and adjusting from big city life to farm life, as I have in the recipes.
Imen actually calls this Frangipane Cake, with a quality of "moreish", an Irish colloquialism that means something you just can't get enough. Which explains why I've been dreaming about it since she made it for us that summer afternoon.
What is frangipane?
Frangipane refers to it being made from a base of almonds, sugar, and butter which results in a cake as soft and moist as you could imagine, yet dense enough for the swipe of your fork. Almond flour has a magical touch like that.
Making an Almond Flour Cake
In the cookbook, the cake is a buttery, almond forward canvas, which is how she served it to us, with a dusting of sugar. Incredibly lovely.
With figs in season, I decided to use some as a cake topper, saving the rest for Fresh Fig Jam. I finished it with a drizzle of honey, and reduced the sugar in the actual cake to account for the sweetness.
The other beauty of this cake is that it's incredibly easy to make. No whipping egg whites, multiple pans, or fussy decorating. Perfect for last minute plans, and whatever in season fruit you have on hand. Thank you Imen, for introducing me to a dessert that will be served to many a guest in my house.
you can purchase The Farmette Cookbook here, which I highly recommend.
cake stand made by A Heirloom.
More Gluten-Free Cake Recipes:
1/2

cup

cane sugar

2/3

cup

unsalted, room temperature butter

2

large eggs

150

grams

blanched almond flour

35

grams

tapioca starch

Figs,

sliced in half vertically

1/ 4

cup

raw honey
Preheat the oven to 350 degrees F. Grease a 7-inch springform pan, and line bottom with parchment paper.

Beat sugar butter together with a stand or hand mixer, until light and fluffy, about 4-5 minutes.

Add the eggs, one at a time. Then pour in the flours and blend well.

Pour bater in prepared pan and bake for 40 minutes, until still moist, but golden and baked through.

Remove from oven and let cool. Open springform, and put on cake stand. Top with figs, and drizzle with a 1/4 cup of raw honey.
The original recipe bakes this in an 8-inch springform pan, but I used a 7-inch to make it a bit taller. Store finished cake in the refrigerator. I actually like this cake a little better each day it sits, served cold.