A buttery gluten-free pound cake swirled with chocolate and vanilla batter to create a gorgeous marbled effect. The crumb is what cake dreams are made of! This recipe comes together in less than 20 minutes, then it's time to bake.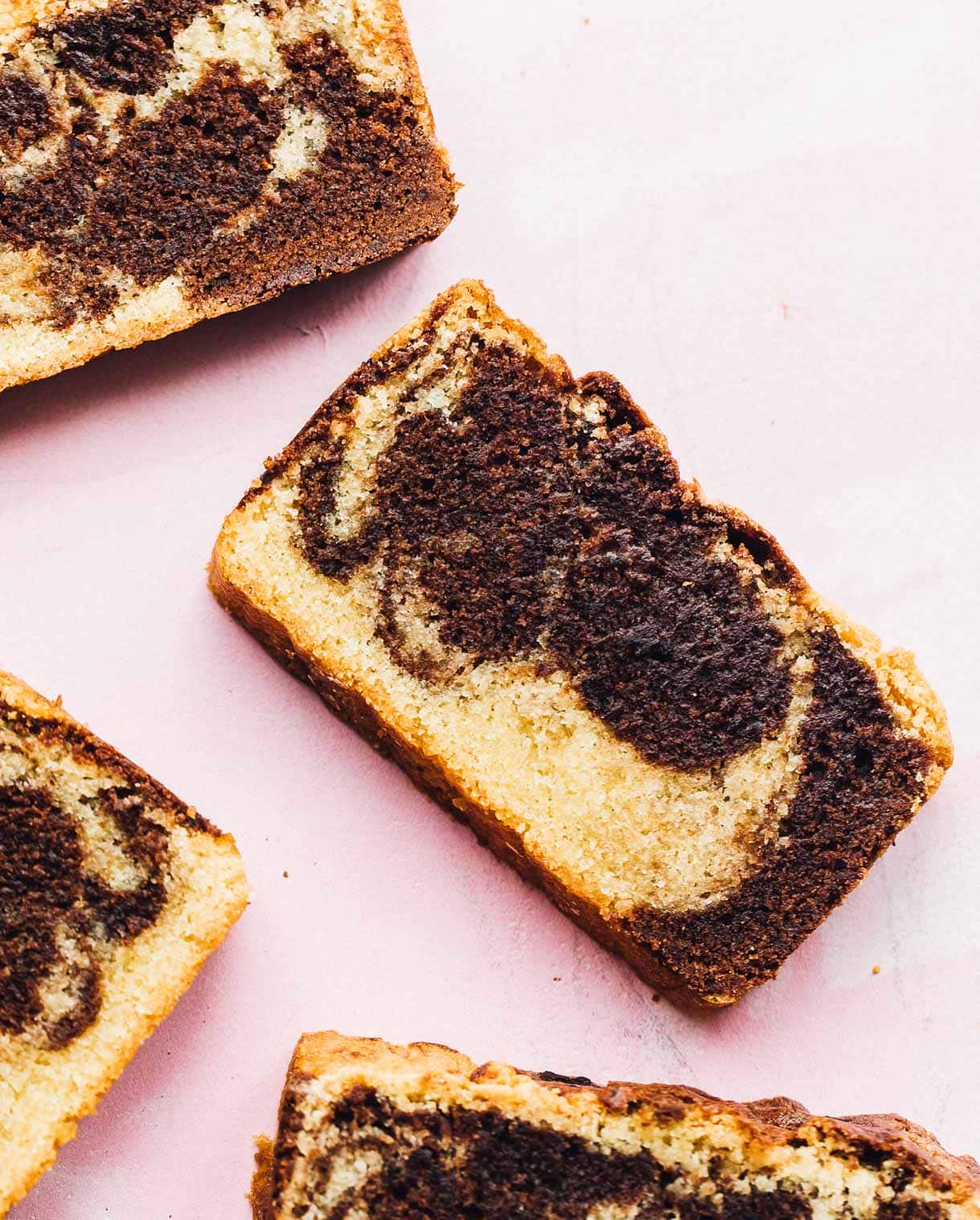 Given the choice, I'll always pick cake over pie. (Unless it's the 4th of July, and you're handing me a slice of this summery tart cherry pie. That's a once of year kind of thing!)
But especially this timeless gluten-free pound cake, a combination of the very best, buttery vanilla cake swirled with the flavors of your favorite brownie. And there's a good chance you have everything to make it in your pantry already.
My affinity for cake became grew even stronger when I received the Zoë Bakes Cakes cookbook earlier this month, where this pound cake recipe originates. What a dream of a book!
Zoë is not only a dear friend, but an incredible pastry queen.

She somehow takes her 30 years of baking and makes her recipes achievable for anyone, showing exactly how to make them in her lighthearted instagram tutorials, and her fabulous step-by-step photos. You'll love having a copy of Zoë Bakes Cakes in your kitchen!
I particularly love her cake academy section, that takes you through helpful, kind of geeky, cake techniques and food science. I've learned so much from the book already, and can't wait to apply it to all my baking.
This is a gluten-free version of the marble pound cake in the book, and I can tell you that the crumb is something you dream about.
The way that Zoë makes this cake is a little more "21st century" as she calls it, straying from the typical pound of butter, pound of sugar ratio that a pound cake is known to be comprised of.
Instead, the balance of butter to sugar allows the vanilla and chocolate flavors to shine, while giving it a soft, rich crumb. It's not cloyingly sweet, which I appreciate so much.
Ingredients for Marbled Gluten-Free Pound Cake
butter
eggs
sugar
buttermilk
cornstarch
How to Make Gluten-Free Pound Cake
This gluten-free pound cake is easy to make and comes together quickly.
You'll want to make sure all of your ingredients are at room temperature. If the ingredients are too cold, they won't emulsify during the creaming process, resulting in sub-par rise.
Use a stand mixer to cream the butter and sugar for 5 minutes. That might seem like a long time, but this is essential for whipping air into the fat.
Continue to make the batter and then divide it, stirring cocoa powder into one half for the chocolate flavor.
Use a cookie scoop to alternate adding the batter into the loaf pan. This was a genius tip from Zoë – not only does help create the marbled effect, but also reduces the mess.
Use a chopstick, knife, or handle of a spoon to create subtle swirls in the batter.
And bake!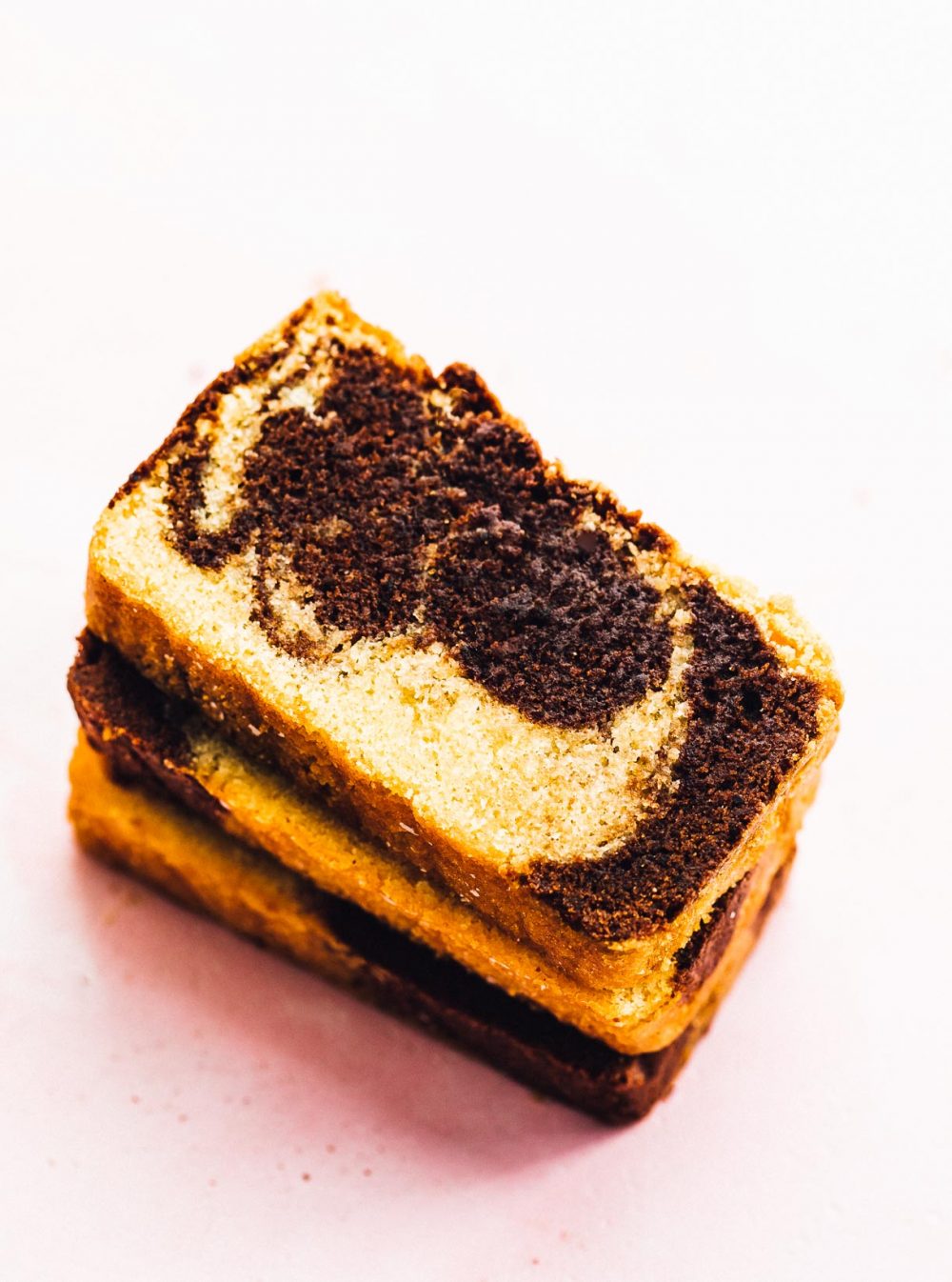 Easy trick for bringing eggs to room temperature:
If you forget to take your eggs out of the refrigerator to bring them to room temperature, simply warm them as is in their shells, in a bowl of hot tap water for a few minutes before adding to the recipe.
More Gluten-Free Cake Recipes: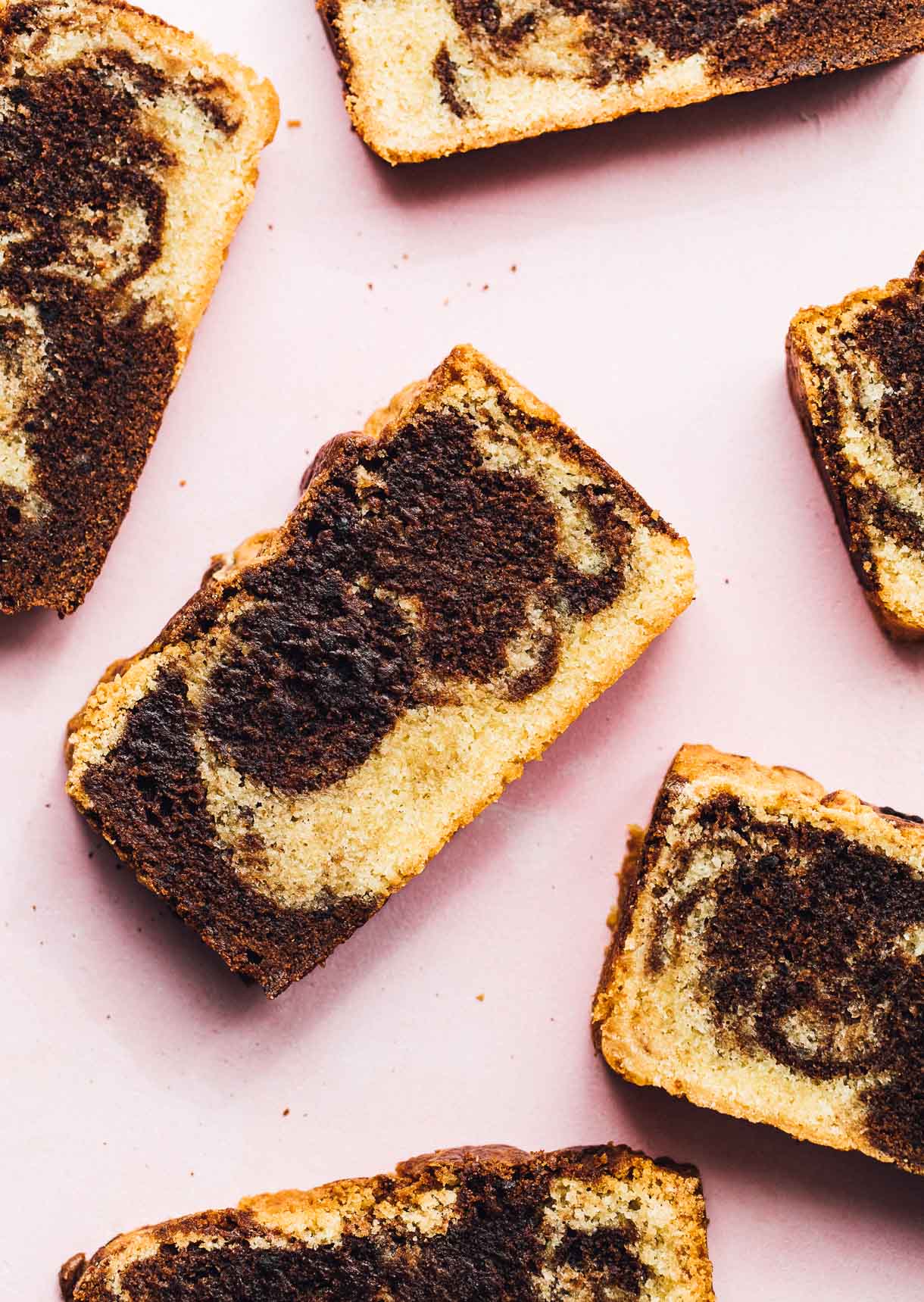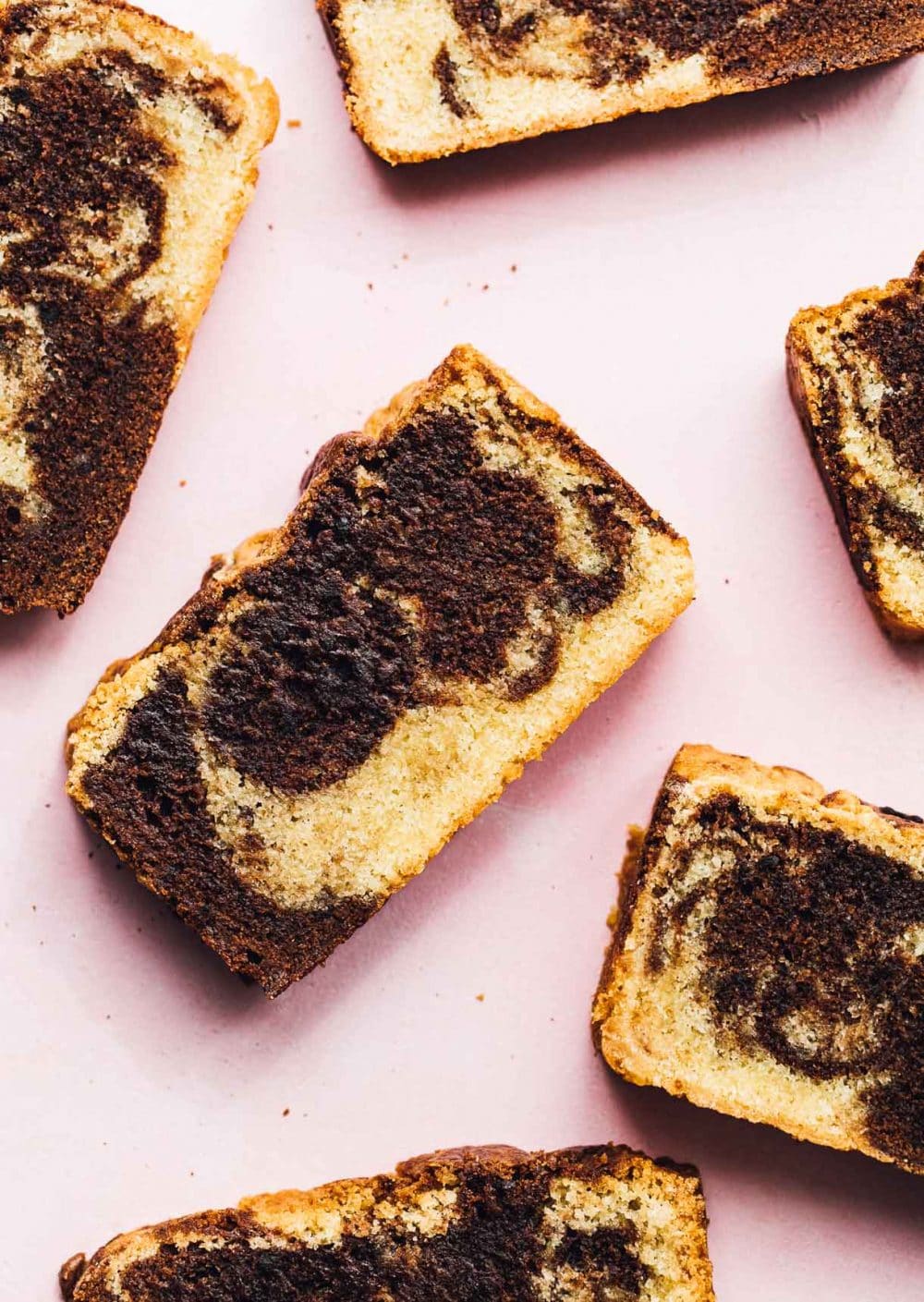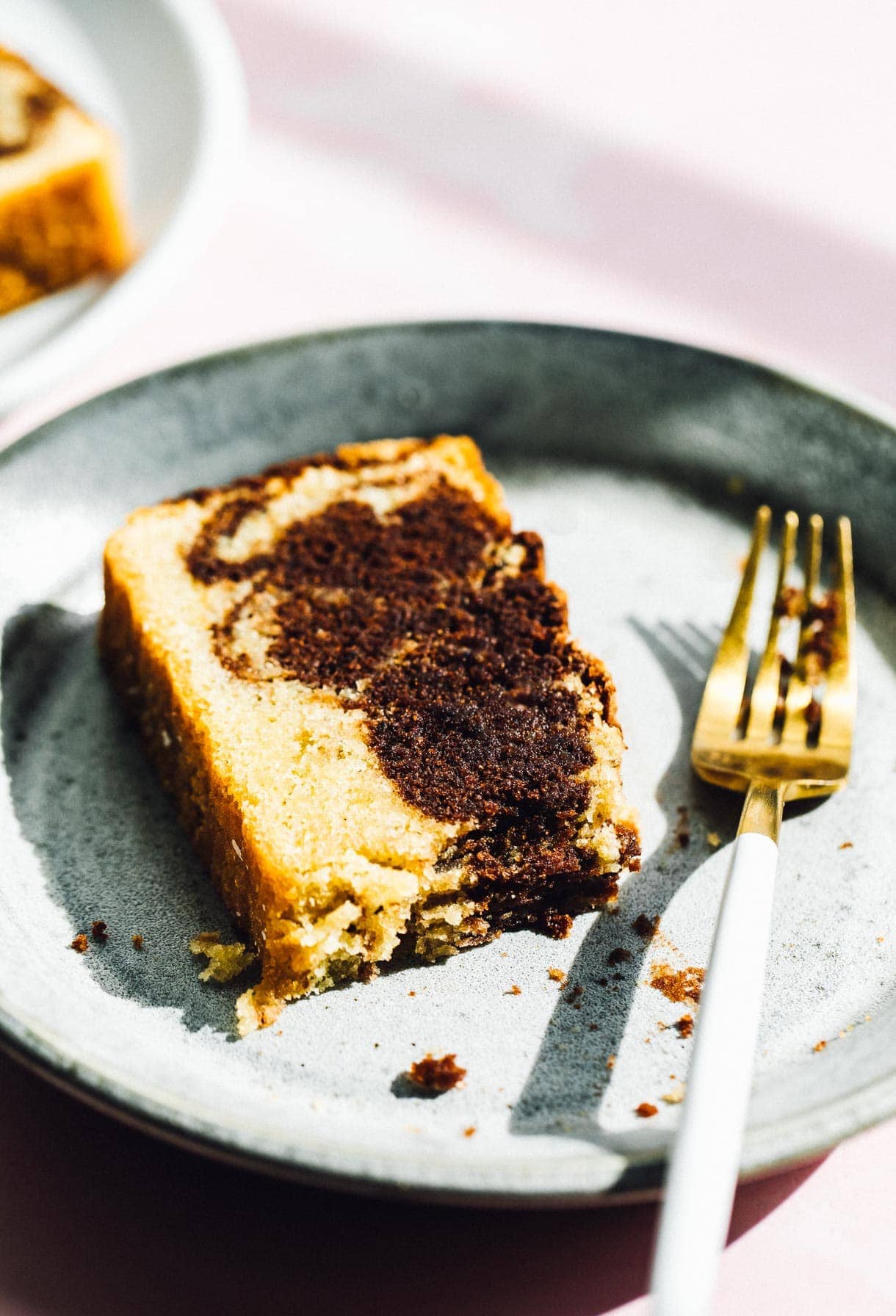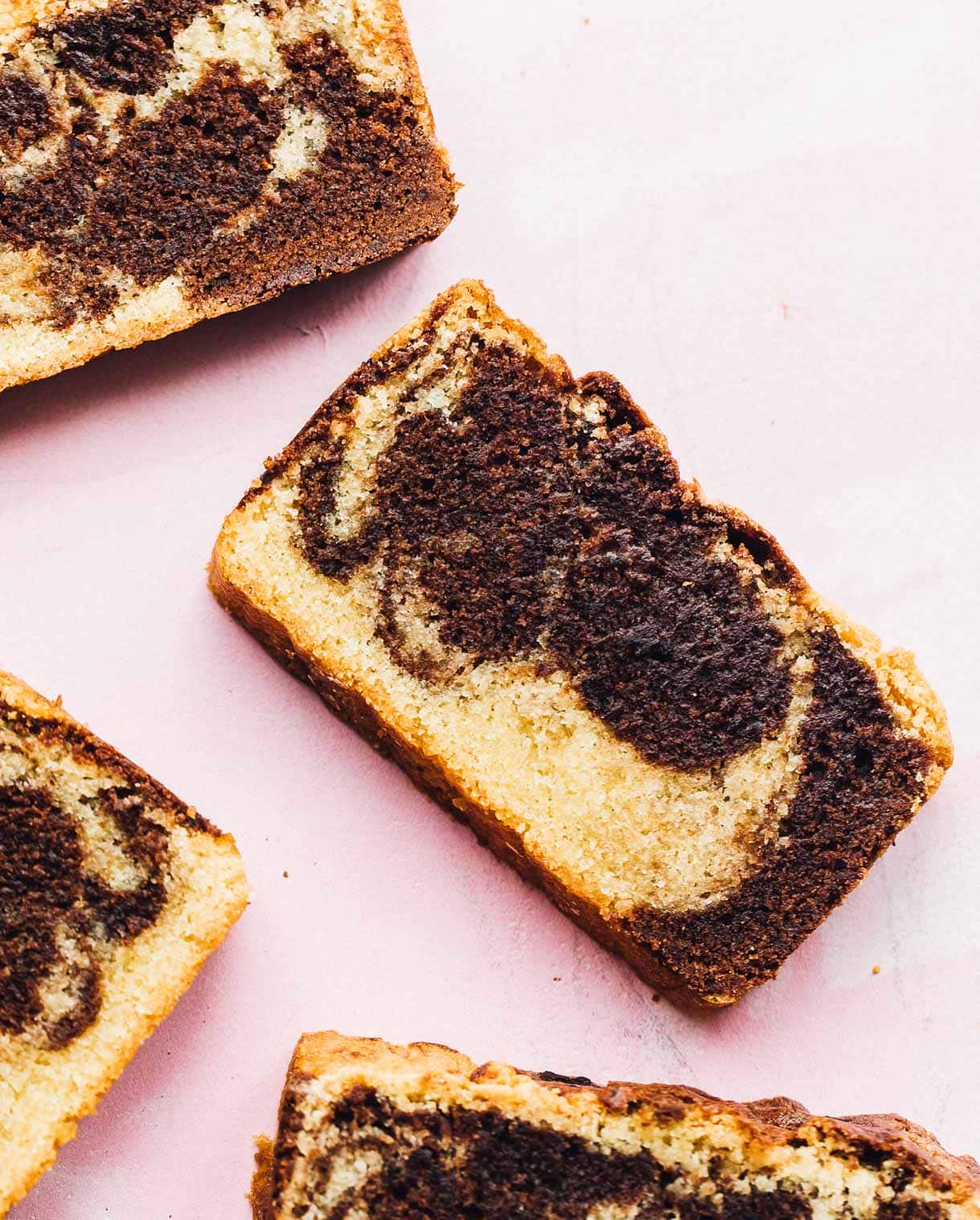 Preheat your oven to 325 degrees F. Grease an

8×4 inch loaf pan

, then line it with parchment paper.

In medium bowl, whisk together flour, cornstarch, and salt. Set aside

In a stand mixer, cream the butter on medium high speed with paddle attachment, 1 minute, until creamy and smooth.

Turn mixer to low speed, add sugar to the butter and mix until incorporated. Then turn the speed to medium-high and beat for 5 minutes, stopping mixer and scraping sides occasionally, to make sure there is even incorporation.

Add vanilla extract and paste, and mix until incorporated.

Turn speed to medium-low and add eggs one at a time, beating until just combined. Scrape bowl and beat for 15 more seconds.

Add one third of flour mixture to the mixer, mixing on low speed, just until combined. Add half the buttermilk and mix on low until just combined. Repeat with another one third flour and remaining buttermilk, and the final one-third flour, scraping the bowl occasionally.

Divide batter in half, and stir cocoa powder into one half.

Using a cookie scoop or spoon, alternate scoops of the the vanilla and chocolate batters ino the pan. Drag a chopstick, knife, or handle of spoon through the batter to create marbled effect. You don't want to overdo the swirling, or your flavors won't stay separated. Smooth the top with a spatula.

Bake until a tester comes out clean, about 1 hour 10 minutes. Remove pan and let cool for 10 minutes. Then remove cake from pan and let finish cooling on a wire rack.