These sourdough dinner rolls are soft, pillowy, and literally melt in your mouth. Using an overnight rise, the dough will go through its bulk ferment without having to do any stretch and folds, or kneading. So simple to make! The sourdough rolls are the perfect addition to any meal, but especially the holidays.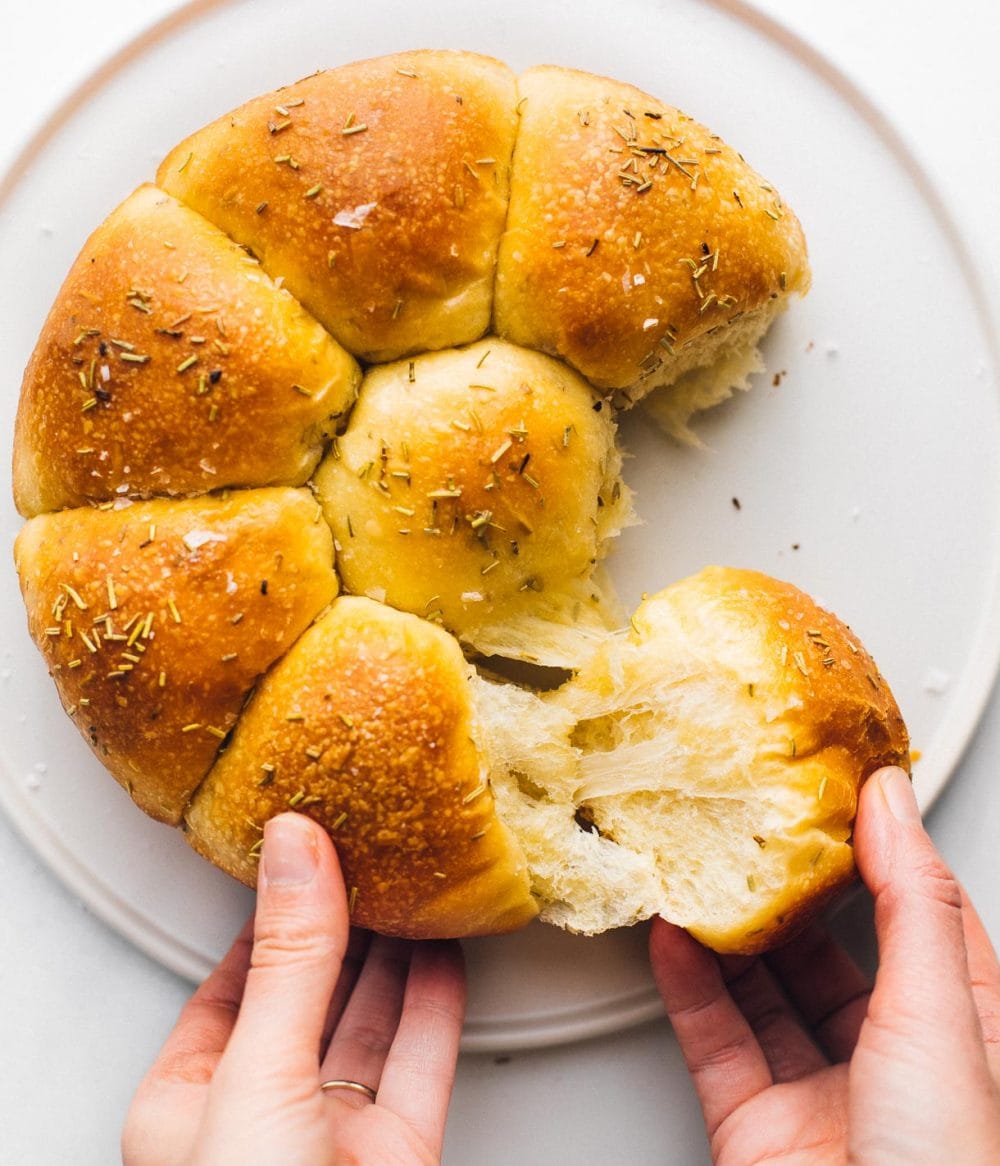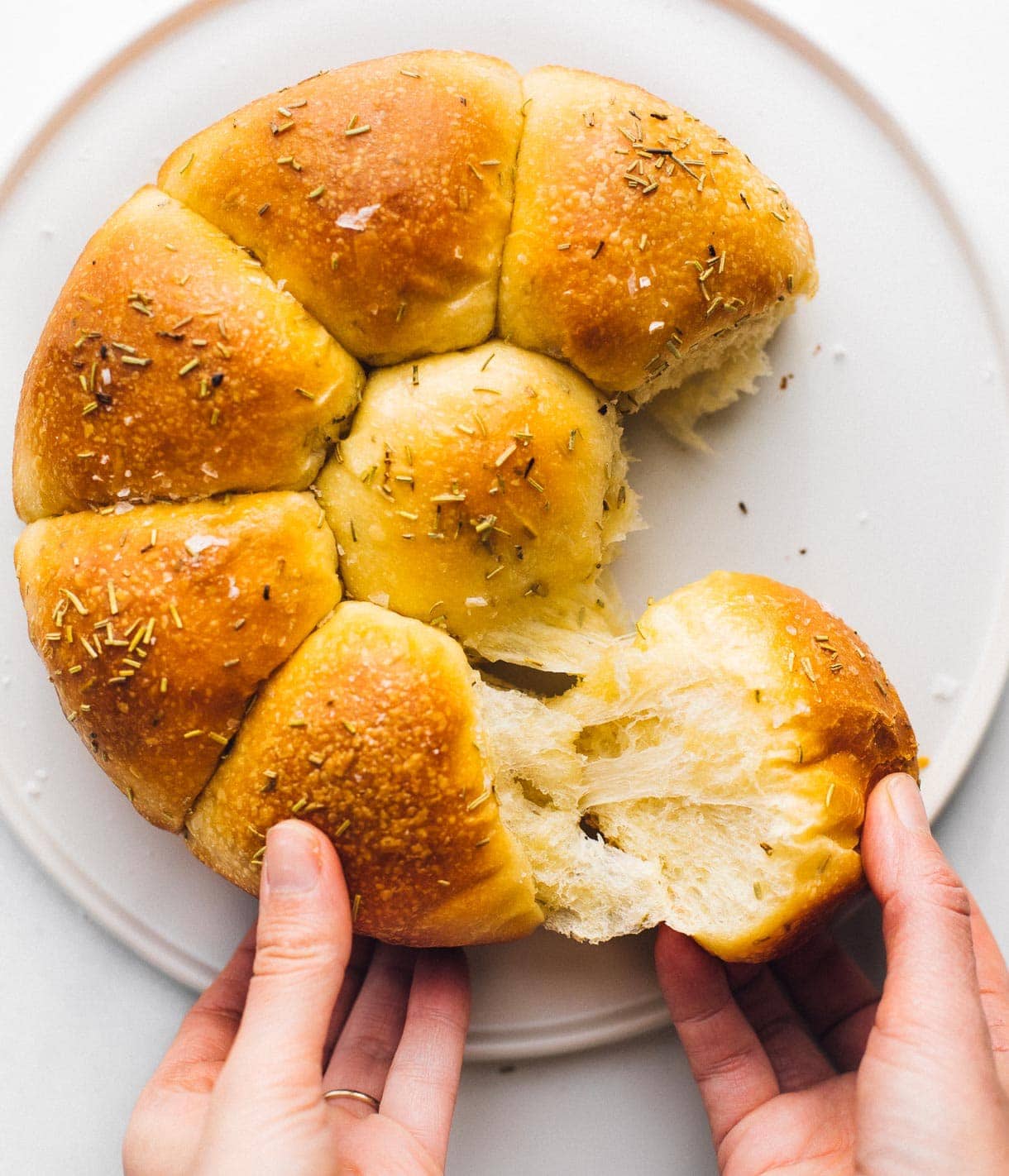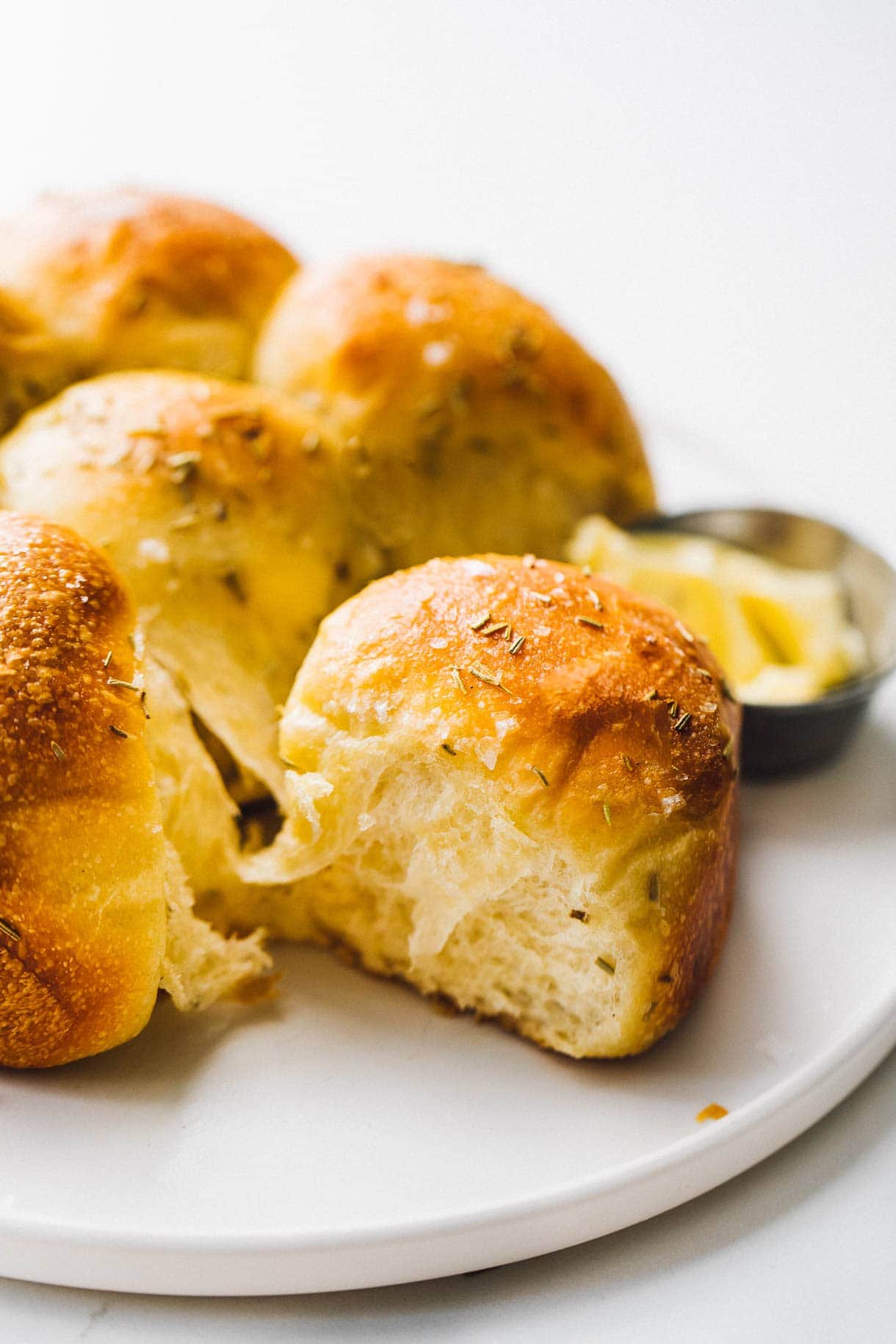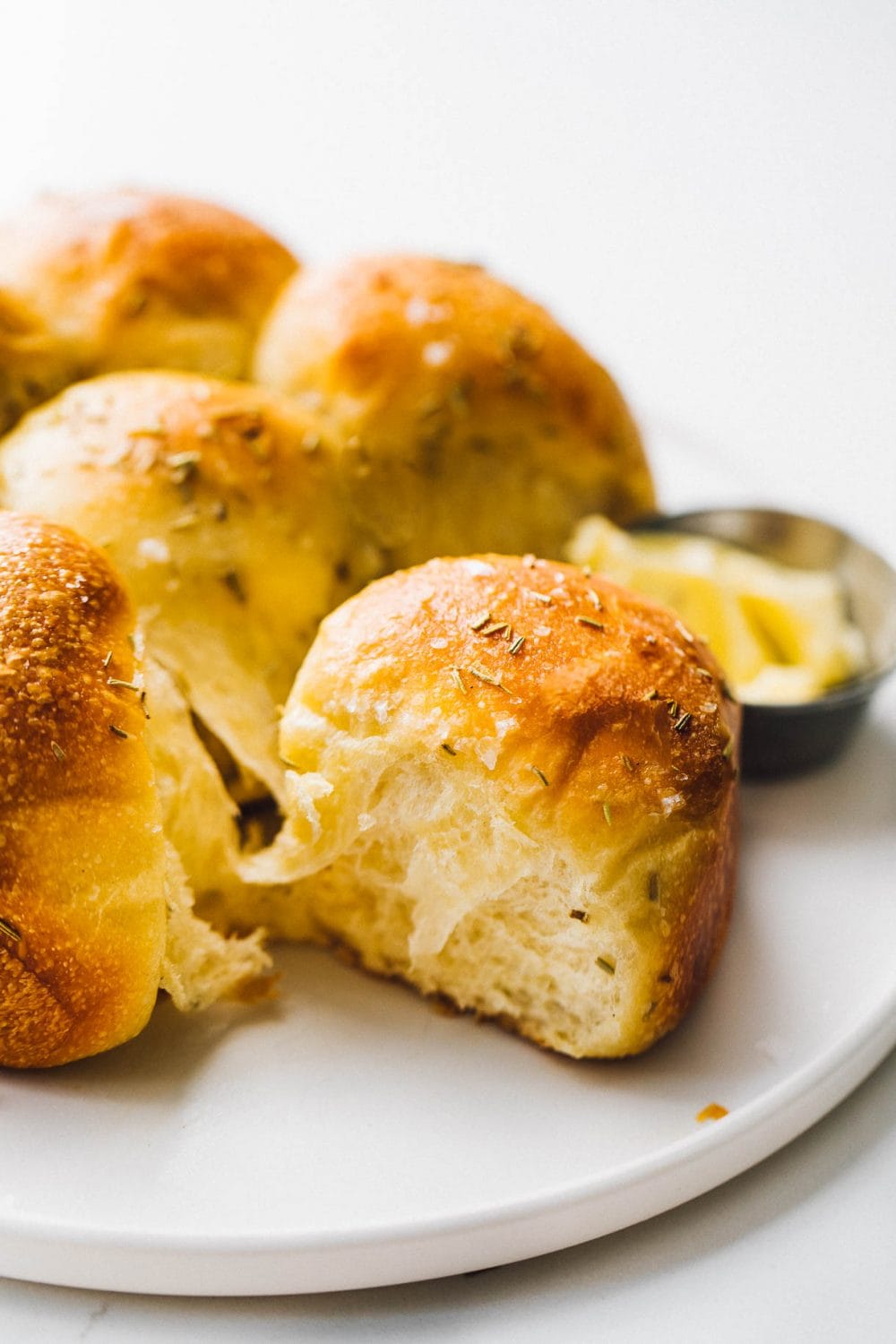 Delicious sourdough dinner rolls with an overnight rise.
These homemade sourdough dinner rolls are a dream! They're soft and squidgy, light as a feather, and even better tasting than the classic. Between the flavor and the texture, you'll reach for a second before you're done with the first.
I've been working on this sourdough roll recipe for weeks to achieve the best result with the most straightforward technique, and I think we're there! It's a great recipe for Thanksgiving, Christmas, and Easter dinners, when dinner rolls are one of the best parts of the meal.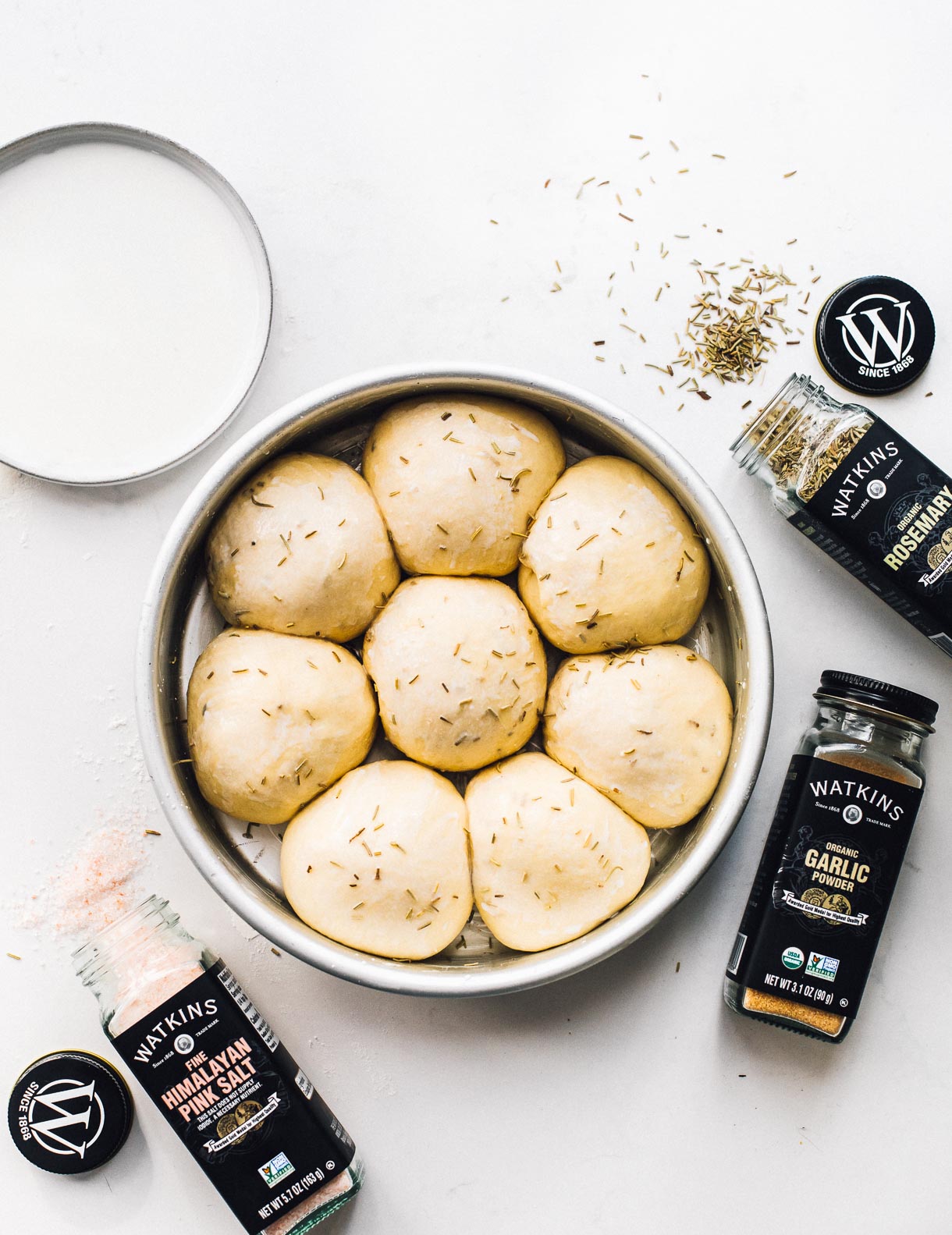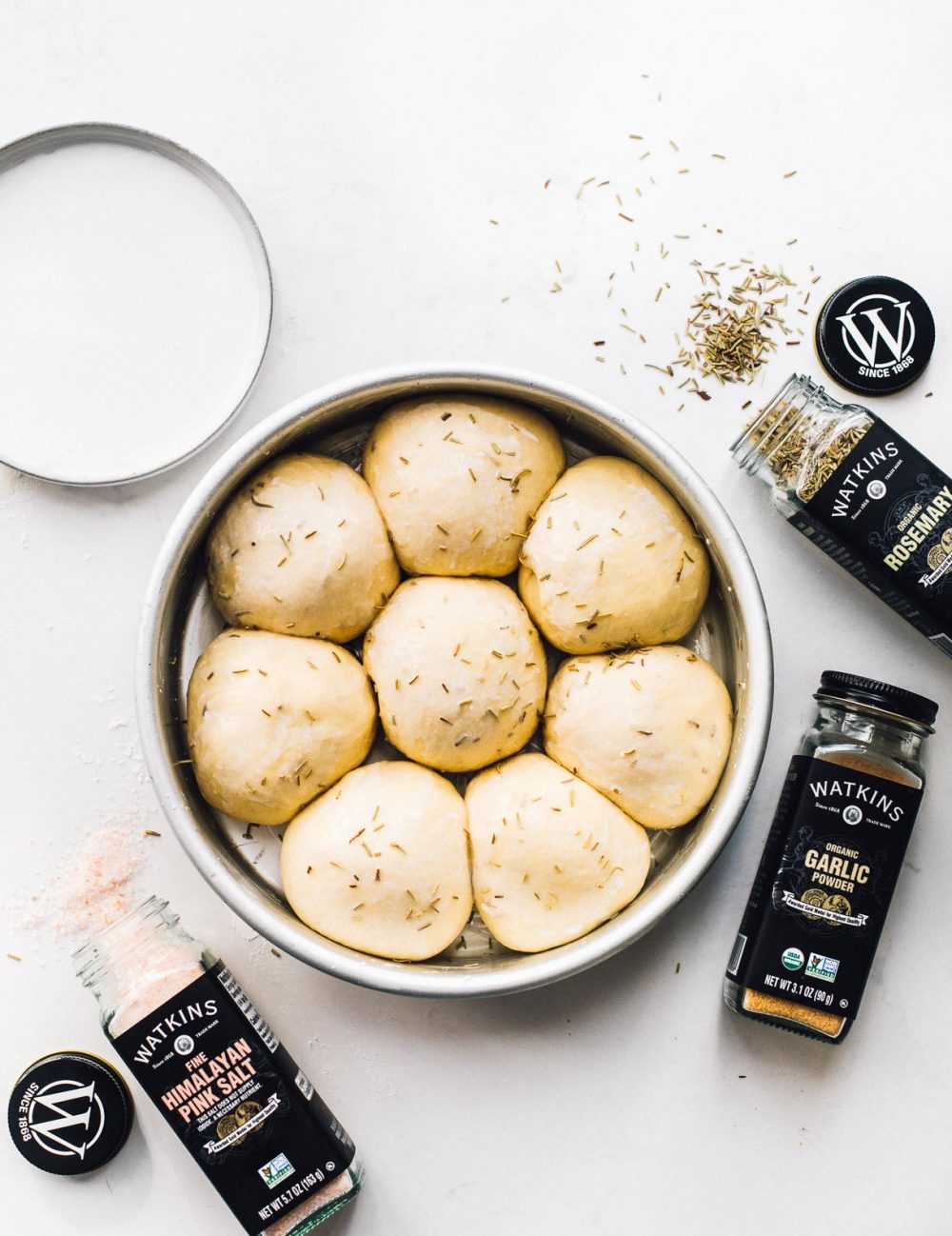 And finally, I landed on these, with an easy overnight rise that allows the buttery brioche dough to lighten, and bake into pillowy buttery dinner rolls. Layers of flavor emerge from the dough itself, with the addition of rosemary and garlic (optional but delicious). It's always fun to take your taste buds on a tour of new flavors, even with classic foods. So that's what we're doing here.
And the texture….. is something I've dreamt about.
It's an experience comparable to eating cotton candy, but in savory form.
Although these rolls are made with active sourdough starter, my goal was to keep the "tang" minimal: just enough to add to their uniqueness, without being abrupt. (If you're looking for a recipe with more of that classic sourdough flavor, I'd suggest my Rye Sourdough Bread.)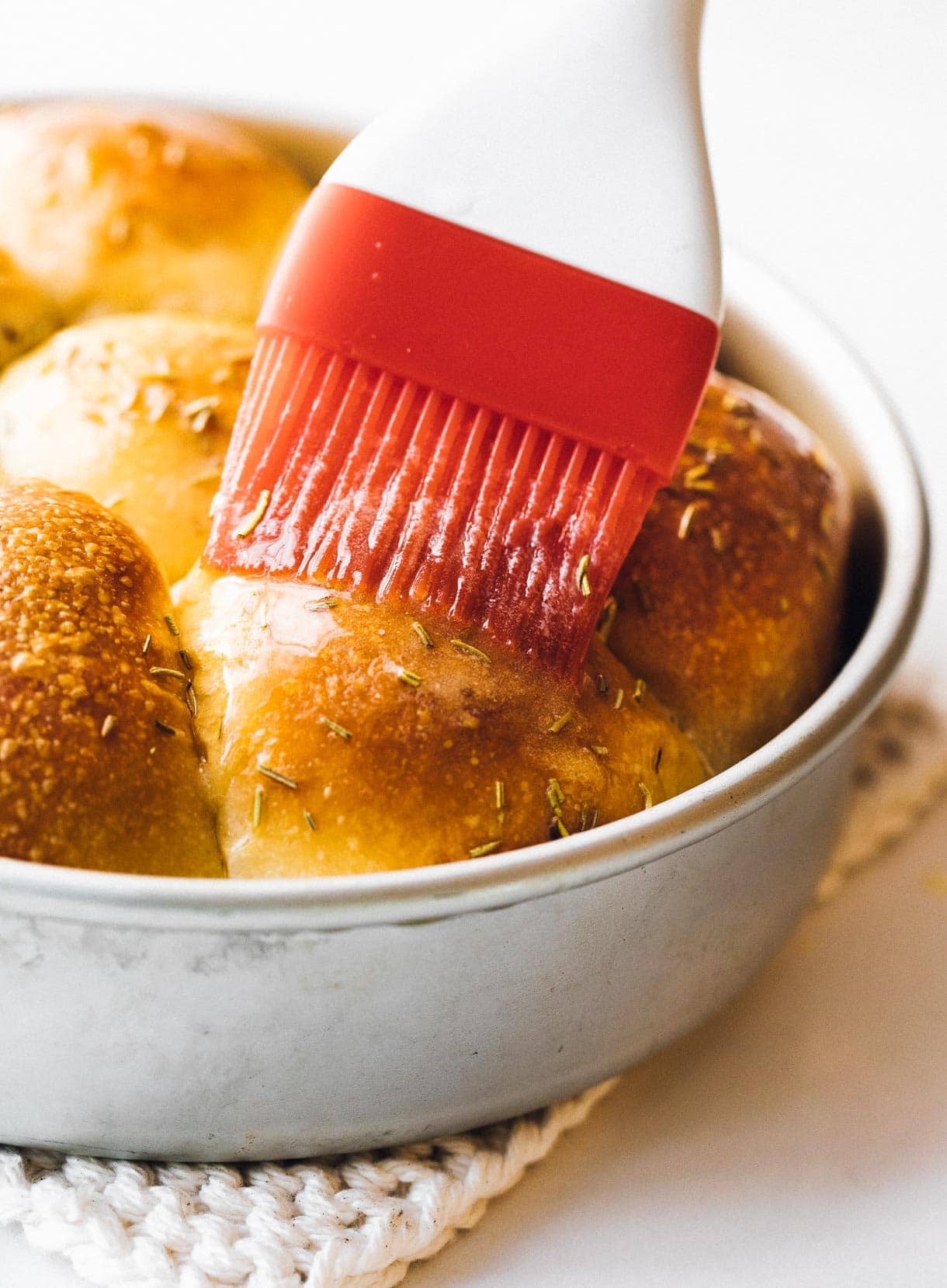 How to Make Sourdough Dinner Rolls
Much of my testing was centered around how the rolls turned out using a stand mixer compared to just using hands to mix the dough.
The stand mixer dinner rolls were much airier and feathery, with a texture that shreds apart beautifully. This is from the air that is incorporated into the dough from the strength of the mixer, which is extremely difficult to achieve by hand.
The hand mixed rolls took lots more effort to make because all of the kneading happens with your own elbow grease. They turned out good, but chewier than I wanted. I just couldn't get the same airiness out of them. They didn't seem to puff in the oven as much, either.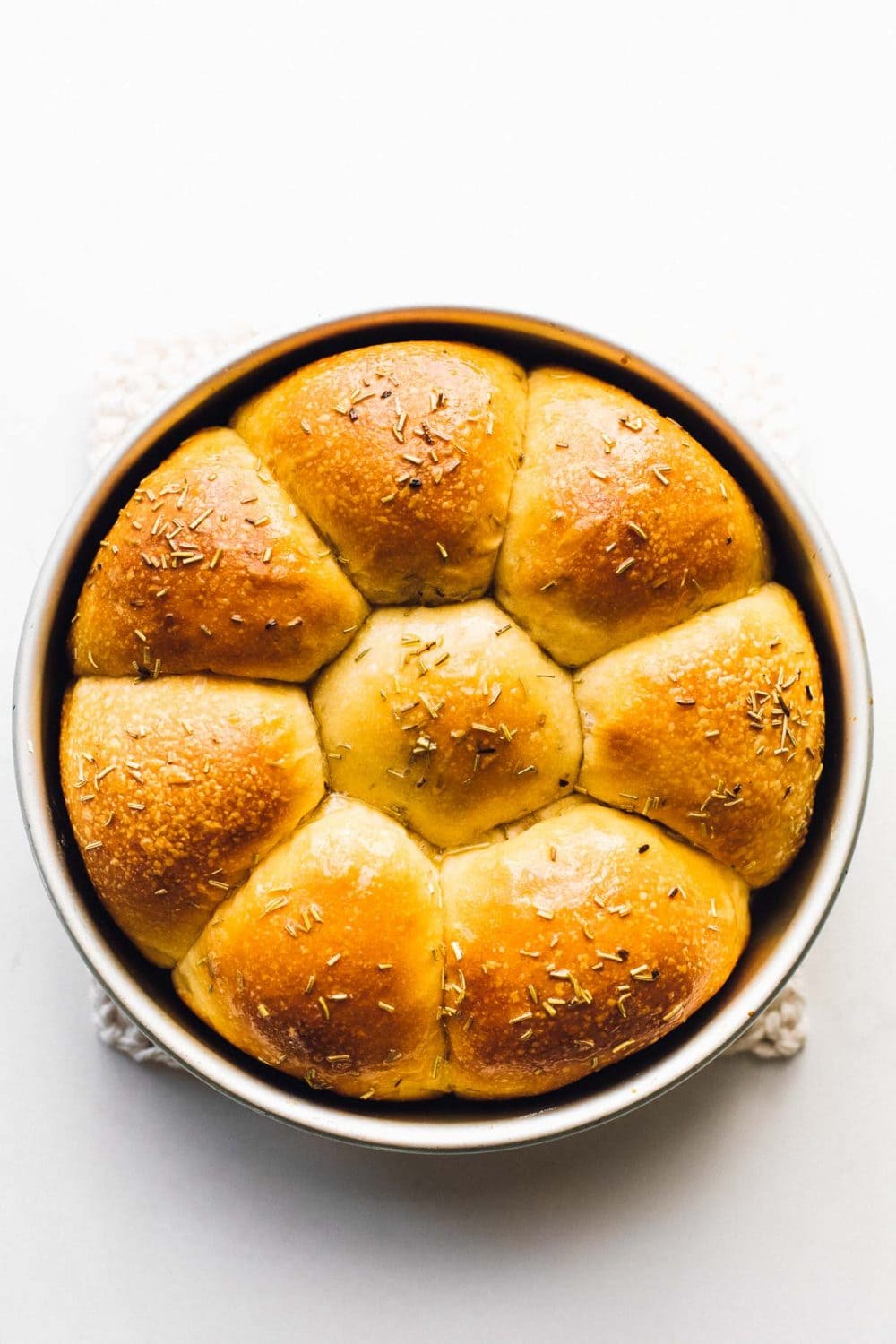 Here are the ingredients you'll need:
Bread flour
All-purpose flour
Milk
Egg
Butter
Baker's Schedule for Sourdough Dinner Rolls:
3:00pm – Feed starter and set butter out to soften
8:30pm – Step 1 of mixing dough
9:00pm – Step 2 of adding butter to dough, and salt, garlic, rosemary
9:15pm – Cover dough with damp cloth, and let rise overnight on the counter
Next morning – Shape dough into balls and let rise another 2 hours
Bake!
These will be the most talked about dinner rolls in your house. Share and tear, and enjoy so much flavor in one bite! They'll be on my Thanksgiving menu every year from now on.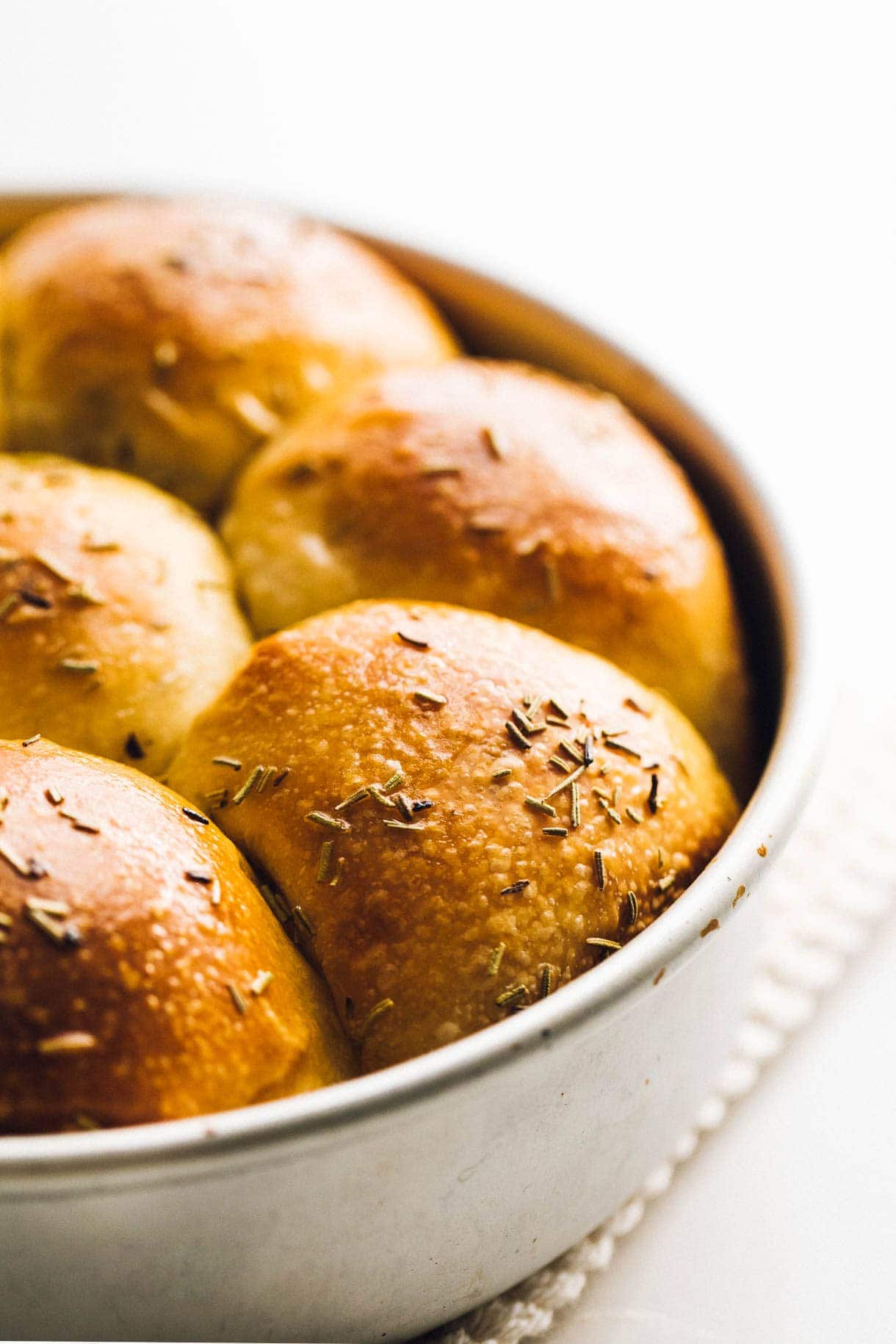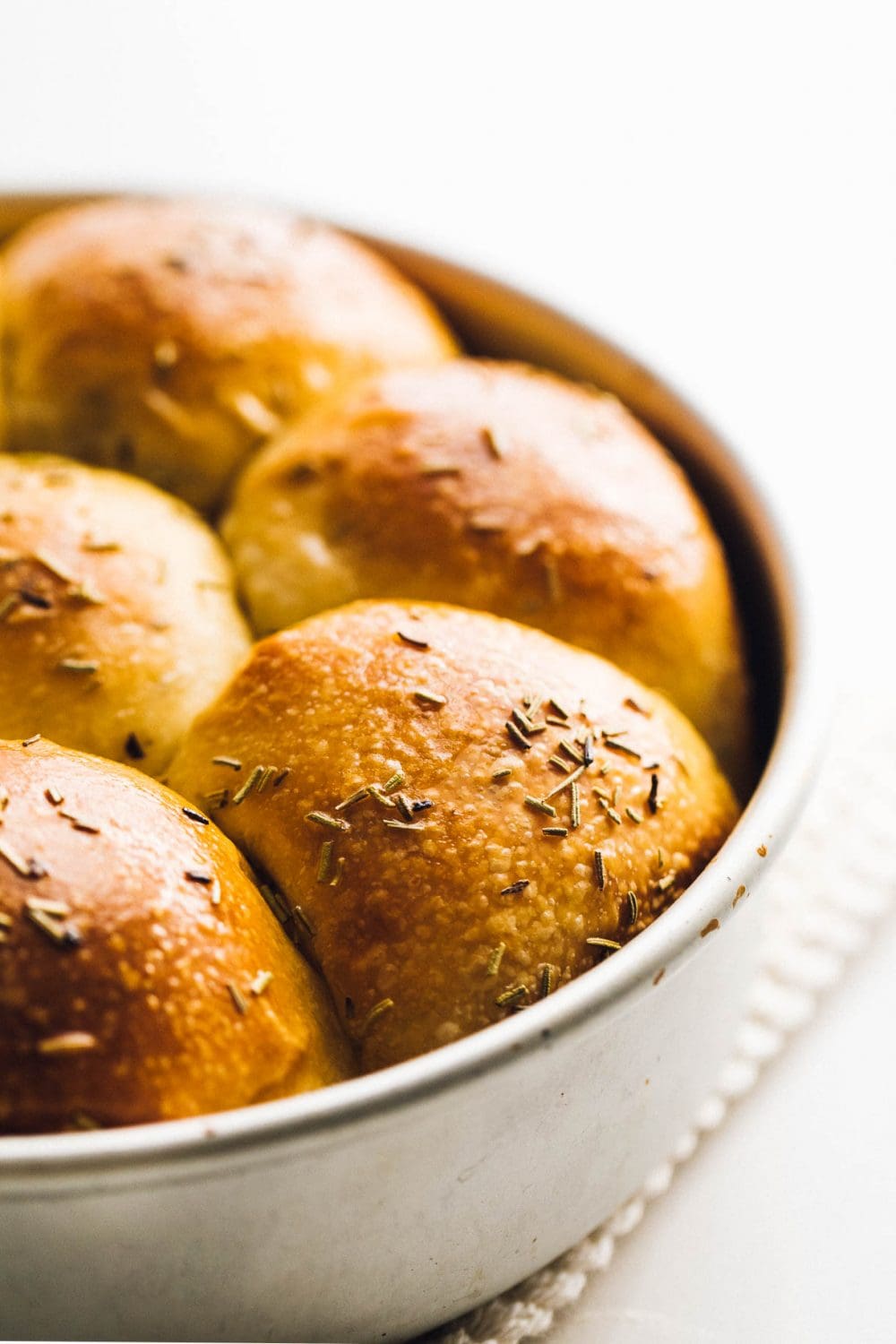 Can I do an overnight refrigerated final rise?
I wouldn't recommend it. When I tested an overnight final rise in the refrigerator, the rolls did not puff up as much baking, and they were spotty on the top rather than evenly browned. I asked a pastry chef, who let me know that this is from CO2 trying to escape from the top of the dough, after too many hours of fermentation. This come from doing both, a lengthy bulk ferment, and long final rise.
For best results, follow the baker schedule above for an overnight bulk ferment, and a final rise in the morning.
How to Reheat Sourdough Rolls:
Preheat the oven to 300 degrees F. Wrap the rolls in foil and place in oven for 5-7 minutes (or for as long as it takes to heat them). Serve warm!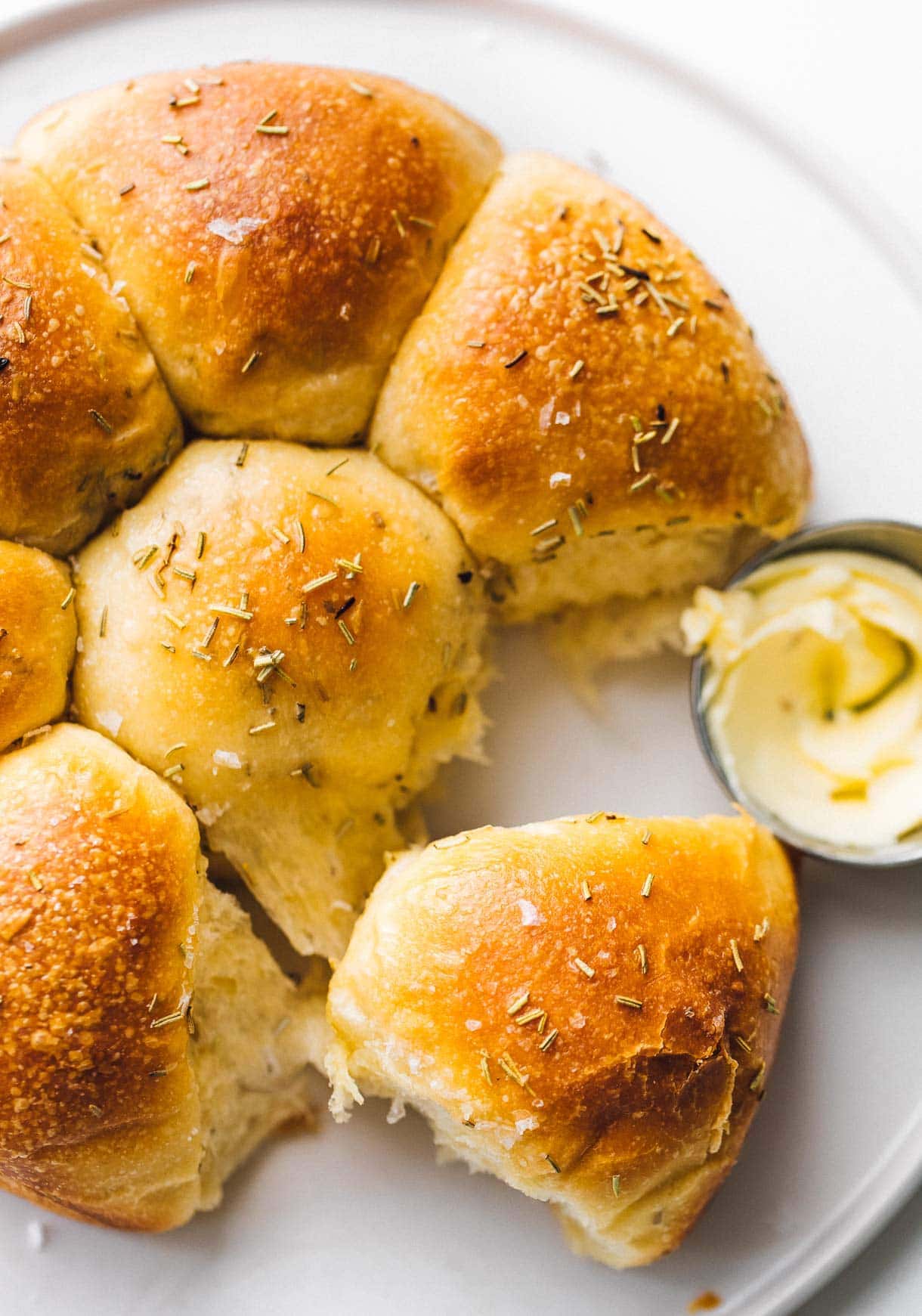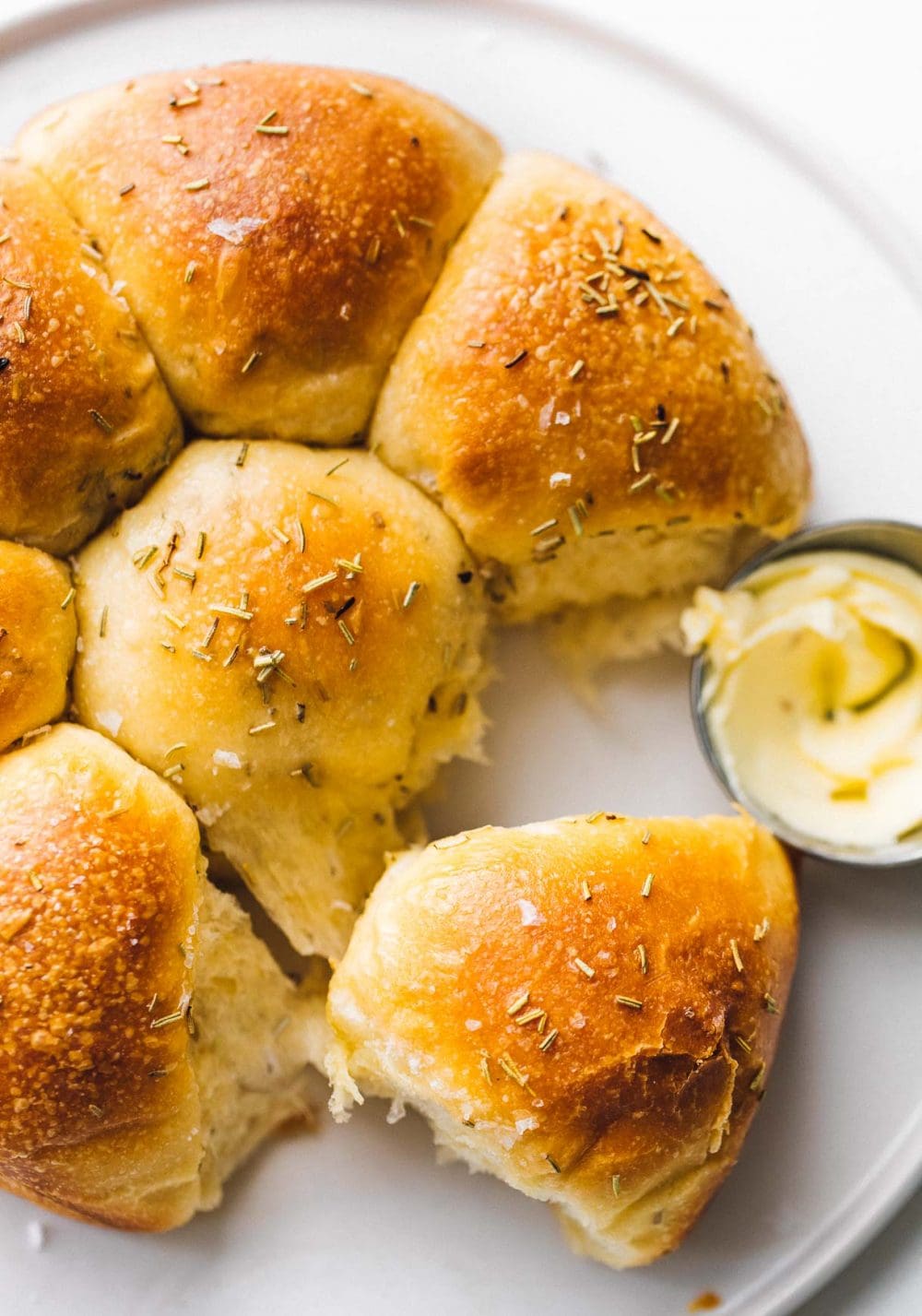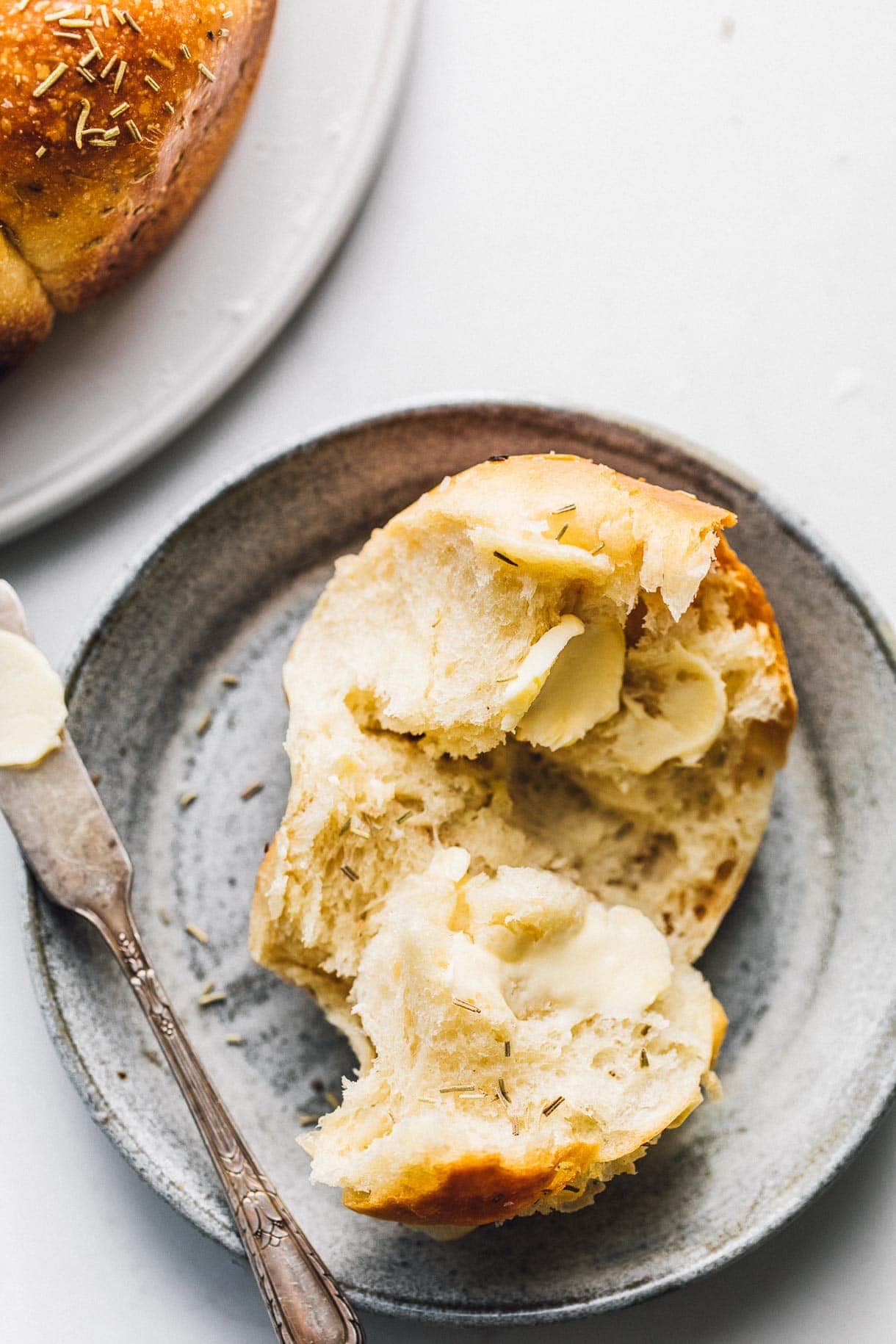 Other Sourdough Recipes: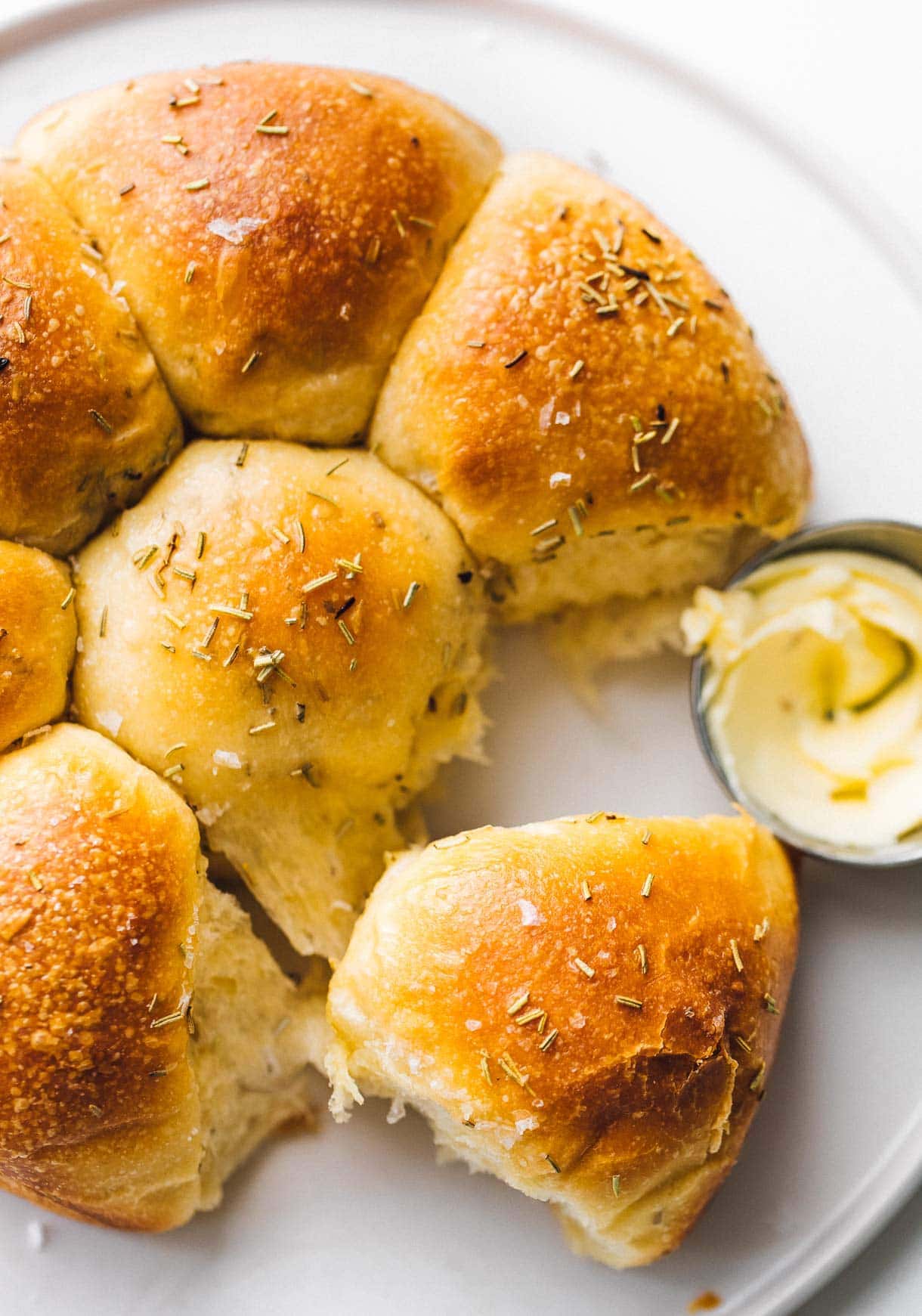 195

grams

organic bread flour

65

grams

organic all-purpose flour

100

grams

active sourdough starter,

at peak

1

large egg,

room temperature

110

grams

lukewarm milk

10

grams

honey

45

grams

softened unsalted butter,

cut into 1/2 inch chunks

6

grams

Watkins Fine Himalayan Pink Salt

1

teaspoon

(3 grams) Watkins Organic Garlic Powder

(optional)

1

teaspoons

(3 grams) Watkins Organic Rosemary

(optional)

extra butter for brushing
Around 8:30pm, add the flours to the bowl of a stand mixer.

Add the milk, starter, honey, and egg to a large bowl. Whisk until combined.

With hook attachment, set mixer on low speed (speed 2 of my Kitchenaid) and pour in the liquid in 3 additions, waiting about 20 seconds before each addition. Increase speed to medium (speed 4 of my Kitchenaid), for 30 seconds. Dough will be somewhat lumpy, but that's okay.

Bring together into a ball using your hands, and let dough rest, covered for 30 minutes.

Adding butter: Turn on mixer to low (speed 2 of my Kitchenaid) and add one piece of butter at a time, waiting until butter is dissolved into dough to add the next. Don't be worried if your dough still looks a little bumpy and lumpy. It will come together! When all butter is added, turn mixer to medium (speed 4) and mix for 6 minutes. This will strengthen the dough and bring it all together.

After 6 minutes, add salt, garlic, and rosemary, and mix for 45 seconds to incorporate into dough.

Cover the dough with a very damp tea towel and plastic grocery bag if you have, and let rise overnight on the counter.

In the morning around 8am, your dough will be proofed. You will now shape the dough, into 8 equal pieces. Lightly flour a clean surface and turn the proofed dough out onto it. Separate the dough into 8 pieces, using a scale to weigh them so that they are nearly equal. Generously grease an 8 or 9 inch round baking pan, with butter.

Watch this video

for shaping technique. — Take each piece of dough and gently pull each side outwards, then bring together in the middle, and start to roll the dough onto itself, making a ball. Rotate, repeating the motion, until a ball has formed. Pull the dough across the surface to create some tension, and cup the ball with your hands. Using floured hands, use the outer edge of both little fingers to rotate the ball counterclockwise. This will help the roll to form a skin on the outer layer so that it keeps a nice shape when rising and baking. Repeat this until all of the rolls are shaped, placing each roll into the baking dish as you go.

Cover the rolls with a damp tea towel and set them aside to rise at room temperature for 2ish hours, or until almost doubled in size.

Preheat oven to 400 degrees F. Brush rolls with milk, and when oven is preheated add pan to oven. Turn heat down to 375 degrees F and bake for 25-27 minutes, until golden brown and fully risen. Brush generously with about 2 tablespoons of melted butter when rolls are done, and serve warm.

Best eaten day of making. If you have leftovers, store in a plastic bag on counter. You must warm up the roll in microwave before eating, for 10-12 seconds to soften it.
*see full baker's schedule in body of this blog post
*To reheat rolls: Preheat the oven to 300 degrees F. Wrap the rolls in foil and place in oven for 5-7 minutes (or for as long as it takes to heat them). Serve warm!