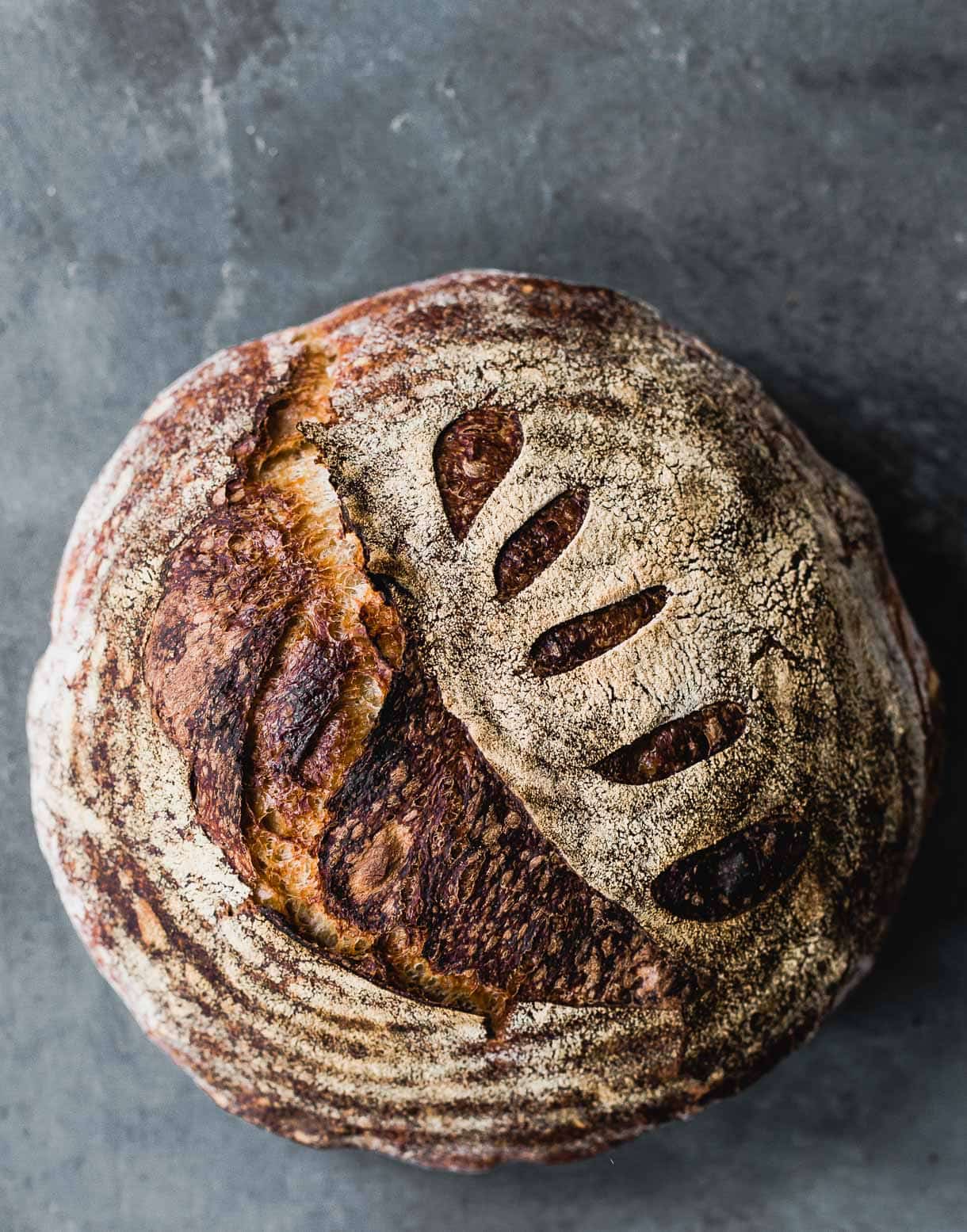 If you want to start your own sourdough journey, you can BUY MY SOURDOUGH STARTER HERE! – and I will ship it you in the mail, with instructions for feeding and maintaining it so you can bake all the amazing bread you dream of. Cost is $12.
I started my sourdough baking adventures in March. After just one loaf, I knew this process was going to become a hobby and passion of mine. I've never been so fascinated in my own kitchen, nurturing and fermenting a live starter (you can read my Top 5 Sourdough Starter Tips) on my counter and transforming it into the most delicious bread I've ever eaten, with the addition of just flour and water.
A golden, crunchy, caramelized crust.
Holes scattered through the soft crumb.
A touch of tang, but mostly yeasty sweet.
You'll notice that besides whole wheat flour, bread flour and all purpose are also used to achieve a tender crumb, and keep the bread from becoming too dense, which can happen if you use all whole wheat.
Bread flour and AP are also important for building structure and allowing for easier handling of the dough, including shaping, due to their higher protein count.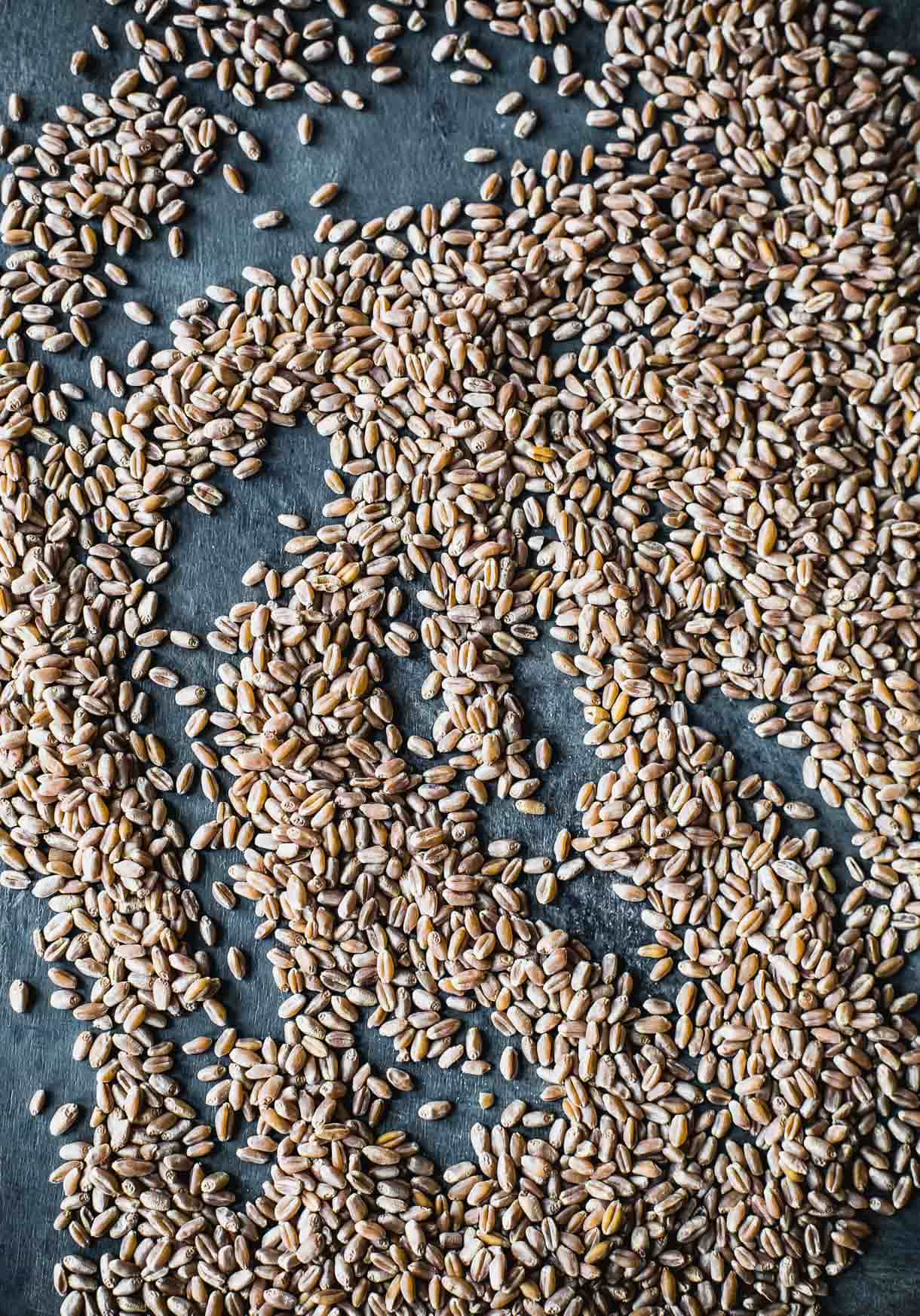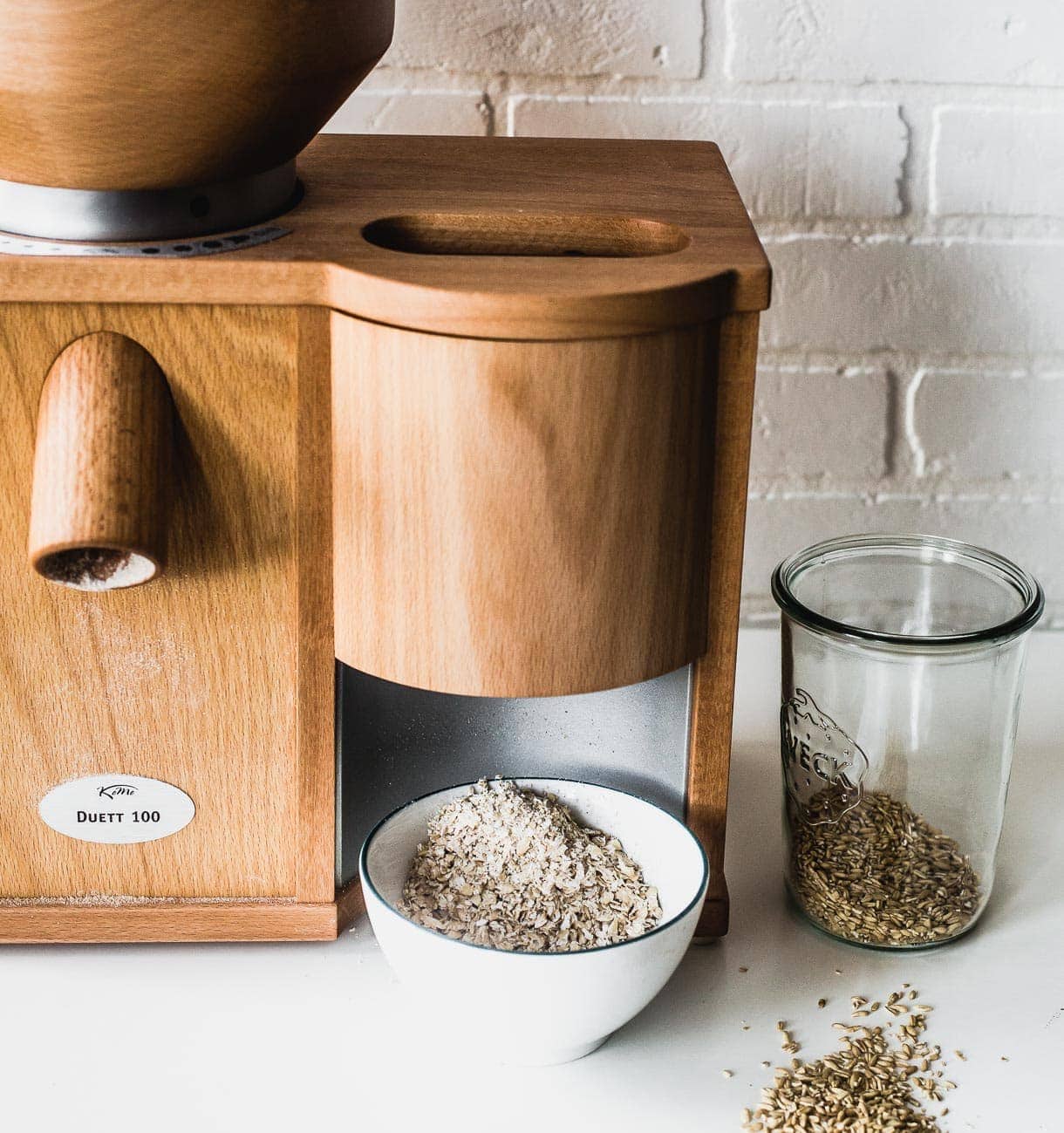 As I continued to learn about sourdough bread, I also started to research using fresh milled grain. Like other things that we buy on the grocery shelf, it's hard to know exactly when the flour was milled, or where the grain came from. And I was really curious as to the complexity that whole grains would add to the bread.
I had some experience with home milling, as I acquired the WonderMill grain mill about 6 years ago. I milled only gluten-free grain, and had good end results, but the mill was extremely loud and I didn't like how the flour flowed into a bucket that had a "hose" coming from the main mill. It got messy. Additionally, it wasn't the prettiest machine to look at, made of hard plastic.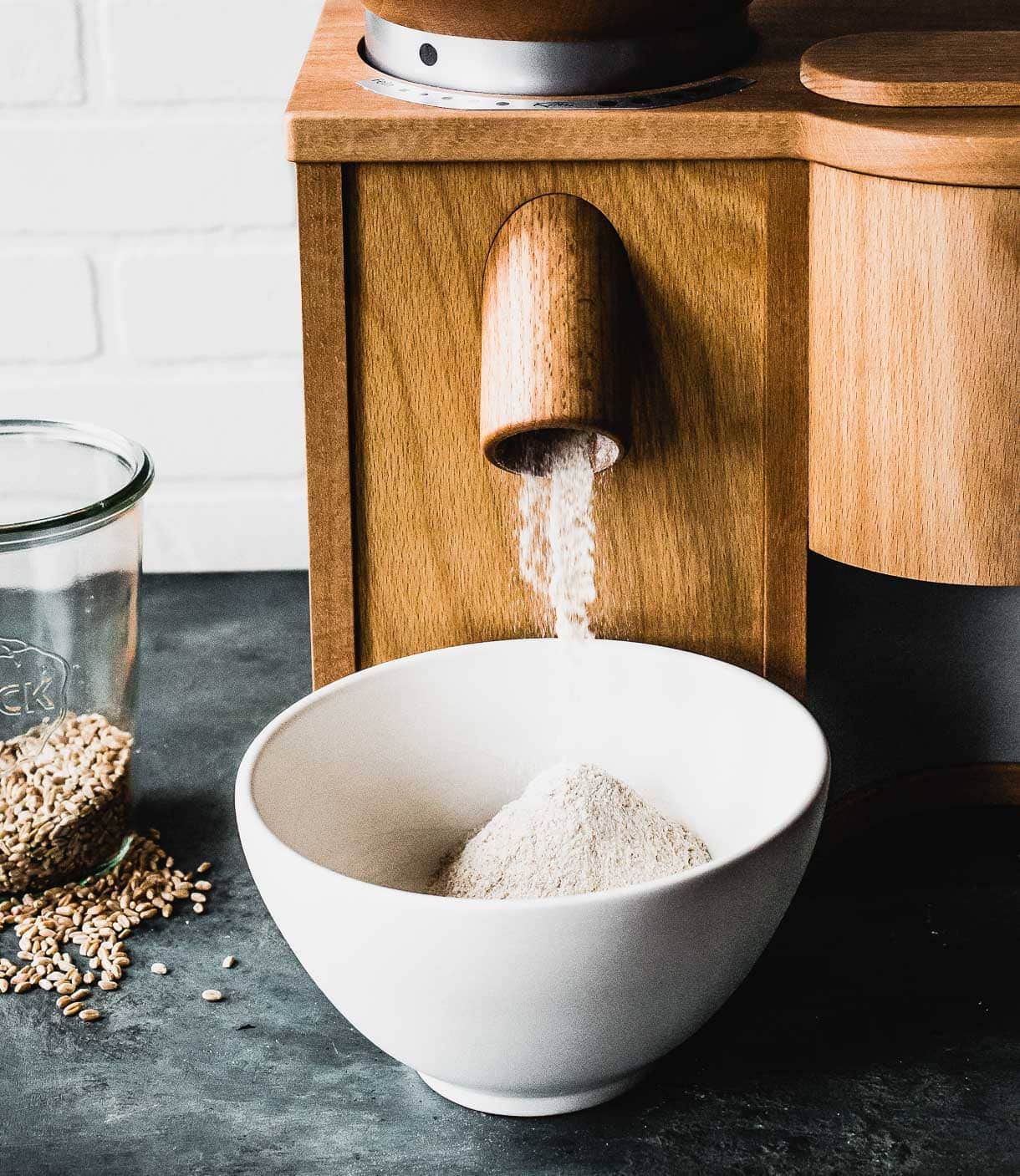 Pleasant Hill Grain has lots of kitchen equipment, and is the exclusive US importer of Austrian made Komo Grain Mills and Flakers (mill is left side of machine, flaker on the right) you see here in the photos. We are working together to start more conversations around home milling, the benefits of using fresh flour, and how easy it is.
They graciously provided me with the Komo Duett Mill, which is gorgeous – constructed of beechwood, and I've been using it for the last month, experimenting with different grains, and making bread with the flour using different techniques and ratios. The process of milling is as simple as:
Select your grain.
For sourdough bread, you'll want to grind it as fine as possible. With the Komo Mill, all you have to do is turn the top hopper as far to the left as it goes before the stone burrs touch each other.
Flip the switch to turn the mill on.
Pour grain into the hopper, and tada – FRESH FLOUR!
The grinder side mills hard or soft wheat, rice, kamut, spelt, buckwheat, barley, rye, millet, teff, quinoa, amaranth, sorghum and dent (field) corn. It will also grind lentils, dry beans (pinto, red, chickpeas, kidney & more), and dried, non-oily spices. It isn't suitable for herbs, oilseeds like flax or sesame, popcorn, or fibrous materials. The grain flaker side (shown above), is incredible too! Wheat, rye, barley, and most commonly, oats are flaked.
When you press your own oat flakes, you're getting fresh, raw oats with all the delicate essential oils and life energy of the seed. That's compared to commercial oat flakes, which are steam cooked and heat dried to preserve. Other grains that are normally dry and hard should be softened by briefly rinsing them under water. Then spread the grains on a cloth or towel to let them dry over night or for at least 3-4 hours.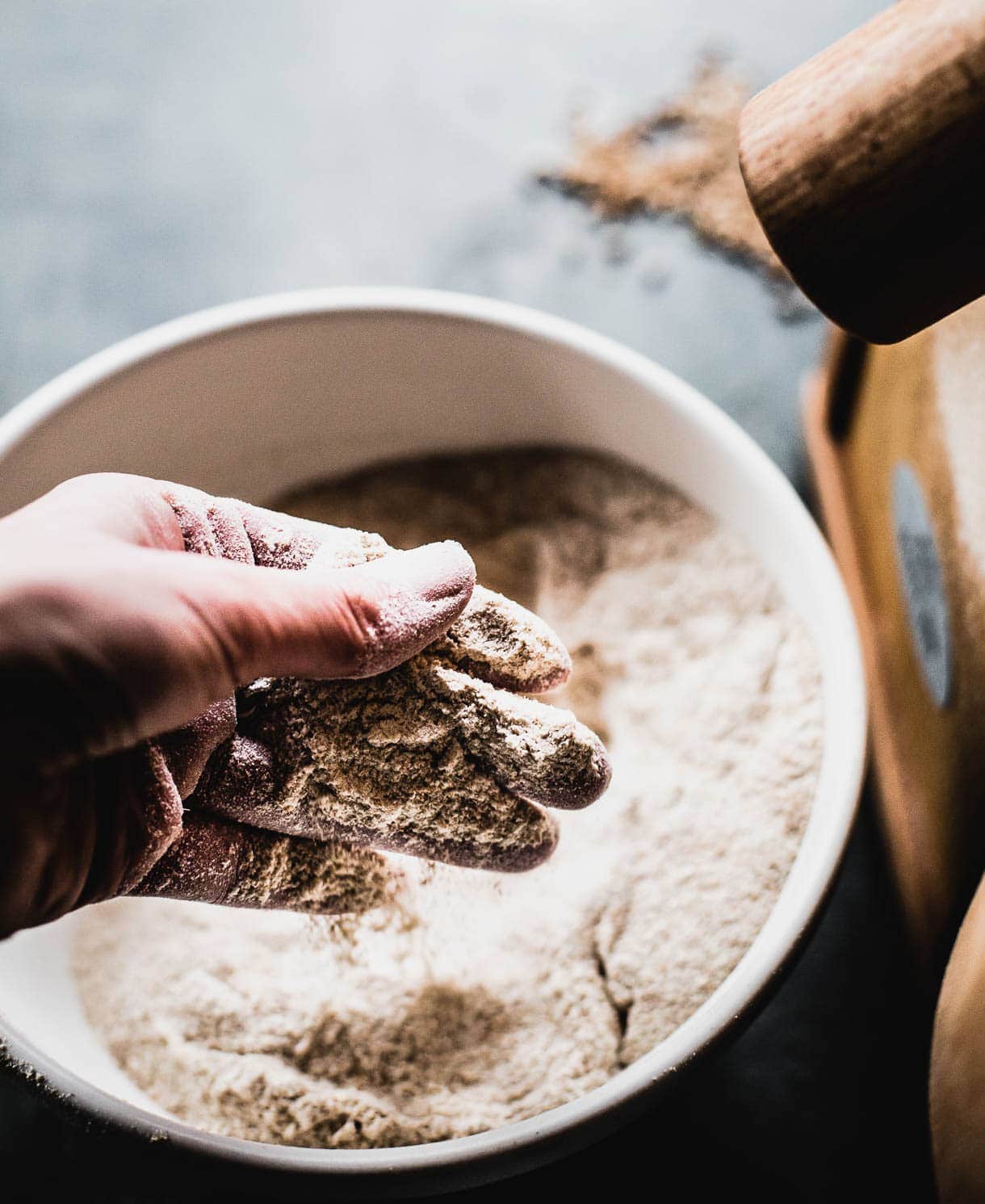 Milling your own flour, without sifting, means you retain 100% of the same wheat berry in your end product. Many mills will label using the term "whole wheat", but that doesn't always mean whole grain. Additionally, they will sometimes perform several milling passes, especially on the germ and bran which are sifted out and then later added back in. Once the wheat berry is milled, breaking open that protective bran layer, oxidization begins which causes nutrients to slowly degrade.
So when we mill at home and use the flour immediately, we're retaining many more nutrients that store bought flour.
But where fresh milled flour really shines is in flavor. The complexity and nuances of each grain comes through, deeply rich and nutty.
I've baked with both fresh milled hard red winter wheat, and spelt, and loved each. The crust, crackly, and shinier! The crumb is so so tender, softer than an everyday kind of loaf.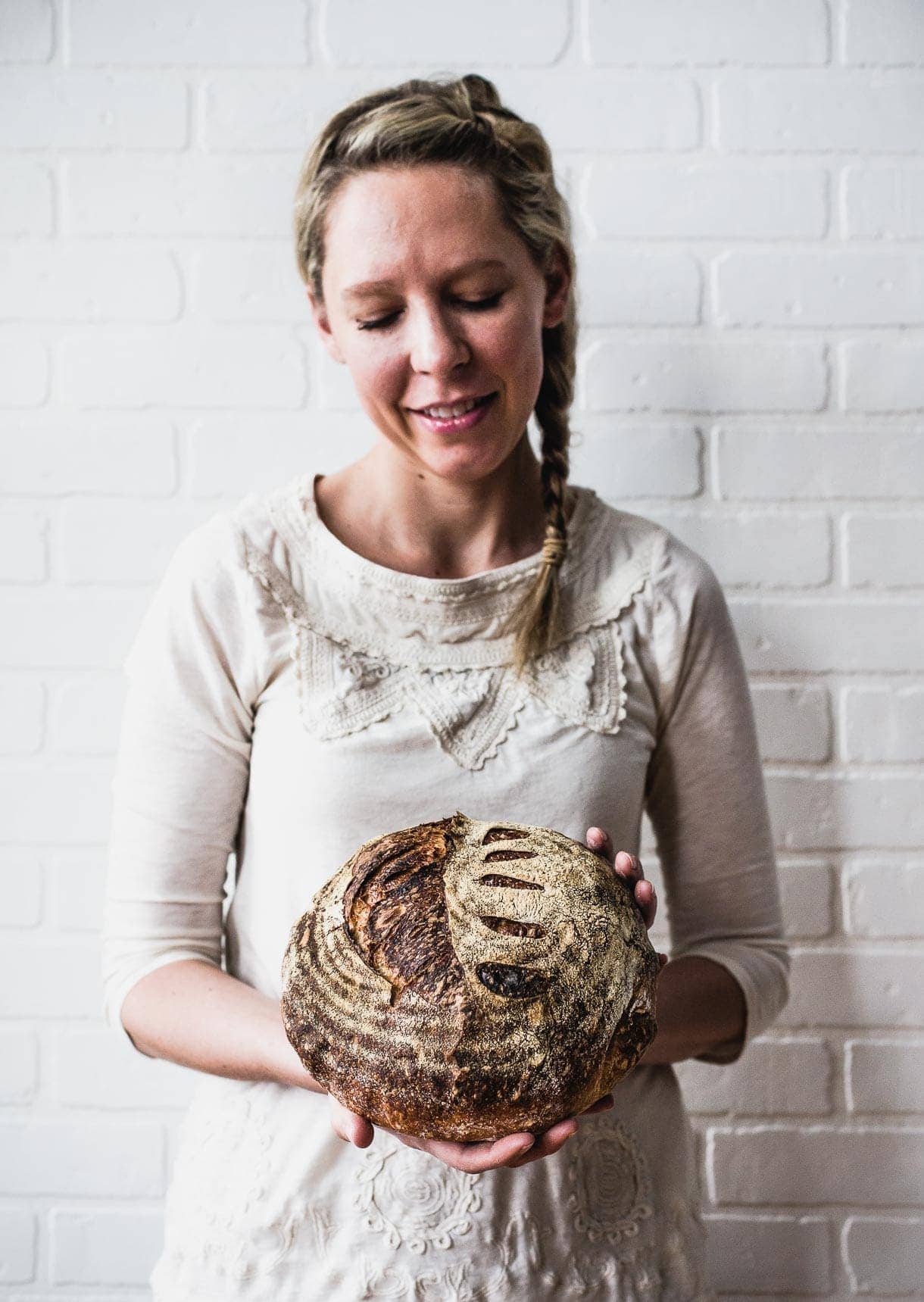 After baking several loaves now with fresh milled flour, the success has been mostly dependent on three things:
A longer autolyse to let the grains absorb the water better
Four sets of folds during bulk fermentation, if possible
A long cold proof for the second rise, 8-10 hours
When doing these two things, I achieved the oven spring I was hoping for, and nice holes near the edges of the loaf, with a tighter middle. It's wonderful for toast and sandwiches.
Sourdough is the way bread was made centuries ago, and I'm so glad that many around the world are embracing sourdough again, and sharing their learnings with others. My starter has become a part of me…. It needs to be fed. It asks to be used. The long rise. The satisfying bake. The first slice of whole wheat sourdough bread.
If you'd like to purchase some of my starter, you can! Right HERE.
My Whole Wheat Sourdough recipe is adapted from the Artisan Sourdough Made Simple cookbook, which has been my guiding star throughout this whole sourdough learning process. I highly recommend it.
Whole Wheat Sourdough Bread Recipe
Additional Time:
10 hours
Total Time:
10 hours
55 minutes
A recipe for naturally fermented, whole wheat sourdough bread.
Ingredients
55 grams bubbly, active starter (100% hydration)
380 grams warm water
20 grams honey
150 grams fresh milled whole wheat flour
9 grams fine sea salt
Instructions
In a large bowl, whisk starter, water, and honey. Add the flours and salt, mixing first with a fork, then switching to your hands. A rough, sticky dough will form. Cover with a damp towel and let rest for 1 hour and 15 minutes (this is the autolyse).
Then work the dough into a semi-smooth bowl, folding it over itself for about 1 minute.
Bulk Rise: Cover the dough with a damp towel, dusted with flour, and let rise at room temperature (as close to 72 degrees as possible) for 1 hour. Complete a set of folds, then let rise for another hour. Complete a set of folds, then let rise for another hour. Let rise for 2 hours, then complete last set of folds. Then let rise for 3 more hours. (This a total rise of 8 hours).
Now it's time to shape. Gently coax the dough onto a flour surface. Shape it into a rustic round and let rest, covered, for 15 minutes. Then shape the dough using this method, into a tight round. Using a dough scraper, transfer the dough, seam side up, into a banneton. Cover, and let sit in refrigerator for 8-10 hours.
Remove dough from refrigerator and let warm up for a half hour. Meanwhile, preheat your oven to 475 degrees. When dough is warm, Cover with a piece of parchment and flip so that seam is now on the bottom. Lift banneton off. Gently rub a bit of flour onto the top, and score the dough.
Cut parchment into a circle around the dough, leaving a 2 inch overhang. Lift parchment into a dutch oven and make sure parchment is not covering the dough. Put cover on dutch oven.
Slide into oven on middle rack, and bake with cover on for 20 minutes. Remove cover and bake for another 30 minutes, until exterior is golden brown and crispy.
Let cool for one hour before cutting. Store bread in a plastic bag, cut side down for up to four days.