This easy whole wheat sourdough sandwich bread is soft, fluffy, and a breeze to make. Full of whole grains and wonderful flavor, it's the perfect way to use sourdough starter to make an everyday loaf. The crust is beautifully golden brown, the crumb tender and even. You'll use your stand mixer to mix the dough, then bulk ferment overnight while you sleep. No kneading or stretching and folding!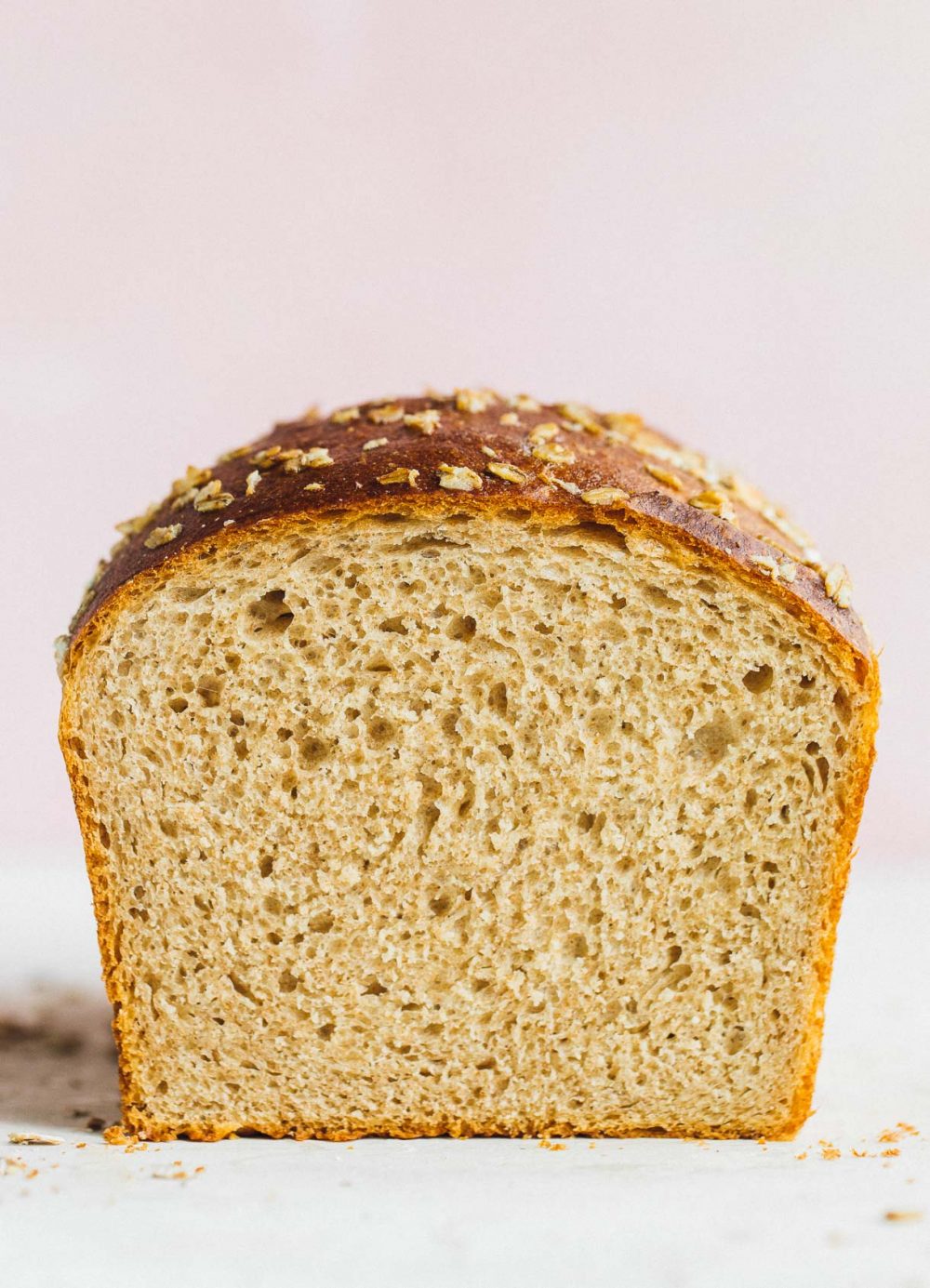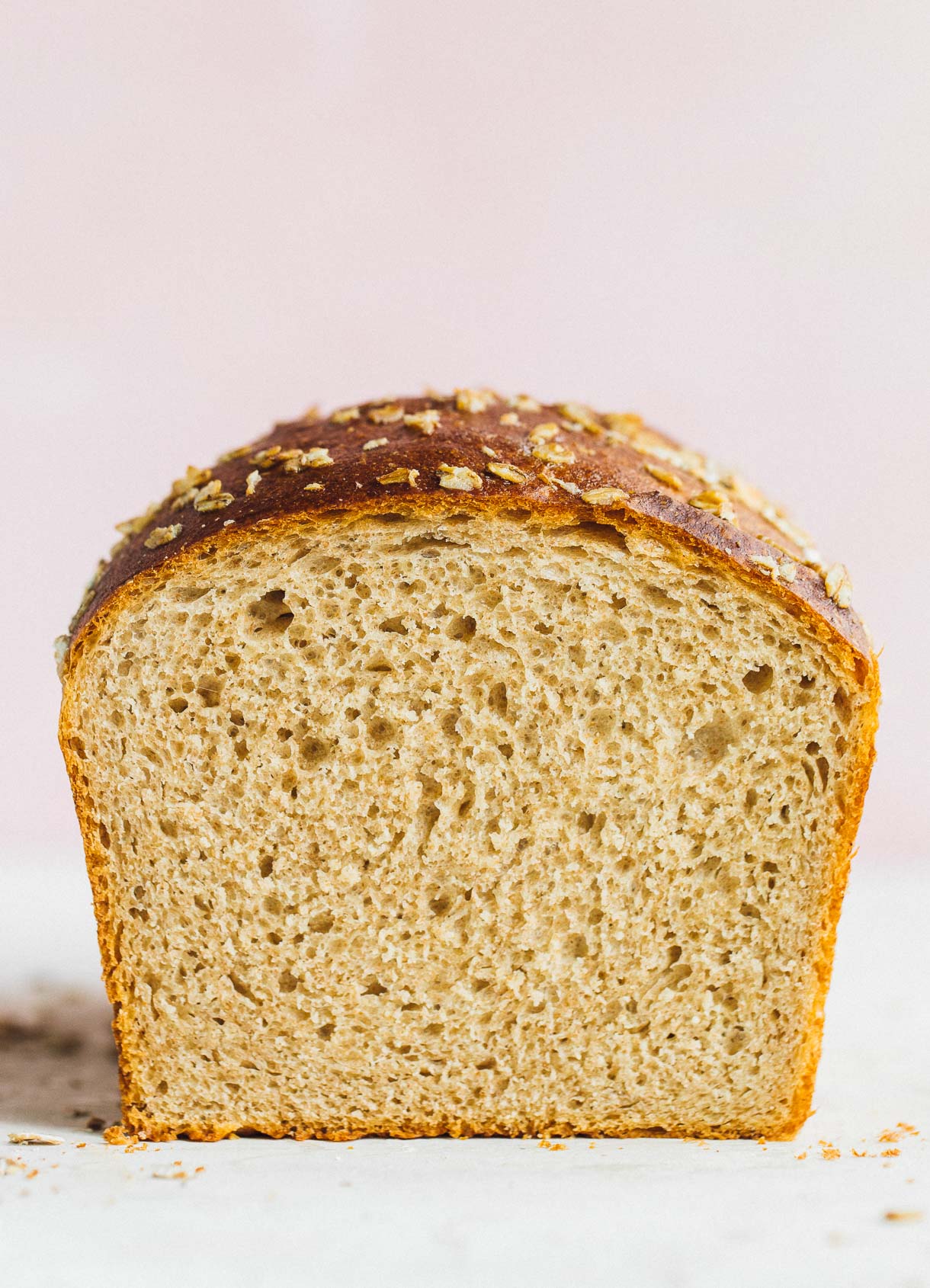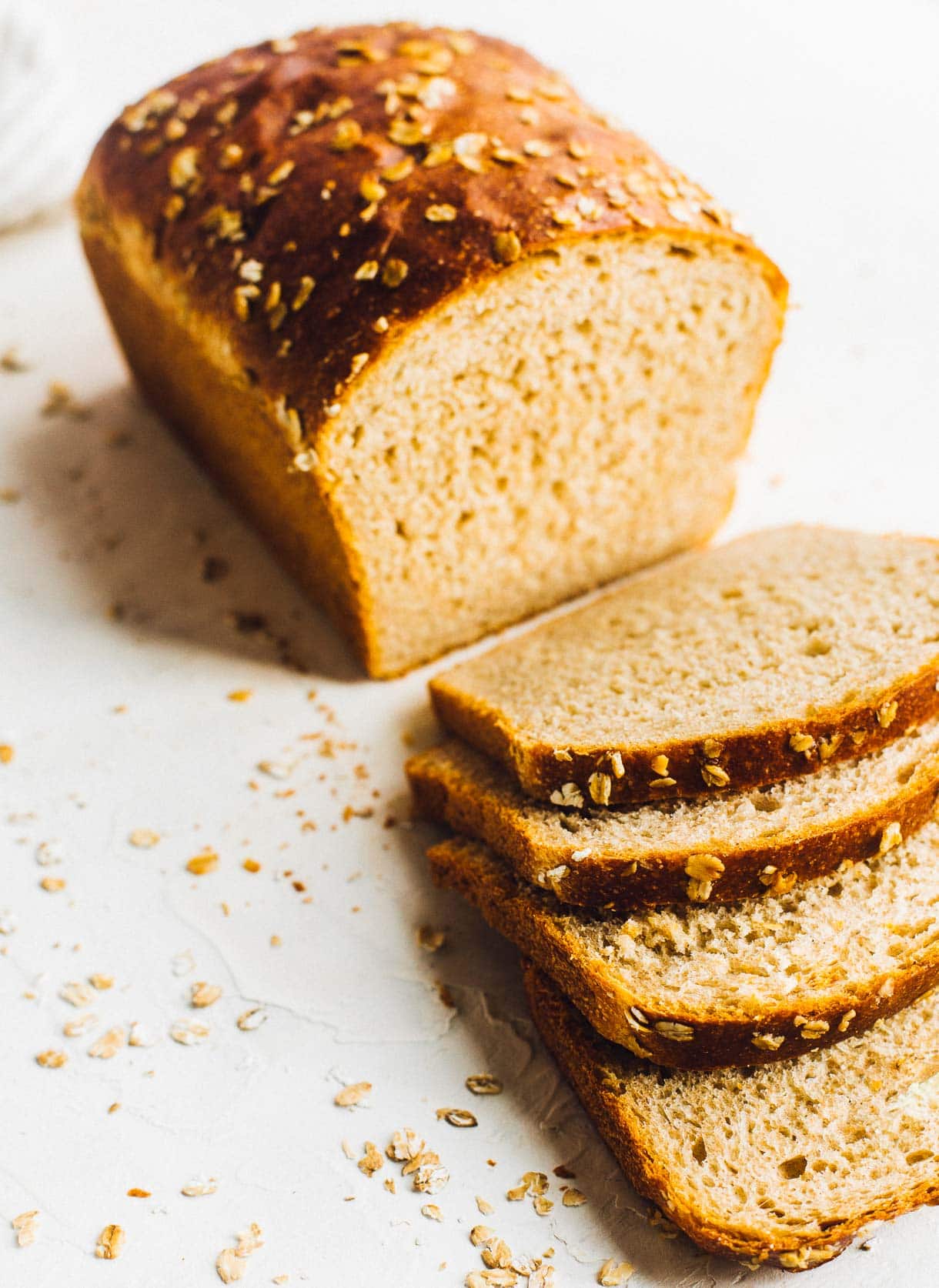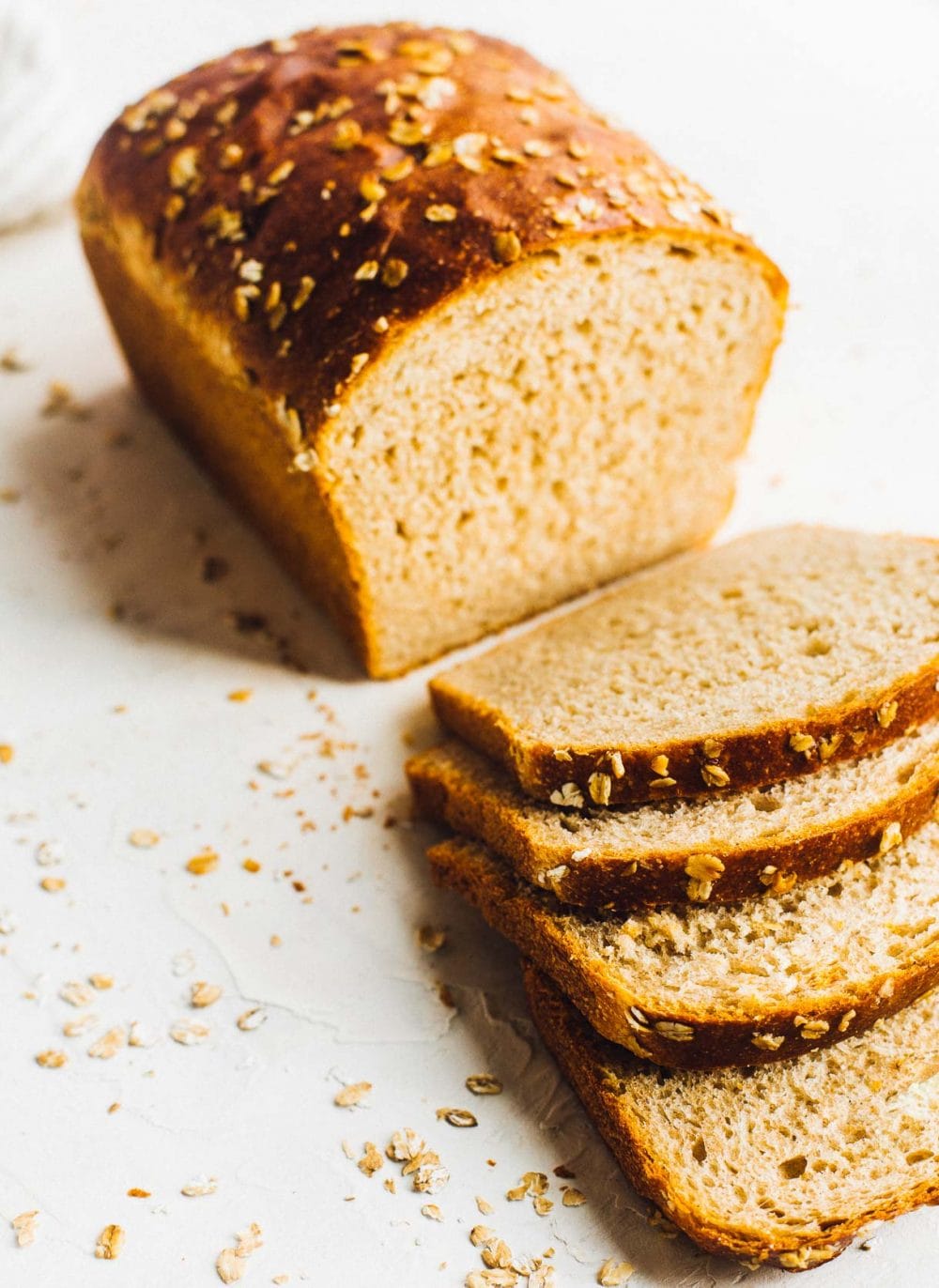 There's something about a lofty loaf of soft, buttery sandwich bread that shouts nostalgia. I grew up with store-bought sandwich bread that certainly wasn't artisan or full of much nutrition, despite the whole grain labeling. But it was soft and delicious, and I loved nothing more than making a peanut butter and jelly sandwich with it.
And I absolutely wanted to create a sourdough sandwich bread that was soft and airy, with the benefits of fermentation and whole grains.
What to expect from this whole wheat sourdough sandwich bread:
I tested this recipe over and over again, until I achieved what I think is an amazing whole wheat sourdough sandwich bread that will bring you right back to your childhood.
It slices like a dream, with an even crumb and a soft, tender texture.
It's not dense (which can happen when using whole wheat flour)!
And the whole grain component leads the way to fabulous nutty flavor.
This whole wheat sourdough is ready to be made into your favorite deli sandwich, grilled cheese, or pb & j.
And it's easy to make! Your stand mixer will do all the work for you, NO hands on stretching and folding, or kneading.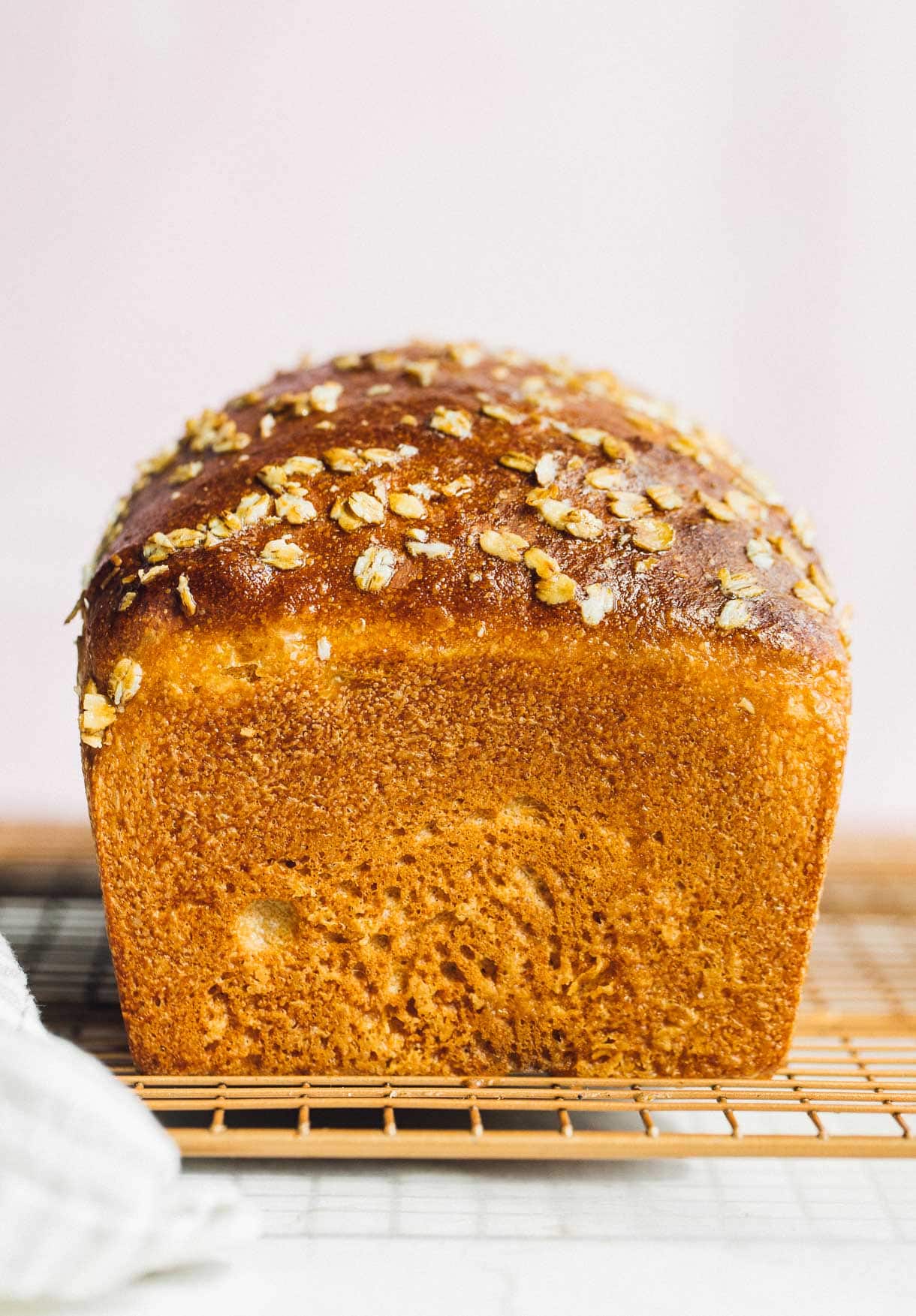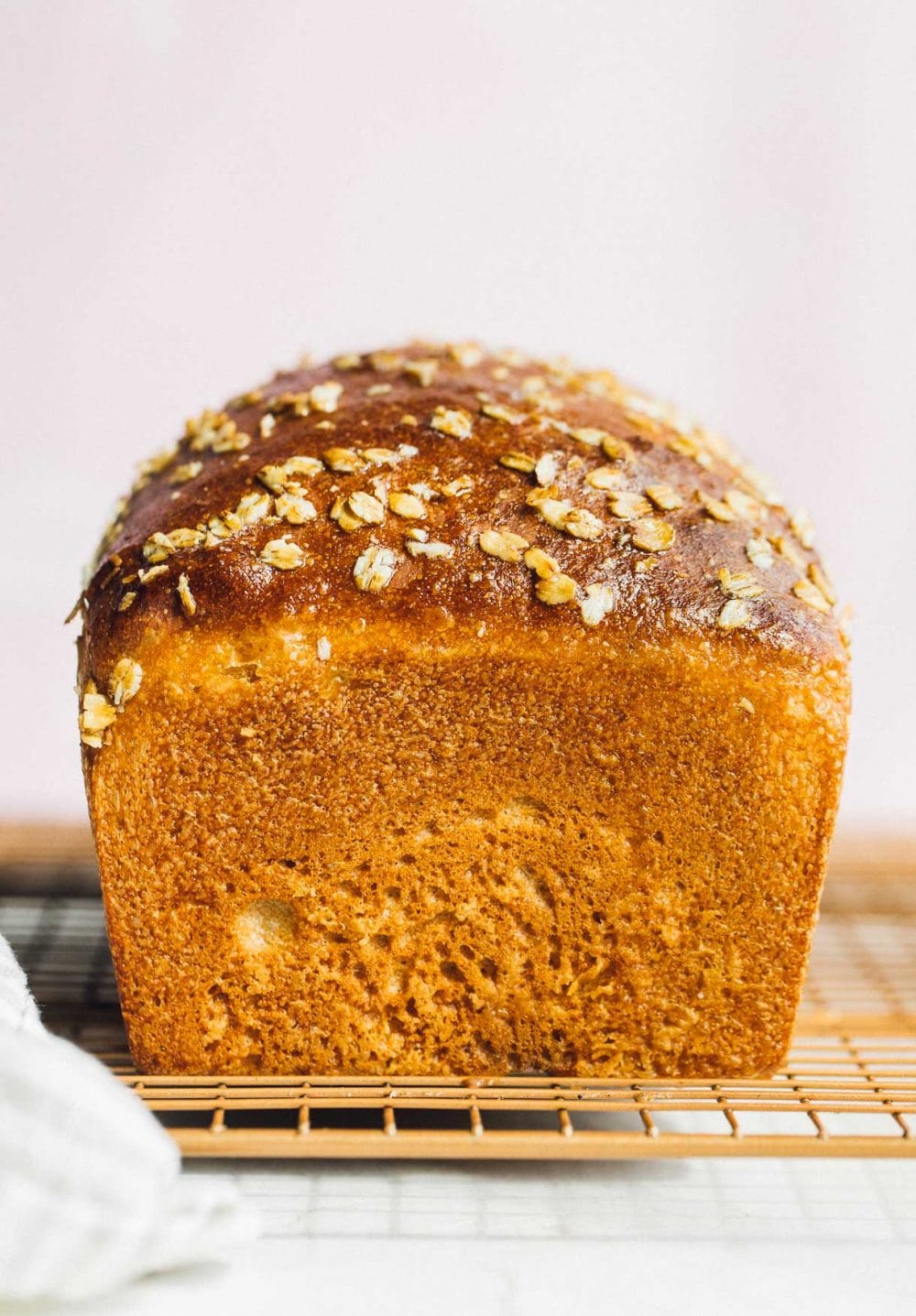 Ingredients You'll Need for This Recipe:
bread flour
all-purpose flour
milk
butter
honey
oats for garnish
How to Make Whole Wheat Sourdough Sandwich Bread
Baker's Schedule:
I like to make this recipe using an overnight bulk fermentation, and then a shorter final rise in the morning. It makes things super simple!
8:30pm: Mix starter, flours, milk, water, and honey. Let sit for 45 minutes.
9:15pm: Use stand mixer with dough hook to mix in salt and softened butter. Then mix on medium speed for 7 minutes.
Cover with plastic bag and let rise overnight in a cool spot.
7:30am next day: Turn dough out onto counter and let rest for 10 minutes. Pat dough into a square and fold 1/3 of dough into the middle, then roll the rest of the dough up. Use a bench scraper to create a bit of tension and seal the seam. Place seam side down into well greased, 9×5 inch loaf pan. Cover with plastic bag (that doesn't touch the top of the dough). Let dough complete its final rise in a warm spot.
11:00am: Final rise is complete when dough has risen just above the rim of the pan. Brush with water and sprinkle with oats, if desired.
Bake for 30 minutes at 400 degrees F, until interior of bread is at least 205 degrees F.
How to Shape Sourdough Sandwich Bread:
There's good news – shaping sourdough sandwich bread is easier than shaping a round boule of Everyday Sourdough! In fact, I recommend this bread if you're a sourdough beginner, as the process is relatively straightforward and forgiving. You're using a loaf pan to hold the bread and give it structure, rather than trying to build structure by building tension with your hands .
Follow these photos as a guide to shaping your whole wheat sandwich bread.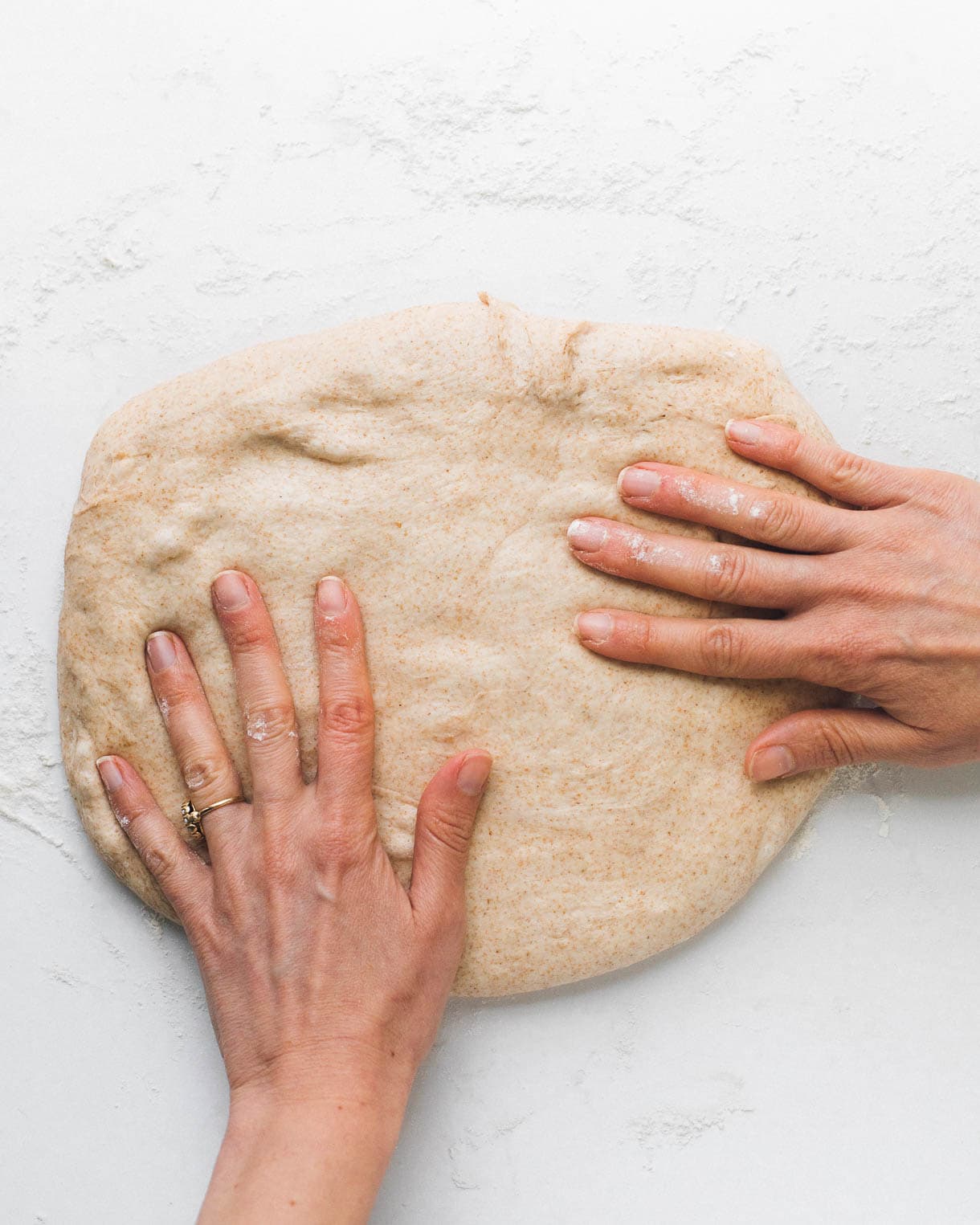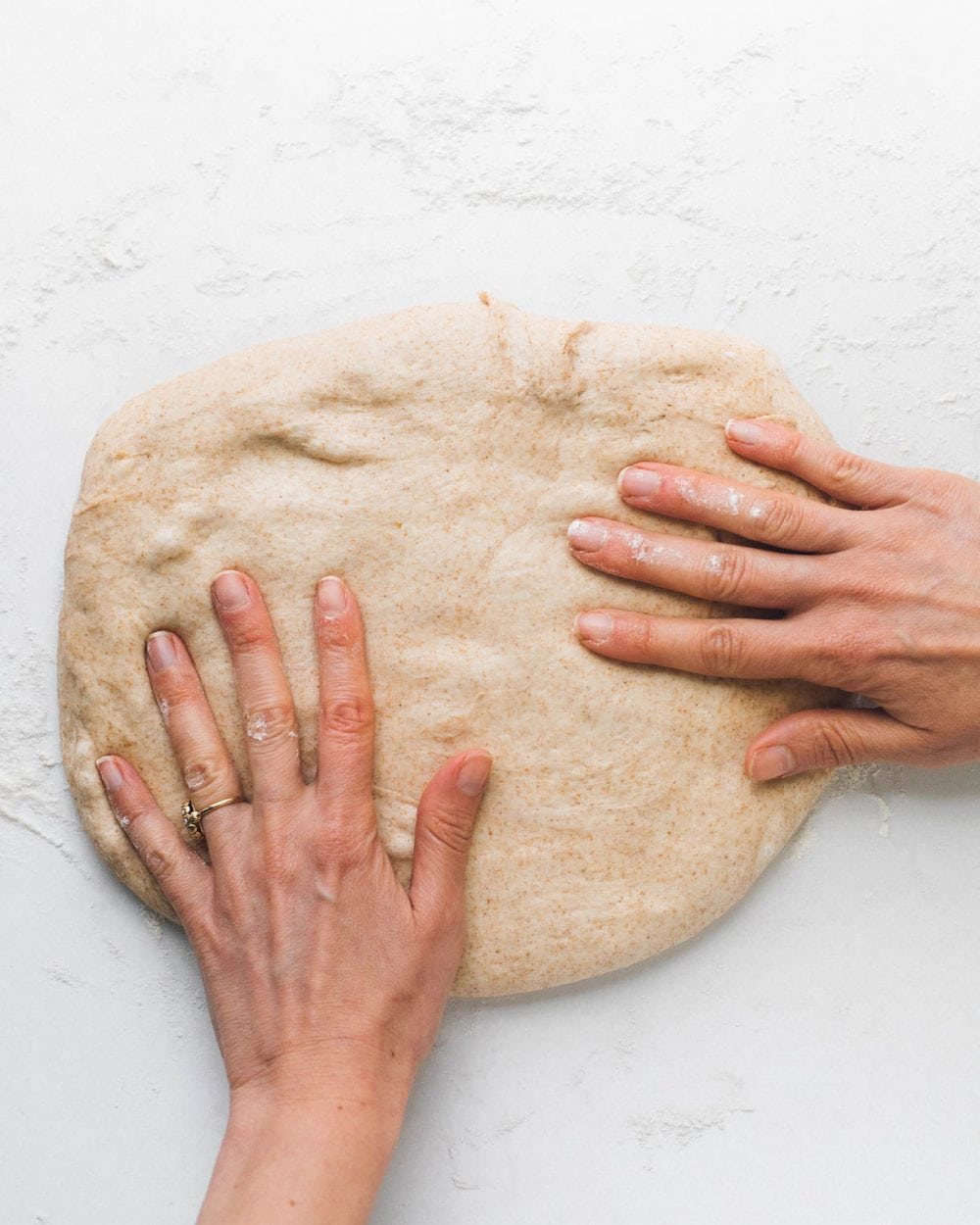 Temperature is an important ingredient in sourdough baking.
Both the temperature of the LIQUID used to make your dough and the temperature of your HOME (AIR) have a large impact on how fast your dough will rise during the bulk fermentation. By using room temperature milk and storing the dough at around 65 degrees F, the dough rises nicely overnight, taking about 8-9 hours.
*If you use cold milk, your dough will rise slower, which is a way to adjust for warmer than 65 degrees F room temperature.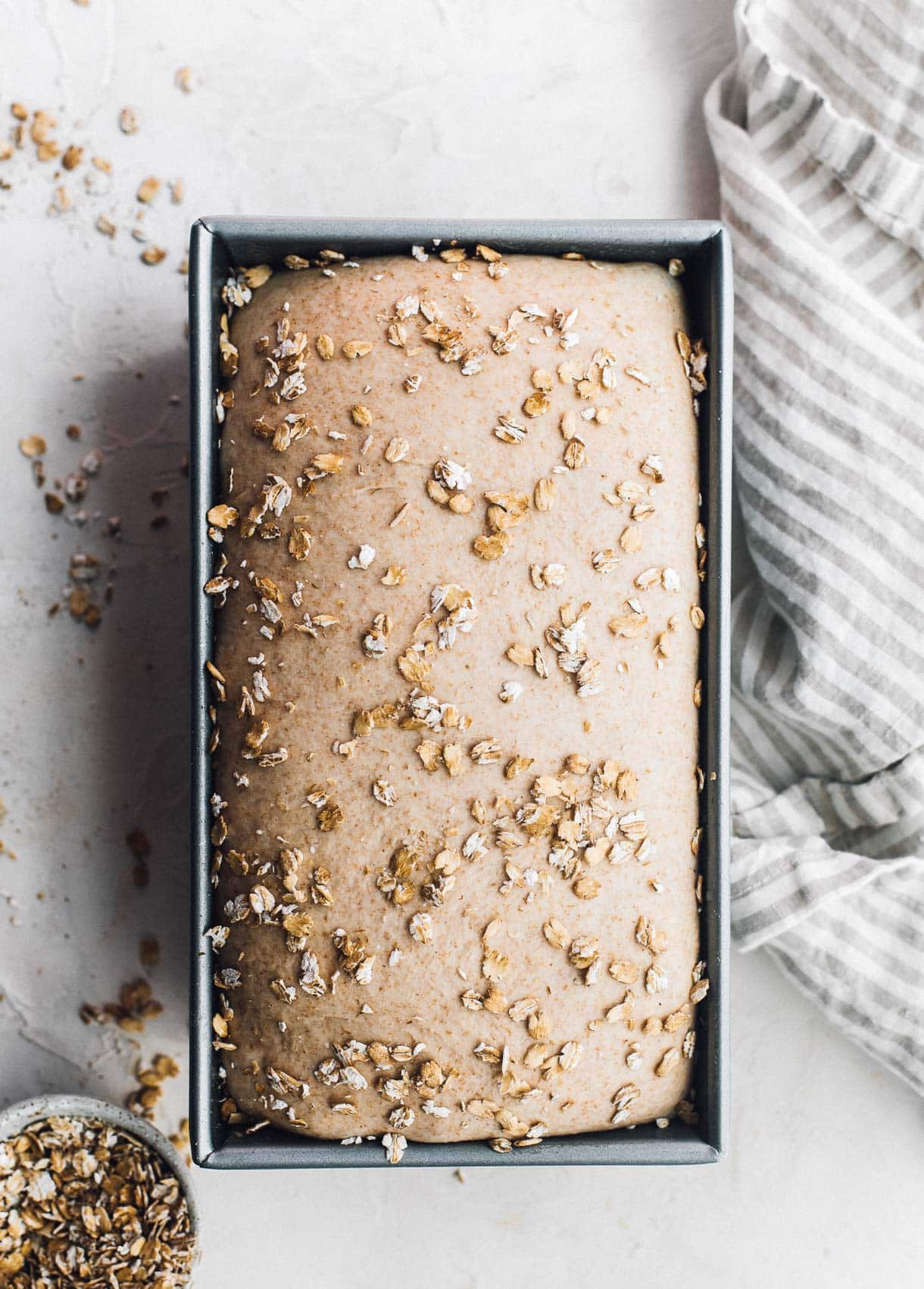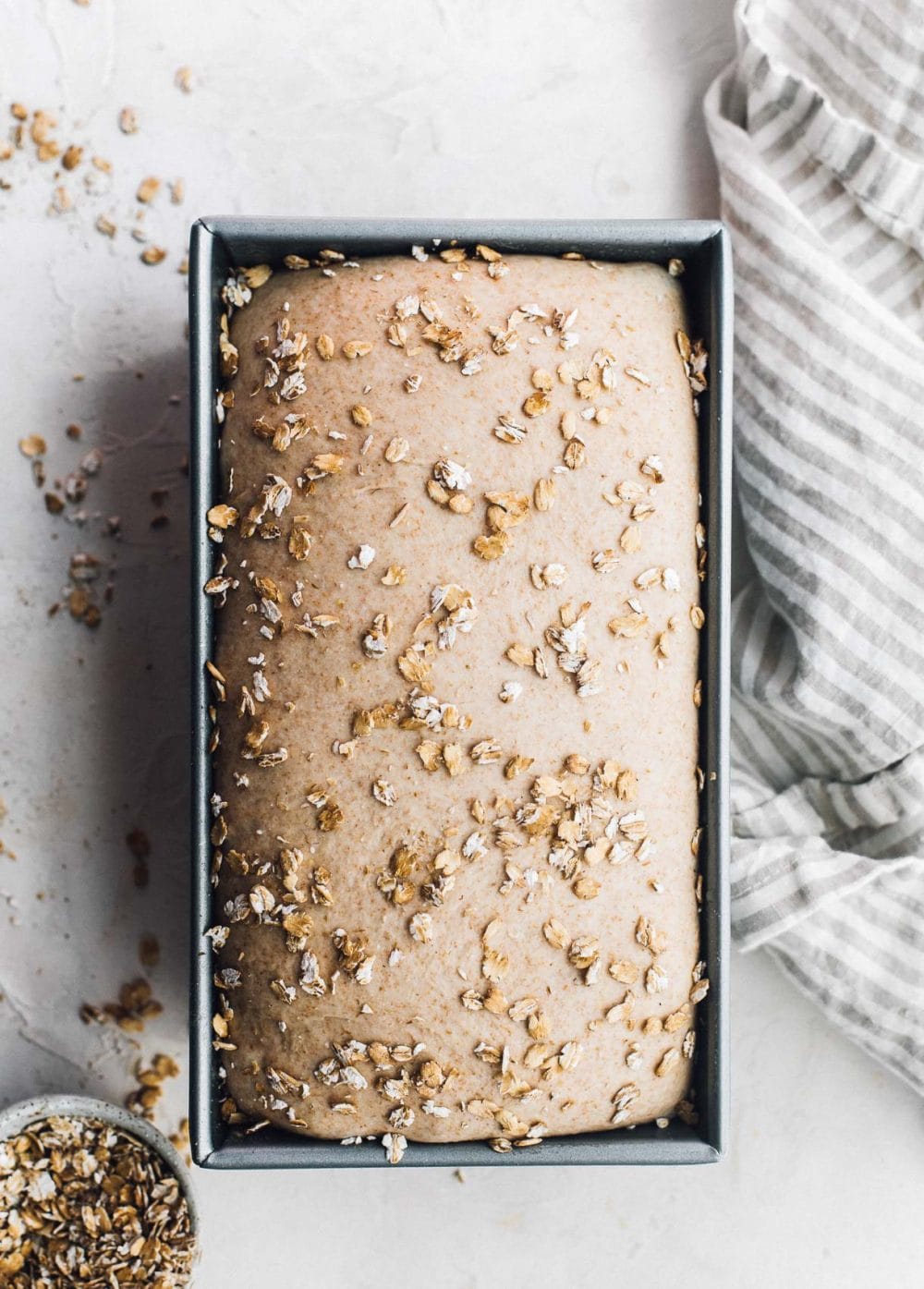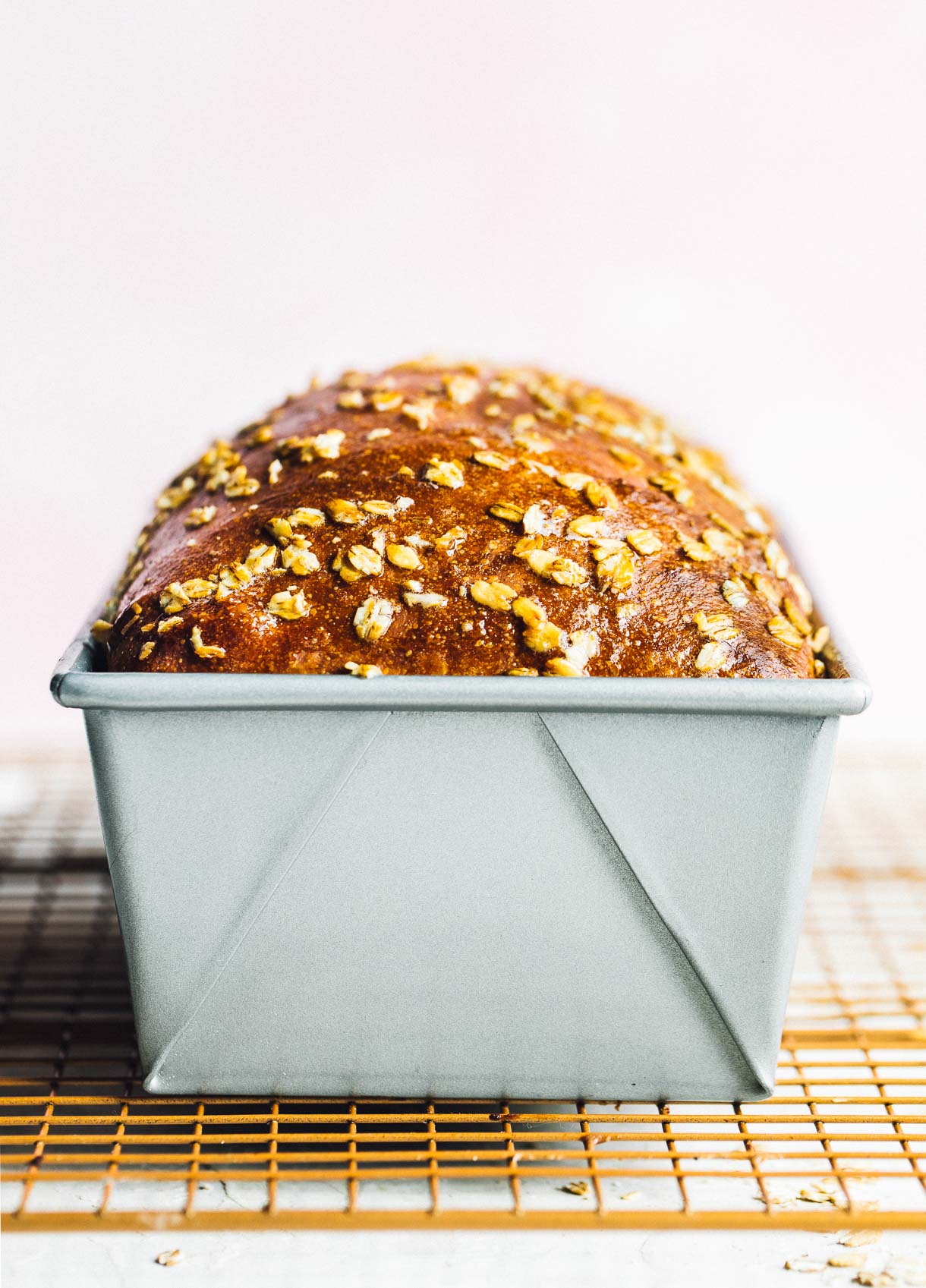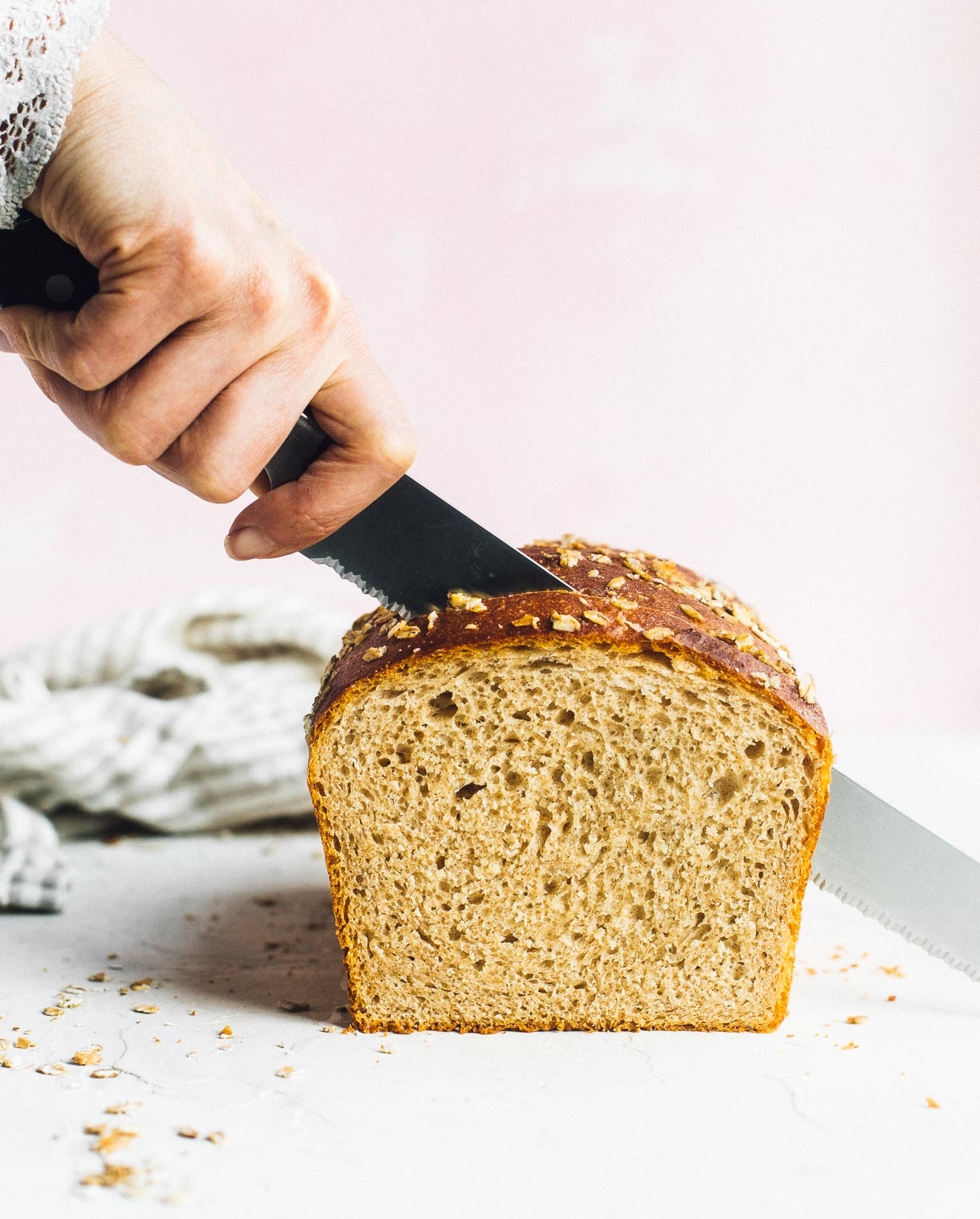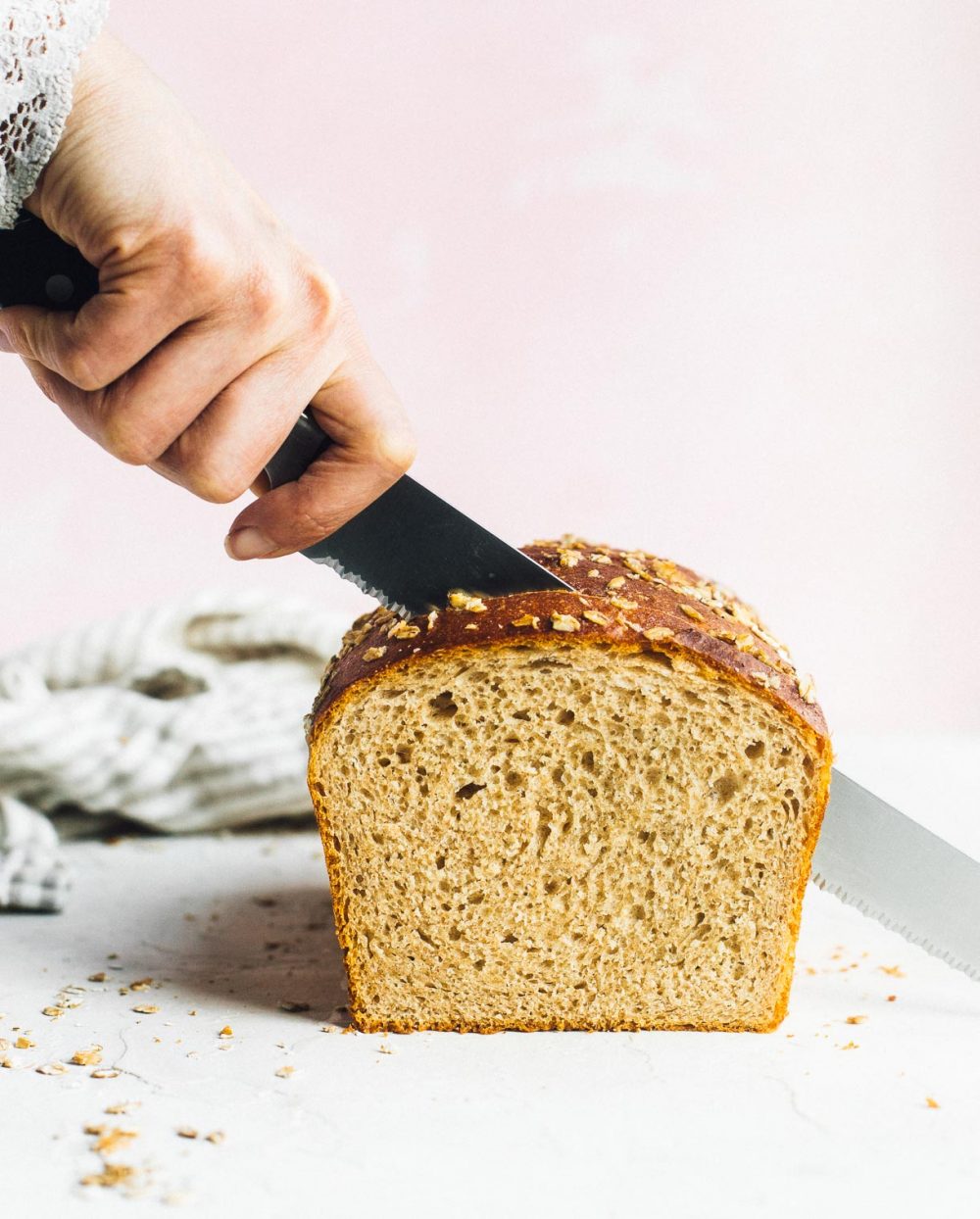 How long to bake sourdough sandwich bread:
This sandwich loaf takes about 30 minutes to bake, at a temperature of 400 degrees F. You'll bake it with a pan of water on the bottom rack of the oven for the first 15 minutes to create a steamy environment, then remove that and bake for 15 more minutes. The bread is finished baking when it has reached an internal temperature of 205 degrees F.
How to store sourdough bread:
The wonderful thing about this sandwich bread is that it stays soft and delicious for 5-6 days! This is achieved by using butter and milk, and sourdough starter. Store this bread in a plastic bag once you cut into it, cut side down on the counter.
More Sourdough Bread Recipes: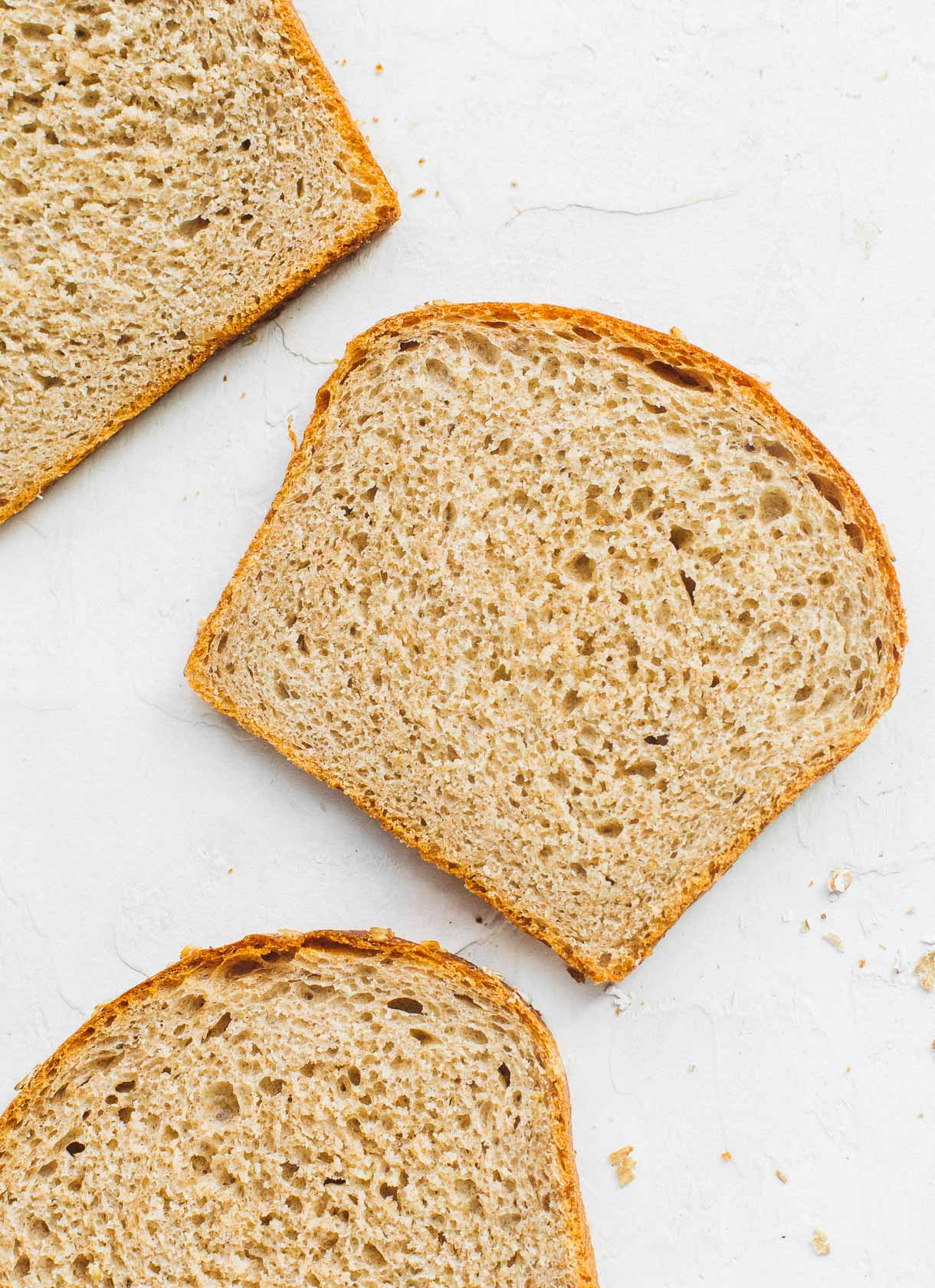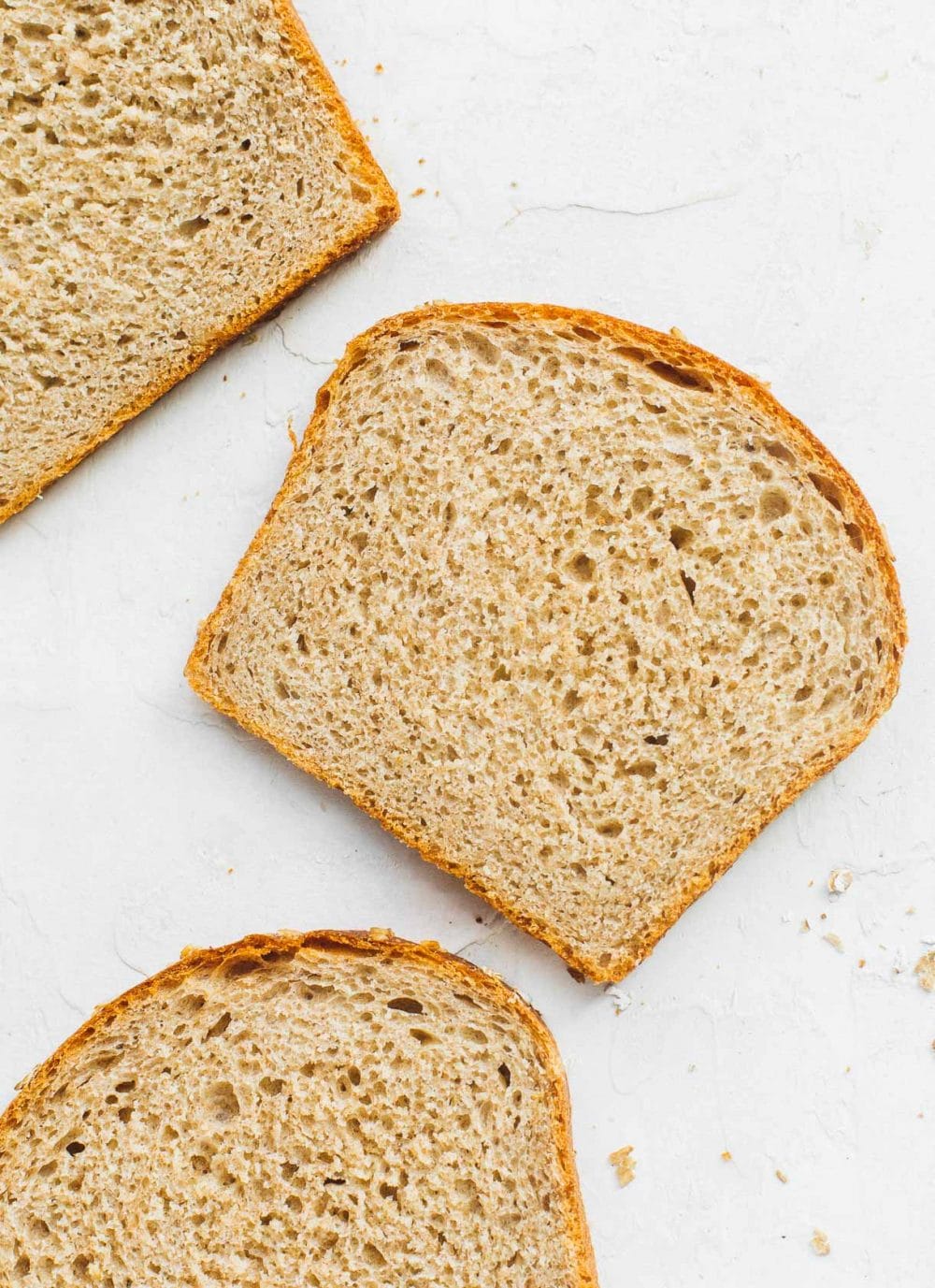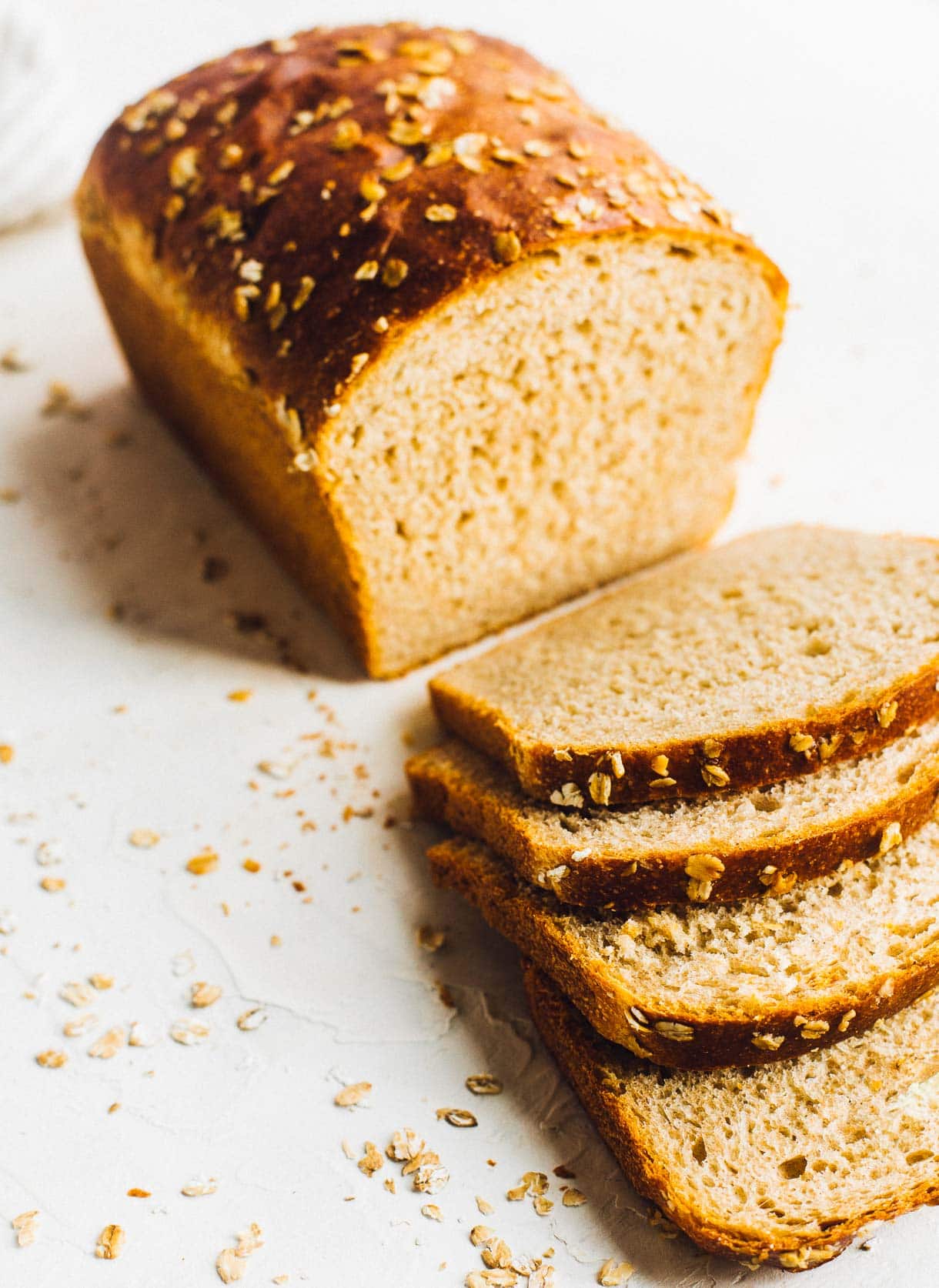 70

grams

active sourdough starter

at its peak

20

grams

honey

340

grams

room temperature whole milk

35

grams

room temperature water

190

grams

whole wheat bread flour

(regular whole wheat works too, ww bread flour is just a little bit stronger in holding its tall shape)

255

grams

bread flour

35

grams

all purpose flour

8

grams

fine salt

30

grams

softened unsalted butter,

cut into chunks

old fashioned oats,

for garnish
Around 8:30pm: In the bowl of a stand mixer, add starter, honey, milk, and water. Whisk with fork to combine. Then add whole wheat flour, bread flour, and ap flour. Attach dough hook and mix on speed 3 of a Kitchenaid until no dry bits appear, about 30 seconds. Let dough rest for 45 minutes, with cloth covering the mixer.

Add salt and turn mixer on low, speed 2 of Kitchenaid. Add a chunk of butter and once you can no longer see it, add the next, until all butter is in dough. Then turn to speed 4 on Kitchenaid mixer (medium) and mix for 7 minutes. Remove bowl from the mixer, cover with a plastic bag, and let rise overnight in a cool spot, between 65-68 degrees F.

Around 7:30am, your dough should have increased in size by about 50%. It will have rounded edges and have puffed up, but still look a bit dense. It will not have bubbles or big jiggly like regular sourdough. Dust your countertop with flour and place dough onto it, and let rest for 10 minutes.

Gently press it into a square-ish shape, popping any bubbles you may see coming through surface. Fold one of the sides inwards about 1/3 of total length of dough. Then begin rolling that side up, until the loaf resembles a log. Use your hands to tuck ends of log in, and gently pull the log towards you to create a bit of tension and seal the seam.

Use a

bench scraper

to pick the dough up and place seam-side down in a

greased 9 x 5 inch loaf pan

. Allow the dough to rest in a warm spot, covered with a plastic bag (that does not touch the top of pan/dough) until the dough has risen to the rim or just above the pan, about 3 to 4 hours. When finished proofing, brush dough with water and sprinkle with oats, if desired.

Preheat oven to 400 degrees F, with a pan of water that has 2 cups of water in it, placing pan on bottom rack of oven (this creates a steamy environment that the bread loves). Bake bread for 15 minutes, then remove the pan of water. Continue baking for another 15-20 minutes, until bread is golden brown on top. To check for doneness, insert thermometer into center of bread, which should read at least 205 degrees F when complete. While warm, brush top of loaf with a tablespoon or two of butter to keep it soft.

Let cool in pan for about 10 minutes, then using oven mitts gently tip the bread out. Let finish cooling until completely cool, at least 1 1/2 hours before slicing. Slicing too early while it is warm will result in gummy bread.
*Bakers Schedule is listed within the post.