This recipe makes the tastiest loaf of Sun-Dried Tomato & Cheddar Sourdough, with pockets of cheese and pops of sweet-tart tomatoes in each bite. Using active sourdough starter, the bread has wonderful flavor and a soft crumb. The crust acquires some of the cheesiness, too!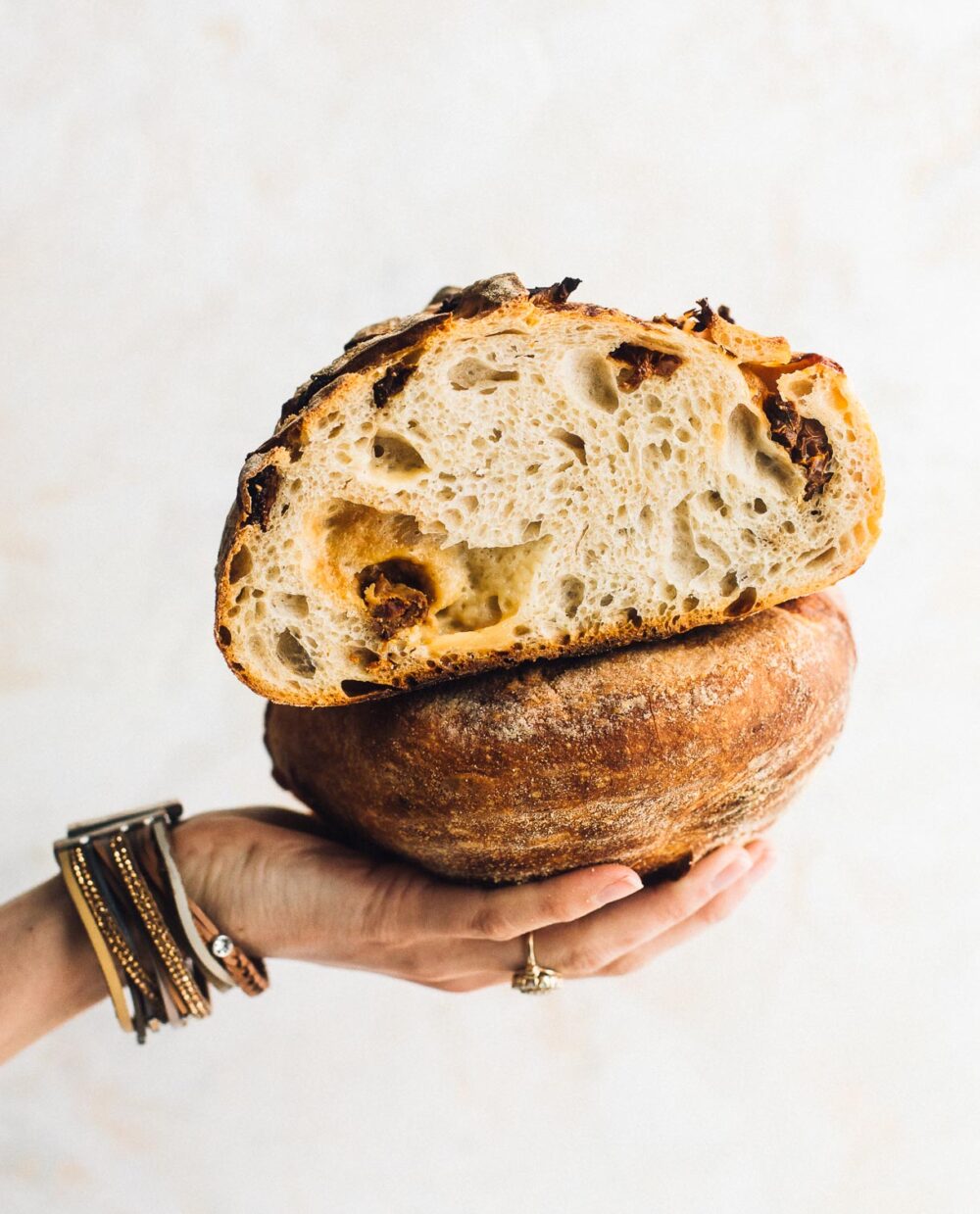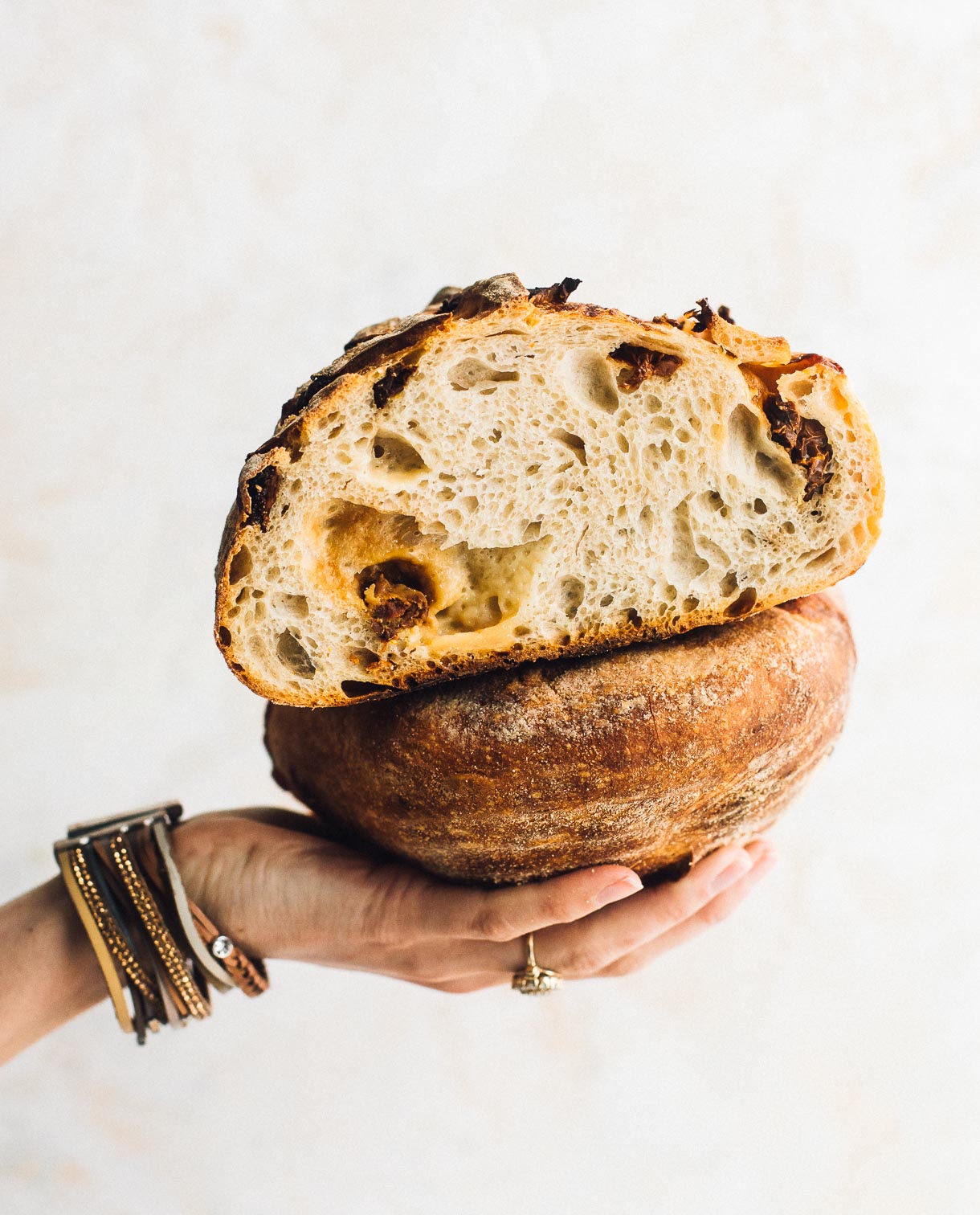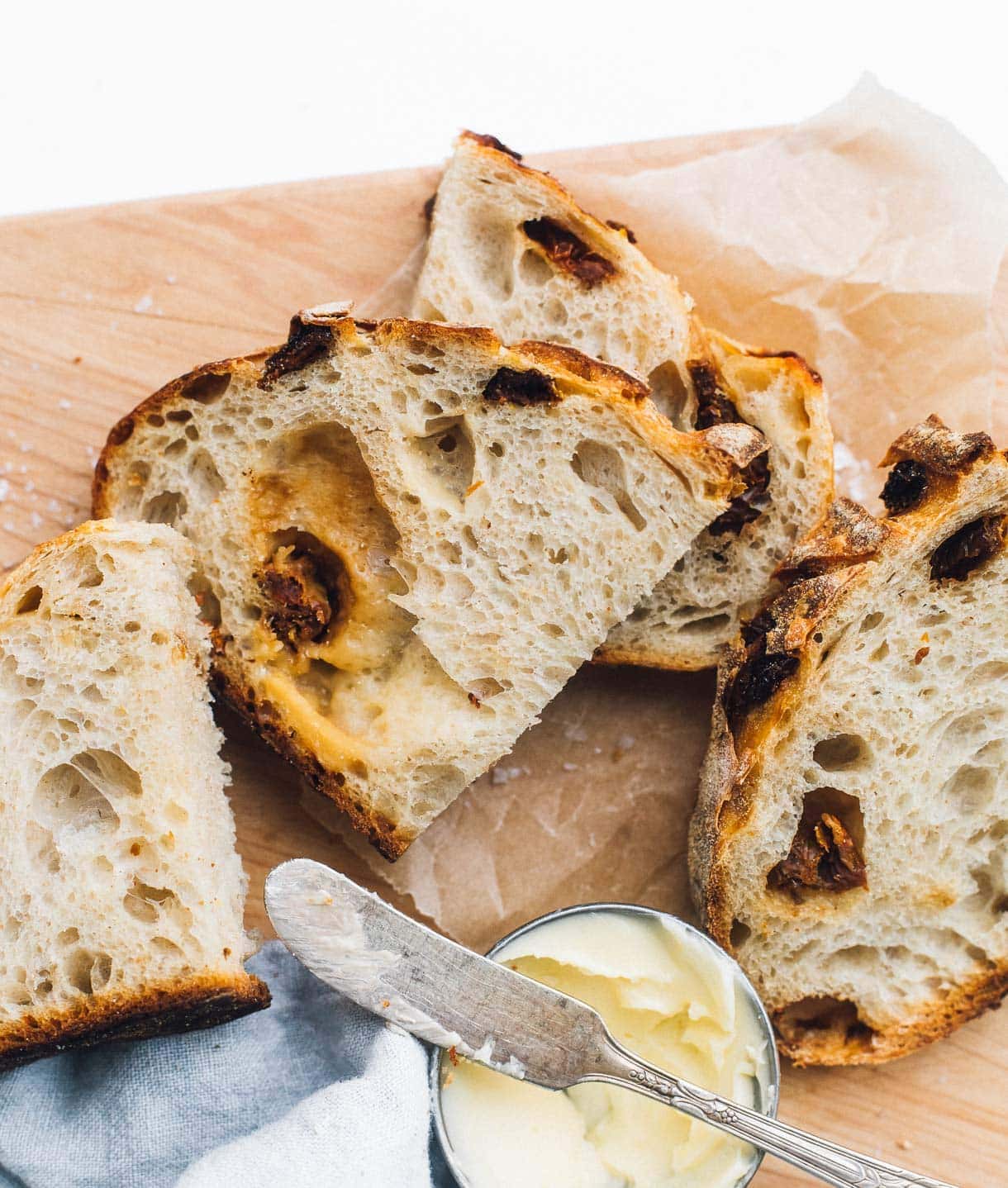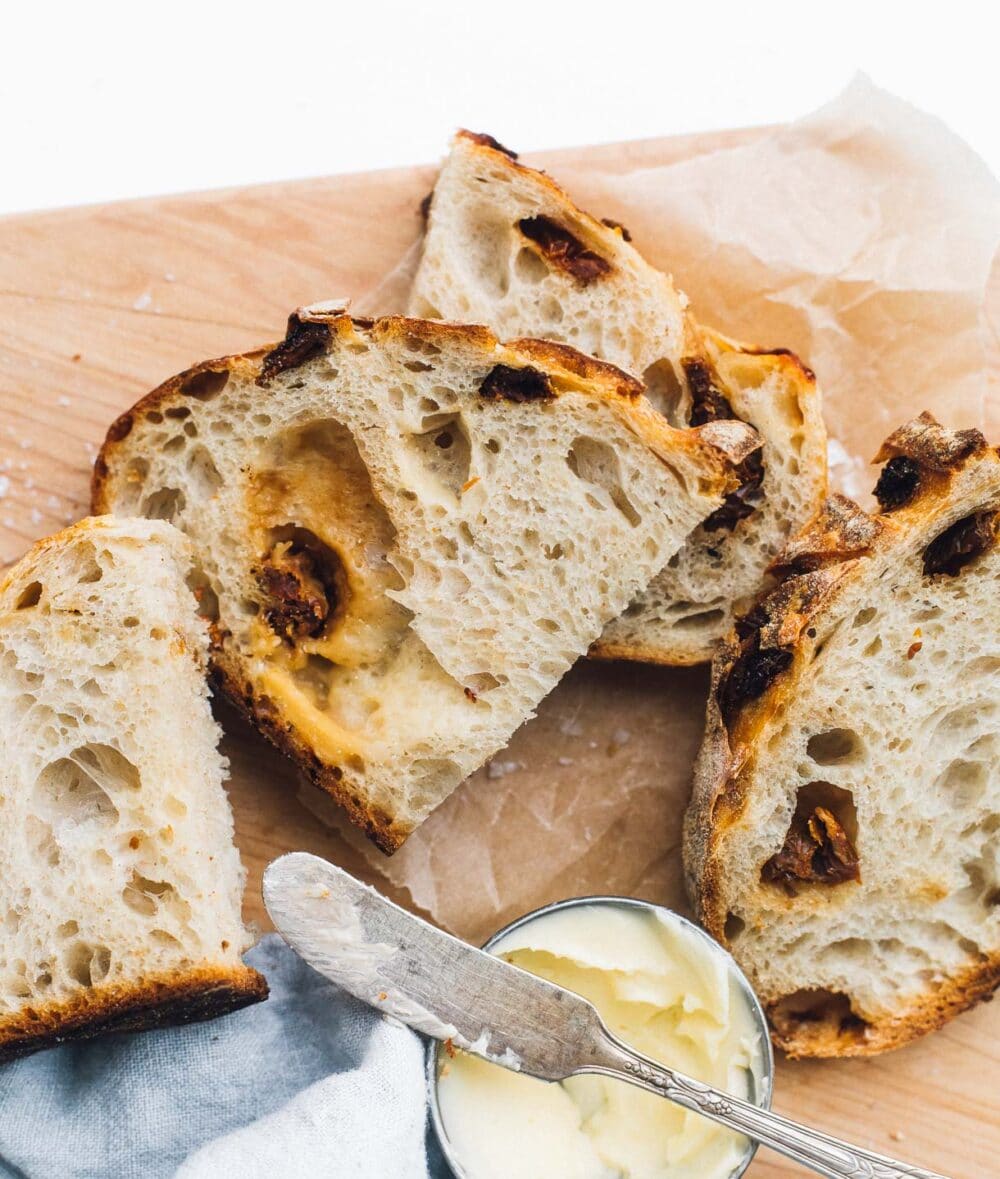 This recipe is sponsored by Wood River Creamery, whose award-winning specialty cheeses are handcrafted in small batches in Wisconsin.
Okay, so you like pizza. You like the glorious amounts of cheese, the sweet tomatoes, the bubbly golden crust… Well, this Sun-dried Tomato & Cheddar Sourdough is all of that and MORE, in loaf form.

And we can't stop eating it.
Between the pockets of melty cheese,
bright, concentrated pops of tomatoes,
salty goodness, and a subtle tang from the sourdough component…. It's incredible.

The crumb is soft with a bit of chew, and tiny bubbles from excellent fermentation. The tomatoes bring an intense sweet-tart flavor, one which seems to subtly permeate the entire loaf.
Perhaps my favorite part is the cheese that makes its way to the top of the bread, oozes out, and begins to form a cheese crust. Drool.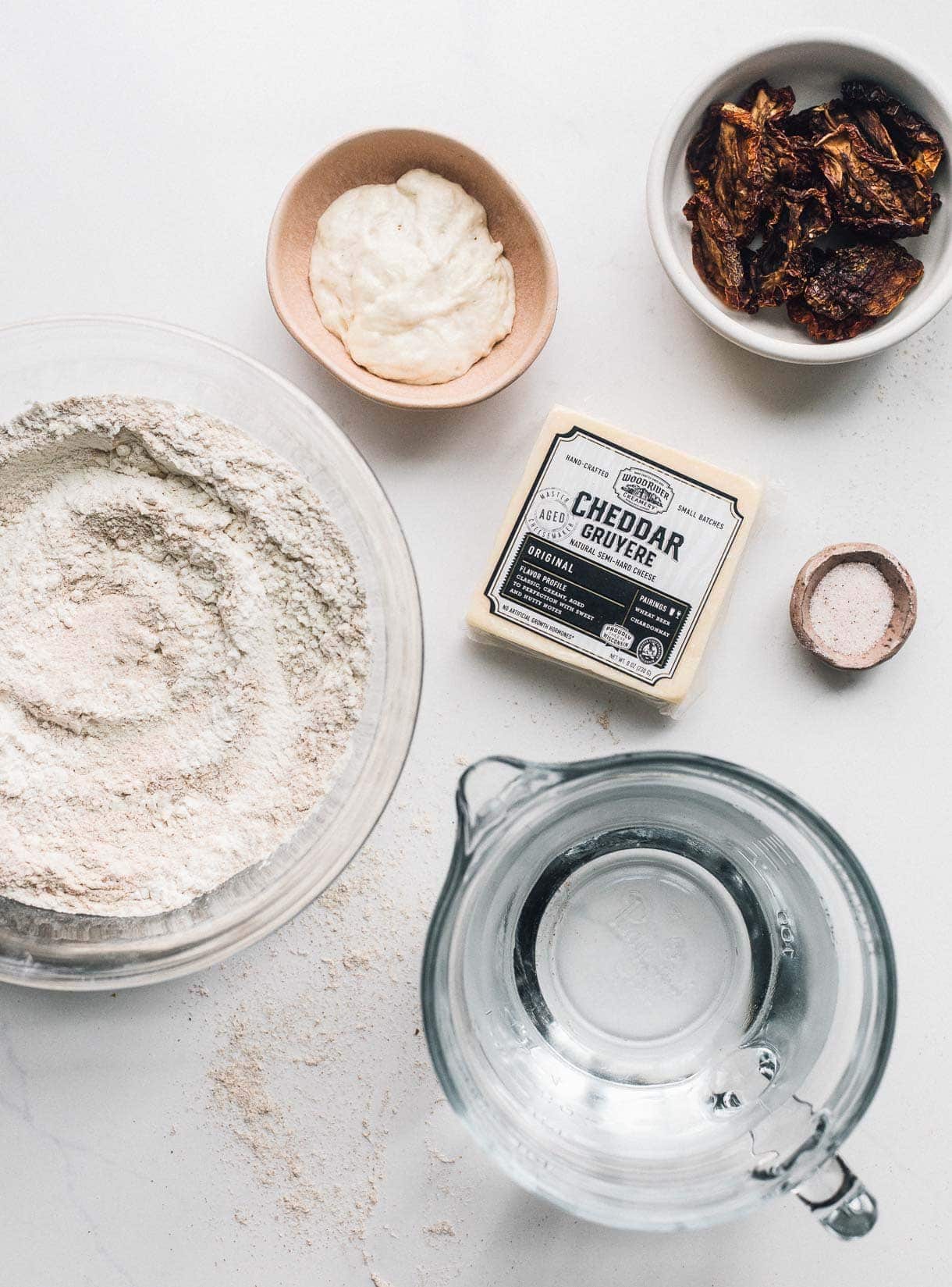 Ingredients for Cheddar Gruyere Sourdough Bread:
Wood River Creamery is located in Wisconsin, my home state! They produce award-winning specialty cheeses, handcrafted in small batches by Burnett Dairy Cooperative's Master Cheesemaker. This one-of-a-kind, aged Cheddar Gruyere blend is creamy, nutty and delicious. It was the ideal choice for working into a loaf of sourdough because it melts beautifully, and bakes to perfection.
When to Add Cheese to Sourdough Bread
Just as in my Jalapeno Cheese Sourdough, you'll fold in the cubed cheese and rehydrated sun-dried tomatoes during the 4th and final set of stretch and folds. Added earlier, it can negatively affect the fermentation, reducing the final rise in the bread.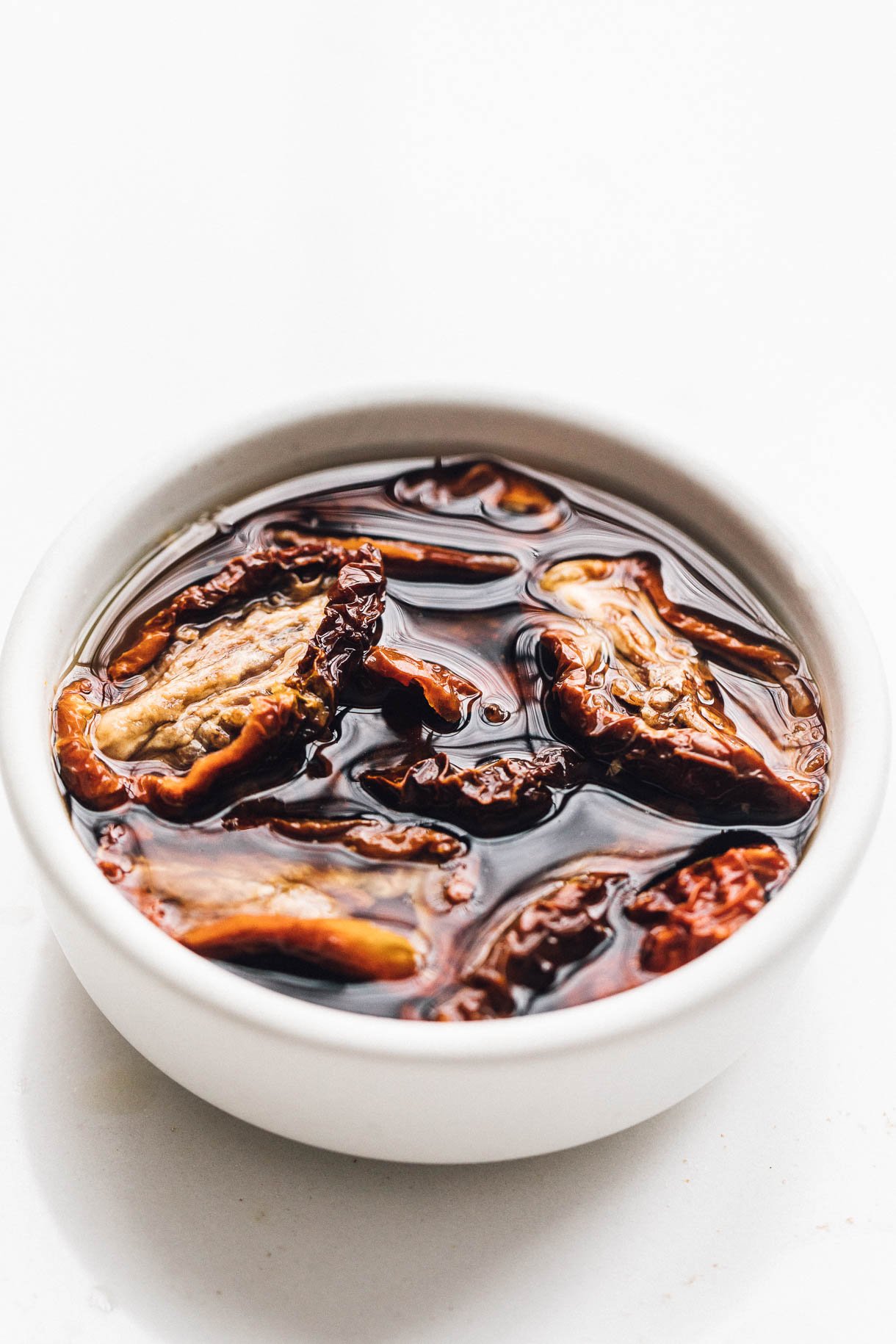 How to Use Sun-Dried Tomatoes in Bread
In this recipe, you'll simply soak regular sun-dried tomatoes in hot water to reconstitute them. Then drain and rinse to remove excess salt, and gently squeeze between paper towels before chopping into smaller pieces (if they are sun-dried tomato halves). That way, little pops of sweet-tart flavor are distributed in each bite.
Pairings For Sun-Dried Tomato & Cheddar Sourdough
This cheesy sourdough bread is a savory delight. Here are my favorite ways to eat it:
dipped in olive oil and balsamic vinegar
deli sandwich style, with smoked turkey, lettuce, and mayo, and hot pepper jelly
with ricotta and red pepper flakes
as a breakfast sandwich, with a fried egg and spinach