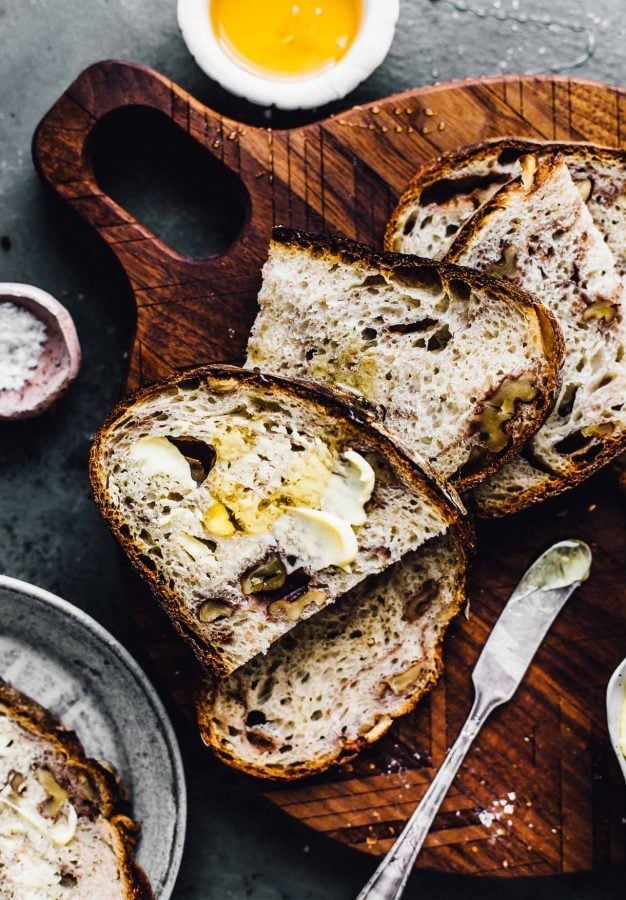 If you're new to sourdough, and are looking for a sourdough starter to begin, I ship my 13+ year old starter to anyone in the U.S! You can order it here.
As most northerners know, heating your house in the winter with oven heat gives you the greatest return on your investment. ☺️ In this case, a fresh loaf of honey sourdough bread with roasted walnuts.
I've had plenty of time to test this recipe over the last few weeks, during the frigid polar vortex we're experiencing here in Wisconsin. I've been alternating between baking this loaf and my rye sourdough.
I've made a few nut and dried fruit sourdoughs, but decided to keep the fruit out of this one and focus on the roasty, toasty walnuts which give the bread a fabulous toasted flavor, and texture. The roasted walnuts are tossed in cinnamon while warm, to then infuse the dough when folded in.
The bread is lightly sweetened with honey, just 30 grams in the whole loaf, leaving room for a good slather of butter and extra honey when it's fresh out of the oven. And it's über delicious.
A combination of bread flour, all-purpose, and sprouted whole wheat lead to a flavorful and and fluffy crumb, with a dark, crunchy crust. Heavenly.
For this recipe, you'll use your sourdough starter when it's at its peak, using the technique from Artisan Sourdough Bread Made Simple.
How to Make Honey Walnut Sourdough Bread:
a. mix starter, water, and honey
b. mix in flours and salt
c. autolyse for 1 hour (means to let the dough rest so that the flour can absorb the water)
d. perform 2 stretch and folds, 30 minutes apart
e. fold in walnuts
f. bulk ferment until doubled in size
g. shape and score
h. 2nd rise, on counter or in refrigerator
i. bake!
A few common questions and notes:
How do I know if my starter is ready for baking?
You'll know your sourdough starter is ready for baking if doubles within 4 to 5 hours and has a domed top. You want to use it then, when it's at its peak. You can also test it by taking a teaspoon of it, and gently putting it in a glass of water. If it floats, you are good to go. I have lots of tips on starters HERE, if you're looking to learn more.
How should I score this loaf?
Since this recipe has nuts in it, you want to be more careful and make shallow cuts when you are scoring, rather than deep. I use this type of bread lame. The sole purpose of the scores in this loaf are to let the gasses escape while it is baking, rather than trying to create a big ear or other artistic designs.
If I do the final rise refrigerator, how long can the dough be in there?
I tested different cold rises and I found that 8-10 hours was the sweet spot. When I went past 14 hours, the bread did not have as much rise in the oven and resulted in a flatter loaf. Still delicious, but not quite the outcome I was looking for.
What do you bake sourdough bread in?
I use a 5 quart Le Creuset Dutch Oven. This allows the bread to bake with steam the easiest way, rather than having to put a pan of water in the oven. Well worth the investment!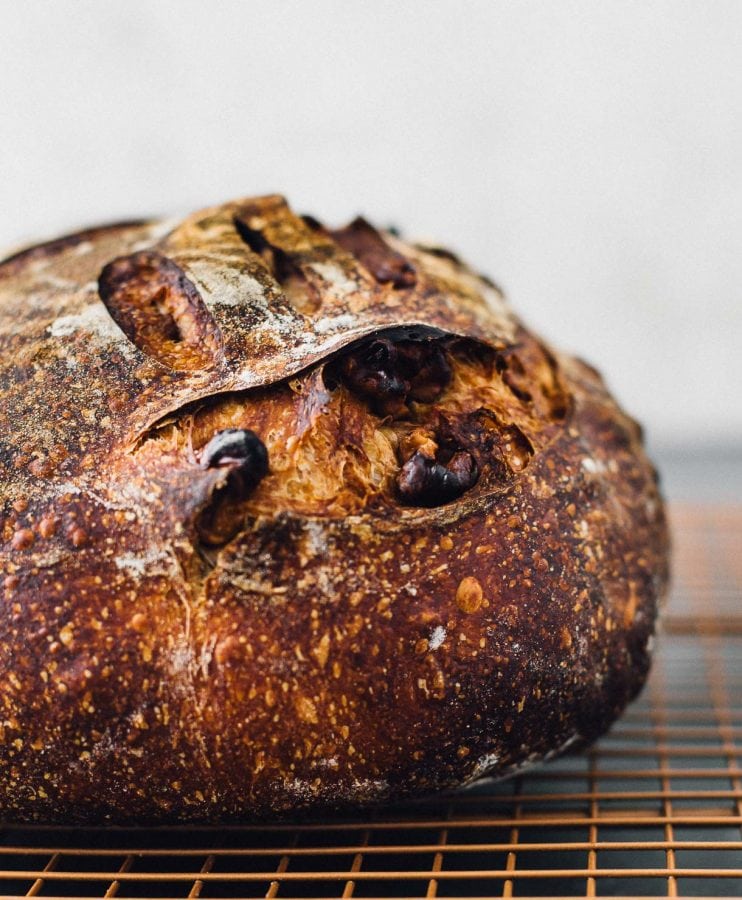 My absolute favorite part of this bread is seeing the walnuts stand out on each slice, a surprise each time your knife cuts a piece. And the presence of irregular holes throughout, which show the work of the wild yeast, helping it to naturally rise!
Oh, and those holes are best filled with honey and butter, just sayin'. 😉
Bake and be merry, friends!
xo,
Amanda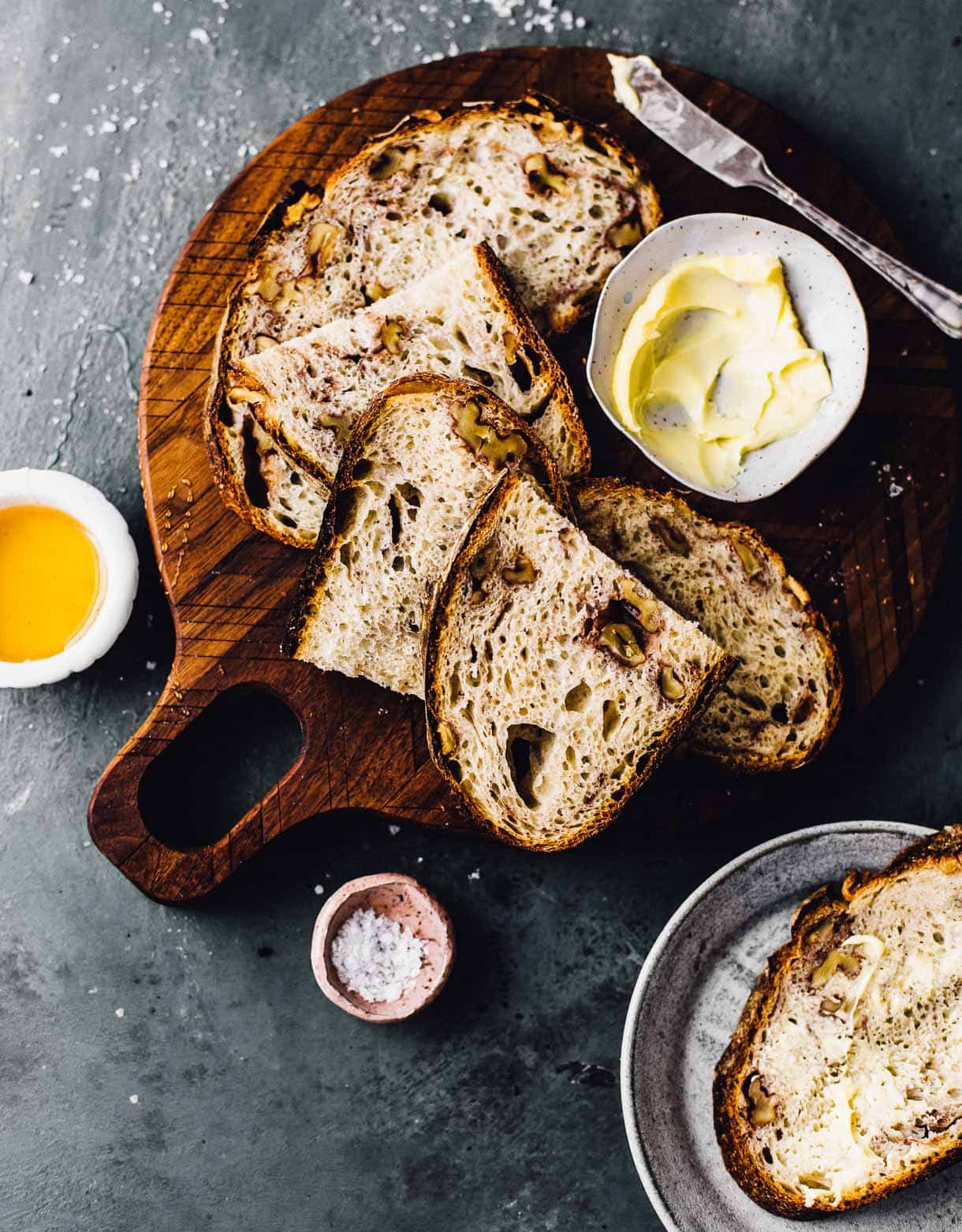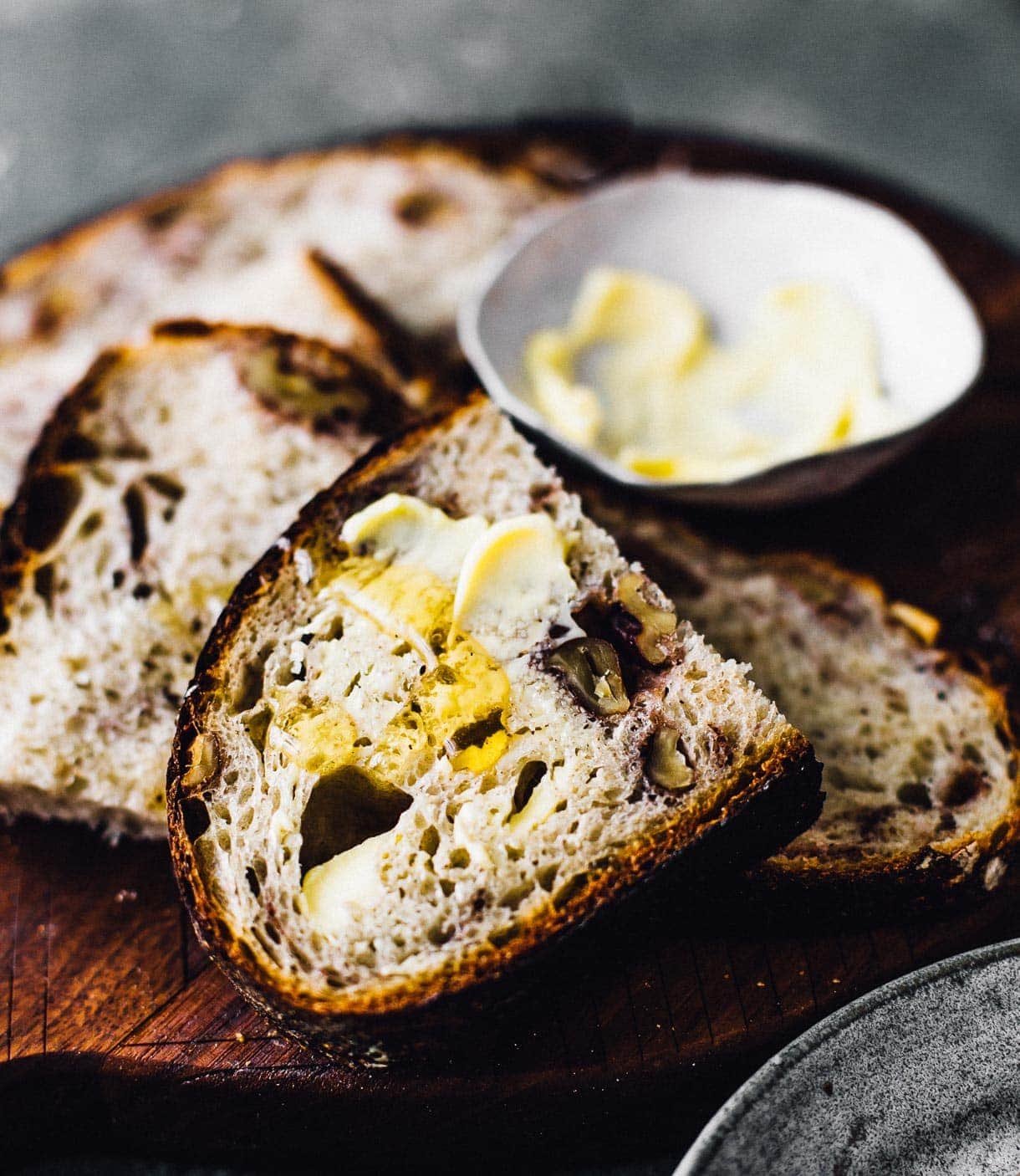 More Sourdough Bread Recipes: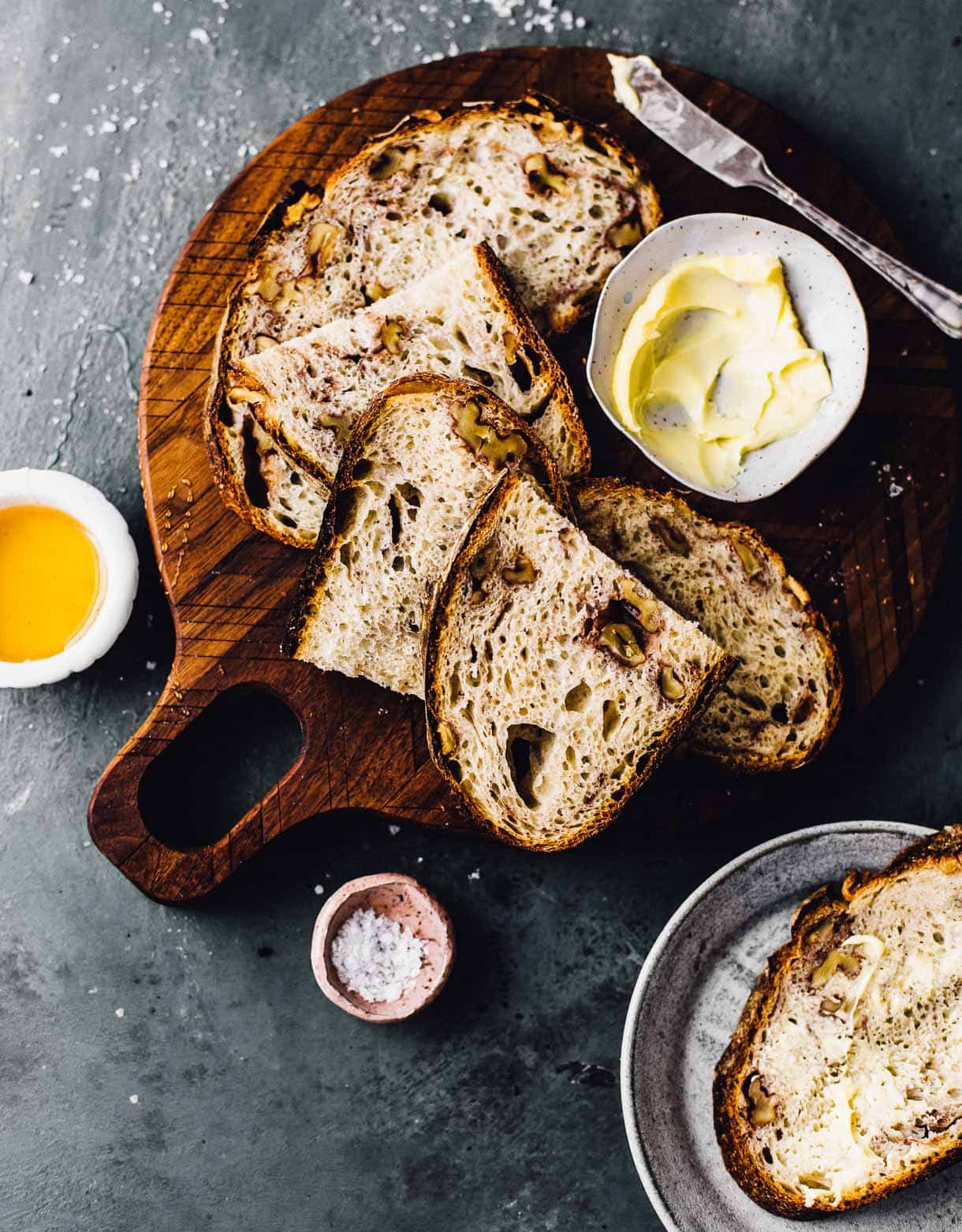 Preheat oven to 350 degrees F. Spread walnuts on a cookie sheet, and bake for 6 minutes, or until they are just fragrant. You can also do this on the stovetop if you prefer. Remove from oven and pour walnuts onto a plate. Toss with cinnamon and let cool.

In a large bowl, mix starter, water, and honey. Add flours and salt, stirring with a fork to combine. Then use your hands to combine until dough is shaggy and flour is worked into dough. Cover with damp cloth and let rest for one hour.

After one hour, perform two stretch and folds, 30 minutes apart. Wait another 30 minutes, then gently stretch and fold walnuts into dough. Cover with damp cloth and let rise until doubled, about 7-8 hours at 70 degree F temperature. Will take longer if it is cooler in your home.

Turn dough out onto a lightly floured surface and let rest for 20 minutes. Then gently fold shape into a circle, pulling the dough towards you to create tension. Place into lined banneton, seam side up.

The second rise can happen on the counter, or if it works better for your schedule, overnight in the refrigerator. On the counter it will take about 90 minutes for the second rise, until it has slightly risen and dough is a bit jiggly. If you do the second rise in the refrigerator, remove it in the morning when your oven is preheated. It will have risen properly by then.

Preheat oven to 450 degrees F. Turn dough out on a piece of parchment paper, gently, and score fairly shallow, as to not disturb the walnuts inside. Place loaf into dutch oven and cover.

Bake for 20 minutes, then remove cover and bake for another 30 minutes.

Remove loaf from oven and place on a cooling rack. Slice and enjoy once fully cooled, at least an hour after removing from oven.