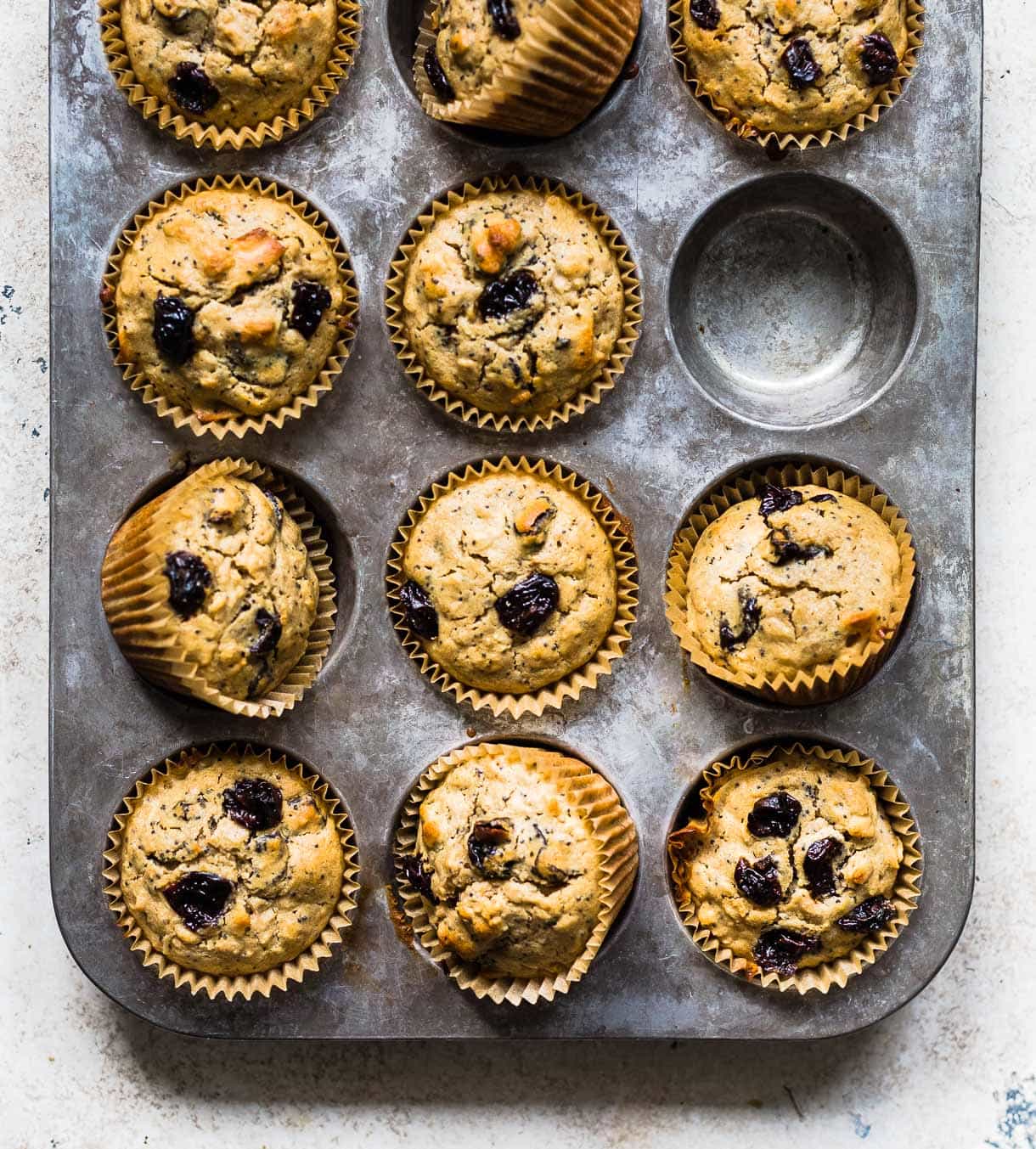 This recipe is sponsored by Montmorency Tart Cherries.
I like a good challenge.
And I definitely had one recently.
A "mystery basket" of goodies was sent to my house, with an assignment to create a recipe with as many of the contents possible, at least one Montmorency tart cherry ingredient (juice, concentrate, dried, or canned in water), and anything already in my pantry.
How much do you already know about Montmorency tart cherries? They offer a multitude of potential health benefits, with scientific studies done on sleep, inflammation, heart health, exercise recovery, and digestive health.
Upon opening the basket, these surprise ingredients showed themselves:
a. oat milk
b. harissa
c. tahini
d. coconut flakes
And just like in the cooking shows, my mind started wandering on what type of recipe to create. I quickly decided to bake something, as the oat milk, tahini, and coconut flakes were a great starting base. Not a cake or pie – too complicated for "off the cuff" style cooking. Not granola – too basic.
But muffins – yes! Tahini Tart Cherry Muffins, in a muesli style with oats, coconut, poppyseeds…… 100% delicious.
I was pretty confident about making a muffin from feel, as many of the main components for this type of baked good — fat (tahini), liquid (oat milk), and add-ins (coconut flake and dried Montmorency tart cherries) — was already picked out for more. So that left the flours, eggs, sweetener, and flavorings to be figured out.
Want to see how everything came together? Here's the step-by-step video!
A few notes about the recipe:
What flour combination makes a good gluten-free muffin?
I tend to rely on a combination of oat flour and teff flour for my gluten-free baking, as both are naturally a little bit sweet, and are super smooth. It helps avoid the gritty texture often found in gluten-free baked goods. Teff flour helps with elasticity, and has nice binding power when it hits wet ingredients, removing need for any types of gums.
Maple syrup as a sweetener
These tahini muffins are refined sugar free, using pure maple syrup as the only sweetener. You could substitute honey if you wanted, but I thought the maple paired really well with the tahini.
Where can I find tahini?
Tahini is sesame seed paste, and although it used to be more difficult to find, just about any grocery store carries it now, even Trader Joe's. You'll likely find it next to the nut butters in your market.
Do dried Montmorency tart cherries taste different than dried cranberries?
Yes, they do taste different! Tart cherries are less sweet than dried cranberries, and they have a unique, lightly sour taste to them. It adds a punch of bright, tangy flavor! They're made from plump, juicy Montmorency tart cherries picked in the summer.
Happy baking!
xo,
Amanda
If you make these tahini tart cherry muffins, be sure to tag me on Instagram, @heartbeetkitchen or with hashtag #heartbeetkitchen.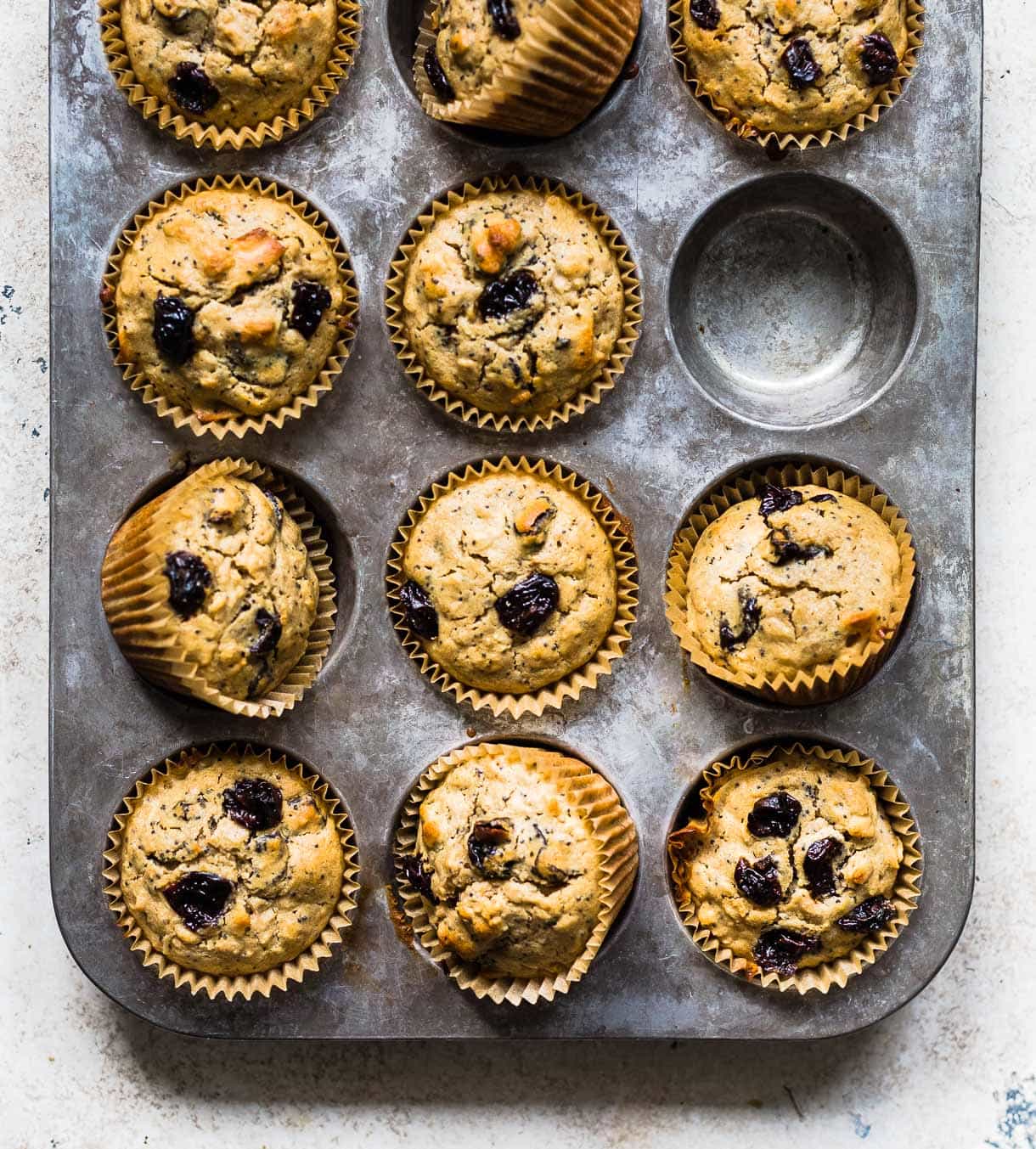 1/2

cup

old fashioned oats

1/2

cup

oat flour

1/2

cup

teff flour

I used ivory, but brown will work too

3/4

teaspoon

baking powder

1/2

teaspoon

cinnamon

1/4

teaspoon

fine sea salt

1/2

cup

dried Montmorency Tart Cherries

1/3

cup

coconut flakes

lightly crushed in your hand

1 1/2

tablespoons

poppy seeds

2

large eggs

3/4

cup

oat milk

1/4

cup

melted

liquid coconut oil

1/2

cup

pure maple syrup

1/2

cup

tahini

1

teaspoon

vanilla extract
Preheat oven to 375 degrees F.

In a bowl, stir together oats, flours, baking powder, cinnamon, and sea salt. Then add tart cherries, coconut flakes, and poppy seeds, and stir to lightly coat.

In a separate bowl, whisk together eggs, oat milk, coconut oil, maple syrup, tahini, and vanilla extract.

Add wet ingredients to dry ingredients, and stir until no flour streaks remain.

While oven is preheating, fill muffin cups with batter, 3/4 of the way full. If they are almost full, that's a good thing! The muffins will rise beautifully this way.

Bake muffins at 375 degrees F for 4 minutes, then turn down heat to 350 degrees F and cook for another 14 minutes, until a toothpick comes out with crumbs.

Let cool in the pan for 5 minutes, then remove. Best eaten when fully cooled.

*Video filmed by Jennifer Simonson.