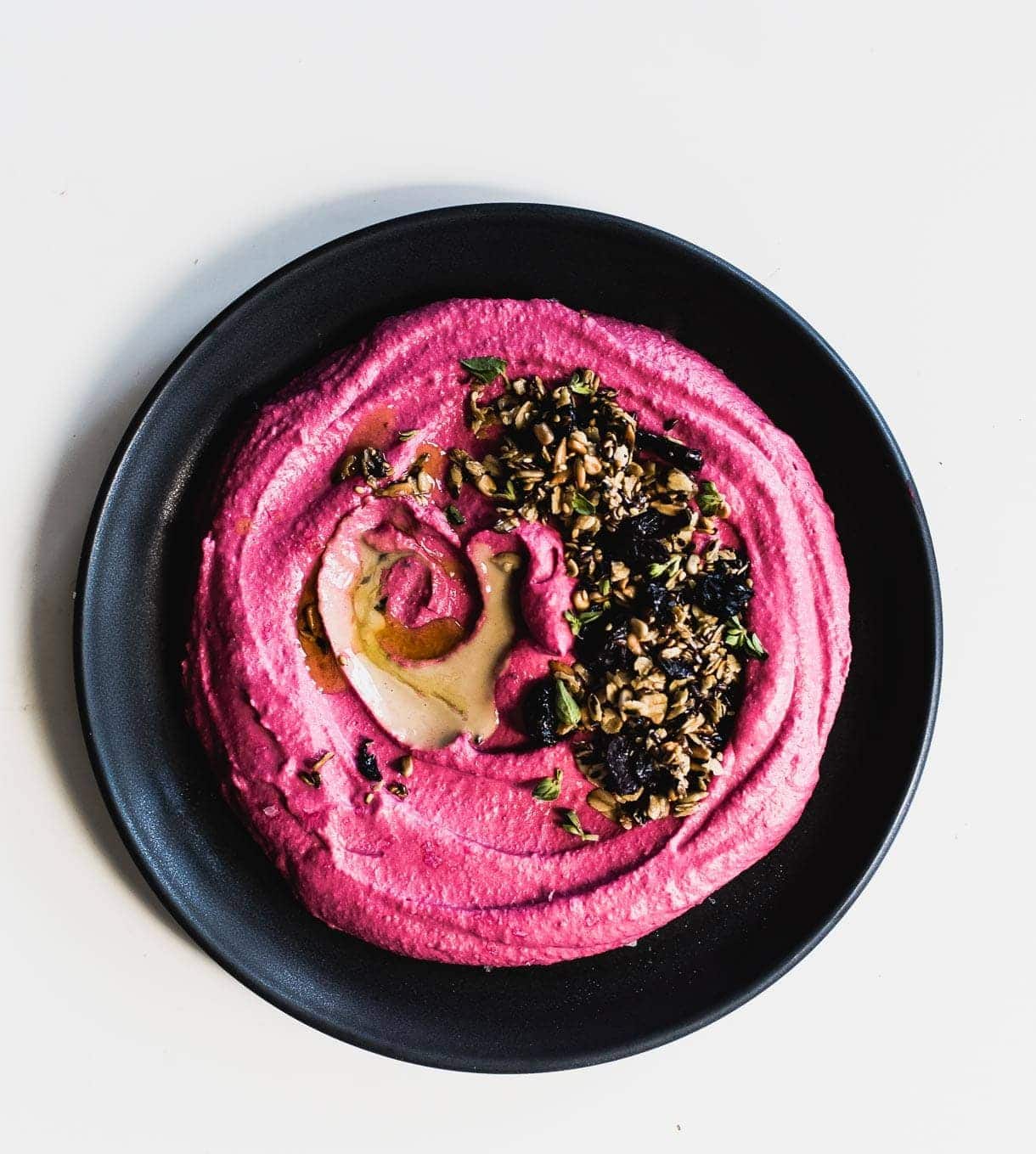 The color pink hit its peak in 2017. And I'm convinced it's here to stay. It has made its way to our clothing, kitchens, and even our food. Trendy – yes.
But there's no denying the instant surge of calm, youthful happiness I feel whenever a pink cupcake, salad, or this hummus is set in front of me.
If you're beet adverse – do not fear. I used a small amount of beets in this creamy hummus recipe only for the color. The vibrant magenta is speaks to why we eat with our eyes first!
A savory granola topping:
When I think about the proper dip, contrasting texture is very important. That's where the toasty, seedy, crunchy topping comes in. Reminiscent of a savory granola, but made quickly on the stovetop, just enough to produce a golden brown flavor and bring out the nuttiness of the seeds. The dried tart cherries are a tangy, sweet component that really compliments the rest of the savory ingredients – similar to how we often use them in salads. With every bite of the hummus, there's creamy and crunchy textures!
Secrets to making great homemade hummus:
Besides its special pink color, this vegan hummus recipe has an incredibly smooth texture from my go-to technique: peeling half of the chickpea skins and adding a little cold water while blending. This, in addition to the tahini and olive oil send it into ultra creamy territory. Both those ingredients add rich flavor as well.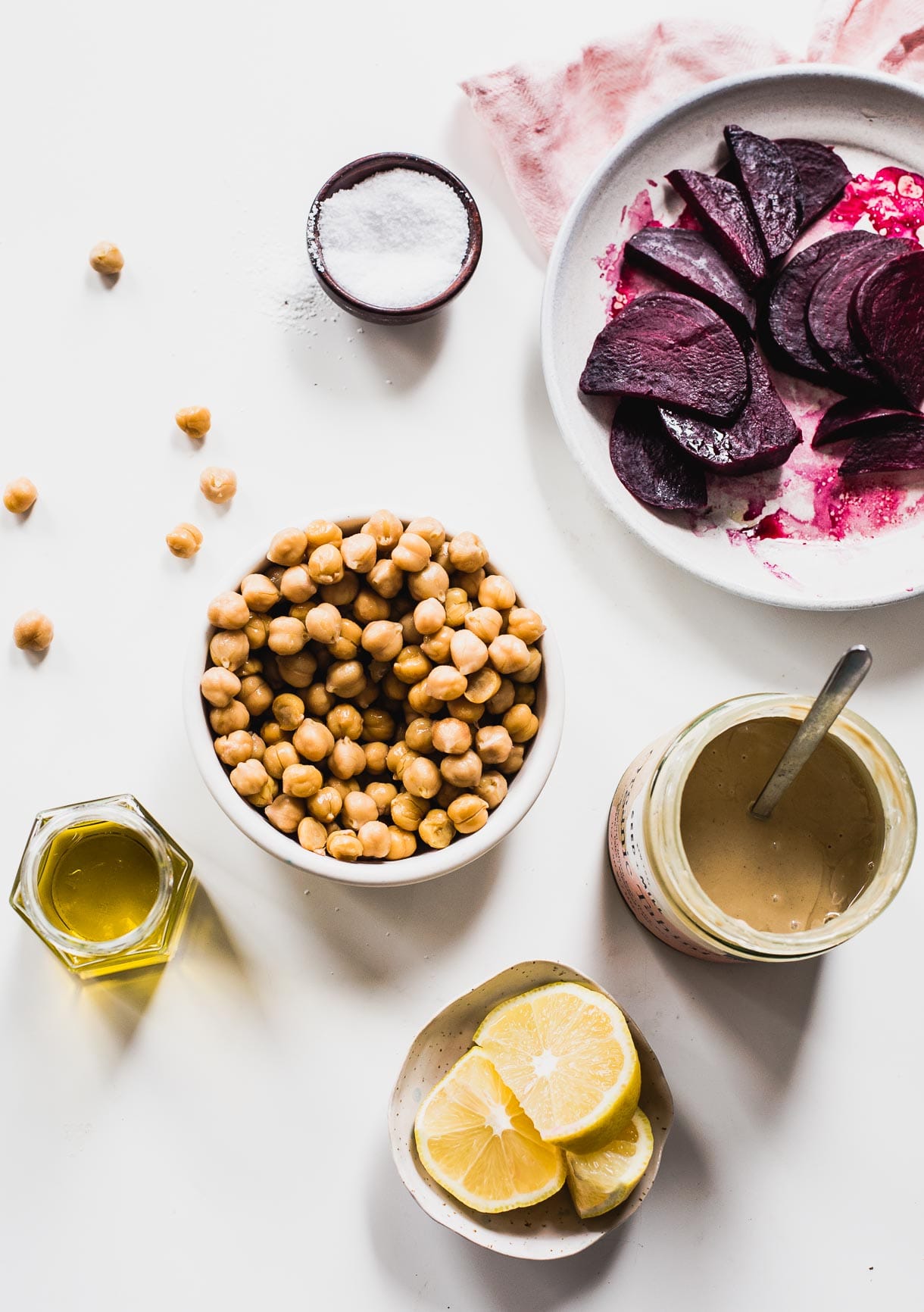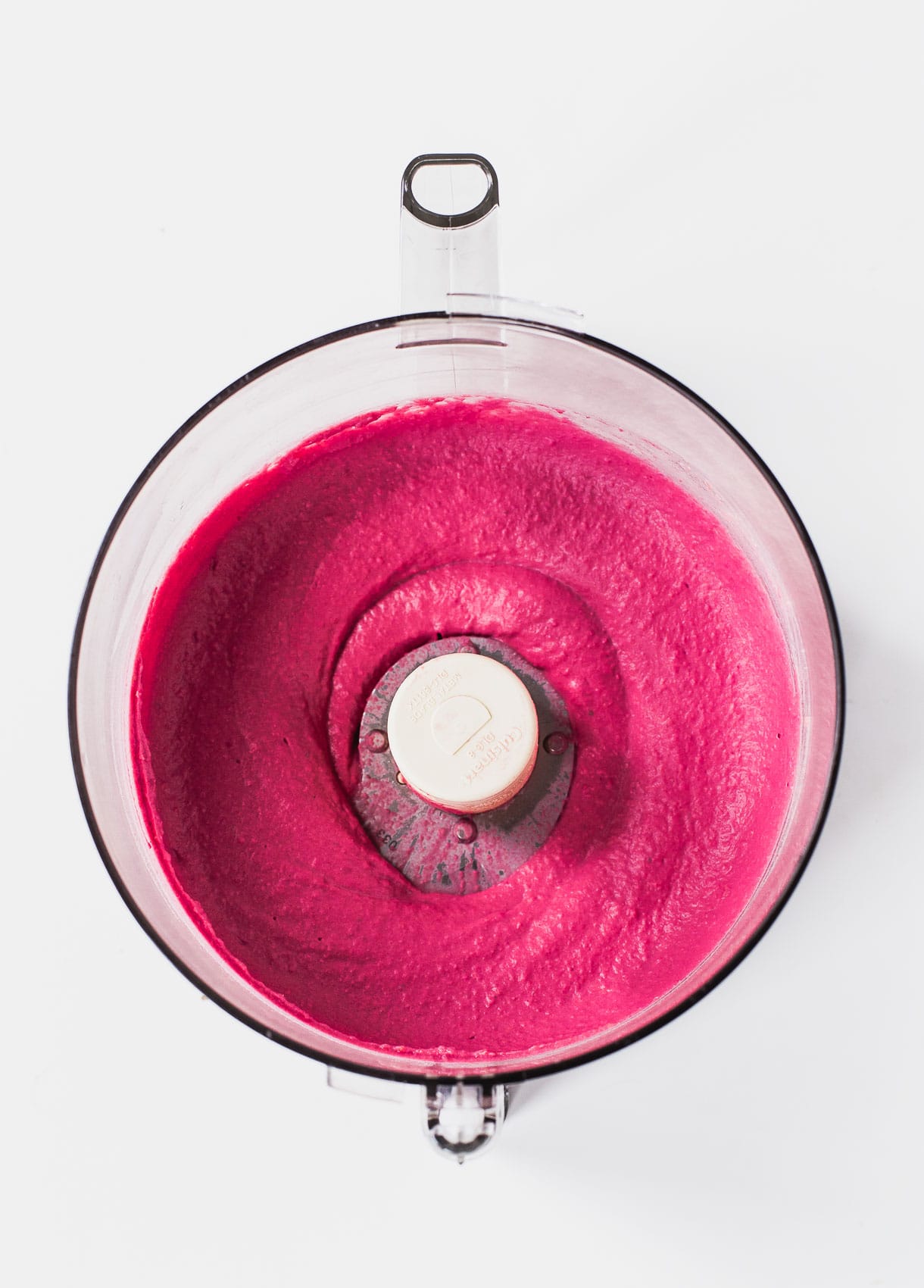 What to eat hummus with:
You can serve this hummus with crackers or vegetables, roasted summer squash, pita bread, or as a spread for a lunch wrap.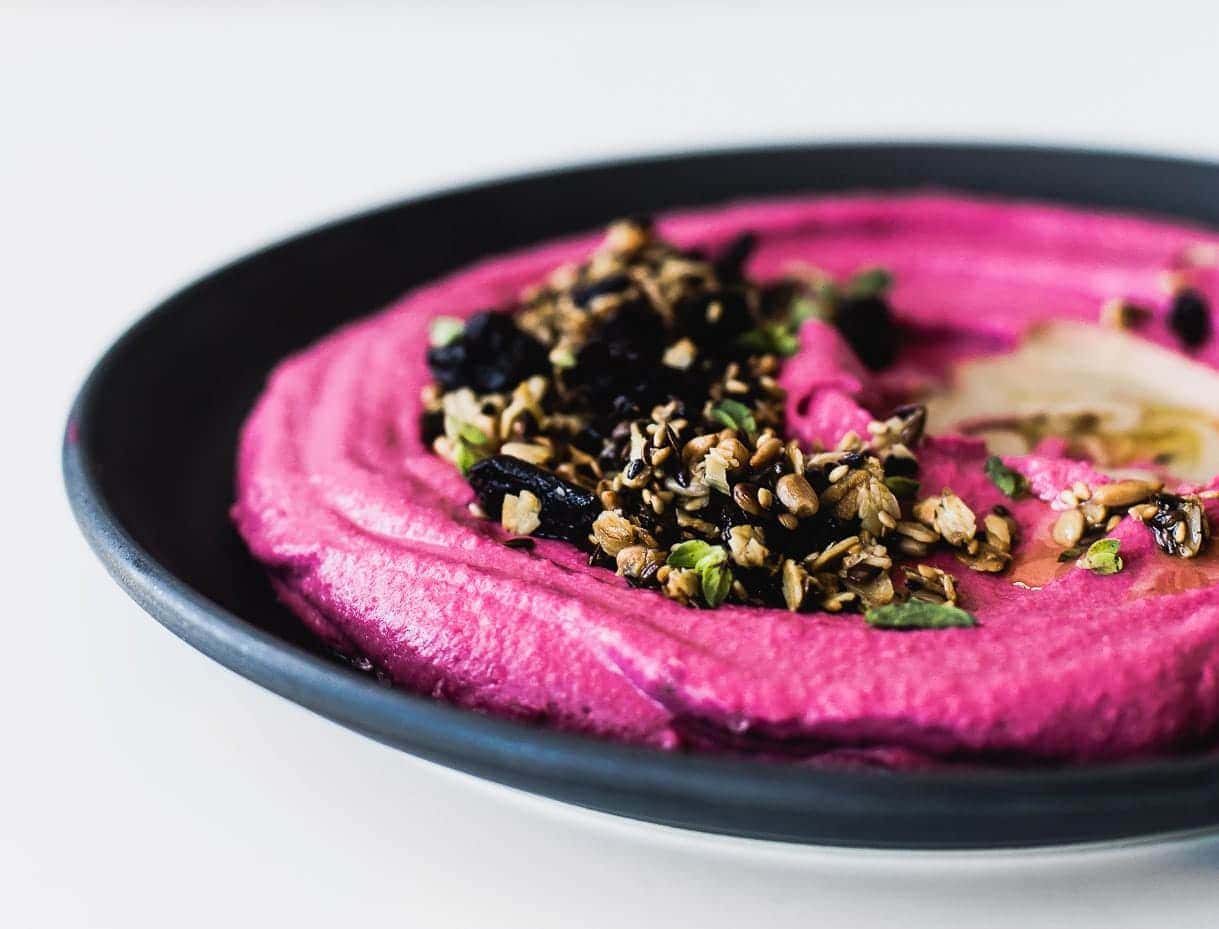 More Hummus Recipes: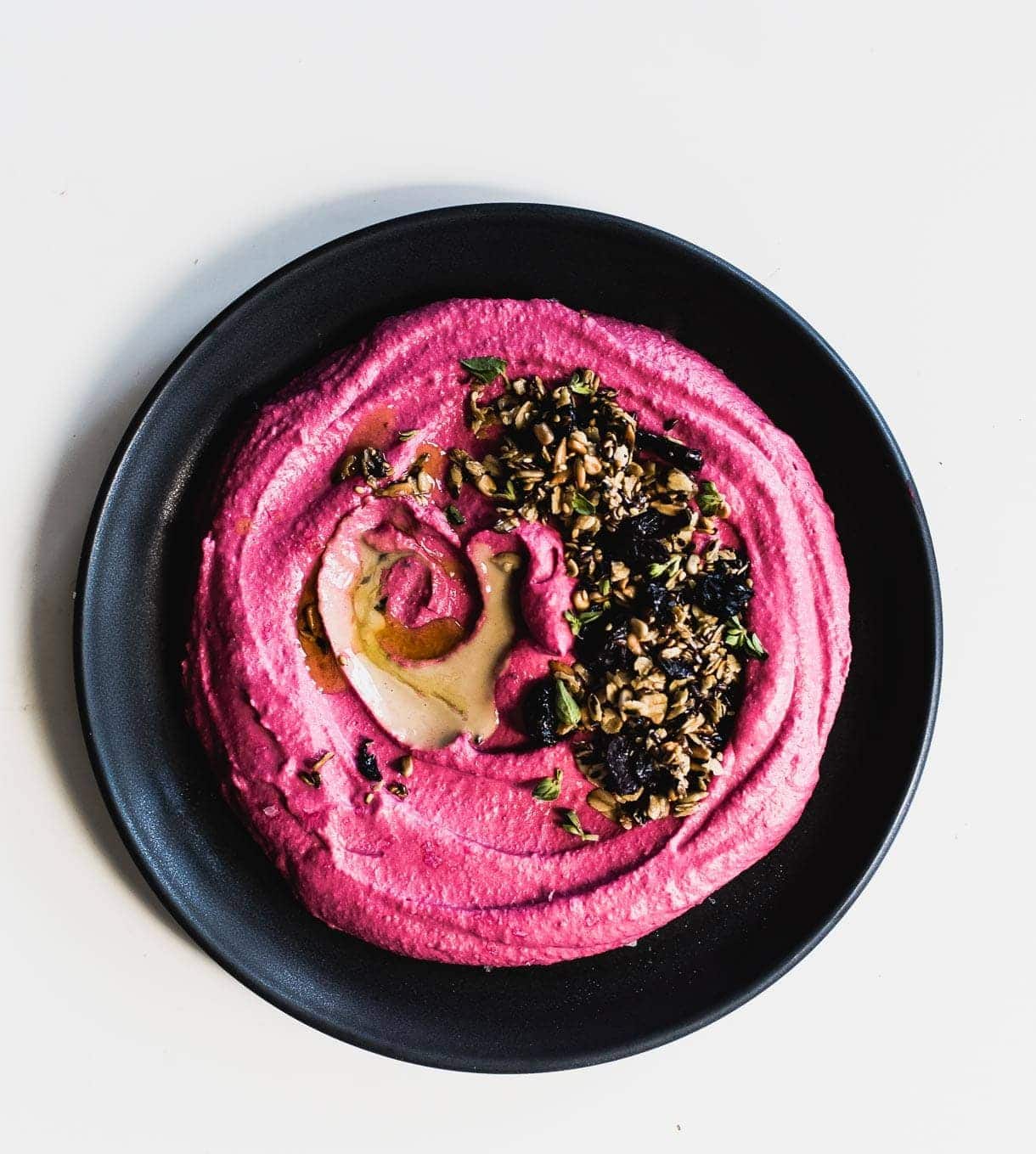 Hummus:
1

(15 ounce) can chickpeas, drained and water/juices reserved (I peel the skin off my chickpeas to make the hummus super smooth, totally optional)

2

small cloves garlic

1/2

teaspoon

kosher salt

1/3

cup

tahini

2

(1/4 inch) thick slices of roasted beets

3

tablespoons

cold water

1/4

cup

extra virgin olive oil

juice of one lemon

oregano leaves for garnish
Heat olive oil in a medium skillet, over medium heat. Add remaining topping ingredients, and stir to coat. Cook for 5-6 minutes, until oats and seeds are lightly browned. Remove from heat and pour onto into a bowl to cool. Set aside.

In a food processor, combine chickpeas, garlic, salt, tahini, and beets. Process for 20 seconds, to start breaking down. Add water, start blending again, then drizzle in olive oil through top hole in food processor.

Stop, scrape down sides, and add lemon juice. Blend for 1 1/2 minutes until smooth. Taste, and adjust salt if needed.

Spread hummus onto a plate, and scatter topping off to one side. Add a bit of extra tahini and olive oil. Sprinkle with oregano leaves.