This Rice and Roasted Beet Salad Recipe is sponsored by Lundberg Family Farms.
I'm really trying to work on my Whole Foods salad/hot bar problem.
You know, the one where you go grocery shopping with the purpose of buying ingredients for cooking at home and then fill up a cardboard container with all the prepared food on the salad/hot bar because you don't feel like cooking right now?
It's quite appealing to be able to try a large variety of options instead of committing to just one. And convenient. But not real economical to be doing a few times a week. As you probably know, paying by weight means the total can shoot up very quickly.
So I've been working on a few recipes of my own, that last for days and are the kind of thing I would pick out at that salad bar. This Super Pink Beet & Rice Salad with purple cabbage and toasted walnuts is one I've fully committed to, happily eating it for lunch several times throughout the week.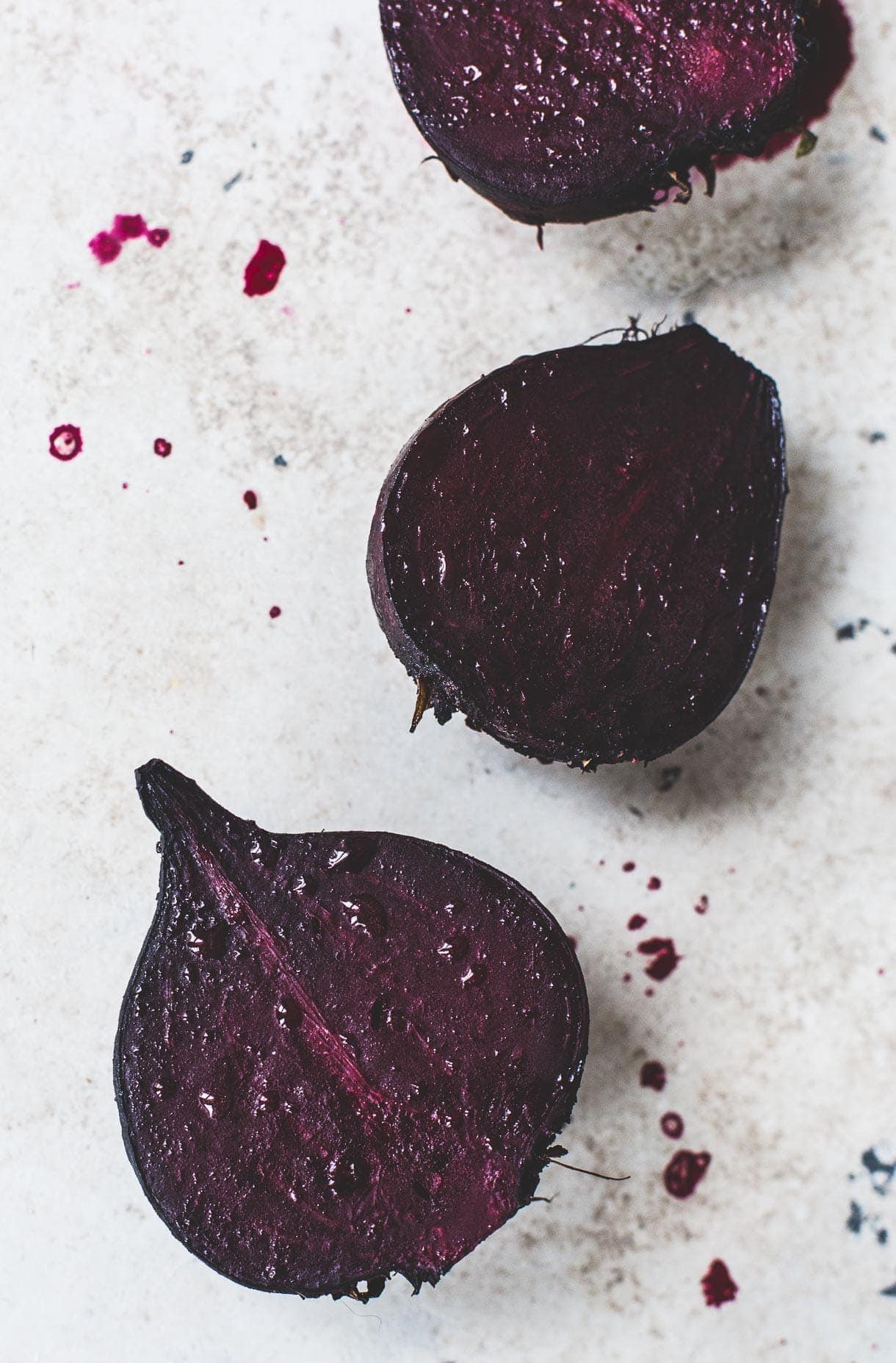 It's no surprise that the vibrant magenta of beets draws me in, something I can't say no to. I've made Beet Deviled Eggs, Sweet Beet Yogurt Bowl, Garlicky Beet Sauce. The idea behind this grain salad was two-fold. First, I wanted a meal that didn't leave me snacky two hours later. Second, I envisioned the beets bleeding into the stark white jasmine rice to create something incredibly eye catching. Both goals accomplished.
There are quite a few components that make this salad a winner. The soft and floral white rice that meets sweet and earthy beets. Finely shredded purple cabbage that adds a bit of crunch, and toasted walnuts for added texture and flavor. Fresh parsley and lemon, the two things you shouldn't hold back on, bringing overall brightness to the bowl. And finally, a sour cream/garlic/red wine vinegar based dressing, which you add the juice of the roasted beets in order to create that stunning color. Not overly creamy, and just tangy enough.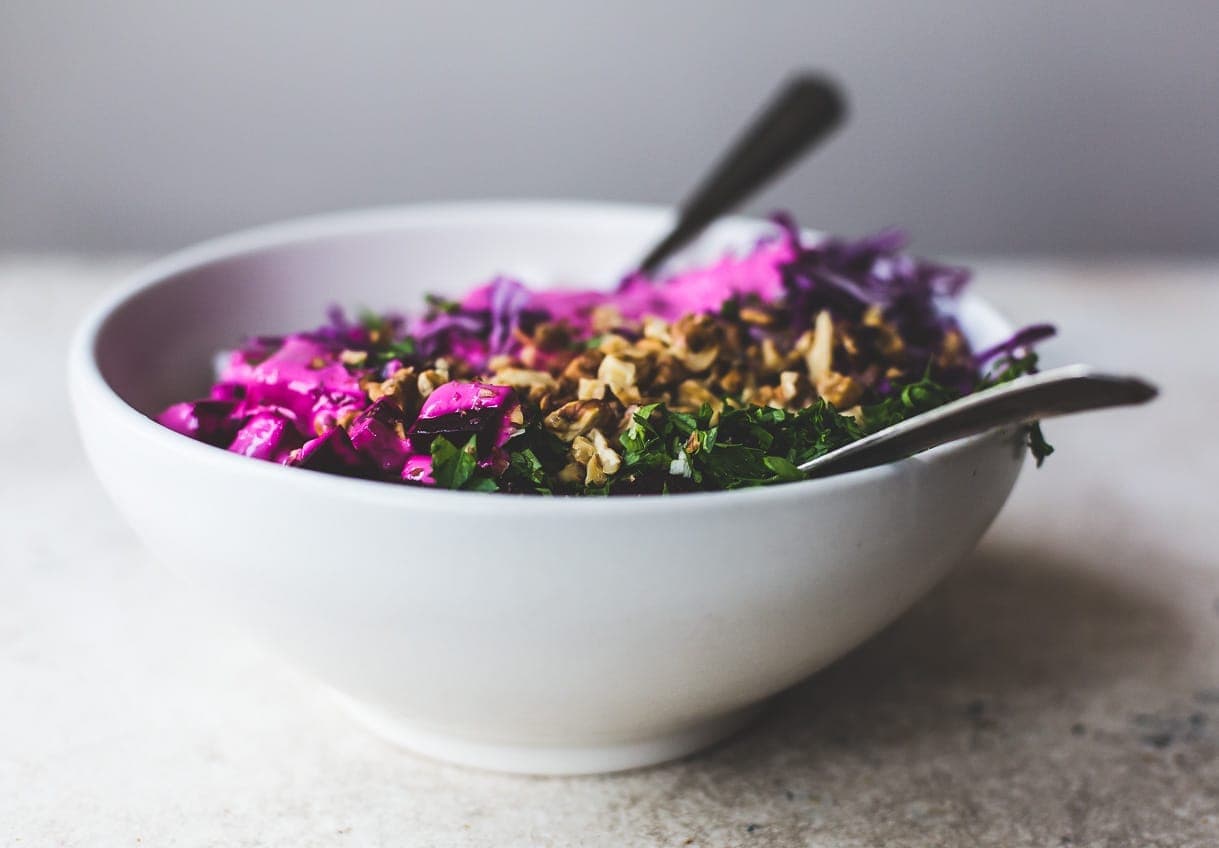 As I mentioned, I used Lundberg Farms organic California jasmine rice (a long grain), which I tend to use more often in grain salads compared to brown rice. Mainly because when refrigerated, brown rice becomes a bit tougher, whereas white rice stays soft. Lundberg Family Farms is my go-to source for grains because they don't just grow typical conventional rice. It's grown with concern for the environment, via Certified Organic and Eco-Farmed techniques. They treat the soil, air, and water as important resources, respecting the delicate balances of nature.
If you have other grains leftover from another meal, by all means use them in this beet salad recipe. One thing to keep in mind though – you want separate, intact grains that hold onto their starch, so make sure they aren't overcooked. This way they'll absorb dressing properly and won't release the starch into the rest of the salad.
Enjoy! xo, Amanda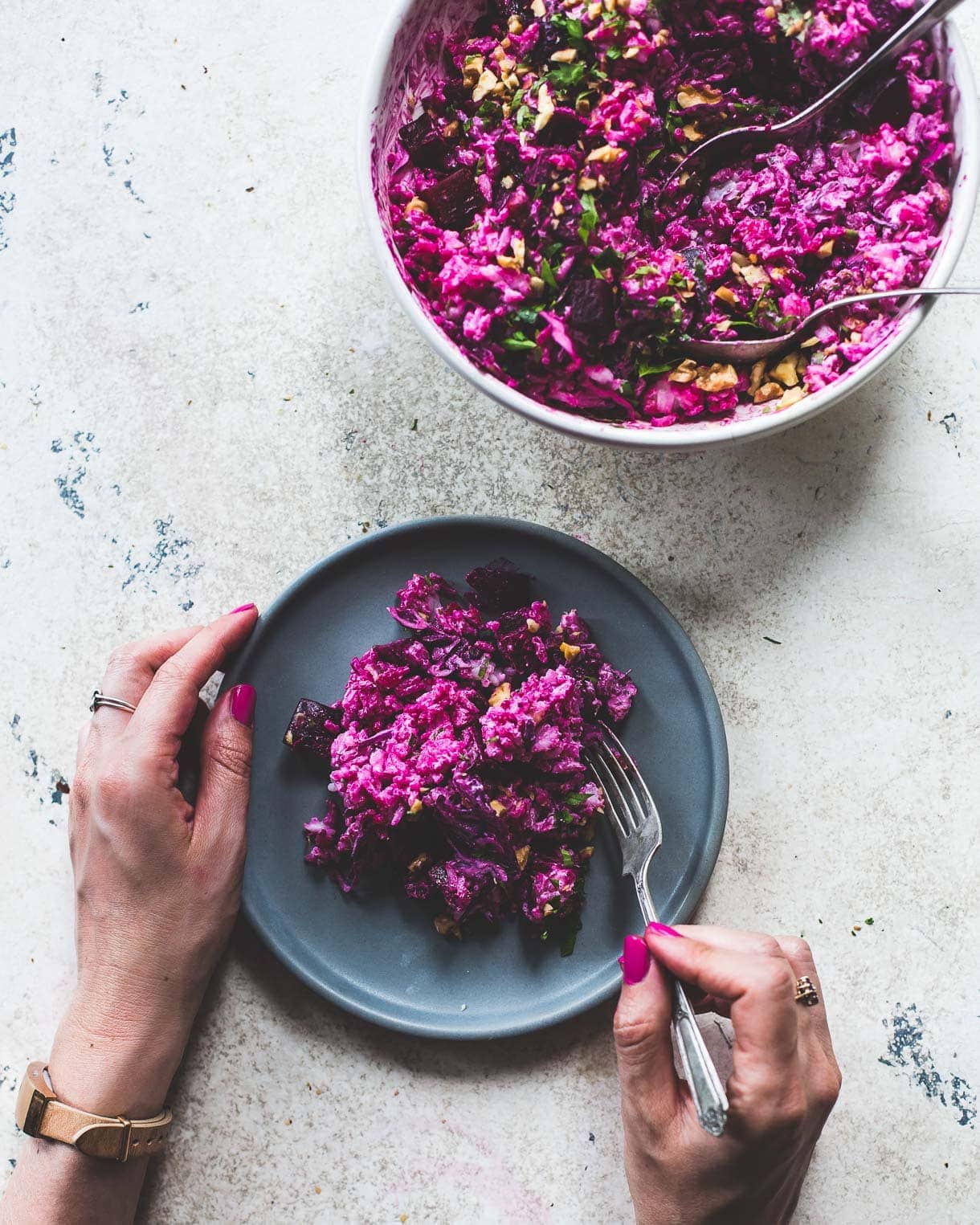 If you make this Beet Salad Recipe, be sure to tag me on instagram with hashtag #heartbeetkitchen, or @heartbeetkitchen!
3

medium sized beets

and their juice*

1

tablespoon

+ 1 teaspoon olive oil

divided

1 1/4

teaspoons

salt

divided

1

cup

dry Lundberg Farm organic white jasmine rice

1

cup

thinly shredded purple cabbage

1/2

cup

toasted walnuts

coarsely chopped

1/3

cup

chopped fresh parsley

juice of one lemon

1/2

cup

organic sour cream

1 1/2

tablespoons

red wine vinegar

1

clove

garlic

minced
Preheat oven to 390 degrees F. Trim root end off of beets so that raw skin is exposed, and also trim tail end. Rub with olive oil. Wrap in foil and place in baking dish. Bake for 1 hour or until beets are tender.

Let beets cool, and drain beet juice into small bowl.  When cool, run under cool water and peel. Then cut beets into small cubes.


Meanwhile, rinse rice in a colander, until white runs clear. Add to pot and cover with 1 1/2 cups water, 1 teaspoon oil, and 1 teaspoon salt. Bring to boil. Reduce heat to low-simmer and cover with a lid. Cook for 15 minutes. Remove from heat, keeping lid on, and let sit for 10 minutes. Fluff with fork. 

To make salad, combine rice, beets, cabbage, walnuts, parsley, and lemon juice in a bowl. In the small bowl with beet juice, add sour cream, red wine vinegar, garlic, and salt. Whisk to combine, then add to salad bowl. Stir together to coat. Serve room temperature or cold