Thanks so much to all of you who filled out my reader survey! Nearly 200 of you responded, and it was so fun to get to know you a little better, and help guide my ideas for new blog segments. Your feedback was invaluable and watered my heart. I thoroughly enjoyed reading through the words that come to mind when you think of Heartbeet Kitchen, and it confirmed that what I'm most passionate about – sharing wholesome, soulful, and approachable recipes, plus a little bit about life, resonates with you too.
So what were the most interesting things I learned?
Like myself, almost 75% of you are cooking for just one or two people.
You typically find out about new posts through or Facebook.
You like video, a little bit. So once or twice a quarter, I'm going to be putting things in motion with some fun recipes, and seasonal eating tips and tricks.
You really want to see recipes built around Quick Weeknight Meals (20 minutes or less) and Five Ingredient Fridays.
You wouldn't mind seeing posts that were brief and in the moment (kind of like this), meaning one or two pictures, the recipe and a 3 sentence blurb. I'm all for that! Many times recipes are created in my kitchen when I least expect it, due to scrounging up things from the fridge, or sudden inspiration from something I saw at the market. All of a sudden I've created something wonderful, and why not share those with you too?
With that, I had intentions of starting the Five Ingredient Friday series yesterday, but am in the midst of a week long freelance photography and styling project for a client. It's been amazing, expending more creative energy than I knew I had. Being on my feet cooking and shooting all day, I feel like I'm back in high school, doing 2-a-days for varsity volleyball. Hard work that is extremely satisfying, a little reminder of why I'm so glad I took the leap away from corporate life to do the things that fill me up.
It may be a day late, but this Sweet Beet Yogurt Bowl with Crunchy Granola and swirls of honey is right on time for simple spring/summer breakfasts – when you want something cool and quick, but not a smoothie bowl. It might also be one of the most surprising, but delicious ways I've discovered for eating beets , inspired by a carton of this grassfed beet yogurt.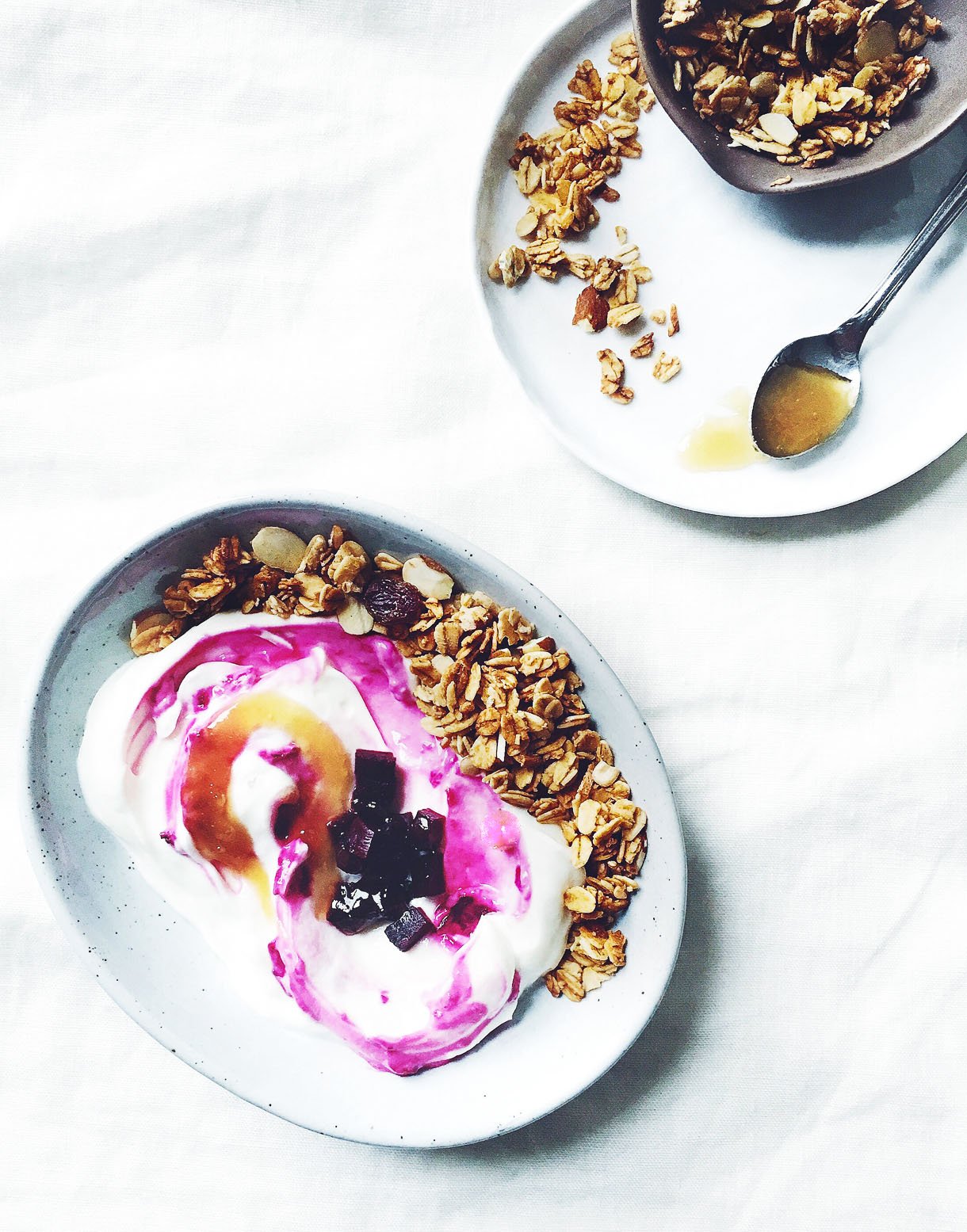 By roasting a large batch of beets sometime during the week, you can make lots of different things with the leftovers, which is how this yogurt bowl came about. I went savory the first night and made this Stacked Beet Salad with Crispy Shallots, then the next morning I diced those I had left plain, and mixed them with a bit of honey and crushed cardamom.
Swirled throughout creamy greek yogurt, the magenta hues are one of the most gorgeous colors I've ever seen. Top your bowl with your favorite nutty granola, or maybe make this clumpy version that I think sounds amazing, and your spoon will be scraping the bottom. Smooth and crunchy, earthy and sweet – the yin and the yang. And don't worry, the beets are already sweet from being roasted, which heightens their natural sugars so they act more like a fruit than a vegetable in this application.
Just 5 ingredients, but unique in its own right. And definitely a fun way to eat more plants. Have a great rest of the weekend, and if you're on Snapchat, come say hi! I'm @HEARTBEETKITCHN (no e at the end).
Sweet Beet Yogurt Bowl with Granola
Author:
Cook time:
Total time:
*To roast beets, preheat oven to 375 degrees. Wash beets and trim their roots, leaving them whole with the skin on. Wrap in foil with a little bit of olive oil and roast for 40 minutes, or until beets are fork tender). Let cool and run under cold water to remove skin with your fingers.
1/2 cup diced, roasted beets*
3/4 tablespoon runny honey
cardamom to taste (optional)
greek yogurt
1/2 cup granola
Mix roasted beets, honey, and cardamom together. Then divide and swirl into two bowls of yogurt. Top each bowl with 1/4 cup granola.