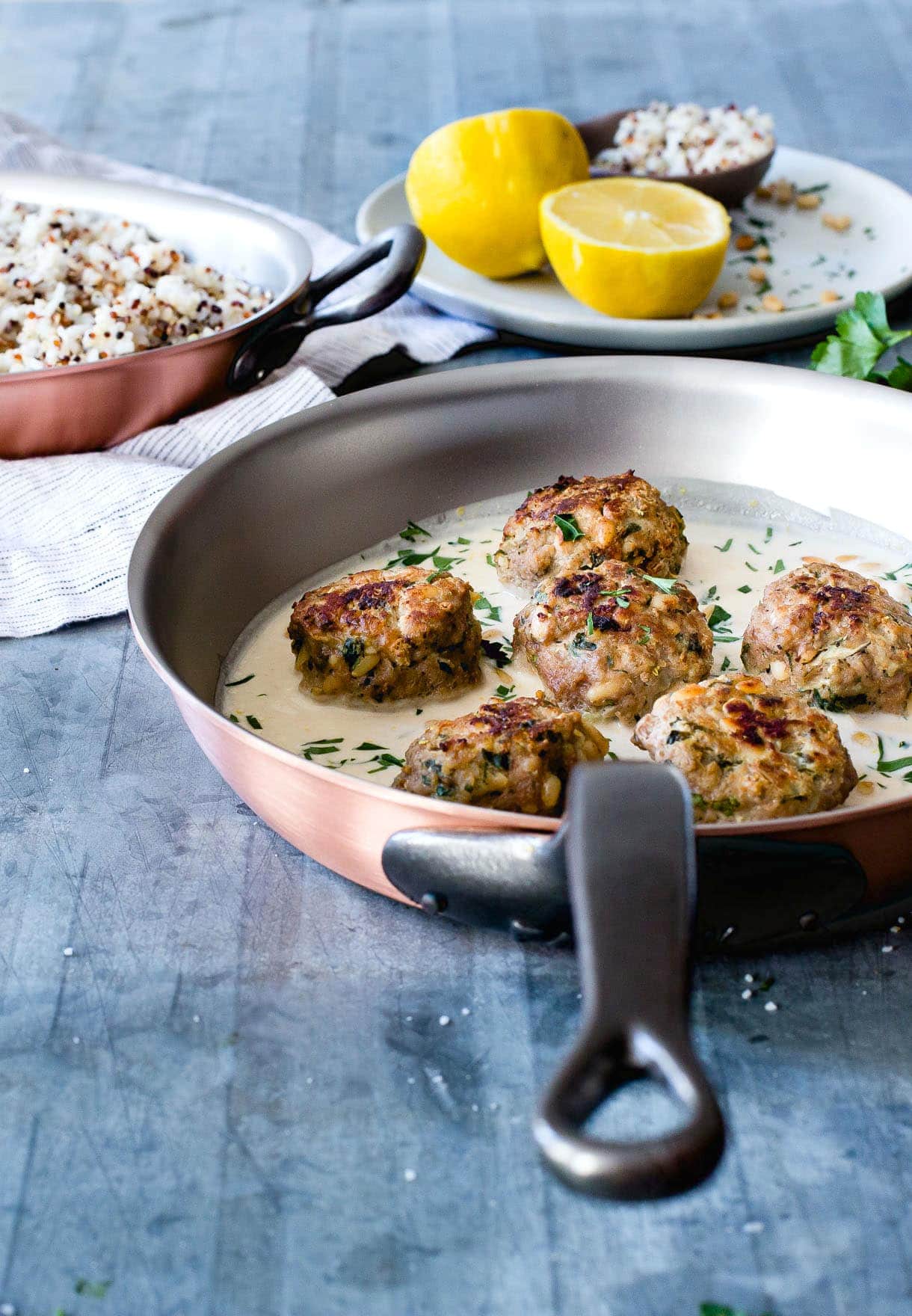 Meatballs…… sound so rough and tough, burly if you will. Not always the prettiest spectacle of meat, and with balls in the title, they tend to evoke a childish giggle. But really they're quite the hero, something you can make once and hack your way around several meals throughout the week, even breakfast.
If there is such a thing as a feminine meatball, THIS would be it – bright and lemony, with cardamom and pine nuts, nestled in garlic tahini sauce, served over a rice/quinoa pilaf.
I posted my first batch on Instagram a few weeks ago, and can't stop making them. Adapted from this recipe to be gluten-free (dairy-free, paleo too) and with fewer ingredients so they're ready in 25 minutes, these Moroccan inspired sparklers are too good not to share.
I've learned throughout trials in the meatball department that you don't need breadcrumbs to bind them together, or keep them soft. It's all in the egg, just adding it to the meat and gently mixing with your hands.
They're tender and juicy, and able to handle the sear of a hot skillet, which by the way, I'm smitten with my copper Falk pans. Sturdy as all get out, they heat up super quick, and they're quite easy on the eyes.
I know some people aren't particularly fond of lamb's earthy flavor, which is why using vibrant herbs, cardamom, and lemon in this recipe really help to soften that.
While they're certainly not traditional and you can't compare them to grandma's red sauce beauties, they've become my favorite meatball – hands down. Especially with that garlic tahini sauce, and a few pine nuts in each bite.
For the love of something different, delicious, and worthy of a weeknight savior, I suggest you get on this meatball train.
Happy weekend, everyone!
1

lb

ground lamb

2

tablespoons

minced red onion

2

cloves

garlic,

finely minced

1

large egg,

beaten

1 1/2

tablespoons

chopped fresh parsely

1 1/2

tablespoons

chopped fresh cilantro

zest of one lemon

1/3

cup

pine nuts

1

teaspoon

salt

1/2

teaspoon

ground black pepper

1/4

teaspoon

cinnamon

3/4

tsp

freshly ground cardamom

1 1/2

tablespoons

olive oil
Sauce:
1/2

cup

tahini

1

clove

garlic,

minced

juice of one lemon

1/4

teaspoon

salt

about 1/4 cup warm water
Preheat oven to 350 degrees F.

Place the lamb, onion, garlic, beaten egg, fresh herbs, lemon zest, pine nuts, cinnamon, cardamom, and salt and pepper into a large bowl. Mix everything together using your fingertips. You want to get all the ingredients evenly distributed without compacting the meat.

Form about 10 meatballs from the mixture. You can do this several hours ahead of time if you want, but be sure to cover the meat completely with plastic wrap and refrigerate until needed.

Cover the bottom of a heavy pan with 1 1/2 tablespoons olive oil and heat until hot.

Work in batches so you don't crowd the pan, and brown the meatballs on all sides for about 4 minutes. Add more oil as necessary.

Place the meatballs on a baking sheet and bake for about 12-15 minutes, or until cooked through. Or you can continue to cook them on the stovetop, but it takes longer to get them cooked all the way the way through.

Meanwhile make the sauce by mixing the tahini garlic, lemon juice and salt, then adding enough water to make a thin sauce. Salt it to taste.

Serve the meatballs hot from the oven, nestled in the sauce. Garnish with more pine nuts, herbs, atop rice, quinoa, or even orzo pasta.
adapted from this recipe, blog: The View From Great Island