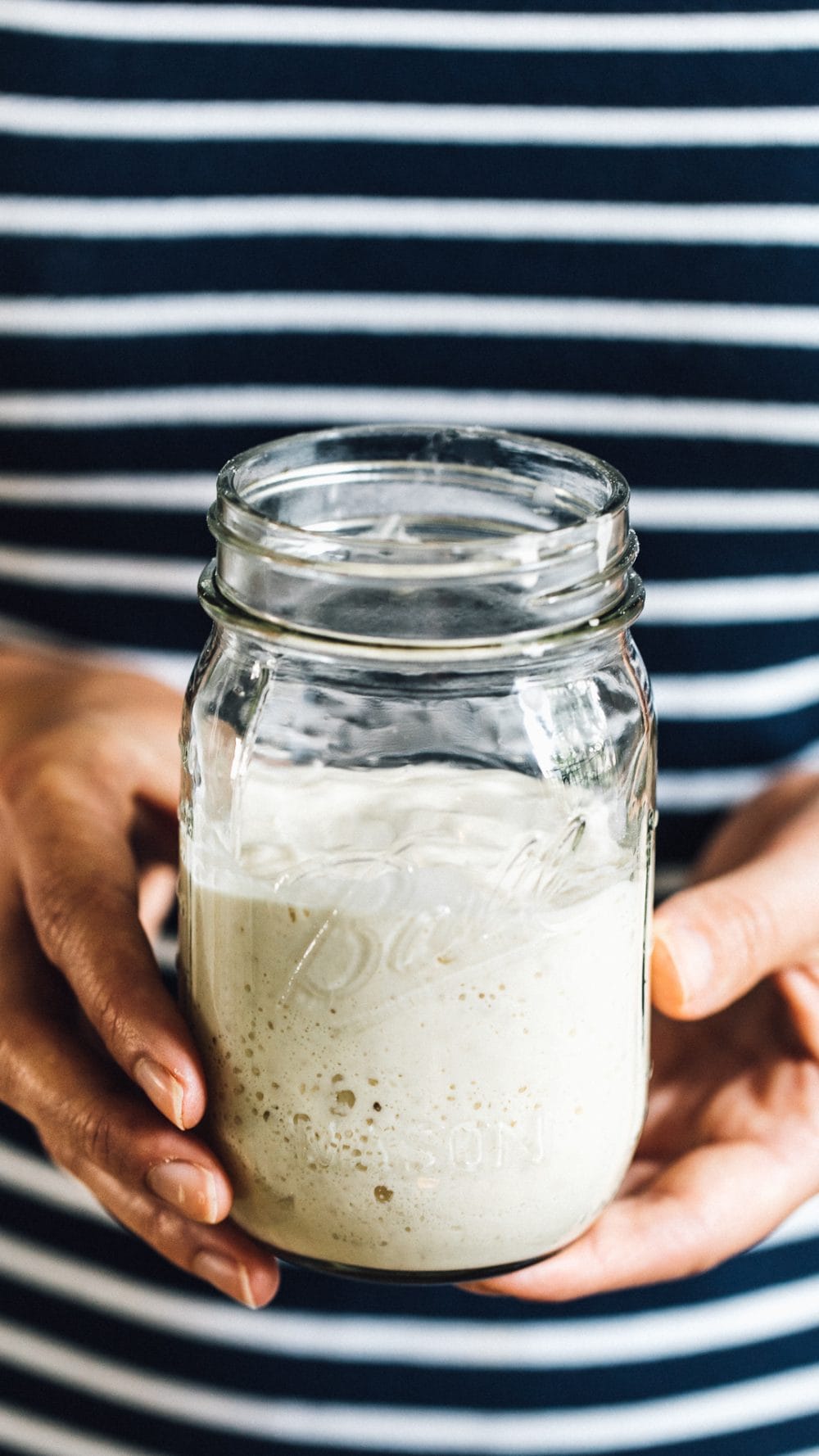 If you want to start your own sourdough journey, you can BUY MY SOURDOUGH STARTER HERE! – and I will ship it you with instructions for feeding and maintaining. Cost is $12.
---
A friend of mine has been baking the most gorgeous sourdough bread for a few years. Last summer she gifted Brian a loaf, and although I'm gluten intolerant, she mentioned real sourdough might be okay for me to eat since the process happens through a long, natural fermentation, which "eats" much of the gluten proteins.
I did some research myself and found hope in several reports, and especially this one by Michael Pollan, stating that sourdough fermentation allows bacteria to fully break down the carbohydrates and gluten in bread. This makes it easier to digest and releases the nutrients within it, allowing our bodies to more easily absorb them.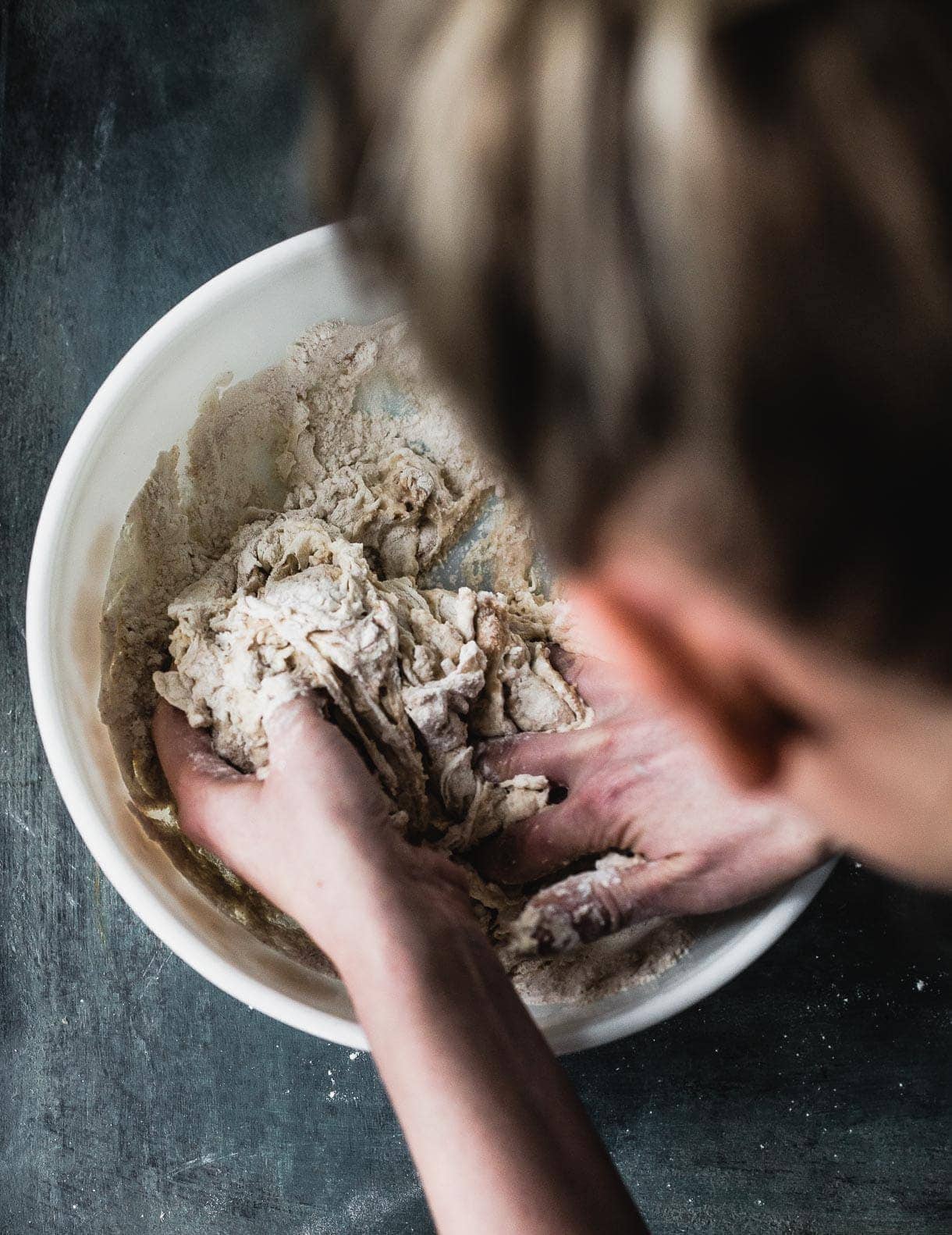 The curiosity in me resulted in slicing a piece and eating it. And then another slice. And another. With absolutely none of the symptoms I typically get from eating gluten.
Two weeks later I was in Canada and tried real sourdough again to make sure it wasn't a fluke, and no issues – again! I felt great. So happy to have real bread in my life again. *EVERY PERSON IS DIFFERENT THOUGH, SO CONSULT YOUR DOCTOR IF YOU HAVE CONCERNS.
It was a breakthrough, life changing in fact. To think that not only could I eat sourdough, but also explore the practice of bread making. However, I was intimidated to start. I'd heard stories of traveling with a sourdough starter to keep it alive, flour/water ratios, scientific baking words that I had no clue about, oven techniques, etc. But it really doesn't have to be that complicated, as I'll teach you.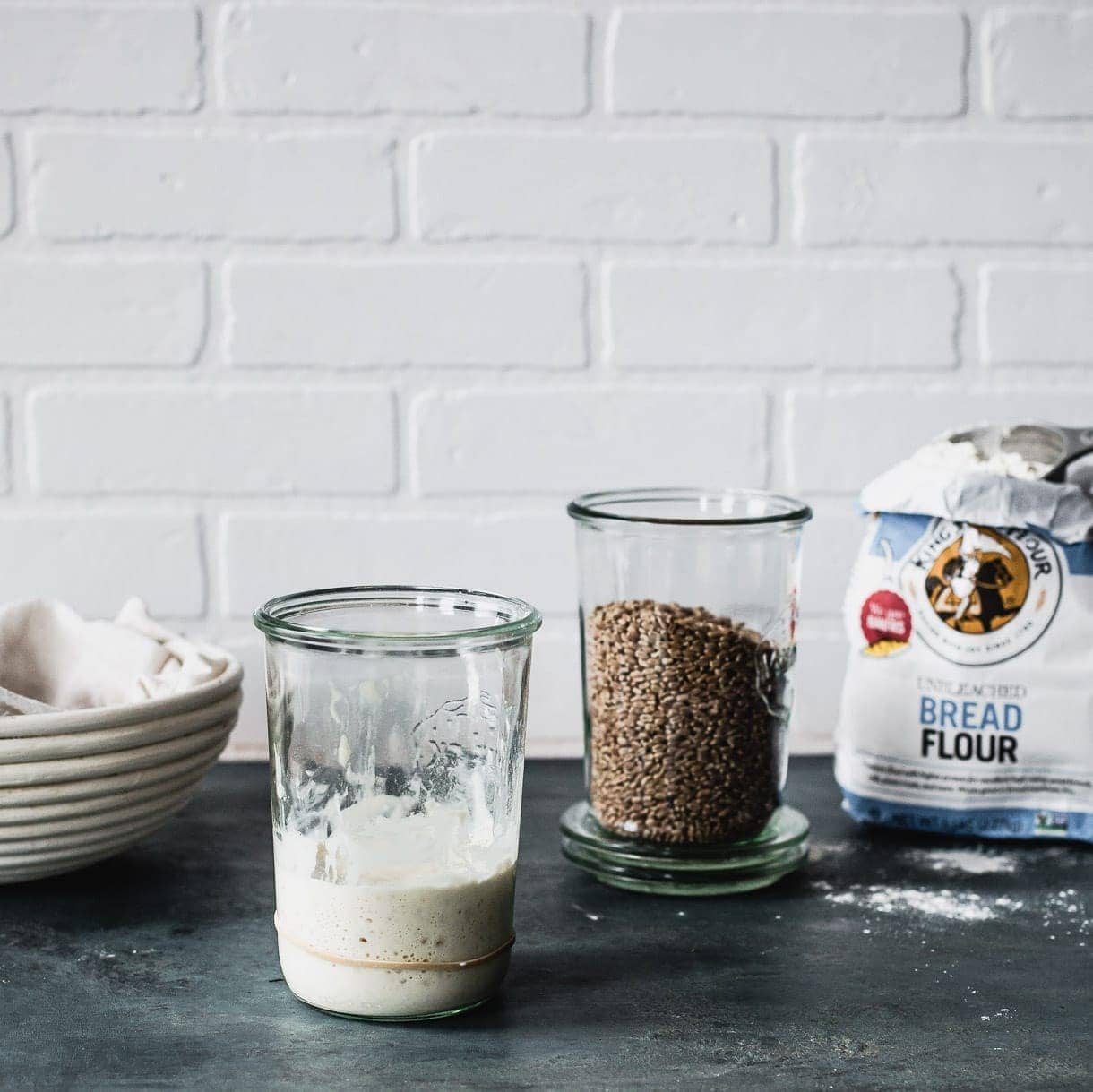 I acquired sourdough starter from a friend in dried out form, to rehydrate and start feeding. Less than a week later I had a bubbly mixture of flour and water, rising and falling naturally. The time came to make my first loaf, and although I felt unsure the whole time, it WORKED!
I firmly believe that anyone can bake sourdough bread. You don't need to have years of baking experience, nor understand scientific terms. You don't need an abundance of cooking tools or a special oven. All you need is flour, water, salt, and patience…. they do all the work for you.
Here are my Top Sourdough Starter Tips for Beginners that I wish I would have known before, and a sourdough starter video to go along with it!
1. How do you make a sourdough starter?
You can certainly create your own starter from just flour and water. However, I found a 100% success rate when using a strong, mature starter from someone else because it already has active cultures present. It eliminates so many variables that often result in starter fails.
You can BUY MY SOURDOUGH STARTER HERE! – and I will ship it you in the mail, with instructions for feeding and maintaining it so you can bake amazing bread. Cost is $12.
2. What flour do I feed my starter with?
I find the best way to keep a healthy starter is using unbleached, organic all-purpose flour. Because all-purpose flour has a medium protein percentage, it is easier to stir and work into your dough than say, bread flour. Organic all-purpose flour is also less expensive than organic bread flour, and you don't need the added strength.
If you get a starter from someone else that has been fed with a different flour, you should continue feeding it that way. So if that's rye, you should feed it rye. If it's all-purpose, you should feed it all-purpose.
What about the water you feed your starter with? And the temperature?
Yes, the water quality does matter. Make sure to use filtered water instead of that from tap, as this may have chemicals or bacteria that you don't want harboring in your bread.
The best temperature for a sourdough starter to thrive is around 73 degrees. I usually put my in the highest shelf in my cabinet, as I know it's warmer there. If it's cooler in your house, that's okay, just know it will take longer to peak.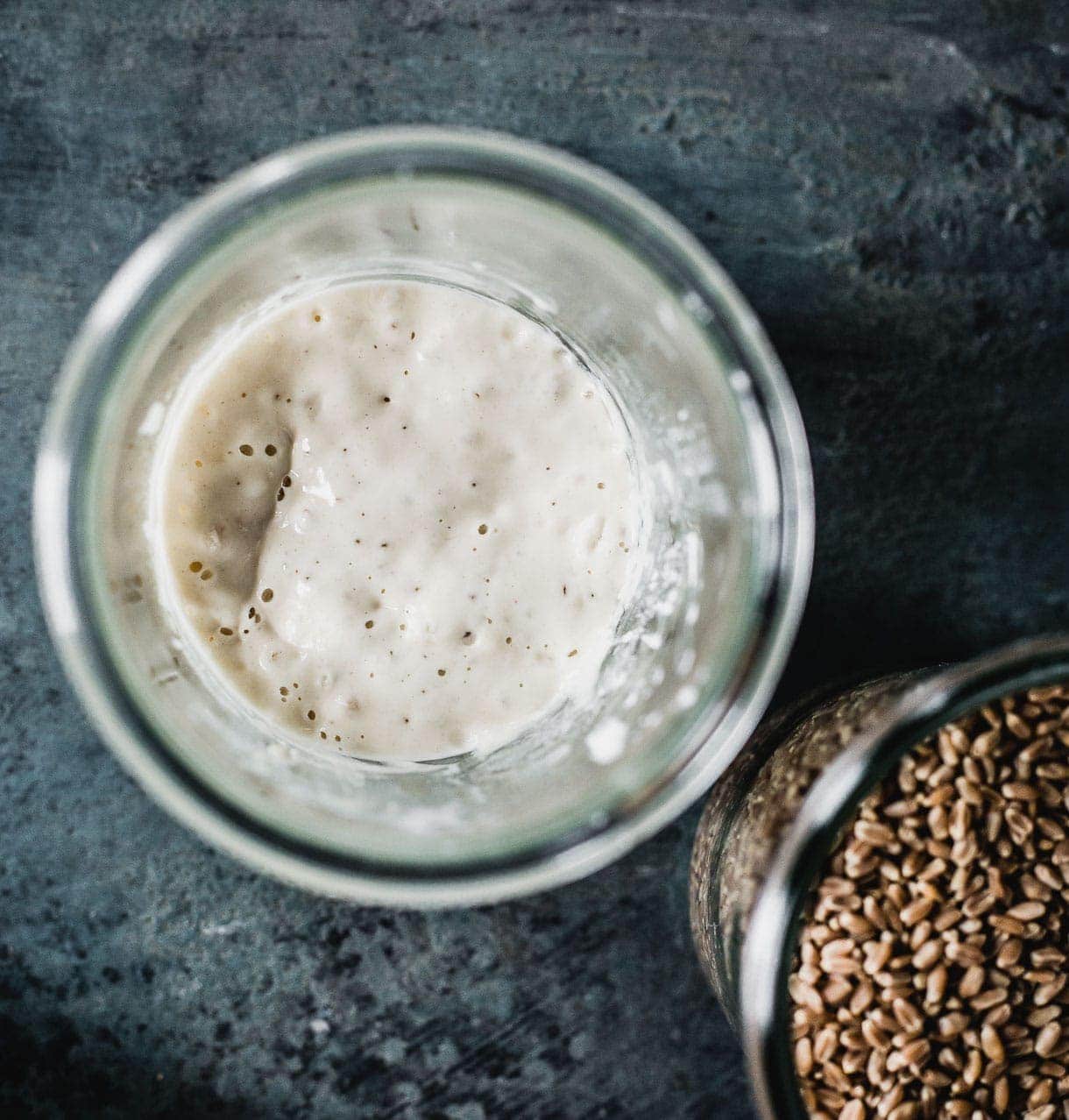 3. How often and how much should I feed my starter? Why do I have to discard some of the starter?
There are varying thoughts on this. My thought is it all depends on how often you're baking bread. For me, that's usually once a day if the starter is sitting on the counter, or two times a week if I am storing it in the fridge. When I feed it once a day, it's usually equal parts flour and water to how much starter there is left in the jar after discarding. I try to keep a small amount on hand, so I discard less. Usually that looks like 20 grams starter in the jar, and feeding it 40 grams water and 40 grams flour. This is called a 1:2:2 ratio and helps keep the acidity balanced.
The day before I bake my Everyday Sourdough recipe, I feed it every 12 hours to really get it activated. Some sources will say that you need to feed it upwards of 100 grams of flour and water and that simply is not true. . I ended up with way too much excess starter that way, and found it still performed well when feeding it a lesser amount. Ultimately, the most important thing is always feeding equal parts flour to water, whatever that number may be.
As soon as you feed it, the yeast and bacteria in your culture will begin to metabolize the sugars found in the flour, creating gasses as a byproduct. These gasses cause the starter to rise through the day and your dough to rise when baked. Once they are no longer viable, the starter falls. Discarding will help to remove much of this exhausted starter and balance the acids, but still keep the culture in the jar to continue growing with the new feedings.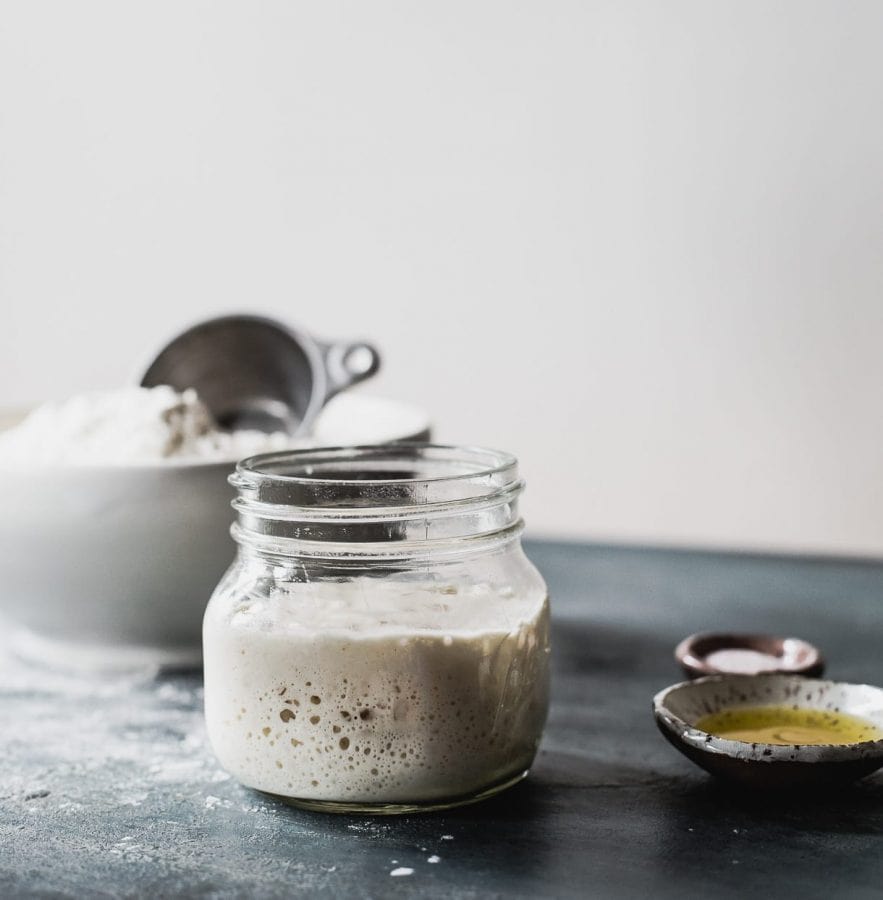 4. How do I know when my starter is active and ready to bake with?
Look for these signs:
it has doubled or tripled in size
has the texture of roasted marshmallows when you move a spoon through it
is puffy on top, with aerated bubbles on top and through the sides.
5. I travel a lot. Won't my sourdough die? How can I keep it alive without being able to feed it every day?
It won't die! It's a myth that it needs to be fed every day. Your sourdough starter is resilient. If you're traveling: Discard as normal and then feed your starter extra, like 100 grams flour and 100 grams water. Place it in refrigerator. It will keep fermenting, but at a much slower pace because of the cold temp. When you return, take it out of the refrigerator and let it warm up on counter for an hour. Then discard half and feed 2x per day leaving it on the counter, for a few days. It will get back to thriving!
6. How do I get sourdough to hold its shape? I've had problems with it spreading too much when I take it out of the banneton.
That's a sign of overproofing your sourdough, OR not developing enough strength via "stretch and folds", which is gently stretching the dough in the air, and folding it over the top of itself during bulk fermentation. Here is a VIDEO I filmed to demonstrate this. For all of my sourdough bread recipes, you'll do 4 sets of stretch and folds.
7. What are the bare minimum tools for sourdough baking that I'll need?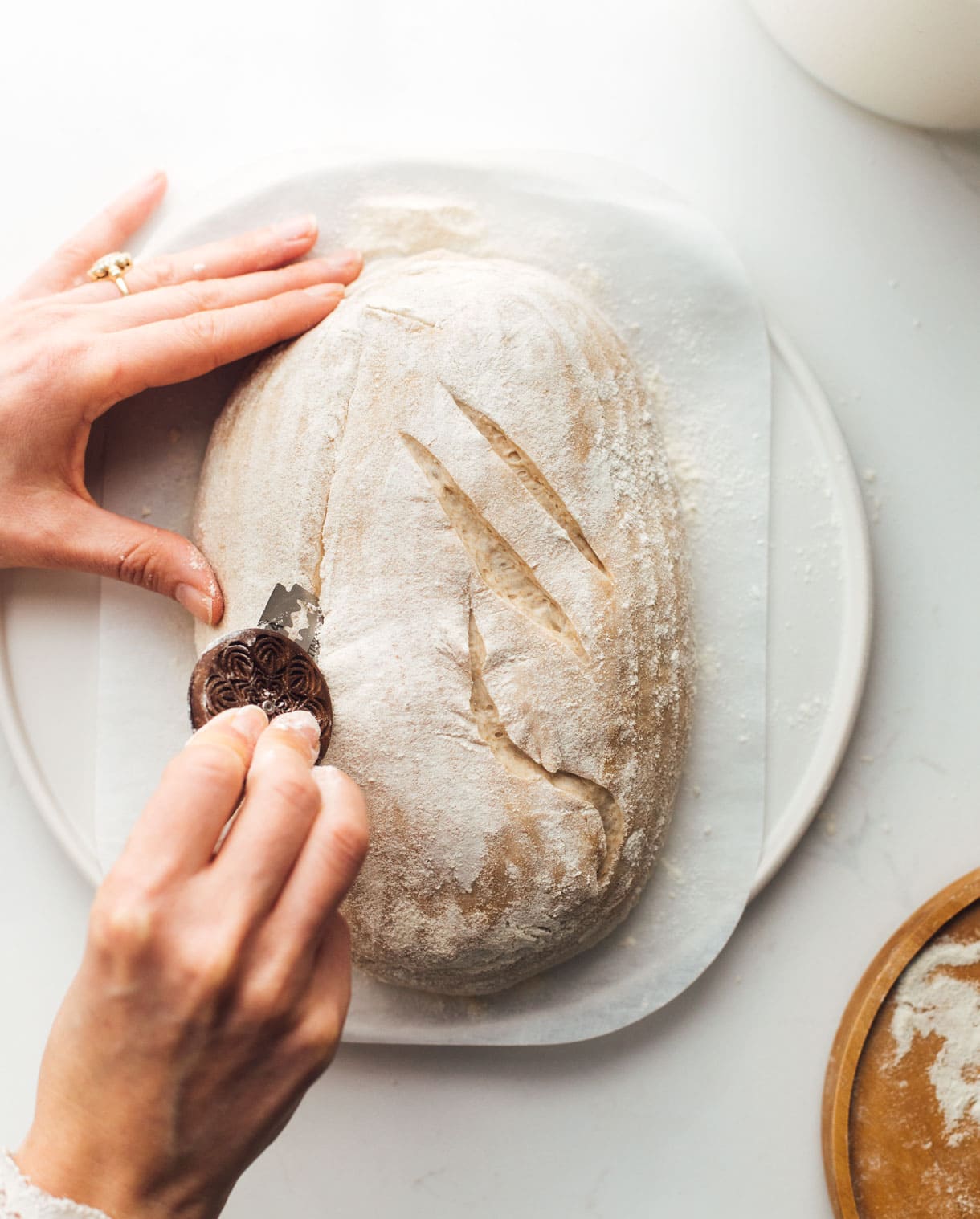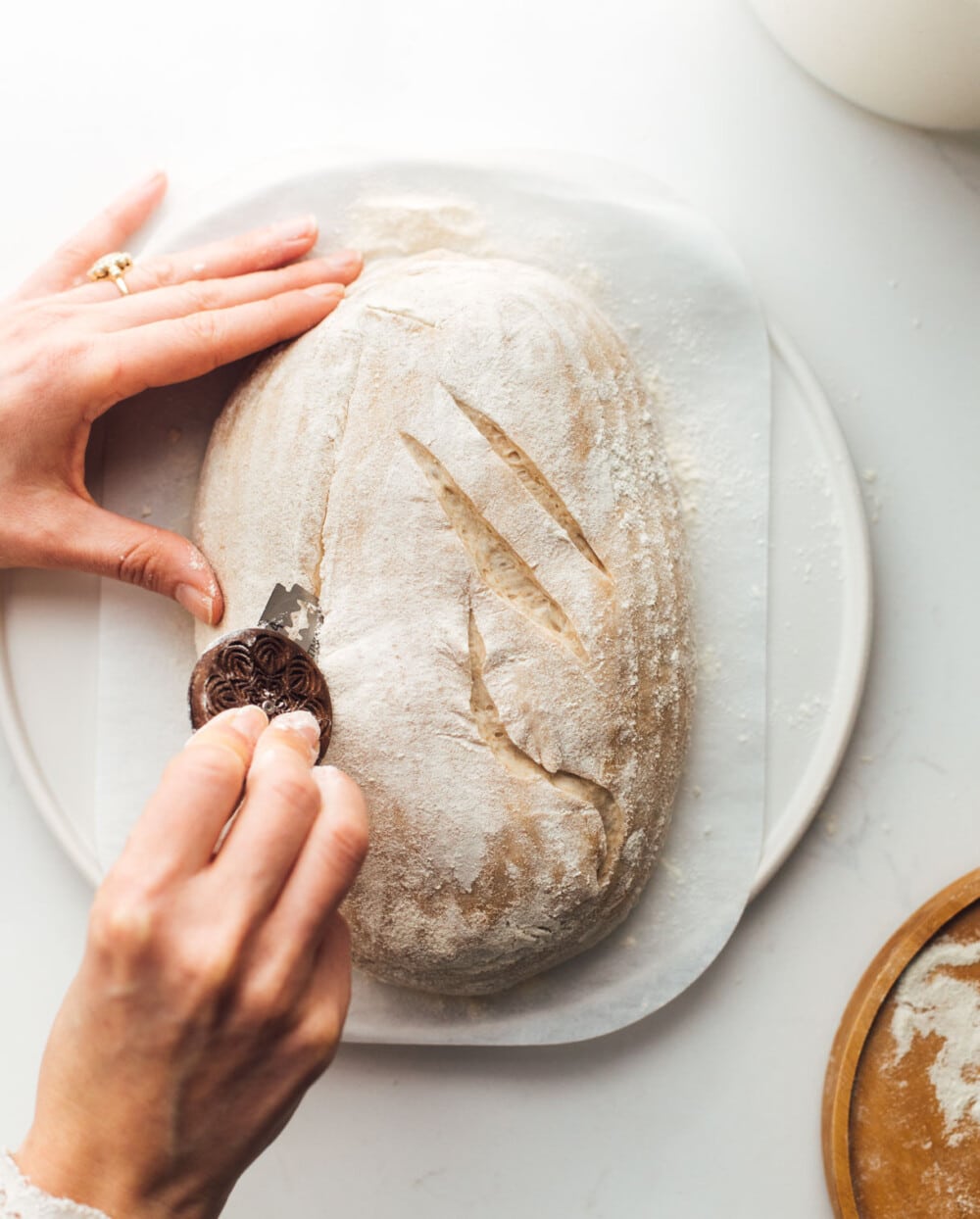 8. I've heard there's a lot of waste because you discard some of the starter every time you feed it. Is there anyway to avoid this, or use it in another recipe?
9. There are only two of us in the household. Are there small batch recipes out there?
Definitely! The sourdough recipes I have here on this blog make a medium size loaf that's perfect for eating in two-ish days, when bread is freshest. It also helps keeps the cost of baking bread manageable.
10. I see sources that talk about a "baker's schedule". It seems like a lot of planning, and I'm not sure I'm ready to commit to that.
Yes, sourdough baking takes a little bit of planning simply because the bulk fermentation takes about 6-8 hours. But the nice thing is you can let the second rise happen slowly in the refrigerator. So what I typically do is feed my starter in the morning, let it rise. When it's ready to bake (usually around 3pm), then I mix and do the bulk fermentation. That usually ends around 10pm when I'm headed to bed. So I shape the dough, put it in the refrigerator, and bake it when I get up!
I know that's a lot of information to digest, but hopefully it helped answer some of your questions. And I'm certainly not an expert. I learn something every time I bake another loaf, still 3 years later!
I will continue to share more topics here and also on Instagram, so be sure to follow me there. And if there is something specific I didn't get to in this post, leave me a comment and I'll be sure to answer.