Learn how to make homemade hot pepper jelly, with this water bath canning recipe. Made with a combination of bell peppers and jalapeños, the sweet and spicy flavors pair perfectly together. Serve this colorful jelly over cream cheese or goat cheese for a holiday appetizer, or any time of year!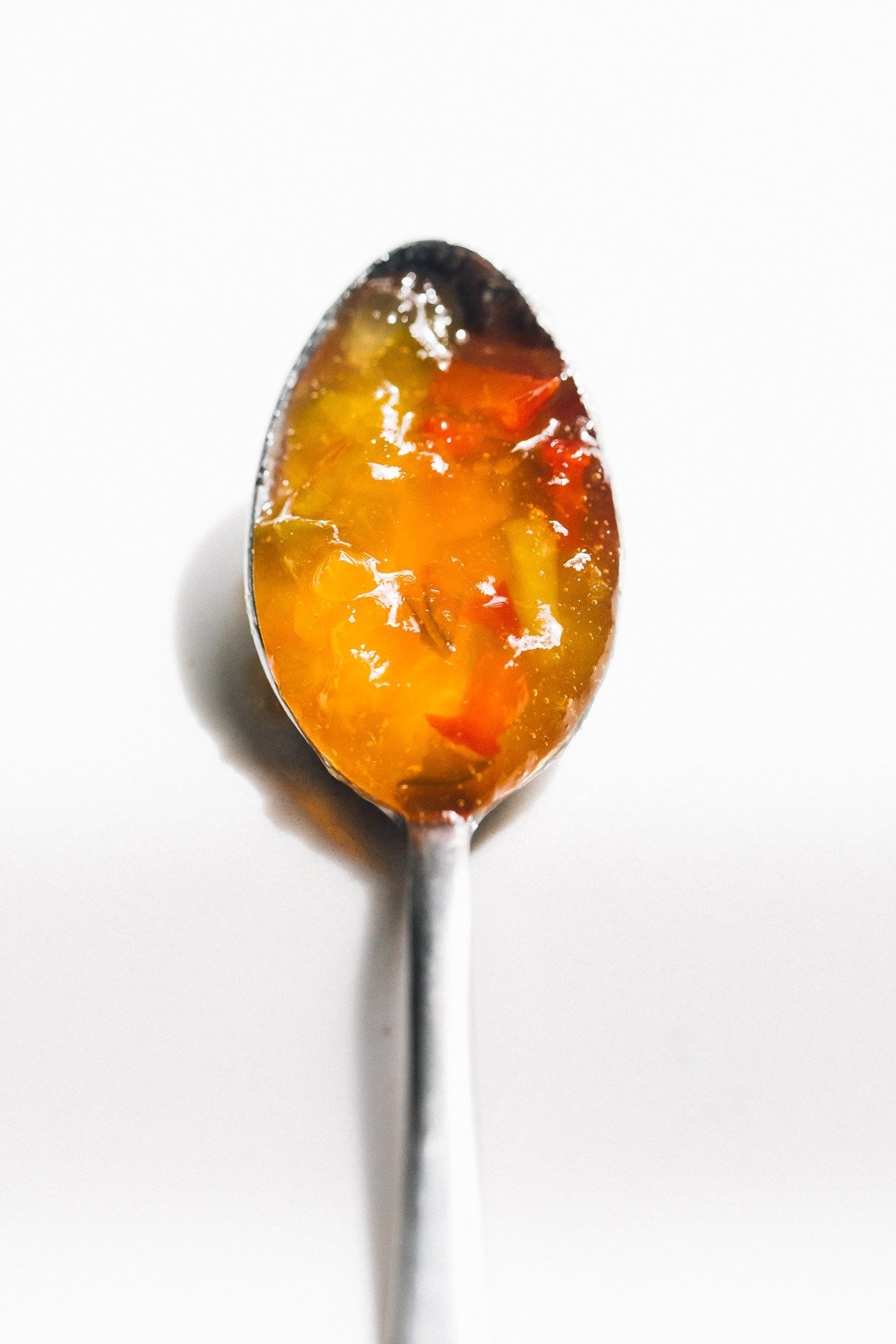 This hot pepper jelly recipe is part of a sponsored partnership with Ball® Canning. You can find more of my canning and preserving recipes, here.
You're scrambling, engrossed in a last minute grocery run for an easy appetizer that everyone will love. You grab the fancy jar of hot pepper jelly, and a block of Philadelphia cream cheese. A pretty ceramic platter is in the back seat.
All you need to do is arrive at the party and spoon the jelly over the cream cheese. And in an instant, "the oooohhh, this is so good!" start echoing. Some classics never disappoint. Am I right?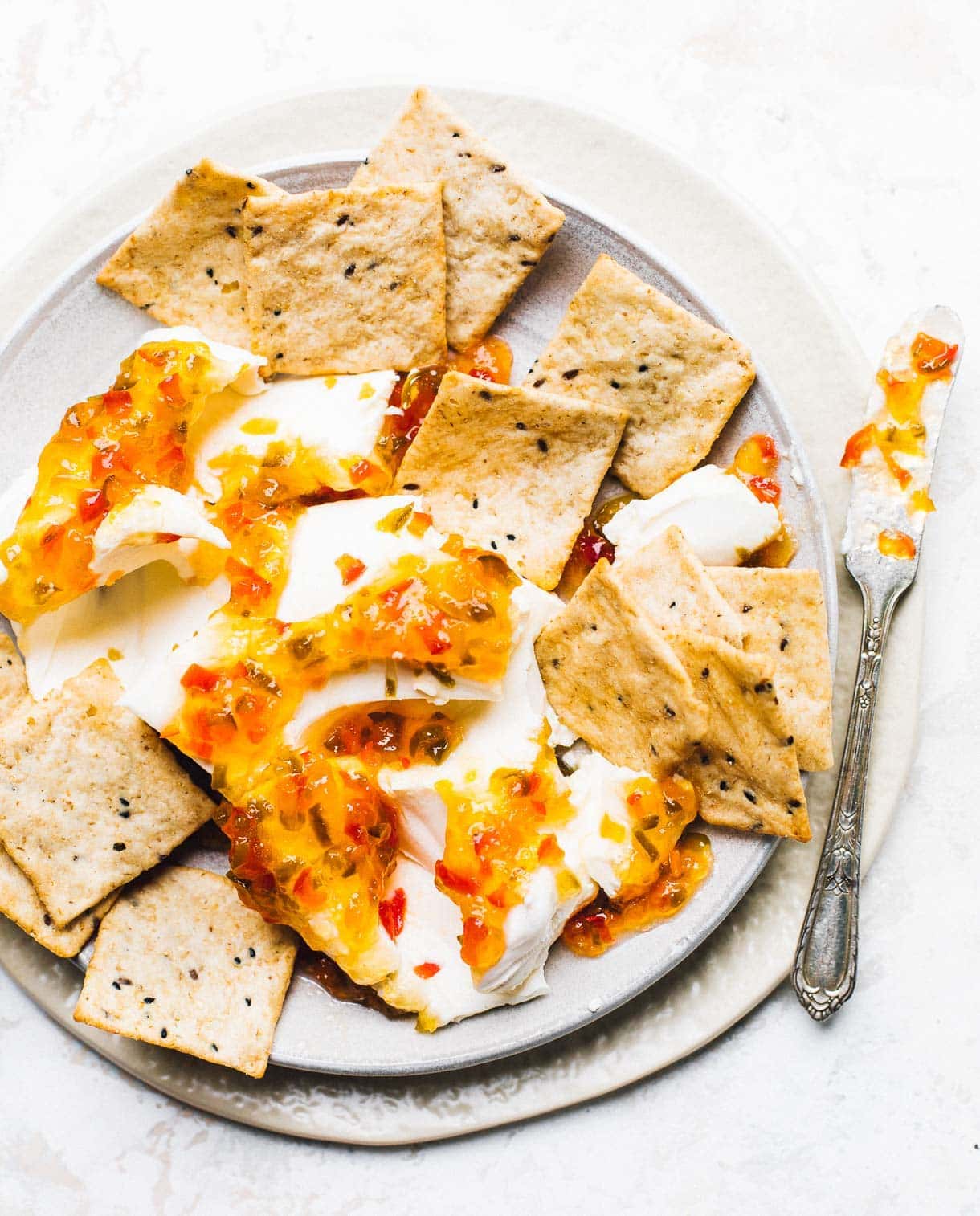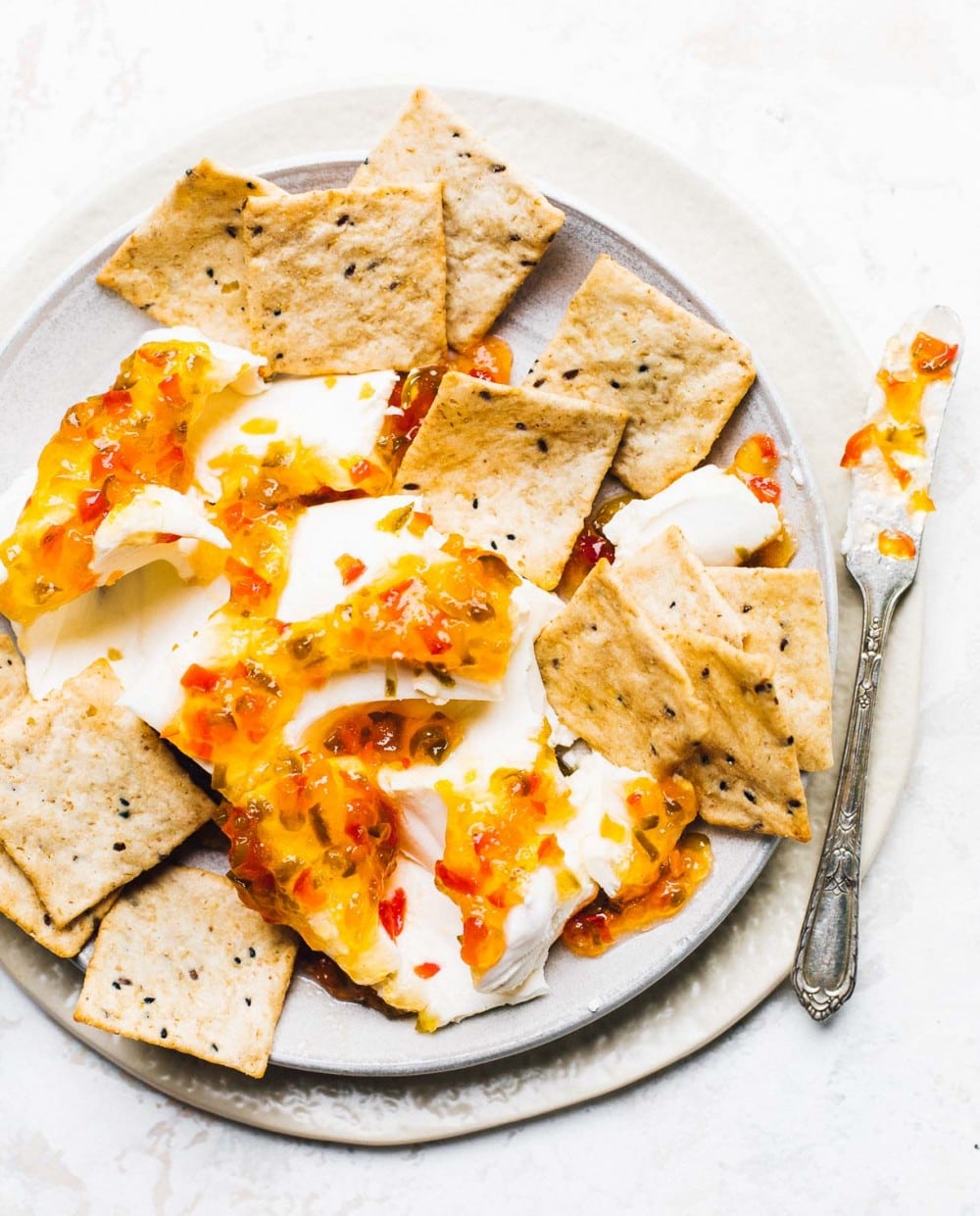 And guess what? You can make one batch of this crowd pleasing Hot Pepper Jelly, and have jars stocked in your pantry year-round, right next to the Best Apple Butter and Roasted Salsa.
Not only is it absolutely beautiful with its confetti of colors shimmering in the light, but it's the perfect mix of sweet and spicy. Exactly why it's such a good match when paired with cool and creamy accompaniments!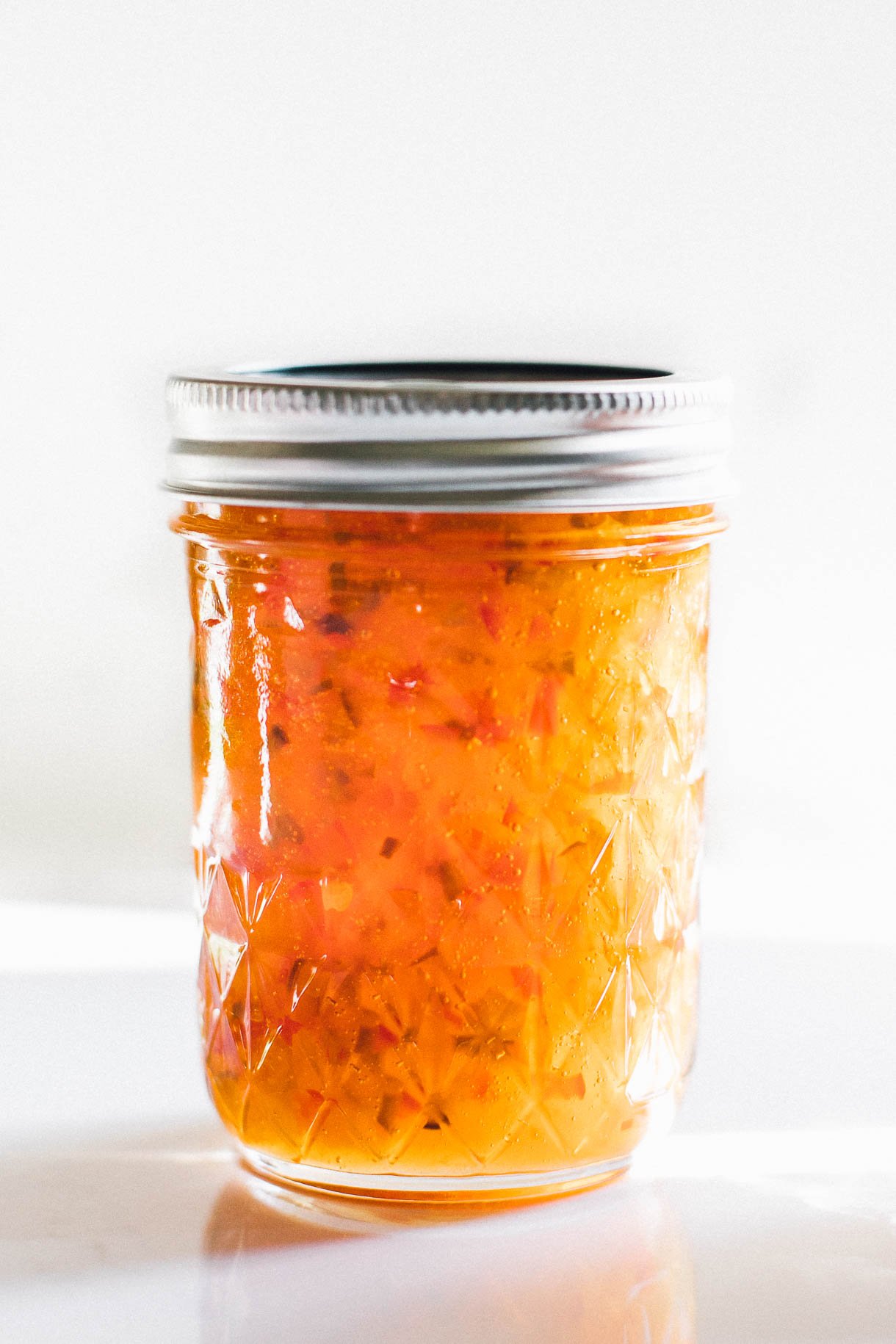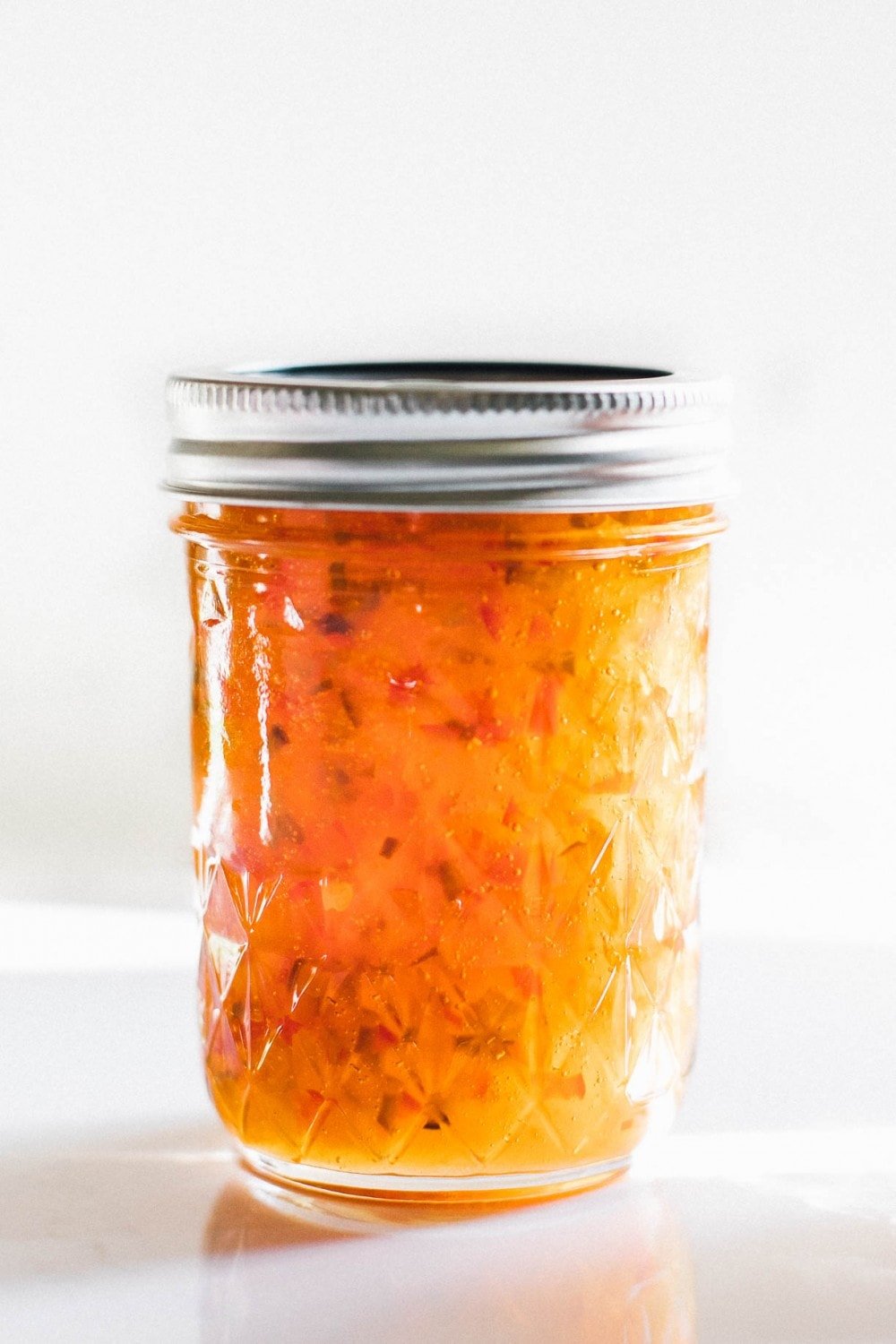 How To Can Homemade Hot Pepper Jelly
Sterilize jars and bands by washing in warm, soapy water.
Chop all of your peppers, and measure out your other ingredients so they are ready to use.
Bring your Ball® Canning half pint jars to a simmer in your water bath canner, and have the lids in warm water in a small saucepan.
Add chopped peppers and vinegar to a pot. Gradually stir in liquid pectin.
Bring to a full rolling boil (this activates the pectin), and add honey and sugar. Boil.
Ladle hot jelly into hot jars, leaving ¼ headspace. Screw band on until fingertip-tight. Place jar in boiling water canner. Repeat until all jars are filled.
Process jars for 10 minutes. Turn off heat; remove lid and let jars stand 5 minutes. Remove jars and cool.
You can also watch a tutorial video of how to can hot pepper jelly!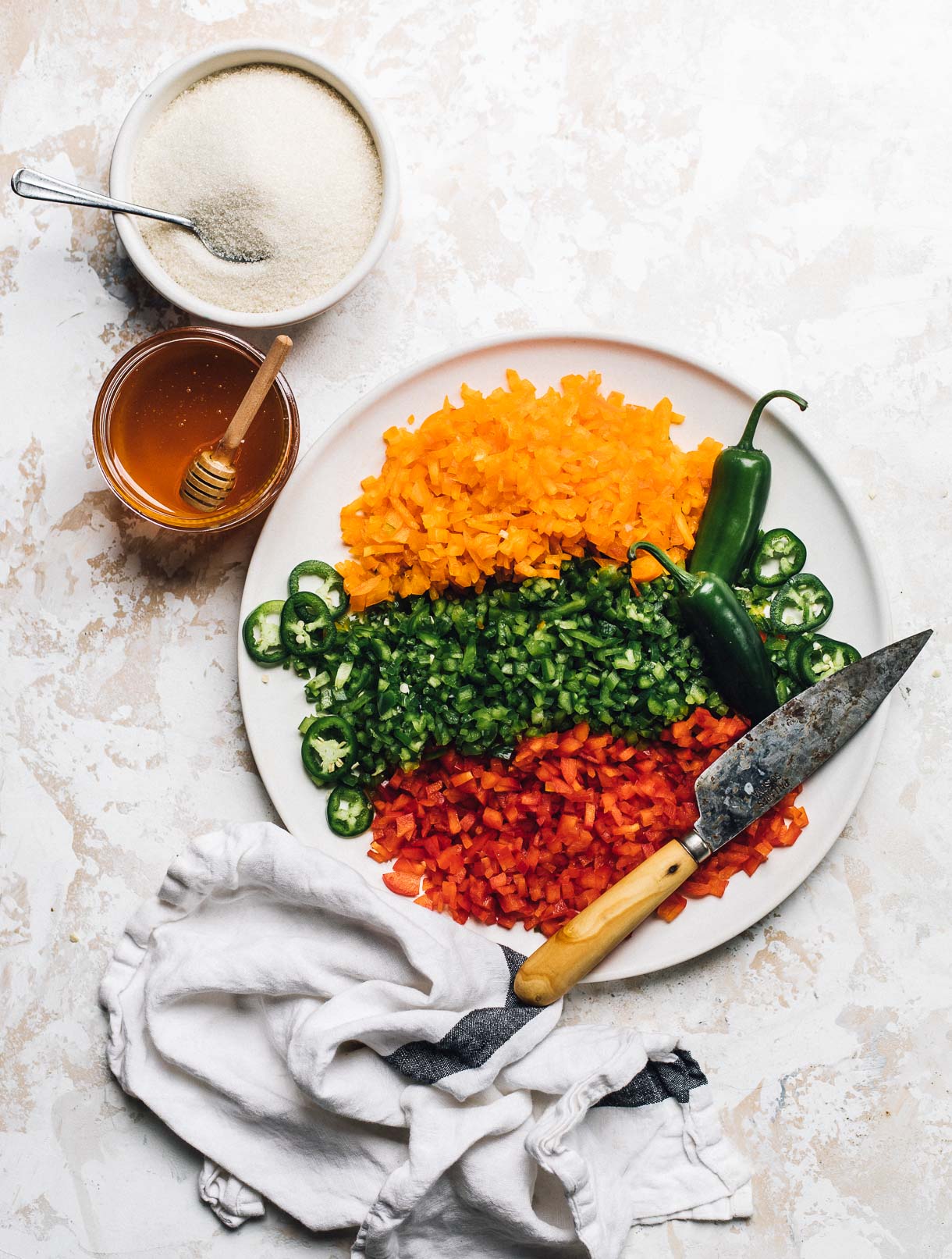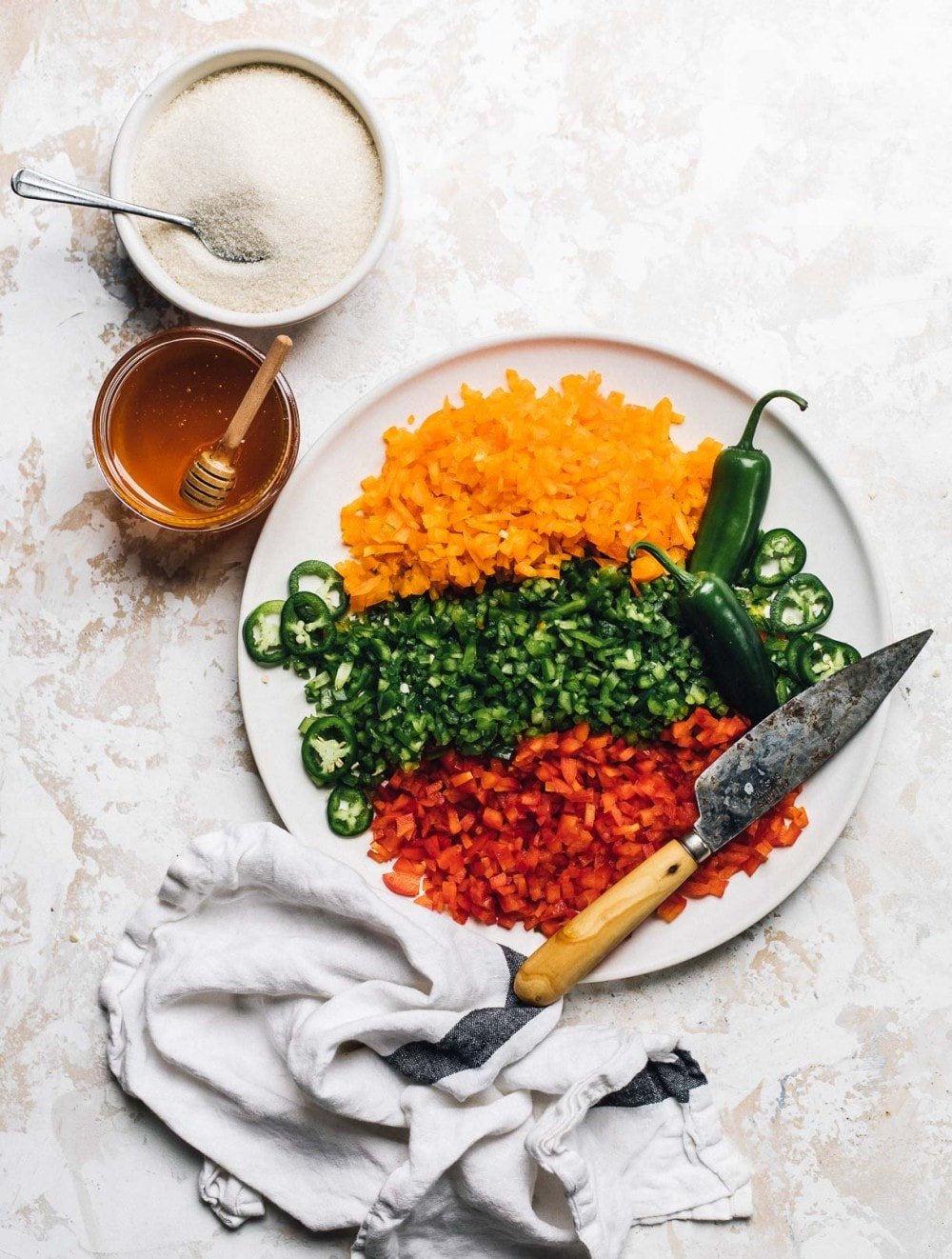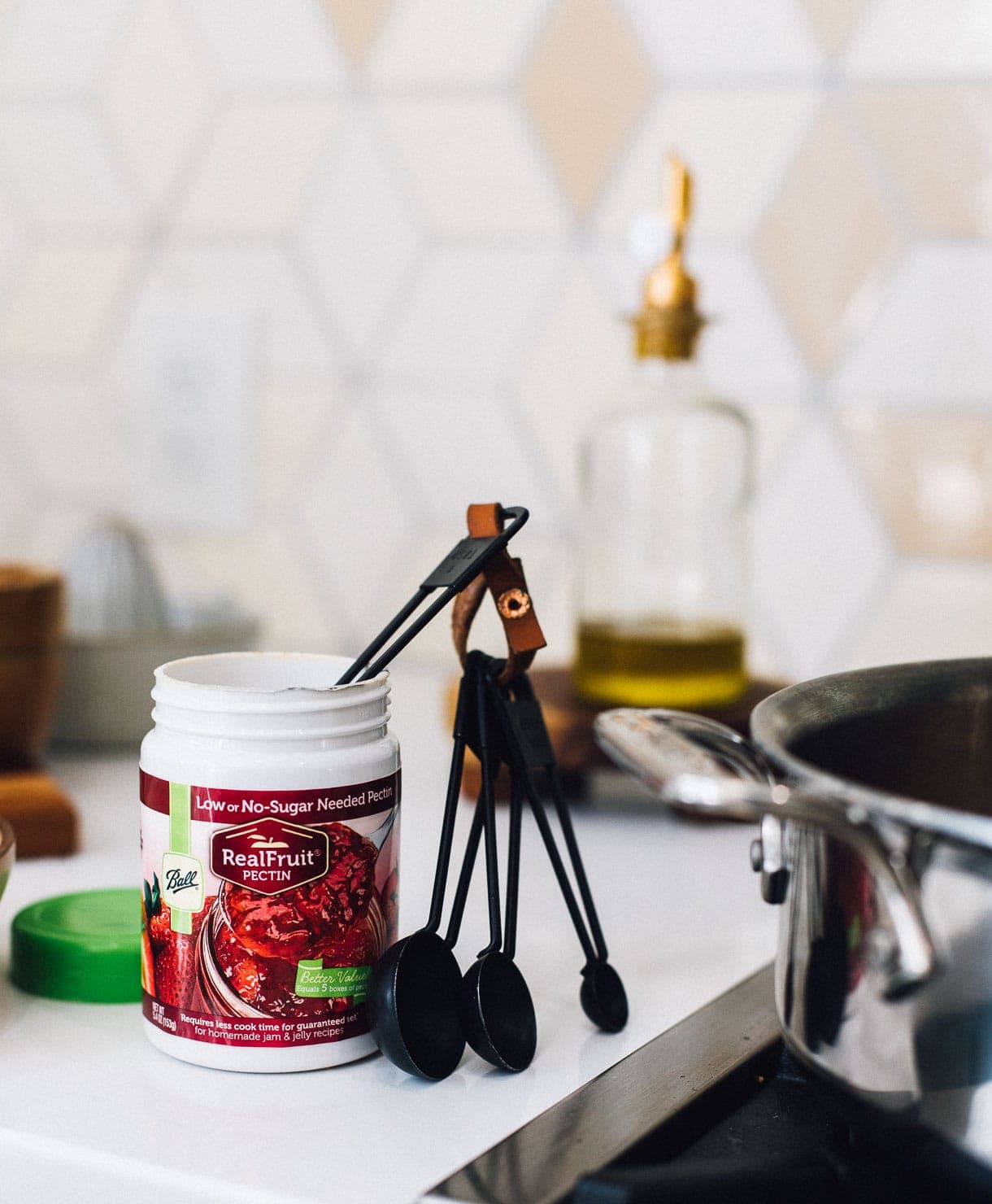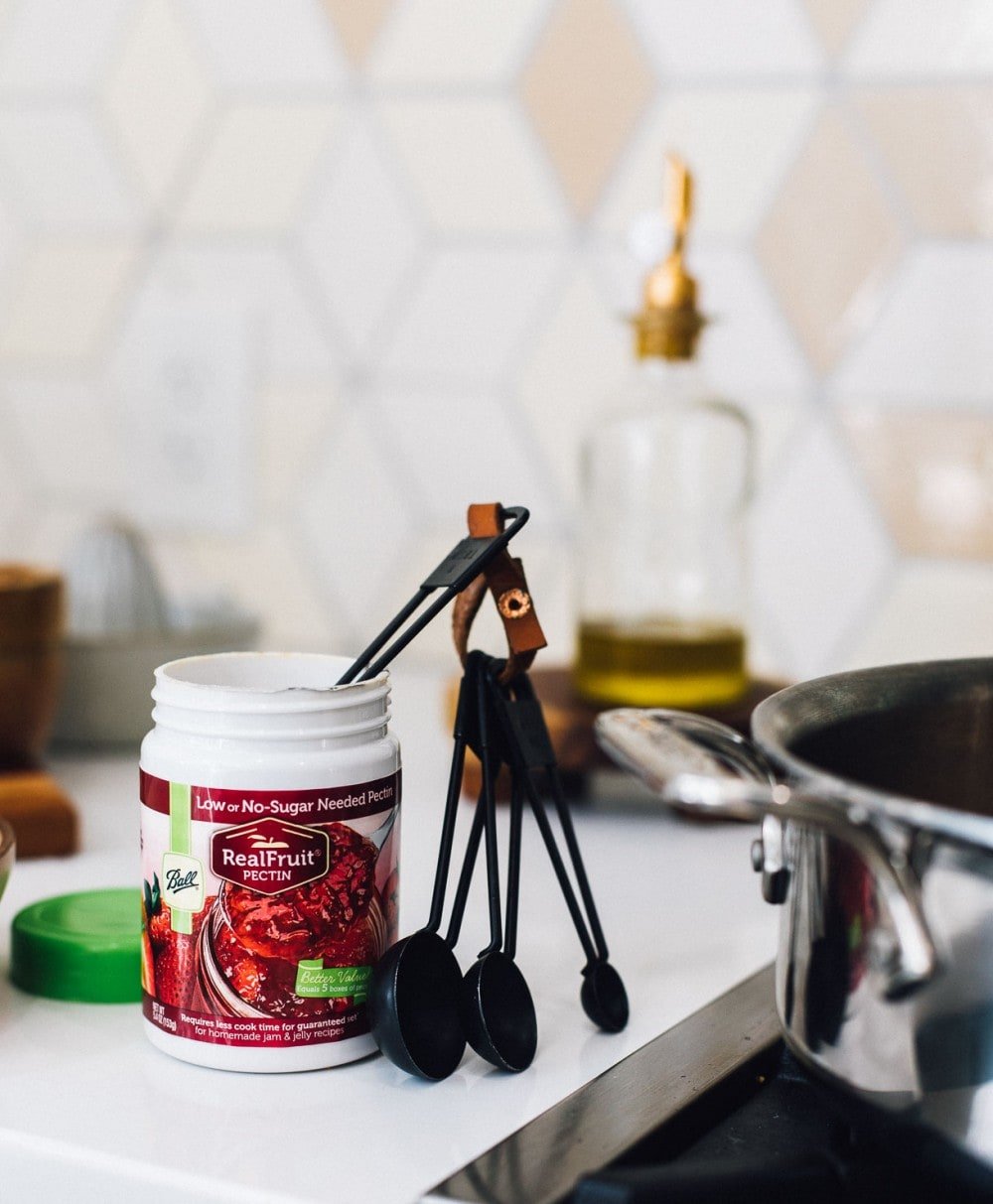 What is real fruit pectin?
Pectin is a naturally occurring liquid that comes from fruit, such as apples or citrus fruits. It is in the cells of the fruit, which is boiled are water and an acid, such as lemon juice, and then extracted. Added to a jam or jelly recipe, it becomes the natural thickening agent when mixed with sugar.
Every brand of pectin is a bit different, so, use only what is recommended per your recipe. I've used Ball® RealFruit™; Low or No-Sugar Needed Pectin in this Hot Pepper Jelly.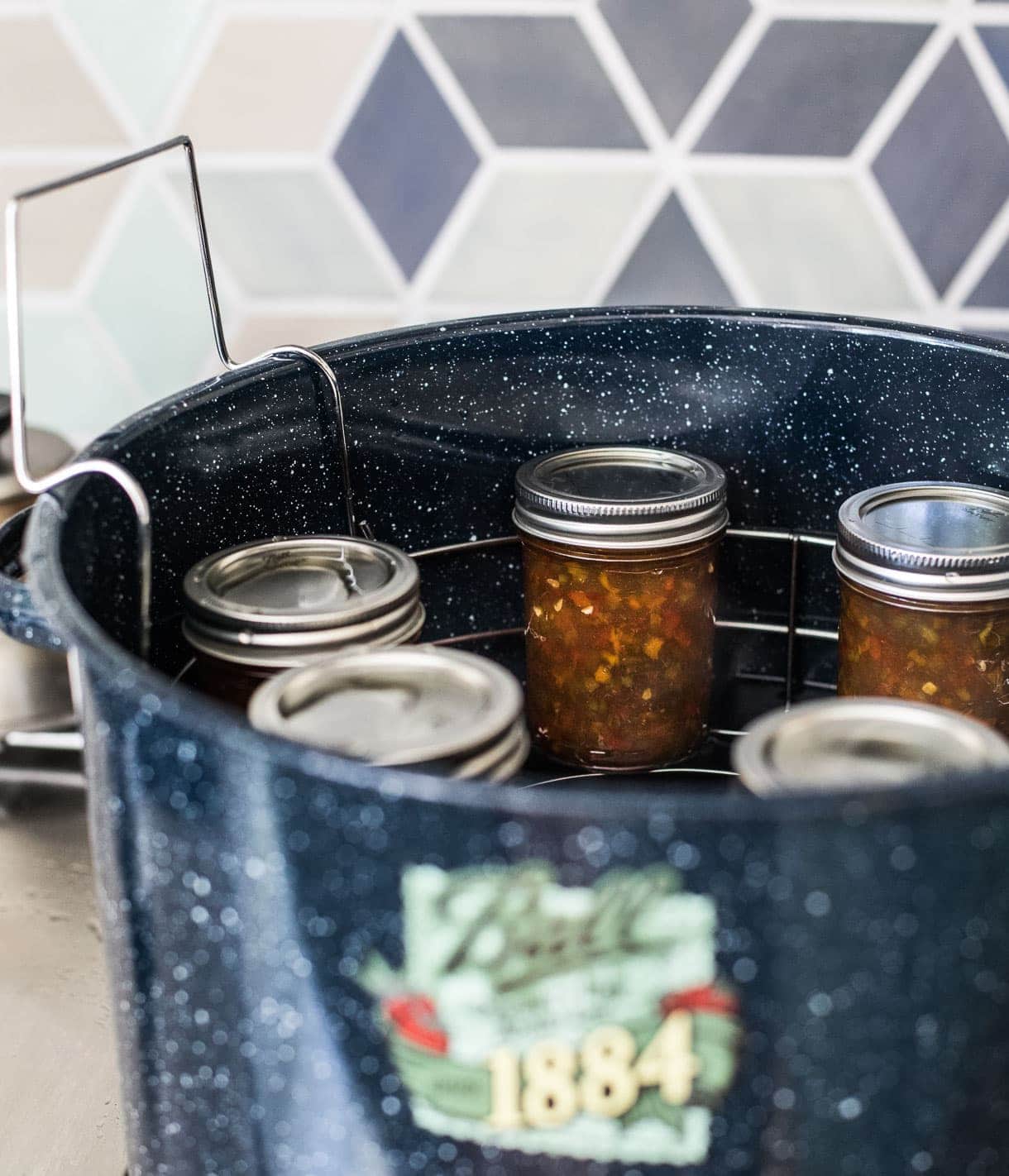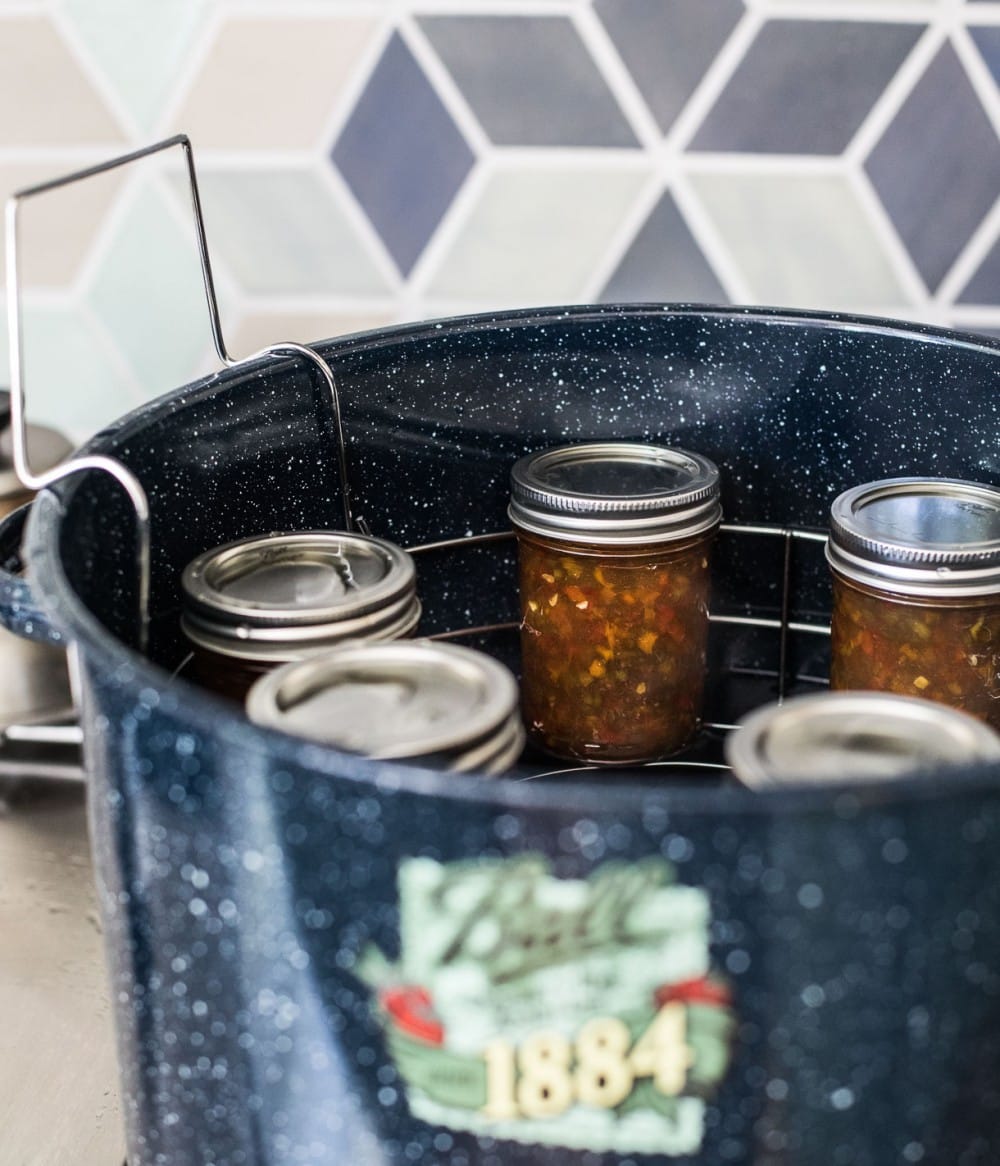 Helpful tips for making jelly:
Always use undamaged vegetables/fruits. Too much damage will spoil the result and the jelly is likely to deteriorate quickly.
'Hard boil' means it's boiling so hard you can't stir it down. Keep stirring. If the boil goes away, it's not boiling hard enough. When it boils even with you stirring, it's a hard boil.
Add the sugar only after the Ball® pectin has been activated by the 1 minute hard boil.
Skim any foam that rises to the surface, only when setting point is reached.
Storage:
Keep your finished jars of jelly in a cool, dark spot.
Unopened, they will last for up to 16 months if stored properly.
Opened, they will last in the refrigerator for 3 months.
More Ways to Use Hot Pepper Jelly: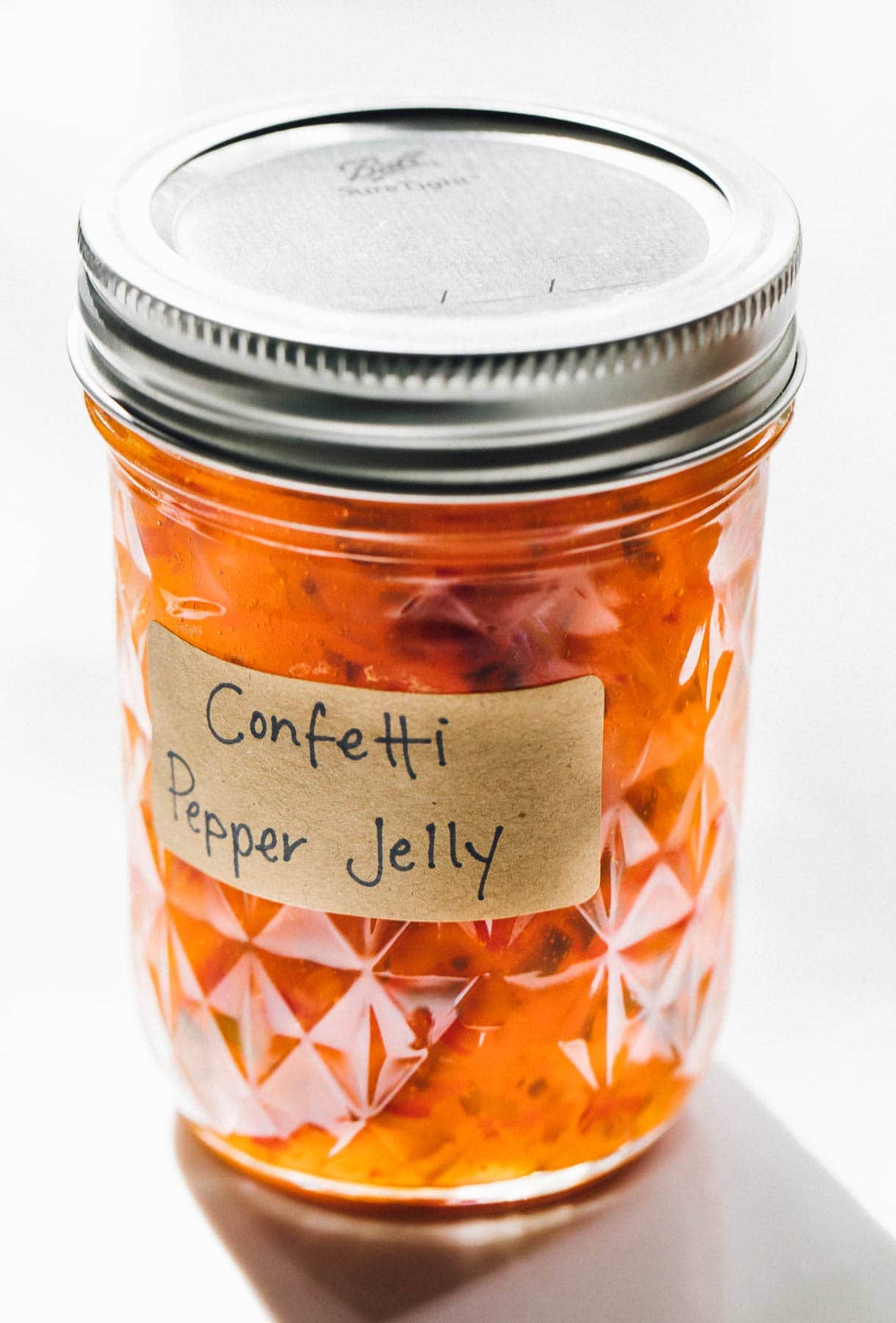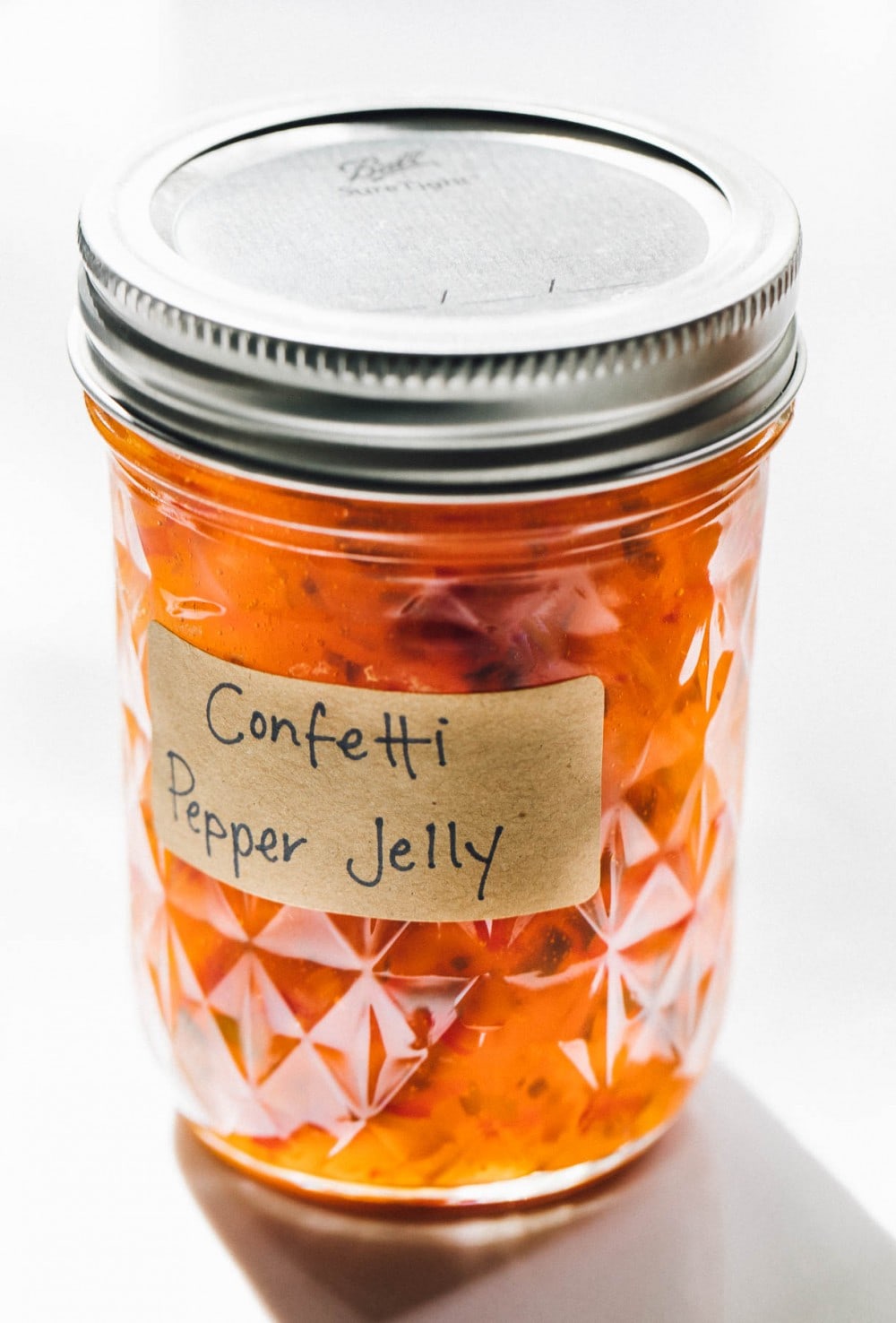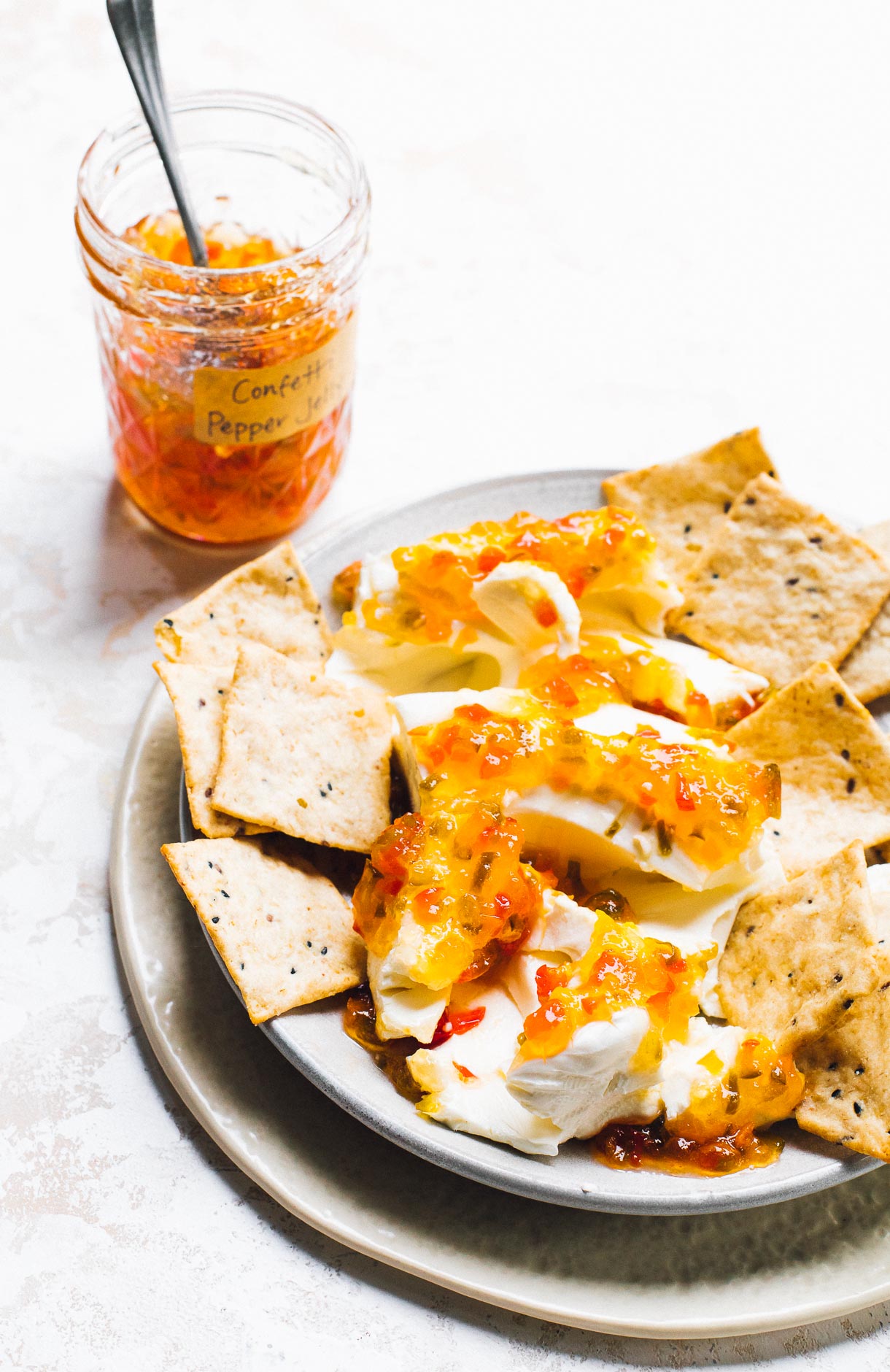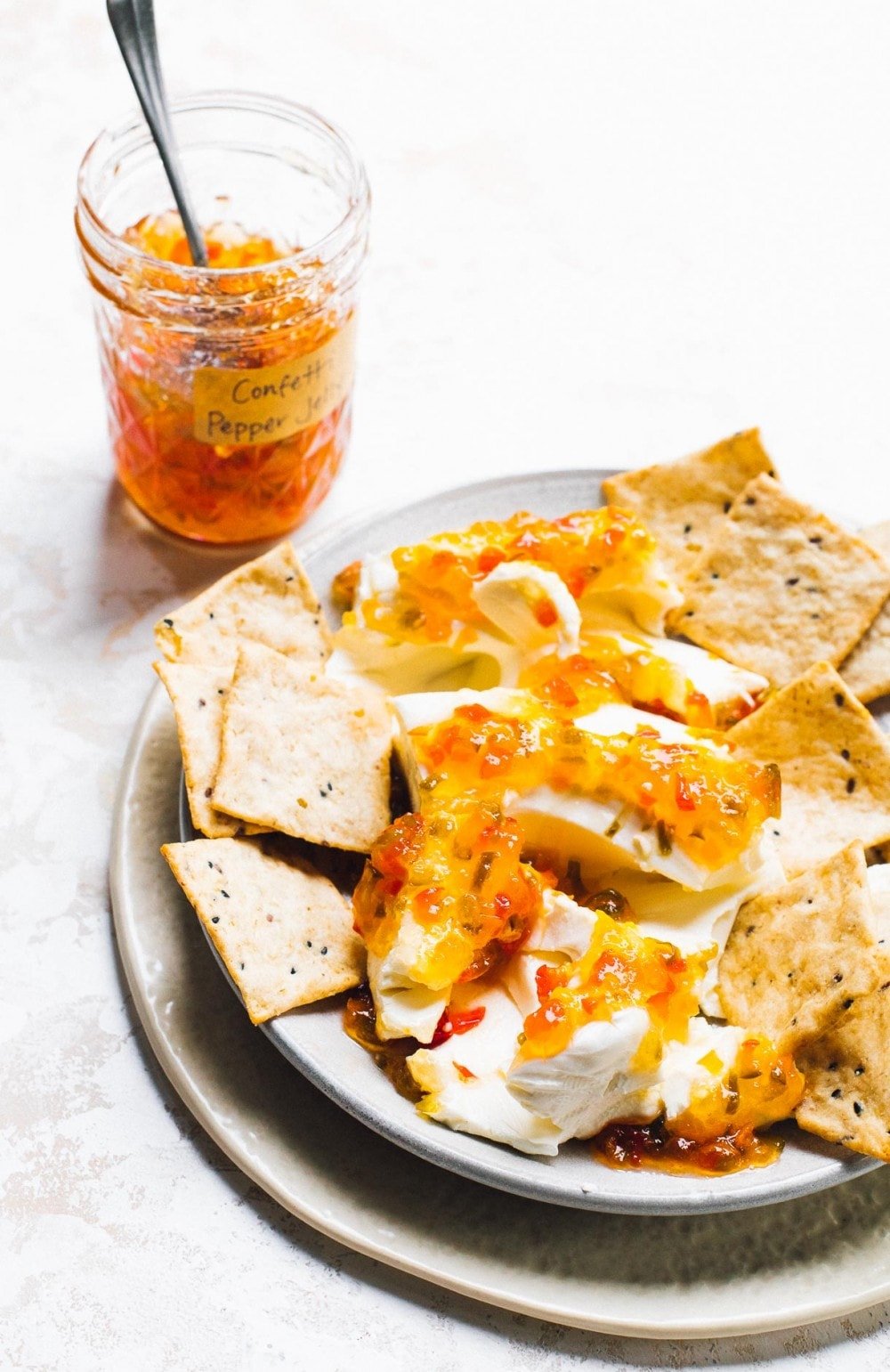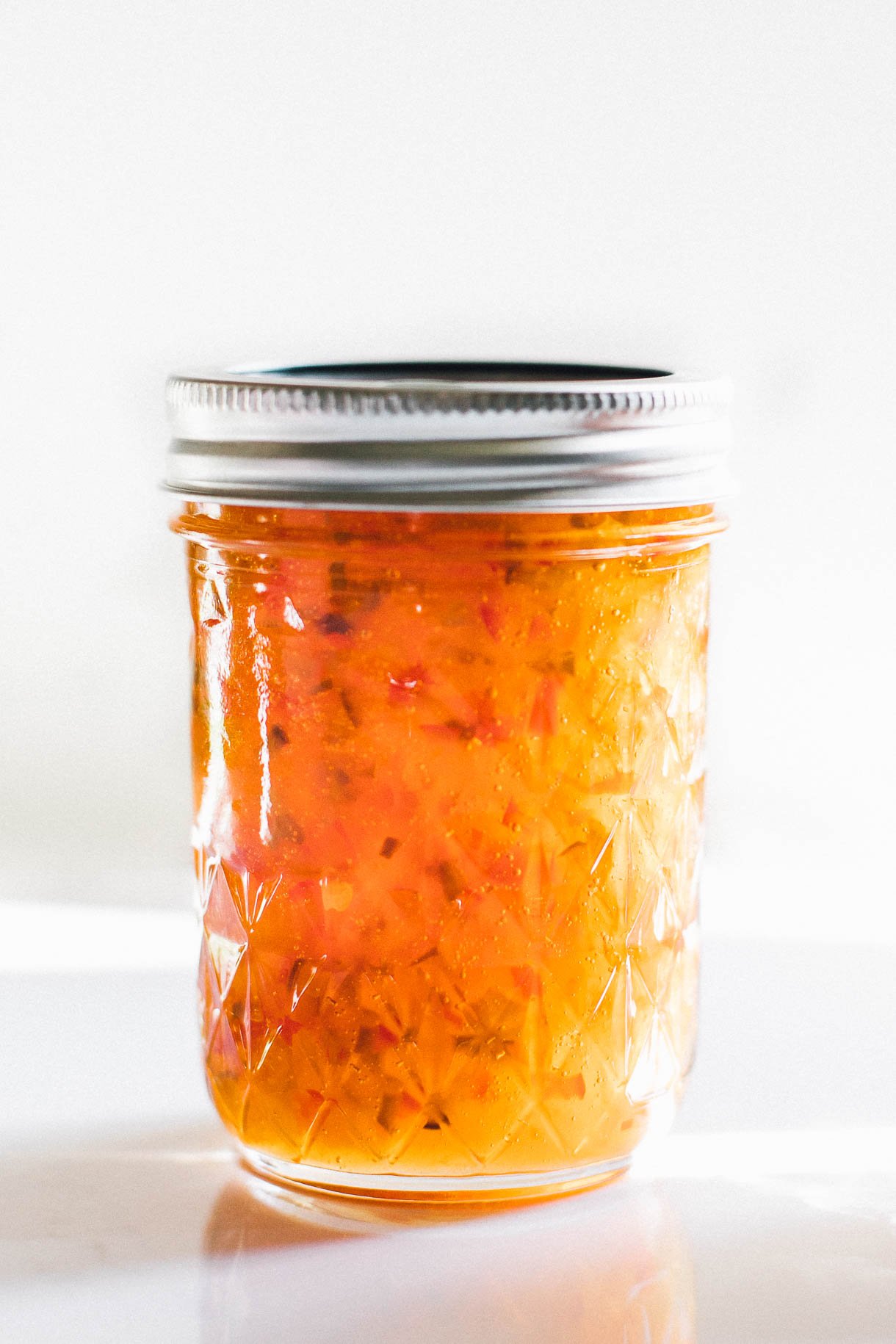 Yield:
5
to 6 half pint jars
4

cups

finely chopped green,

red, or yellow bell peppers. I like to use a combination.

1

cup

finely chopped jalapeño pepper

1 1/4

cups

apple cider vinegar

2

cups

organic sugar

1

cup

honey

1/2

teaspoon

fine sea salt
Prepare boiling water canner. Heat half pint jars in simmering water until ready for use. Do not boil. Wash lids in warm soapy water and set bands aside.

Combine bell peppers, jalapeño peppers and vinegar in a large saucepan. Gradually stir in pectin. Bring mixture to a full rolling boil that cannot be stirred down over high heat, stirring constantly, for at least 1 minutes.

Add sugar and honey. Return mixture to a full rolling boil. Boil HARD for 3 minutes, stirring constantly. Remove from heat. Stir in salt. Skim foam off top if necessary.

Ladle hot jelly into hot jars, leaving ¼ headspace. Wipe rim and center lid on jar. Screw band on until fingertip-tight. Place jar in boiling water canner. Repeat until all jars are filled.

Process jars for 10 minutes, adjusting for altitude. Turn off heat; remove canner lid and let jars stand in water for 5 minutes. Remove jars and cool. Check seal after 24 hours. Lid should not flex up and down when center is pressed.