Have you hopped on the chicken thigh bandwagon yet? If not, I think this easy recipe might be your one way ticket, no looking back. Like many, I grew up a child of the late 80's, where fat was considered the devil and Jane Fonda was every woman's 6:00 am pal. A typical "healthy" dinner consisted of baked chicken breasts with steamed vegetables and a sprinkle of reduced-calorie cheese, a glass of raspberry Crystal Light to wash it down. Oof.
Thank goodness we've taken back the roots of cooking AND embraced techniques and ingredients that let real food shine.
These Sticky Apricot Basil Chicken Thighs are a testament to both.
How to Make Crispy Chicken Thighs
I'll be honest, chicken thighs seemed a little intimidating before I made them the first time. With skin-on and bone-in, how exactly do I do this? With help from Bon Appetit and my cast iron skillet, juicy chicken with salty, crispy skin was just 20 minutes away.
The most important piece is starting with a smoking hot pan and searing them skin side down to render out the fat, and give the thighs something to "fry" in. Think about it – this is why you love bacon.
And don't forget to let those babies rest, just like you would with steak. This holds in all the flavor and lets the salt permeate into the meat.
I could have served the finger lickin' good thighs just like that, but another little trick is making a quick sauce from whatever jam or preserves you have.
I've learned that fruit brightens and balances meat really well, working harmoniously together.Ever notice why good restaurant meals are never heavy in one taste and lacking in another?
With little effort thanks to apricot preserves from Cascadian Farm Organic, this basil infused glaze brought this meal from really good to "kick the table" delicious. A quick simmer with minced shallots, white wine vinegar and a little dijon mustard is all it takes.
And if apricot isn't your favorite, this hot pepper jelly would be an excellent substitution!
Smothered on the crispy chicken after it comes off the pan, a sticky texture with a sweet & savory twist emerges.
I served the chicken with roasted purple cabbage wedges, which I've been loving, and I think they almost need their post.
But for a quick method, just cut the core out of the cabbage, slice 1/2 inch thick slices, then coat both sides with olive oil and salt. Roast at 410 degrees F for 30 minutes!
More Chicken Recipes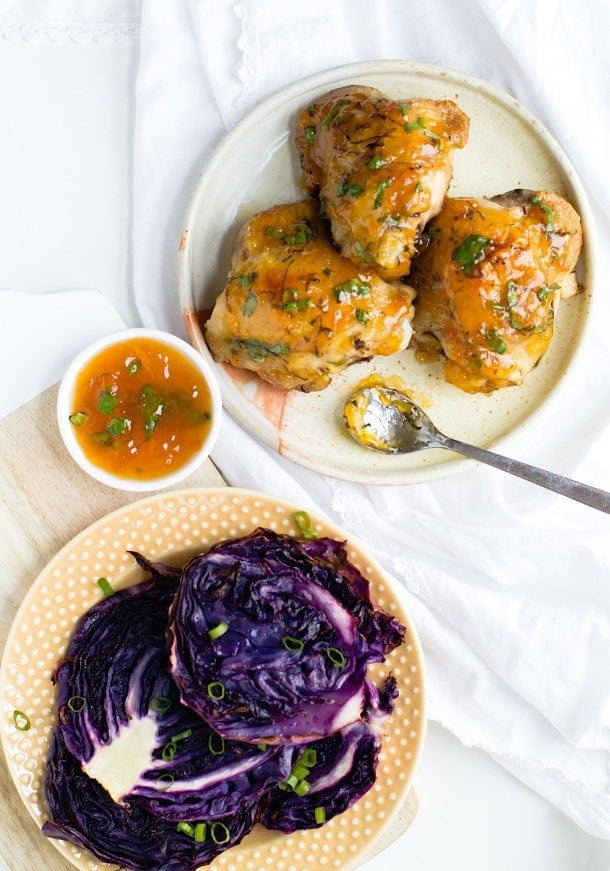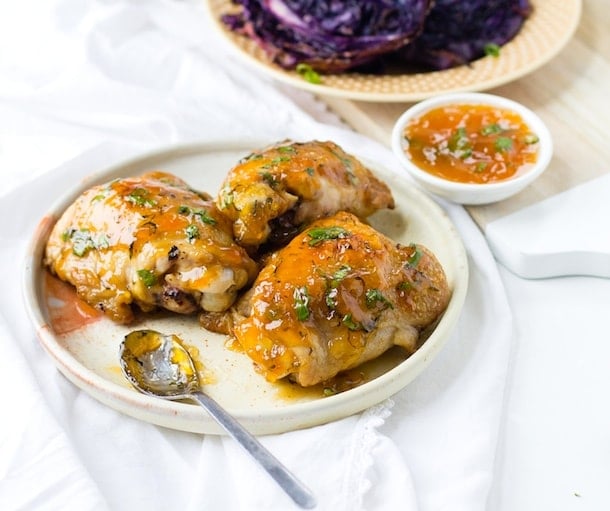 1 1/4

pounds

bone-in & skin-on chicken thighs

this was 3 chicken thighs for me

2

tablespoons

olive oil

divided

2 1/2

teaspoons

kosher salt
Rub chicken thighs with 1 tablespoons olive oil and salt, then let sit while you prepare the sauce so that they come close to room temperature.

For sauce, heat olive oil to medium high heat in a small saucepan. Add shallot and salt, cooking for 3-4 minutes until translucent. Stir in mustard, vinegar and preserves. Lightly simmer for 5-6 minutes, until slightly thickened. Stir in basil and turn off heat.

Preheat oven to 400 degrees. Bring remaining 1 tablespoon olive oil to medium high heat in a 12 inch cast-iron skillet. Wait until very hot, then add chicken thighs skin side down. Cook for 3 minutes, then turn heat down to medium and continue to cook for 8 more minutes so that it can "fry" in it's own fat, until skin is golden brown. Flip and cook for 10 minutes.

Transfer skillet to oven and cook for 8-10 minutes longer, until meat is cooked through and juices run clear. Transfer to a plate, smother with glaze, and let rest for 5 minutes before serving.