A fudgy and delicious AIP Paleo Carob Cake that tastes like chocolate. The cake is very moist and full of great flavor. Topped with an incredible date caramel frosting!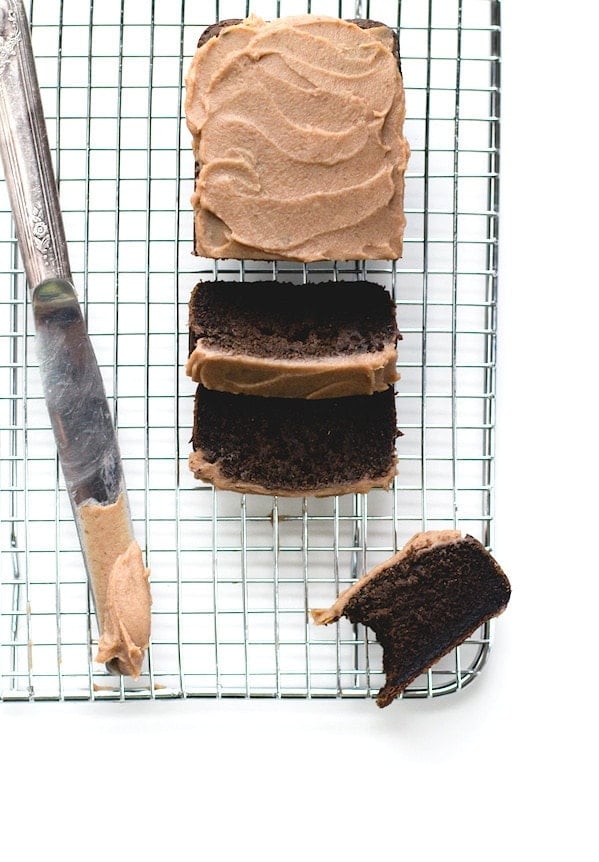 There's no doubt about it. I miss chocolate. I've never been one who fights over the last piece of rich, caramel praline cheesecake, but rather craves the sweet treats that go well with coffee. Those that can stand in for breakfast or dessert, like this Carob Cake with Date Caramel Spread.
This AIP Carrot Cake also satisfies my sweet tooth!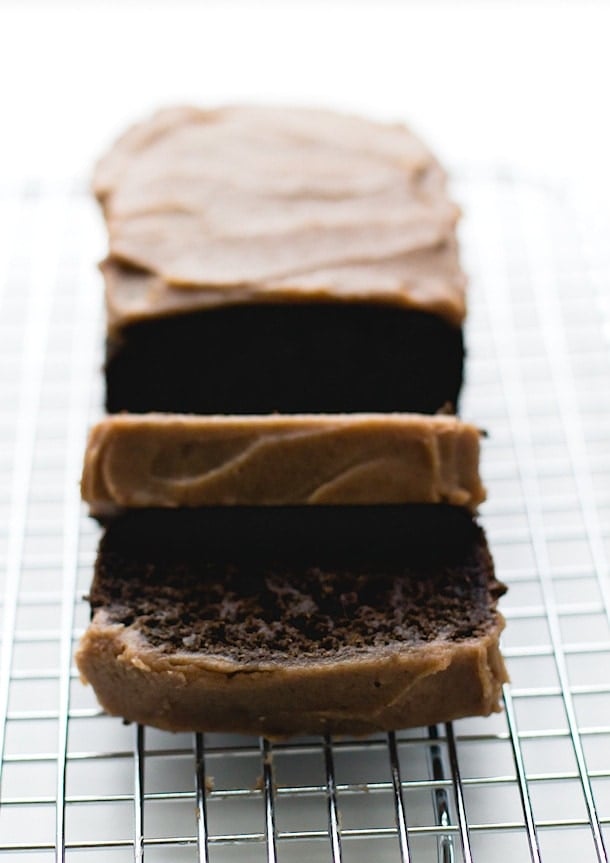 This soft and moist "Chocolate" Carob Bread comes with 3 new to me ingredients – carob, cassava flour (which is grain-free, nut-free), and collagen/gelatin as an egg replacement.
What does carob taste like?
When I opened the bag of carob powder, the lush cocoa smell that escaped was incredible. It's made from the long bean-like pods of the carob tree, a flowering evergreen shrub.
As I tasted it, flavors of an americano blended with dark chocolate bar came to the surface. I found it naturally sweet, and I was confident it was going to replace cocoa in the best of ways.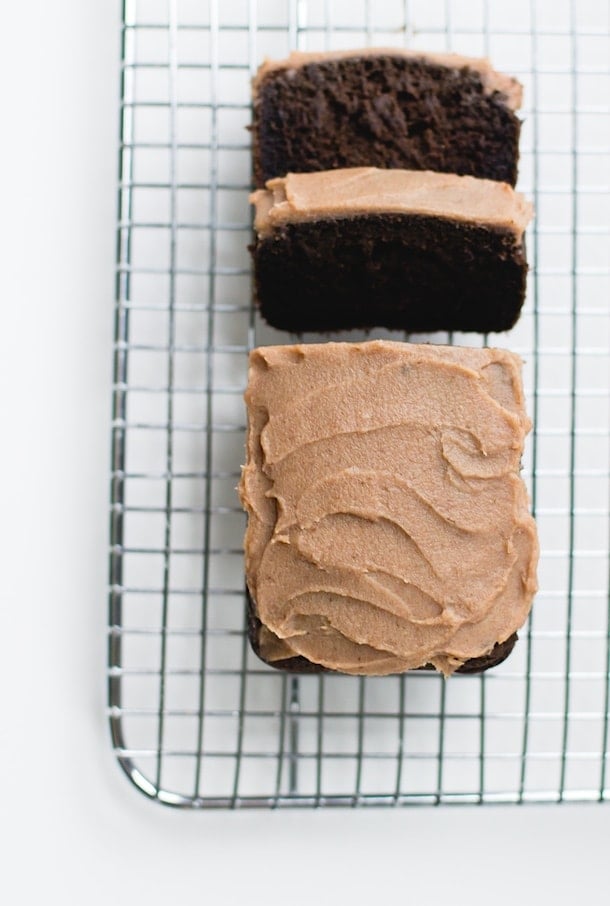 Baking with Cassava Flour
The smooth and moist texture of this cake is thanks to Otto's Cassava Flour (a root vegetable also known as yuca), the hottest grain-free flour hitting the streets. The entire root is dried and ground, minus the peel.
There's no grittiness to it compared to tigernut flour, which I find to be sandy on its own. It's equal to butternut squash and sweet potato flour in silkiness, but has little flavor, making it very versatile for both sweet & savory recipes.
Using Collagen as an Egg Replacement
In terms of mimicking the binding power of eggs, collagen/gelatin has worked wonders for me. It helps hold the bread together, the result being thick and fudgy slices, no crumbles to speak of.
Collagen has gotten a lot of press lately in health magazines because of its natural presence in bone broth, but if you're like me prior to a few months ago, you're probably thinking what is collagen? And why should I be using it?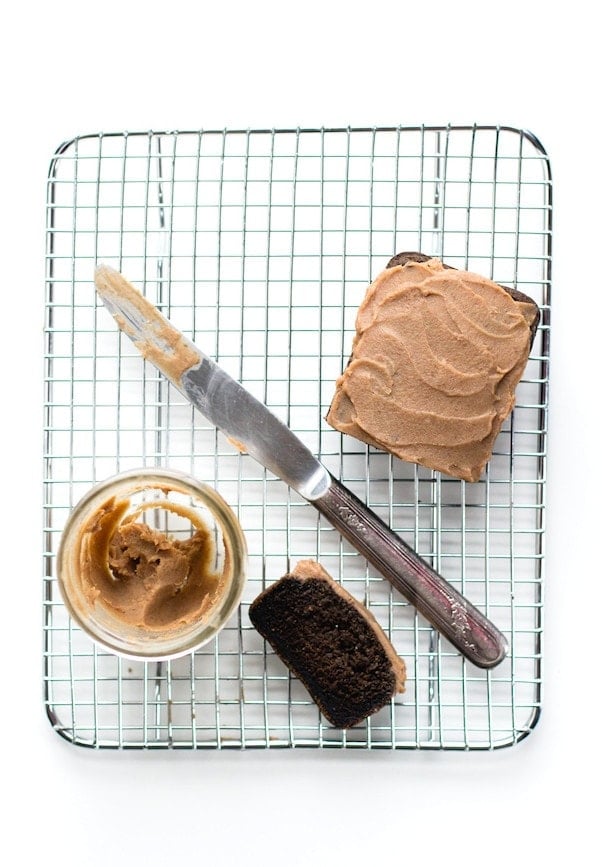 What is collagen and what are its benefits?
Collagen is the connective tissue in animals, and when we use it as a food source, it is referred to as gelatin. I use Vital Proteins because it comes only from grassfed, pasture raised bovine and I find it dissolves better than this brand. Collagen is an especially important part of keeping our bodies healthy for the following reasons:
It assists the liver in handling toxins such as chemicals and other pollutants.
Collagen makes up 70% of our skin's protein. It ensures the cohesion, elasticity and regeneration of our biggest organ.
Can result in improved concentration and balanced mood, because you are able to easily absorb the energy and nutrients it provides.
Bones with sufficient collagen are like steel, strong and elastic. Bones lacking in collagen are like dry, brittle wood – easily breakable. As women, utilizing collagen and doing weight bearing exercise is great prevention.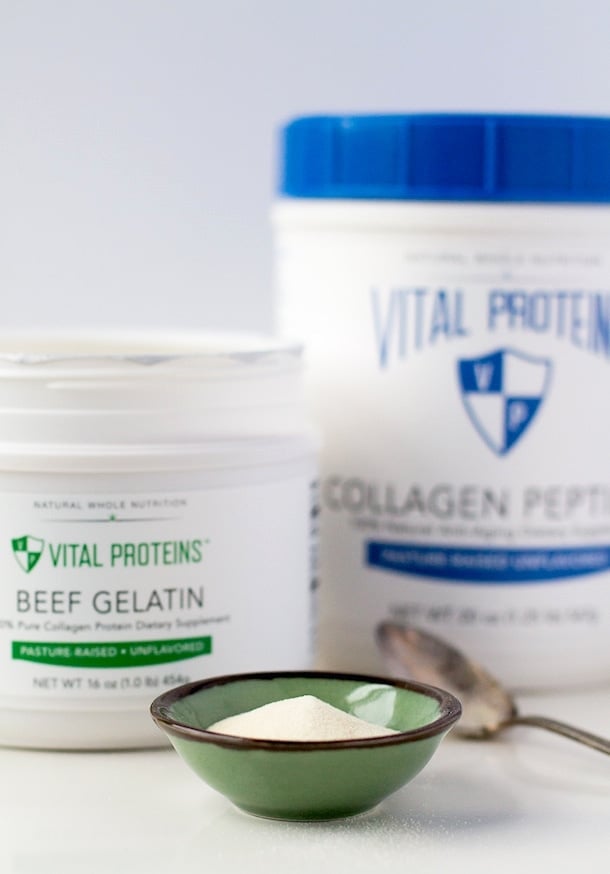 Collagen comes in two forms:
Protein: this is what I used for this recipe – the

green canister

. It acts like the gelatin you've probably been using for years when you make panna cotta or marshmallows. The important difference is that this comes from pasture-raised cattle to ensure a natural, high quality, and sustainable source of this nutritional powerhouse. It also works great for thickening sauces, acting like cornstarch or tapioca starch.
This type does not dissolve in cold liquids, and will immediately turn to gel once it becomes wet.
Peptides: this is the blue canister, still collagen/gelatin, but acts like a supplement and is water soluble. It has the same proteins and minerals of the above, but will dissolve in both hot & cold liquids. I like to blend it into smoothies, soups, tea or sauces for a boost of protein.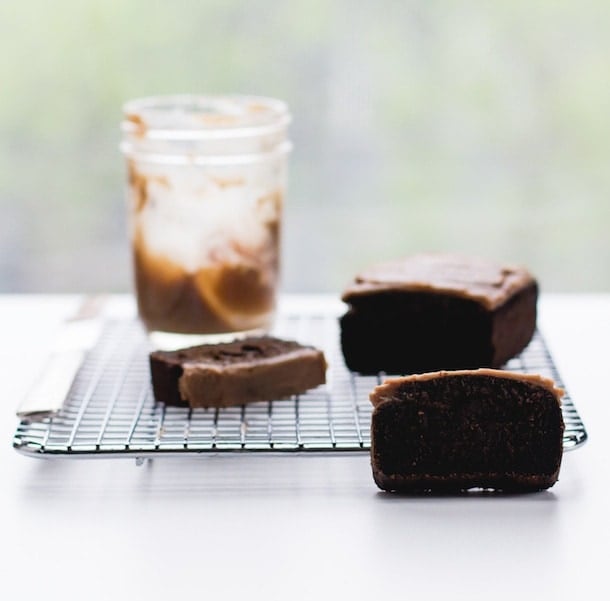 More Paleo/AIP Recipes: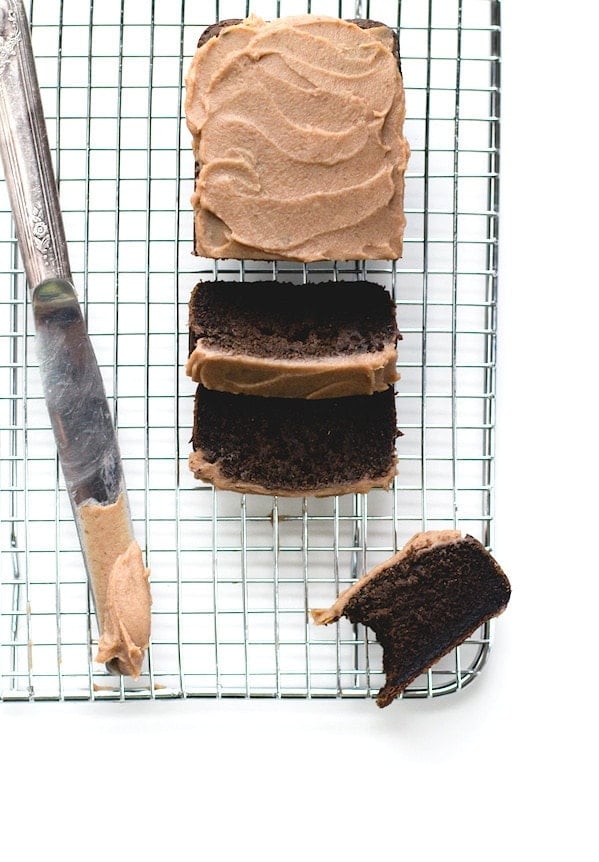 140

grams

(1 cup) Otto's cassava flour

60

grams

(1/2 cup) tapioca starch

52

grams

carob powder

1/2 cup

1 1/4

teaspoons

baking soda

1/4

teaspoon

salt

1/2

teaspoon

cinnamon

3/4

cup

full fat coconut milk

(I buy this kind which is BPA & gum/preservative free)

1 1/2

teaspoons

apple cider vinegar

1/4

cup

melted organic coconut oil

1/4

cup

+ 3 tablespoons pure maple syrup

at room temperature

1

gelatin egg

instructions below using the green can of Vital Proteins collagen/gelatin
Date Caramel Frosting
1

cup

of soft & pitted medjool dates

(110 grams), if your yours are hard, soak for 20 minutes in hot water, then drain and use

1

cup

of full fat coconut milk

pinch

of salt
Preheat oven to 325 degrees F. Grease two mini loaf pans or cupcake tins thoroughly with coconut oil. In a large bowl, mix together cassava flour, tapioca starch, carob powder, baking soda, salt and cinnamon. In another bowl, mix together coconut milk, apple cider vinegar, coconut oil and maple syrup. Using a hand held or stand mixer, add the wet ingredients to the dry until smooth. Batter will be very thick!

*Prepare gelatin egg by adding one tablespoon of room temperature water to a small bowl. Sprinkle 1 tablespoon of gelatin over water and let sit for a minute. Then stir in two tablespoons of hot water, whisking until frothy. Add to bread mixture, blending immediately until smooth. It will be very thick.

Divide into loaf pans, smooth top out with your hands, and bake for 20 minutes, or until toothpick comes out clean. For cupcakes, bake for 12 minutes, or until toothpick comes out clean.

Set pans on a wire rack to cool, and after 10 minutes remove bread or cupcakes from pan and let cool further..

To make date caramel, combine all ingredients in a small saucepan. Bring to a boil, then let simmer for 35 minutes, using spatula to smoosh dates down. They will break and melt into the coconut milk as they cool.

Then puree with an immersion blender or food processor. Let cool, and it will thicken even more. Then frost the bread. Store any leftovers in the refrigerator.