*This healthy fruit salad recipe + video were created in partnership with non-gmo Opal apples. Watch for another recipe next month.
Being on-the-go quite often, I've found myself stuck in a rut of eating snack bars or tiny bags of airplane peanuts found at the bottom of my purse when on the verge of hangry. Both of those have saved me, but they lack a boost of fresh, satisfying energy.
I batch cook grains, beans, eggs, and pasture-raised meats for quick and healthy meals throughout the week, but why wasn't I doing that for snacks? So I created these Healthy Fruit Salad Recipe, in mason jars, as a make-ahead star!
You can store the jars the refrigerator for up to three days, and slide into your bag as you run out the door or put in in your little's lunchbox.
You can use any fruit you'd like, but I found a combination of pineapple, kiwi, blueberries, strawberries, and Opal apples. The best part? The fruit gets more flavorful, and juicer, the longer it sits. Yes, even the apples. THEY DON'T BROWN! And this isn't because of something strange done to them while growing. The Opal variety, naturally resist oxidation, and are the first U.S. apple to be verified by the Non-GMO Project. Distinctively crunchy, floral, and and a sweet, tangy flavor.They're in season right now (November-March), and you can find them at Trader Joe's and Whole Foods nationwide.
My two tips:
8 ounce (half pint) mason jars are the perfect size because they keep the fruit stacked nicely on top of each other without much movement, and hold just the right amount of fruit.
You'll want to build the layers in the order suggested, and tip the jars after you seal to allow the marinade to touch all the fruit. Enjoy!
video collaboration with Annie D'Souza
If you make this Healthy Fruit Salad Recipe, be sure to tag me on instagram with hashtag #heartbeetkitchen or @heartbeetkitchen!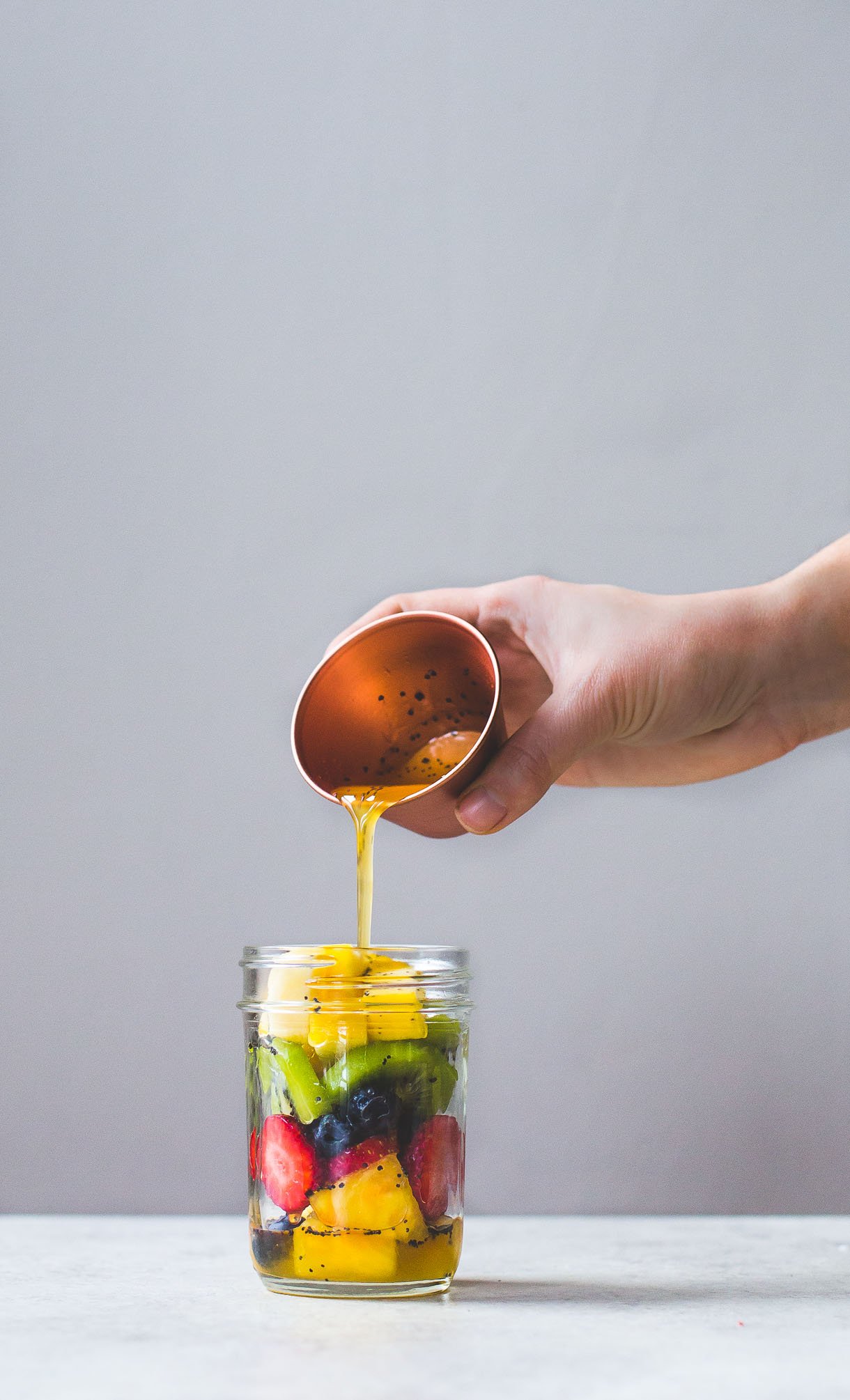 In half pint mason jars, create layers of fruit, starting with pineapple at the base, followed by the rest of the fruit in the order listed in the ingredients.

Whisk honey, lemon juice, and poppyseeds, then pour 1 1/2 to 2 tablespoons over each jar in a circular motion. Seal jars, then tip upside down so that marinade goes through all layers.

Refrigerate for 3-4 days, remove when you want to eat, and tip jar once more upside down to distribute juices.
This post contains Amazon affiliate links, which I may make a small commission if you decide to purchase.