Make homemade spelt sourdough bread with this simple recipe that includes an overnight final rise in the refrigerator, totally hands off! Spelt flour is known for it's wonderful health benefits, and it's nutty, complex flavor which makes this bread extra delicious. It's combined with bread flour to help the dough keep its shape, and rise beautifully in the oven. Naturally leavened with active sourdough starter.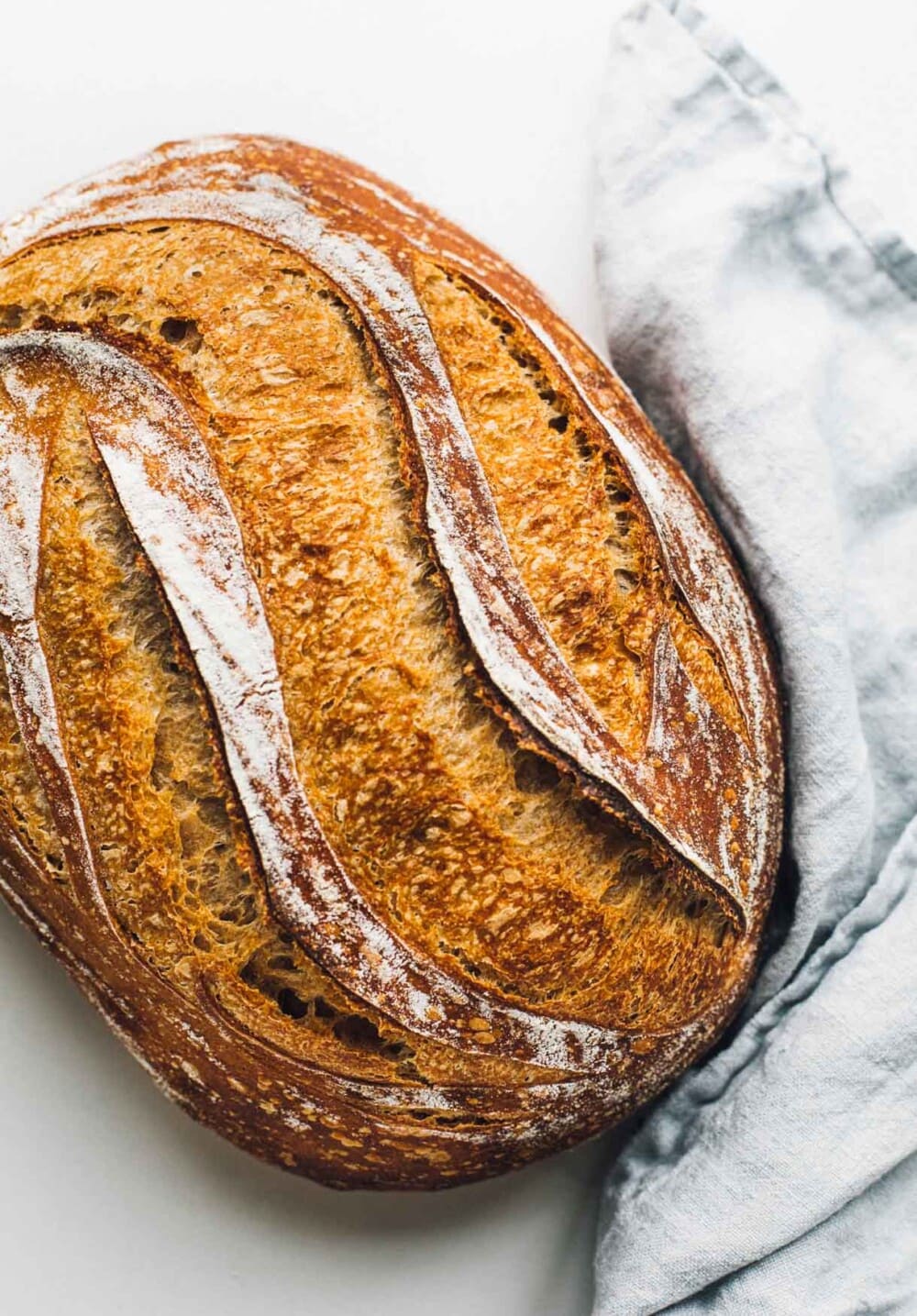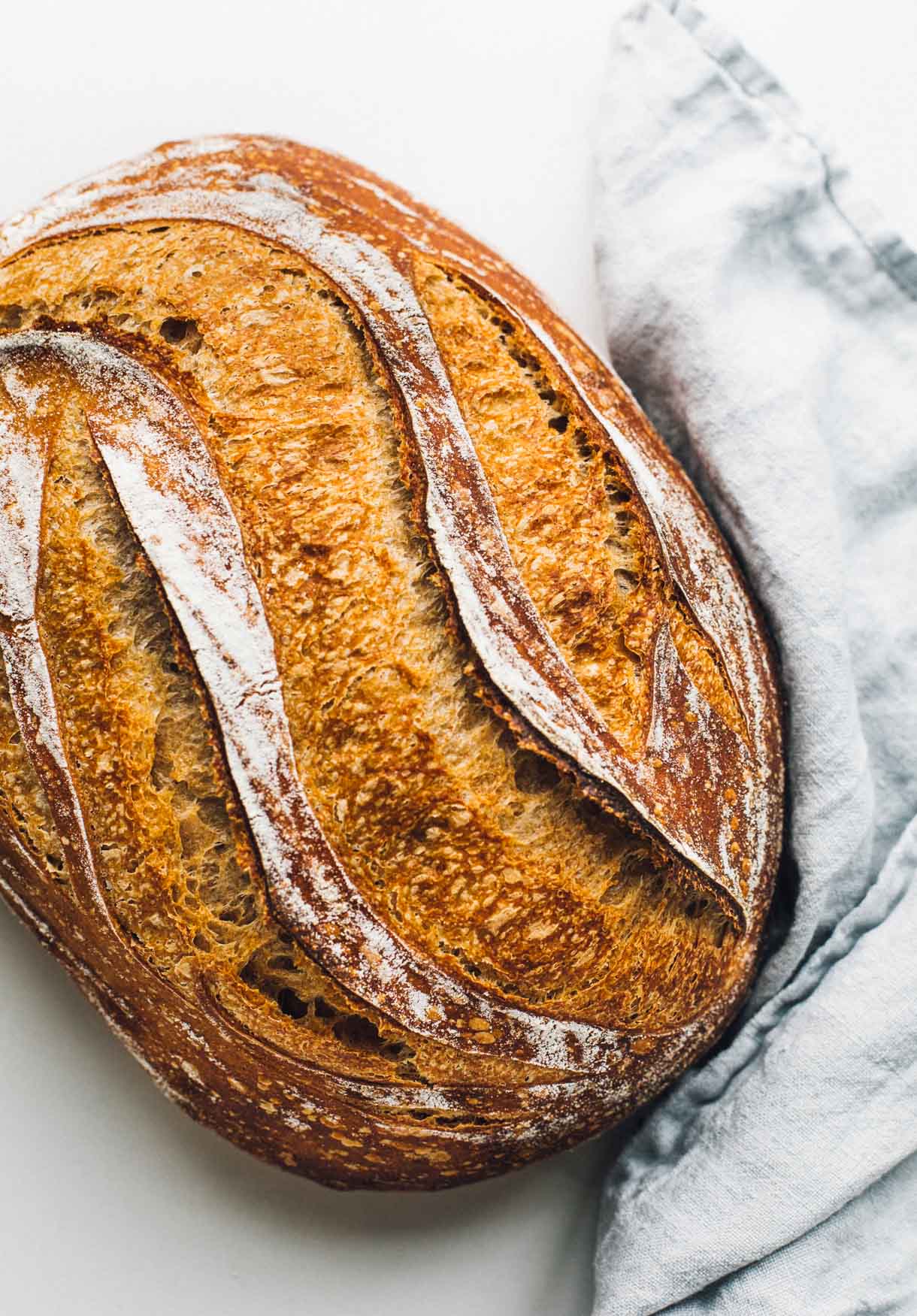 I've been working on this delicious Spelt Sourdough Bread recipe for the past month, and I can't wait for you to add this one to your sourdough baking repertoire. This loaf has a crisp, blistered crust with a soft and chewy crumb that I just love, similar to my rye sourdough. The wheat overtones throughout each bite are the flavor I dream of in a homemade loaf of bread.
Spelt is much more extensible than (the ability to stretch out before resisting or tearing) than bread flour, so I found it to be a balancing act with the amount of spelt used and hydration when incorporating into a sourdough loaf. I found that a slightly lower hydration was super helpful in making this dough easier to work and still produced a light, open crumb because of the extensibility. Using a strong bread flour is also important for ensuring the loaf holds it shape, which is why I use King Arthur's bread flour.
What is Spelt?
Spelt is a whole grain type of wheat. It's in the ancient grain category, and has structural similarities to all-purpose flour (although forms less gluten than white flour, so isn't completely interchangeable), but more flavor and body. You'll taste its delicious nuttiness and depth in bread, which pairs lovely with the tang of sourdough.
Is Spelt Sourdough Healthy?
When spelt grains are milled into flour, the outer layer, a.k.a. the bran, is left on, which is where the B vitamins, fatty acids, protein, minerals, and fiber are. So you get all of that nutrition in your bread!
And according to Wikipedia, spelt requires fewer fertilizers, so the organic farming movement is making it more popular again, as is the health food industry.
How to Make Spelt Sourdough Bread, a Baker's Schedule
9am: Feed your sourdough starter, so that it peaks over the next 4-5 hours.
around 2pm: Mix dough in a bowl. Sprinkle salt on top. Let rest (the autolyse) for 1 hour.
3pm: Use you hands to really squeeze and knead the dough for 2 minutes. Then perform your 1st of stretch and folds. Set a timer for 20 minutes, when it goes off do your 2nd set. Set a timer for 20 minutes, when it goes off do your 3rd set. Set a time for 20 minutes, do your 4th set.
Now your dough will go through it's bulk fermentation, resting on the counter for several hours, until it has almost doubled in size, but not quite.
It will likely be about 8:30 or 9pm when bulk fermentation is finished, depending on the temperature of your home (which impacts the speed at which it rises). At this point, turn out the dough on a lightly floured surface, and let rest for 20 minutes covered with a towel.
Shape your dough and put into a banneton. Put the banneton into a large plastic bag so that air does not get in, and put in the refrigerator for the overnight final rise.
Anytime between 8 and 10am the next day, bake your bread. Remove from the refrigerator once the oven has preheated, and bake!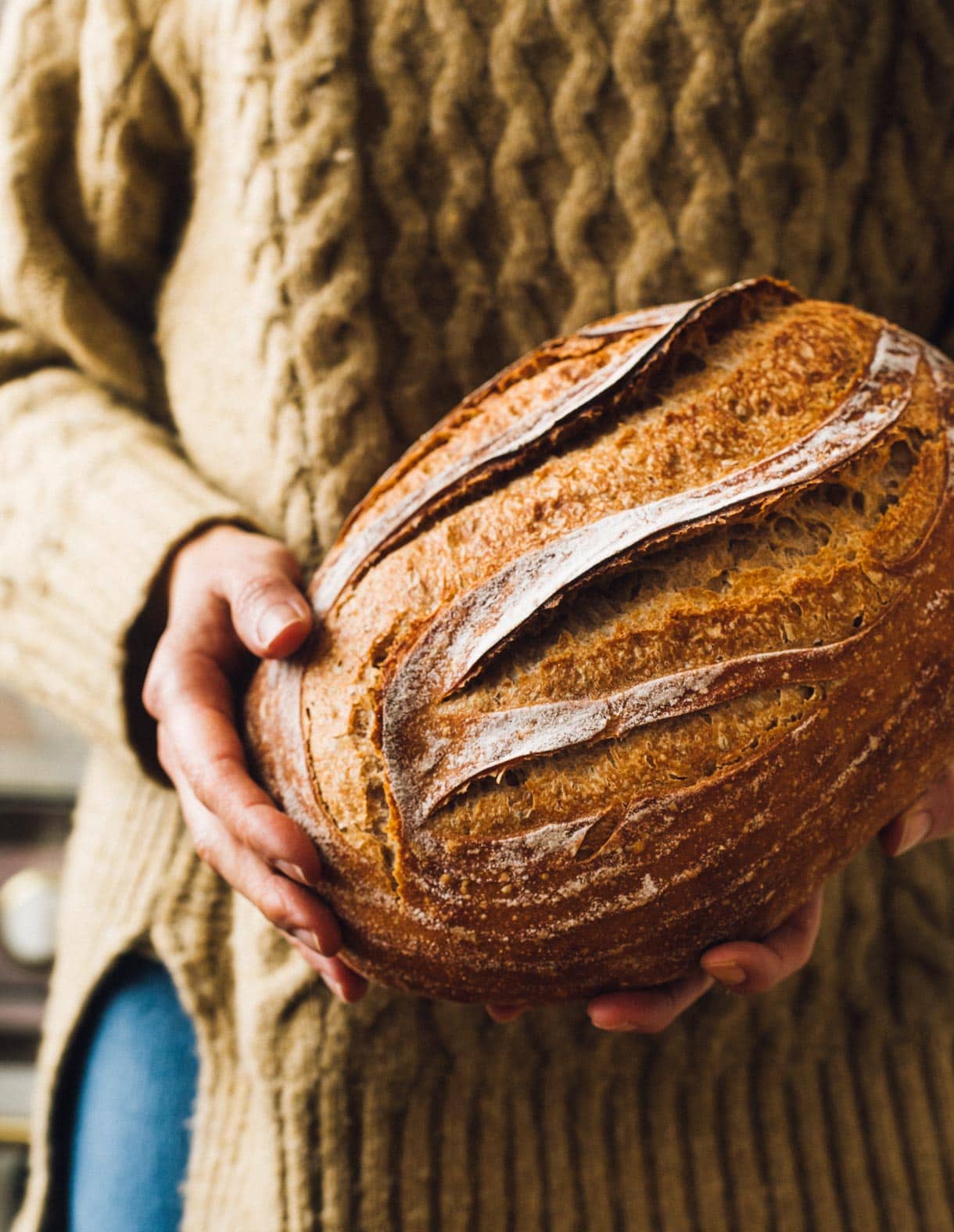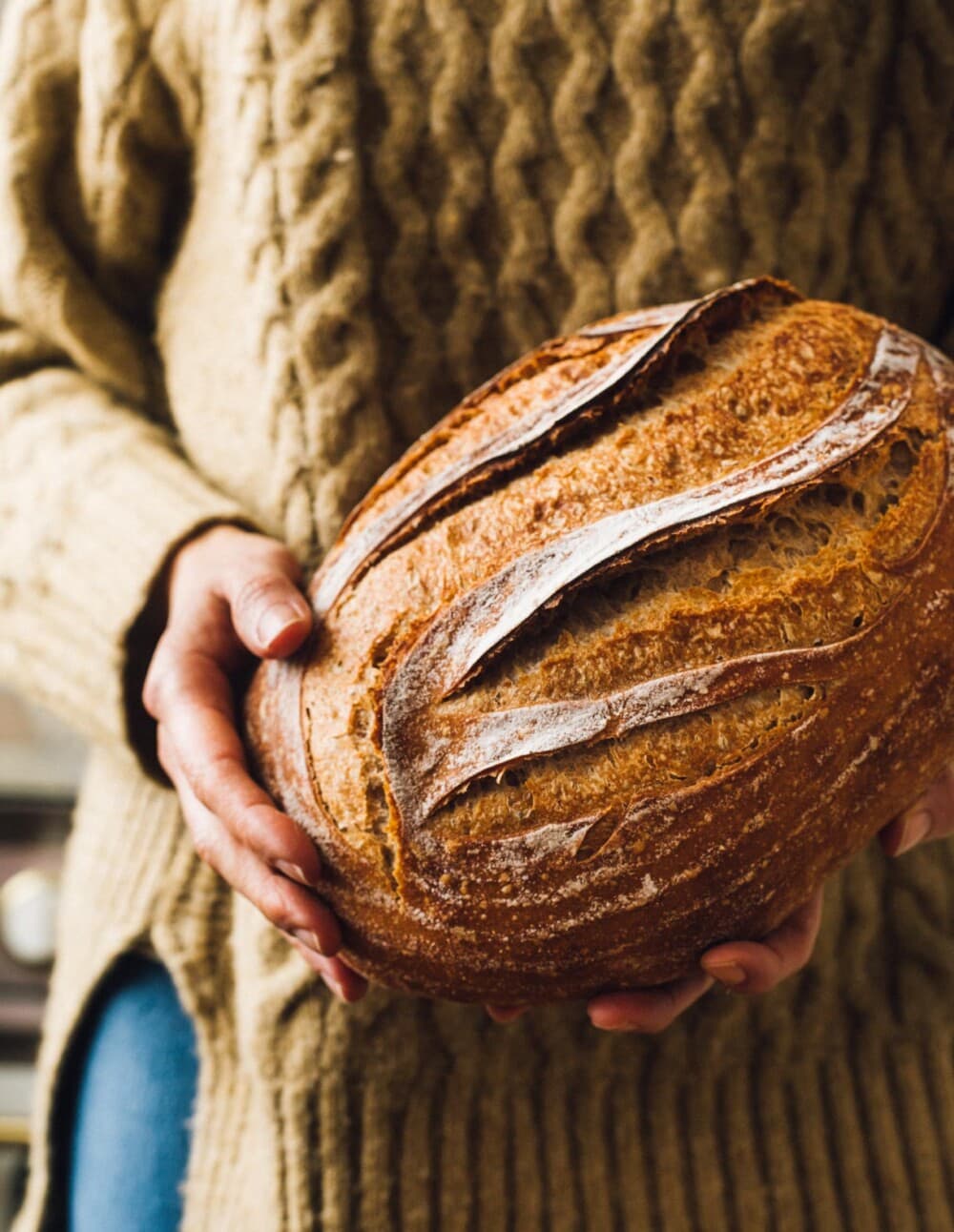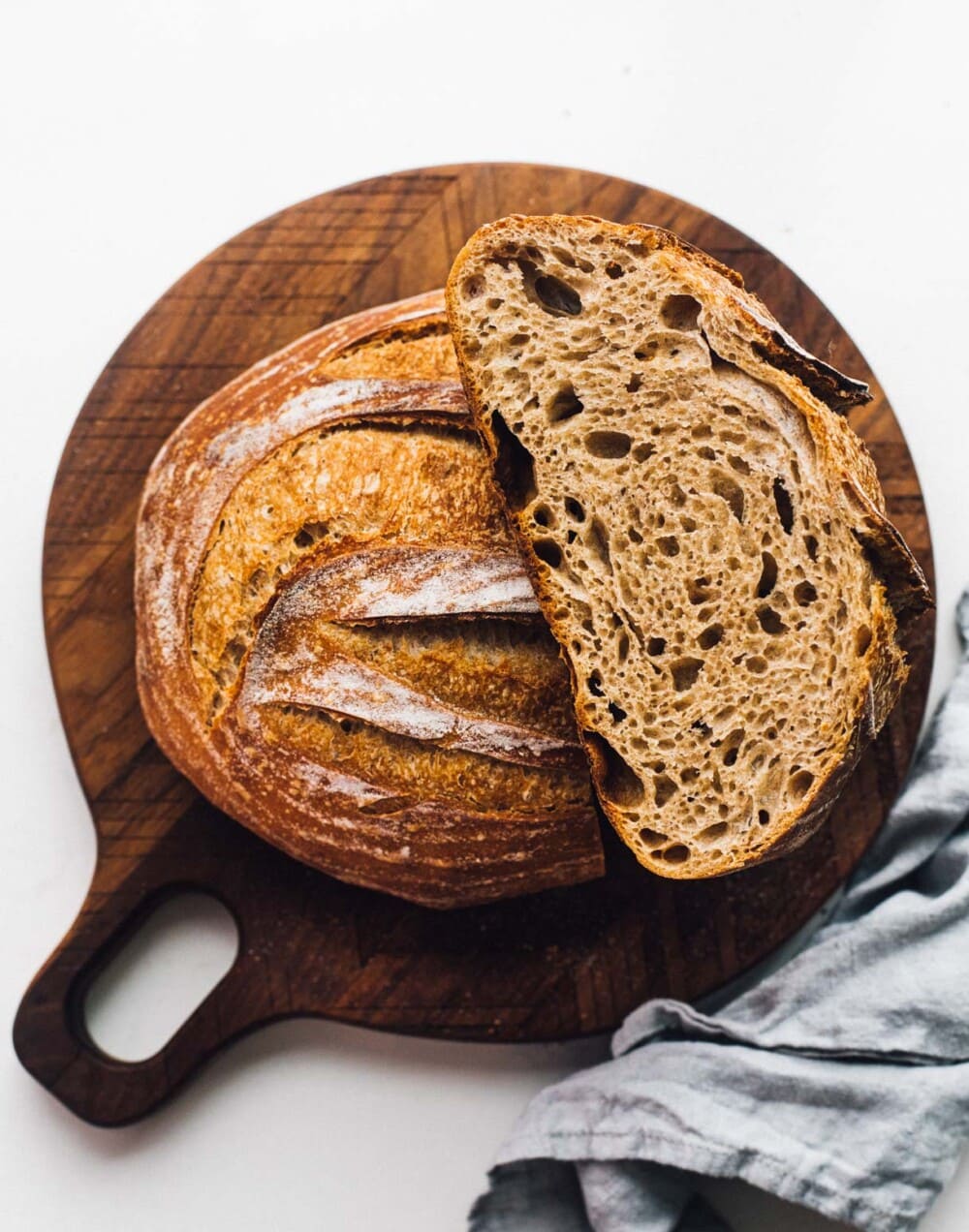 How do I know when my spelt sourdough has finished bulk fermentation?
For this recipe, your dough is done bulk fermenting when it is about a 75% increase, not yet doubled. This will give you the best results and oven spring. If it doubles or rises even further, then it will be likely to deflate because spelt does not have a strong gluten structure to hold a high rise.
At 75% growth, it will also have small bubbles throughout the dough that you'll be able to see. You'll want to use a high-sided bucket for proofing, which makes it very easy to gauge the growth of the dough.
Using an inexpensive, tall-sided bucket significantly improved my sourdough baking because the dough doesn't spread out like it does in a bowl, which makes it very hard to tell how much it has risen.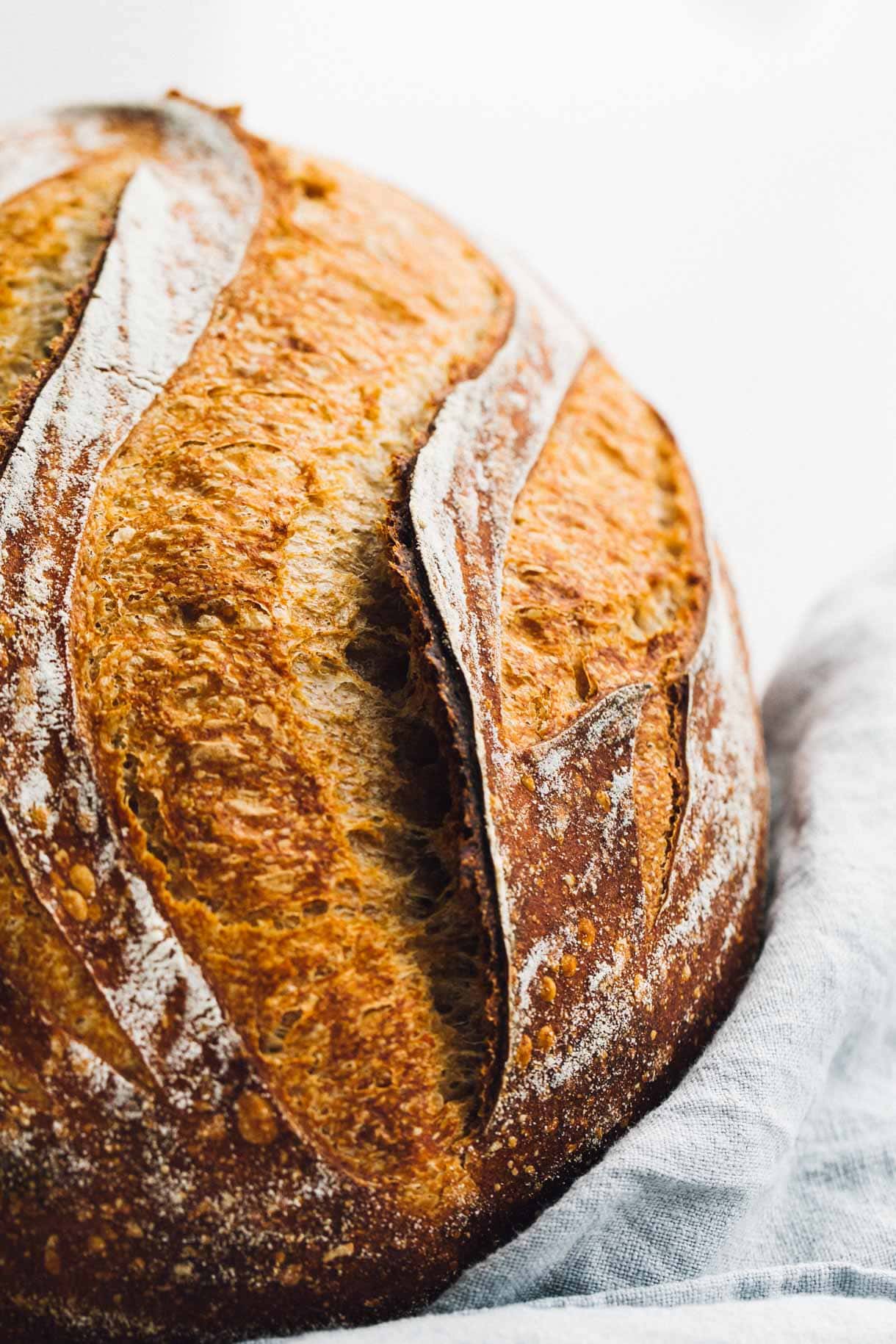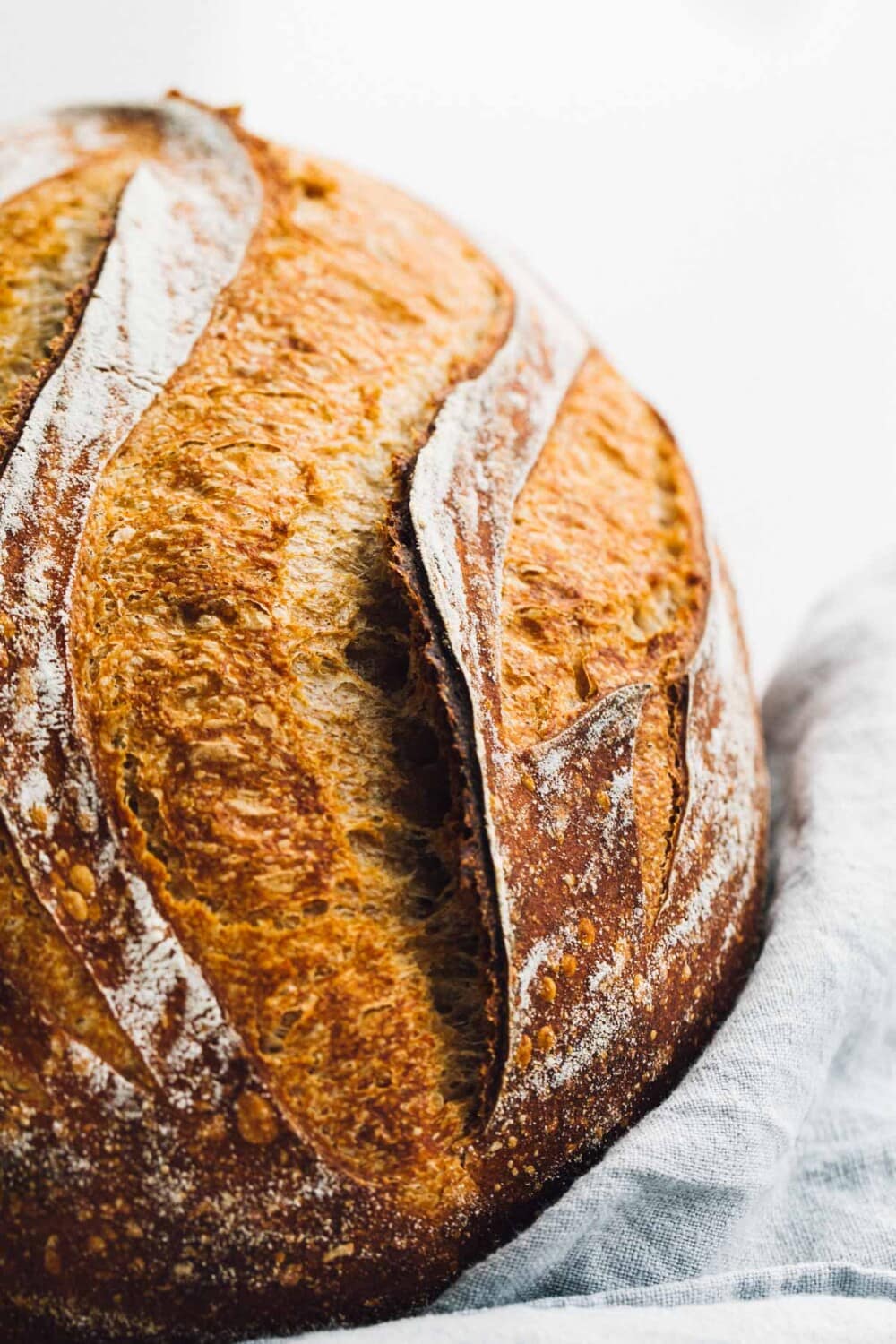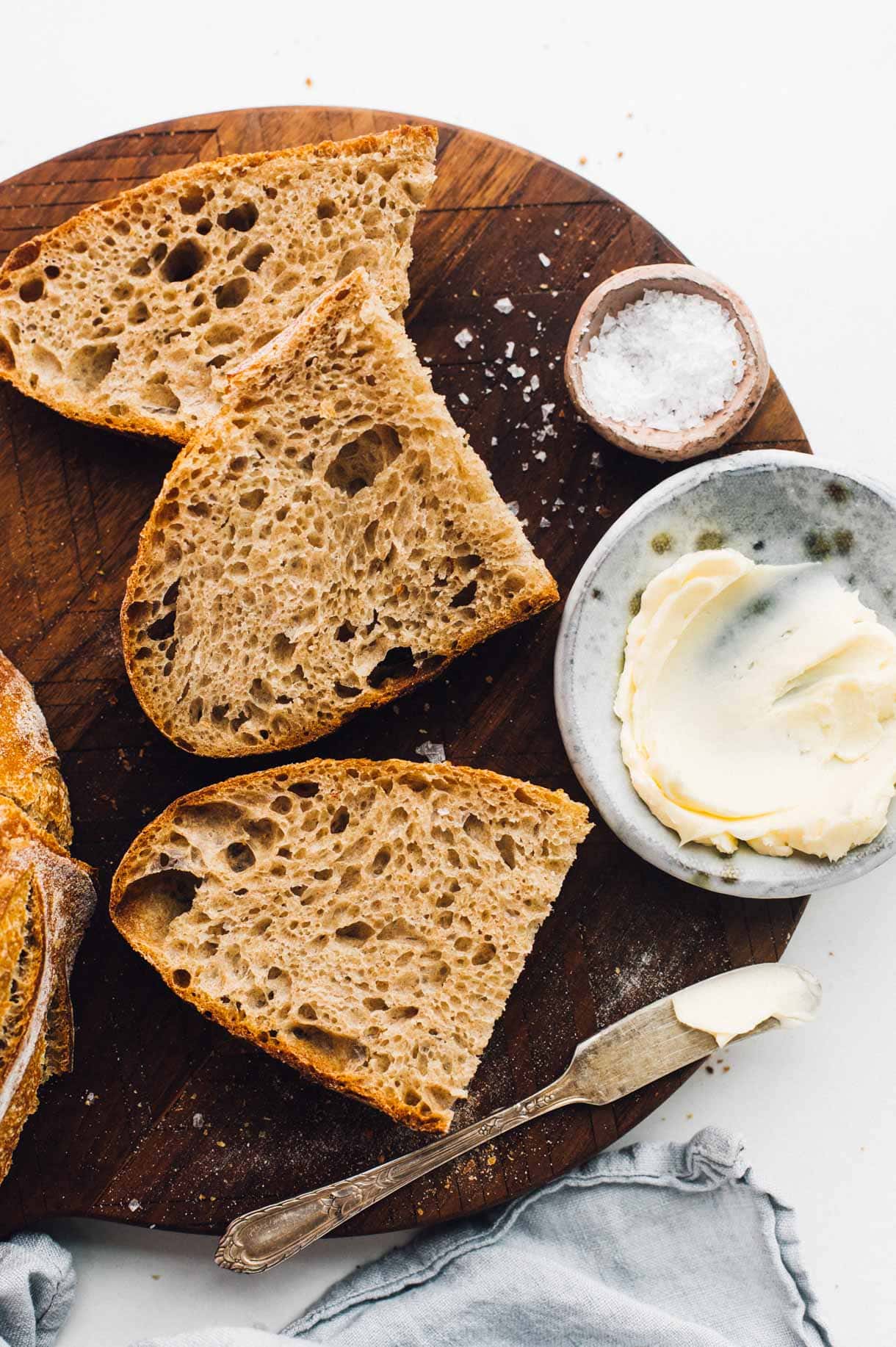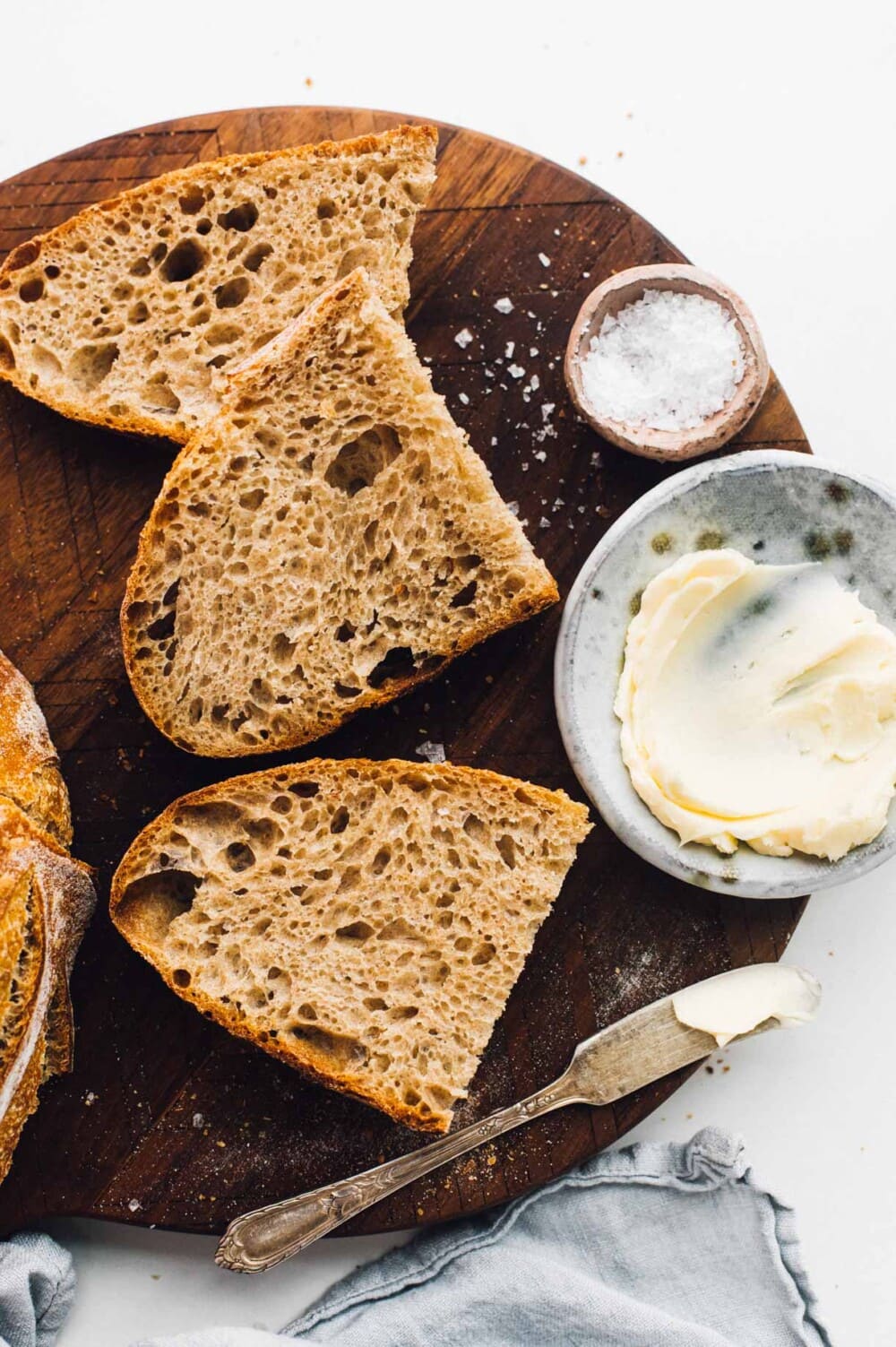 More Whole Grain Sourdough Recipes: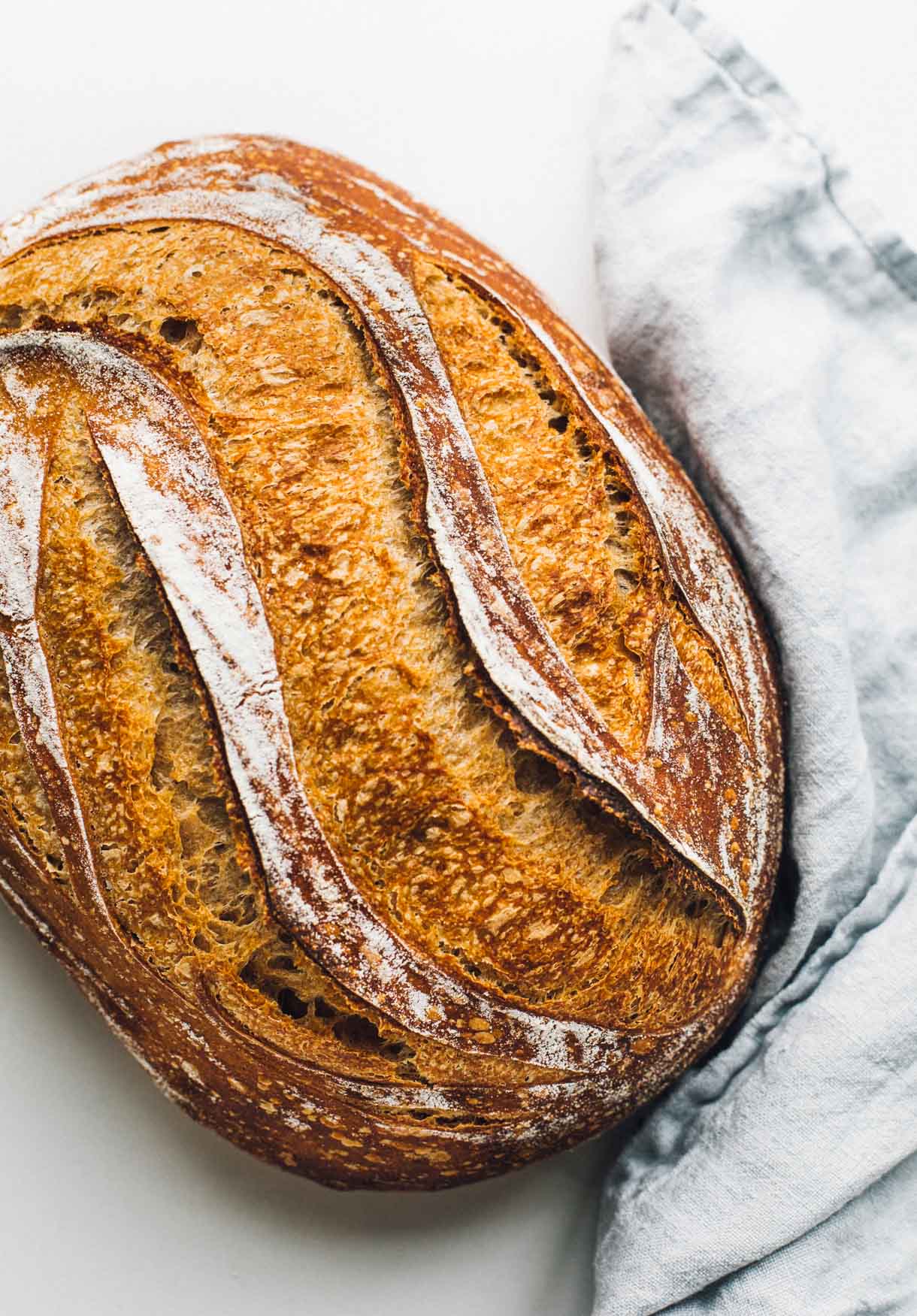 In a large bowl, whisk starter, water, and honey. Add the flours mixing first with a fork or spatula, then switching to your hands. A rough, sticky dough will form, no dry bits should be showing. Sprinkle top with the salt. Cover with a damp towel and let rest for 1 hour (this is the autolyse).

After the autolyse, work the dough generously with your hands, squeezing and kneading for at least 2 minutes to begin building the gluten. Then do your first set of stretch and folds (video to show you how). Let dough rest for 30 minutes, covered.

Perform another set of stretch and folds. Let rest for 30 minutes. Perform another set of stretch and folds, and let rest for 30 minutes. Perform your 4th and final set of stretch and folds.

Cover the dough with a damp towel and let rise until it has increased about 75% (short of doubling), has small bubbles throughout the dough (you'll be able to see through the sides of the container or bowl), may have a bubble or two on top, jiggles a bit in the bowl. Go by how the dough looks, rather than time.

Now it's time to shape. Gently coax the dough onto a lightly floured surface. Shape it into a rustic round and let rest, covered, for 15 minutes.

Then shape the dough using this method. Put banneton with dough into a plastic grocery bag, or garbage bag, so that it doesn't dry out, and let cold proof in refrigerator, overnight, for about 10 hours. Alternatively, you can let it go through its final rise on the counter top, covered, until almost doubled again.

Preheat your oven, with dutch oven in it, to 475 degrees F. When oven is preheated, take dough out of refrigerator, cover with a piece of parchment (cut larger than the banneton) and a cutting board or large plate on top of the parchment, and flip banneton onto counter so that seam is now on the parchment. Lift banneton off. Gently rub a bit of flour onto the top, and score the dough.

Lift parchment with bread into a dutch oven, put lid on.

Turn oven down to 450 degrees F, and slide pot into oven on middle rack, and bake with cover on for 25 minutes. Remove cover, turn heat down to 435 degrees F, and bake for another 20 minutes, until exterior is golden brown and crispy.

Let cool for one hour before cutting. Store bread in a plastic bag, cut side down for up to four days.