A rustic loaf of naturally leavened sourdough bread made with nourishing red fife flour and bread flour, the perfect blend for a great rise and delicious nutty flavor. Makes for an amazingly soft crumb and crisp crust.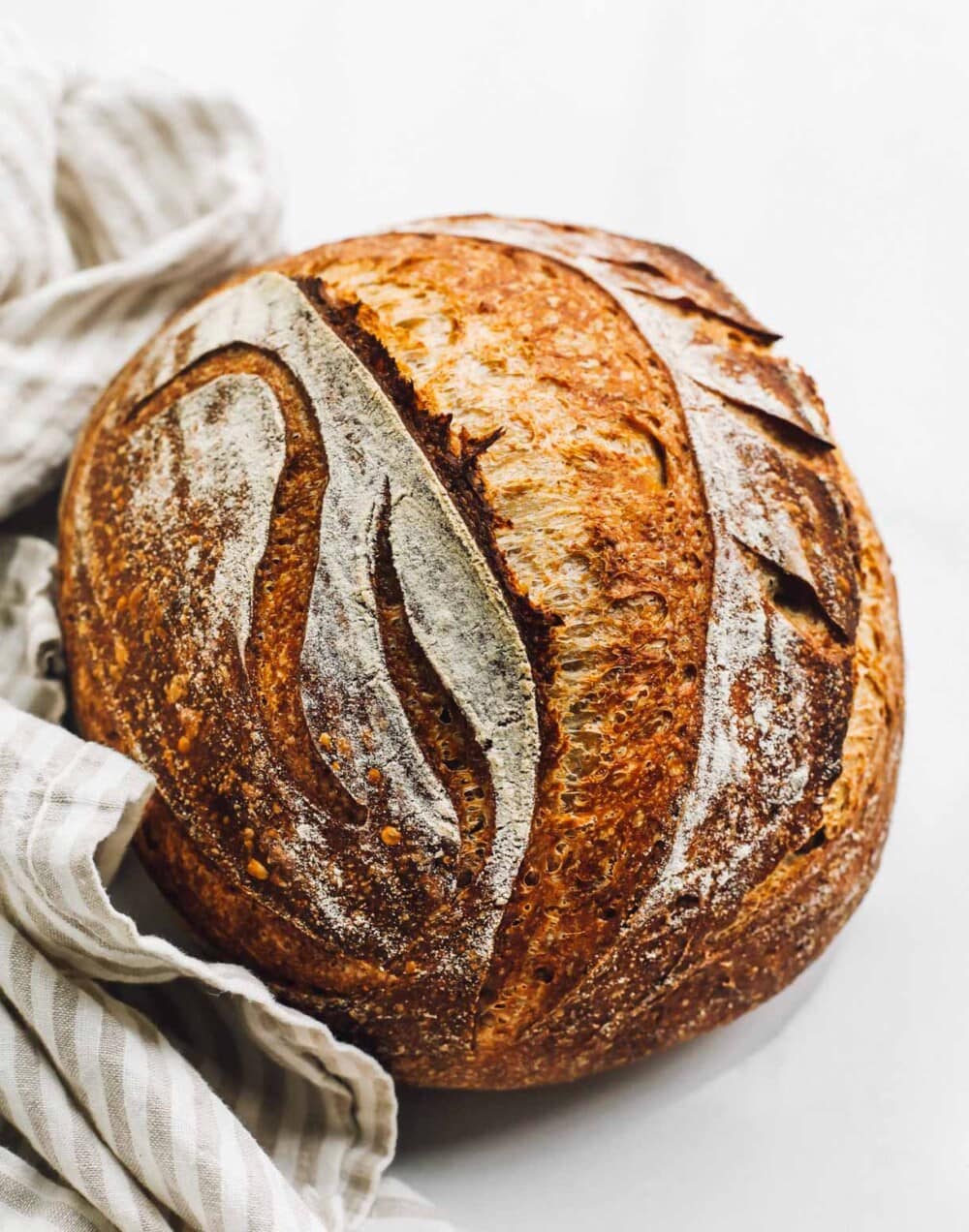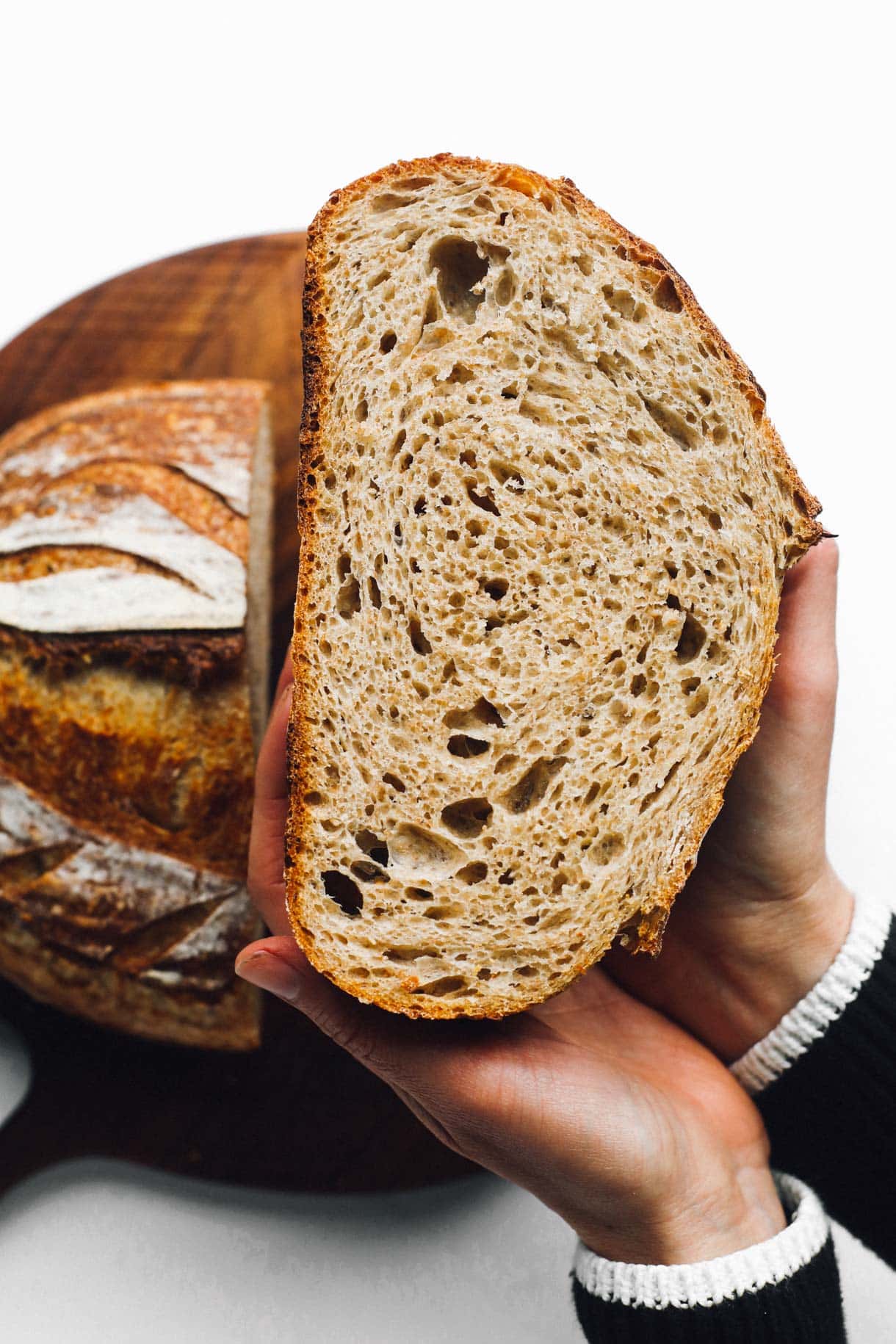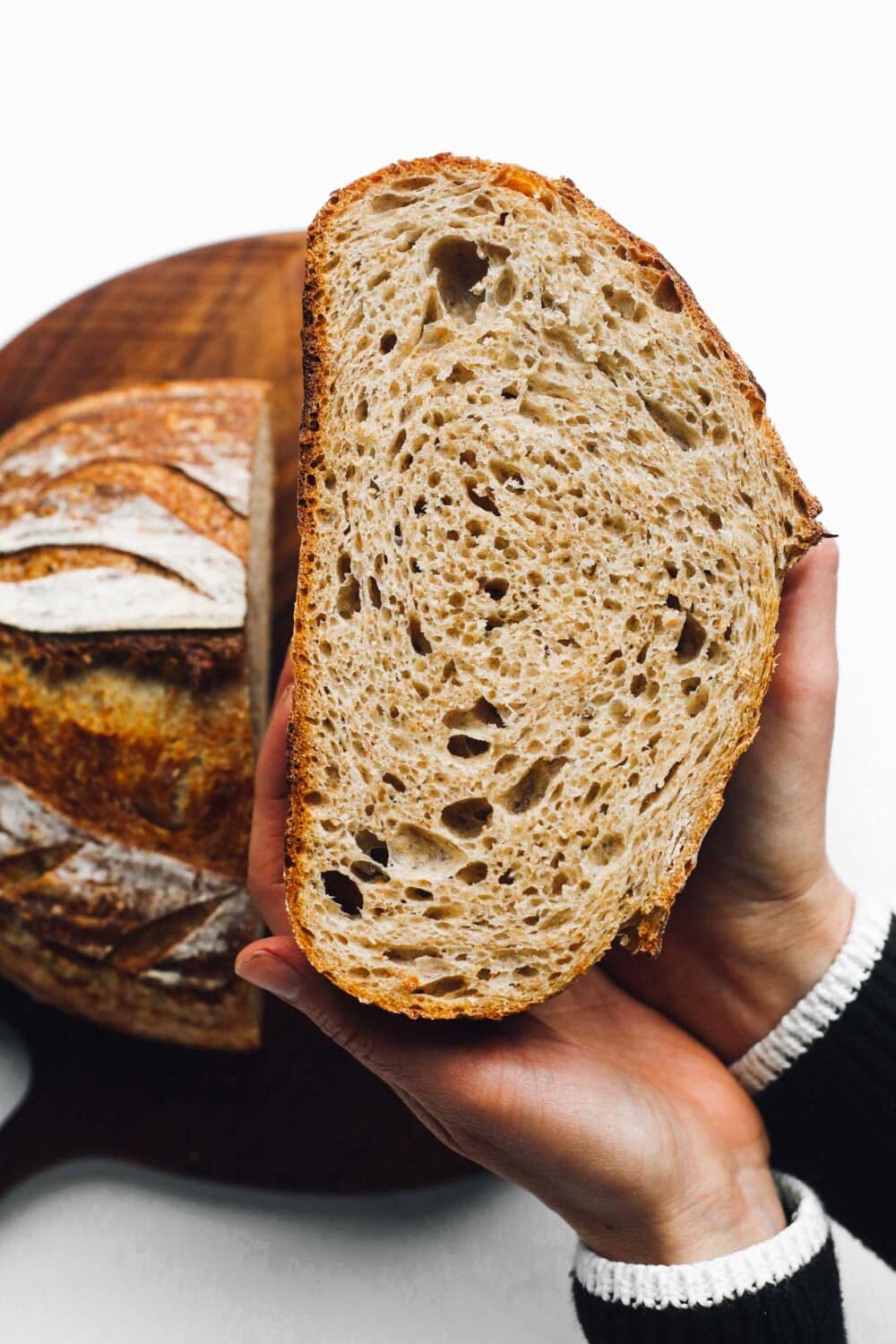 If you're new to sourdough, and are looking for a sourdough starter to begin, I ship my 13+ year old organic starter to anyone in the U.S! You can order it here.
I've fallen hard for this rustic loaf of sourdough bread made with red fife flour, a heritage wheat that leads to fantastic flavor without taking away from the texture. A tender interior with small, porous holes, and a crispy crust that breaks the silence in all its glory when cut.
Using whole grains in sourdough baking:
Whole grain flours keep every part of their seed architecture (bran, germ, endosperm) throughout the milling process. That means fiber, micronutrients, nutrition, flavor. These are great things for health, but they can prove a little bit tricky for baking, namely the fiber in the bran, which will interfere with carbon dioxide production in the dough and compromise rise. They tend to have a lower gluten content as well, which affects their ability to gain dough strength.
Using whole grains in homemade sourdough bread baking takes a bit of practice and experimenting, but the results are soooo flavorful. My go-to brand on whole grain flours are from Flourist. I've been experimenting with everything from spelt, rye sourdough, and einkorn.
What kind of wheat is red fife?
Flourist's Sifted Red Fife Flour is milled from organically grown Red Fife wheat from Vonda, Saskatchewan. This flour is ideal for baking, and is more flavorful and nutritious than grocery store all-purpose flour. I love the honey overtones and nuttiness that it gives to bread.

While still high in protein, the gluten in red fife is slower to develop and is therefore more resilient to over-mixing, which commonly results in tough muffins and cakes.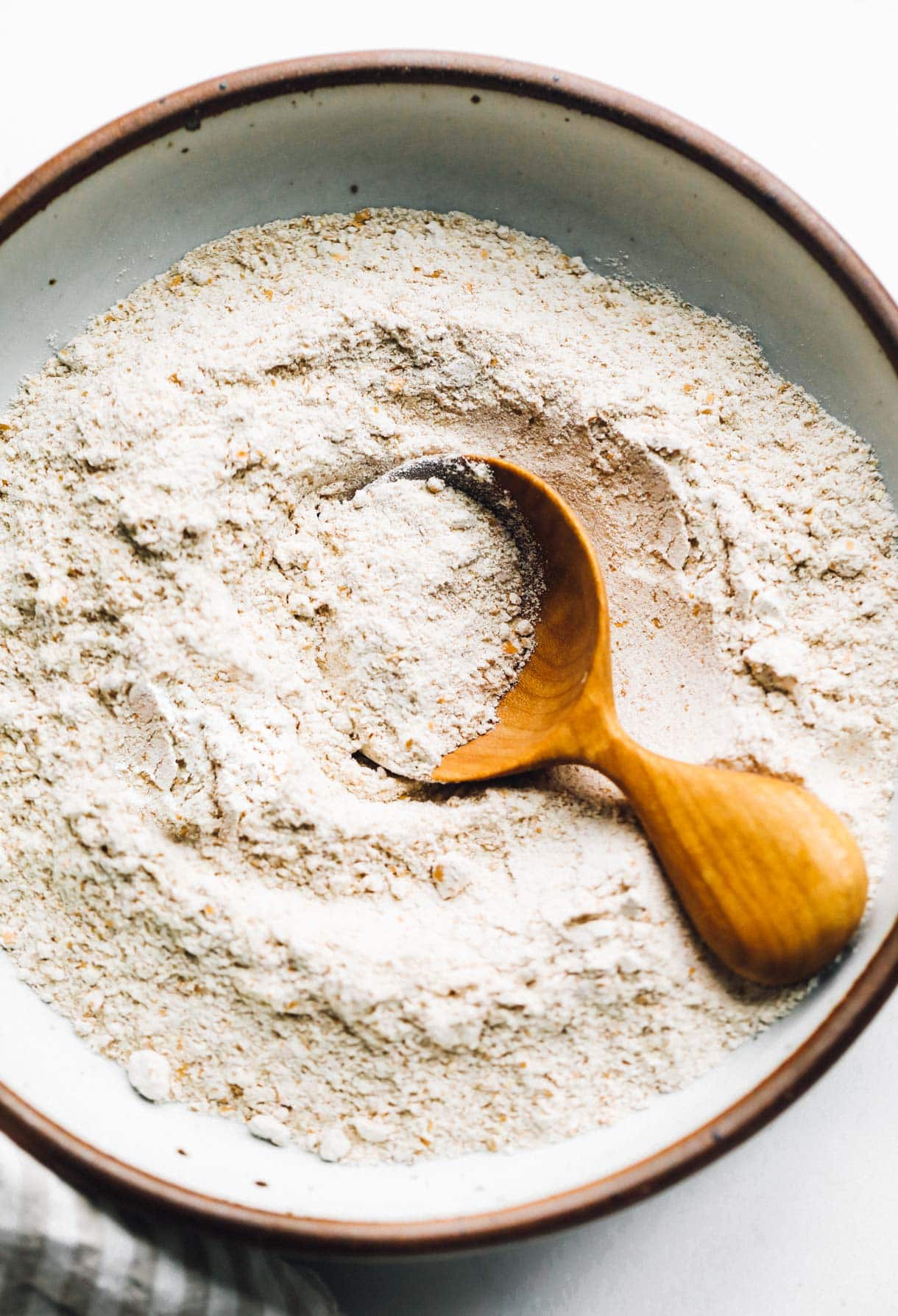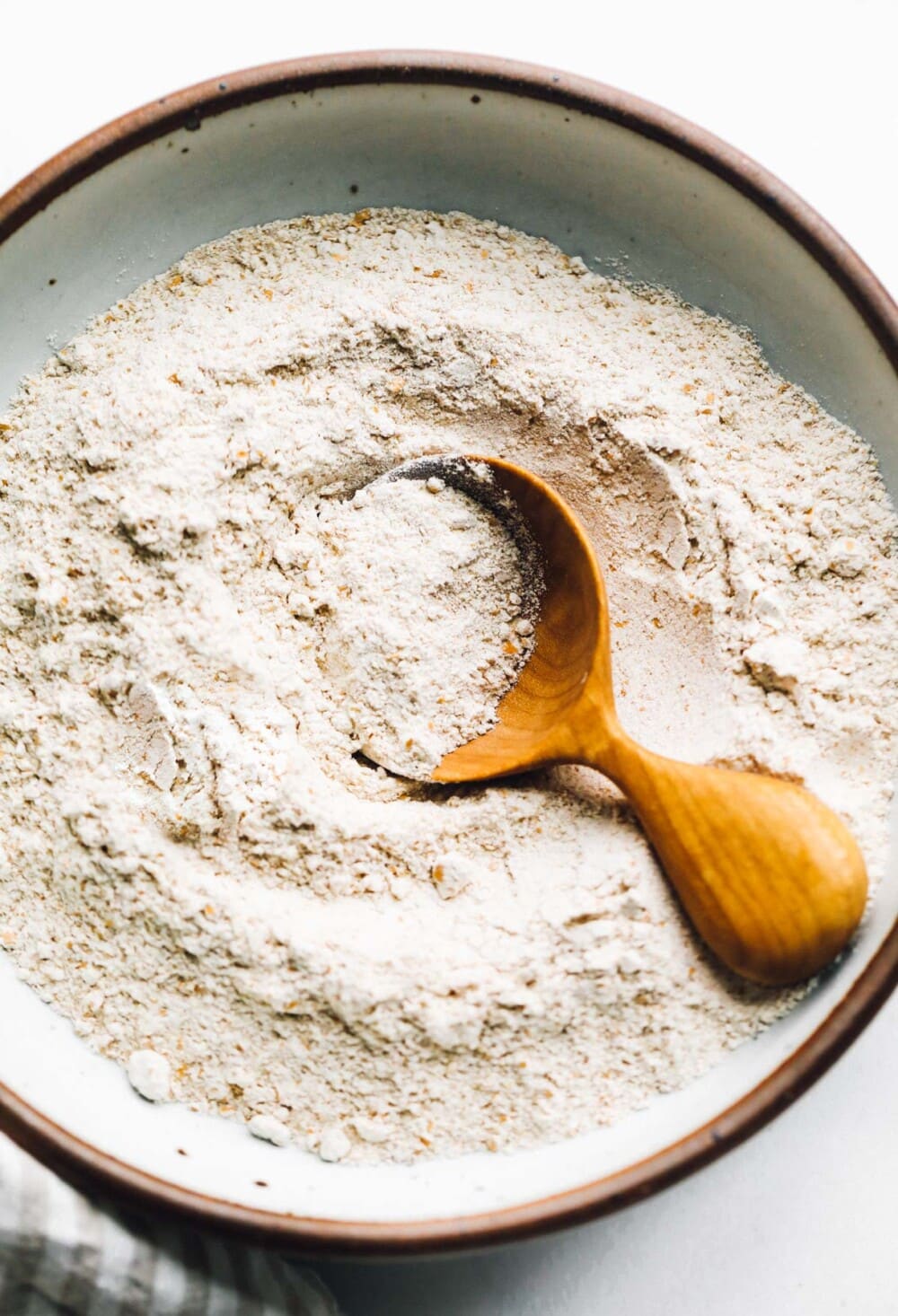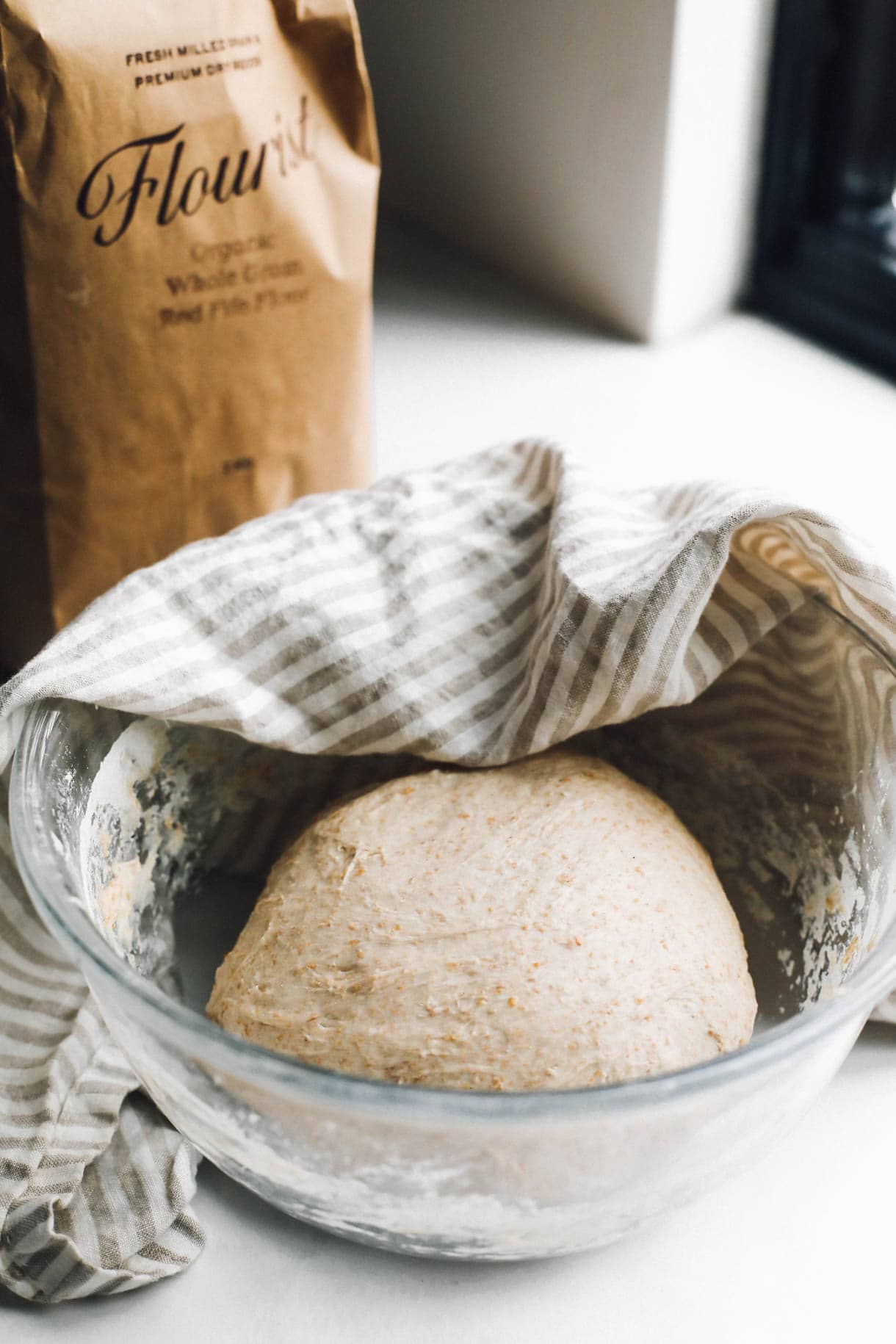 Steps for Whole Grain Sourdough Bread
To keep this homemade sourdough bread soft on the inside and workable, the hydration is moderate. It will be a bit stickier than a loaf made with all bread flour, like my Everyday Sourdough recipe, but just trust it. You'll need to build strength in the initial stages of bulk fermentation, incorporating a few sets of stretch and folds. This technique helps develop the gluten and helps it hold its shape later on in the process.
Once the bulk fermentation, you'll shape the dough using this method. Then you can put the dough in the refrigerator for a cold proof final rise overnight, making things very easy. The next morning just score the dough and bake!
This long, slow rise yields a traditional sourdough taste that I've been after for quite some time, a sweet tang with its own unique flavor.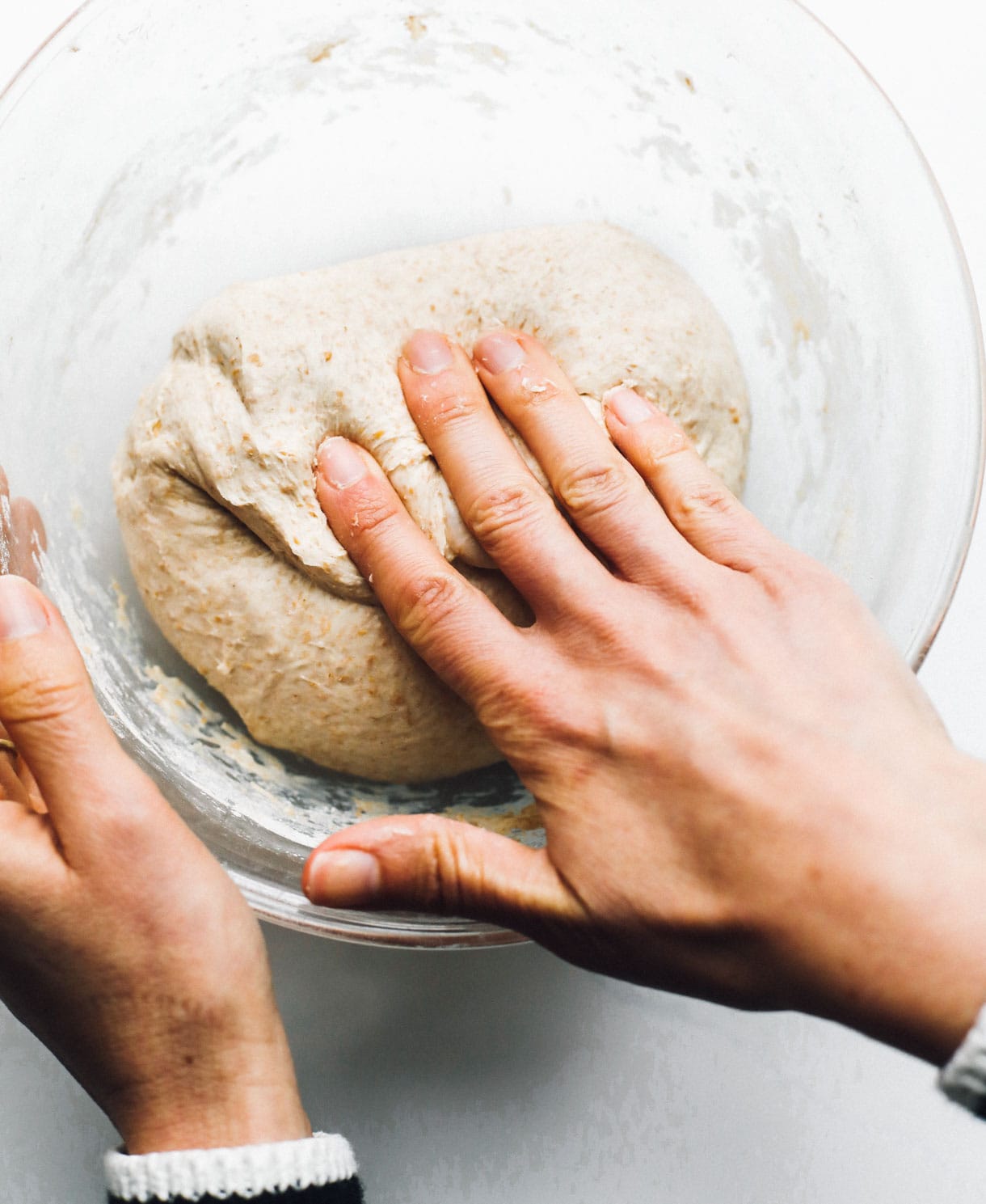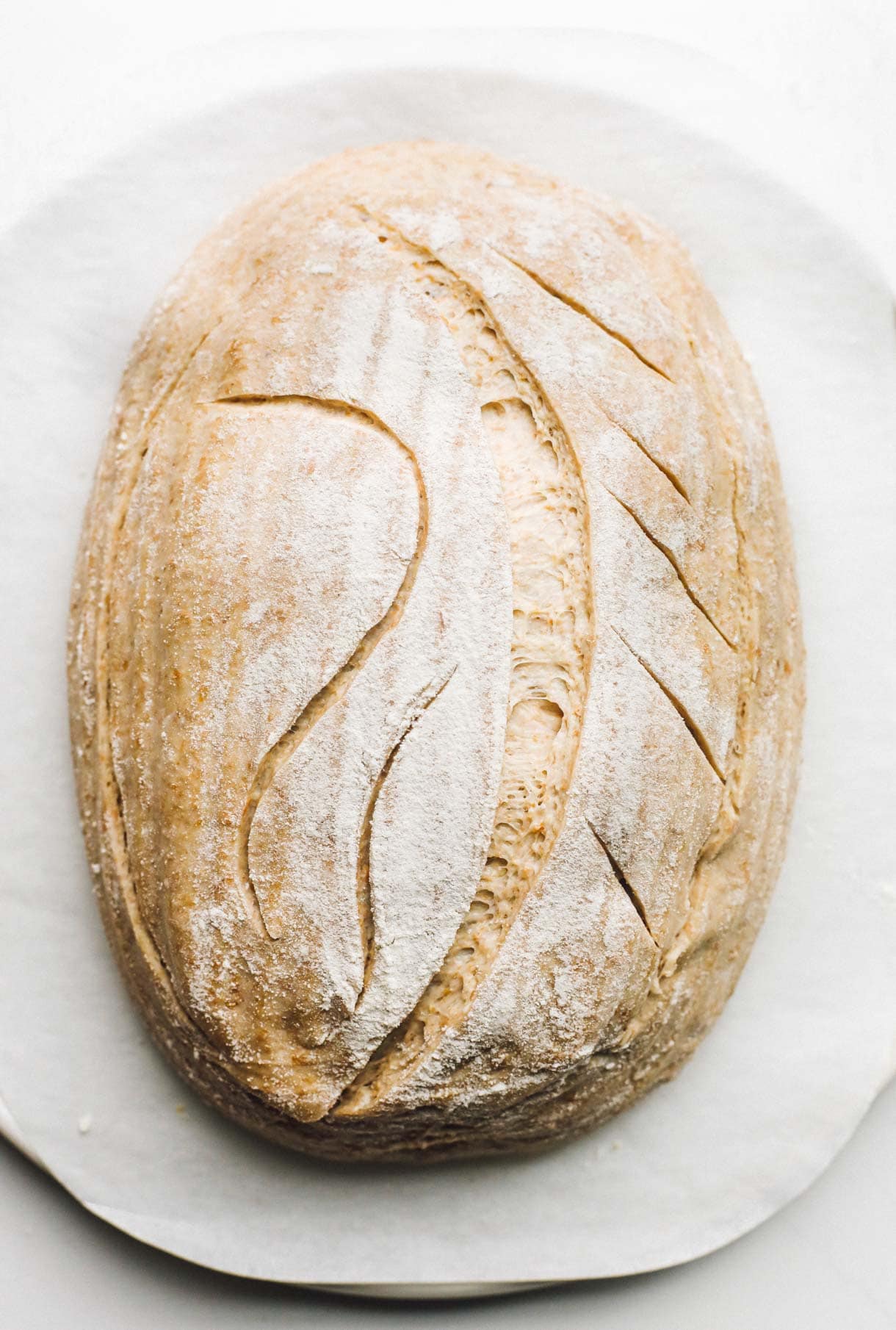 Out of the oven this bread has a crackly crust with rustic fissures with golden brown undertones. The perfect balance between a tender interior and a beautiful lacy crumb (sometimes difficult to achieve with whole grains).
What is the best kind of pan to bake sourdough in?
Using a covered vessel is important for baking sourdough because you need a hot, steamy environment for the bread to rise in before the crust is formed. If there is no steam, the crust will form before the bread has a chance to rise, resulting in a short, dense loaf.
I swear by the Challenger Bread Pan, which I've been baking with for 3 years. Before that, I used a 5qt Le Creuset Dutch Oven because I already had one, but once I started baking sourdough every few days, I knew it was a hobby here to stay and I wanted something specifically for bread baking.
The Challenger is actually cheaper than a Le Creuset and here's why I think it's superior for sourdough bread baking:
I've never had better oven spring or thinner crusts.
The shallow base makes loading your dough safe and simplel instead of having to worry about burning yourself when you lower your dough into a hot dutch oven.
The top handles make it easy remove the cover mid-bake.
It's unique shape that allows you to bake any shape of bread in it! Bâtards, boules, demi-baguettes, and other loaves of almost any size.
Because of how it's made, the perfect amount of steam is created inside the pan.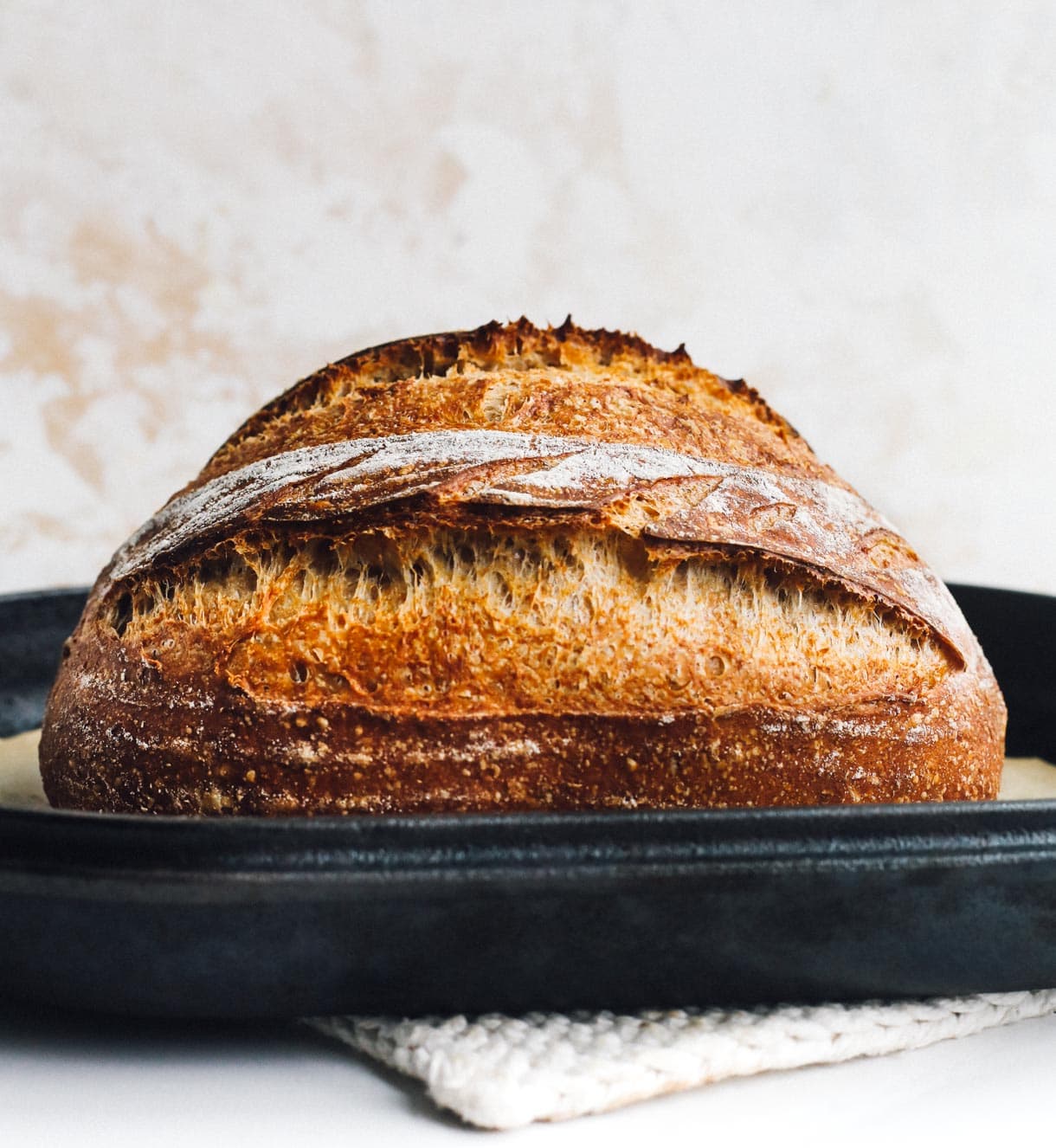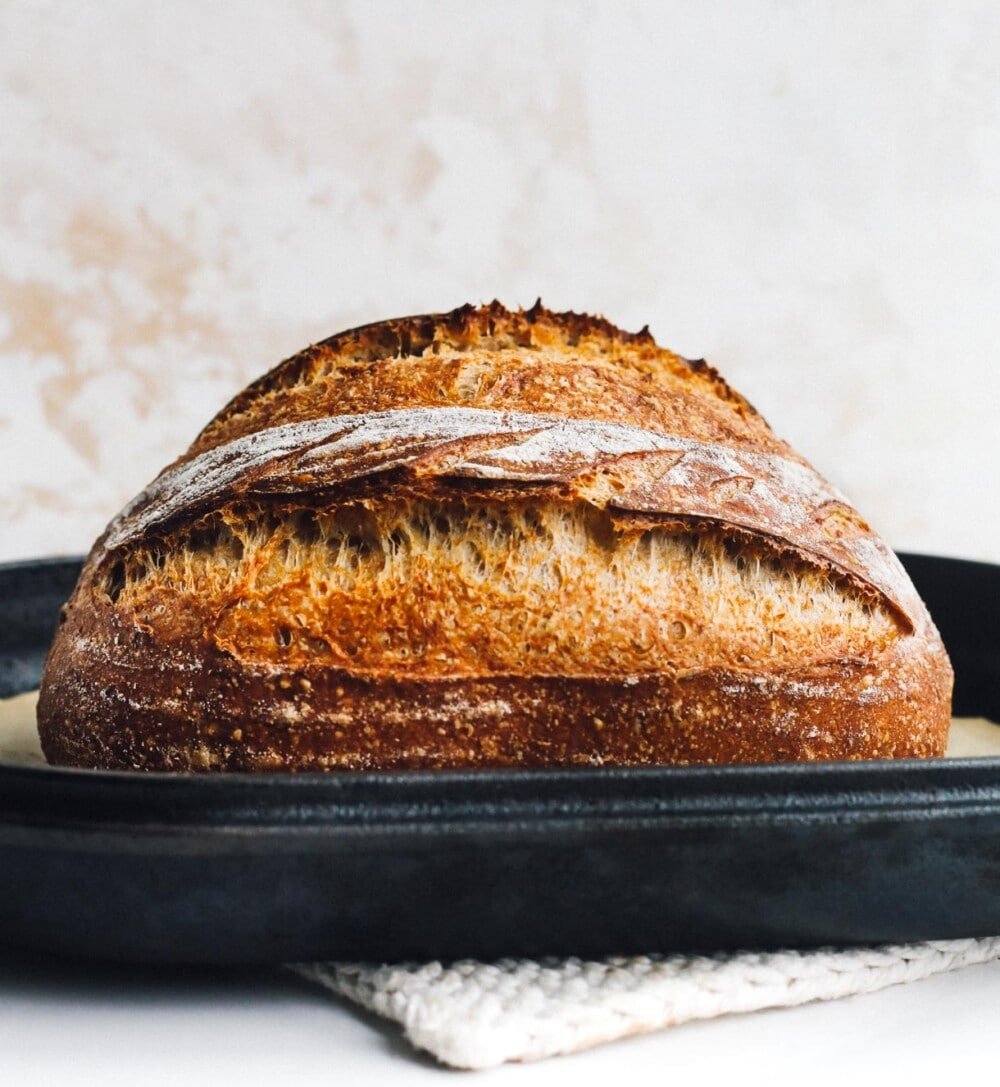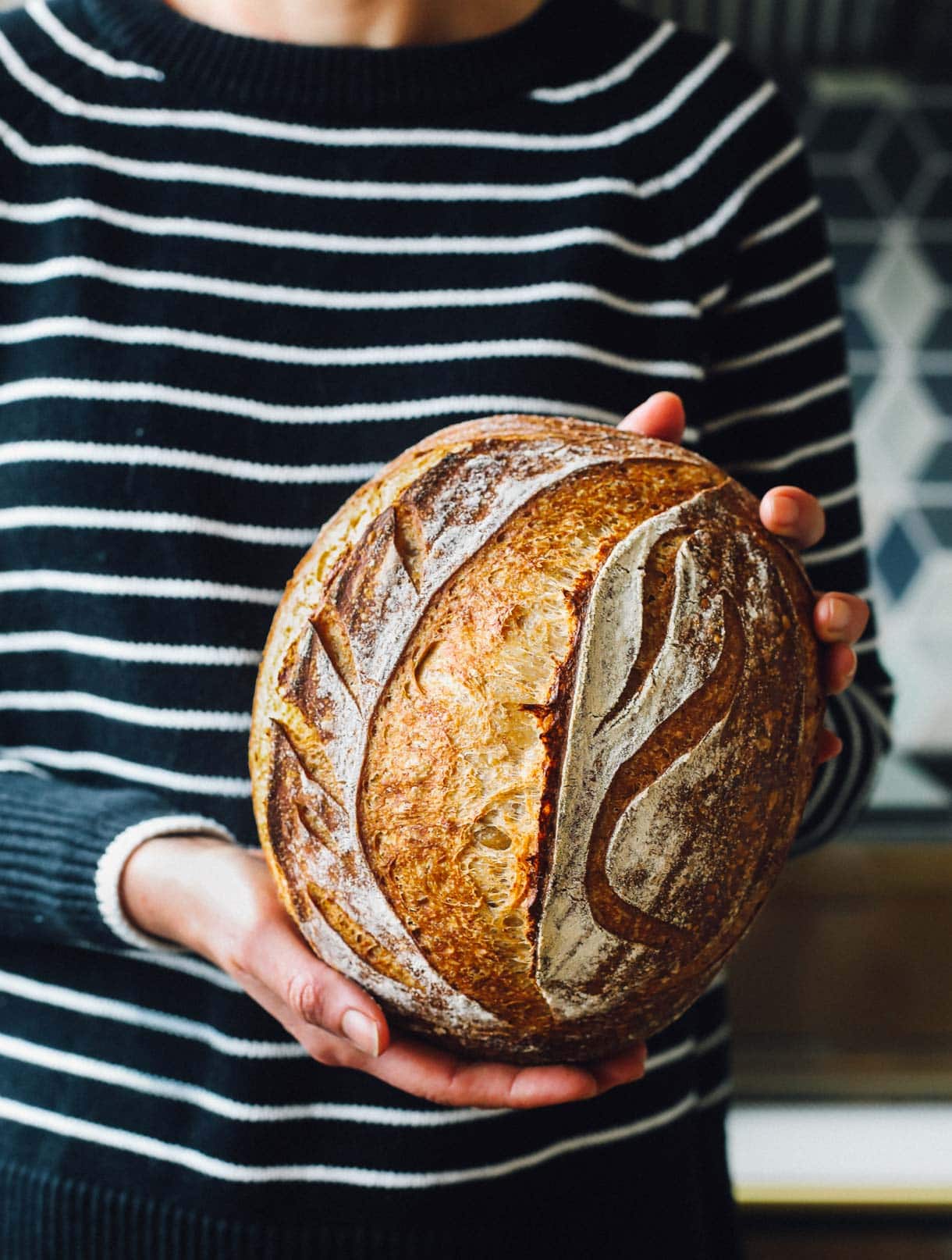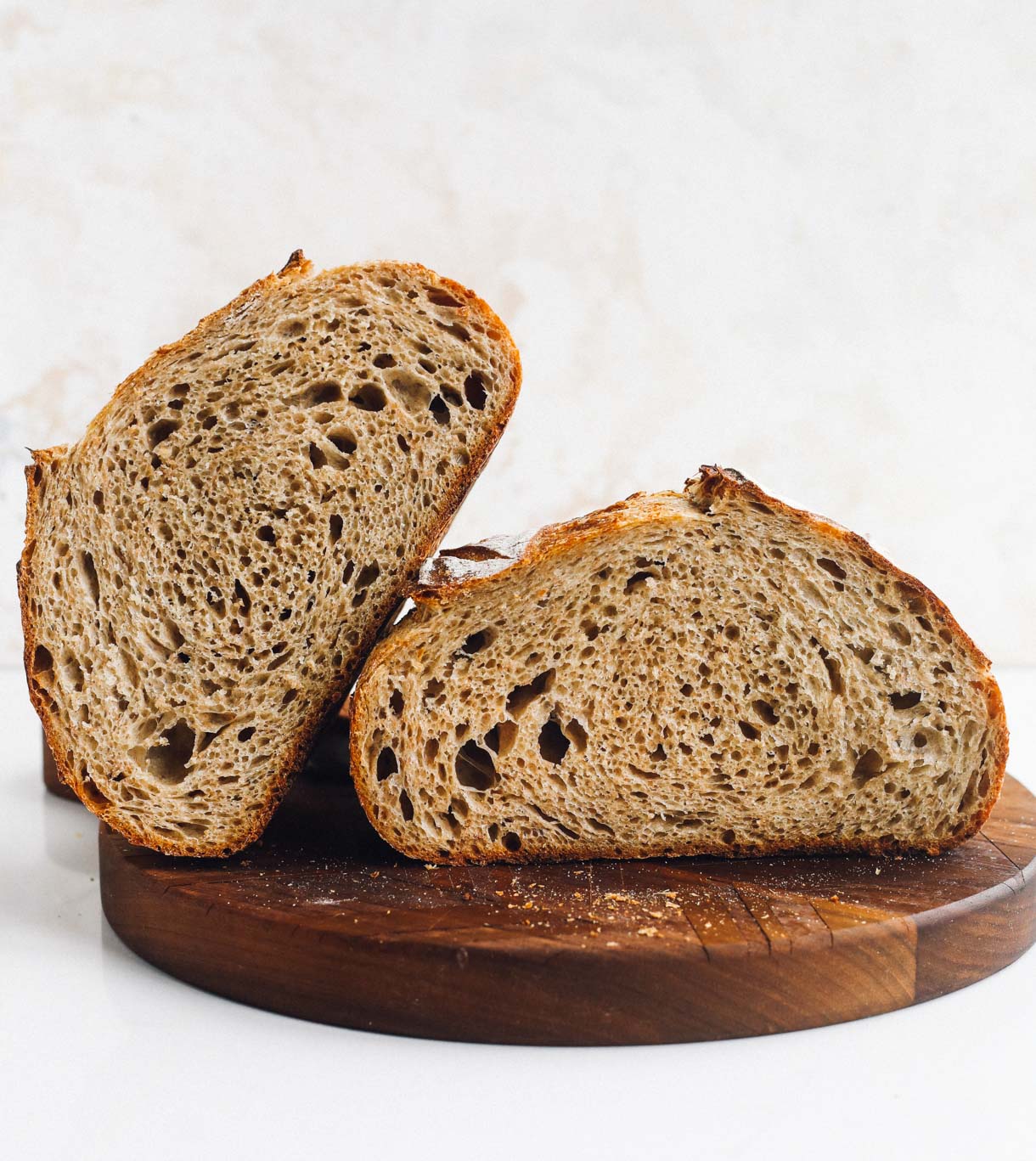 More Sourdough Recipes:
50

grams

active sourdough starter, at its peak

320

grams

water, a little warmer than room temperature (about 80 degrees F)

230

grams

organic bread flour

200

grams

whole grain red fife flour

9

grams

fine sea salt