Have you ever wondered how to make cold brew coffee at home? It's actually so easy to make, and delicious! In only three steps you'll have cool, rich coffee that can be adapted to create any of your favorite mixed coffee drinks including this simple iced mocha recipe.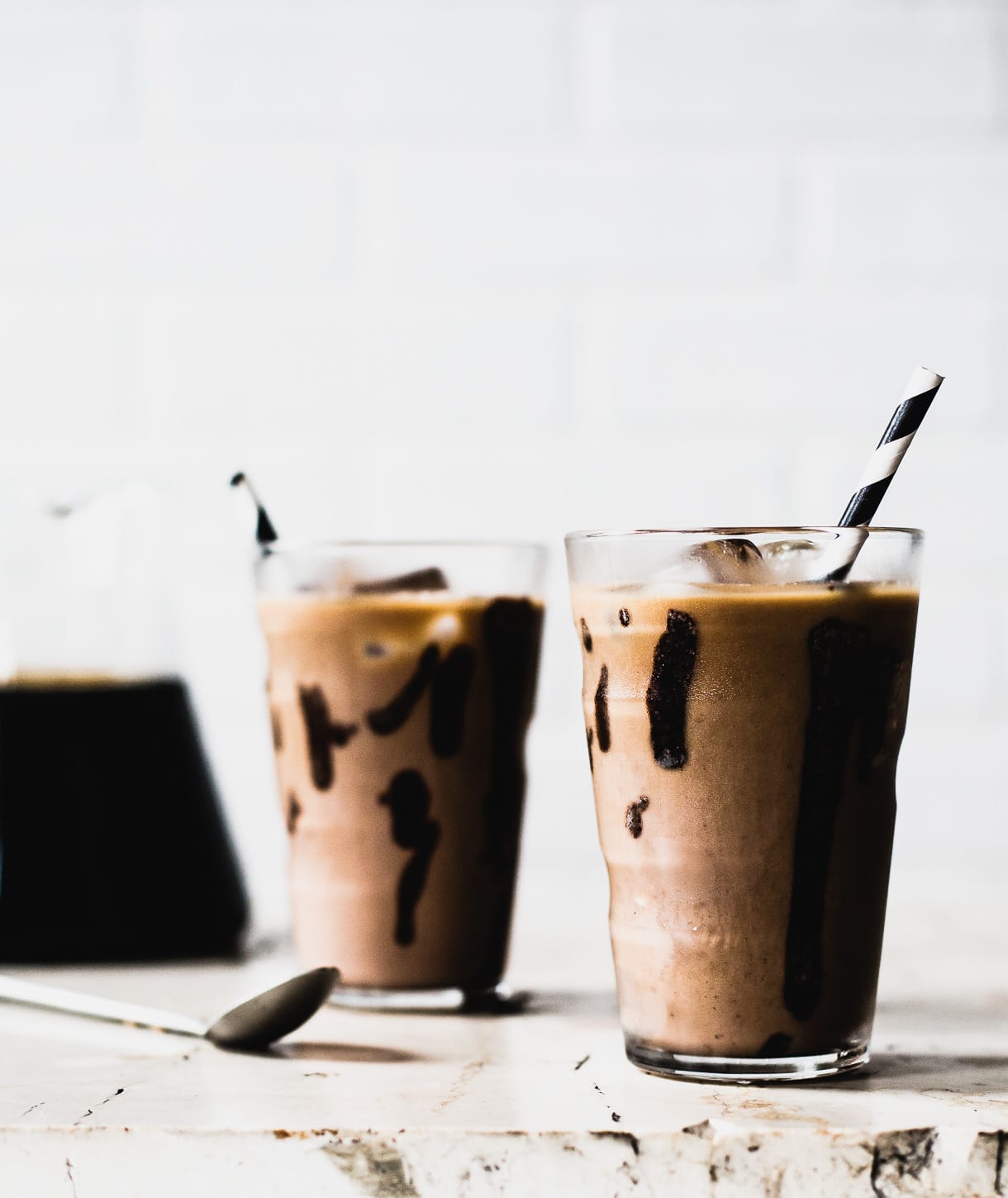 I like coffee. A lot. Mostly black with a little cream and honey.
I can count on one hand the amount of times I've ordered anything other than that, or an americano, when at a coffee shop. I find speciality drinks lean too far on the sweet side, filled with highly processed syrups and such. At home is a different story though, where I can control the quality of ingredients going into the recipe.
Which is where this Cold Brew Mocha comes in. Smooth, bold, and chocolatey. A caffeinated boost and deliciously refreshing.
Half cold brew, half chocolate milk, 100% delicious. A wholesome indulgence, no need for syrups, or espresso (in fact, I tried it both ways and found the coffee-milk combination to be superior). With dark chocolate drizzled inside each glass!
Ingredients for an Easy Iced Mocha:
Cold Brew
Dark Chocolate
Chocolate Whole Milk (grassfed preferably, this one is my absolute favorite)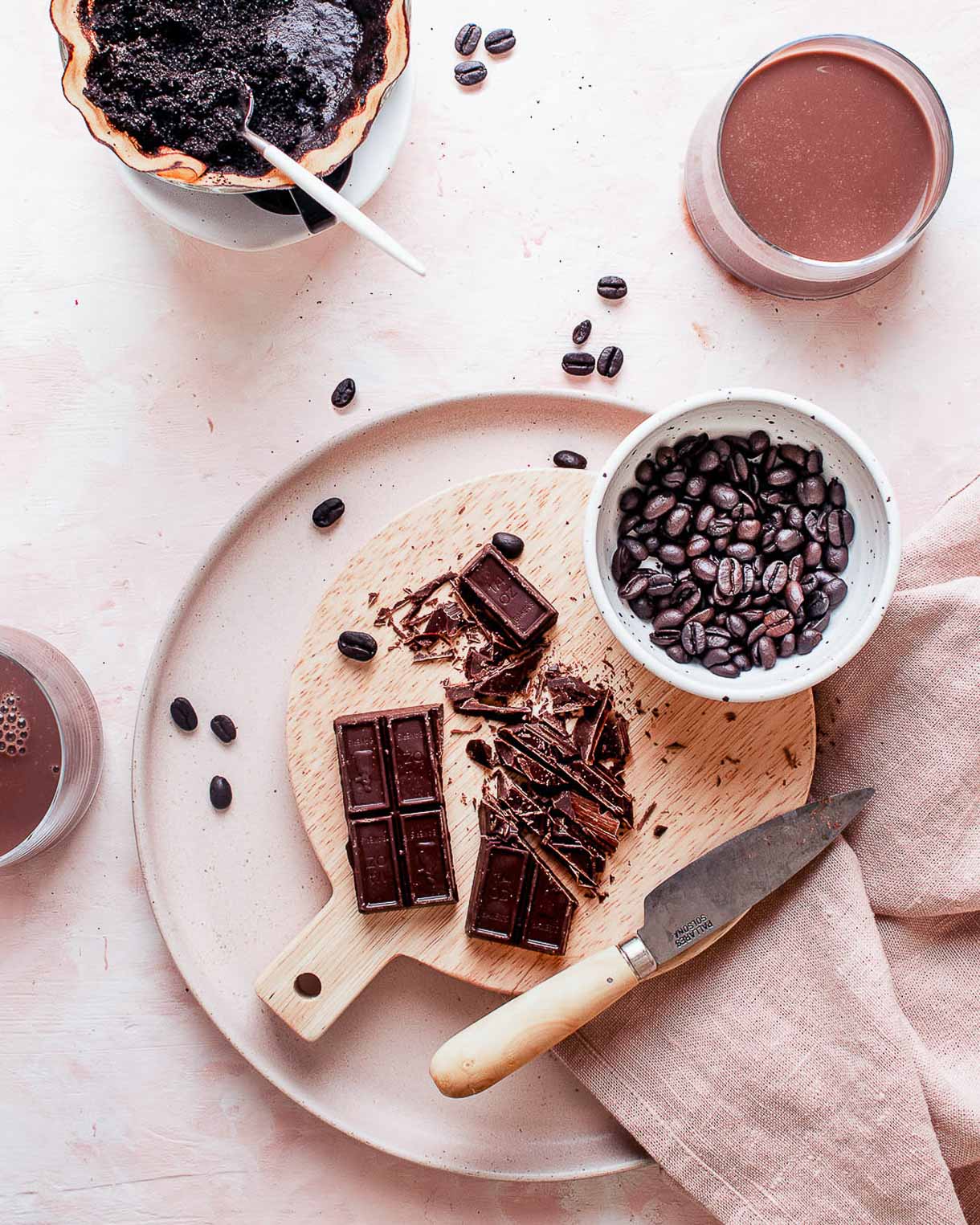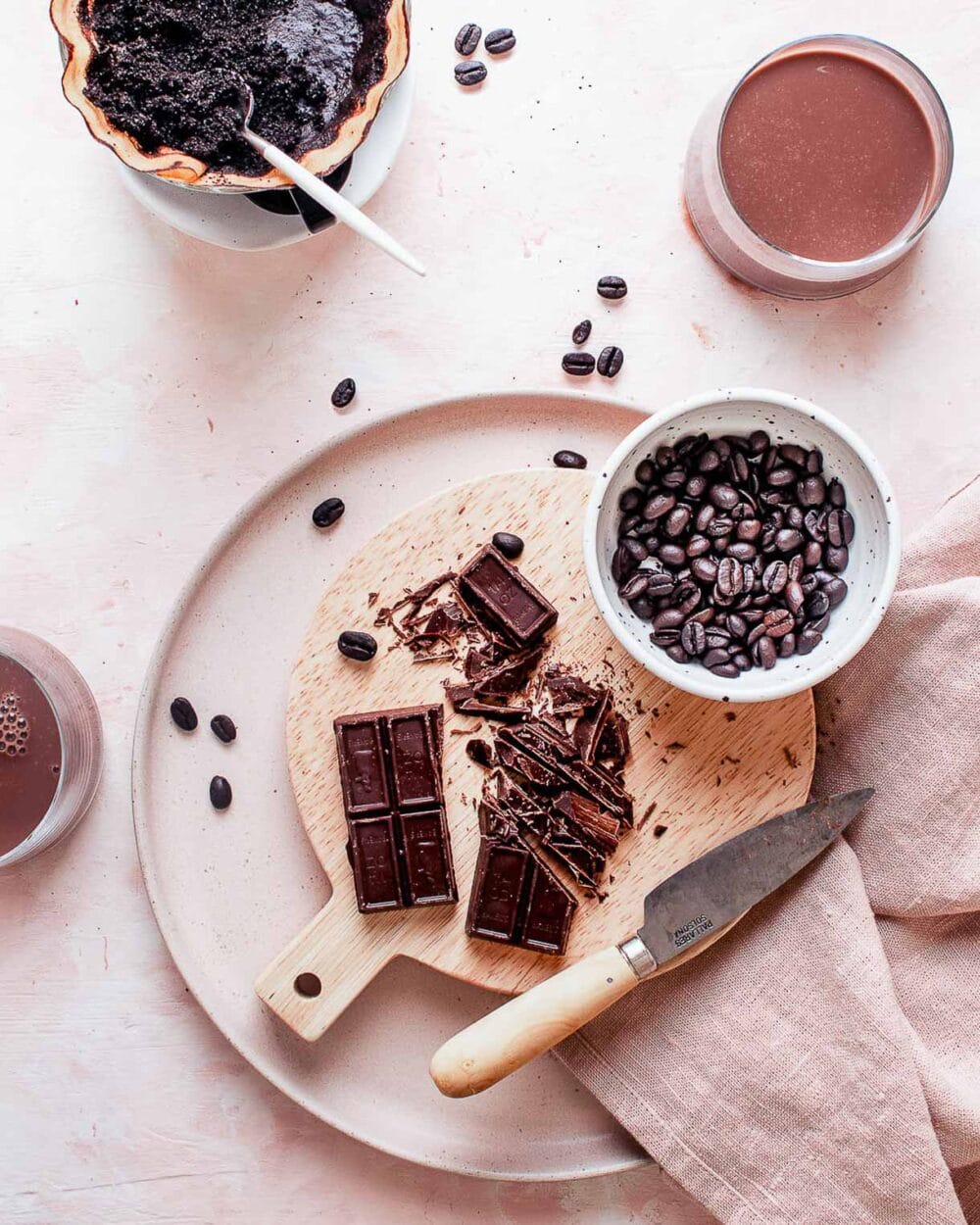 Let's talk about cold brew: It took me until this summer to fall in love it – I blame coffee shops that turn their air conditioners to an arctic blast level, making an iced drink the last thing on the menu I want.
Come to find out after making it at home that cold brew is definitely the easiest of all coffee methods I've tried!
What is Cold Brew?
Different from iced coffee, cold brew is highly concentrated coffee, steeped overnight – while iced coffee is simply regular hot coffee poured over ice, that ends up becoming diluted and bland. Cold brew has a low-acid, smooth taste compared to other brewing methods.
How To Make Cold Brew Coffee At Home
In 3 steps! It's THAT SIMPLE.
Coarsely grind the coffee beans.
soak the grounds overnight in filtered water.
Strain the next morning!
Concentrated, rich coffee with mega flavor punch.
Since cold brew is basically just coffee beans and water, there are a few important things that you should consider in order to get the quality of coffee you desire.
1. Measuring Your Coffee Beans and Water by Weight: For the best tasting coffee, it's important to weigh both your beans and water by weight (I do grams) so that you are brewing the correct ratio (I typically do cold brew at a 1:3 coffee to water ratio).
Guessing, or even measuring by "cups/tablespoons/etc", can be quite inaccurate.
2. Your Grinder: I used to have one of $20 blade coffee grinders and thought as long as it ground the coffee nice and fine, I was good to go. Truth is, coffee needs to be ground precisely to the right size to extract flavors correctly, which is all dependent on the method of brewing you are using.
For cold brew, you'll need a coarse grind, which allows for a slow transfer of extraction and avoids the cold brew becoming bitter.
Grinding too fine will over extract leading to a harsh and bitter result. Too large of a grind and the brew is underdeveloped and weak.
The OXO Conical Burr Grinder makes this part of the equation so easy, and fast. It basically has the brain of a barista so you don't have to think, integrated into one machine. First you'll twist the dial to the grind size you need it – it does everything from espresso fine to very coarse. Then, with a built in scale, all you need to do is simply know how much coffee you want to grind, set the dial to that number, and grind. The machine will automatically stop when that amount of coffee is in the canister.
3. Brewing System: The one negative to making cold brew is that it can get kind of messy, having to find a contraption large enough soak the grounds in, draining it, and then cleaning it out. The other important piece is gently saturating the grounds, rather than pouring all the water on them at once.
OXO makes this Cold Brew Coffee (and tea!) Maker that I found incredibly efficient and well designed. Similar to the burr grinder, it makes the process effortless. Just add grounds and water to the top, then steep overnight. The result? Coffee concentrate at the flip of a switch. The Rainmaker™ evenly distributes water over the grounds. It strains into the sleek glass carafe which has measurement markings for portioning, and can be easily stored in your fridge. Plus, the filter is stainless steel so can be used over and over again!
4. Storing Your Beans: The two main things that cause coffee beans to lose their freshness are air and light, making it very important to have a proper storage container. I use this one from OXO, which has a genius "pop top" that seals the container to keep out air and moisture. Additionally, the container is made with UV blocking technology to keep light out.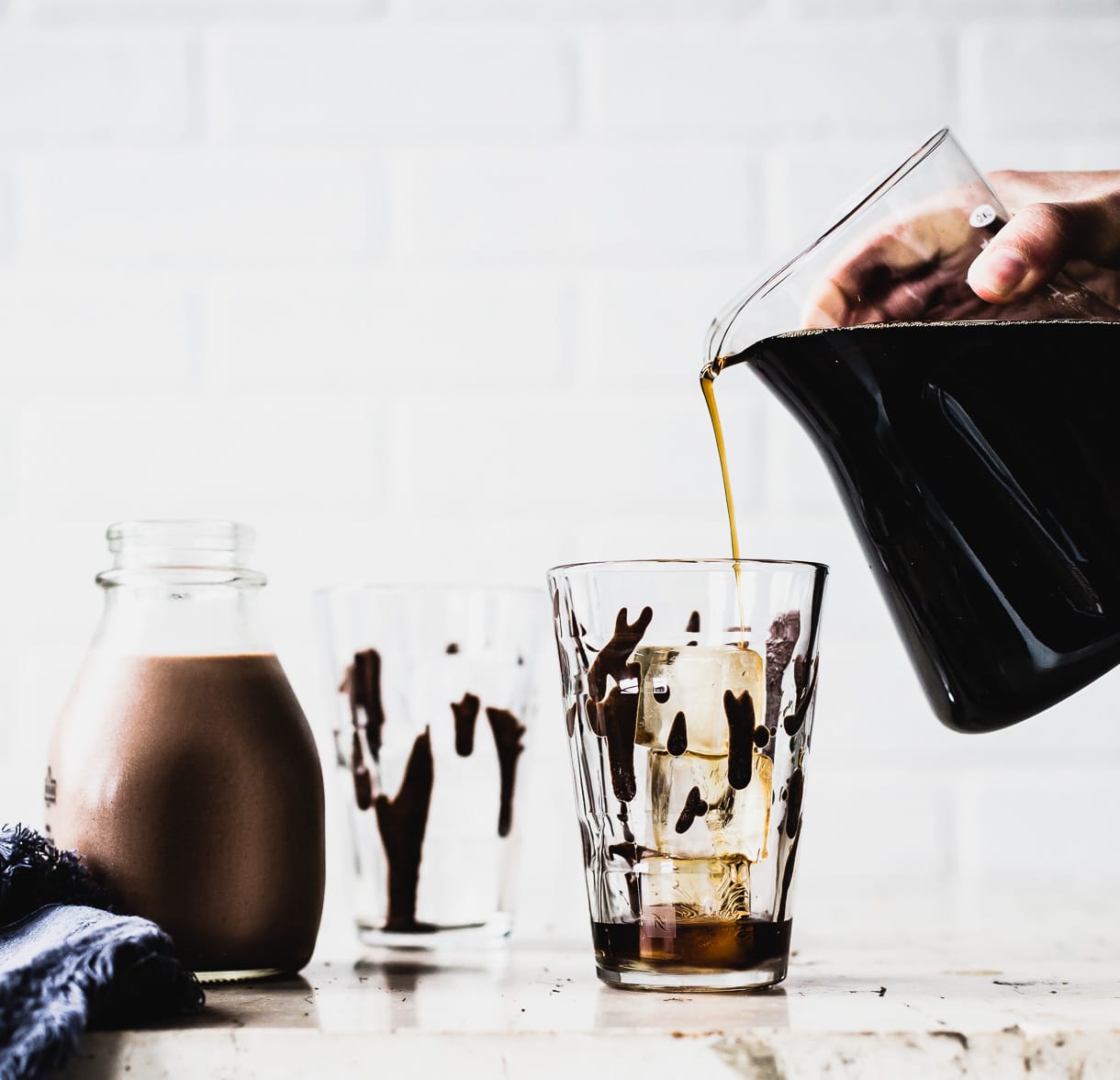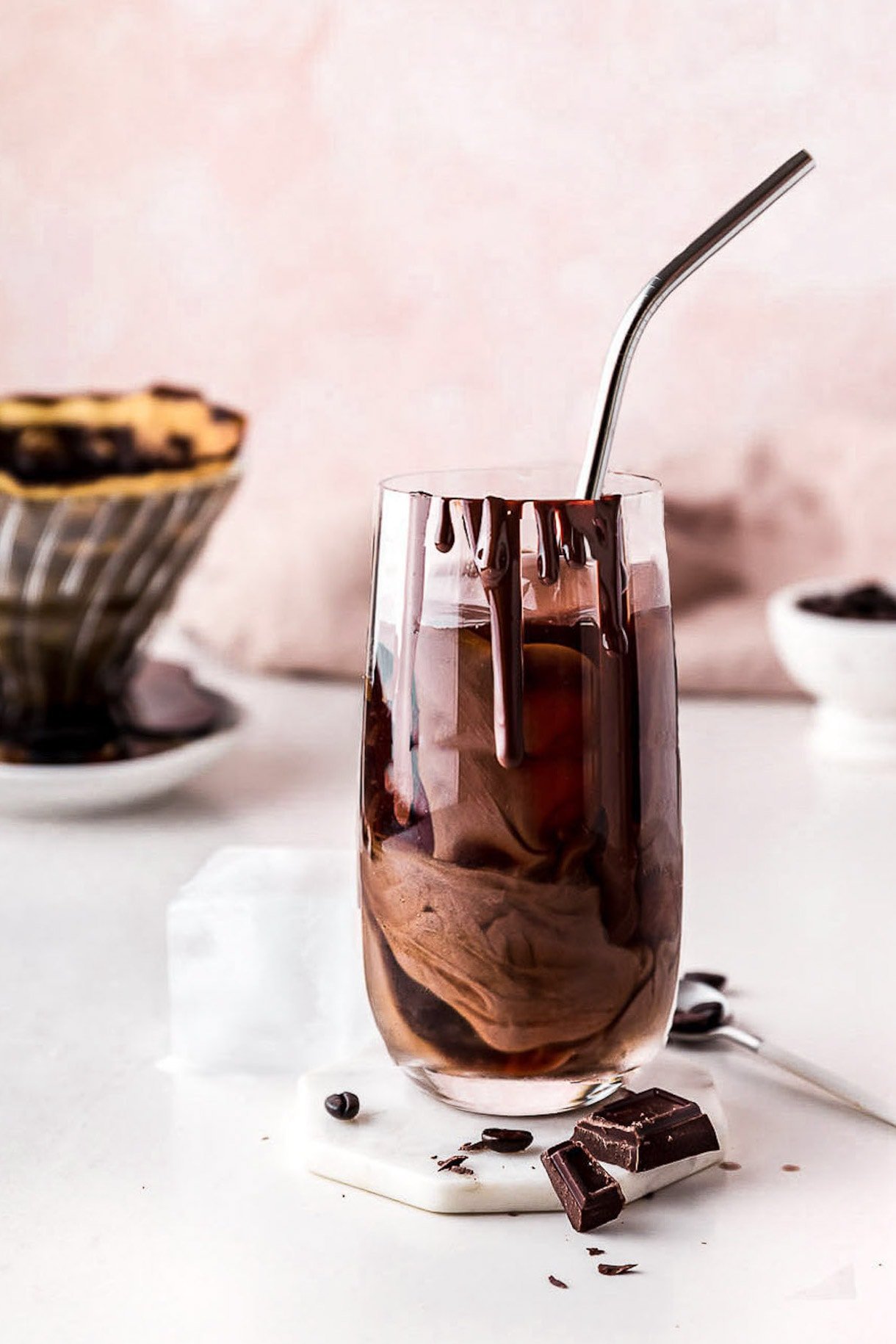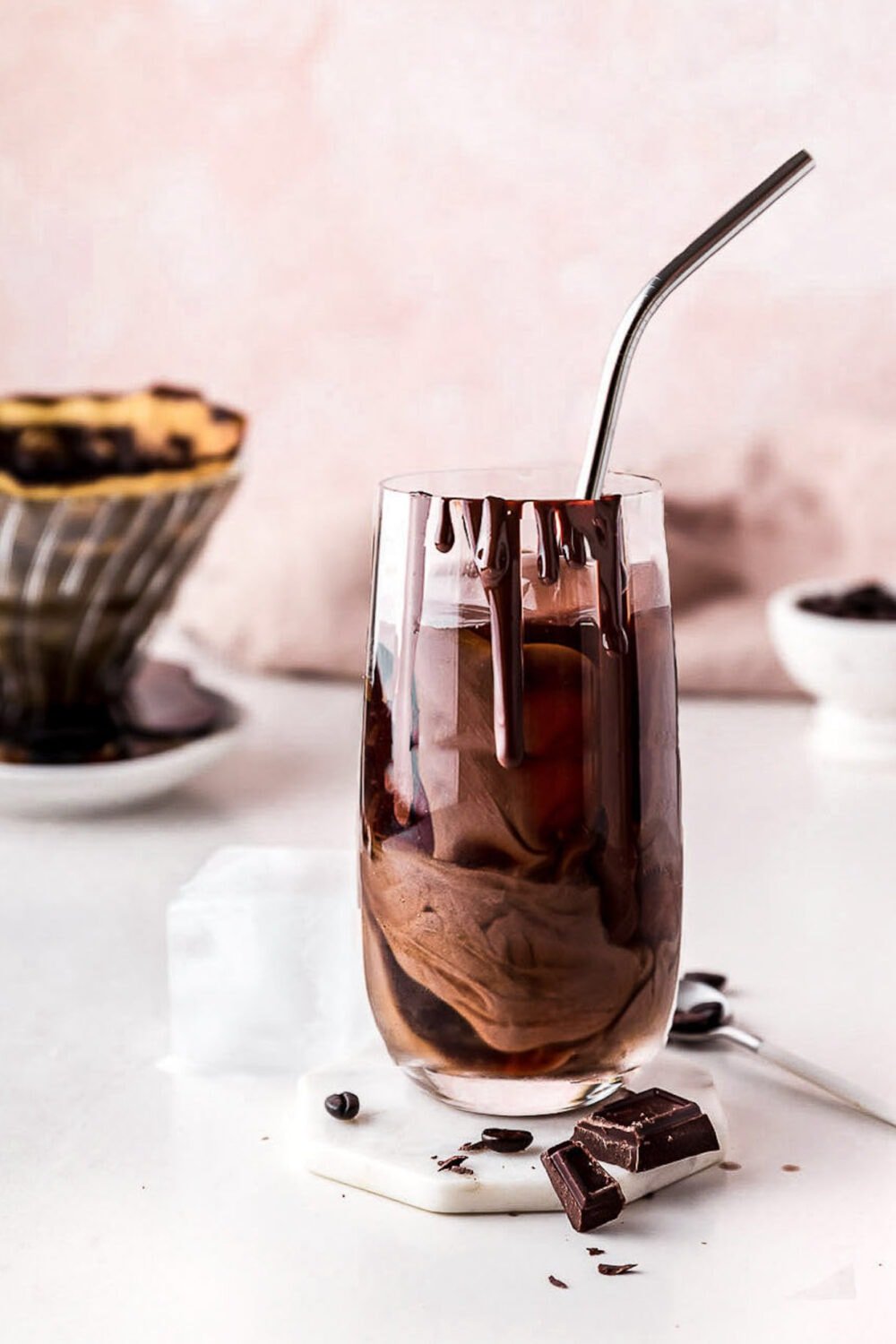 1/2

ounce

dark chocolate

chopped

4

ounces

cold brew coffee

3

ounces

whole fat chocolate milk