Fresh asparagus is roasted with cheesy parmesan and bacon, creating flavor-packed crispy spears. An easy recipe with just 5 ingredients that makes a delicious side dish. You'll learn an easy trick to ensure the asparagus doesn't get soggy in the oven, too.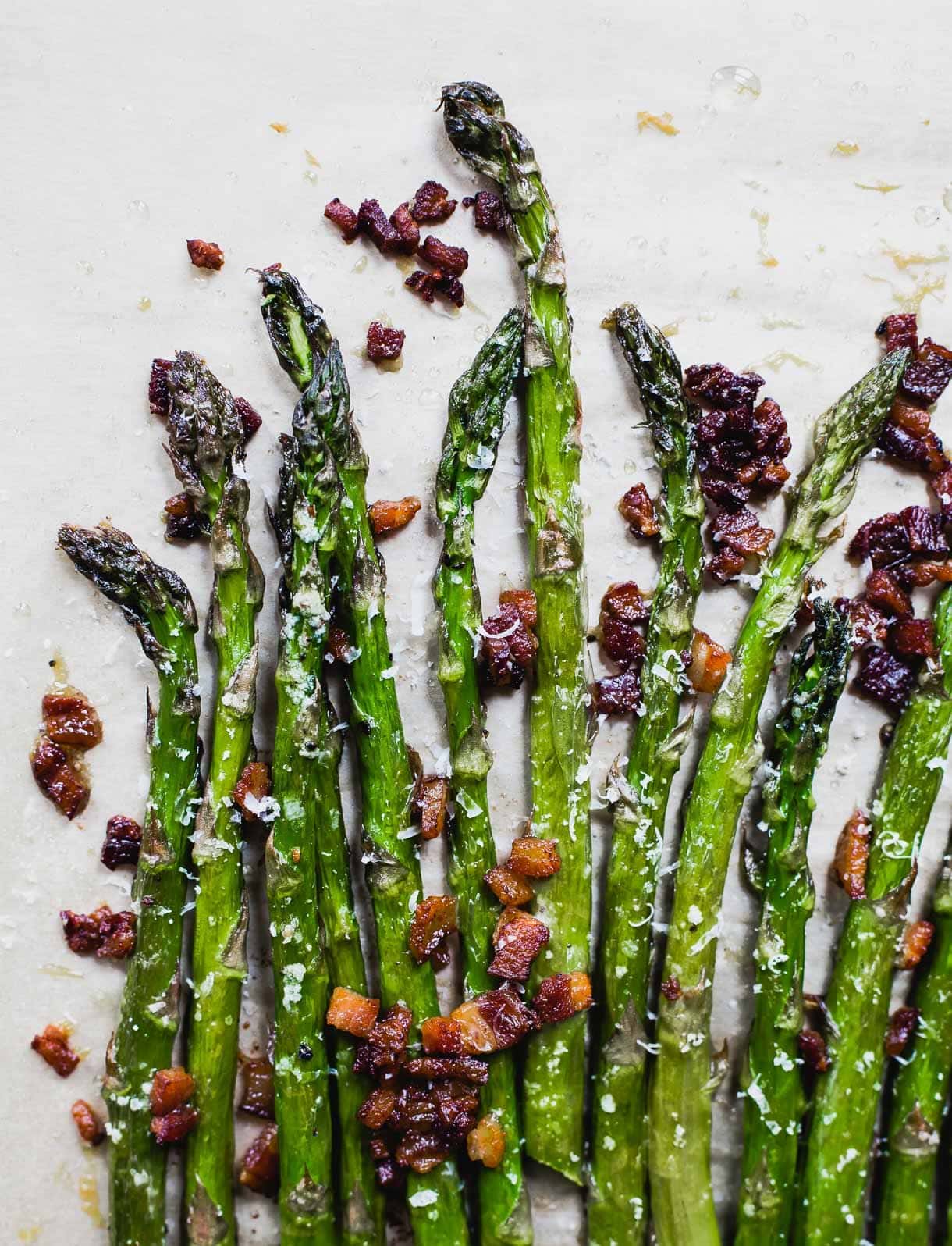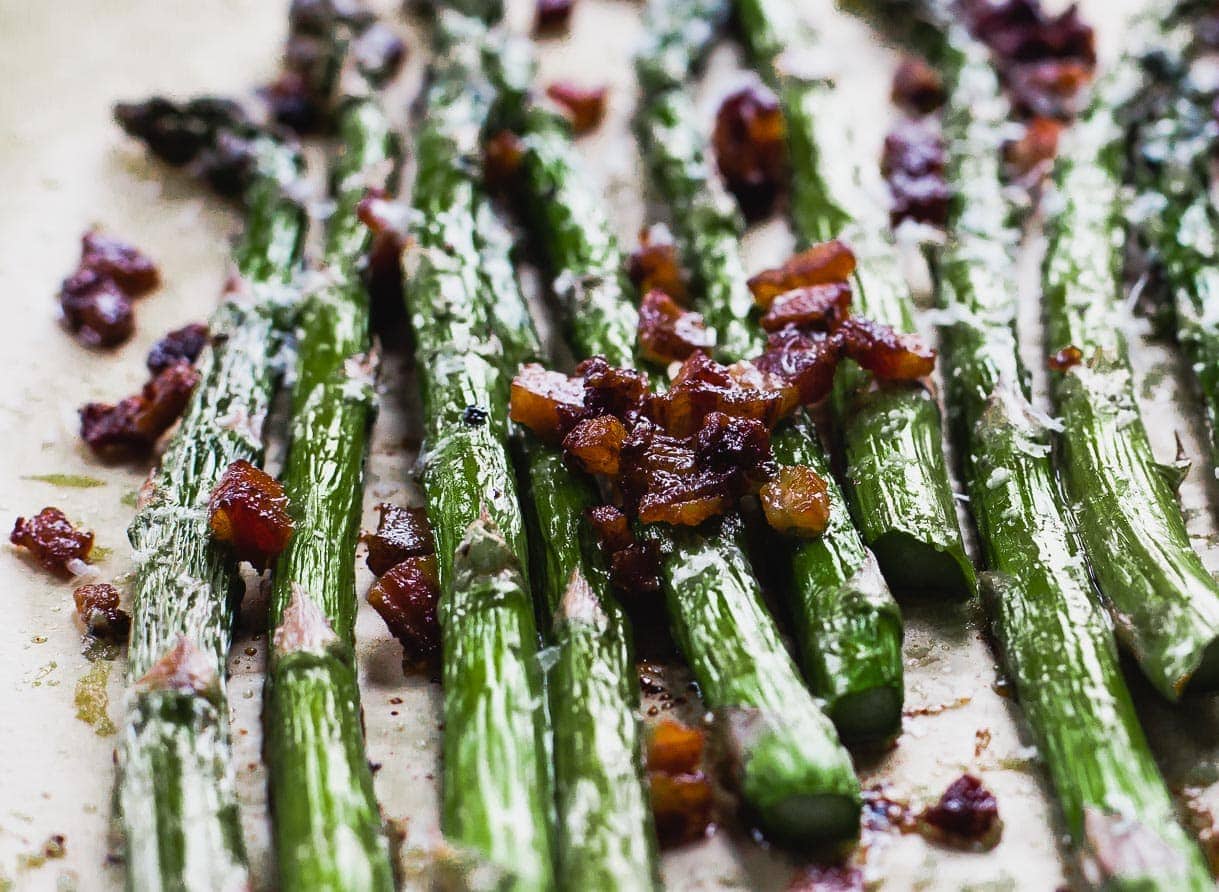 I'm always hesitant to say something is "the best", but honestly, this 3 ingredient asparagus recipe is the best I've ever made, or eaten.
And I take zero credit for its brilliance, as it comes from The Pretty Dish cookbook, created by Jessica Merchant of How Sweet Eats.
Do you love her blog, How Sweet Eats, as much as I do? Her writing makes me feel like I'm talking to my best girlfriend, letting you into her real life, who talks about all the things she loves from food to makeup (the book also includes 50 Beauty DIYs!), clothes, celebrity gossip, music, vacations, her children….. which I appreciate because it brings out the feminine side of me that sometimes gets lost.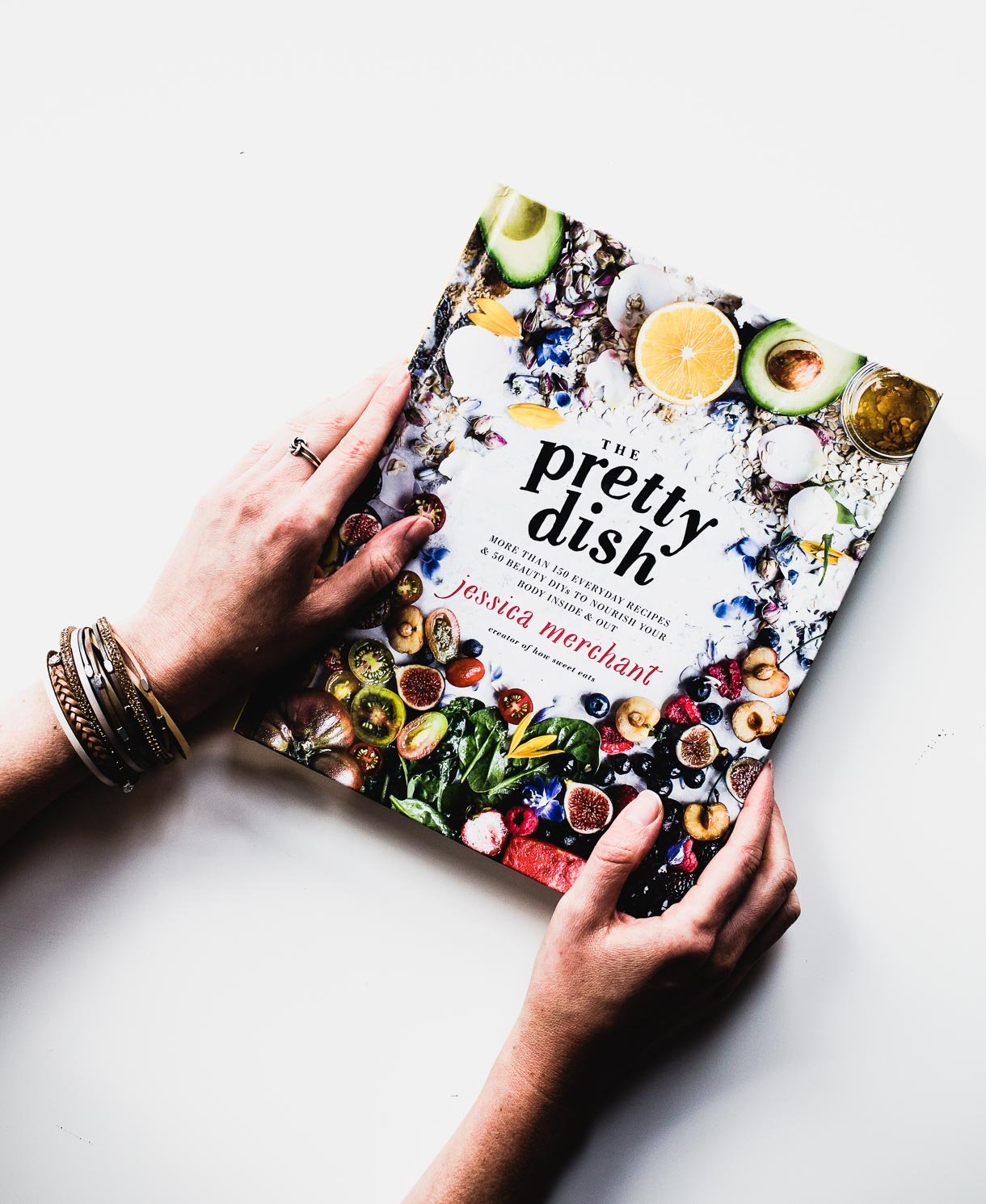 I had the opportunity to spend a weekend with Jessica last year, and I can tell you she is every bit of wonderful – humble and down to earth, a contagious energy, and the ability to make me belly laugh without even trying. Through this book, you'll find that exact same person, along with 150 delicious recipes with a vibrant photo for each and every one of them. She even includes party menus and her favorite playlists!
I picked this parmesan asparagus recipe to share with you since spring is finally here (even though we're getting snow today in Minnesota 😐), and Easter is this Sunday.
As Jessica says, "Asparagus is one of the few veggies I can take to a gathering and know that it will be eaten with gusto." And eaten with gusto it was, in this house. Brian and I ate every single spear straight off the pan.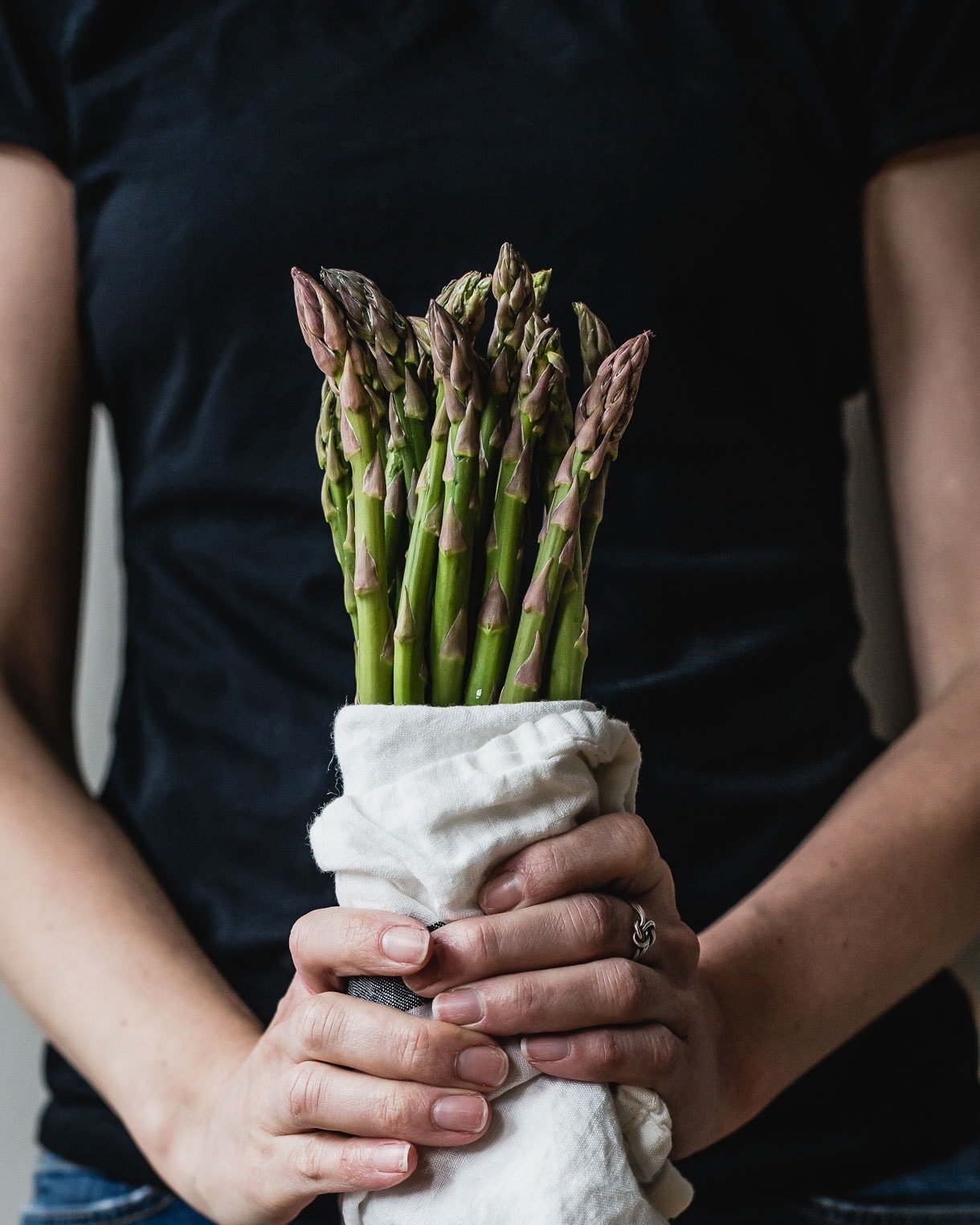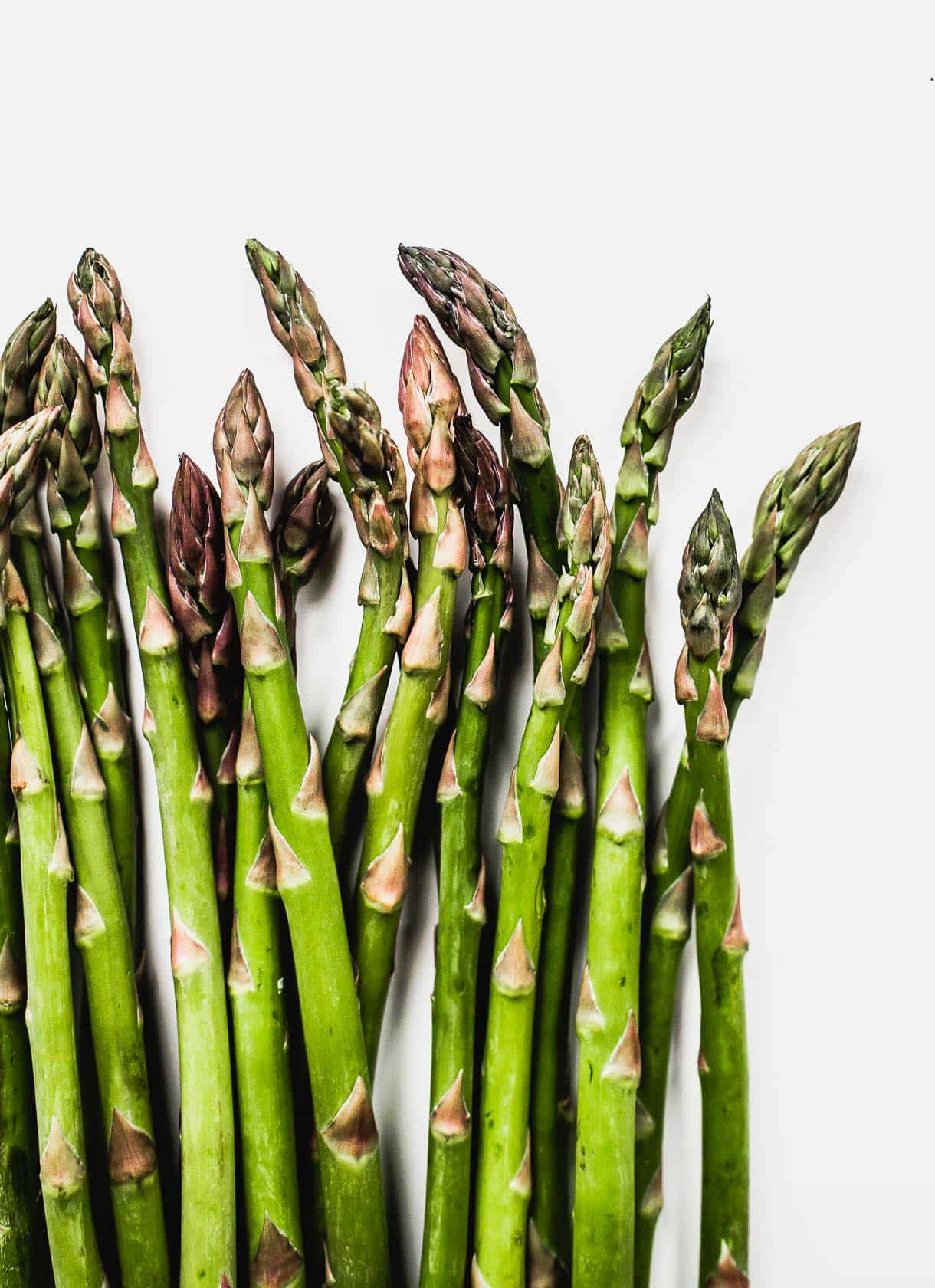 Ingredients for Roasted Parmesan Asparagus:
smoky salty bacon
the umami of parmesan
and the golden child of spring — asparagus
I altered the recipe slightly, using a tablespoon of the bacon fat that had rendered, to replace half of the olive oil called for. And it paid off in the form of richly flavored spears from the inside out, and crunchy tips. I also must have spaced out for a second while making the recipe, because the shallot I bought from the list of ingredients never made it into the pan. Oops! But that little mistake didn't seem to hurt the end result. And it certainly keeps things simple.
How to Cook Asparagus So It Doesn't Get Soggy
The most important tip for making perfectly roasted asparagus is error on the side of less time than more in the oven! Asparagus becomes limp when its overcooked, especially because it naturally has a lot of water content, creating an undesirable texture. Vegetables cook for a few minutes even after they're out of the oven, so you'll want to take that into consideration.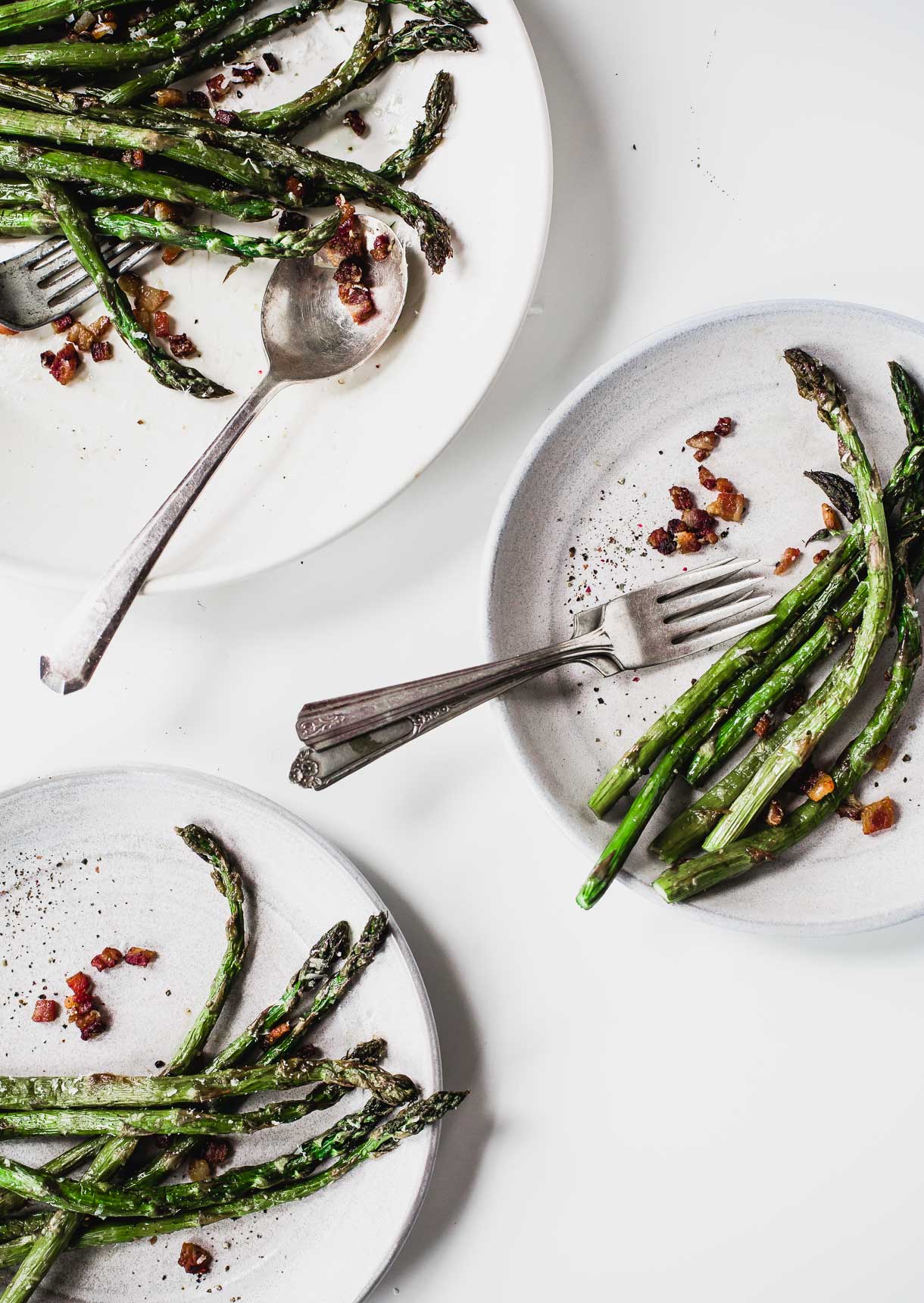 More Spring Side Dishes: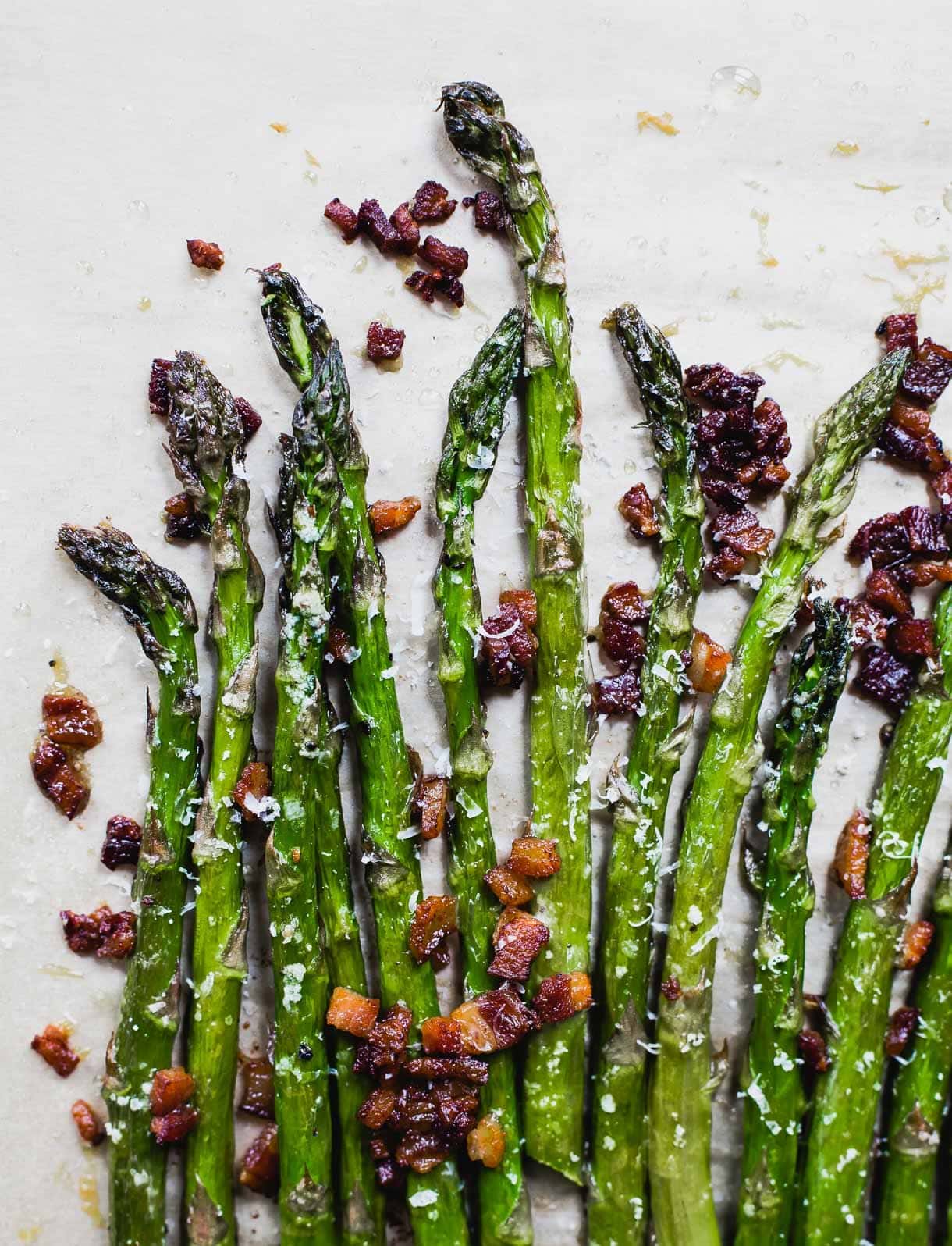 3

slices

bacon,

diced

1

pound

asparagus,

woody bottom stems trimmed off

1/4

teaspoon

kosher salt

1/2

teaspoon

ground black pepper

1

tablespoon

of the fat rendered from the cooked bacon

1

tablespoon

extra virgin olive oil

4

tablespoons

finely grated Parmesan cheese,

divided
Preheat oven to 400 degrees F.

Heat a skillet over medium heat and add the bacon. Cook until some of the fat is rendered and the bacon just begins to crisp, but does not get super brown and crispy. Remove it with a slotted spoon and place it on a paper towel-lined plate to drain. Reserve one tablespoon of the bacon fat left in the pan, and set aside.

Place the asparagus on a parchment lined baking sheet. Drizzle with the tablespoon of rendered bacon fat and olive oil. Sprinkle with salt and pepper. Then toss with hands to coat. Sprinkle on 2 tablespoons of parmesan and all the bacon.

Roast for 20 to 25 minutes or until the asparagus become a bit crispy and brown. Remove from oven, and sprinkle with the remaining 2 tablespoons of parmesan before serving.
The original recipe comes from The Pretty Dish Cookbook, which calls for a shallot, finely chopped, that you add at the same time you add the bacon in the recipe. You can certainly make it that way if you'd like!