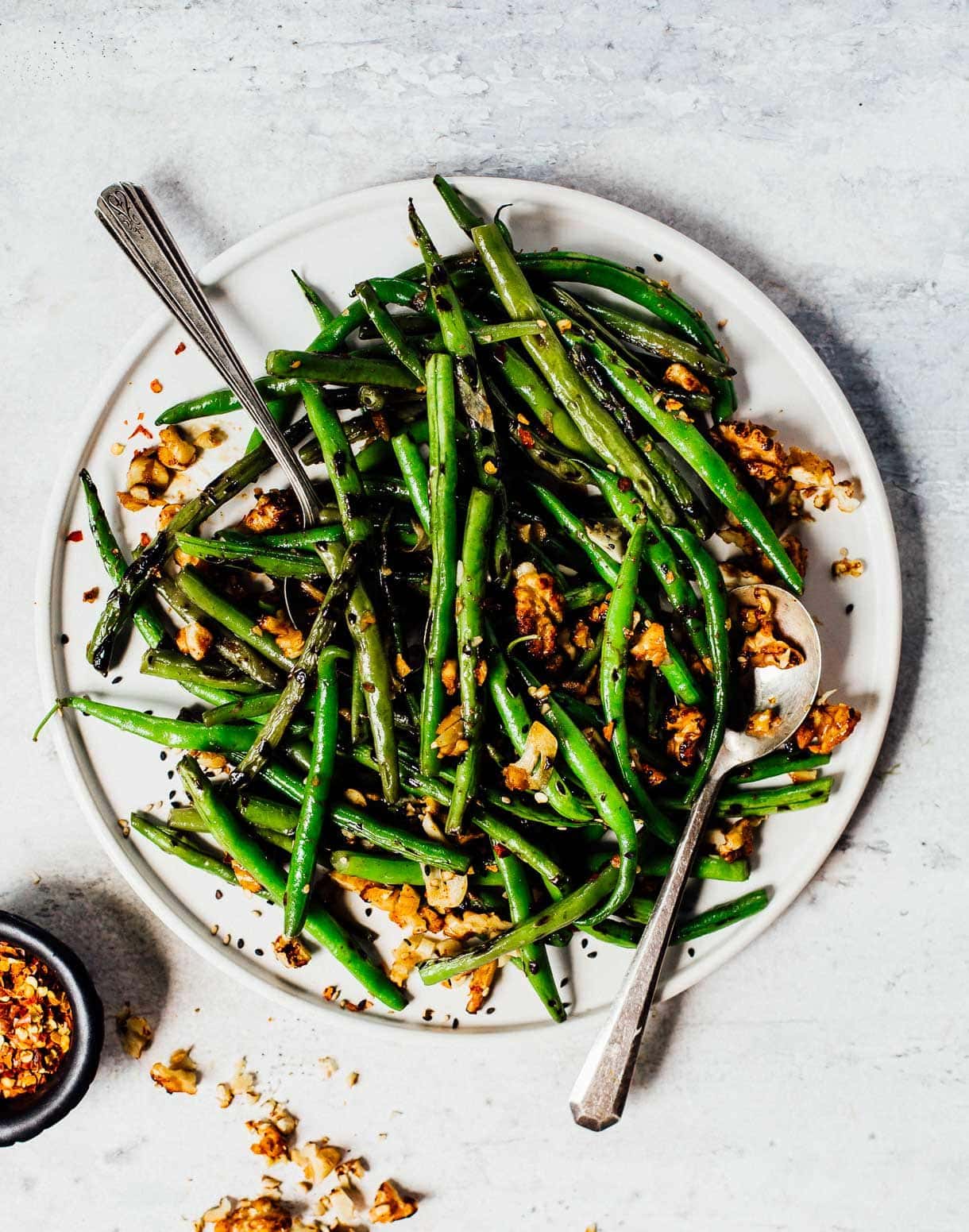 Fresh green beans are one of my favorite vegetables. When cooked right, their vibrant color and slight crunch is irresistible. As they flood the farmers market and the garden, I'm continually on the hunt for new ways to eat them, and have found these blistered Spicy Green Beans with Sesame Walnuts to be a real winner.
Fresh green beans are incredibly versatile! Steamed and tossed in salted butter, or deep fried and crispy, you can't go wrong. Perhaps you love the crunch of raw beans in summer salads, or pickled. Or roasted!
Walnuts are adaptable too, and can be enjoyed raw or toasted, pureed into pestos and sauces, or seasoned for a sweet or savory kick to complement any dish (like this one!).
Most recently I've been making these Spicy Green Beans with Sesame Walnuts as a side dish to rotisserie chicken on the grill or on top of steamed rice (I LOVE rice and could eat it every single day) with an egg.
Making Green Beans on the Stovetop
By blistering the green beans in a hot skillet, they take on a delicious, smoky flavor that is balanced by the rich flavors of the sesame walnuts.
You'll hear them crackle and pop, signaling you're on the right track. Because the beans are blanched first, they keep their vibrant green color, even after they're charred.
Ingredients for Spicy Green Beans
Once the blistering is complete, you'll add the key components that give this dish all sorts of Asian-inspired, spicy flavor, including:
tamari
sliced garlic
ginger
rice wine vinegar
chili flakes
sesame seeds
*Storage Tip for Walntus: When you buy raw walnuts, be sure to store them in the refrigerator or freezer to preserve their freshness. Heat causes the fat in walnuts to change structure, which creates off odors and flavors, which is why you don't want to store them in your pantry. Fresh walnuts smell mildly nutty and taste sweet.
These ingredients are a unique way to dress up green beans that still allows the full, fresh flavor of the beans to shine!
More Side Dish Recipes: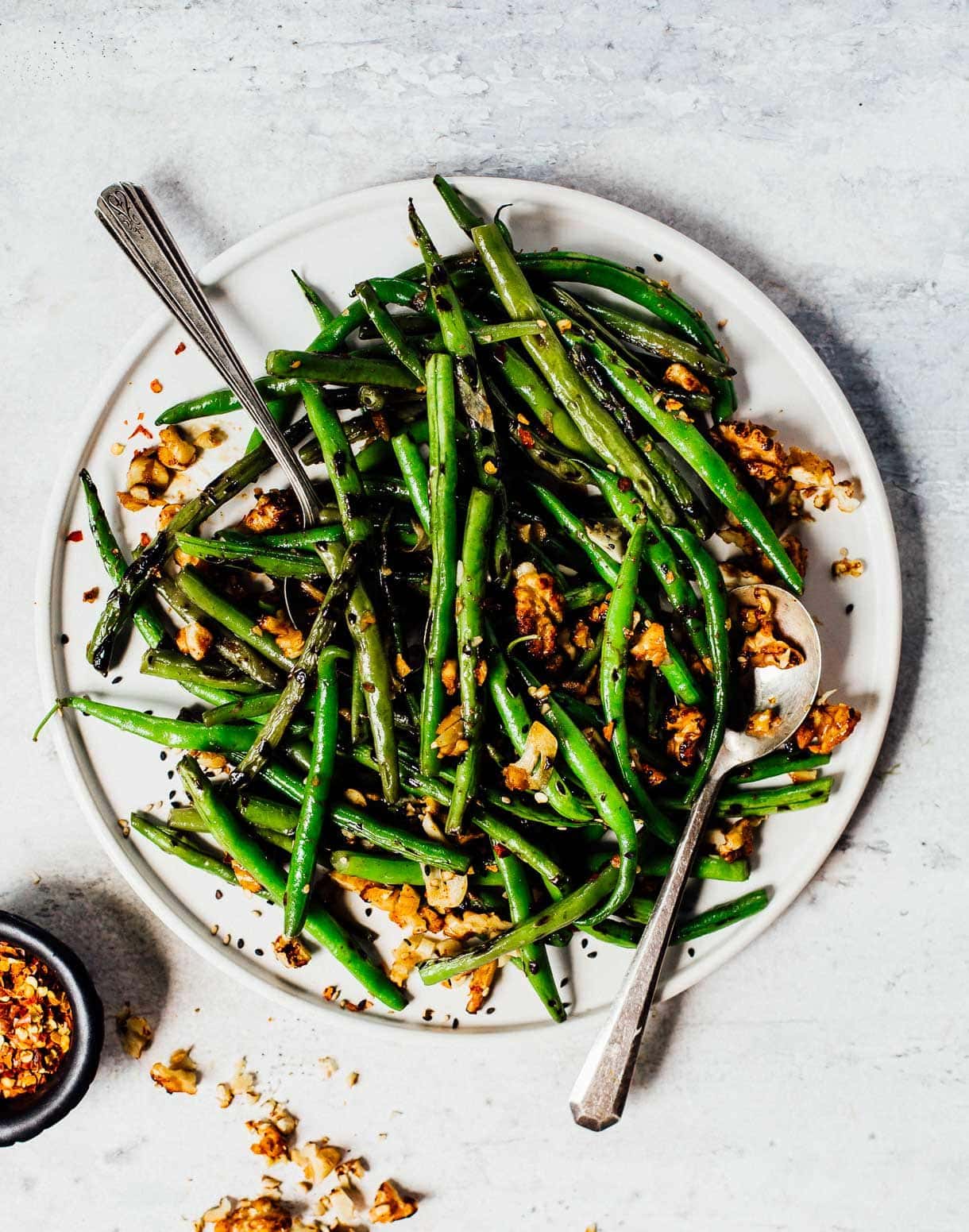 Sesame Walnuts
1/2

cup

raw walnuts

1

teaspoon

sriracha

1

tablespoon

tamari

2

teaspoons

sesame oil
Green Beans
1

pound

fresh green beans

1 1/2

tablespoons

olive oil

2

cloves

garlic,

thinly sliced

1

tablespoon

chopped ginger

2

tablespoons

tamari

1

tablespoon

rice wine vinegar

1/2

teaspoon

red pepper flakes

2

teaspoons

toasted sesame seeds
Preheat oven to 300 degrees F.

Stir together sriracha, tamari, and sesame oil. Toss walnuts with the mixture. Spread on baking sheet, and roast for 6-7 minutes, until fragrant. Remove walnuts from baking sheet and place on a plate until cool. Then finely chop.

Prepare an ice bath. Bring a large pot of water to boil, with 2 teaspoons of kosher salt. Add green beans, and cook for 3 minutes. Drain and immediately put green beans into ice bath. Once cool, remove green beans and lightly pat dry.

Heat a cast iron skillet to medium-high, and once it is very hot (you'll see a little smoke) add green beans, and let cook on each side until charred and blistered. You'll likely have to do this in two batches, as pan may not be big enough to put all in it at once.

Keep pan on the stove, but move to an area off the heat. Push green beans to the side of the skillet, and add olive oil to the other side. Add garlic and ginger, and let cook for one minute, then stir everything together.

Add tamari, vinegar, red pepper flakes, sesame seeds, and stir to coat. Toss with chopped sesame walnuts and serve.