Blistered and charred from a hot roast in the oven and tossed with fresh lemon, dill, and crushed almonds, this recipe is always a winner. It's a great side dish in Spring or Fall, and a delicious option for a healthy side dish.
Although I named this post after a simple recipe, it could very well be "How I Came to Love the Humble Green Bean." Blistered and charred from a hot roast in the oven and tossed with fresh lemon, dill, and crushed almonds, this recipe is always a winner.
How to Make Blistered Green Beans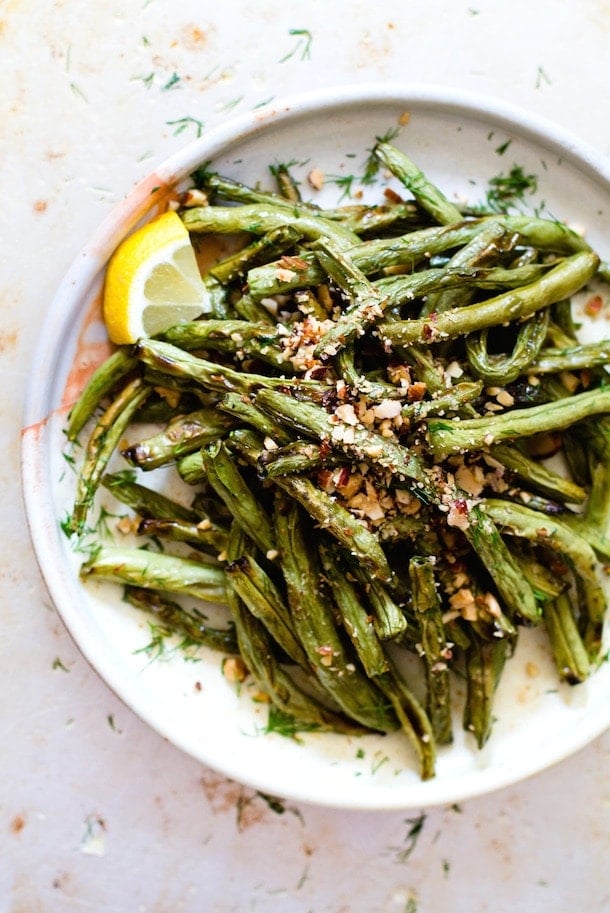 A recent trip to the farmer's market led me to give them one more chance. I find that making my way to different markets always lends a unique experience. Different growers, different specialities, different vibes.
Bushels of green beans were waiting to be preserved into spicy dilly beans, but I've never had much luck with that. Instead I took some home with the recommendation of the young man behind the table who said, "Blister them – not on the stovetop but in a really hot oven. They'll transform from cold and tough, to charred and crisp."
I've found that more often than not, the hands that grow what we eat know best. The thermometer rose higher and higher throughout the day, but I trusted the young man. Soon I was cranking up the oven to let the magic happen.
As I could hear them sizzling and sputtering, I thought about the power of in-person connections, and how they will never be replaced by online/social interaction. Ever.
Ingredients for this Recipe
Hot and crispy, I popped them into my mouth, straight off the pan…….. And silently thanked the young gentlemen for convincing me that green beans could find a way to my heart.
To brighten them I added a splash of fresh lemon juice (tip: a little acid always brings out the best in vegetables) and dill. And for texture, crushed almonds were the perfect last minute addition.
So simple – five ingredients, one pan, lots of flavor. I know some of you are married to your traditional way of cooking green beans but if you're looking for a new version, this blistering technique is a winner. And when you're on your next market adventure, don't hesitate to ask the lovely person behind the stall for a few tips. Their advice might just change your mind on some humble vegetable.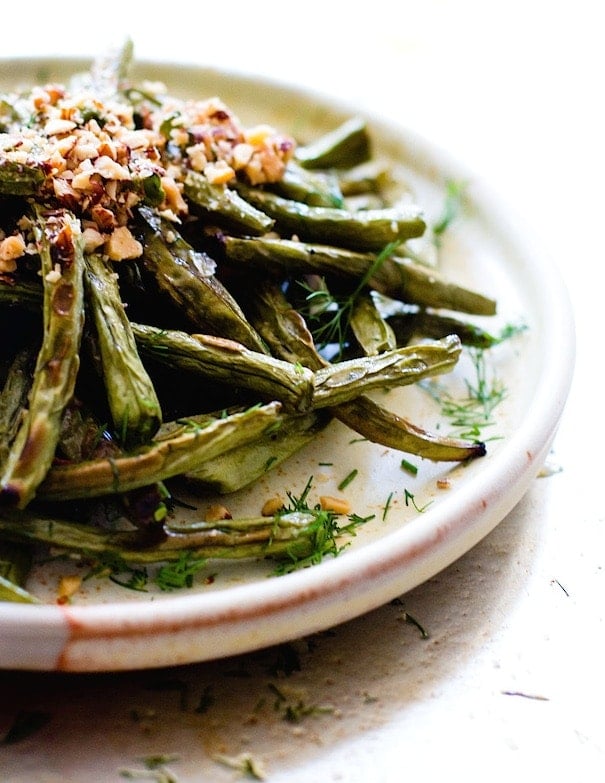 More Side Dish Recipes:
Preheat oven to 425 degrees F. Toss green beans with olive oil and salt, then spread in one layer on a large sheet pan.

Roast for 10 minutes, then stir to flip some of the beans over, and roast another 8-10 minutes, until green beans are charred and blistered.

Remove from oven and stir in lemon juice and dill, then top with crushed almonds and flaky sea salt.
*There are two keys to this recipe – making sure your oven is hot enough (don't put the beans in until it reaches the correct temp even if you are rushed), and spreading them in an even layer on the pan so they aren't crowded. I use a large half sheet pan like this. Although you may be tempted to use a ton of beans, I tested the proportion of oil to beans to get them to be be charred and crisp.