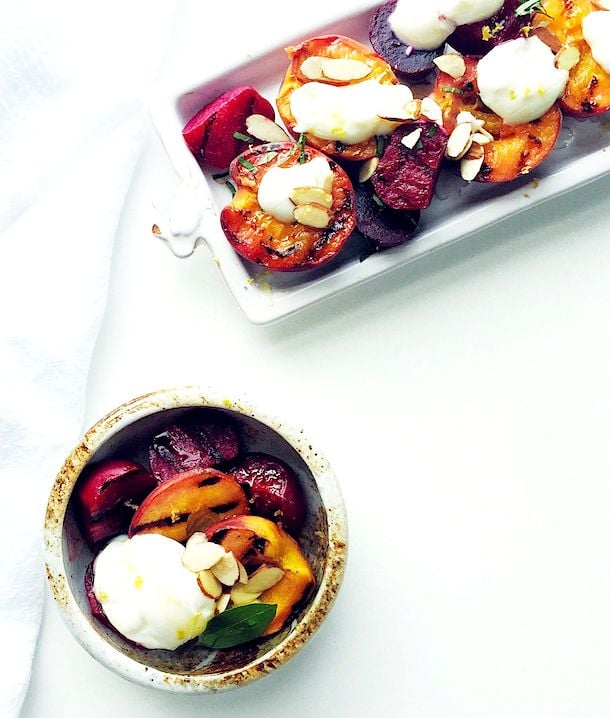 No matter what state you call home, this time of year is captured best with beautiful, fresh food.
More often than not, my summer meals come together without a recipe. I'm moved by the flavors of the season and the abundance of produce I can get my hands on. One day that might be dew-kissed cabbage fresh from the market, and the next it's juicy berries with a fragrance so powerful I can't help but eat half the pint on the way home. Or long and slender summer squash, crunchy radishes, and fragrant green onions from my CSA. And sometimes unlikely combinations meet the grill, like the beets and peaches in the picture above, kissed with plain yogurt, honey and sliced almonds.
I thought I'd share a little glimpse into my summer kitchen and the creations inspired by the flavors of the season, rarely a hard & fast recipe. All these photos are taken with my iPhone, essentially my everyday meals that just sort of come about. Often I'm inspired by instagram, like a seasonal cookbook that's always influx around the world, or one of my many talented friends who blog too.
Warm oatmeal isn't just for the chillier months in my book. I love it both savory and sweet, each bowl somehow reminding me that a slow breakfast leads to a fresh mind. Last weekend I decided to try a new method, inspired by Megan Gordon's book, Whole Grain Mornings. Her advice was to toast the oats, add them to boiling water and a bit of milk, then remove from heat, cover and let "steep" for 8 minutes. What resulted were the perfect oats, toothsome with a slight chew in texture, with nutty, brown butter like flavor from the ghee. Topped with a blueberry bourbon sage jam, hemp seeds and a splash of almond milk, it was pure bliss.
On a hot and steamy day, this 7 Layer Fruit Salad was just the refreshment I needed. Drizzled between each layer is a bit of honey and fresh mint. Use whatever fruit you've got on hand, but melons, watermelon, and pineapple work great for stacking. You'll literally feel like you're eating the rainbow.
I eat a salad everyday, whether that's for breakfast, lunch or dinner. I don't always make homemade dressing (this organic, preservative free Curry & Fig little number is always in my refrigerator), but when I do, I'm reminded that there's no comparison.
I love having the ability to adapt as I need, like leaving the parmesan out of this Caesar Salad Dressing, and adding lots of garlic. It was also the first time I had used anchovies. Wow, now I know exactly why it tastes so good in a "from scratch" restaurant.
When life gives you too many radishes, or any vegetable for that matter, quick pickles to the rescue. This jar is a combination of radishes and garlic, with a simple brine of 1 cup water, 1/2 cup apple cider vinegar, 1 tablespoon honey or maple syrup, and 1 1/2 teaspoons salt. Bring that to a boil, then pour over the vegetables you've packed in a mason jar. Let cool uncovered, then refrigerate. Tomorrow you'll have tangy, salty, pickles to boot.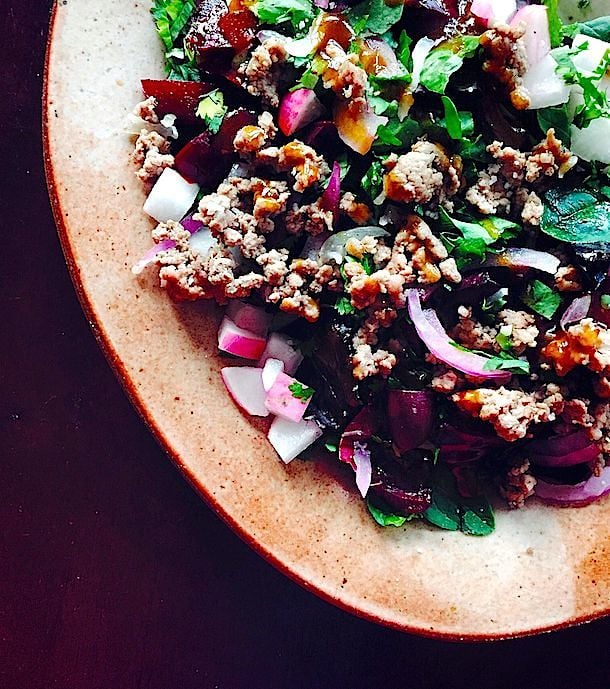 Often my plates end up looking like this, with colorful leftovers. Roasted beets and ground lamb had been part of a dinner earlier in the week, baby radishes and red onion from the market, and greens begging to be used before their end. I used the curry-fig dressing which I mentioned above, and within moments I was enjoying my clear-the-fridge salad on the patio.
Like vegetables, salmon has peak seasons too. Between wild-caught Copper River or Coho, I can't get enough of it right now. It takes little time to cook, just a quick sear on both sides with olive oil and fresh herbs. I made a spiralized version of Cucumber Salad, which was cool and crisp, the perfect companion.
Just like with life, sometimes the best meals, bites, and drinks come from what I would call "un-planning". I'd love to know what some of your favorites or most memorable have been this summer, or where you're finding inspiration. And if you want to come hang out on Instagram, I'd love to be friends!