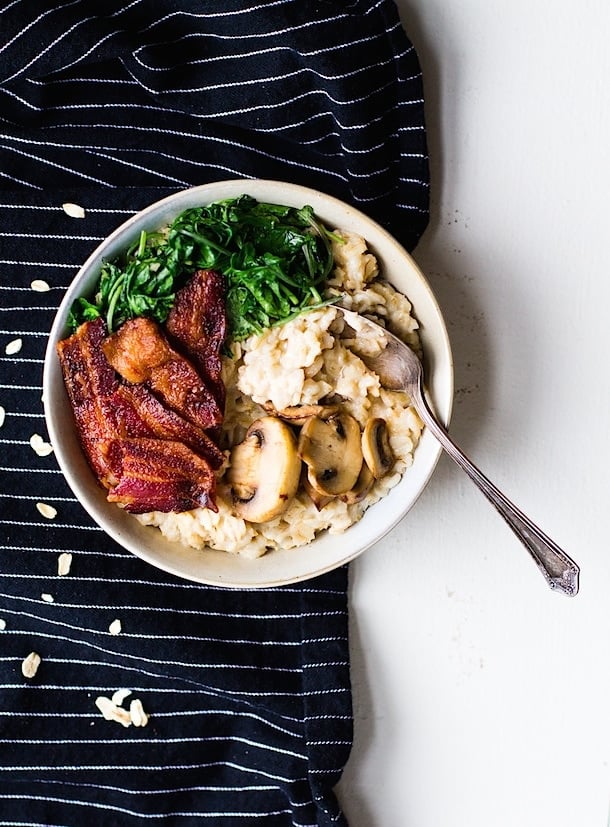 You're probably wondering why it's the end of June and I'm posting a recipe for savory oatmeal.
Sunny and warm mornings greet us as we wake, new flowers blossoming on the patio where I enjoy breakfast every chance I get. It seems like the perfect opportunity for fresh fruit atop yogurt and a glass of iced coffee, but I sit with a strong cup of joe and this steaming bowl of creamy oats, garlicky greens, sizzling bacon, and mushrooms.
The idea of reinventing sweet standby's like waffles, pancakes, and pies in savory fashion has always intrigued me.
This recipe is my way of thinking beyond sweet oatmeal and summer salads!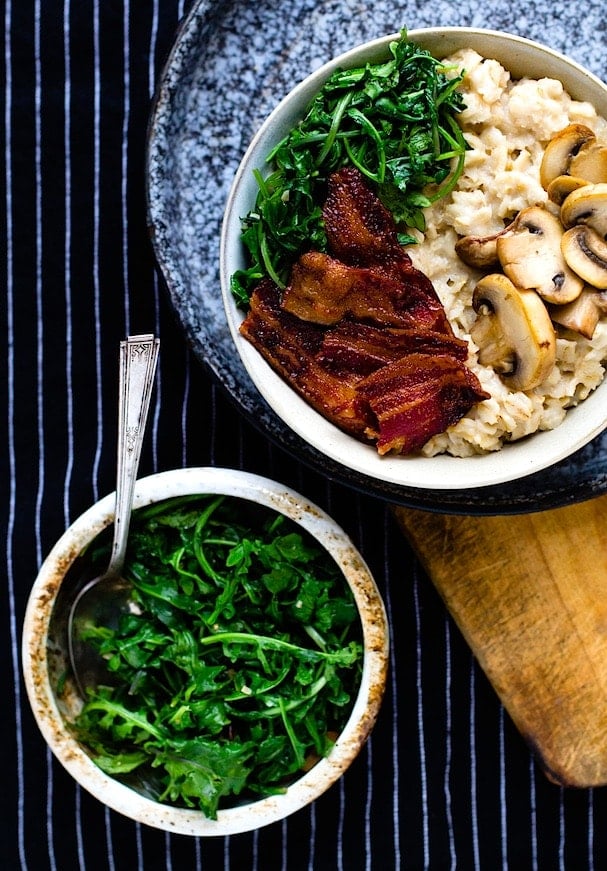 There's a lot to love about this morning bowl. Thick and hearty oats are slowly simmered while the bacon fries and then mushrooms are sautéed in the salty drippings. Both are sources of deep flavor and umami, similar to how I use miso and chili oil in my other savory oatmeal recipe. Yum.
Using a peppery and bold lettuce bland is the perfect compliment to the naturally sweet and nutty oats. It's a zesty mix of baby kale, tangy mizuna and the classic Italian greens: arugula and radicchio. Sautéed with lots of garlic and olive oil, they become silky and void of their raw bitterness. (And I've made the greens that way as a quick side dish several times now.)
With each bite, I'm enamored by the different flavors, textures, and comfort this savory oatmeal brings!
More Savory Breakfast Recipes: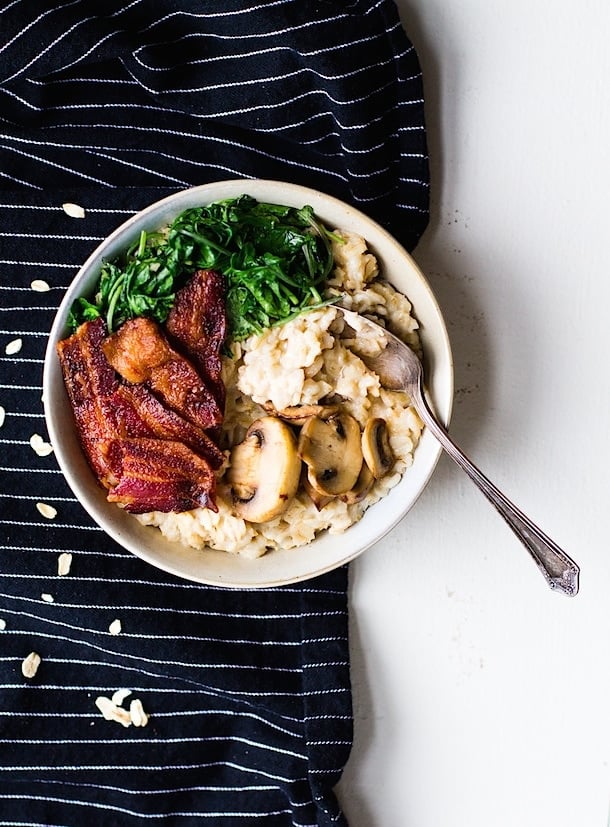 2

cups

water

1

cup

milk,

dairy or unsweetened non-dairy milk

3/4

teaspoon

kosher salt

1 1/4

cups

organic rolled oats

6

slices

of bacon


4

ounces

mushrooms

cleaned and sliced


2

cloves

garlic

minced

1 1/2

tablespoons

olive oil


3

ounces

baby kale or baby spinach
Bring water, milk, and salt to a boil in a saucepan, then stir in oats. Reduce heat to a barely simmer and cook uncovered for 20 minutes, until desired consistency. Stir a few times during while they cook, but not too much or the oats will get gummy.

Meanwhile heat cast iron skillet to medium high and cook the bacon in batches, flipping once and letting the pieces get crispy. Set on a towel to drain. Leave 2 tablespoons bacon grease in the pan and add mushrooms, stirring to coat. Return heat to medium and cook for 6-7 minutes, until mushrooms are softened and browned.

Remove mushrooms from pan and set aside. Add the olive oil and bring to medium-high heat. Stir in garlic and let cook for 1 minute, until fragrant, then add greens and 1/4 teaspoons salt. Stir to coat, turn heat down to medium, and cook for 3 minutes, until greens are wilted.

Assemble each bowl with greens, mushrooms and bacon. Drizzle with some of the leftover bacon fat if you desire.