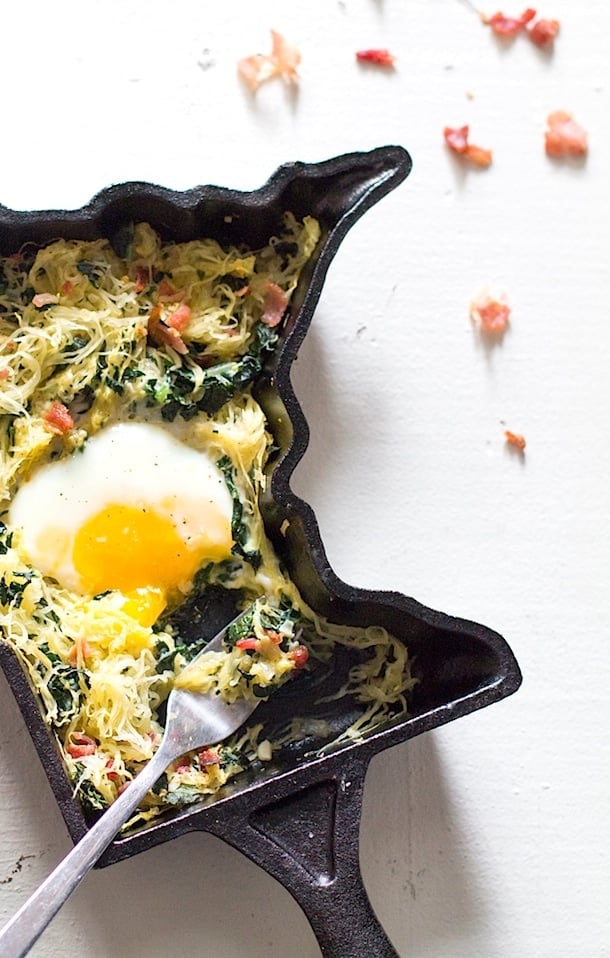 Ready to eat spaghetti squash for breakfast? Let's do it!
This vegetable forward hash uses roasted spaghtetti squash, kale, onion, and bacon.
Fry it up in a cast iron skillet with an egg, and you have a super satisfying Whole 30 breakfast. I like to make these Almond Flour Banana Muffins to go with it or a Strawberry Kiwi Smoothie.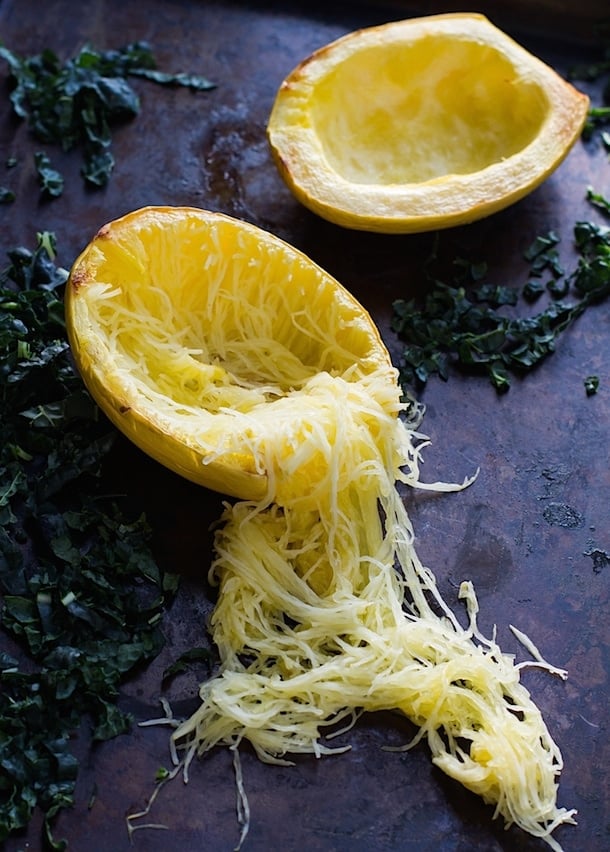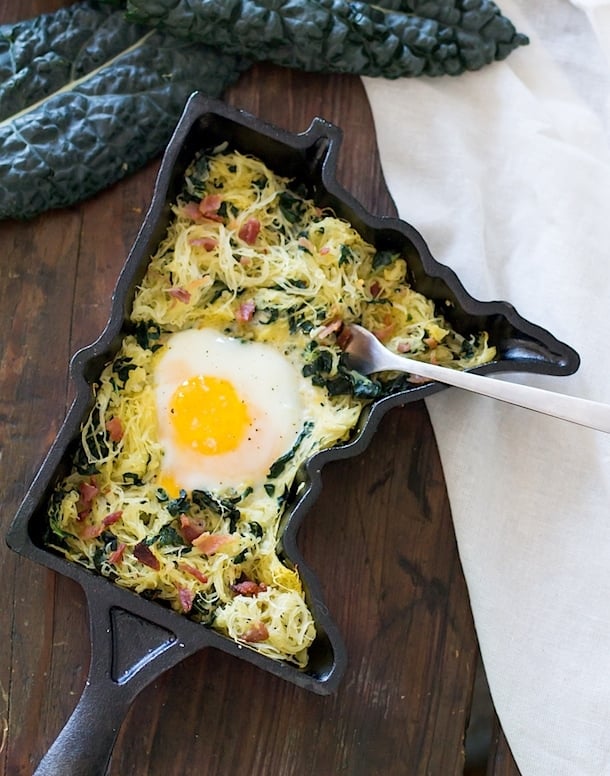 This Whole 30 Spaghetti Squash Bacon Hash works beautifully as a nourishing lunch or dinner too. The golden strands of this yellow squash are truly a work of vegetable art!
Tips for Cooking with Spaghetti Squash:
If you've had trouble with spaghetti squash getting mushy, you're probably overcooking it. Bake spaghetti squash at around 400 degrees for 30 minutes, cut side down. At that point, the strands should pull away from the exterior flesh in strands. You still want them to hold their structure.
The best way to cut a spaghetti squash is to put it in the oven whole, and let it bake for 15 minutes. This will soften the tough exterior skin. Remove it, and using gloves, cut it in half vertically.
Spaghetti squash will last 1-2 months if stored in a dry, cool spot, away from light. Moisture and sunlight will cause it to deteriorate faster.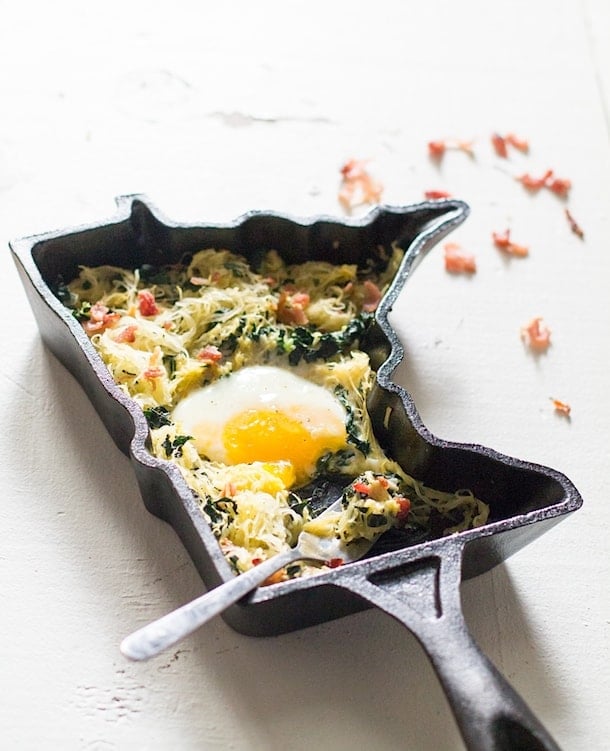 More Paleo Breakfast Recipes: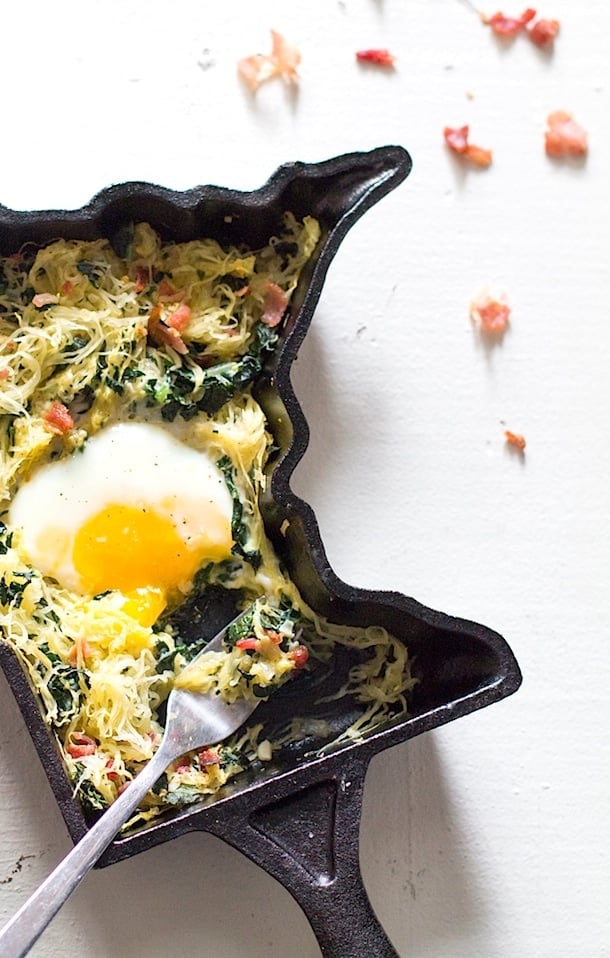 1

small spaghetti squash

mine was 1 ¼ pounds or half of a larger one

1/2

tablespoon

olive oil

salt

2

slices

of bacon

2

tablespoons

minced onion

1

clove

garlic

minced

4

small leaves of kale or 2 large

cut into skinny threads (called a chiffonade)

1

teaspoon

red wine vinegar

¼

teaspoon

black pepper

1

large egg
Preheat the oven to 375 degrees F. Cut squash in half vertically and scoop out seeds. Rub inside of flesh with olive oil and 2 big pinches of salt. Place cut side down on a sheet pan and roast for 12 minutes.

Turn over so cut side is facing up and bake for another 15-20 minutes (this helps pull some of the moisture out so it won't be as soggy), or until flesh is softened and will pull into strands when you use a fork to remove them. Be careful not too overcook – which is common with spaghetti squash. When the strands will pull away from the outer skin, it is done. It should be al dente like pasta. Remove from oven and use a fork to remove the strands, much like you would do to pulled pork. (Use strands from one half if you are using a large squash.)

While squash is roasting, heat a cast iron skillet over medium heat. Let it get hot, then add bacon. Cook until crispy, turning heat up slightly if needed. Remove bacon and drain on paper towel. Crumble it when cool.

Leave the bacon fat in the pan. Add onion and garlic to pan and saute over medium heat for 3 minutes, until translucent. Stir in kale and about 1 tablespoon water. Cook for 4-5 minutes, until kale is wilted. When squash is done roasting an you have removed its strands, place them in a towel and squeeze some of the water out.

Add the spaghetti squash to the pan and use a fork to gently stir and combine, so kale distributes itself through the squash. Stir in bacon, vinegar, black pepper and 2 big pinches of salt. Taste and adjust salt as needed. Make a well in the middle of the hash, that reaches the bottom of the pan, and crack one egg into it. Cook on medium heat until the yolk is as set as you prefer. Enjoy!