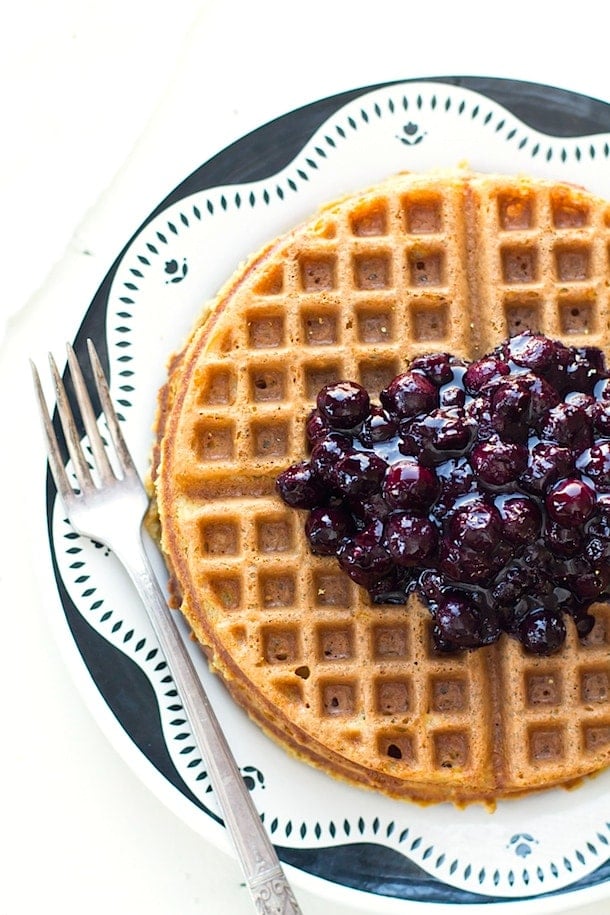 Tomorrow marks 31 years I've been trying to figure out this thing called life. Some stumbles, some falls, a few leaps and even a couple of cartwheels. Regardless, they've made me who I am today. We have all times when we wish we could change certain things about our lives, or control the outcome more often, but I feel like the surprises are what make life worth living.
With one year in the 30's under my belt, I'm finally starting to feel like an adult – most days that is. Let's just forget about the time this summer when I locked myself out of the house with a pan of cookies in the oven. Can you say crispy critters?
At 30 I became a published author (still crazy to write that), spent a glorious week in Aruba, left a job but found out the grass isn't always greener on the other side, and definitely decided that brunch is the star of all meals.
After making slow mornings more of a habit, it was time to buy myself a waffle maker. Hip hip!
I've been experimenting, but I have to say, these Simple Gluten-Free Waffles are just the way I like them. Light and crisp, naturally sweet from the whole grains, and the perfect vehicle for this juicy Blueberry Cardamom Sauce. Or anything for that matter.
It's peak season for citrus right now, but even being an adult isn't going to make it my favorite choice. If both fragrant grapefruit slices or juicy blueberries were in season, I'd pick the berries every time. But you probably know, the fresh ones in the produce section right now are bland, with no sheen or sparkle, and void of their vibrant flavors.
Hence the reason I rely on Cascadian Farm organic blueberries, and their whole selection of frozen fruit during the winter. Like the potatoes that I wrote about in this brunch recipe, berries are in the top 15% of conventional produce grown with pesticides. A major reason why buying organic for these priority fruits and vegetables is so important.
Frozen when plump and juicy the fruit is perfect for baking, smoothies, and delicious extras like this bright and flavorful blueberry sauce. And just like the waffles, it's super simple – cooked on the stovetop for 10 minutes with just a touch of maple syrup, the cardamom and a pinch of cornstarch to slightly thicken it.
If you haven't heard of Einkorn flour, it's an ancient grain that many who can't tolerate wheat are able to digest properly. Compared to modern varieties of wheat, Einkorn is lower in gluten, as well as higher in minerals and antioxidants. Although my auto-immune system didn't tolerate it several years ago, many of my gluten-intolerant friends have found success with it so definitely give it a try!
Since Einkorn behaves much like gluten-free flour in baking and has the nutty taste of whole grains, it's quite easy and natural to be able to adapt the recipes from the book. I love these waffles because not only are they delicious, but they're quick and easy, no overnight proofing. And they're naturally sweet from the oat and millet flours I used, just a touch of maple syrup just a tablespoon of maple syrup is all the batter needed to make it just right.
Simple Gluten-Free Waffles

makes 4 belgian waffles, adapted from The Einkorn Cookbook
85 grams millet flour*
50 grams oat flour*
1 teaspoon baking powder
1 teaspoon baking soda
1/2 teaspoon salt
1 1/2 teaspoons lemon zest
1/4 cup melted, cooled butter
1 teaspoon vanilla
1 egg
1 cup milk
1 tablespoon maple syrup
In a bowl, whisk together the flours, baking powder, baking soda and salt. With your fingers, rub in the lemon zest so that its scent permeates throughout the dry mixtures. In a separate bowl, whisk together the butter, vanilla, egg, milk and maple syrup. Slowly add wet mixture to dry ingredients, whisking as you go to fully incorporate. There should be no flour streaks showing. Let batter sit while you preheat your oven. I turn mine to the #5 heat setting, #7 being the hottest. I like mine crispy :) Pour a scant 1/2 cup batter onto waffle iron and cook until browned and crispy. Serve warm with blueberry sauce.
*You can use 1 cup (125 grams) of Einkorn or regular all-purp0se flour in place of the millet and oat flours.
Blueberry Cardamom Sauce
8 ounces frozen Cascadian Farm organic blueberries
2 tablespoons maple syrup
1/4 teaspoon ground cardamom (freshly ground is preferable)
1/2 teaspoon cornstarch
Add blueberries, maple syrup and cardamom to a simmer in a saucepan over medium heat. Cook for 5 minutes, then stir into cornstarch. Turn heat down a bit and cook for another 5 minutes, until sauce is thickened. Can be made three days ahead of time, stores well in refrigerator.