This paleo pancake batter couldn't be more effortless to make – just combine the ingredients in your blender! The pancakes are fluffy and moist, bursting with pops of blueberries. They're made from a combination of grain-free flours and eggs that give them a generous lift.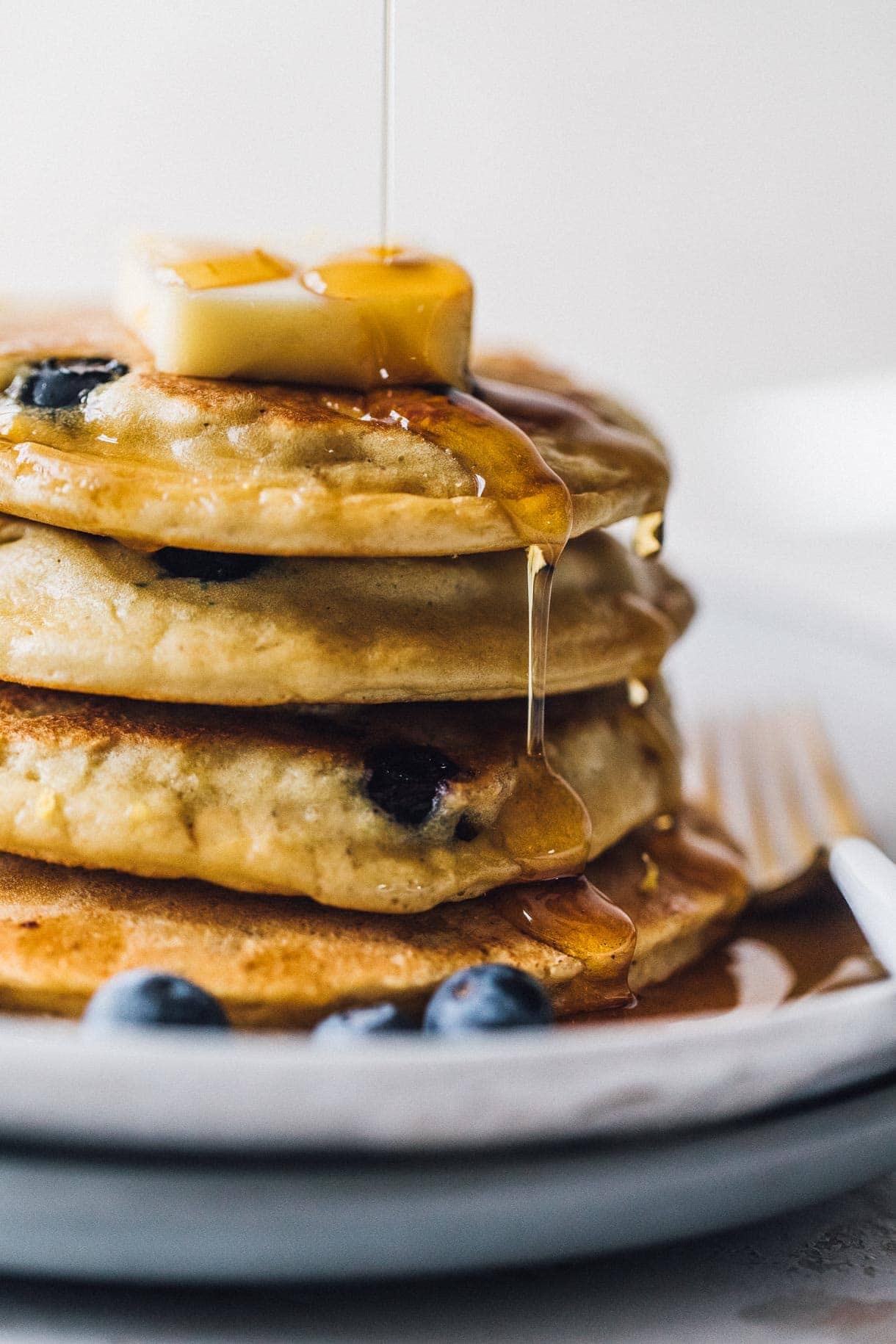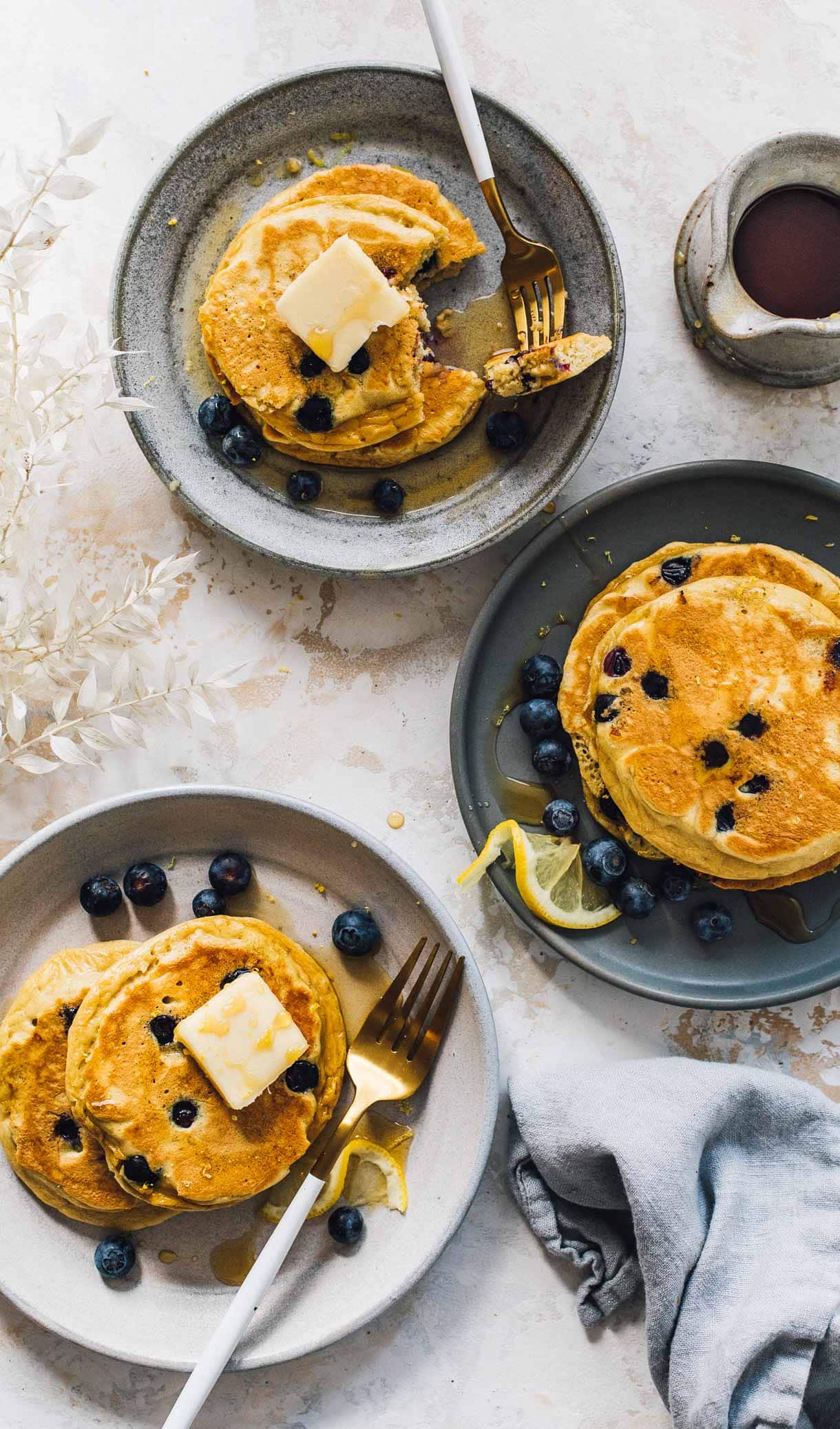 What Makes a Good Paleo Pancake?
A few years ago I made those 2 ingredient banana pancakes that everyone raved about. You know, the ones that you use just ripe bananas and eggs? They aren't terrible.….. but they aren't great. More like a crepe than a pancake in my opinion. I'd rather eat a different gluten-free breakfast recipe.
No matter what the classification – paleo, gluten-free, vegan, I expect it to act like a true PANCAKE. Glorious stacks of fluffy goodness.
Dripping with pure maple syrup.
And I found them.
The secret lies in a genius combination of grain-free flours and eggs for lift, a recipe from Stephanie Meyer's "30-Minute Paleo Cookbook". They're popping with bursts of blueberries, and pure goodness.
I know many of you strive to eat whole, real foods, but on some nights it can be tough to get those meals on the table in a reasonable time, as you're likely cooking from scratch. Stephanie, a good friend of mine has made sure you can do that, with her blog Fresh Tart, and now cookbook. She makes cooking real food accessible, and delicious.
Her cookbook includes 90 recipes plus lots of sensible time-saving advice, things that aren't just your usual, "You should meal prep" that you've heard a million times. You'll see common ingredients and simplicity in the recipes, which is so helpful for cooking more at home.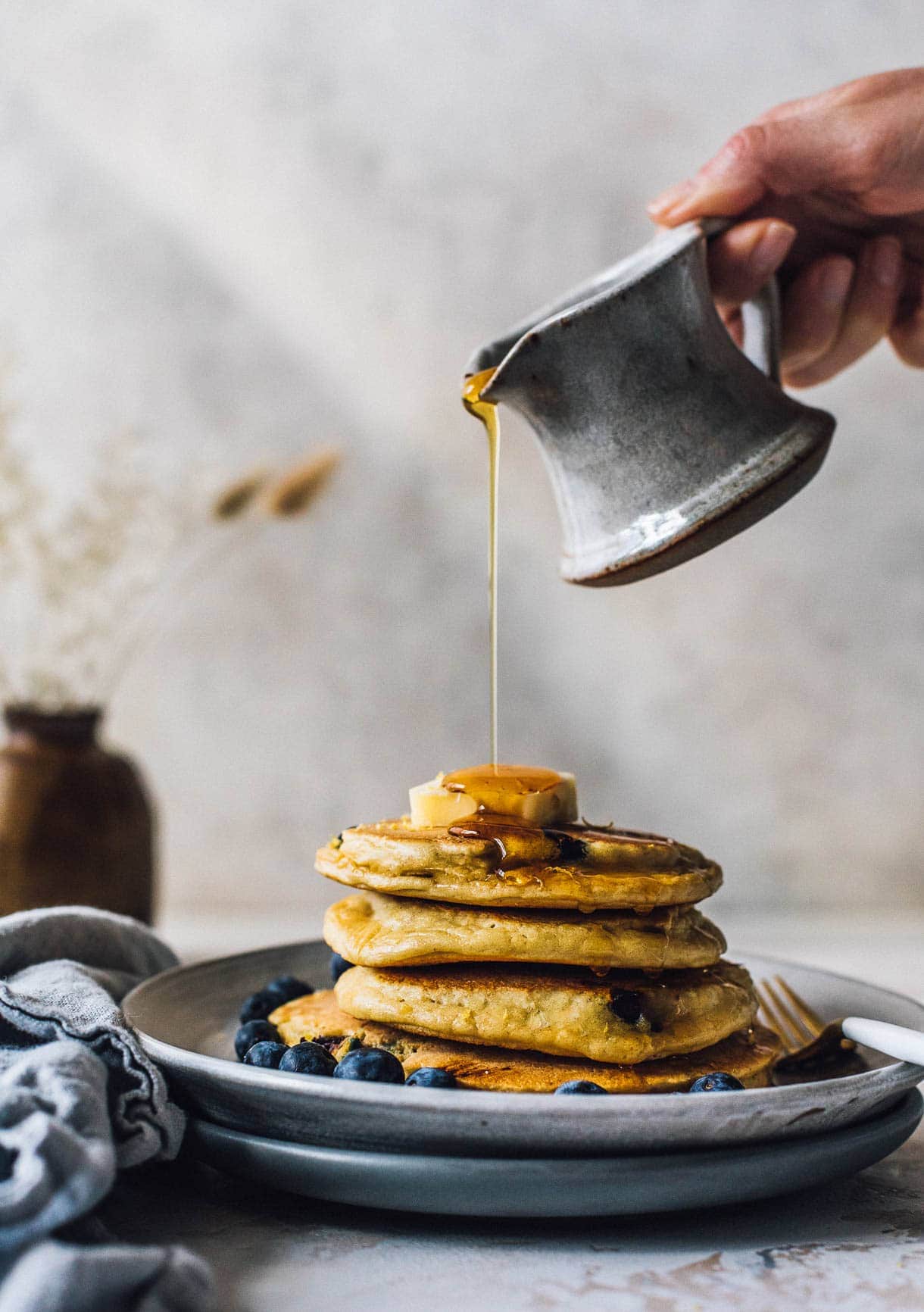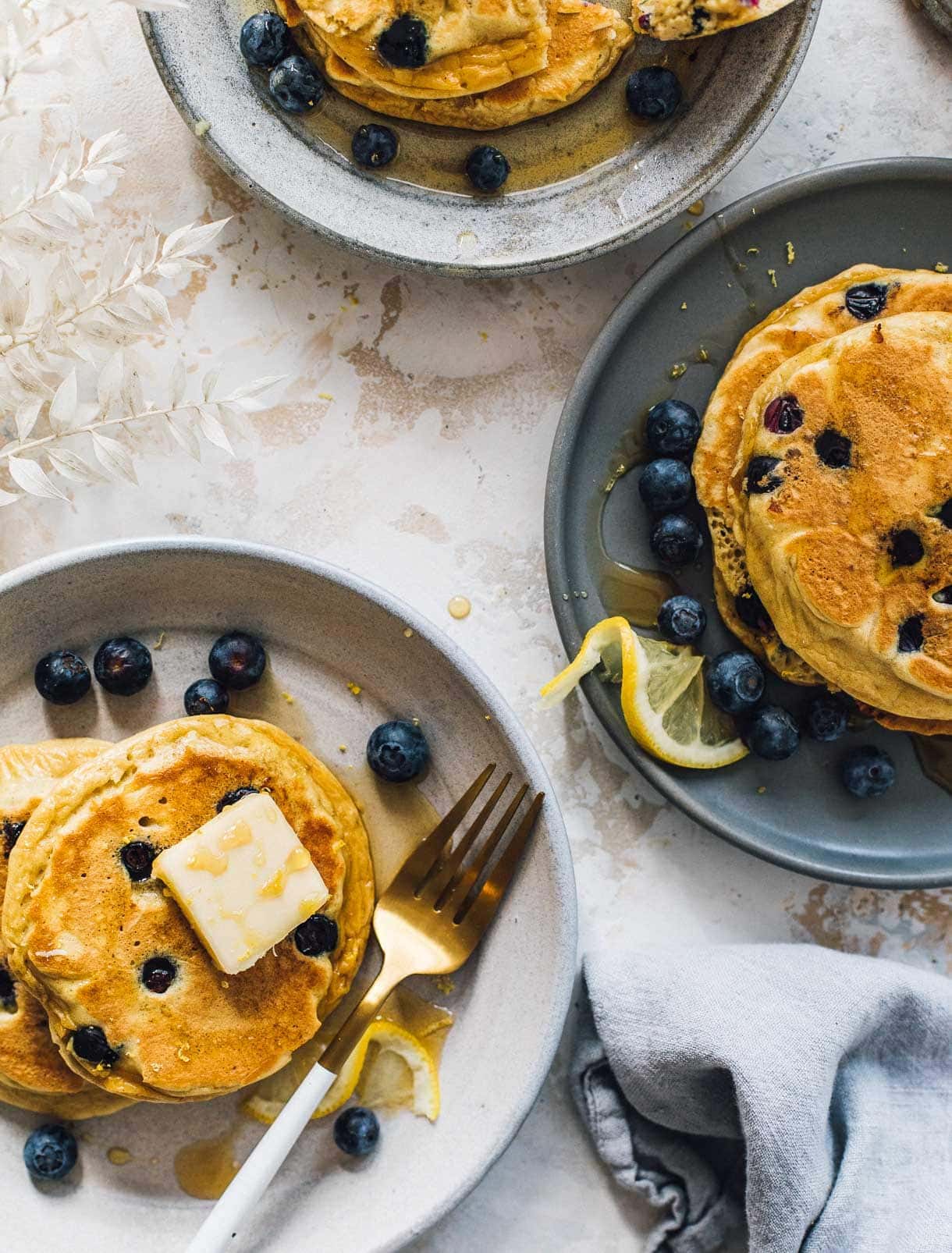 How to Make Paleo Blueberry Pancakes From Scratch
When I'm cooking directly from a recipe, I find it helpful to measure out all my ingredients, and have them ready to go. Otherwise I'm grabbing something here, and grabbing something there, and pretty soon I don't remember if I added the "xxxxx" or not.
So , for this paleo pancake batter you'll need:
eggs
oil
vanilla
baking soda
Everything will go right into your blender. That's it. EASY PEASY.
And you'll add the blueberries to the tops of the pancakes as they cook.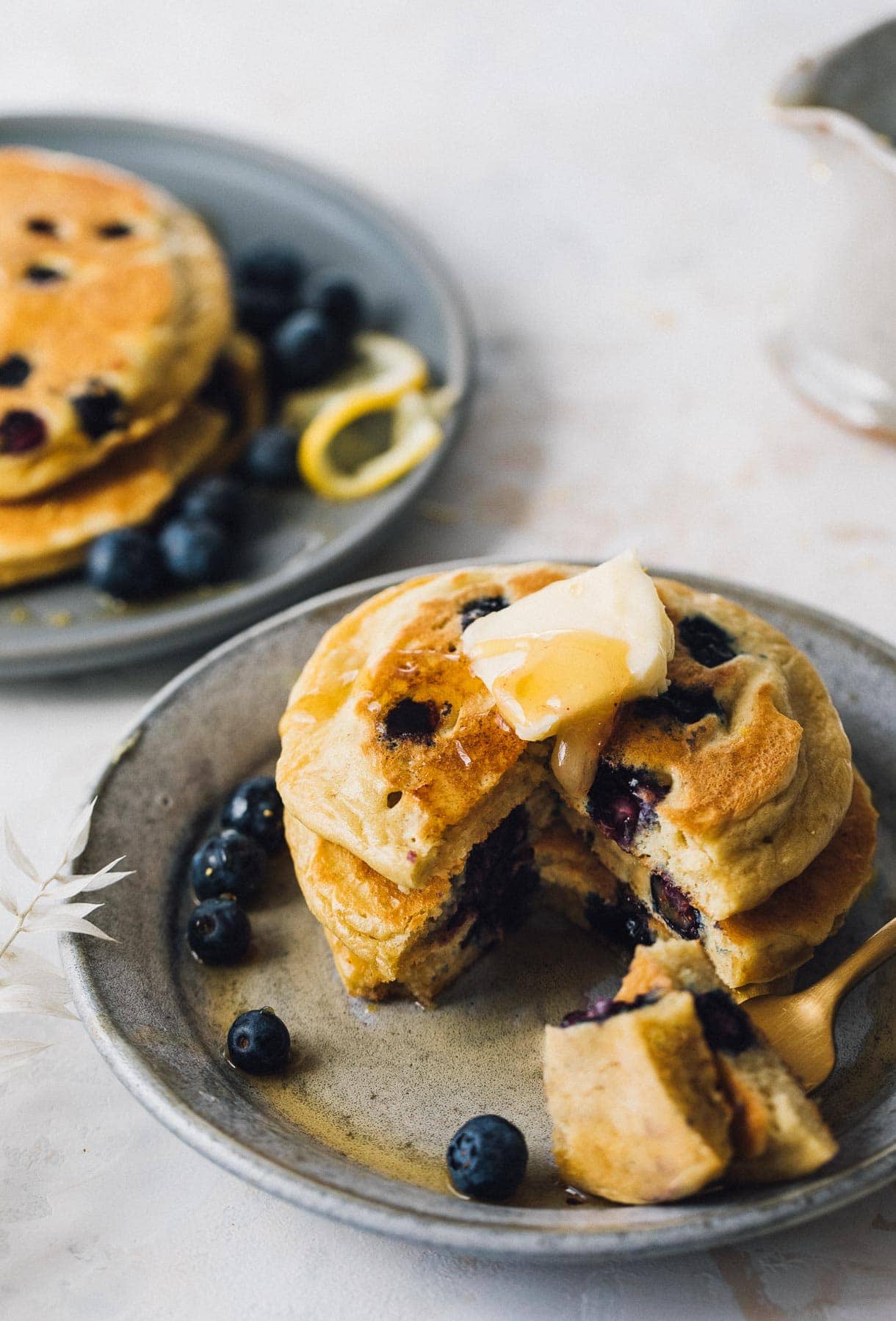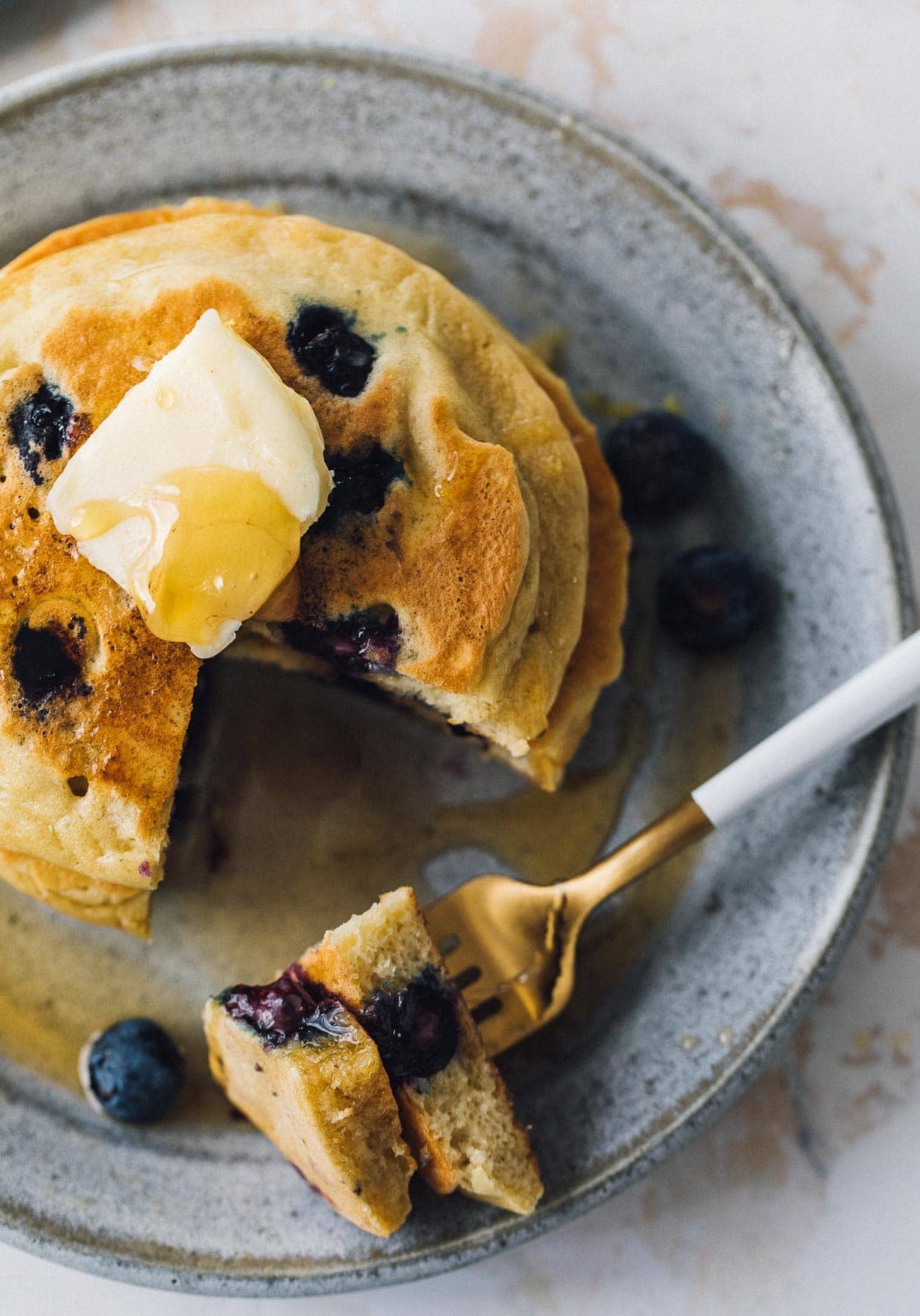 Can I freeze these paleo pancakes?
Yes! You can freeze them, and place in a toaster when you're ready to reheat.
How do I make my pancakes perfectly round and all the same size?
I use a size 10 ice cream scoop, the kind that has a trigger release. This way, you scoop up some batter, and release onto the griddle. This makes for fewer spills and drips a well.
Other pancake recipes on Heartbeet Kitchen: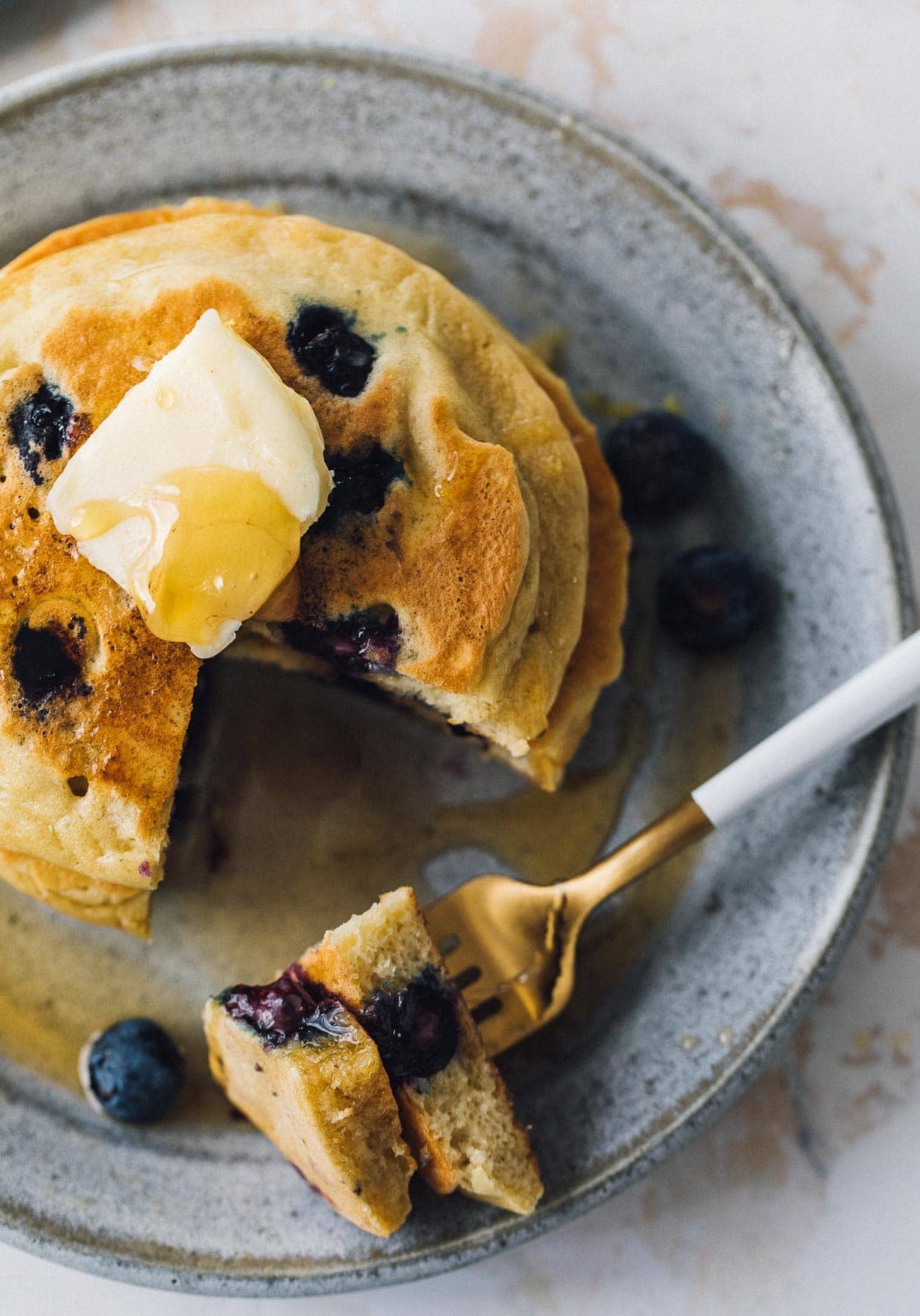 1/2

cup

blanched almond flour

1/2

cup

cassava flour

3

teaspoons

coconut flour

4

large eggs

1

tablespoon

avocado or olive oil

2

tablespoons

water

1/4

teaspoon

sea salt

1

teaspoon

baking powder

1

teaspoon

vanilla extract

1

tablespoon

maple syrup

plus extra for serving

1

cup

blueberries
Put all ingredients, except blueberries, in a blender. Blend for 20 seconds, until batter is smooth.

Heat a griddle to 350 degrees F, or a cast iron skillet, and spread one tablespoon avocado or olive oil on the surface., per batch.

Use measuring cup or large ice cream scoop to distribute batter onto hot surface, in about 1/3 cup measurements.

Let cook for a minute, then add a few blueberries to top of batter. When bubbles start forming on the top of pancakes, flip, and cook for another 3-4 minutes.

Serve with maple syrup.