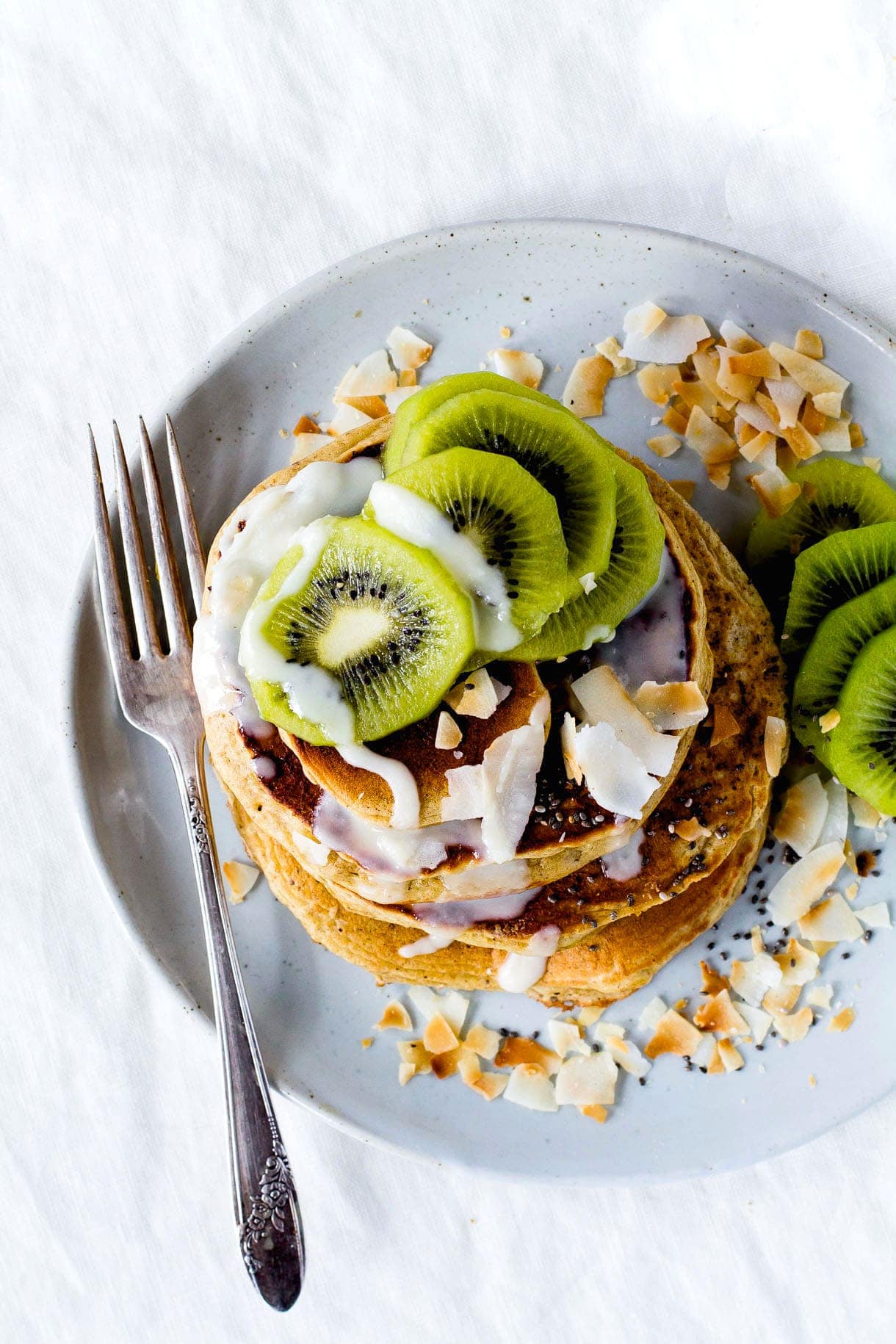 Whew, the last few weeks seem like a whirlwind. Between the Belize trip, last week's visit to California for Expo West (imagine a convention center with all the brands situated in Whole Foods launching their new products – in the tune of 77,000 people), and lots of evening activities, I'm a bit wiped. I also made the mistake of booking a red-eye home from California just one day after daylight savings, so let's just say my body was saying "what/where/who are you?" up until yesterday.
So even though the house looks like a bomb and I have yet to unpack (probably my least favorite thing to do), I'm going to take it slow this weekend. One of the best ways I know how to do that is brunch, which means ……. fluffy, gluten-free pancakes, drizzled with coconut butter, and a scatter of toasted coconut flakes, chia seeds, and sweet kiwis.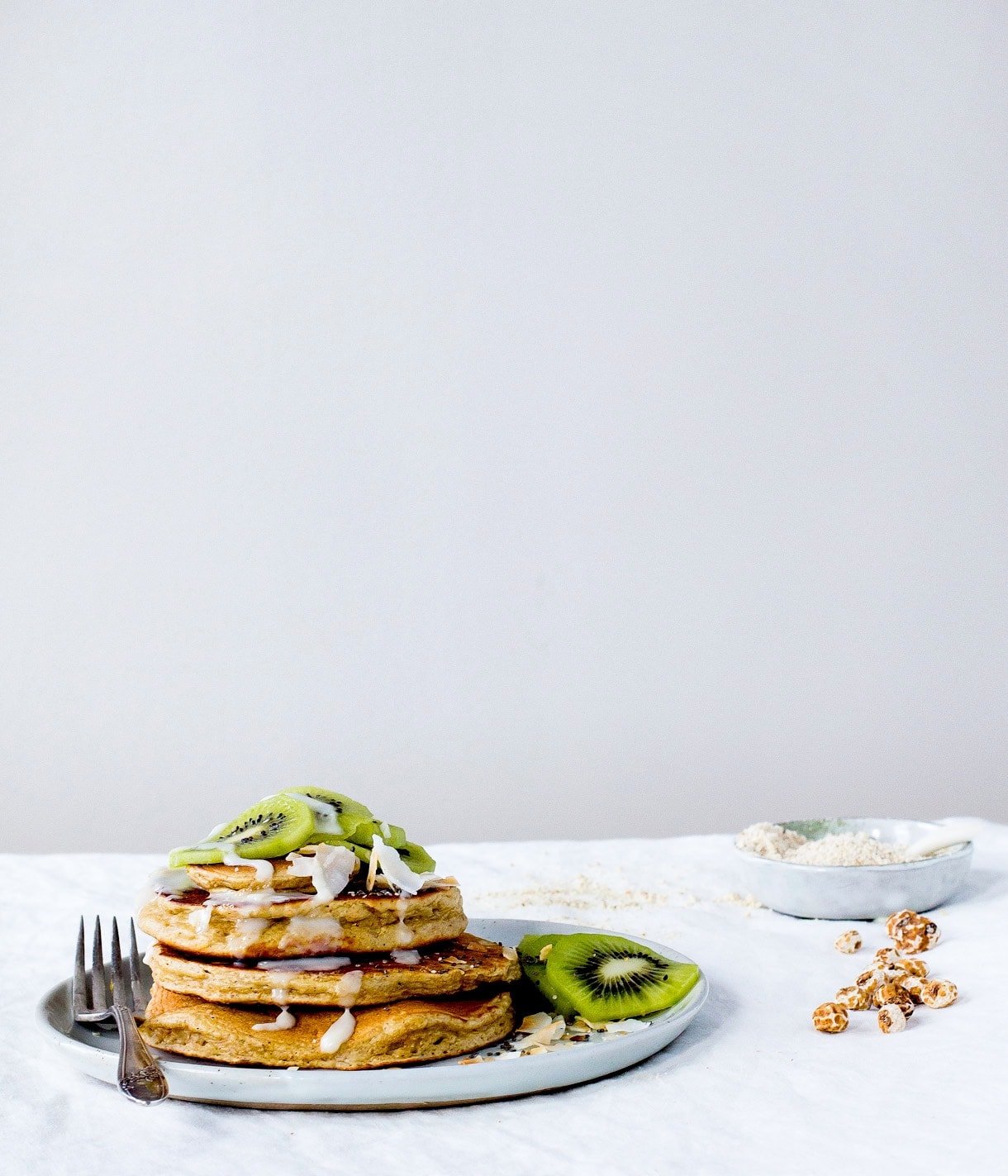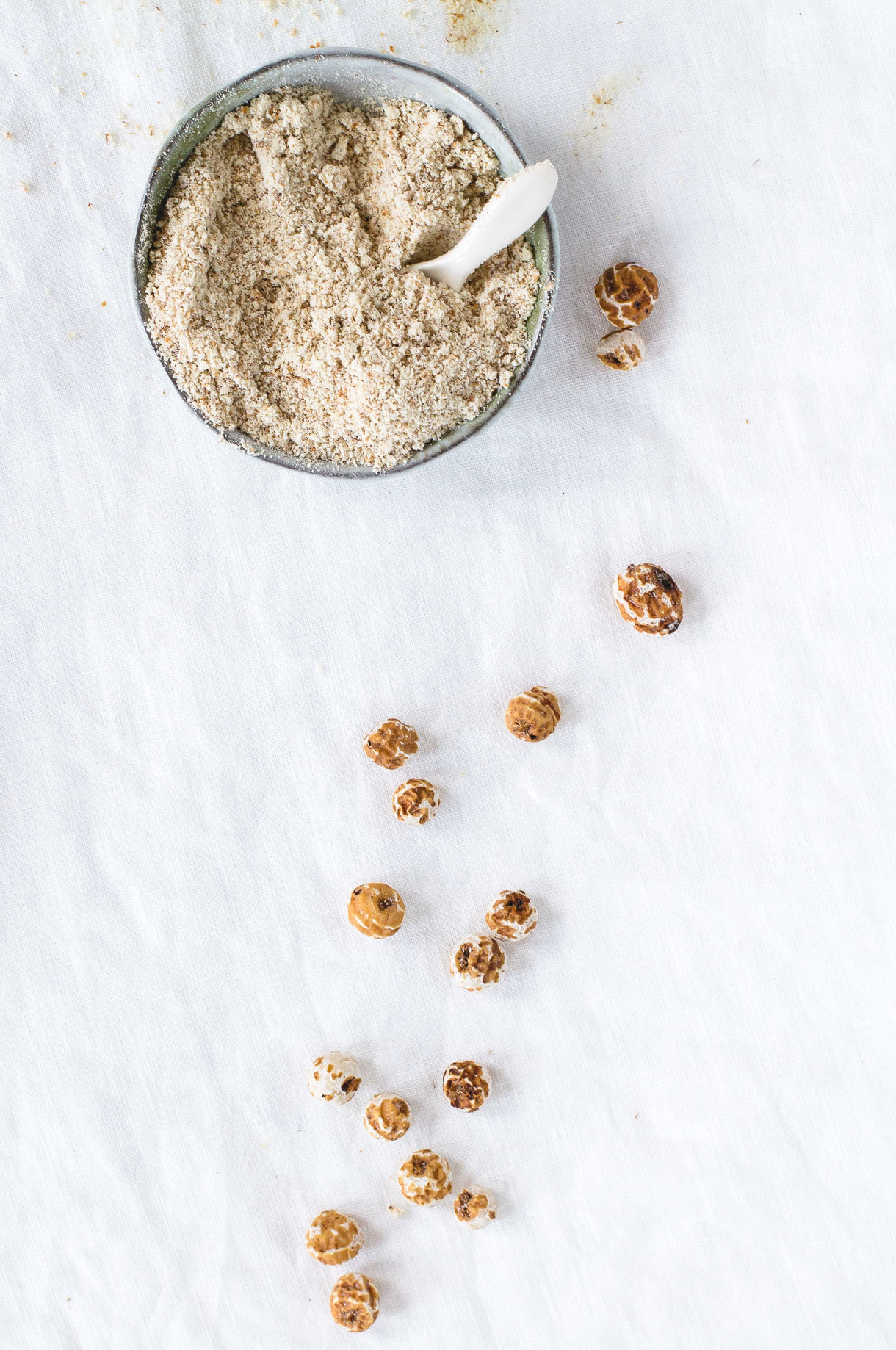 I've been working on a small-batch tigernut flour (a relatively new gluten-free/grain-free flour made from the little guys you see above) pancake recipe for quite some time and was so excited when they finally turned out just the way I wanted.
Not too dense, (which is the nemesis of most gluten-free or paleo stacks), not too thin, and a nice nutty flavor. The recipe requires just 5 ingredients (I also made them with sorghum flour, and that works great too in case you don't have tigernut flour on hand).
Last year I created this Paleo Carrot Cake with Organic Gemini tigernut flour (which is a great Easter dessert!), and it worked perfectly for these pancakes too. But wait, what is a tigernut? They're aren't nut, but actually tubers, small root vegetables. This ancient superfood originates from Africa and is currently cultivated in West Africa & the Mediterranean. TigerNuts are the number one source of resistant starch, a prebiotic fiber that becomes fuel for all that probiotic bacteria we have floating around in our tummies. So if you're taking a probiotic, you need a PREBIOTIC source too, which isn't talked about much.
It's a pancake recipe suitable for Sundays, light and flavorful. I love the ease – all ingredients hop into the blender for a quick mix, which doubles as the pouring mechanism. This also means little clean-up.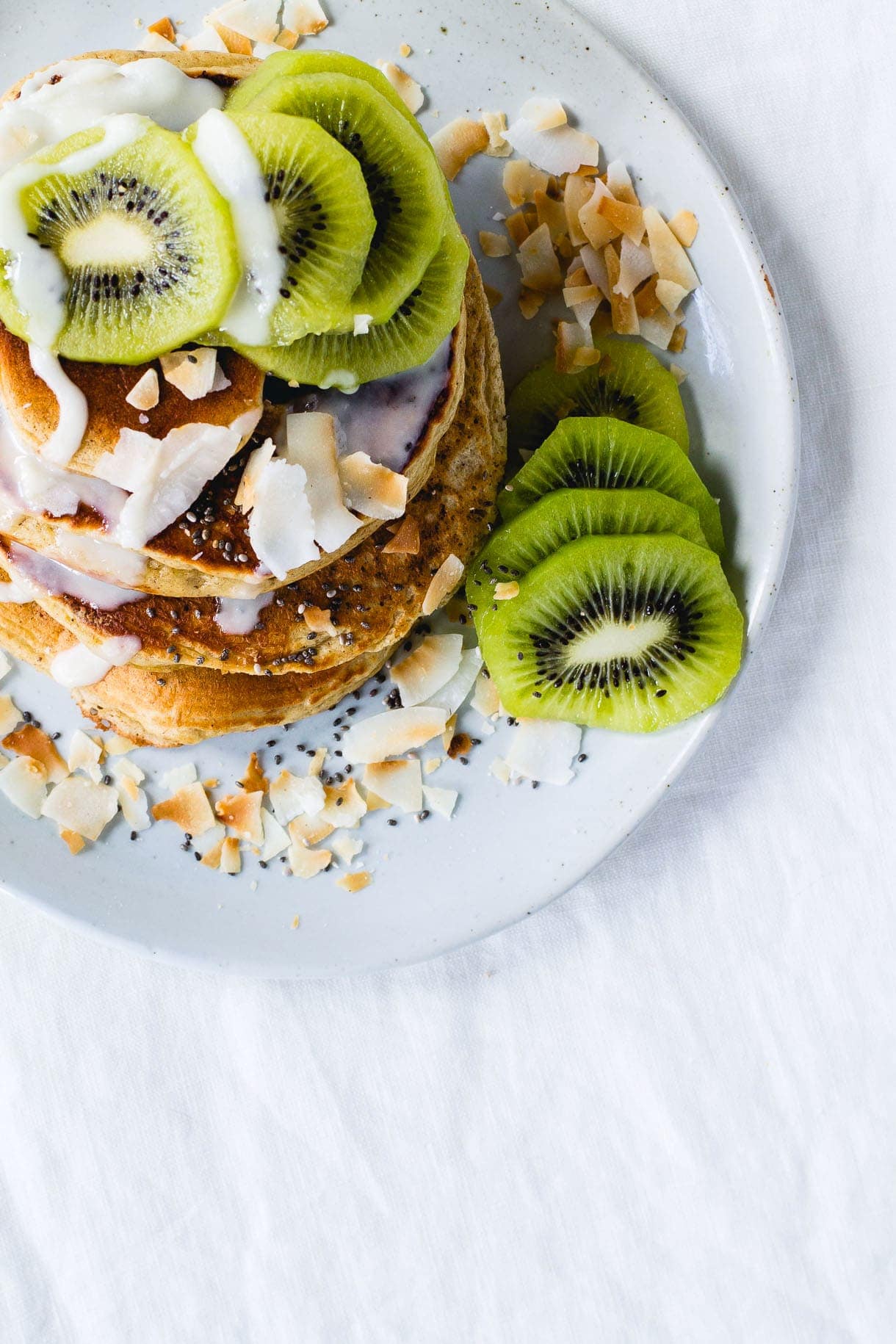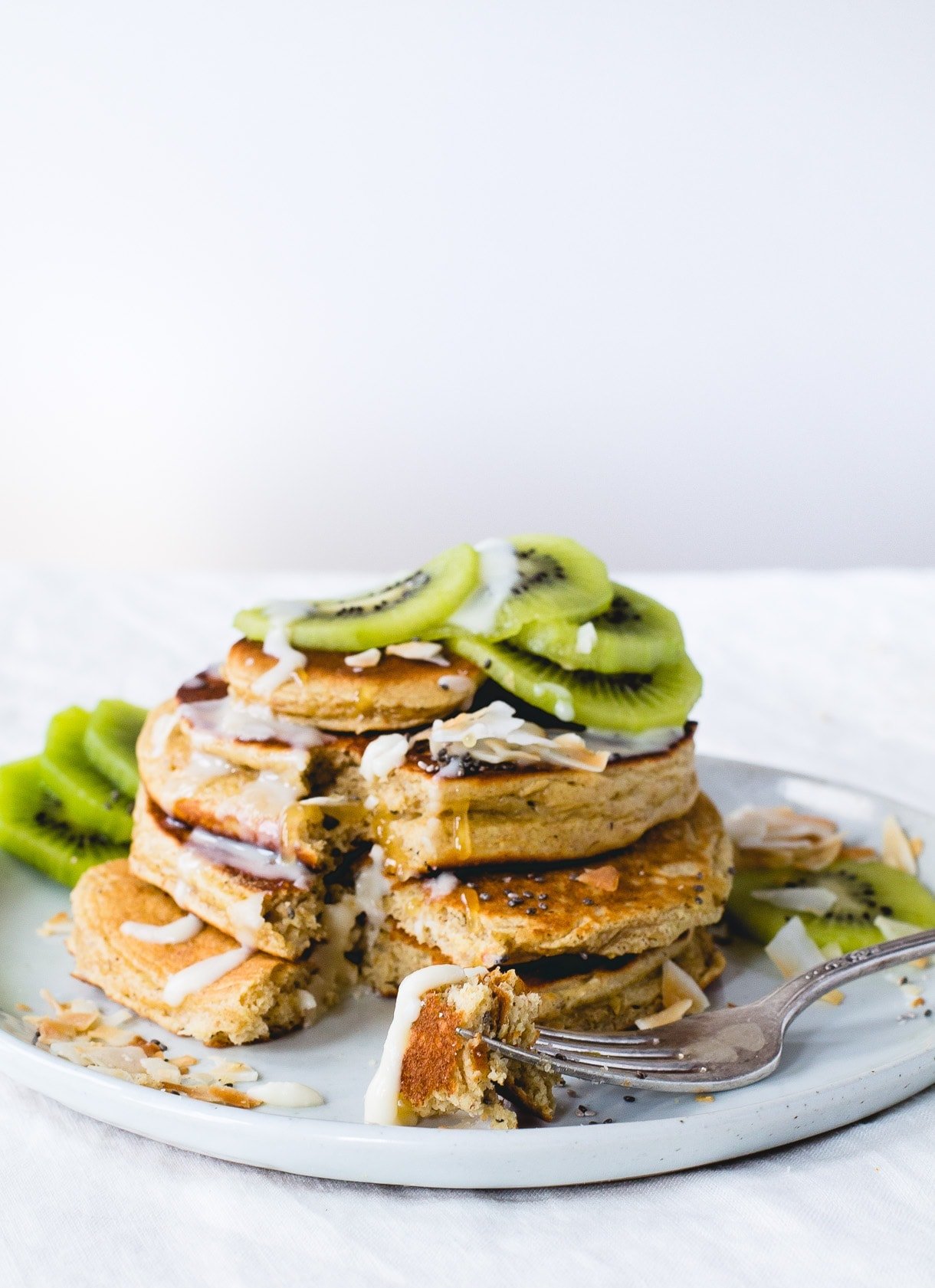 Although I'm digging the tropical flare with coconut and kiwi, I can't wait to try these tigernut flour pancakes in the summer, with fresh strawberries and crème fraîche.
I've also topped them with warm almond butter and maple syrup, which happens to be my beau's favorite combination. If you are avoiding dairy, you could make these gluten-free vegan pancakes instead.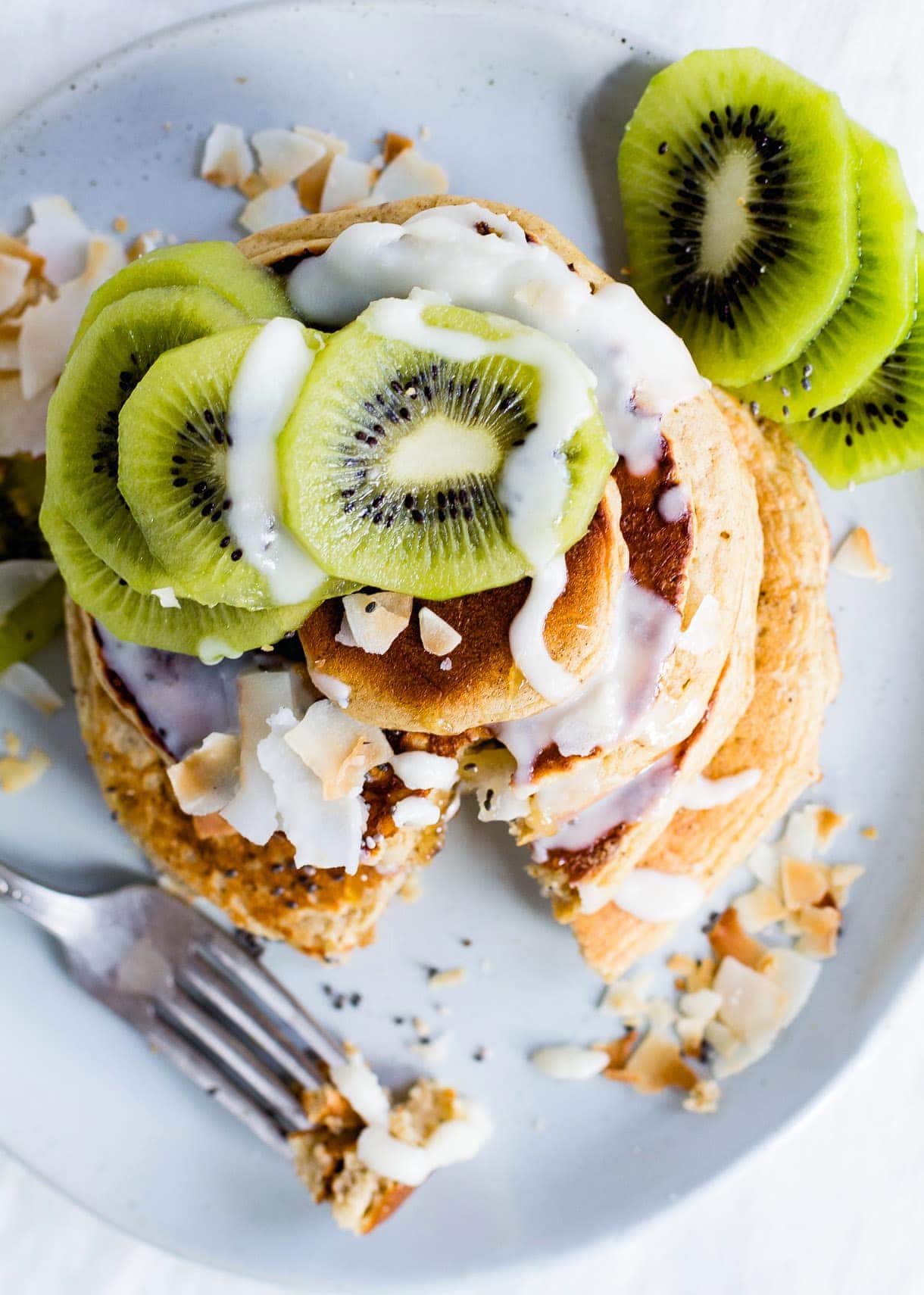 1/2

cup

tigernut flour

or sorghum flour (spoon into the measuring cup, rather than scooping)

1/3

cup

whole milk greek yogurt

1

tablespoon

milk of any kind

1

large egg

1

teaspoon

baking powder

1

tablespoon

coconut sugar

pinch

of salt

1/4

teaspoon

vanilla extract

kiwi and coconut butter for toppings
Add all ingredients except toppings to a blender.

Pulse 4 times, then process for 10 seconds to combine. You don't want to overblend.

Let mix sit for 5 minutes.

Heat a non-stick skill to medium high (I like to brush a little olive oil on top just to make sure they don't stick).

Batter will be thick. Use spatula to push out about 1/3 cup batter for each pancake. Let cook on medium, and when bubbles begin to form on top, flip. (Knudge with your spatula to make sure they are set.) Then let cook for 3 more minutes.

Serve warm with sliced kiwis, coconut butter, coconut flakes, and chia seeds.