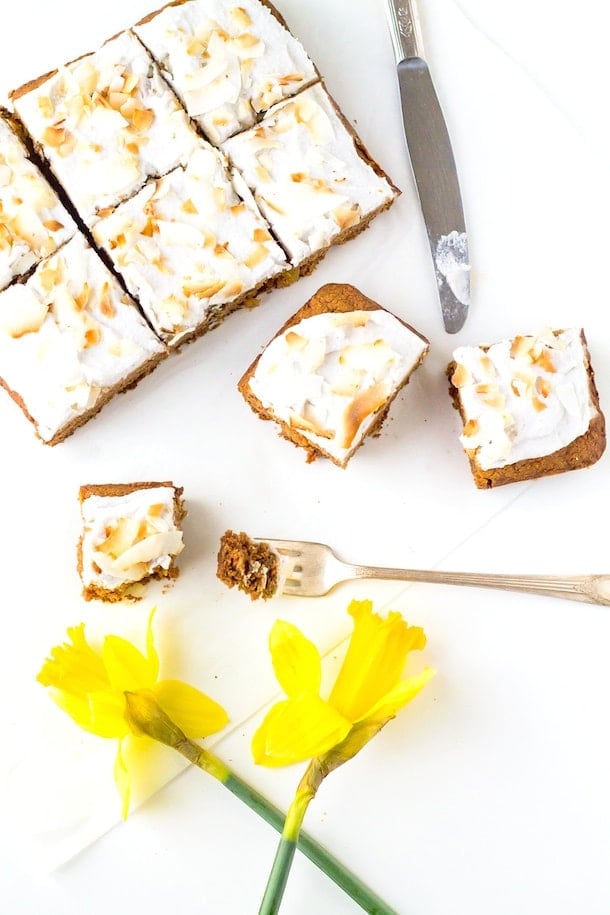 When I discovered my gluten intolerance five years ago, baking was a big, foreign challenge. All the new to me flours, getting things to rise, not crumble into pieces or be dense and gummy, and most importantly – to taste identical to their glutenful partners.
But nothing could prepare me for what I was going to experience while trying to make an AIP carrot cake, not even my dabbles in paleo baking because that relies heavily on eggs.
When following an AIP diet,
you cannot use any flours made from grains/seeds/nuts, dairy, eggs (which also means flax or chia eggs were out), gums for binding or refined sugar.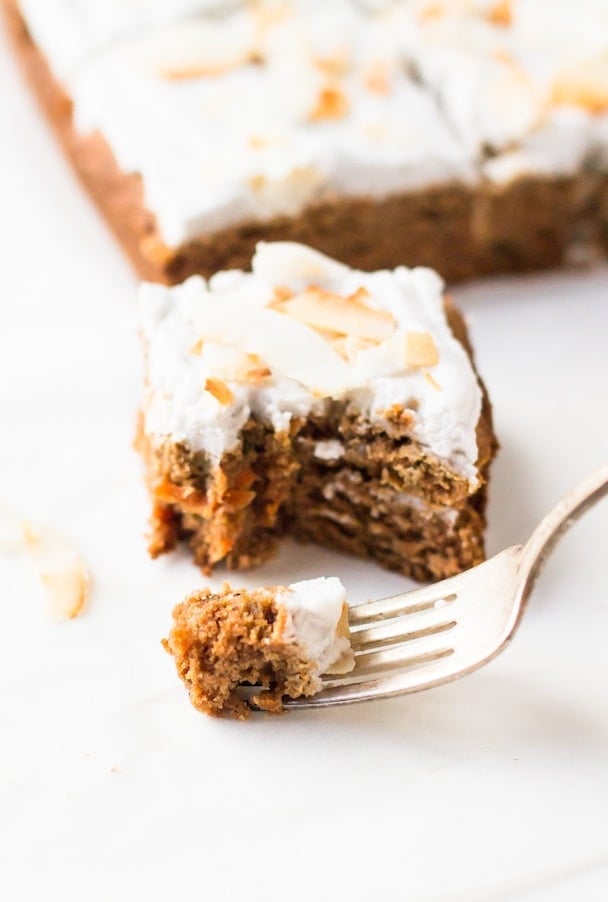 How does this AIP Carrot Cake taste?
This cake is super moist, and just sweet enough from maple syrup, spring carrots, and plump golden raisins. The smell of cinnamon, ginger and cloves float through the air while it bakes, and bring classic flavors to each forkful.
Topped with airy Whipped Coconut Milk Frosting and toasted coconut flakes, it's the best bite I've taken in a long time.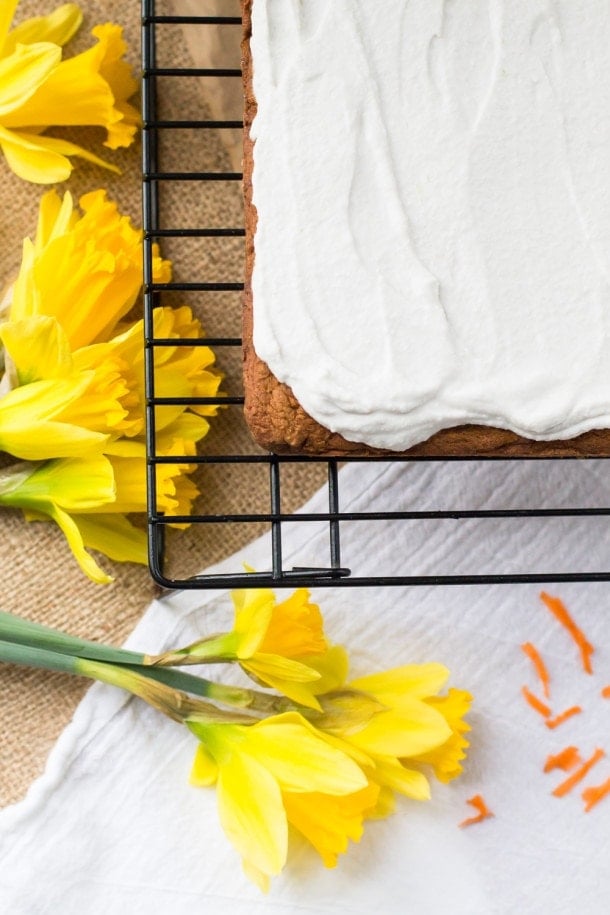 What gluten-free flours are used to make this AIP Cake?
Without the chemistry of regular baking ingredients, there were a lot of components that were going to have to work just right to get this AIP/Paleo cake to work and be utterly delicious.
I used these three flours:
arrowroot starch (or tapioca starch),
and tigernut flour. Tigernuts are actually a root vegetable, not a nut. I've been enjoying them raw as a snack, mostly savory but kind of sweet like the profile of cashews.
I figured the flour combination I mentioned would be a good balance of weight, absorbency and starch to help the cake stick together. From there I tackled the wet ingredients:
– maple syrup (sweetener)
– applesauce (to act as a binder and mimic eggs)
– coconut milk (soft texture and fat)
– coconut oil (soft texture and fat)
It looked pretty and tasted really good, but I couldn't get it to bake through. Too much liquid compared to flour, and it didn't rise much. It kind of held together, but it was dense, not fluffy like a cake should be.
I started with a large amount of tigernut flour to little arrowroot & coconut, but found that less tigernut flour made for the best balance. The skin on a tigernut is quite tough, similar to the other outer bran of brown rice so it's best for it to blend into the softer flours instead of dominate.
And making "eggs" from grassfed gelatin was the winning answer.
I've been excited to share this recipe with you because I want all of us experiencing autoimmune conditions or food sensitivities to feel normal, especially on holidays when food is at the center of family and friends.
But for now let's all make carrot cake, and embrace the sunshine of spring. It's the arrival of a new season, new again fruits and vegetables, and opportunities to embrace the beautiful life around us.

Cake:

110

grams

tigernut flour

70

grams

arrowroot starch or tapioca starch

1/2 cup

30

grams

coconut flour

1 1/2

teaspoons

baking soda

1

teaspoon

cinnamon

1/2

teaspoon

ginger

1/8

teaspoon

cloves

1/4

teaspoon

salt

2

tablespoons

lemon juice

1/4

cup

full fat coconut milk

1/4

cup

applesauce

1/3

cup

maple syrup

1/3

cup

melted & cooled coconut oil

1

cup

raw shredded carrots

75 grams

1/3

cup

golden raisins

Frosting

1

can very cold full fat coconut milk

should be refrigerated overnight

2

tablespoons

honey or maple syrup

1/2

cup

unsweetened toasted coconut flakes
Preheat oven to 350 degrees F. Grease a 8x8 inch baking pan with a thin layer of coconut oil on the bottom and up the sides, in the corners.

In a medium bowl whisk together the tigernut flour, arrowroot/tapioca starch, coconut flour, baking soda, cinnamon, ginger, cloves and salt. Set aside.

In another bowl, whisk together the lemon juice, coconut milk, applesauce, maple syrup and cooled coconut oil.

Add 1/2 of the wet ingredients to the dry, stir until combined. Then add the remaining half of wet ingredients and stir until no streaks remain. Fold in the carrots and raisins. At this time make your gelatin eggs, and stir them fully into the mixture. From here you will need to work quickly because the mixture gets very sticky. Spread into the pan, pressing down with a piece of wax paper to make smooth as needed.

Bake for 18 minutes then set a piece of aluminum foil on top (not securing it, just covering it) and bake for another 15 minutes. Remove and test with a toothpick. When it comes out clean and not gooey, the cake is done. If not done, continue baking in 2 minute increments until it is. Let cool completely.

For frosting: Open the refrigerated coconut milk, being careful to keep it level. Scoop out all the hard cream that has come to the surface, until you hit the liquid. Leave the liquid in the can, do not add. Put the coconut cream in a large bowl or the bowl of a stand mixer. Using a mixer or handheld mixer on high speed – whip the coconut cream for 3 to 5 minutes until it becomes fluffy and light, with soft peaks. Stir in the honey and frost cake. Best stored in refrigerator, then let it come to room temperature before serving
I highly, highly recommend using a scale and measuring for weight for any type of AIP/paleo/gluten-free baking because the weight of the flour is adjusted just perfectly for the amount of liquid. If you decide to use a measuring cup, don't pack the flour in. Take a spoon and add the flour to the cup, then level off.