THIS. Is what homemade gnocchi dreams are made of.
I'm not lying when I say anybody can make this gluten-free sweet potato gnocchi recipe. Just 5 ingredients, a little rolling and you're 20 minutes away from soft, pillowy gnocchi.
It's vegan too! Because I used roasted sweet potato to not only add flavor, but mimic the binding of eggs in classic gnocchi recipes.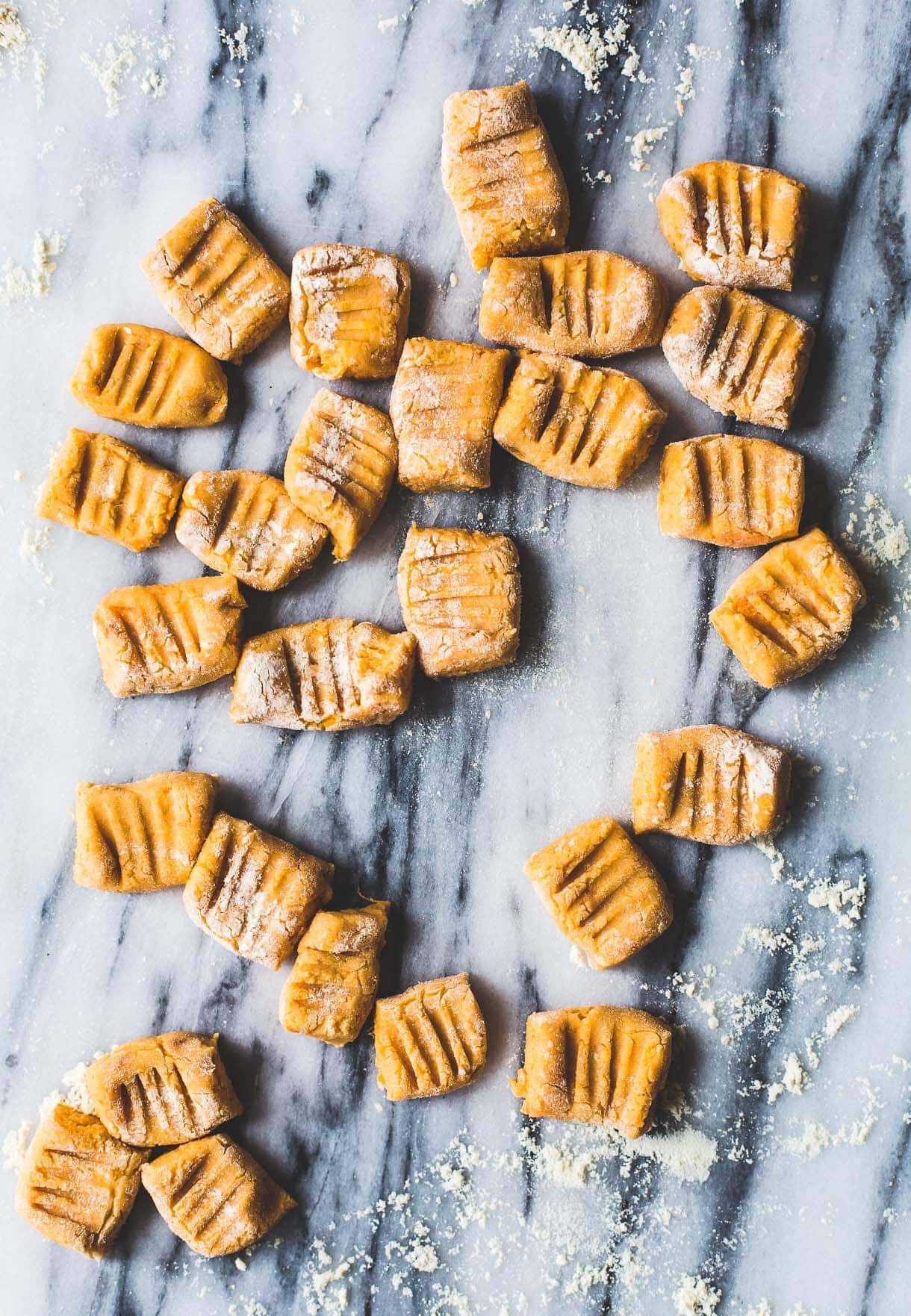 I couldn't resist popping a few gnocchi into my mouth as they came right off the skillet. Their golden edges and fluffy interiors are exactly what I had envisioned!
The combination of sweet potatoes, millet flour and almond flour give the gnocchi a slightly sweet and nutty flavor. I know some of you might be thinking, "now I have to buy another bag of flour?"
Trust me – I don't like that either, which is why I shop the bulk bins at local Lakewinds Coop. Coops make gluten-free cooking so much more cost effective, and efficient. The flour for this entire recipe cost me less $1.50. Win.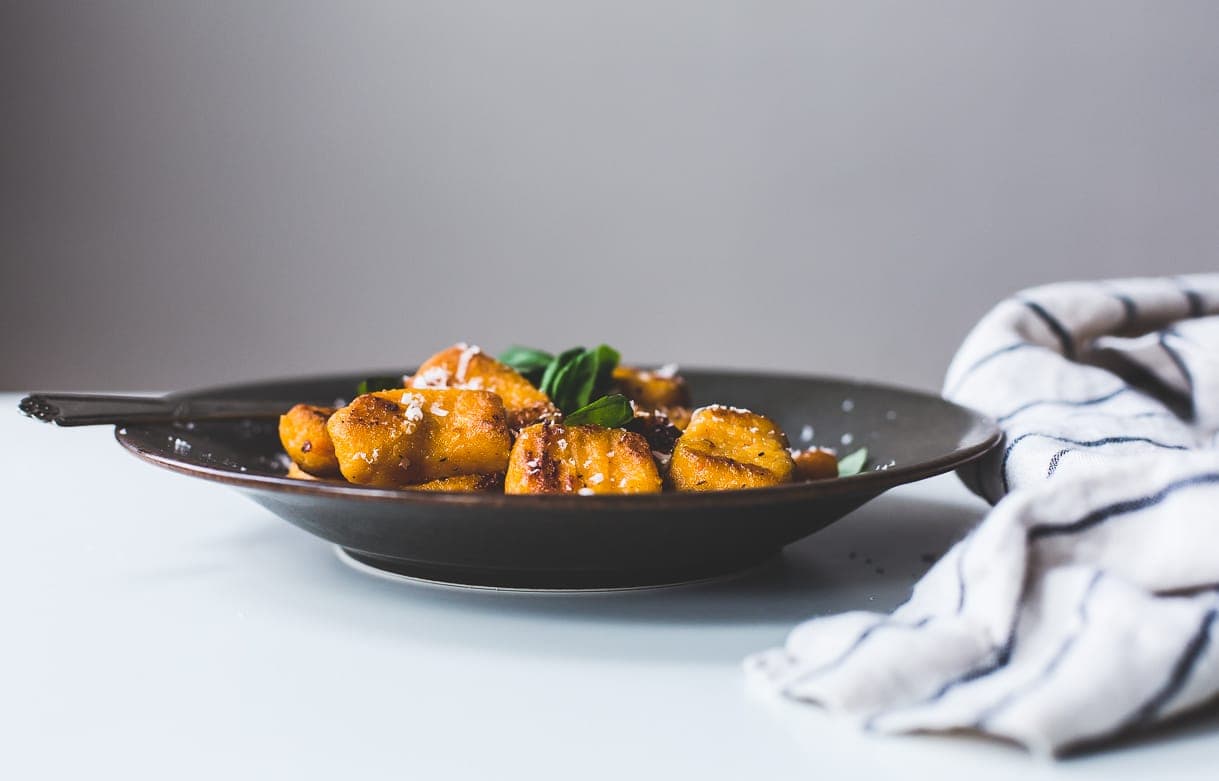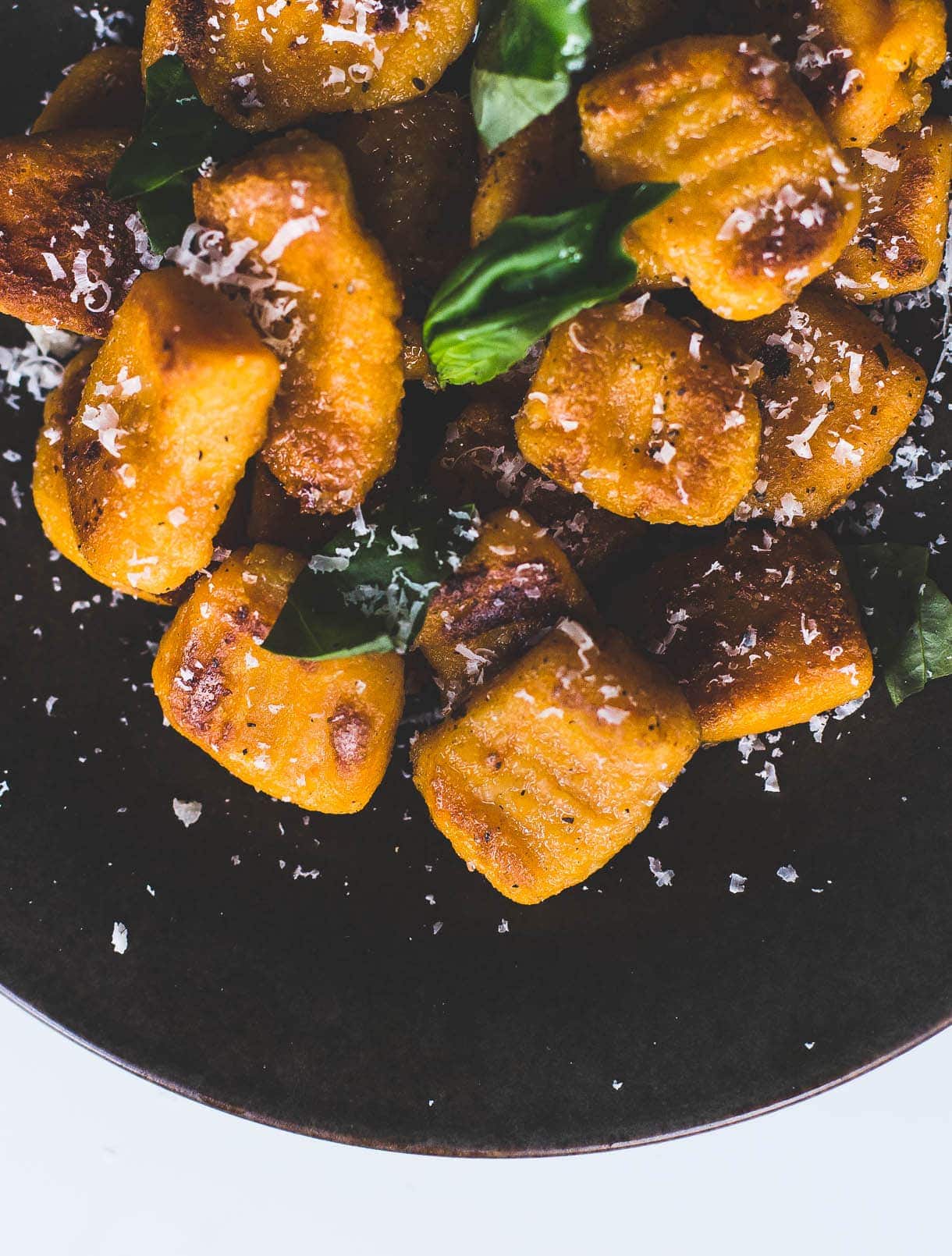 The gnocchi is great on it's own with a little butter and fresh herbs, or the Creamy Roasted Cauliflower Sauce below, that I created using my Blendtec. If you're looking for a more nutrient dense white sauce, this.is.it. So silky and rich like the alfredo sauce made from lots of butter and cheese, but instead it's the result of cauliflower, soaked cashews and the caramelized garlic.
Here's the separate post for that recipe because I have more ideas (and photos) for how you can incorporate it into several meals. Wishing you all a great week, and thanks for stopping by. xo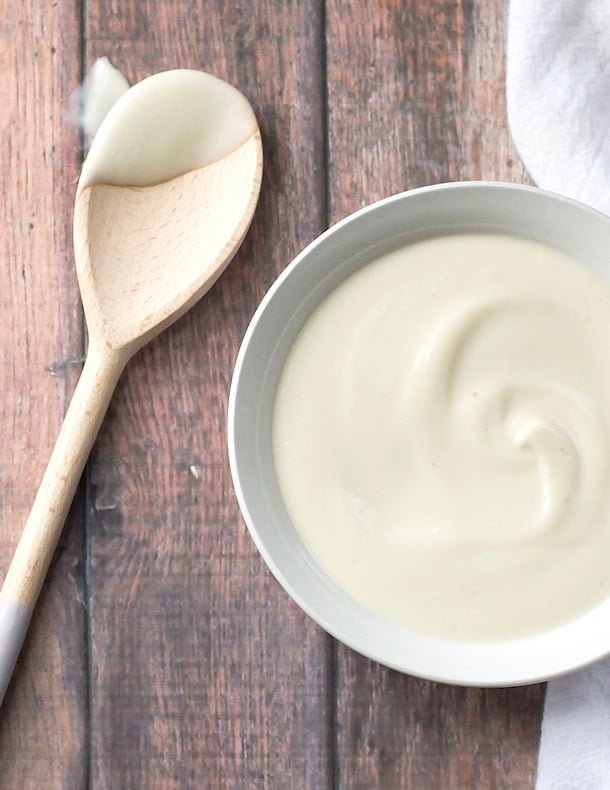 Press play to learn how to make this Gluten-Free Sweet Potato Gnocchi!
1/2

cup

+ 2 tablespoons of mashed & smooth

roasted sweet potato (157 grams)

1/4

cup

millet flour

(30 grams)

1/4

cup

+ 1 tablespoon almond flour

(40 grams)

1/4

cup

+ 1 tablespoon tapioca starch

(40 grams)

heaping 1/4 teaspoon salt
Whisk the flours/starch and salt together. Put the mashed sweet potato in a large bowl and add half of the flour mixture. Lightly need it in with your hands, then add the other half and knead just until no flour streaks remain.

Pull it together into one ball - the mixture should not be too sticky. If it is, add another tablespoon of almond flour and another tablespoon tapioca starch.

Then flatten into a disc. Cut the disc into fours. Dust a clean surface with millet flour. Roll out each piece with your hands & fingers on the surface until you create a snake-like piece about 6 inches long, and 1/2 inch wide. Then with a knife cut individual gnocchi, about 1 inch long. (You don't want them to be too big or they won't cook through). Press the tines of your fork lightly into them to make the indents.

Repeat for each piece of dough. Coat the surface lightly with more of the flour mix just so it doesn't stick when you cut it.

In a medium pot of lightly boiling water, pour half of the gnocchi in. Wait until they begin to float to the top, then let cook for a minute or two. Remove with a slotted spoon and lay on a cutting board.

Repeat with the remaining gnocchi. Put gnocchi in the refrigerator for 5 minutes, then add 1 1/2 tablespoons olive oil to a skillet. Saute gnocchi for 5-6 minutes on medium heat, stirring, until they are crisp on the outside. Sprinkle with a bit of salt (this is key!).

Enjoy sprinkled with olive oil and fresh herbs, or this

Creamy Cauliflower Garlic Pasta Sauce

(vegan).
This post contains Amazon affiliate links which I may make a small commission from should you decide to purchase.