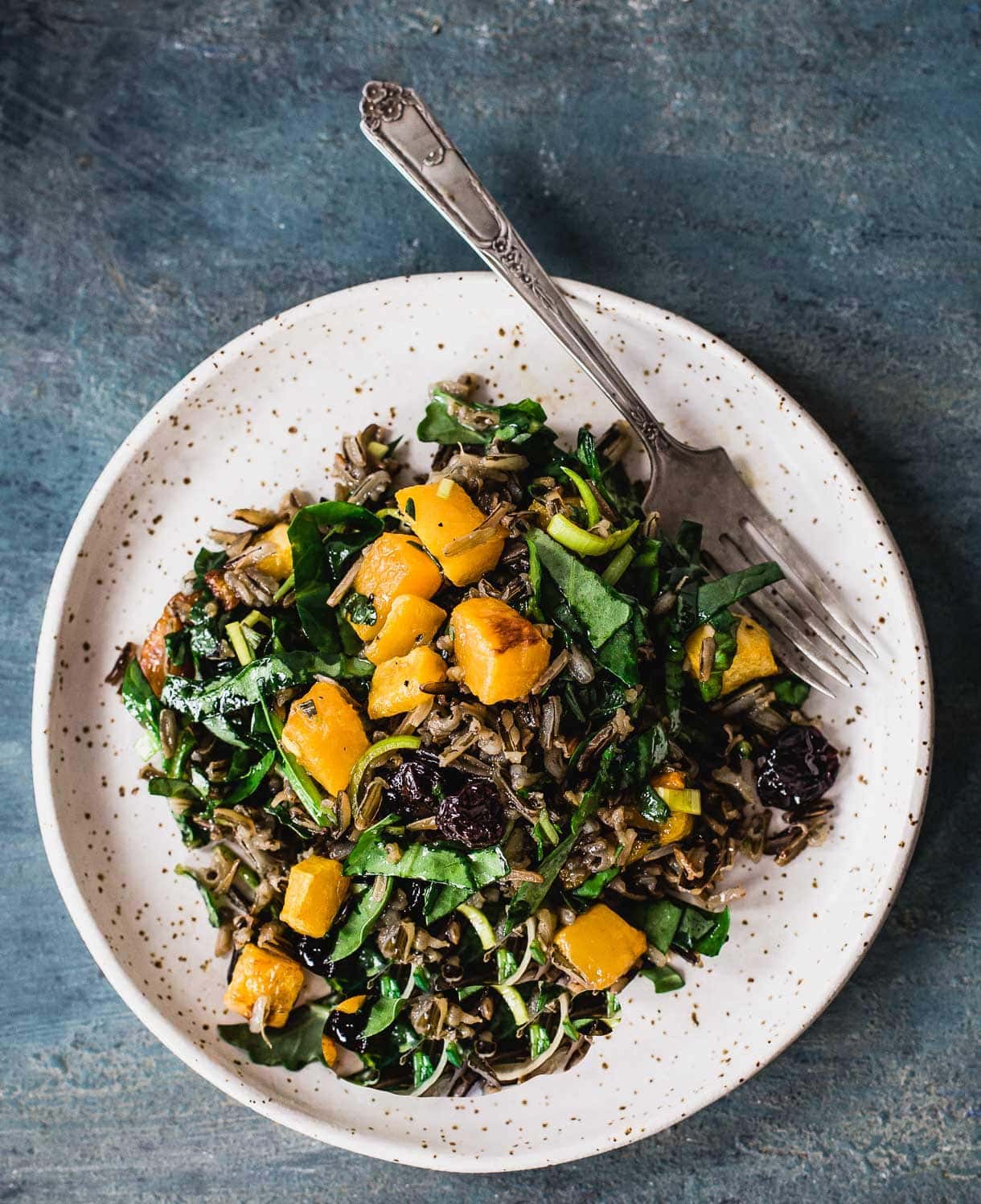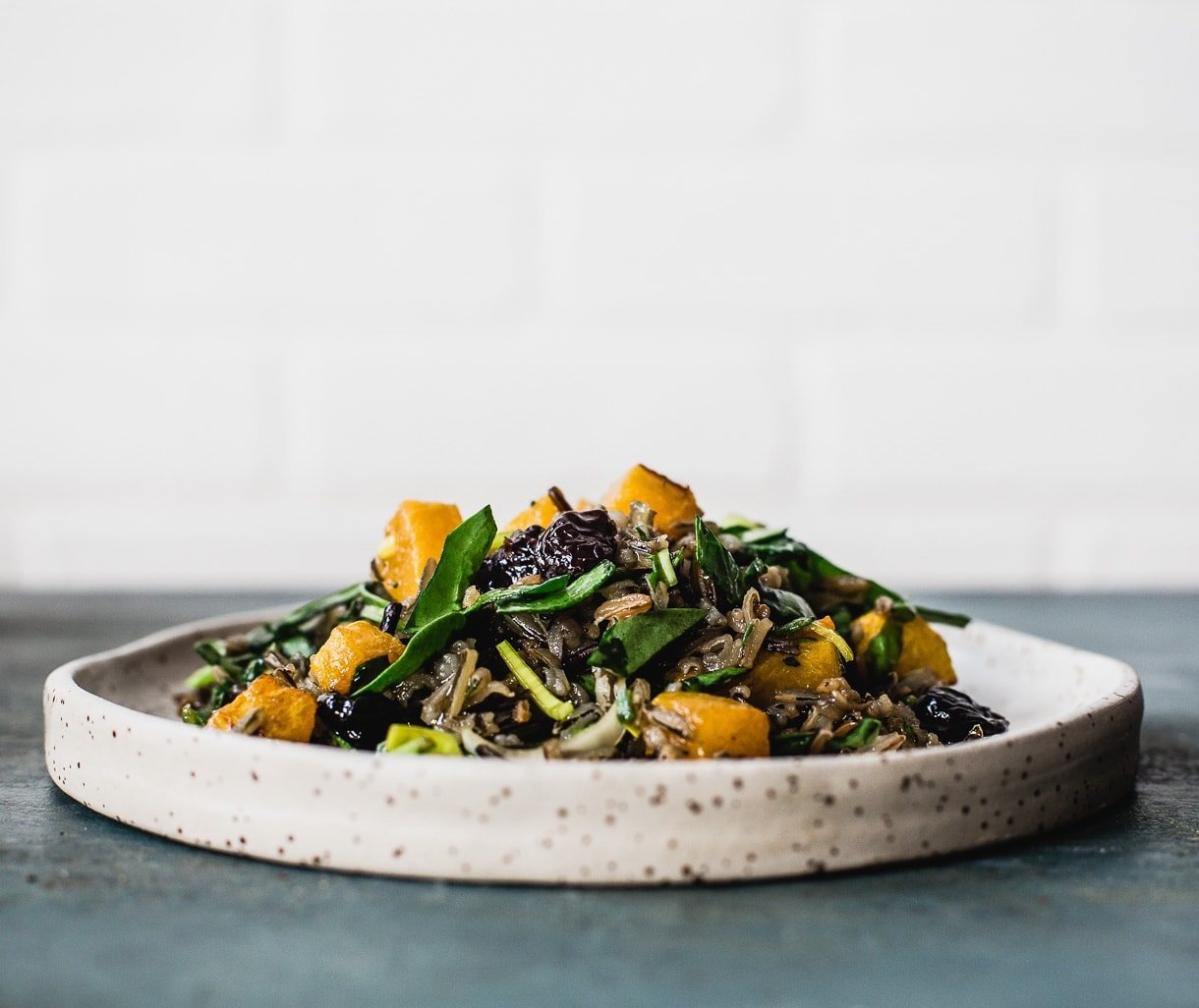 I know you may be tired of me evangelizing about squash. But please hold on! The best is here.
Several lovely blogging friends are helping me share a whole week of winter squash recipes from my book, Smitten with Squash. When you take a peak at the Gluten-Free Delicata Donuts or the Fresh Herb & Gruyere Spaghetti Squash Saute, I think you'll fall in love with the curcubit family as much as I have.
A Delicious Wild Rice Salad
I adore this splendid autumn salad that includes some of Minnesota's very best natural ingredients. Butternut squash works well for this dish because it holds its shape beautifully after being roasted, caramelized and sweet.
The combination of nutty wild rice, a simple maple dressing, and fresh herbs are not only delicious together, but their vibrant colors combine to make one stunning dish.
How To Make This Recipe
What's the best way to cut open a winter squash?
Many varieties of winter squash are wobbly, dense and tough to break open. When I was creating all of these recipes, I quickly found out that safety and efficiency in working with them was going to be key, as well as something I wanted to help you with. You'll find lots of information on that in the book, and here's a one minute video that I filmed with Jennifer Simonson of MPR (she's so talented!) on how to easily cut & prep a butternut squash.
I also spent some time with The Kitchn, sharing my 7 tips to easily cut and prep any winter squash, not just butternut. You can find that article here.
In short, it comes down to two key things: a very sharp knife & stabilization.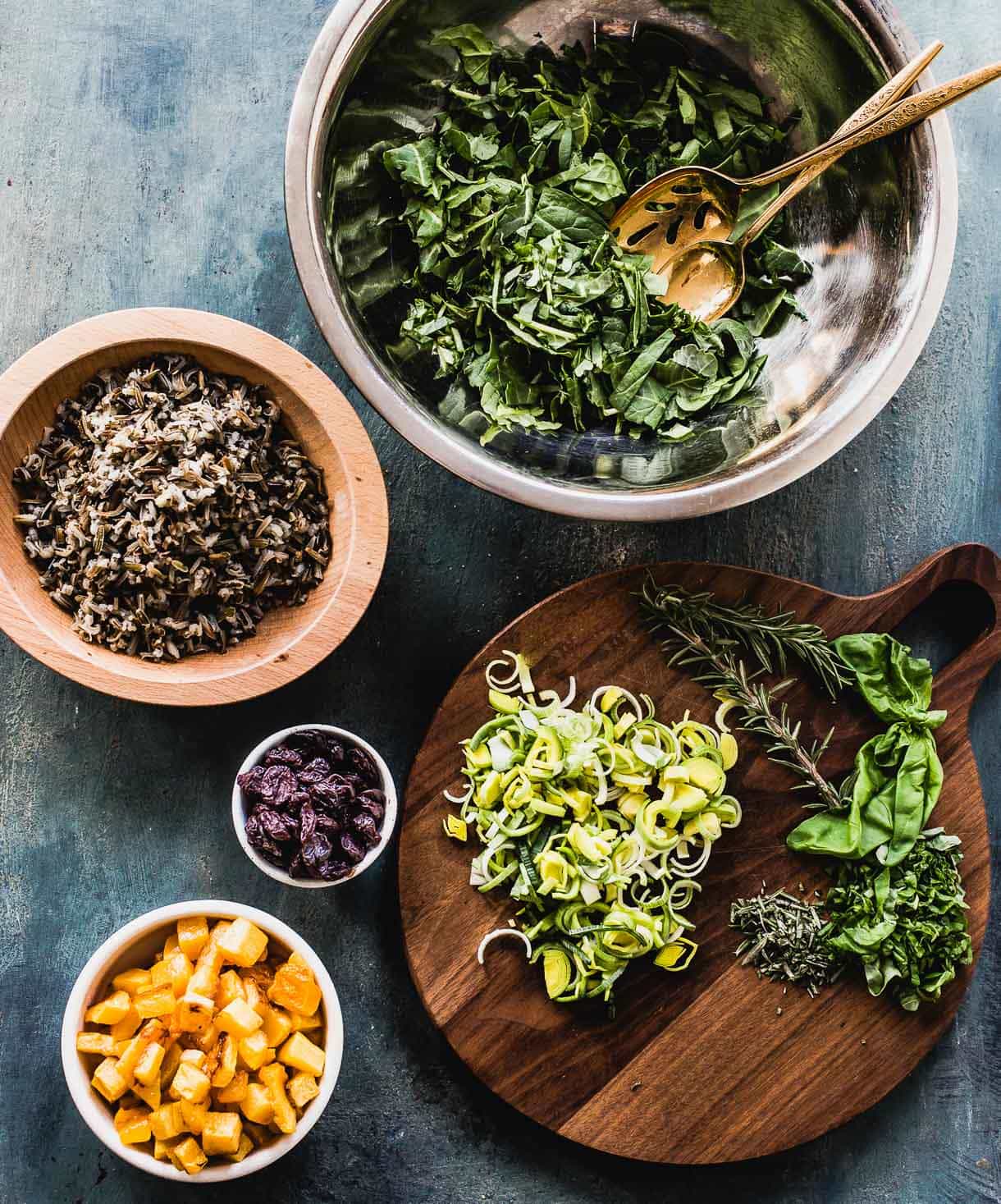 Acorn and butternut are the only squashes I've tried. What other types do you suggest I explore?
Butternut and acorn are no slouch in the squash family, but we tend to make those all the time because they're familiar. However, one of the reasons I wrote the book was to introduce people to the other delicious varieties that farmers are growing.
Most of the time people see a kabocha, delicata or blue hubbard, they're a little unsure of what they taste like or how to prepare them so they pass them by. It's kind of like how people used to perceive weird looking or oddly colored tomatoes. Once you try one, you'll fall in love with the unique differences in taste and texture. Challenge yourself this year by picking one up that you've never cooked with and experiment. That was the way I started, and my book can help guide you through using them in the kitchen.
Try these!
On a side note, I think squash is the new pumpkin in terms of seasonal baking. Less water content and starchier flesh makes the puree a wonder to work with. Give that a whirl and let me know what you think!
You wrote a whole cook book on squash? Why?
Yes! It's titled, Smitten with Squash.
When my publisher contacted me in early 2013 about writing a book for their Northern Plate Series, each being a cookbook and resource guide on a single Midwest ingredient that has been a strong part of our culture, I immediately knew my proposal would be on squash. Living in an area where growing seasons are short and very unpredictable, squash is one of the only families that is nearly "in-season" all year round.
Between the long and slender summer squash varieties, to the thick skinned blue hubbard and kabocha that last for months when cellared properly, the curcubit family holds a special place in my heart. They bring a sense of comfort and nostalgia, like your grandmother's buttery zucchini bread or a butternut and sage pasta that warms your soul in the middle of winter.
And then there's the possibility of new ideas that I found so delicious and eye opening. Like how wonderful red kuri can be when braised in an ethopian spiced peanut stew or the silkiness that blue hubbard adds to a cinnamon spiced pudding, topped with macadamia nuts for good measure.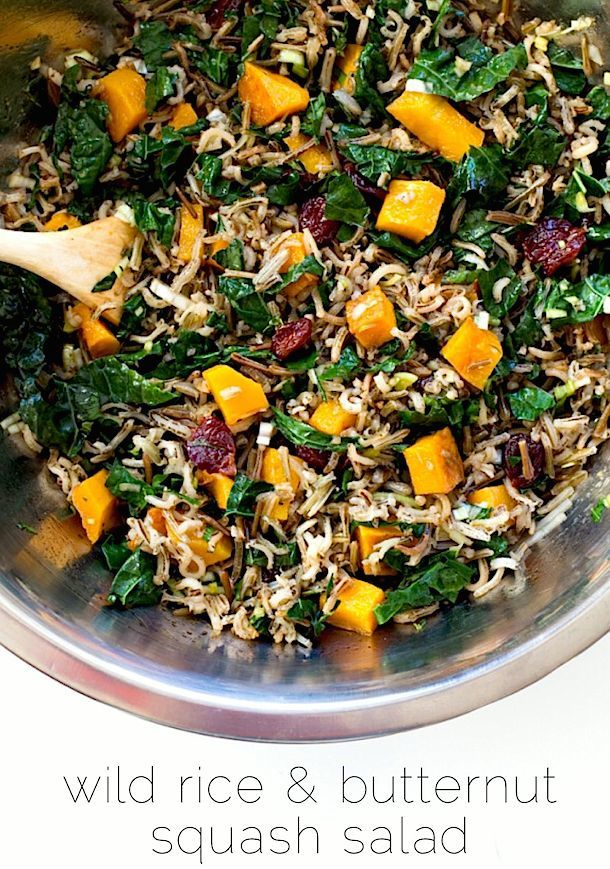 More Butternut Squash Recipes: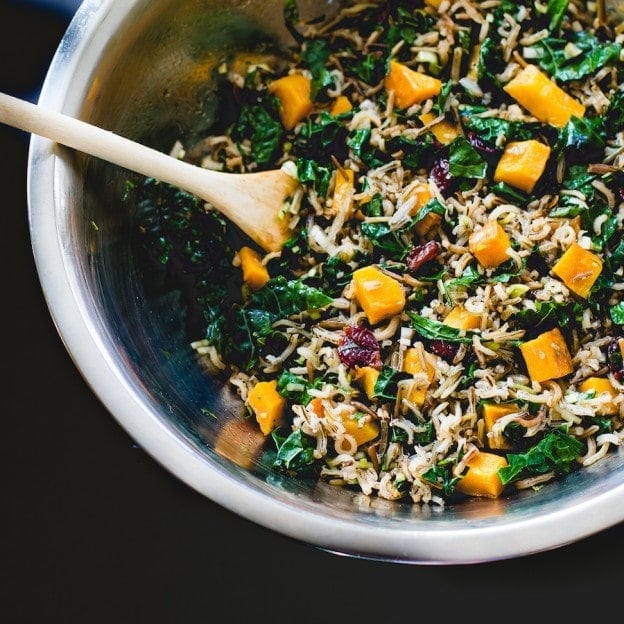 Vegan Wild Rice and Butternut Squash Salad
A colorful, roasted butternut squash salad tossed with warm wild rice, spinach, dried cherries, and herbs. The simple maple balsamic dressing is blended with garlic and rosemary, and it soaks into the fresh ingredients, making it so flavorful!
Dressing
1/3

cup

extra-virgin olive oil or sunflower oil

2

tablespoons

pure maple syrup

2

tablespoons

balsamic vinegar

1/2

teaspoon

fine sea salt

scant 1/2 teaspoon black pepper

1/2

tablespoon

chopped fresh rosemary

1

clove

garlic

minced
Salad
2 1/2

cups

peeled and diced butternut squash

(or can use sweet potatoes, delicious this way too!)

1 1/2

tablespoons

olive oil

sea salt

black pepper

2 1/2

cups

thinly sliced spinach

1/2

cup

thinly sliced leeks,

both white and green parts

1/2

cup

dried cherries

or dried cranberries

1/4

cup

thinly sliced fresh basil

3

cups

cooked wild rice,

warmed
To make dressing, add all ingredients to a jar and use immersion blender to puree. Or whisk thoroughly by hand. Set aside.

Preheat oven to 400 degrees F. Toss squash with olive oil, salt and pepper. Spread onto a baking sheet and roast for about 25 minutes, stirring once, until fork tender.

In a large bowl, combine spinach, leeks, cherries and basil. Stir in warm rice and squash so that spinach wilts slightly from the heat.

Stir dressing into salad; tossing to coat. Taste and adjust salt level if needed. Serve at room temperature.
Can be made a day ahead of serving!
Video Tutorial: