Alright I know. This is a seasonal food blog and here I am posting a recipe for olive oil ice cream in the middle of fall. But being that there are swirls of pomegranate jam throughout this frozen treat, I'm giving it an in-season label.
I'd been wanting to make olive oil ice cream since licking a bowl of it clean at a funky ice cream shop last year in Austin, Texas. Normally I'm a salted caramel or peanut butter kind of gal, but I was so glad I took a chance on this one.
It was smoother than any ice cream I'd had, a texture I'd found only in gelato, without being quite as rich. The nuances of the olive oil shined through – a little fruity, savory and slightly floral.
I fell asleep dreaming about it, then scoured Pinterest the next morning for a version I could make at home. This one caught my eye right away, as well as this one I stumbled upon from the always reliable Dorie Greenspan. Due to the craziness of starting a new job (which I left recently, but that's a whole story in itself) and getting my book off the ground, I never got a chance to to churn up a batch.
Until now. I created the base using a blend of the two recipes I mentioned above, and added my own touch with swirls of pomegranate jam. I reduced the sugar and honey slightly, knowing that the sweetness of the fruit would take its place.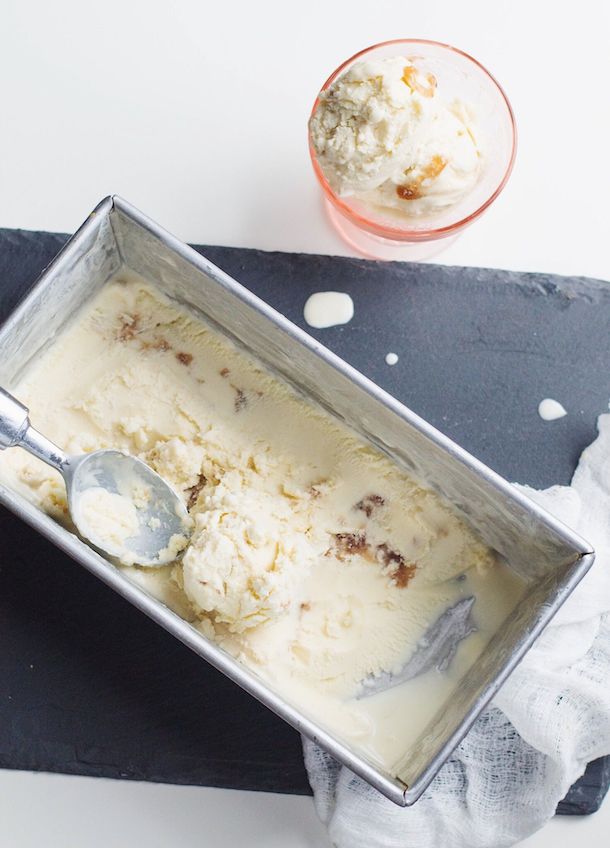 The olive oil adds a velvety mouthfeel and balance, smooth in both texture and taste, kind of like a fine wine. Know that the kind you use is important and will make a difference in how your ice cream tastes. You want to make sure it's cold-pressed and doesn't have a peppery finish. Instead, one that is fresh and floral will give you the best outcome. (Here's a helpful list from California Olive Oil Ranch. I like to use the Arbequina EVOO.)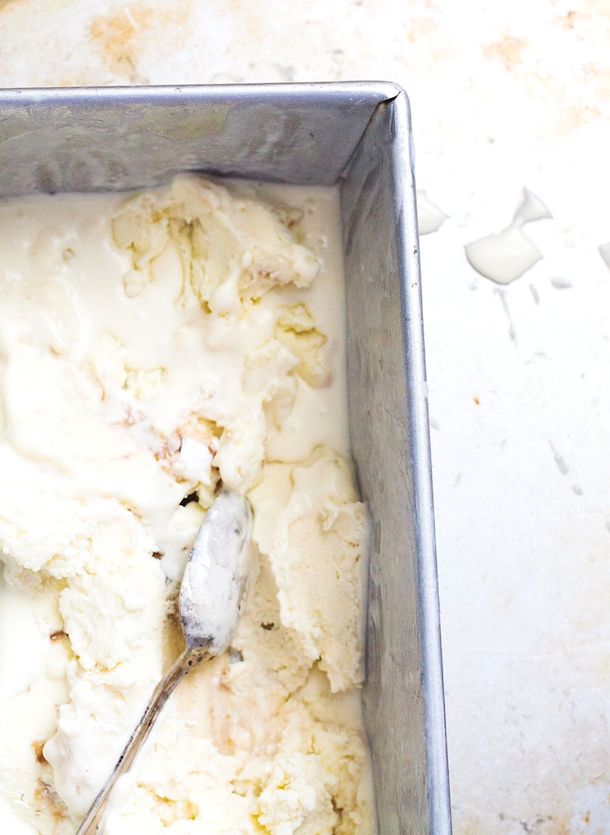 Instead of adding the jam while it was in the machine, I let the ice cream finish churning, then emptied half of it into the pan, spooned the jam over it, then covered it with the remaining half. That way you get to taste the olive oil on its own, with sporadic bursts of tart and tangy pomegranate. (Seedless raspberry would work great too.)
It's good. Really good. A little sophisticated some may say, but if I'm going to be fancy, let it be with ice cream.
Olive Oil Ice Cream with Jam Swirl
adapted from Adventures in Cooking and Dorie Greenspan's recipe
3 large egg yolks, whisked in a medium-sized bowl
2 cups of whole milk
1 cup cream
1/3 cup sugar
2 tablespoons honey
3/4 teaspoon salt
1/2 cup olive oil
1/2 Teaspoon vanilla extract
1/2 cup pomegranate jam or seedless raspberry jam
Heat the milk, cream, sugar, honey, and salt in a medium, thick-bottomed saucepan over low heat until the mixture becomes hot, but not boiling. Remove from heat and gradually drizzle 2 cups of the milk mixture into the bowl with the egg yolks, whisking constantly. Once the 2 cups have been incorporated, pour the egg yolk mixture back into the saucepan, still whisking. Place the pan back onto the stovetop and cook over the lowest heat setting, whisking constantly, until the mixture has thickened, (about 7-10 minutes). Remove from heat, and whisk in the olive oil and vanilla extract until fluidly combined. Allow to cool to room temperature, then cover and refrigerate overnight.
Prep your ice cream maker according to directions, mine have me freeze the bowl it will churn in overnight as well. The next day, remove the ice cream mixture from the refrigerator. If the olive oil has separated a little, just give it a good whisk before you pour it into your ice cream maker. Allow the ice cream maker to churn according to the manufacturer's directions or until the mixture begins to freeze up and thicken considerably. (Mine took about 20 minutes.) Empty half of the ice cream into a freezer-safe container, then spoon jam over it evenly. Cover with remaining ice cream. Seal it, place it in the freezer, and allow it to freeze for 4 hours before serving.