If you grew up in the Midwest, chances are you've had a bowl of Wisconsin beer cheese soup topped with popcorn.
I vividly remember my mom making it for dinner parties and people raving, the popcorn adding a gourmet touch. Fast forward twenty years and I was set to host a few girlfriends for an afternoon of catching up.
Playing off the beer cheese soup memories, I made this Creamy Roasted Cauliflower Soup with Popcorn – gluten free, vegan and the ultimate comfort food. The smooth, velvety texture of the soup is a dream!
Have you ever tried soaking nuts and blending them to replace heavy cream or cheese?
Not only does it increase their nutritional content, but they make a creamier soup than cream ever will, especially cashews.
The texture is silky, but not thin, giving it a wonderful mouthfeel.
If you're on Instagram you've probably seen a few pictures of me noshing on Quinn popcorn. It's a snacking staple around here, especially when entertaining, and many times my single lady dinner paired with a glass of wine. Their Olive Oil and Herb flavor is one of my favorites and happened to go just perfectly with this soup. It's light and bright, a great match for the puree of roasted cauliflower and garlic. I was fascinated with Quinn's concept the first time I had a bag. They are so incredibly passionate and transparent about where their ingredients come from, with a simple mission to clean up a simple snack for people like you and me.
I had shied away from buying microwave popcorn after learning about the chemicals & toxic ingredients used in classic Orville Redenbacher or the like. But it's back in my life thanks to Quinn. You won't find anything scary in their products – from the Pure Pop Bag, (compostable and made from paper that's pressed to make it grease proof) to their amazing flavors.
Non-GMO and organic corn, no preservatives or artificial ingredients. The cheeses are rBGH-free (they have a hickory smoked cheddar, as well as parmesan & rosemary flavors). Their butter is real. The maple in their kettle corn version comes from Vermont.
As cooler weather approaches and we retreat indoors to enjoy good food and each other's company, this creamy cashew cauliflower soup is one that everyone can enjoy.
You can make it a day ahead of time, popping the corn a few minutes before guests arrive, filling the house with that classic, comforting smell.
More Roasted Cauliflower Recipes: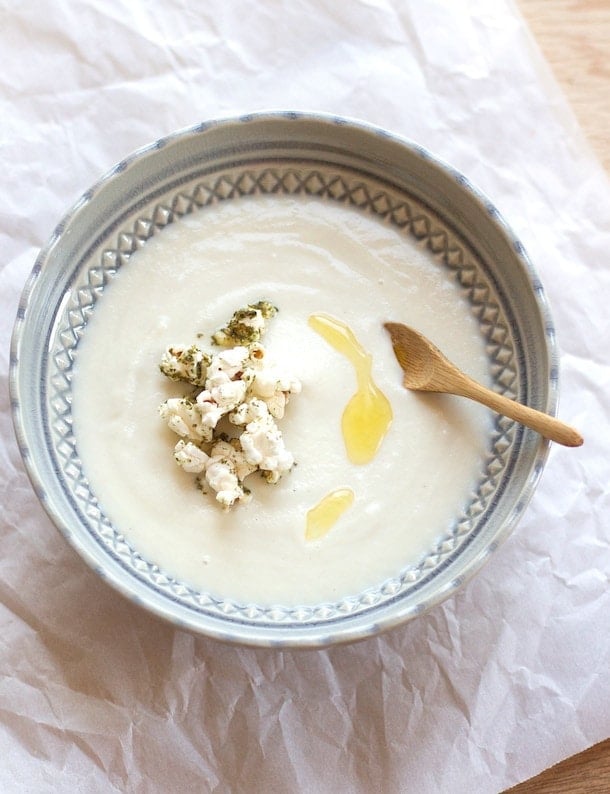 1

large head of cauliflower,

about 2 1/2 pounds once cored

4

tablespoons

olive oil,

divided

4

cloves

of garlic,

peeled & cut in half

3/4

teaspoon

fine salt

1/2

cup

diced onion

1/3

cup

diced celery

3/4

cup

raw cashews + 1/4 teaspoon salt,

soaked in 1/2 cups filtered water for 8 hours

5

cups

of vegetable broth

1/4

teaspoon

black pepper

Quinn Popcorn for topping

(you can find it at Target or Whole Foods)
Preheat oven to 400 degrees. Cut cauliflower into small florets. Add cauliflower and garlic to a large bowl and drizzle with 3 tablespoons of olive oil. Stir, then add salt and stir again to coat. Spread onto two large sheet pans and roast for 25 to 30 minutes or until lightly browned.

Meanwhile, heat remaining tablespoon of olive oil in a medium stock pot over medium heat. Add onions and celery, cooking for 5 minutes until translucent.

Add cashews, including the water they have soaked in, and broth, then bring to a simmer. When cauliflower and garlic are finished cooking, add to stock pot.

Simmer for additional 5 minutes, then add to a blender in batches. Puree until smooth. Garnish with popcorn.