Chewy, super soft sourdough cinnamon rolls topped with a heavenly cream cheese frosting. Recipe uses active sourdough starter, and requires only 20 minutes of hands-on time before benefiting from an overnight bulk fermentation. The recipe yields 8 rolls and the texture is extremely fluffy and pillowy; the crumb just shreds apart. Melt in your mouth good! Baking timeline included.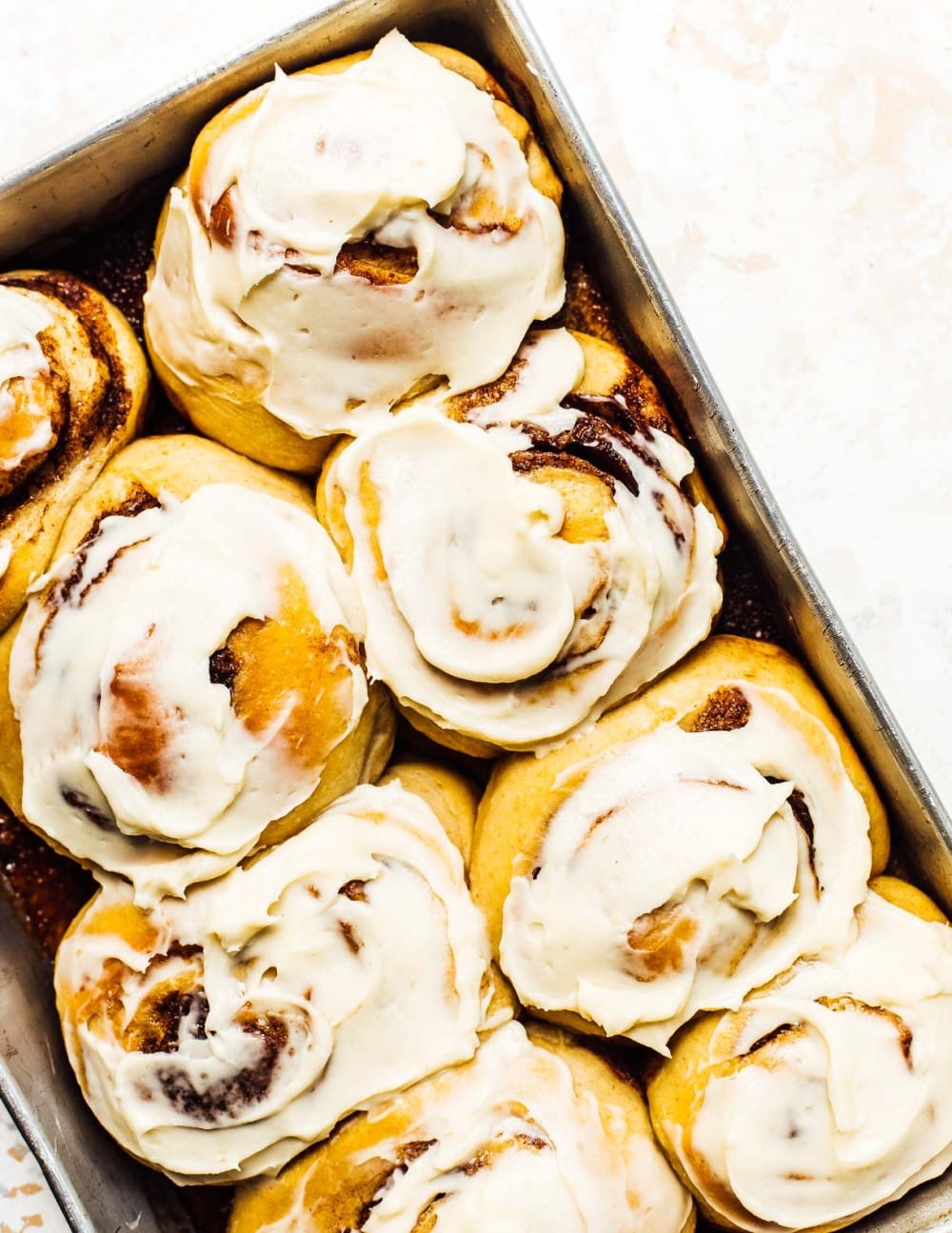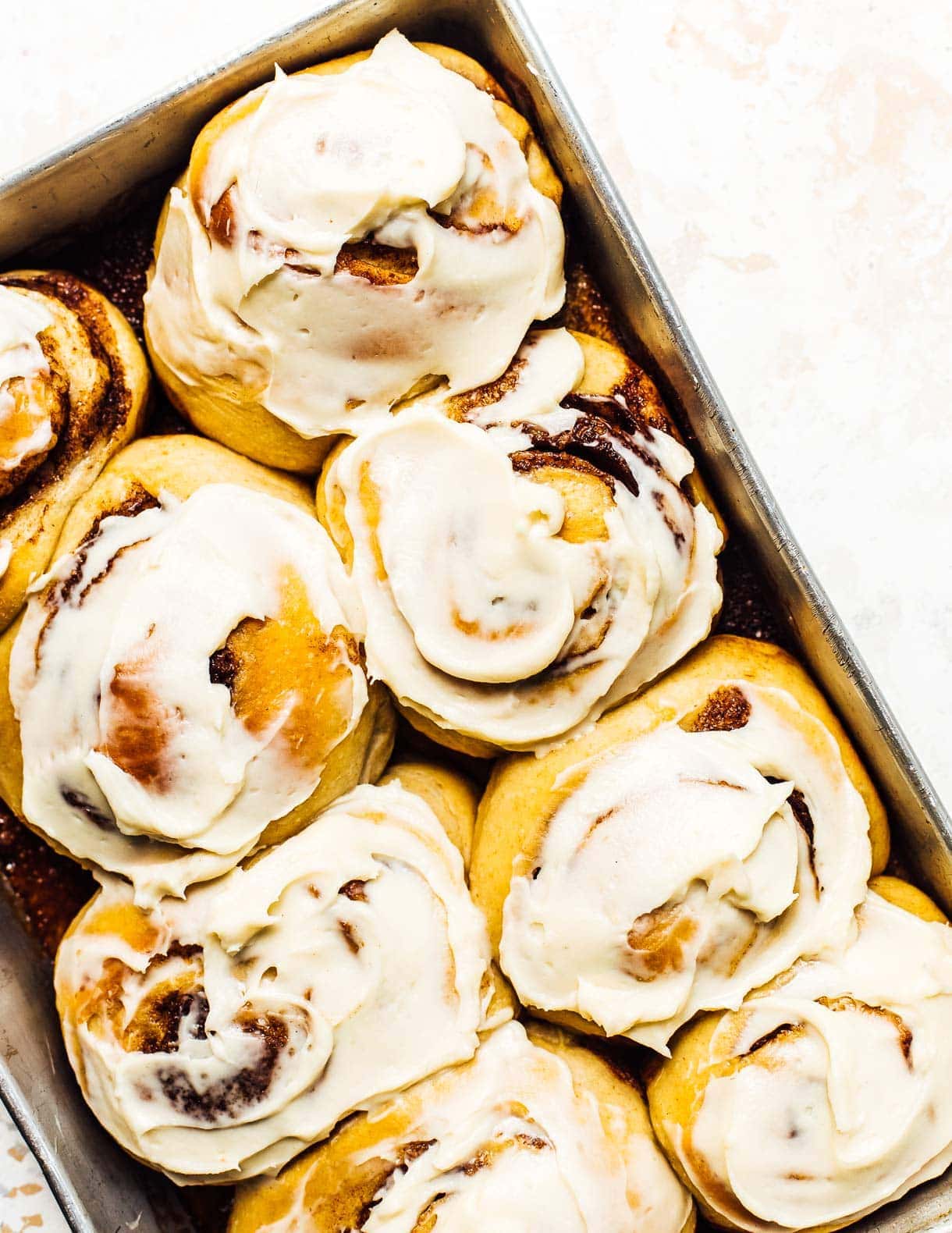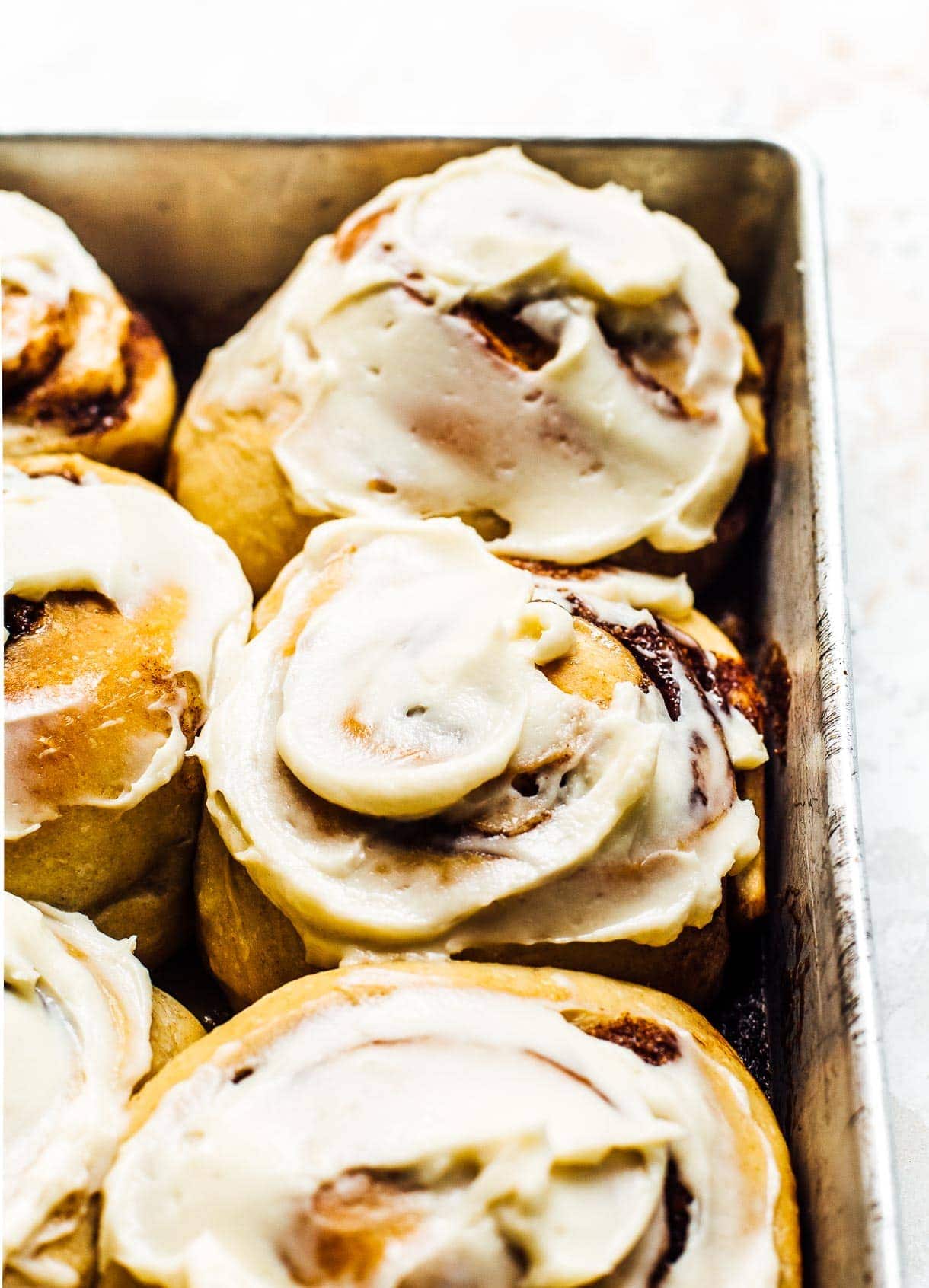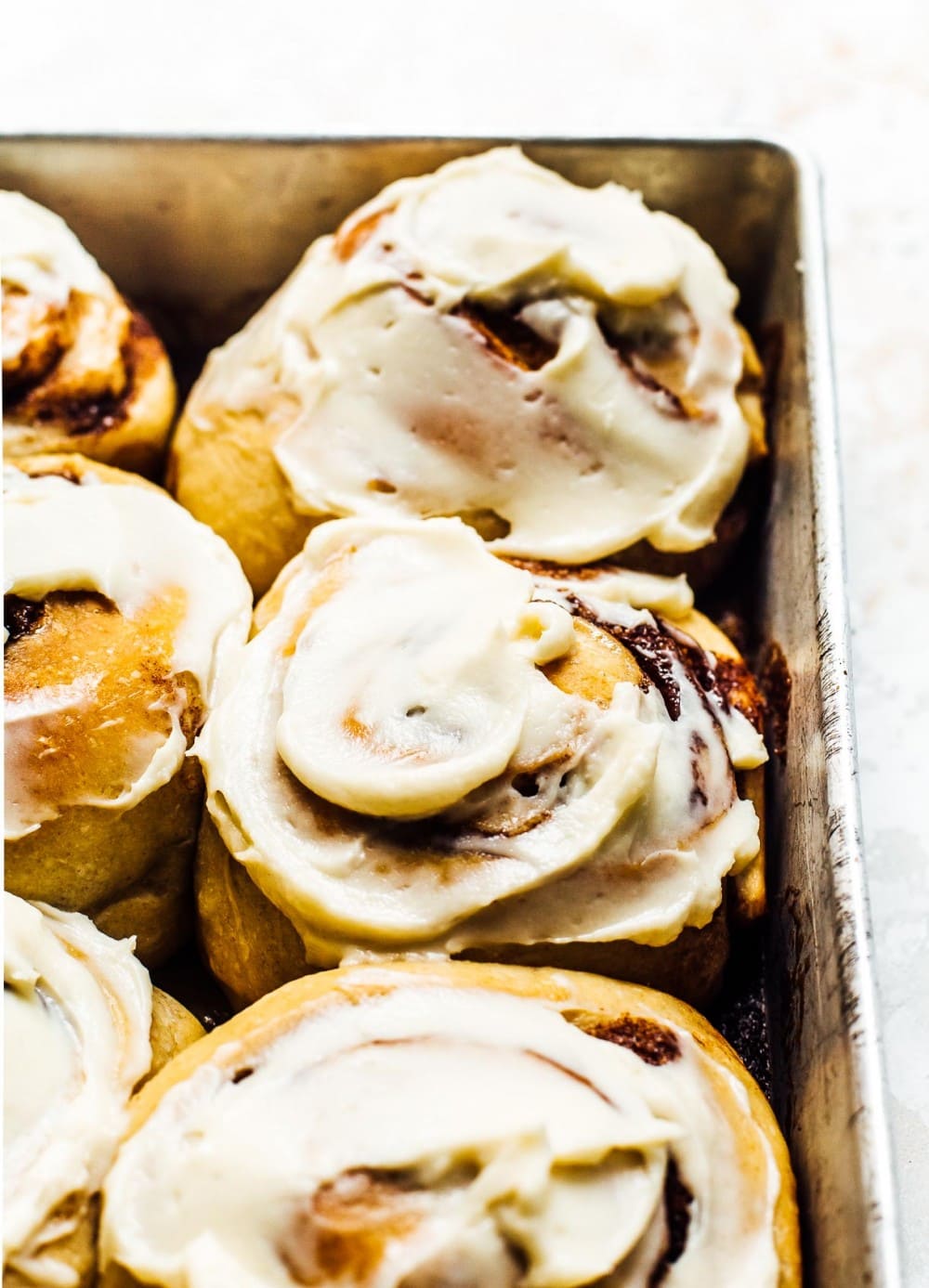 I've made dozens of these sourdough cinnamon rolls to get them just right for you – AND I'M NOT COMPLAINING. I mean, are cinnamon rolls ever bad??
These dreamy sourdough cinnamon rolls are light as a feather, extra fluffy, and very forgiving. Using your active sourdough starter, they benefit from an overnight bulk fermentation, which makes things easier for timing purposes. My Sourdough Caramel Rolls are made the same way.
And they aren't cloyingly sweet! The slight tang from the decadent cream cheese frosting is the perfect contrast to the buttery rolls.
I've always been intimidated by making cinnamon rolls, but the fact of the matter is, perfectly imperfect is just as delicious – and pretty! So don't be too hard on yourself. Don't fret if you don't get the tightest roll you want, or yours are a little more rectangular than circular. The dough is forgiving. And they will always taste INCREDIBLE.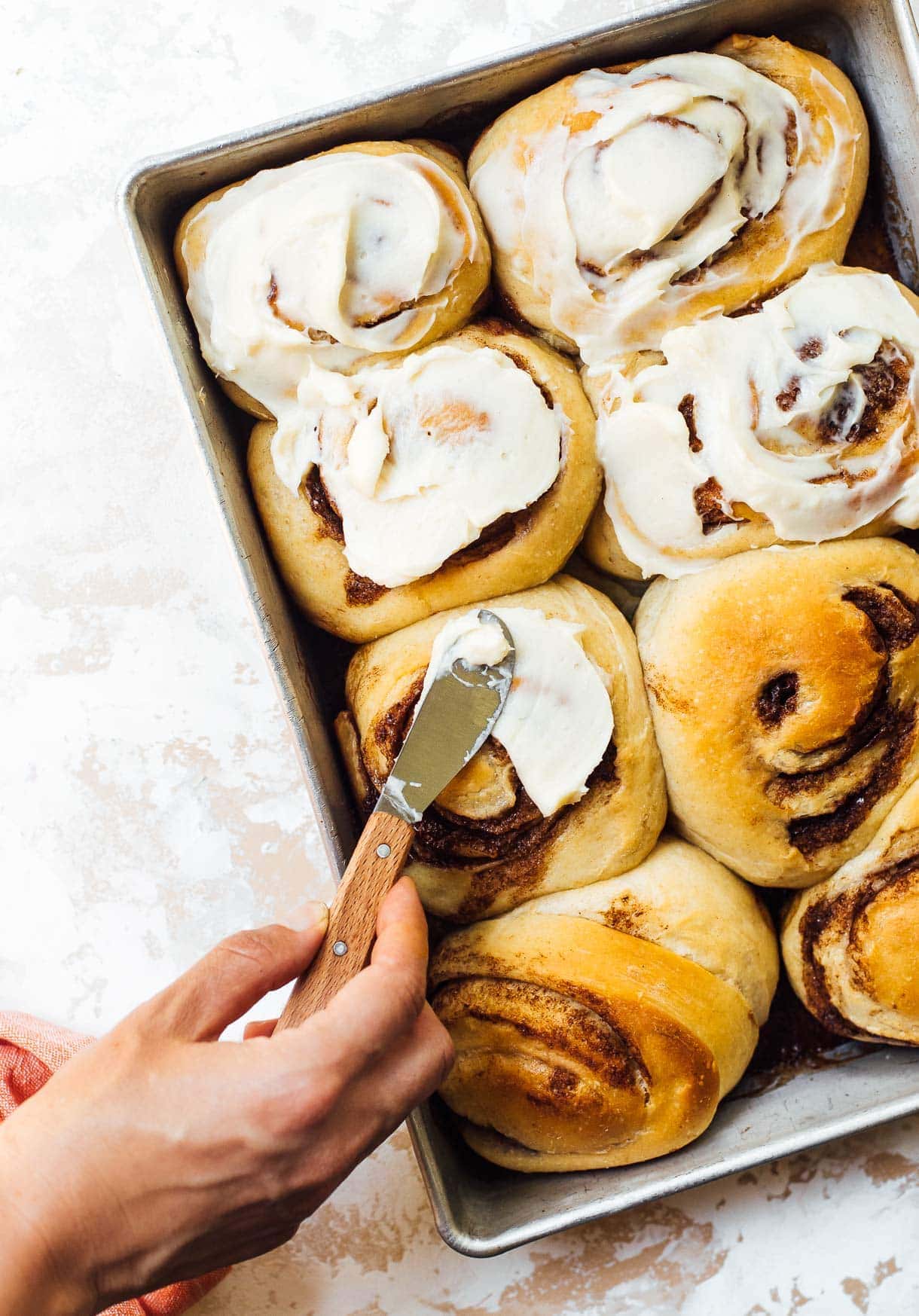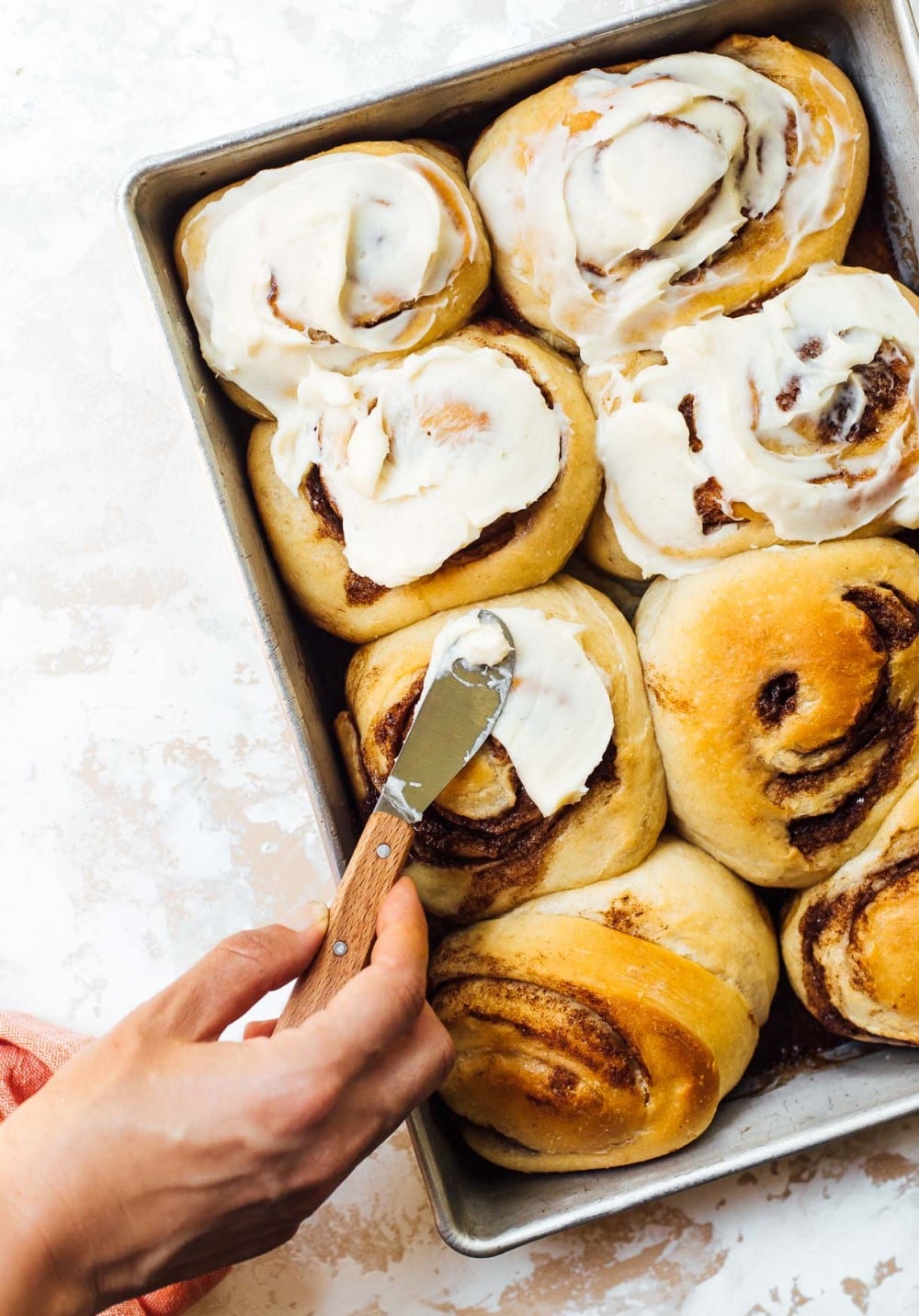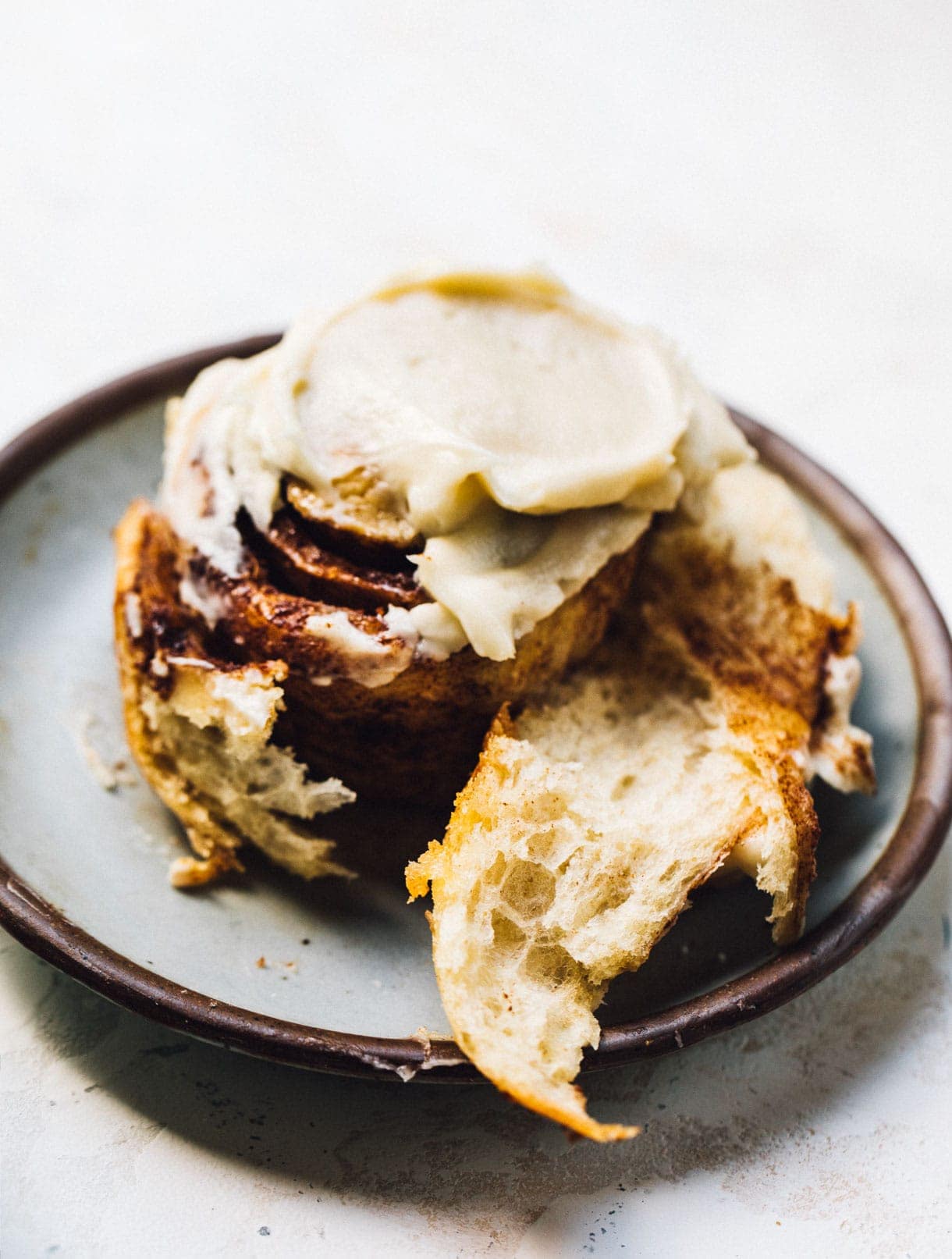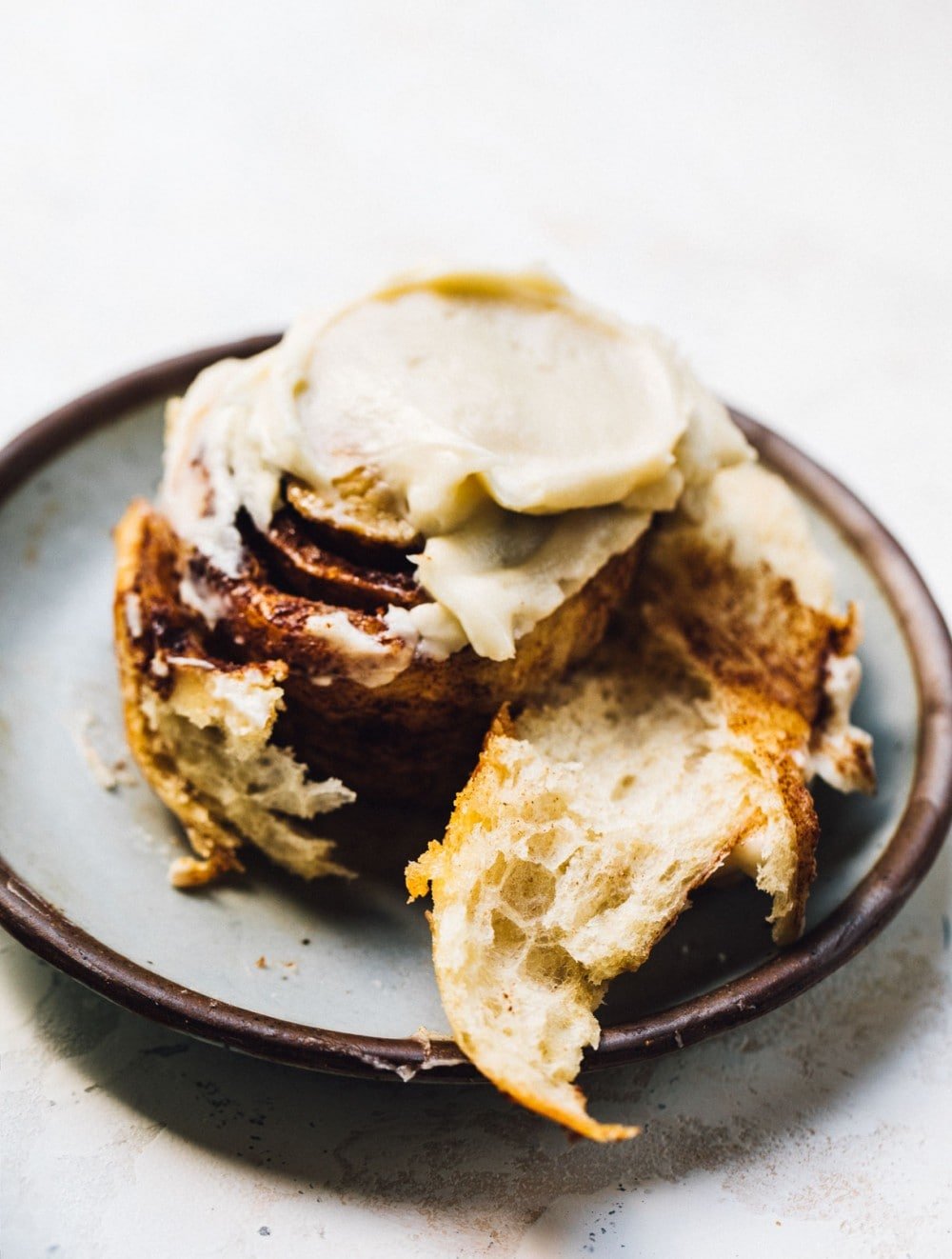 Ingredients in Sourdough Starter Cinnamon Rolls:
This sourdough cinnamon roll recipe has relatively straightforward ingredients, using all purpose and whole wheat flour, egg, butter, and milk – making it an enriched dough.
Most importantly, you'll need active sourdough starter to mix your dough. An active sourdough starter is one that has been fed and is holding its peak. You do not want to use sourdough discard, or an unfed starter. Make these sourdough discard pancakes instead.
The secret to super soft sourdough cinnamon rolls:
It's butter in the dough! Happy fats. And this piece takes a little planning. You'll want your butter to room temperature, so that you can add it to the dough while it is being kneaded in your stand mixer. If it's too warm, it will make the dough greasy. Too cold, it won't blend into the dough.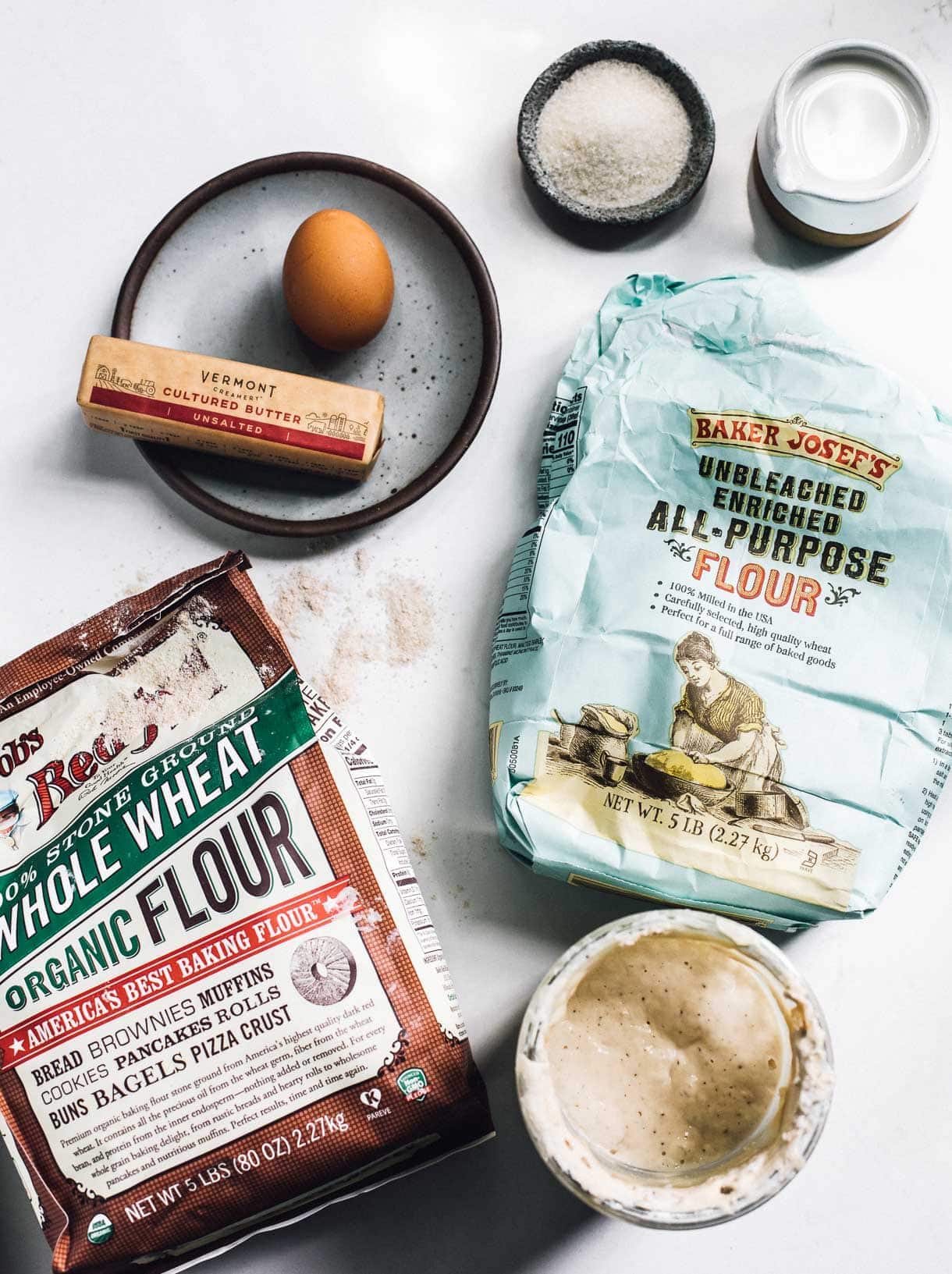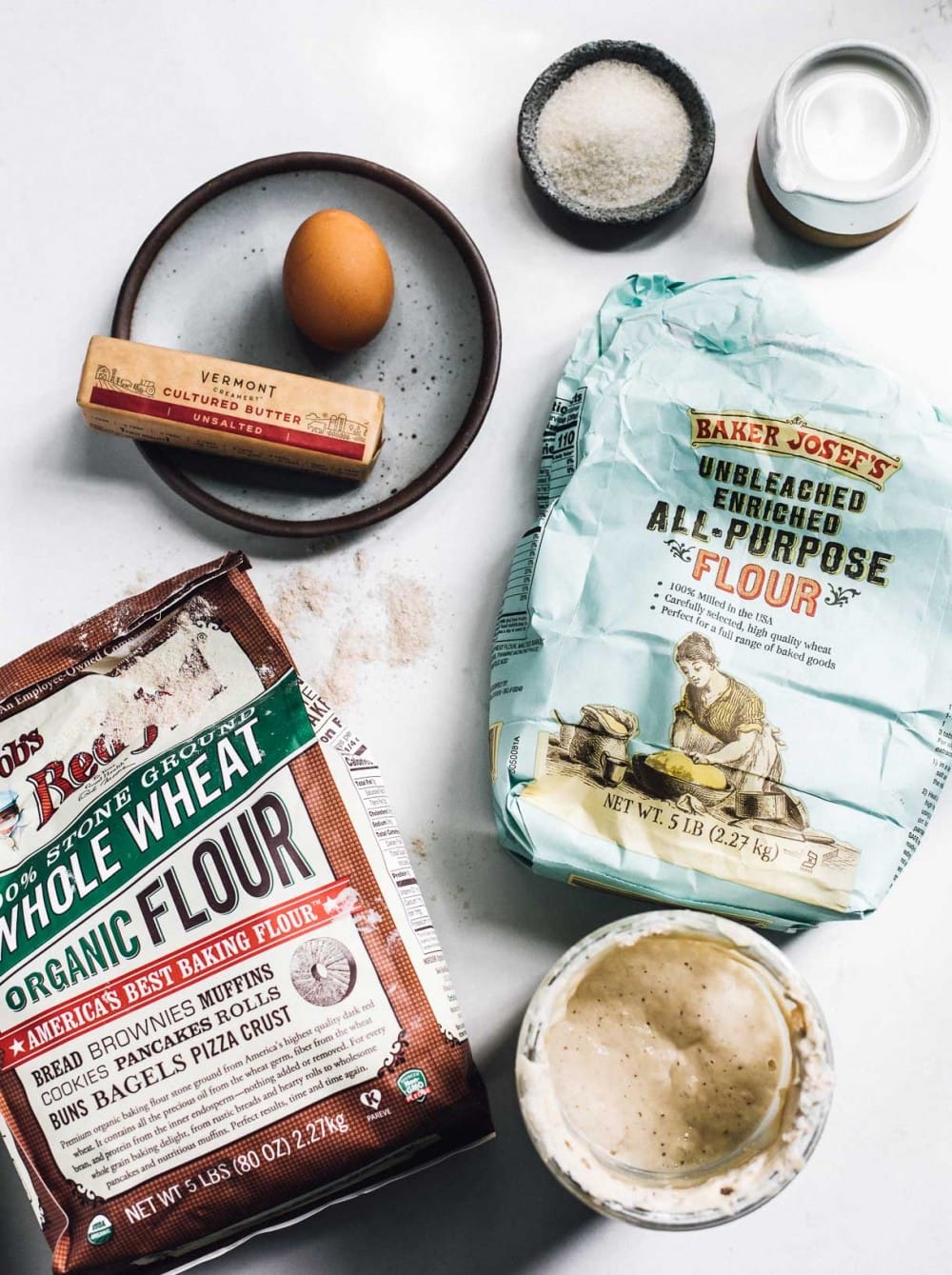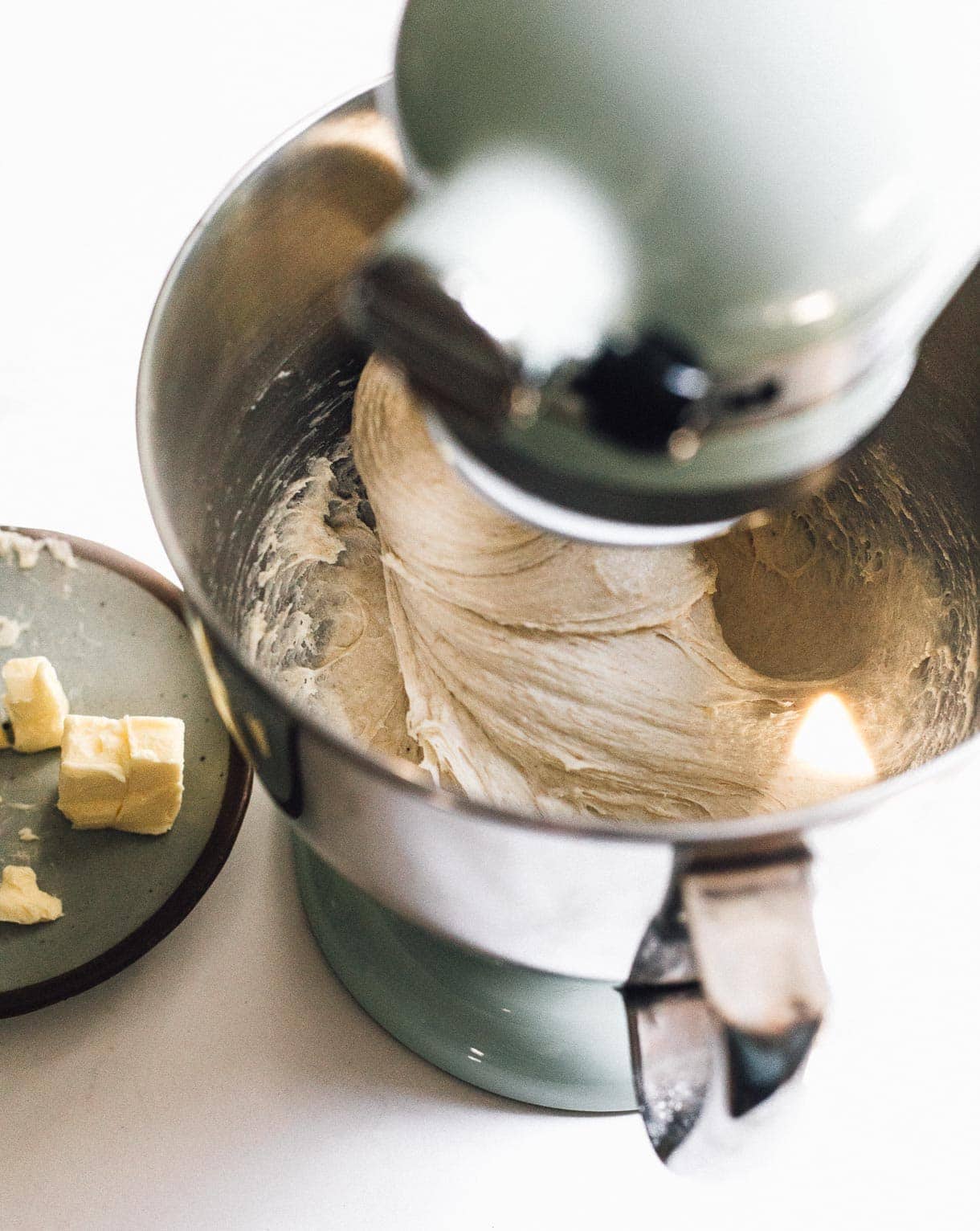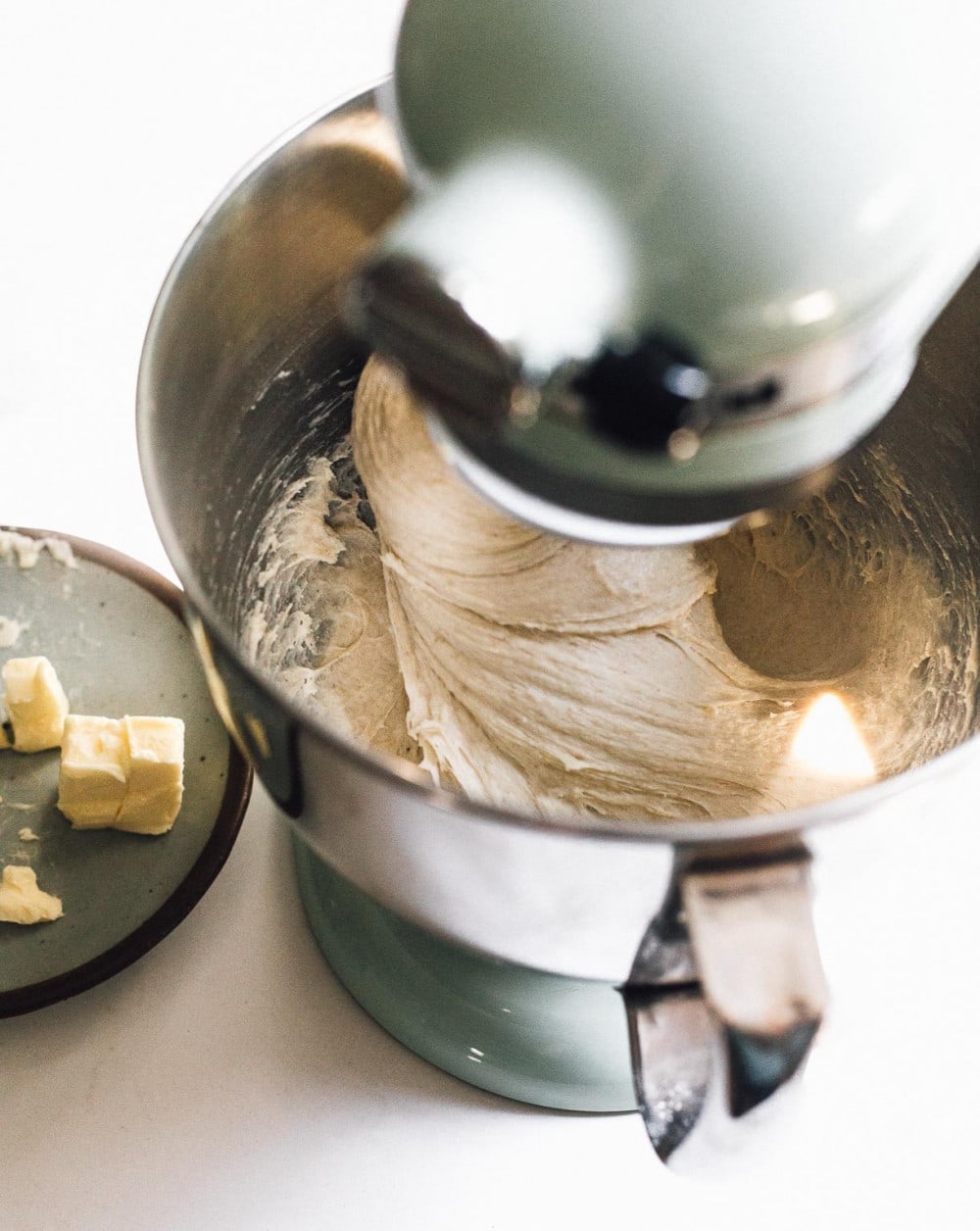 These Sourdough Cinnamon Rolls are incredibly soft, and when you pull the layers apart, they shred into feathery pieces. HEAVEN.
Chewy. Decadent.
Sweet, but not too sweet.
Everything a cinnamon roll should be.
Overnight Sourdough Cinnamon Rolls Technique:
What I love about this recipe is how efficient it is with the use of an overnight bulk fermentation. Enriched doughs take much longer to rise because of the additional ingredients in them, so letting them sit overnight works out perfectly. Plus, you're not left starting at the dough every hour wondering why it isn't rising faster and what have you done wrong? I say this because this was me a few times during testing.
Bakers Schedule:
Around 9 pm, you'll mix your dough, and let bulk ferment on the counter, overnight.
The next morning (before 8am), check your dough and ensure it is puffy and has grown double.
Put dough onto a floured countertop, and rest for 10 minutes. Then roll out to large rectangle, roughly 17″x 12″.
Mix all the filling ingredients in a bowl then spread over the rectangle of dough keeping about a 1/2 inch away from all the edges.
Roll into a log and cut individual rolls. You will really want to have a bench scraper for rolling up the log, and cutting. It's a game changer.
Place in aluminum baking pan.
Let rise 3ish hours in a warm spot on countertop, and bake.
Option 2: You could also do the bulk fermentation during the day, then roll out the cinnamon rolls and place into their aluminum pan. Let sit in warm spot for an hour, then refrigerate overnight for their final rise. To do this, you'd probably need to start the dough around NOON, since it takes 8-10 hours to bulk ferment. After the refrigerated overnight final rise, you should let dough warm up to room temp in a warm spot in the morning before making.
What sourdough cinnamon rolls look like at different stages: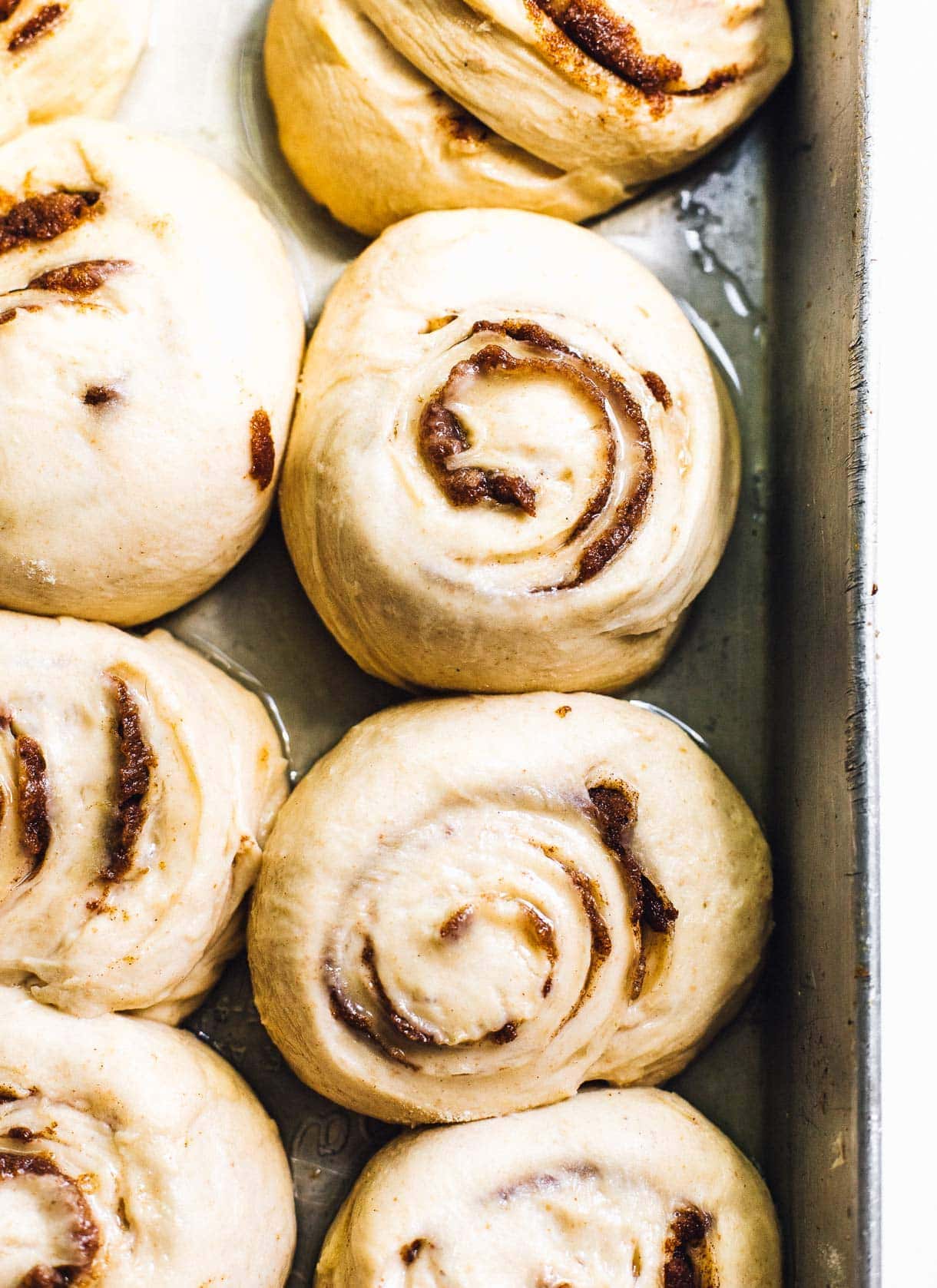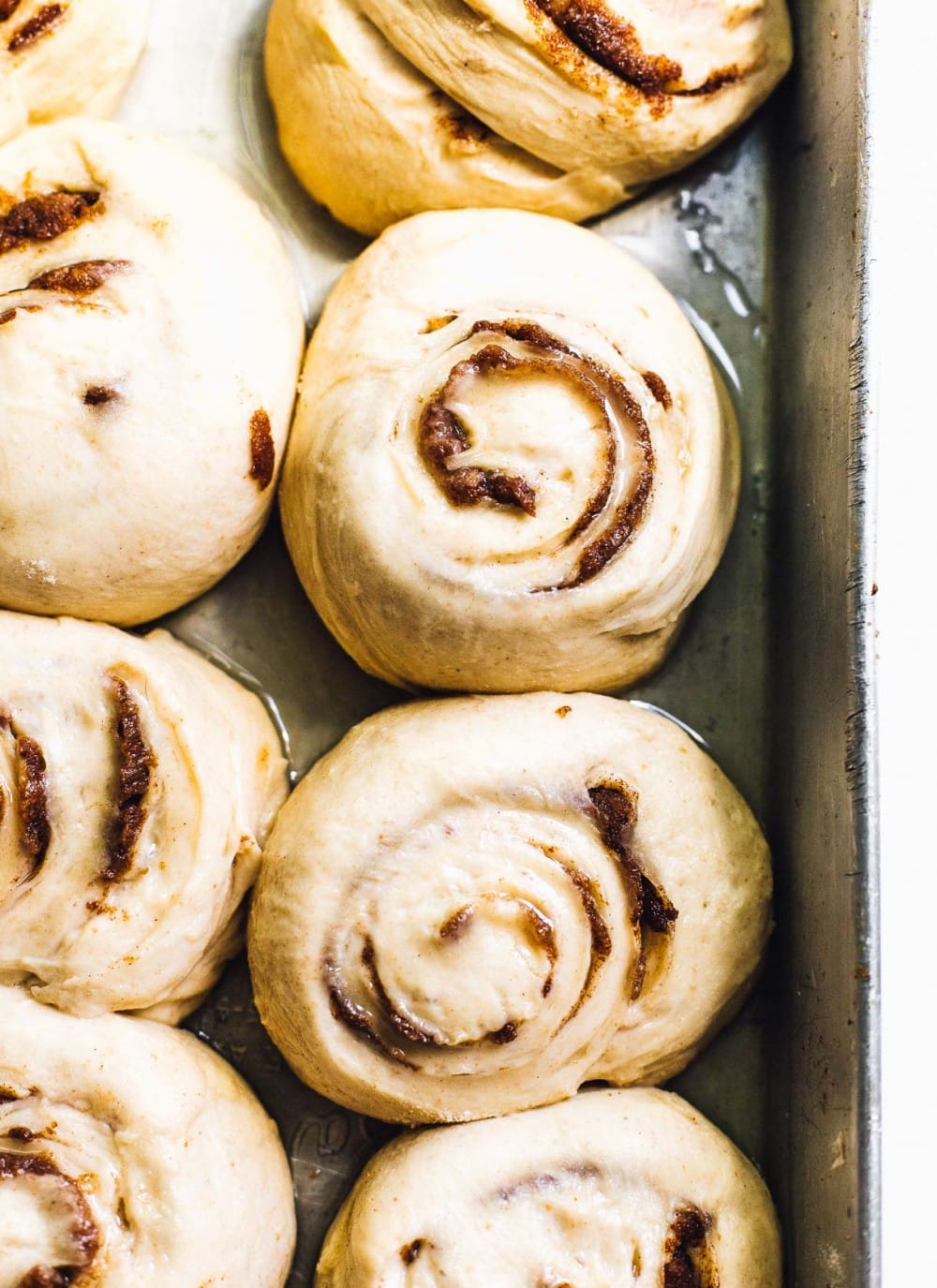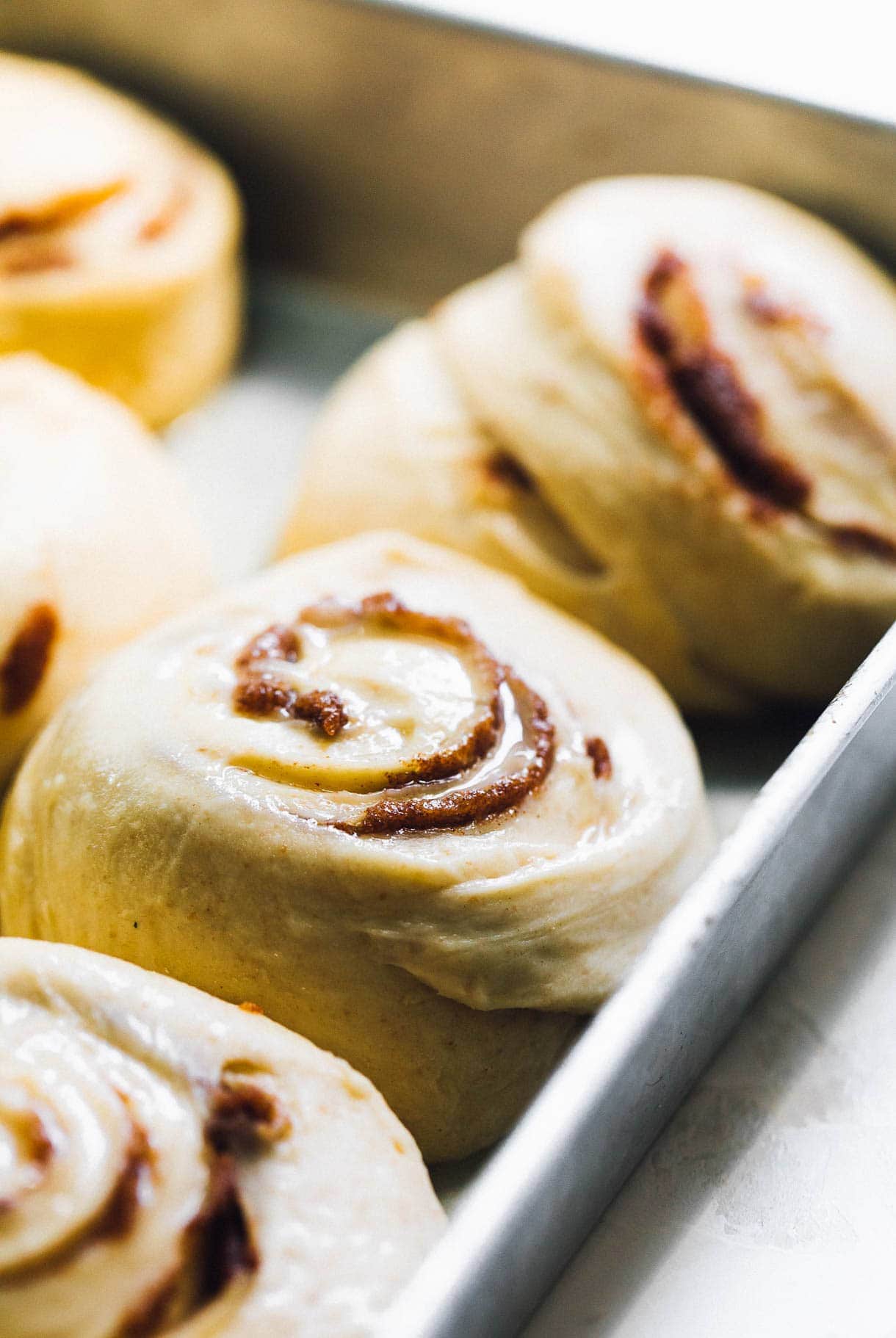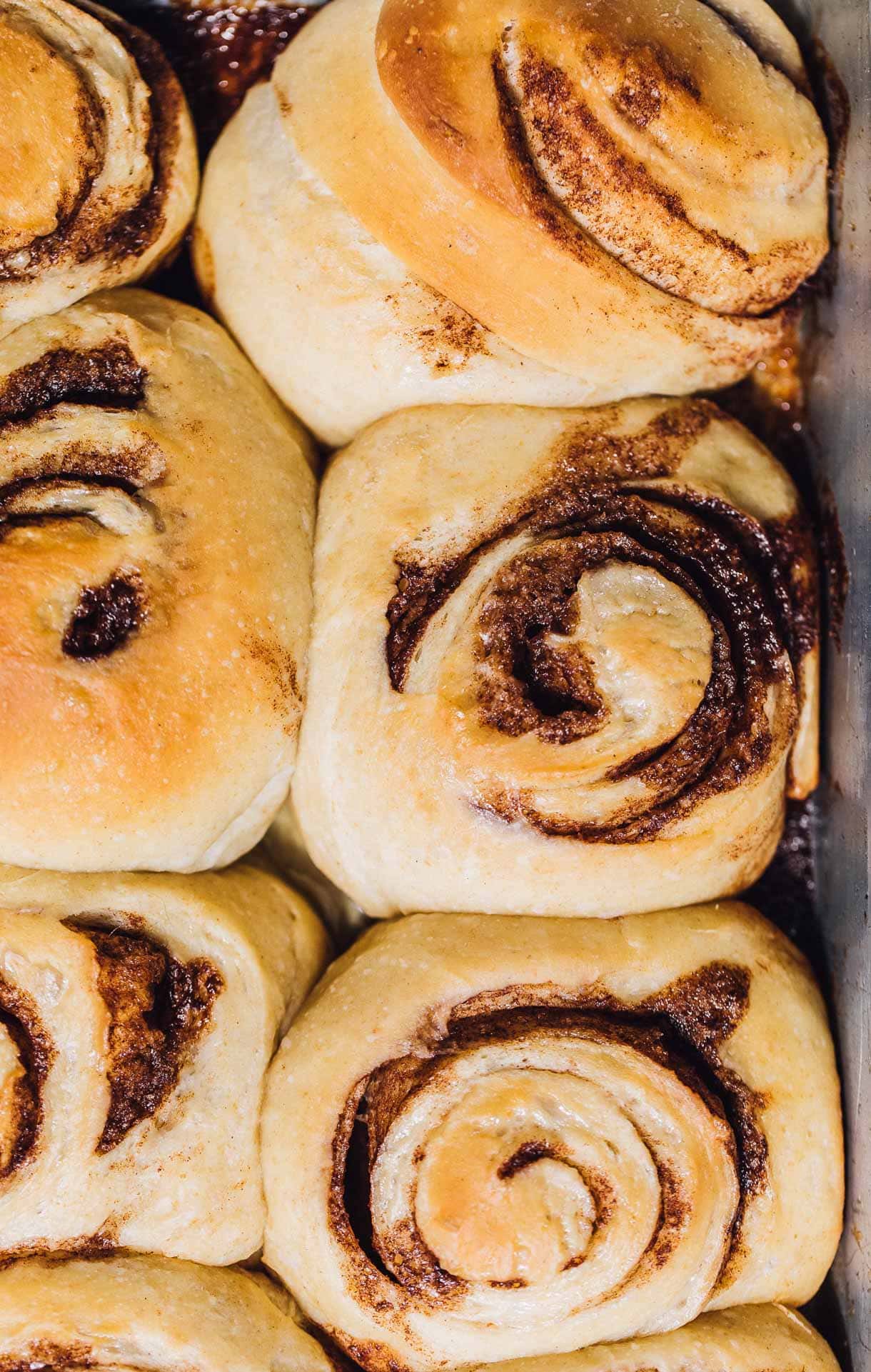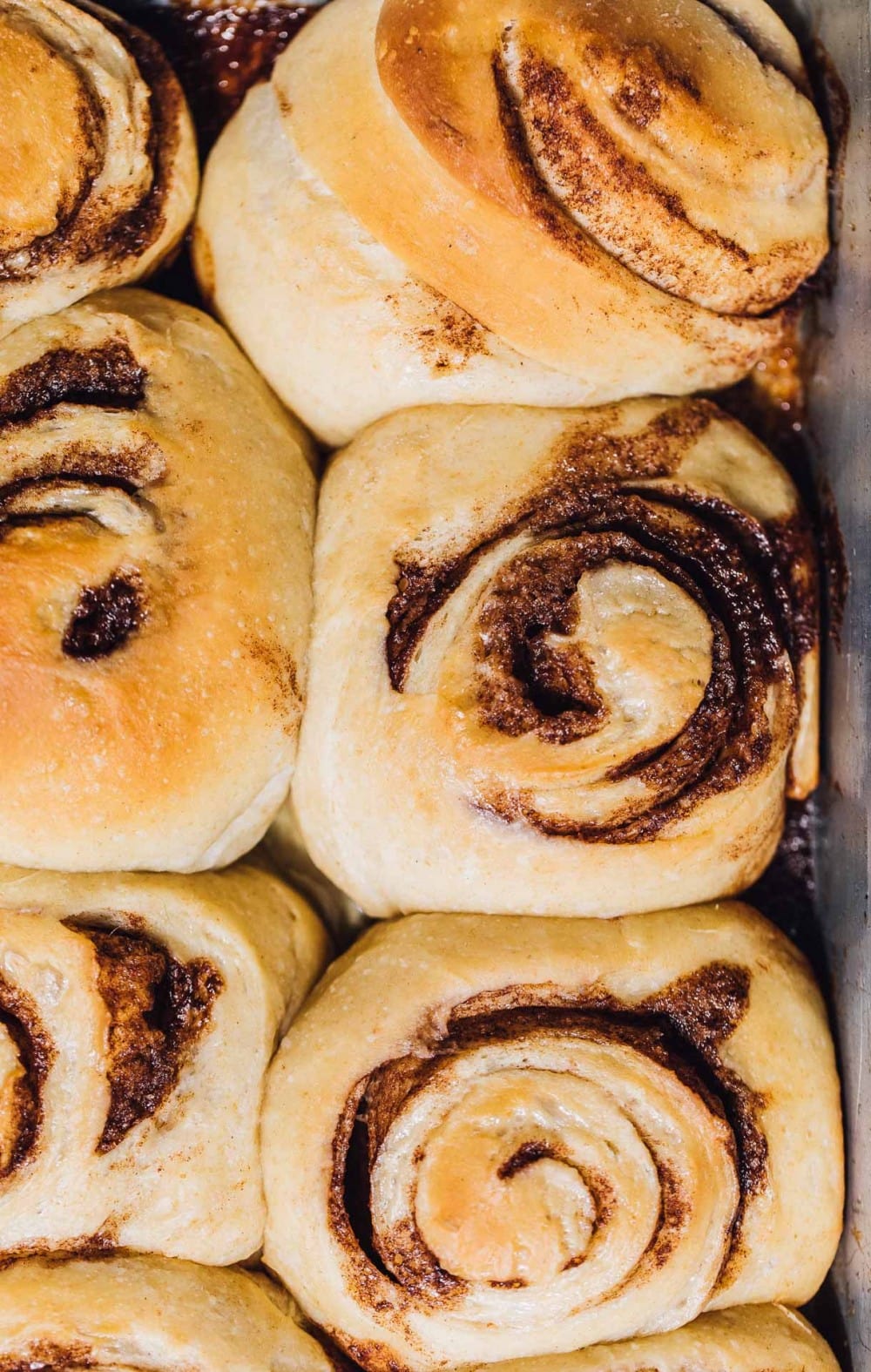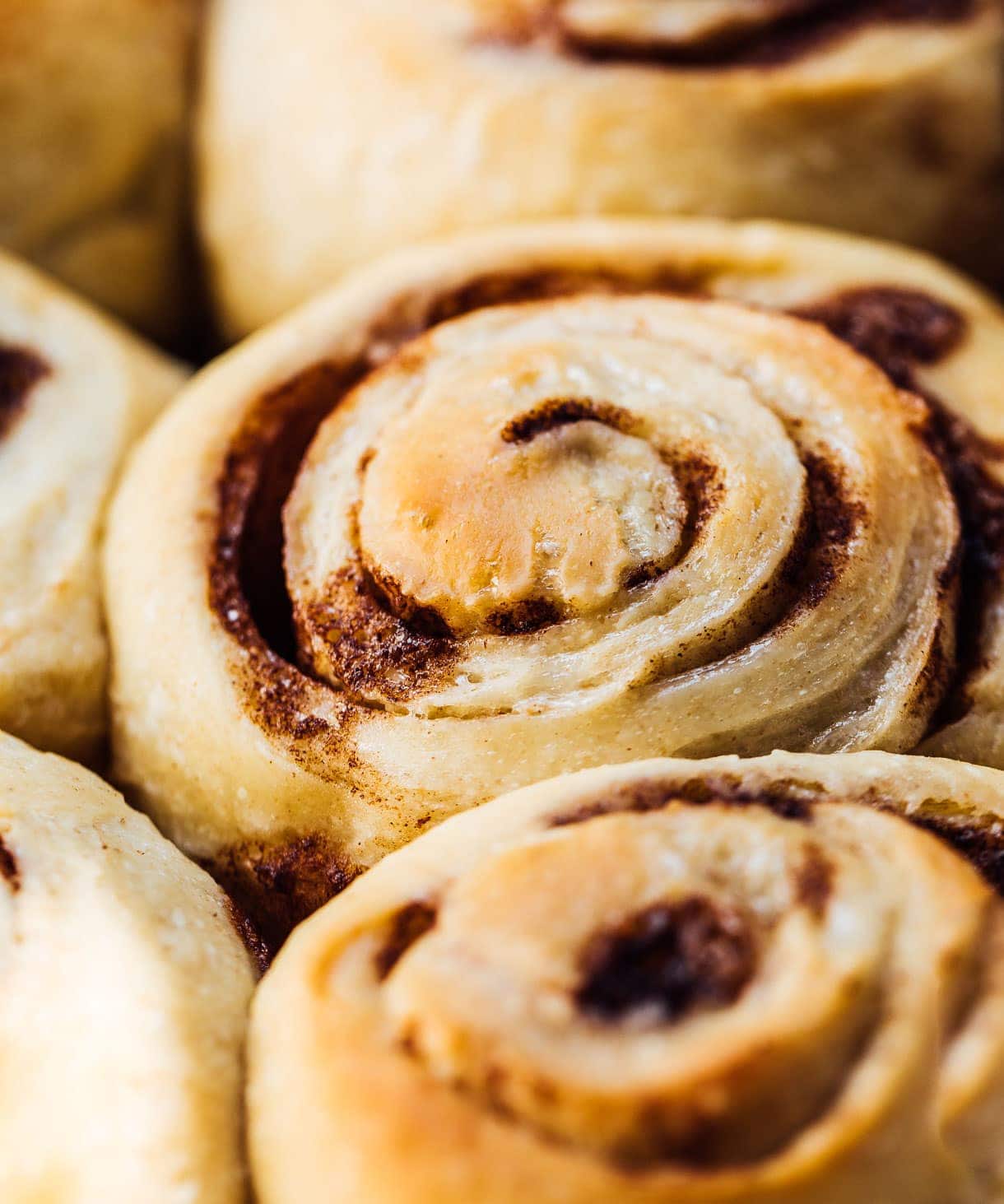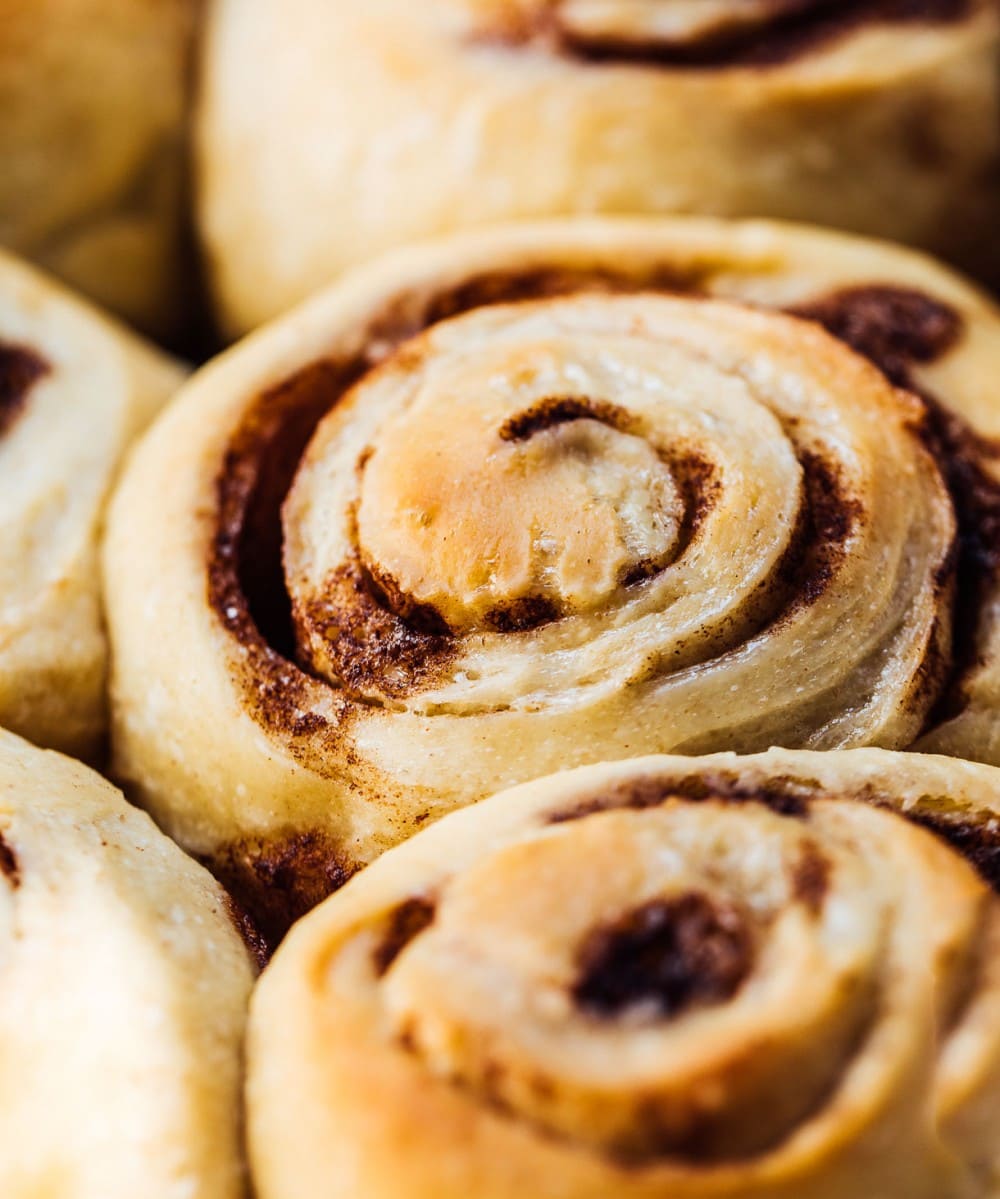 Homemade Cream Cheese Frosting
Making this frosting is a breeze, just be sure the cream cheese is softened before whipping. Then you'll simply add vanilla extract, powdered sugar, and salt.
What I love about this homemade cream cheese frosting is how well the tang compliments the cinnamon rolls. You can make it as sweet or as tangy as you'd like by tasting and adjusting the amount of powdered sugar you add. I find that a little over a 1/2 cup per 6 ounces of cream cheese is what I prefer.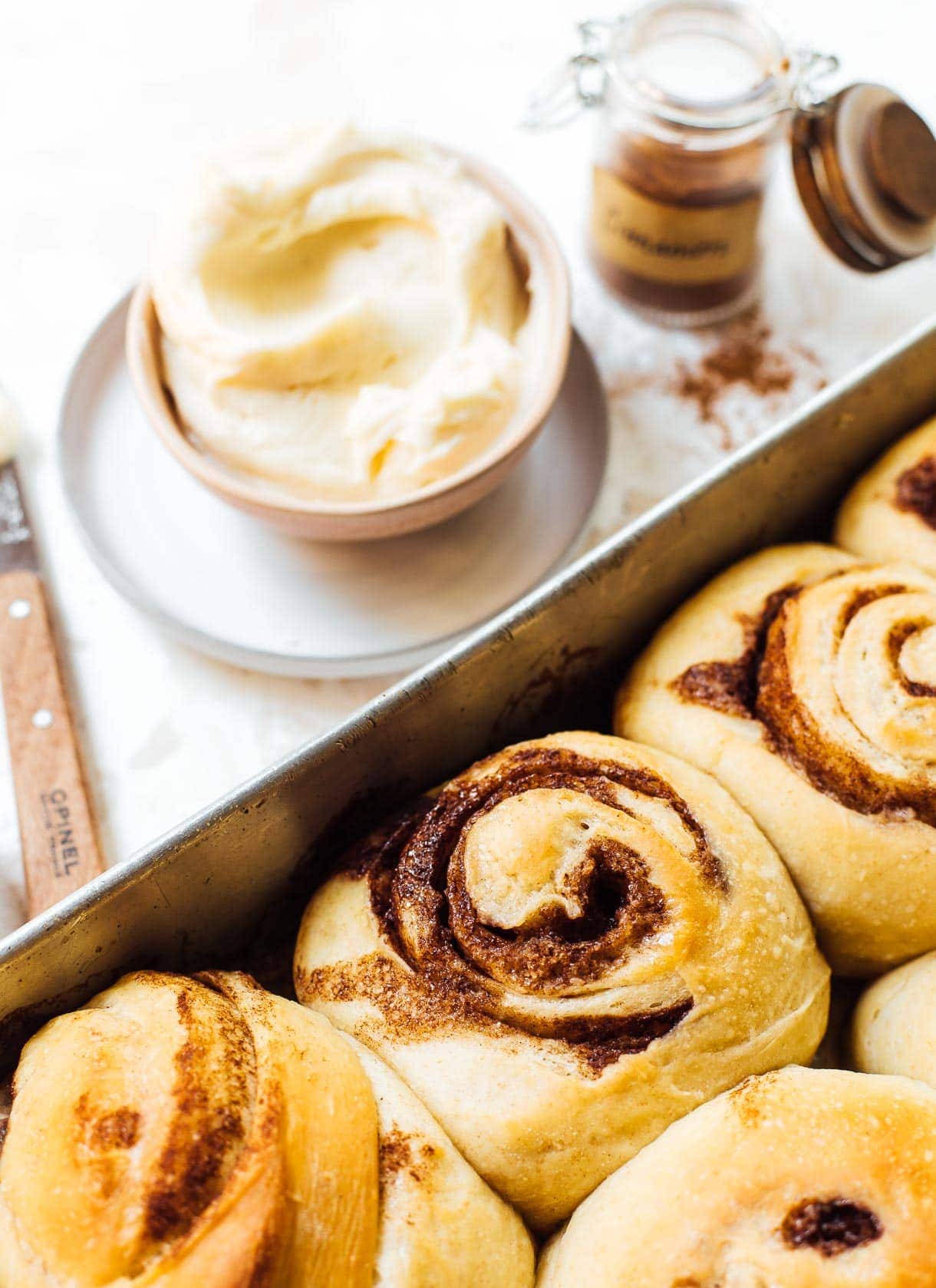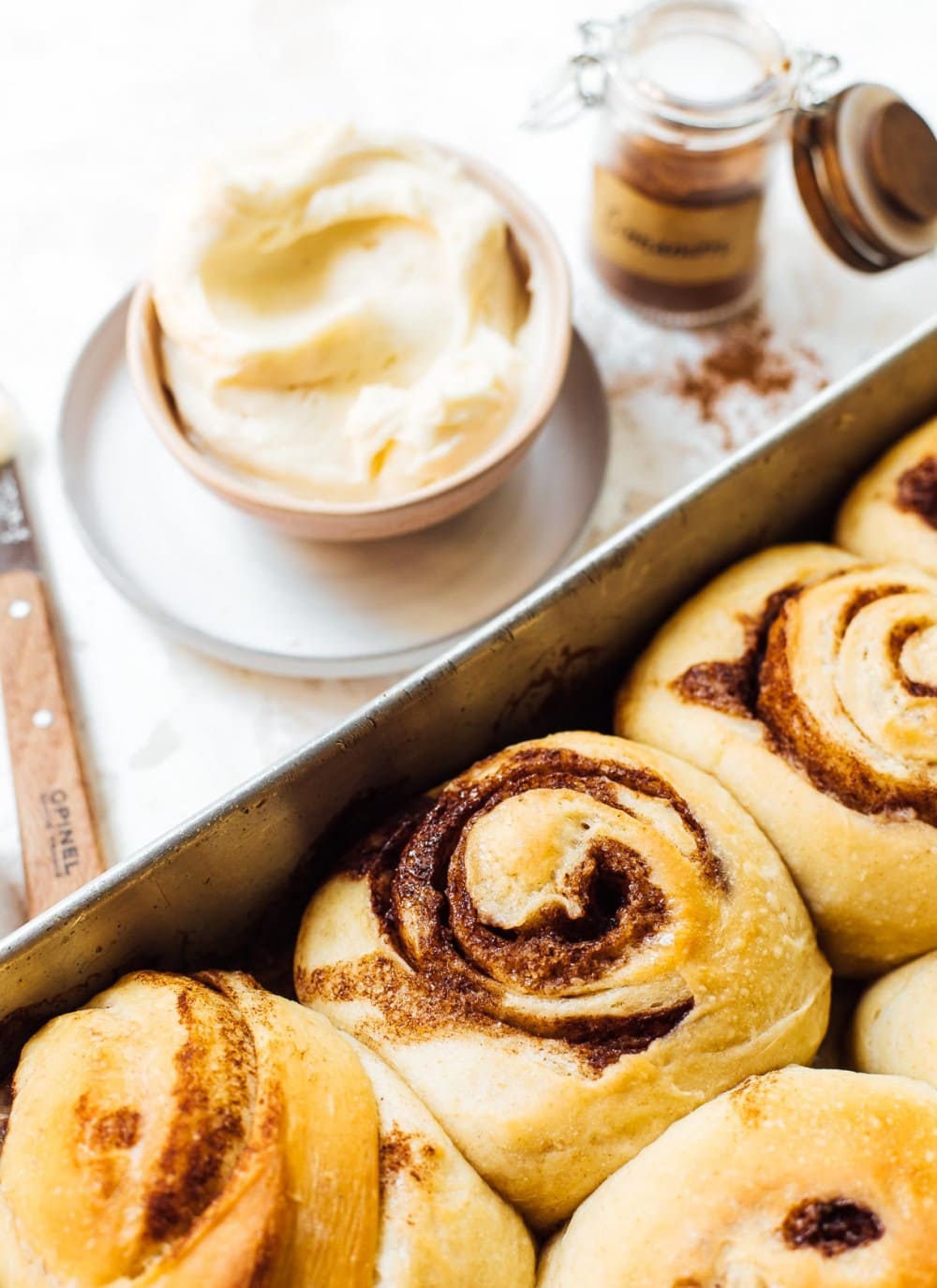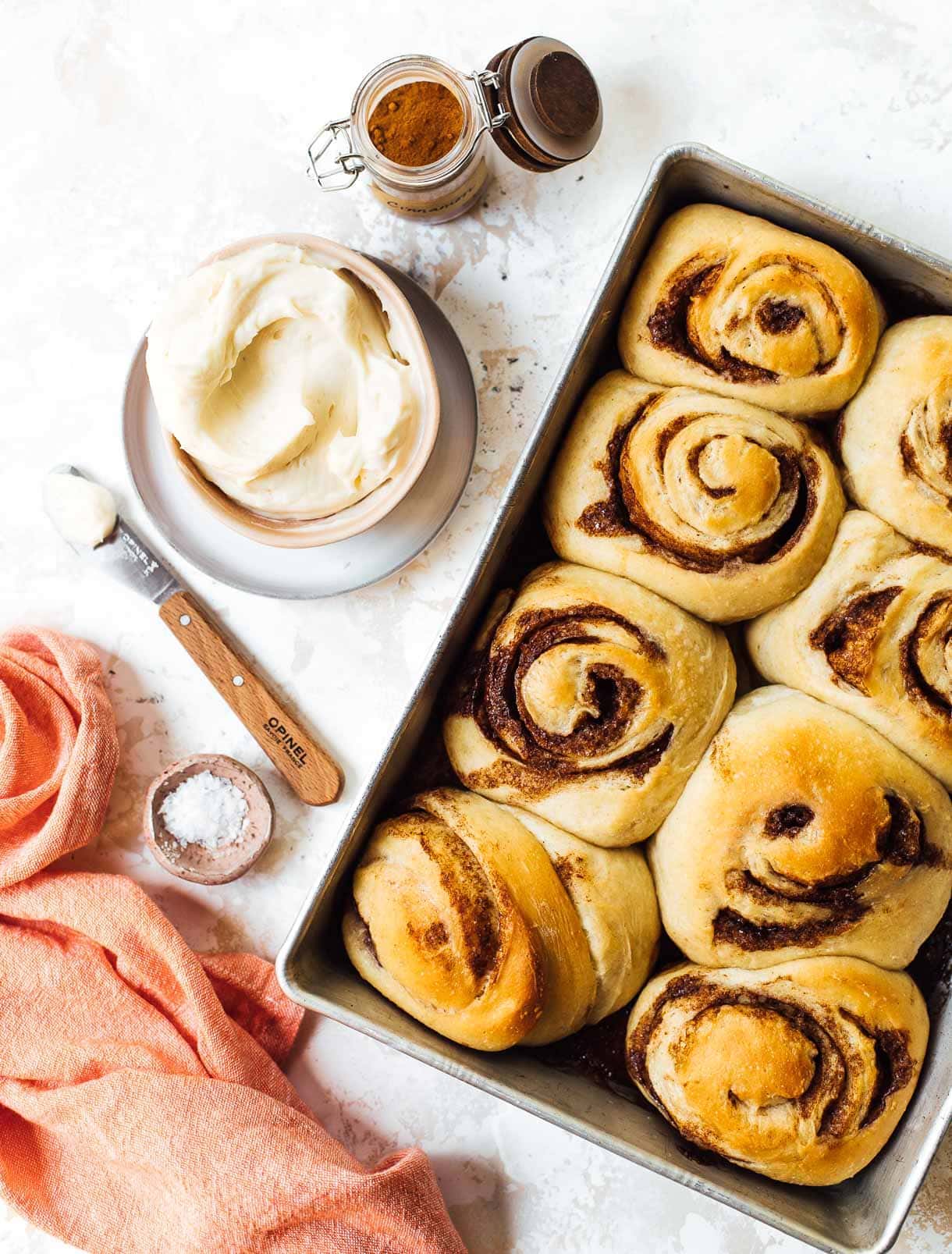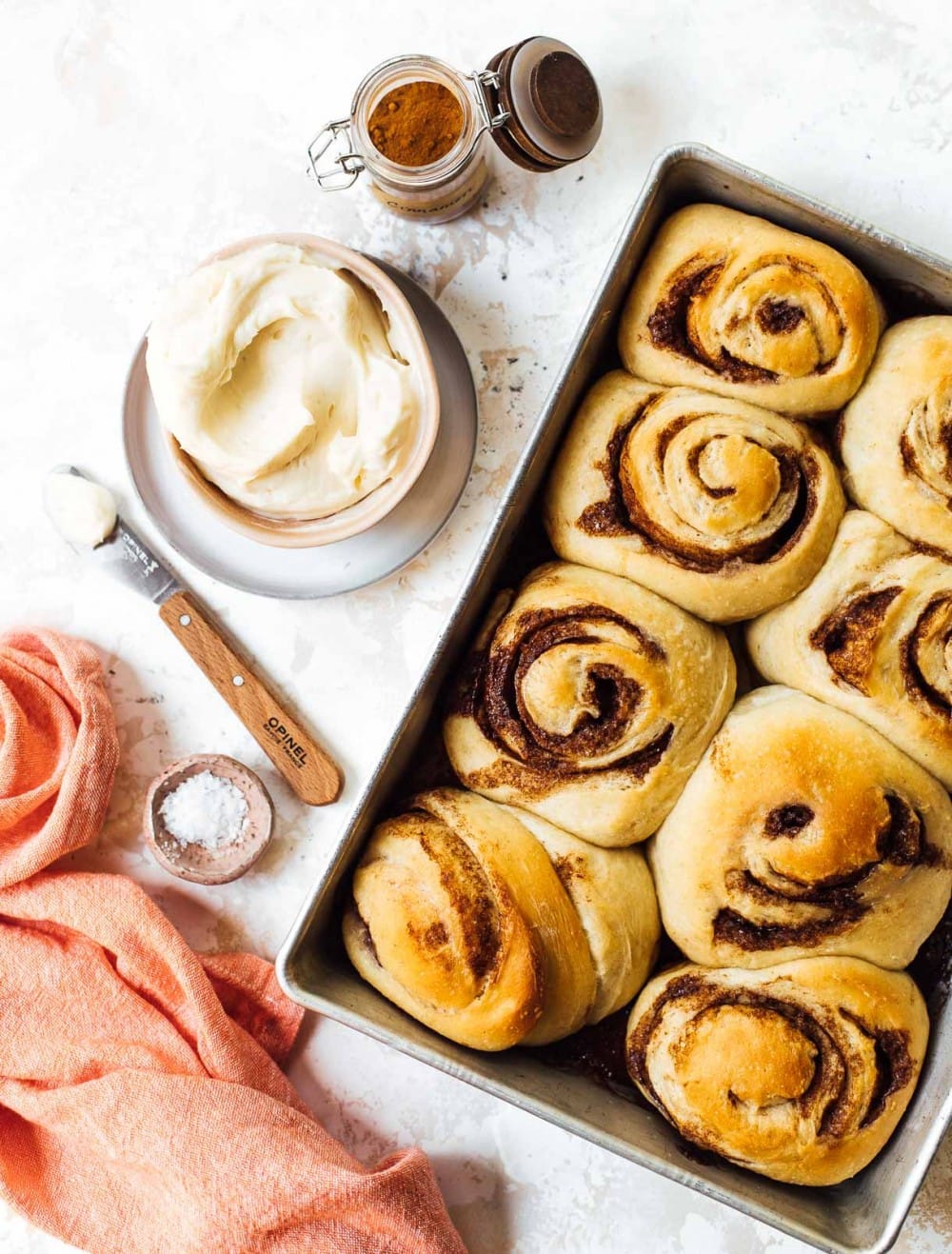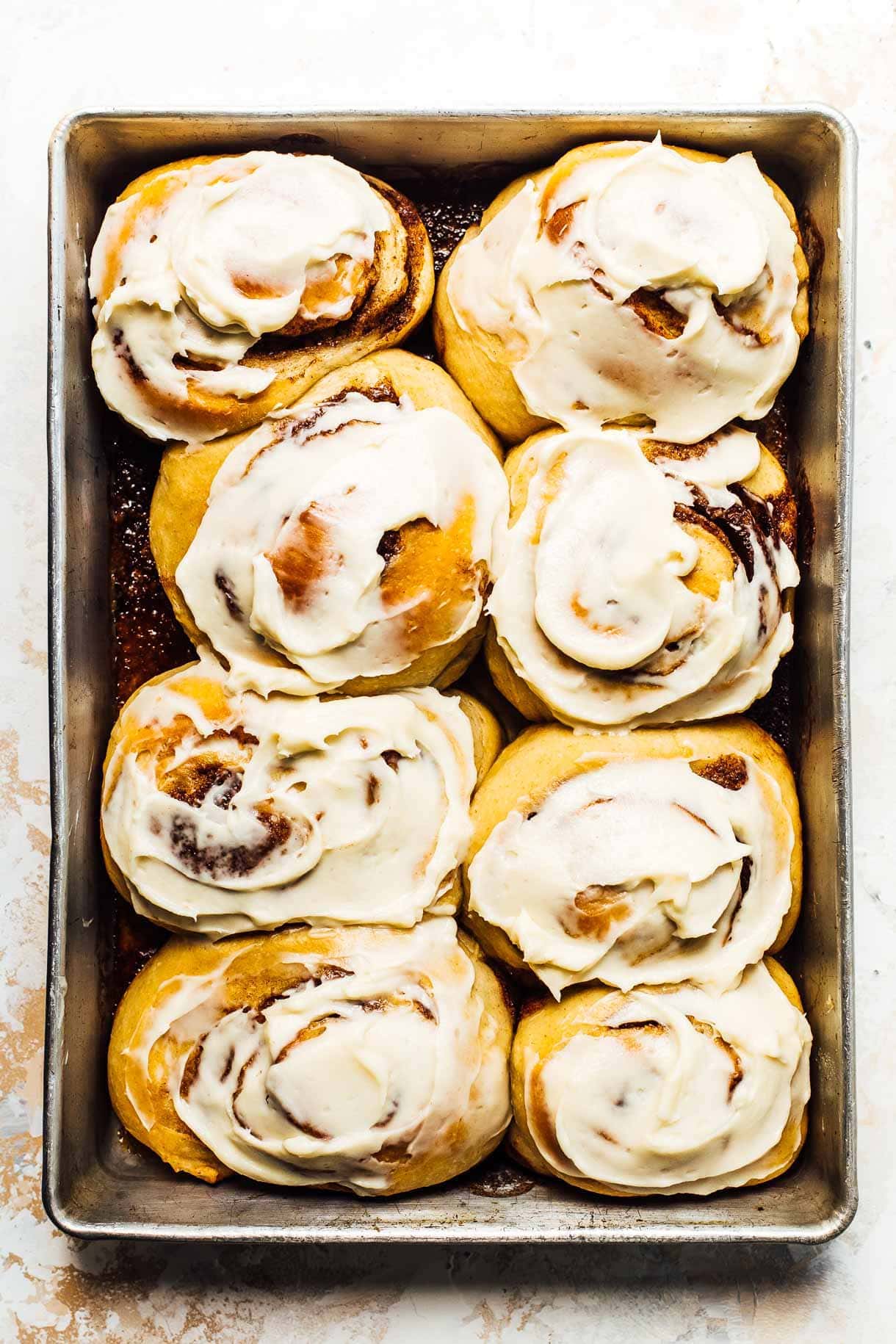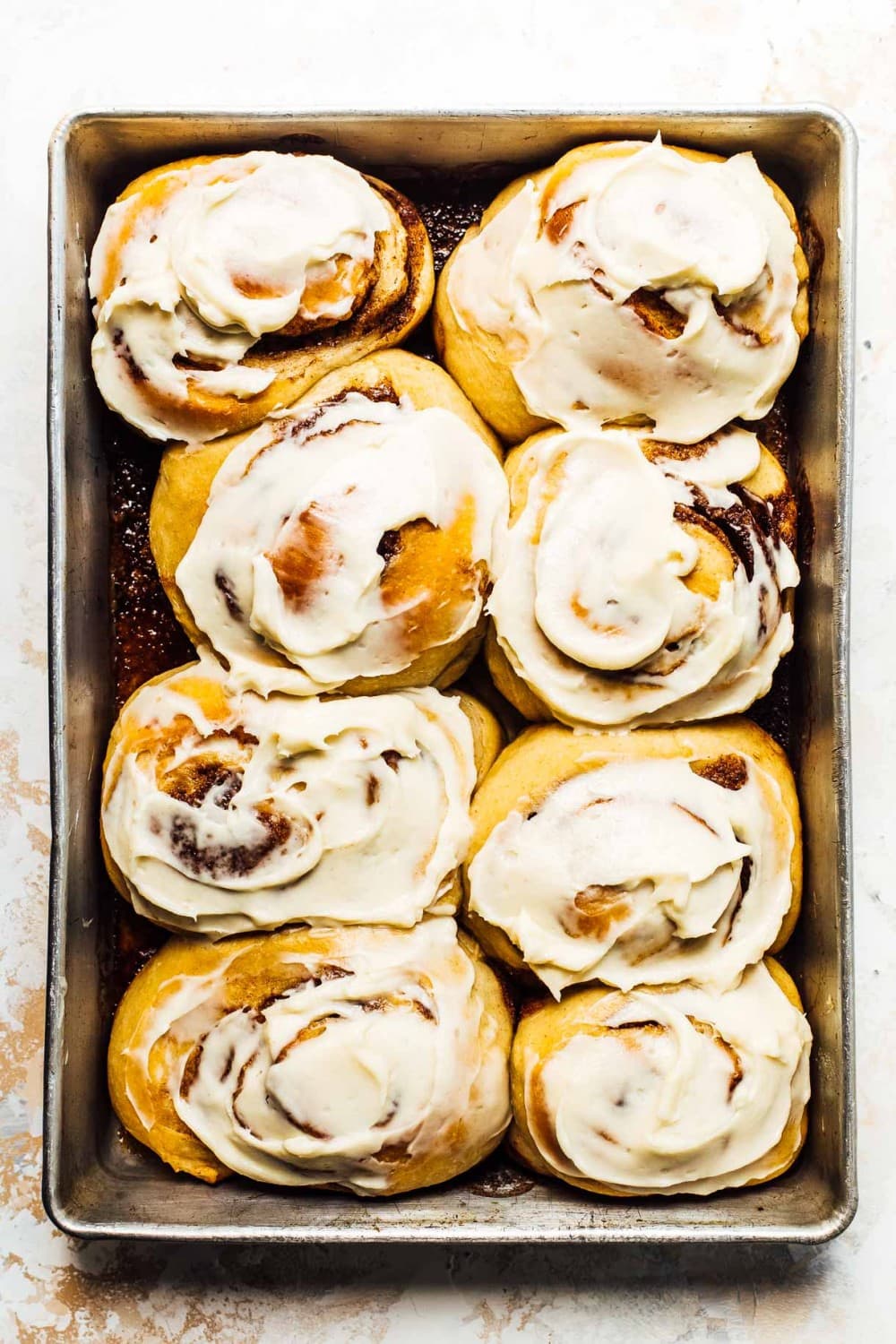 Storing Cinnamon Rolls
I like storing my baked and iced cinnamon rolls in a covered tin at room temperature for up to 24 hours.
After that, I put them in a sealed glass container and refrigerate. When I want one, I warm it up in the microwave for 25 seconds. They're still amazing on the 3rd day this way!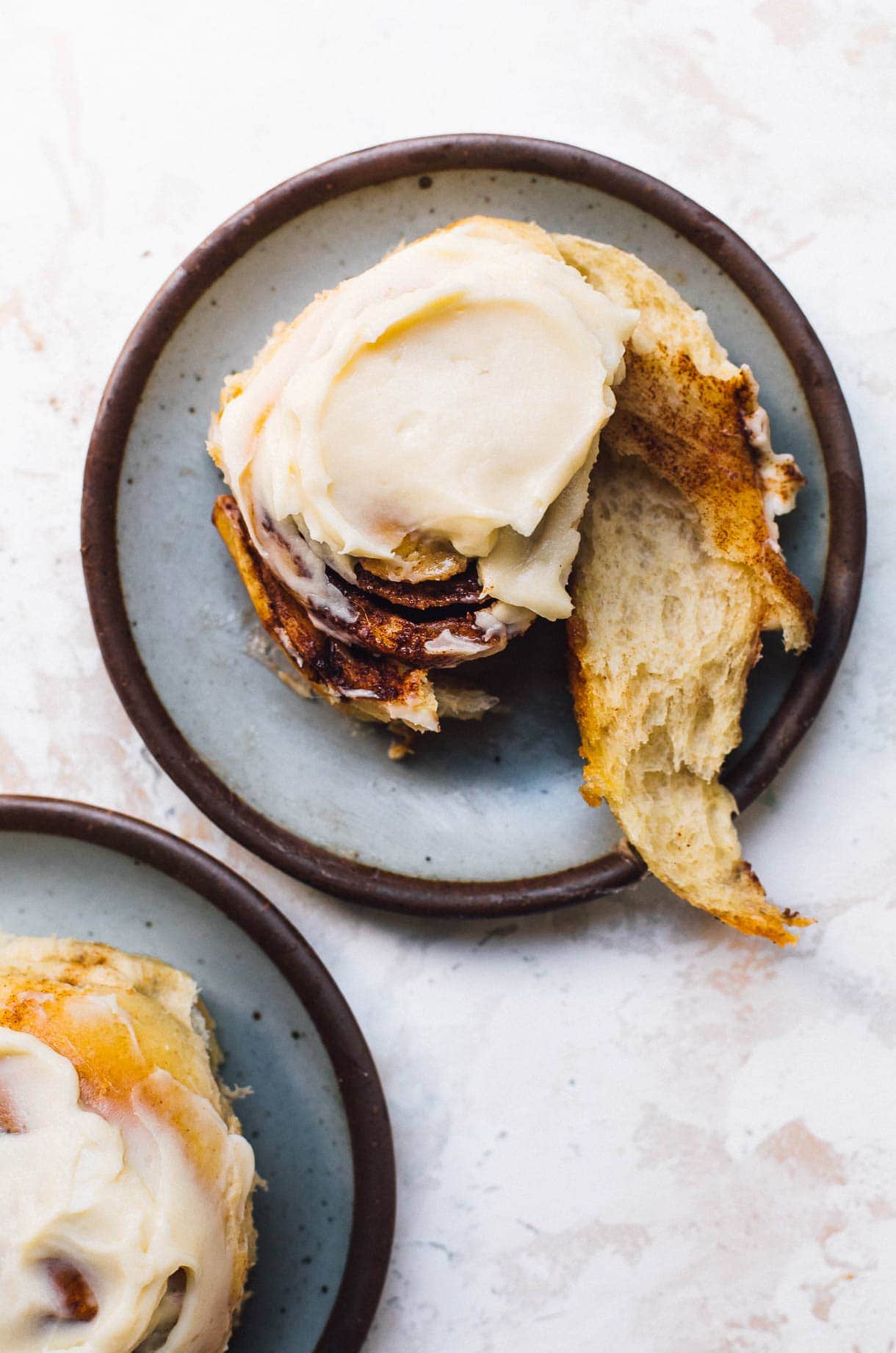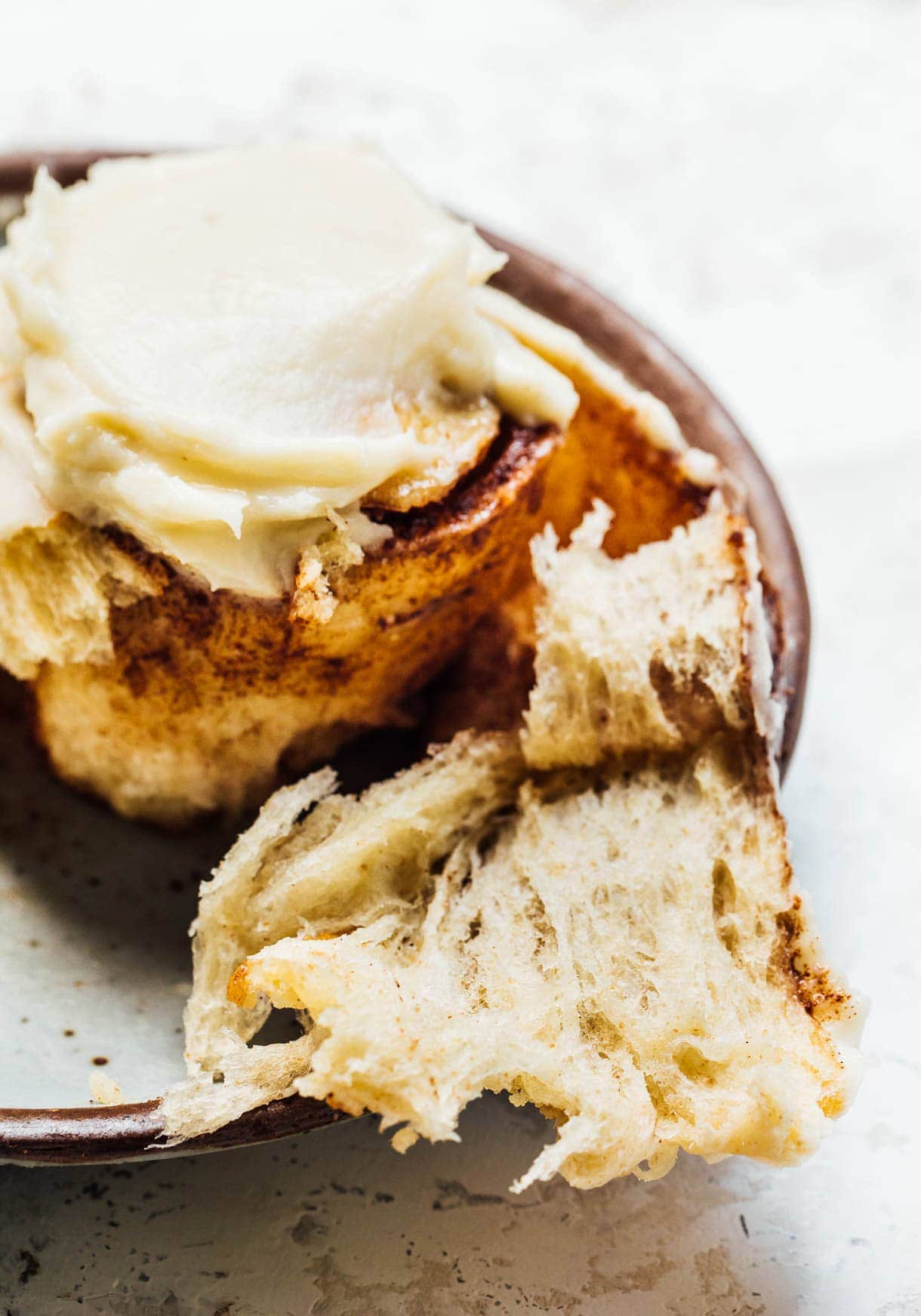 More Sweet Sourdough Recipes: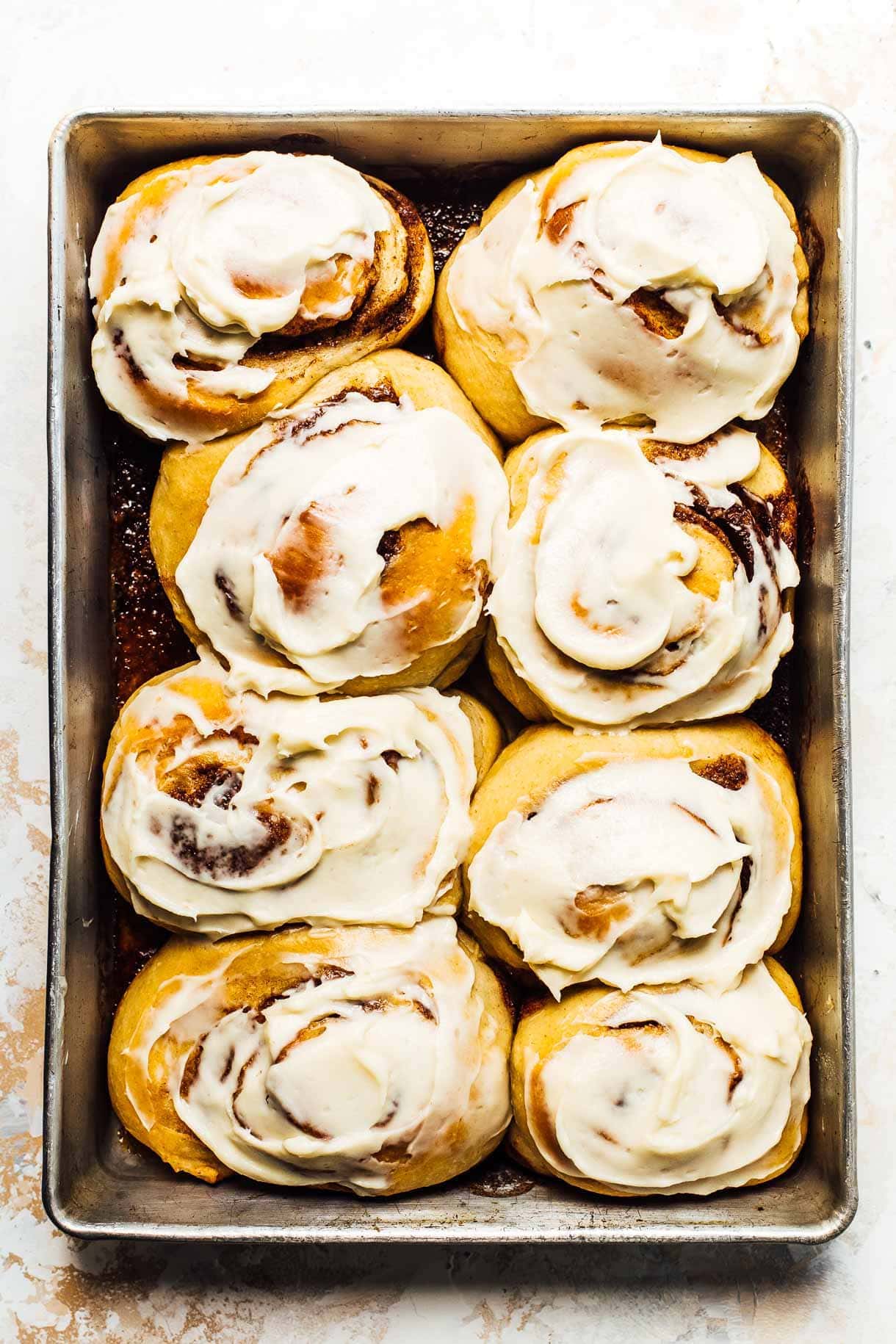 300

grams

all purpose flour

20

grams

bread flour (Or this can be all purpose flour. I like the little bit of chew that bread flour adds.)

20

grams

whole wheat flour

30

grams

organic cane sugar

7

grams

sea salt

180

grams

whole milk,

room temperature

130

grams

active sourdough starter

1

large egg,

room temperature

75

grams

room temperature

softened unsalted butter, cut into 1/2 tablespoon chunks
Filling
3

tablespoons

softened

unsalted butter

80

grams

organic cane sugar

2 1/2

teaspoons

ground cinnamon

pinch

of salt
Cream Cheese Frosting
4

ounces

full fat ounces cream cheese,

softened

2

tablespoons

unsalted butter, room temp

1/2

cup

+ 1 tablespoon powdered sugar

1 1/2

teaspoons

vanilla extract

1/4

teaspoon

fine sea salt
Add flours, sugar, and salt to bowl of a stand mixer. Stir together. Whisk egg, milk, and starter together in separate bowl until no lumps of starter remain.

Attach hook to mixer, and turn on on Kitchenaid speed 2, and gradually add liquid ingredients, until all dry bits are gone. When most of the flour is absorbed, turn mixer to speed 4 and knead for 30 seconds. Mixture will not look smooth, just shaggy. Let sit for 15 minutes.

Turn mixer onto speed 2 (using Kitchenaid Stand Mixer) and add one chunk of butter at a time to the dough, only adding another chunk once the previous is fully incorporated into the dough. Keep doing this until the butter is all added to the dough.

Once all the butter is in the dough, turn KitchenAid up to speed 4 and continue kneading for 7 minutes – the dough will be smooth, and cleaning the sides of the bowl. It will be slightly sticky to the touch still.

Overnight rise: Once kneading is done, place the dough in a bowl and cover with a damp cloth, or place bowl inside garbage bag. Leave at room temp to rise until double, about 9-10 hours if your home is at 70 degrees F. It will take longer if your home is cooler, less time if your home is warmer. *Because this is a brioche dough, it takes significantly longer to rise – don't be alarmed.

In the morning, the dough will have doubled, have a smooth top and be domed. Turn it out onto a heavily floured counter. Gently pat it into a rectangle shape and let rest for 10 minutes.

Using a floured rolling pin, roll it into a large rectangle roughly 17″x 12, making the rectangle so that one of the longest sides is closest to you.

To make the filling: Use your fingers to spread the softened butter onto the dough keeping 1/2" away from edges.

This will seem odd, but this technique prevents the filling from leaking out while rising.

Mix cinnamon, sugar, and salt in small bowl. Evenly distribute the mixture on top of butter.

Then use your

bench scraper

to begin rolling up the dough into a log starting with the long edge closest to you. Use a little extra flour on the bench scraper each time to help pick the dough up from the surface. Don't worry if it sticks a little, just use a little more flour dust. Roll it down to the top edge and pinch the edge to the dough log to seal it.

You should have a long log of dough roughly 17″ long.

Now cut the dough log with your bench scraper, at 1 1/2 to 2" intervals (you should get 8 or 9 rolls) and place the rolls into a liberally buttered or greased 9 x 13 inch aluminum pan.

Place the pan inside a clean garbage bag and fold the opening over so that no air gets inside. Leave at room temp (in a warm spot if possible) to proof until rolls have risen about 50% in size, this takes about 2ish hours if your house is at 70 degrees (less if it is warm in your home or summer time). If you have a warm spot in your home, put them there to speed things up.They should look like the picture above in the post, denoted with a caption that says, "after proofing, ready for oven."

When the rolls are done proofing, preheat oven to 400 degrees F. Place pan in oven, turn down to 375 degrees F, and bake for about 25-30 minutes, or until golden brown at the edges, set in the middles and smelling done. Remove and let cool for 15 minutes.

Make the Frosting: Beat cream cheese and butter together until smooth. Add remaining ingredients and beat until smooth and airy. When rolls have cooled for 15 minutes, frost them. This will allow the icing to melt into them a bit and create the most fabulous icing.
* Baker's schedule options are listed above in blog post.
* Plan ahead! You'll want your butter to room temperature, so that you can add it to the dough while it's being kneaded in your stand mixer. If it's too warm, it will make the dough greasy. Too cold, it won't blend into the dough.
* I strongly suggest having a bench scraper for this recipe. It makes this easier!
* Recipe inspired by and adapted from Ashley Marie Farm and Bakery, and The Perfect Loaf.