This fruity mango cocktail is a crowd-pleaser, especially in the summertime. A twist on the classic lava flow drink, you'll swirl together a rum infused mango puree and coconut pineapple puree. Easy to make with a blender, and tastes like a beach vacation in a glass!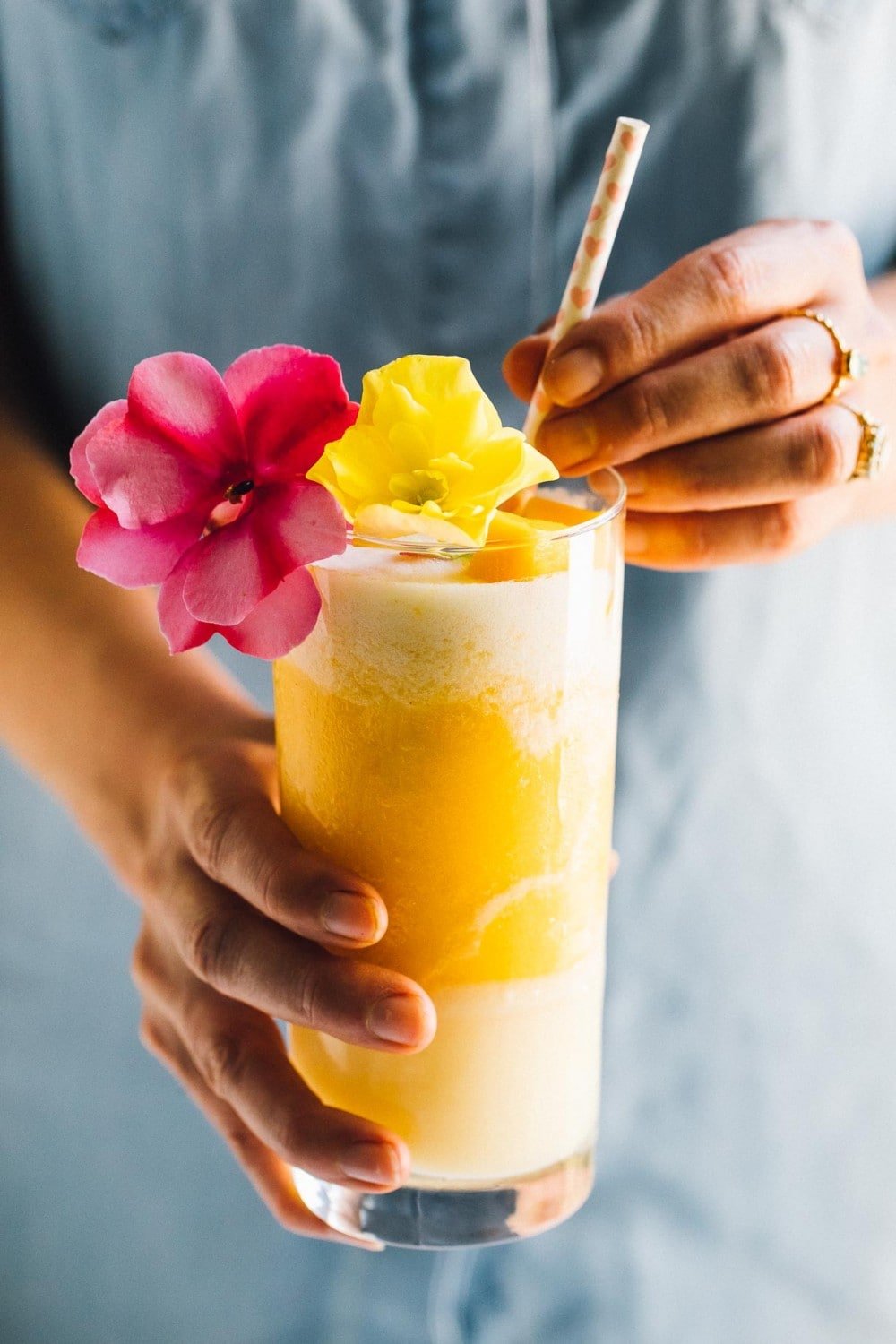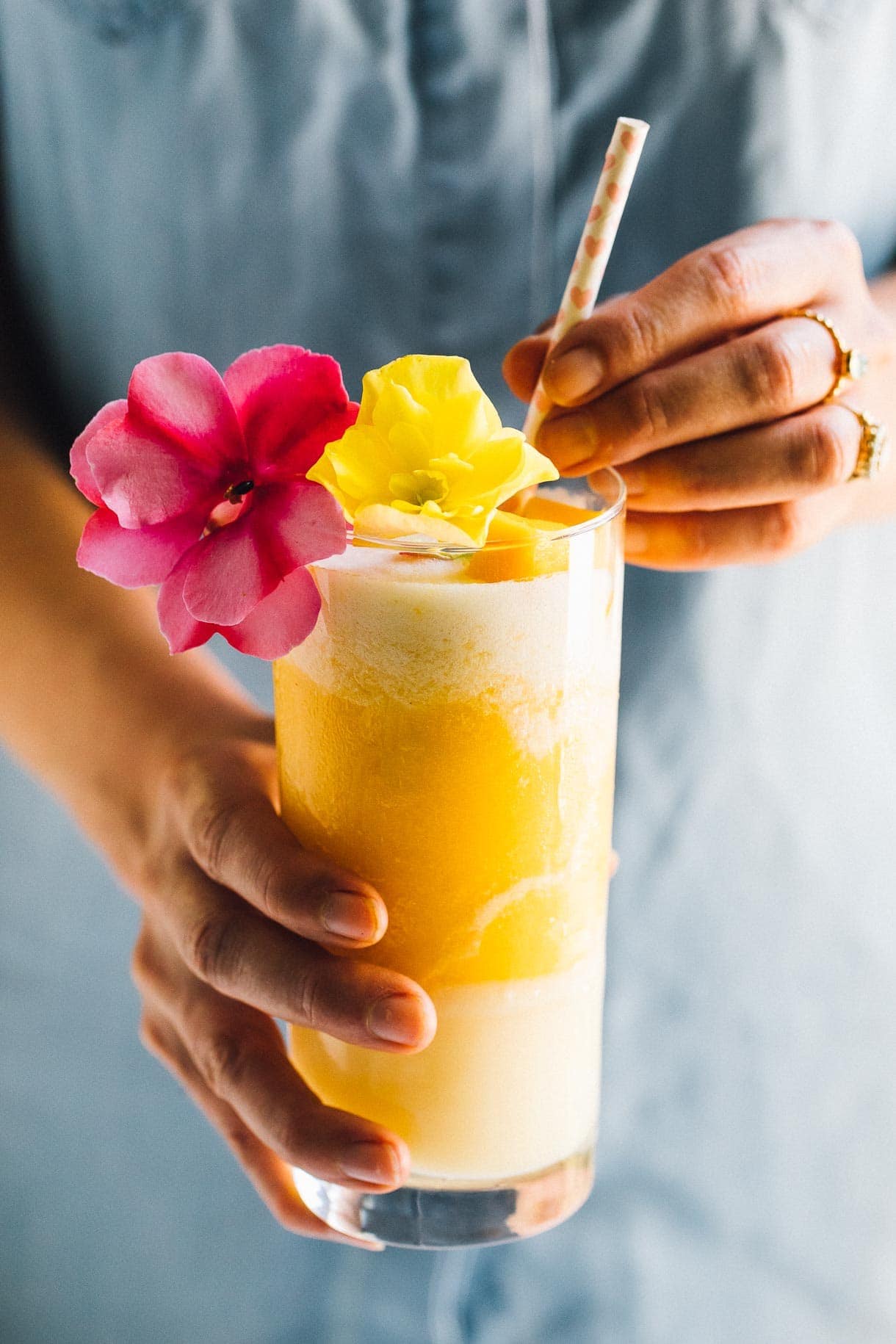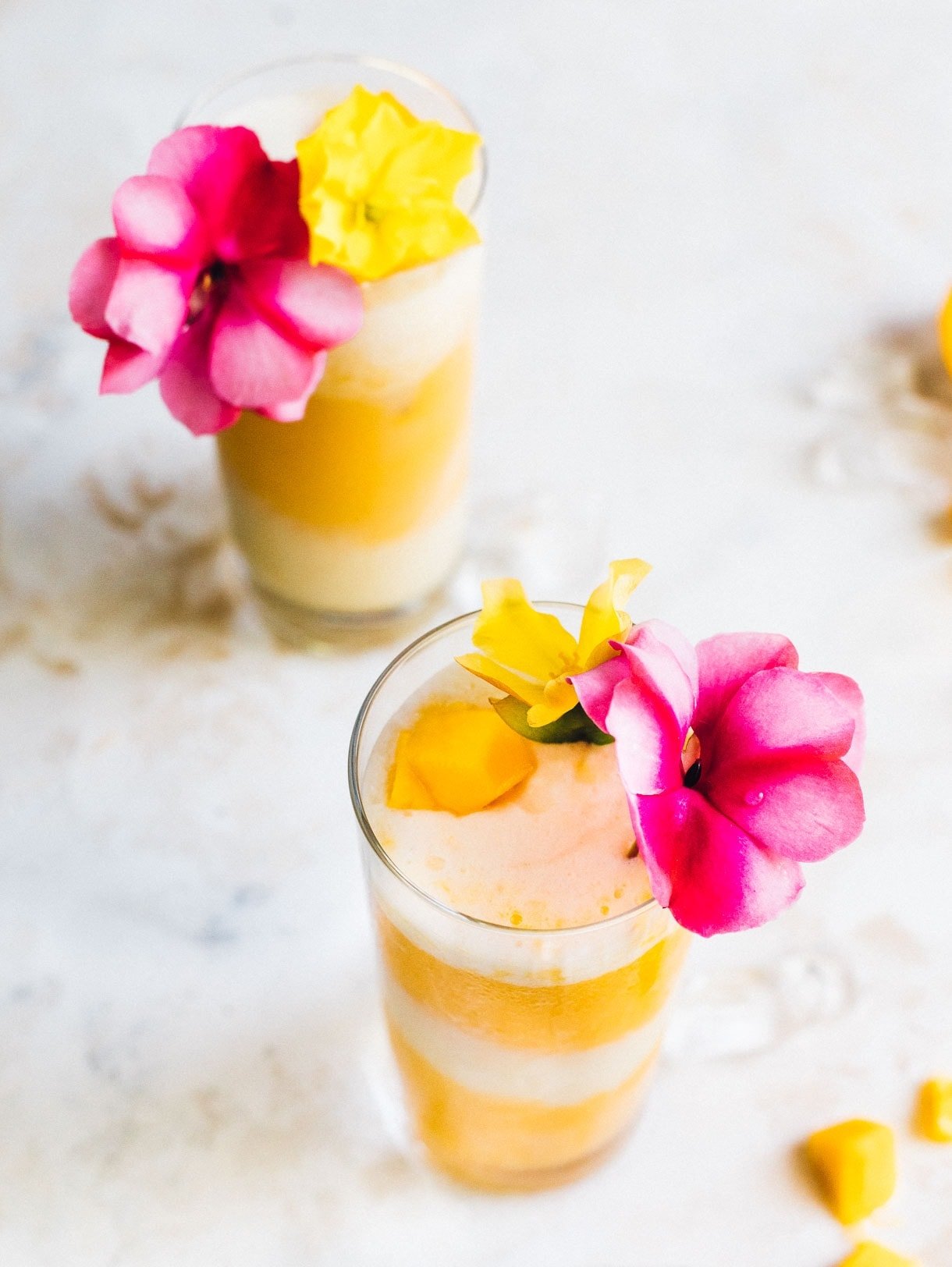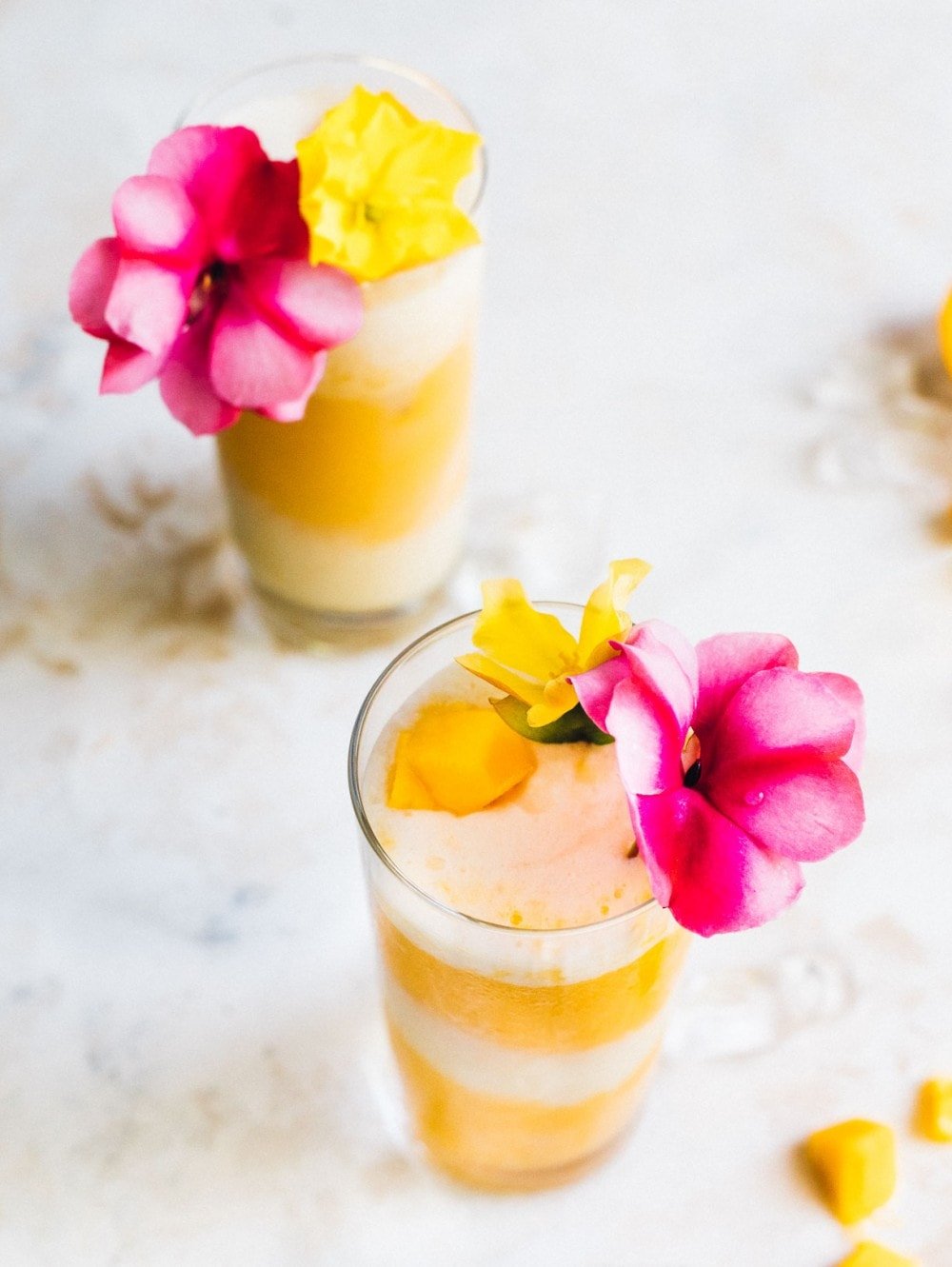 I'm at the point in this pandemic where I miss things. Hugs. Eating out. Getting in my car and going anywhere without anxiety. Traveling.
Don't get me wrong – I love spending time at home and the joys of every day life. But I also really love exploring the world. I feel like all of us, at some point during this pandemic, have wished we could run away from it all. And be on a Caribbean beach, sipping a frozen tropical drink like this Mango Lava Flow drink, with its two-toned swirl and rum zing. Or even on a patio with friends drinking Cherry Frose!
But. We are here. So let's make this beachy cocktail at home this summer, and dream we're somewhere else, like Hawaii. You in?
What is a lava flow cocktail?
This tropical cocktail originated in Hawaii, and is a combined variation of a strawberry daiquiri and Piña colada, typically made with two blended bases, one with rum/pineapple/coconut, one with rum and frozen strawberries. The two bases are later combined in a tall glass glass so that the strawberries swirl in the drink, creating an effect similar to that of lava flow.
This fresh mango version is 100% a tropical vacation in a glass, and especially refreshing. It's bright and juicy, and less sweet than your typical frozen cocktail. Which I prefer! For this recipe, I used honey mangos, also known as Ataulfo.
You'll want the mangos to be ripe, so when you're ready to make this recipe, give them a little squeeze and they should give slightly. Each mango variety has a slightly different color with spots of green or red, so do not use color as a guide to determine ripeness.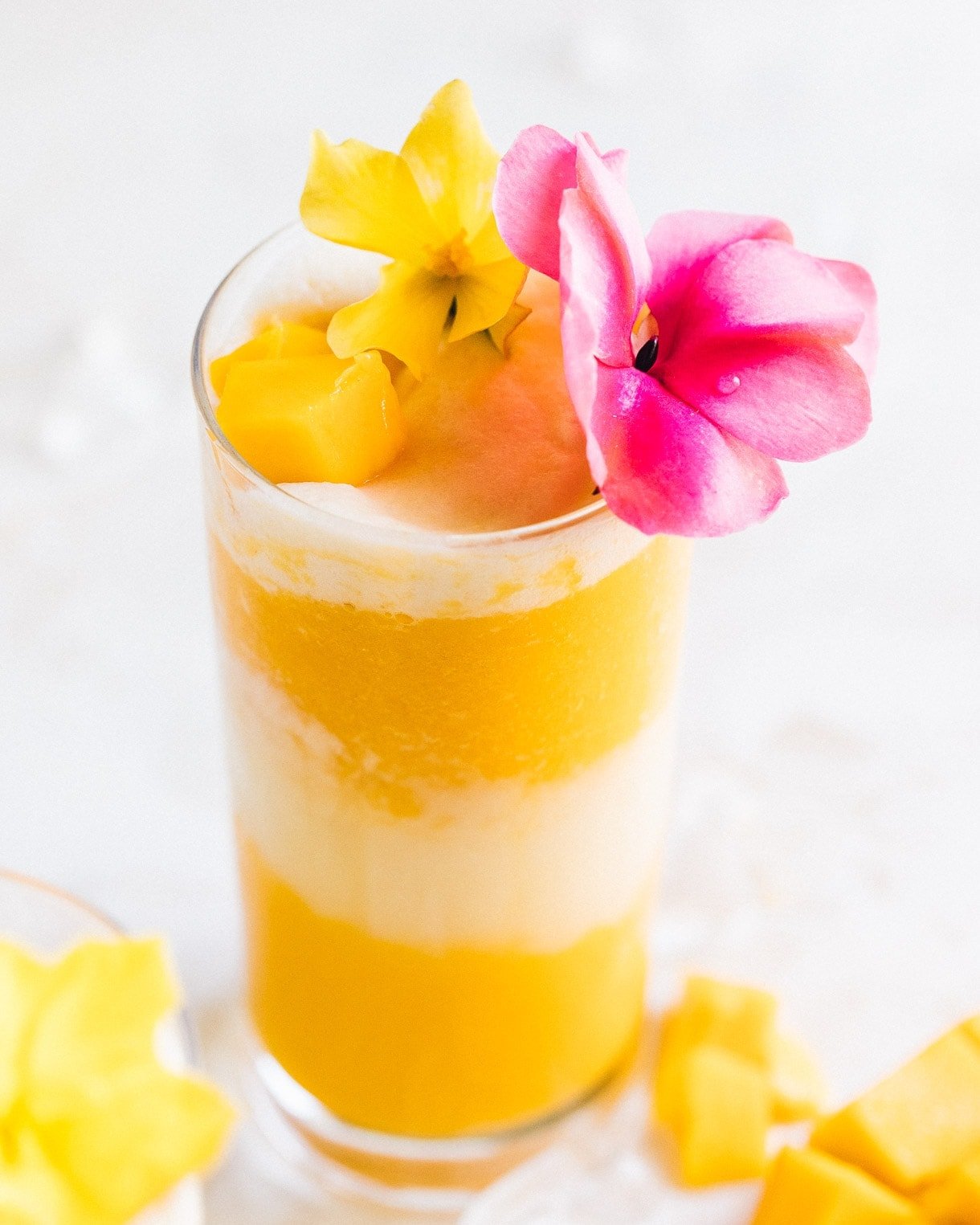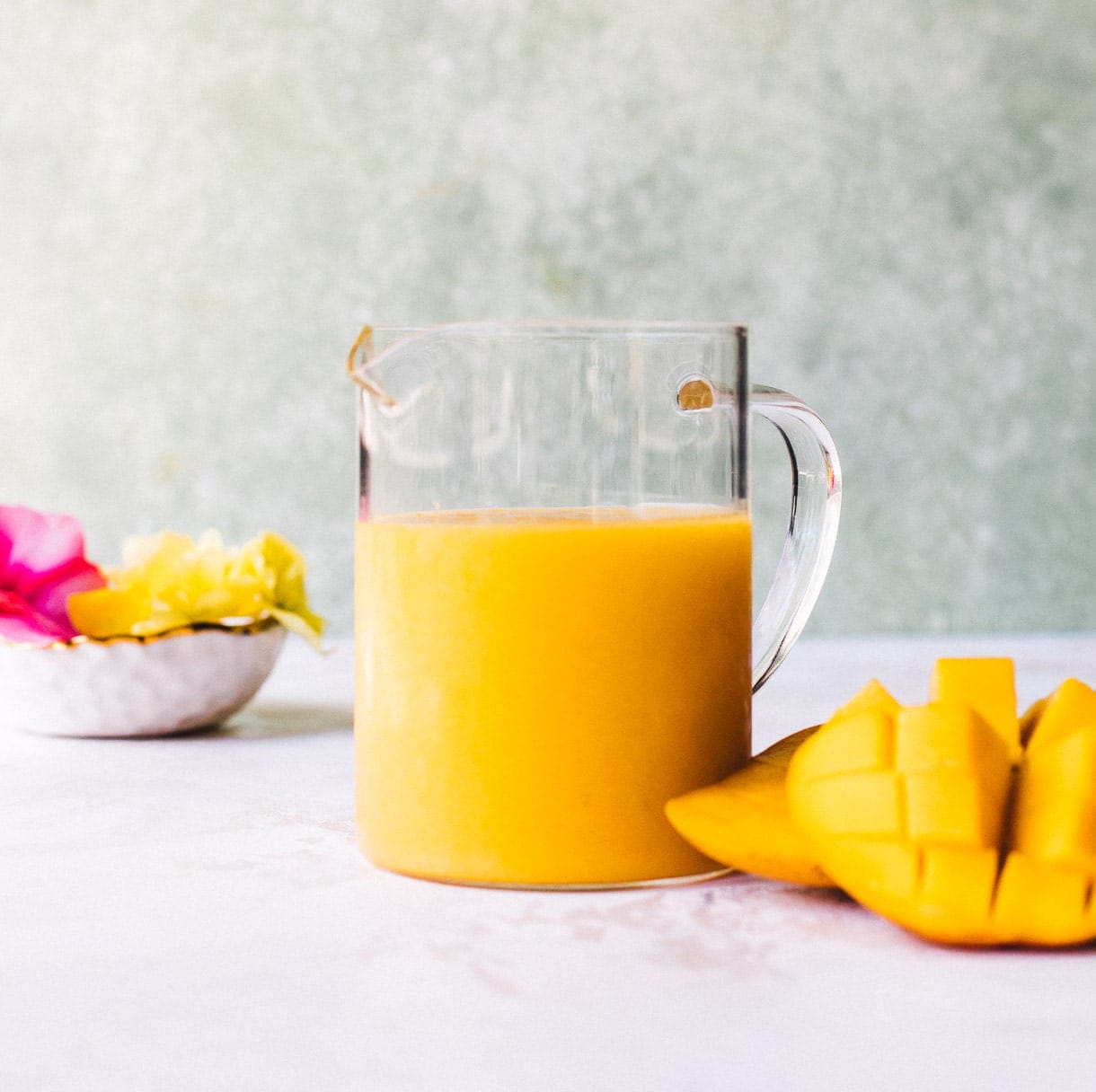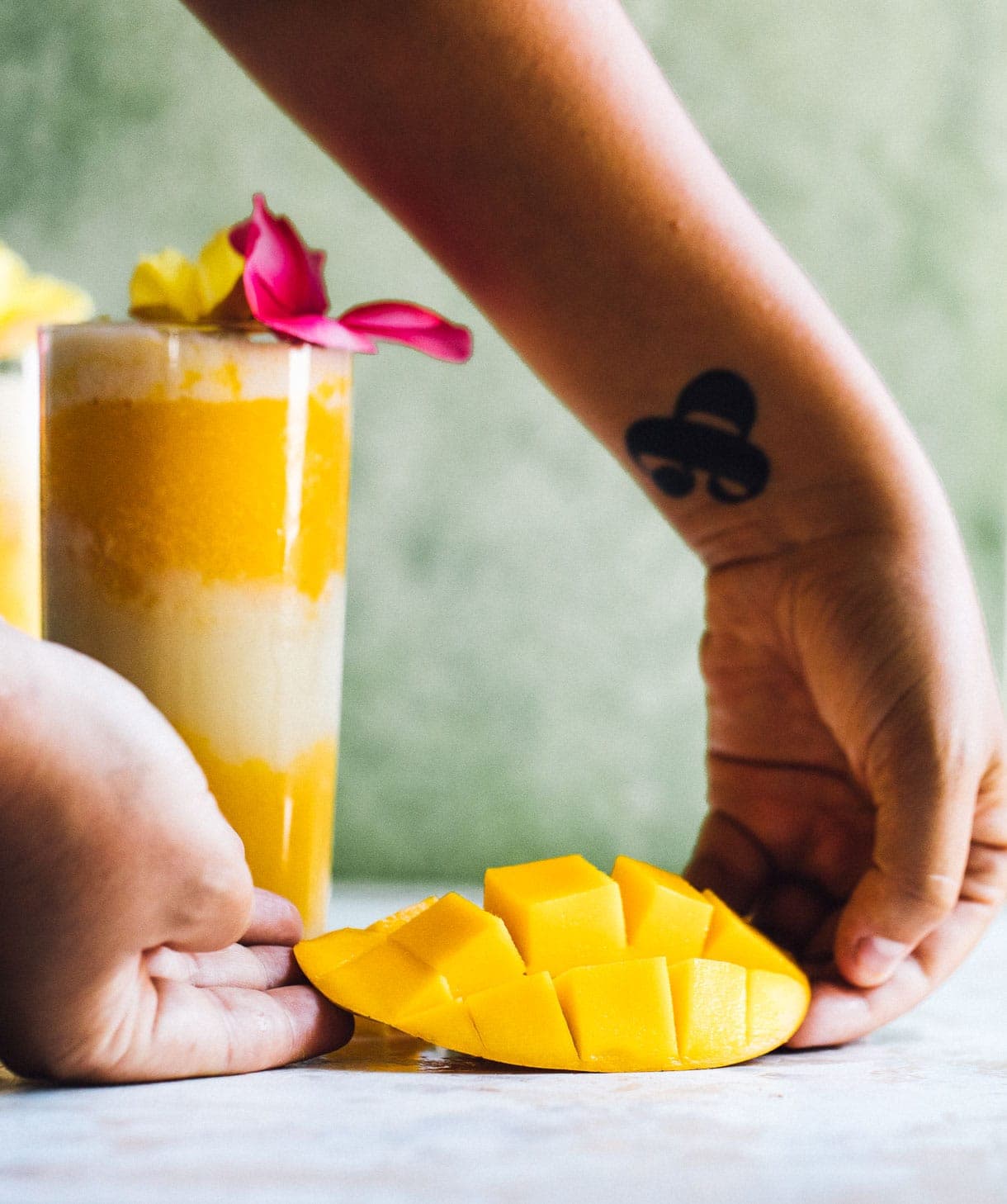 How to make a lava flow cocktail:
Make a fresh mango puree in your blender, with rum, pineapple juice, and a few ice cubes.
Make the coconut puree in your blender, with rum, pineapple juice, a frozen banana, and a few ice cubes.
Using tall glasses, pour mango puree into glasses, halfway up.
Top with coconut puree, and use straw to lightly swirl the flavors together.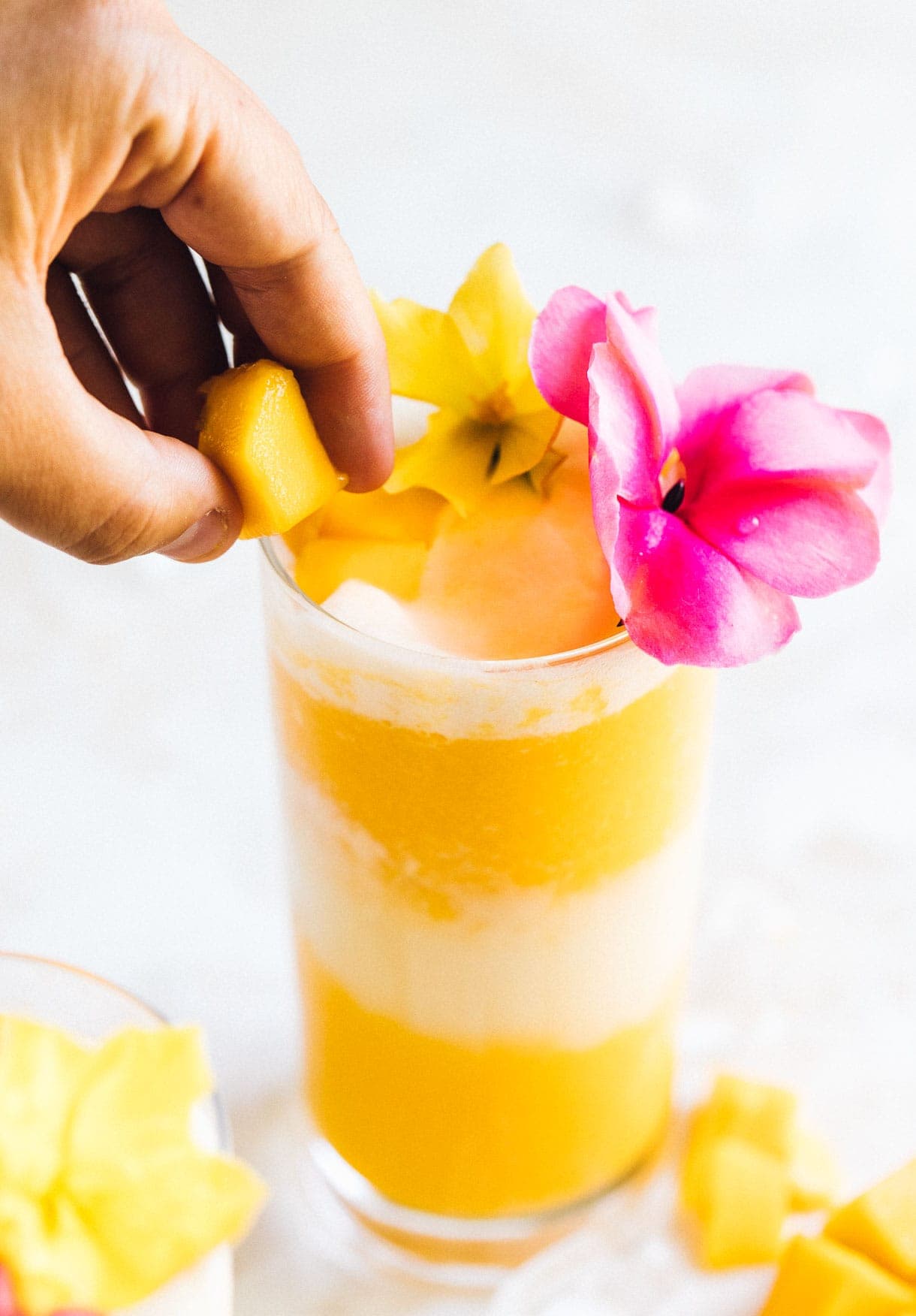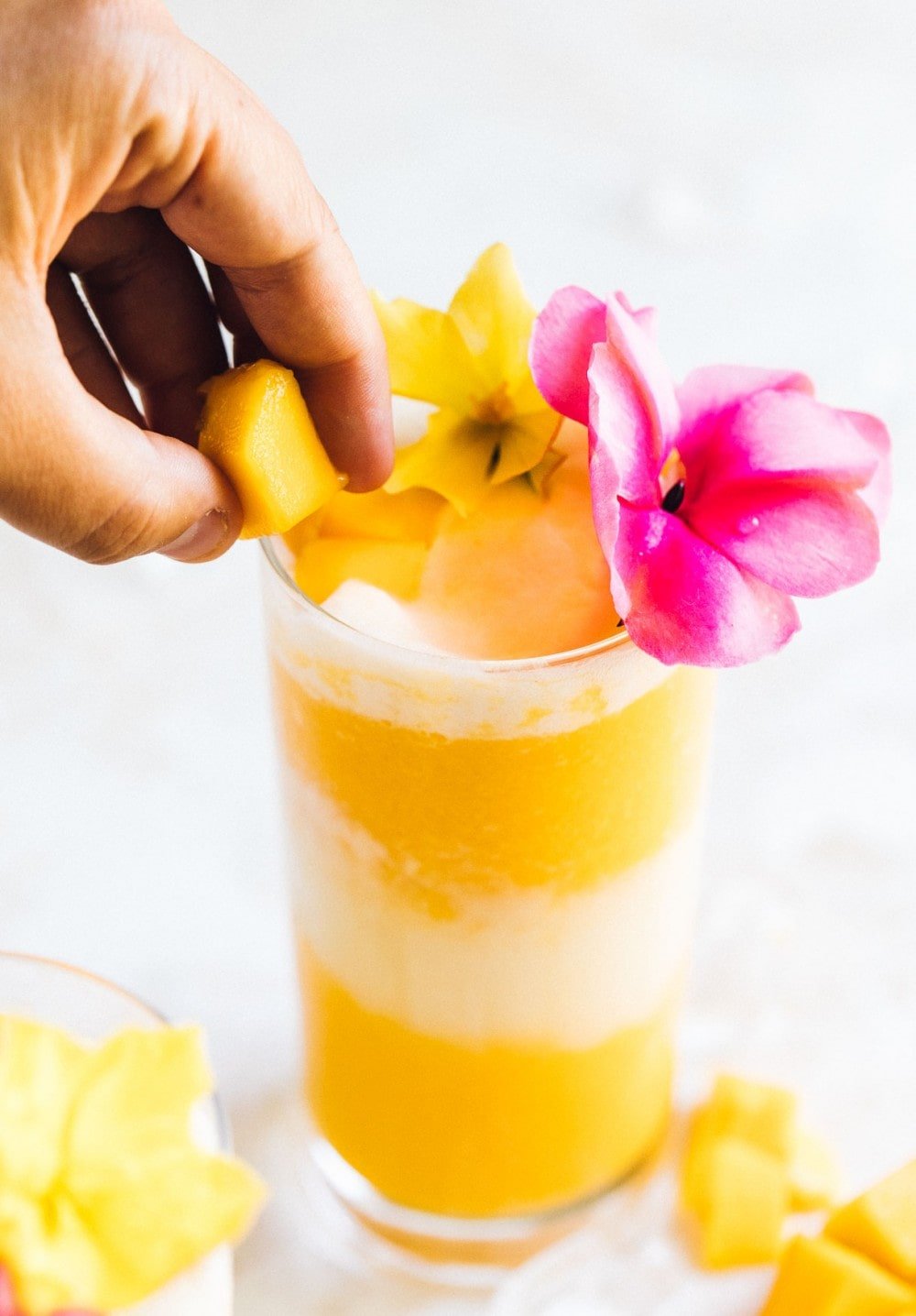 Just when you thought this juicy fruit couldn't get any better, it DOES.
Mango happy hour starts now!
If you make this lava flow drink recipe, make sure to tag me on instagram with hashtag #heartbeetkitchen, or @heartbeetkitchen.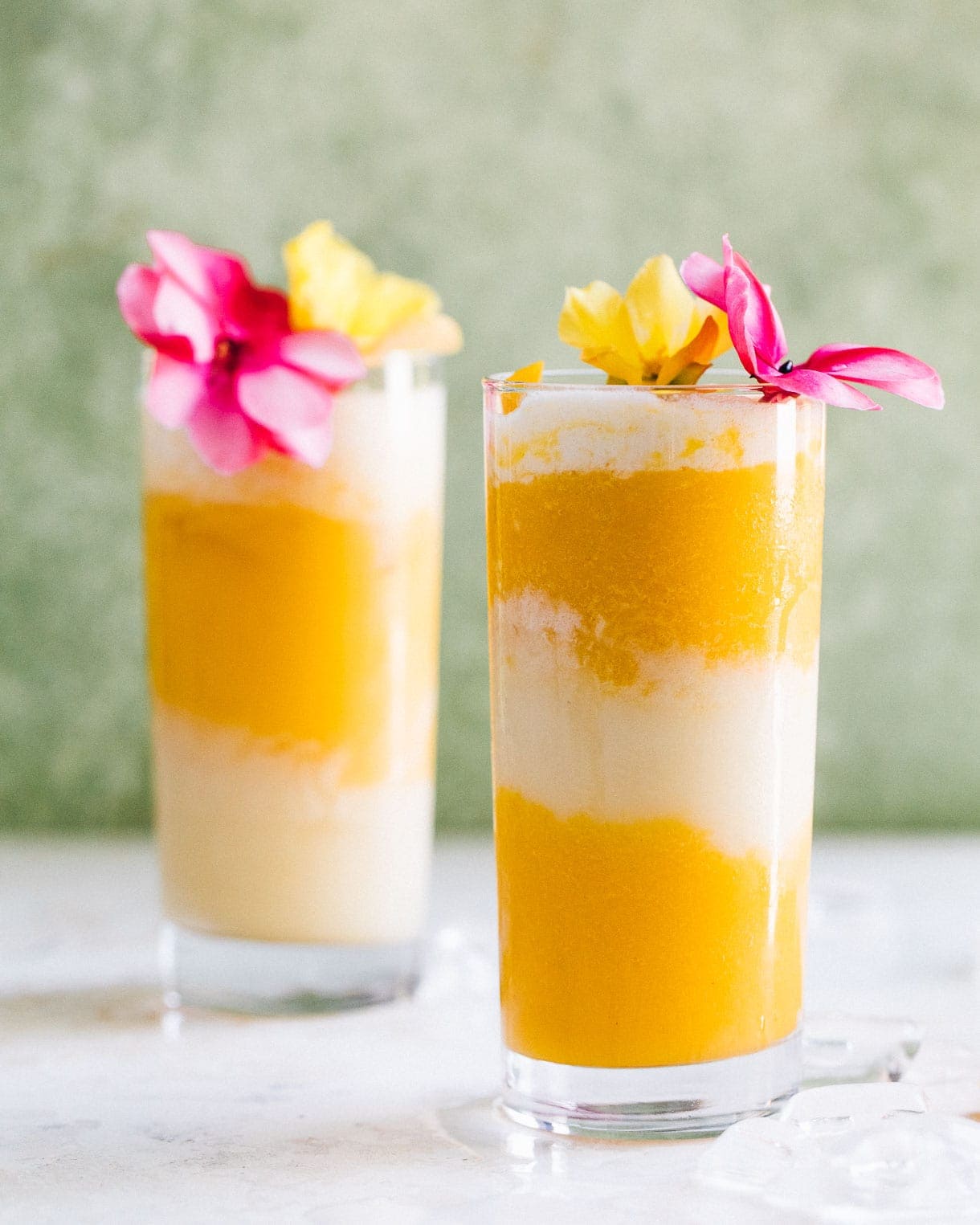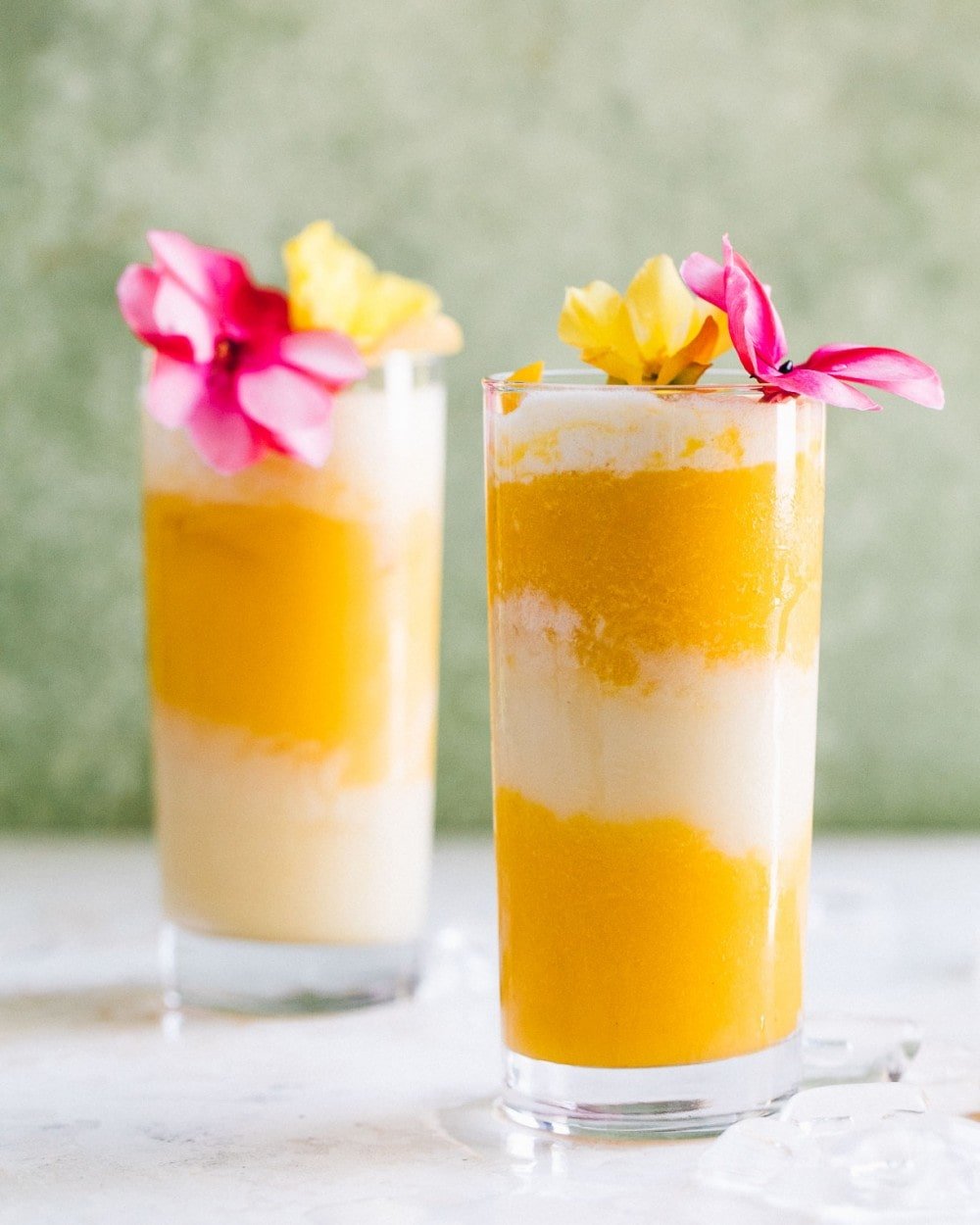 More mango recipes: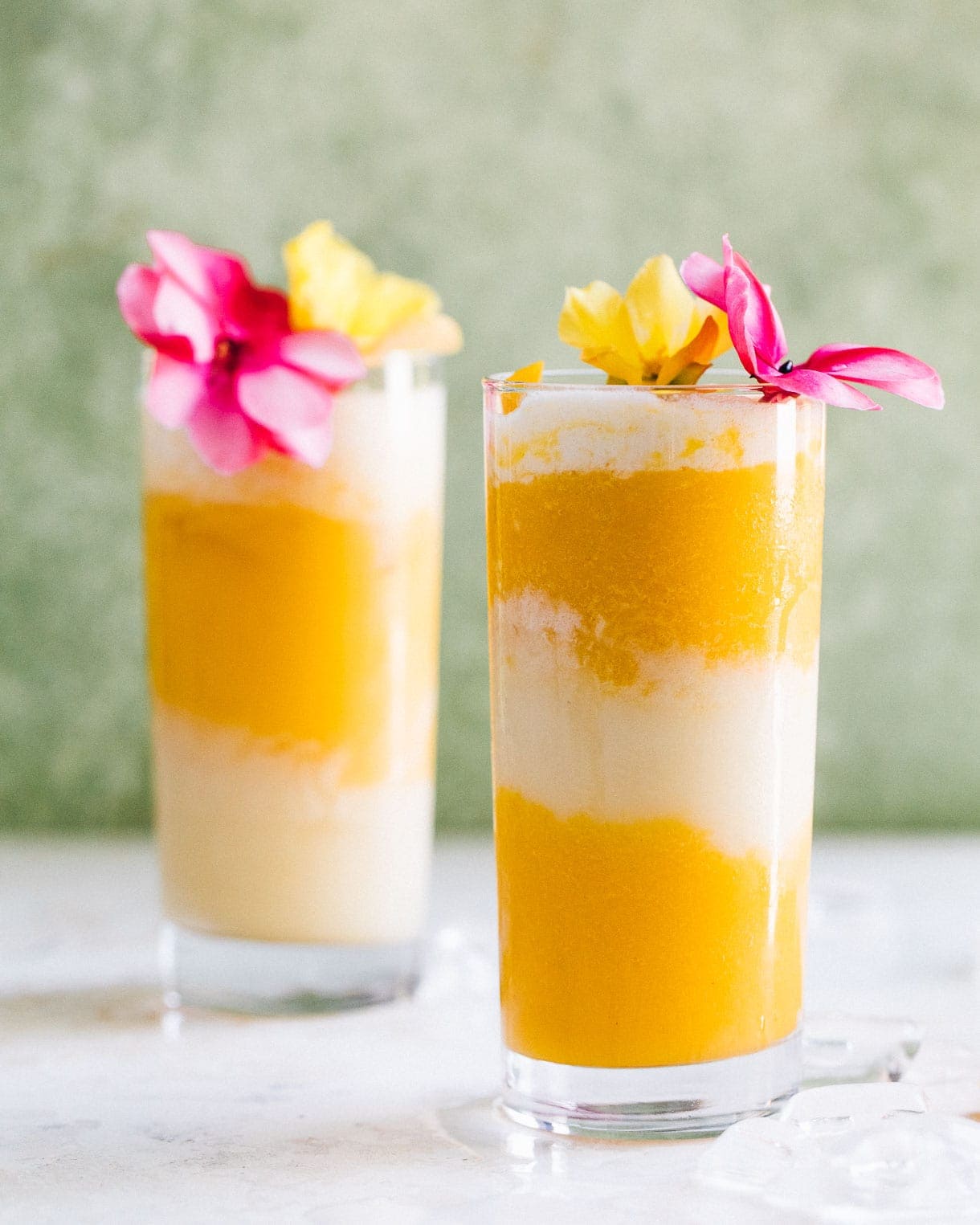 Blend all mango puree ingredients together on high speed, until completely smooth. Pour into a container and refrigerate.

Blend all coconut puree ingredients together on medium high for 20-30, until just smooth. Do not overblend or the coconut cream could separate.

Grab two glasses. Fill them halfway with mango puree. Top with coconut puree. Serve immediately.