These no-bake mango cheesecakes are cool and creamy. A refreshing dessert that features a fresh mango topping! The cheesecake bites are made in a muffin tin, and have a simple almond date crust.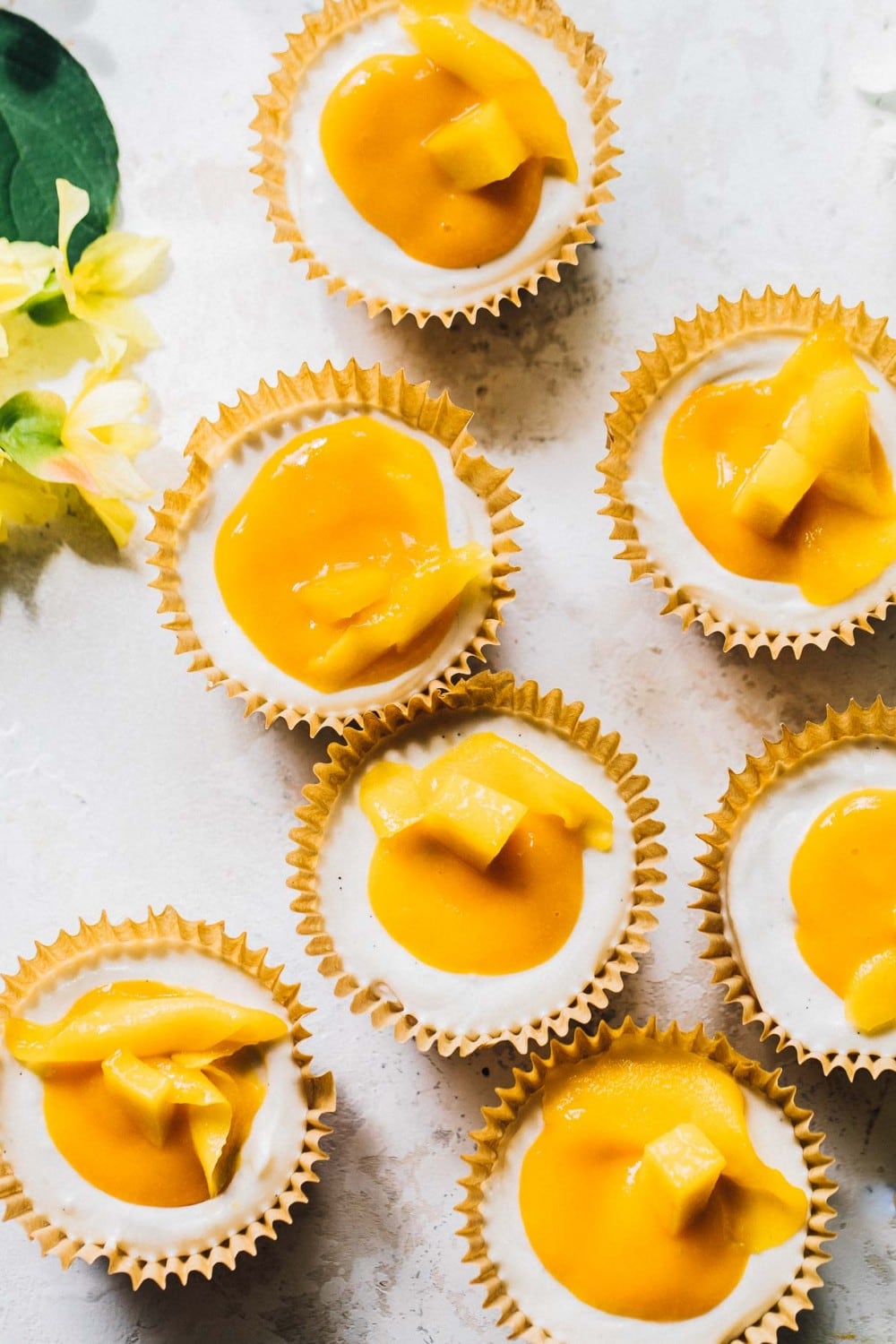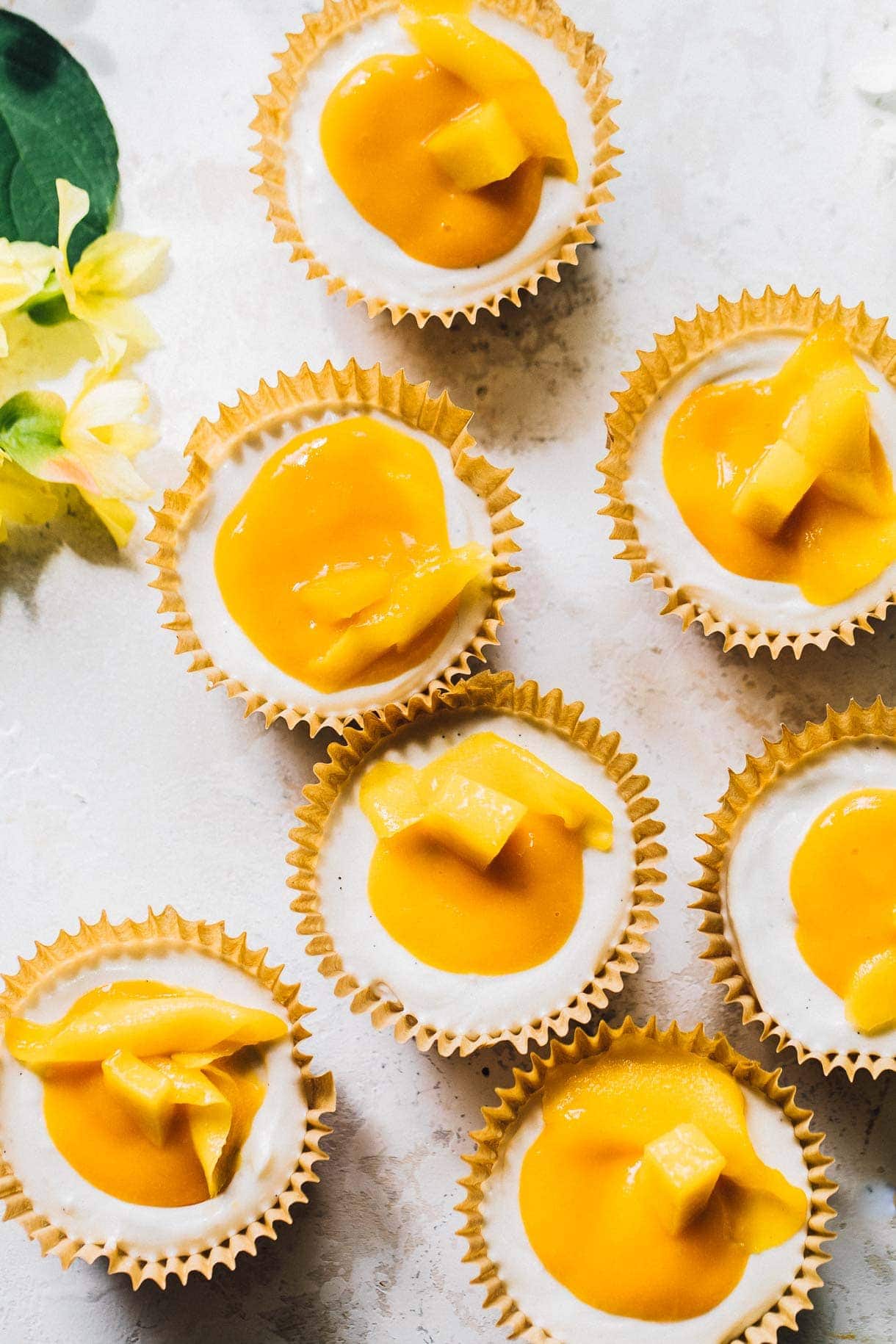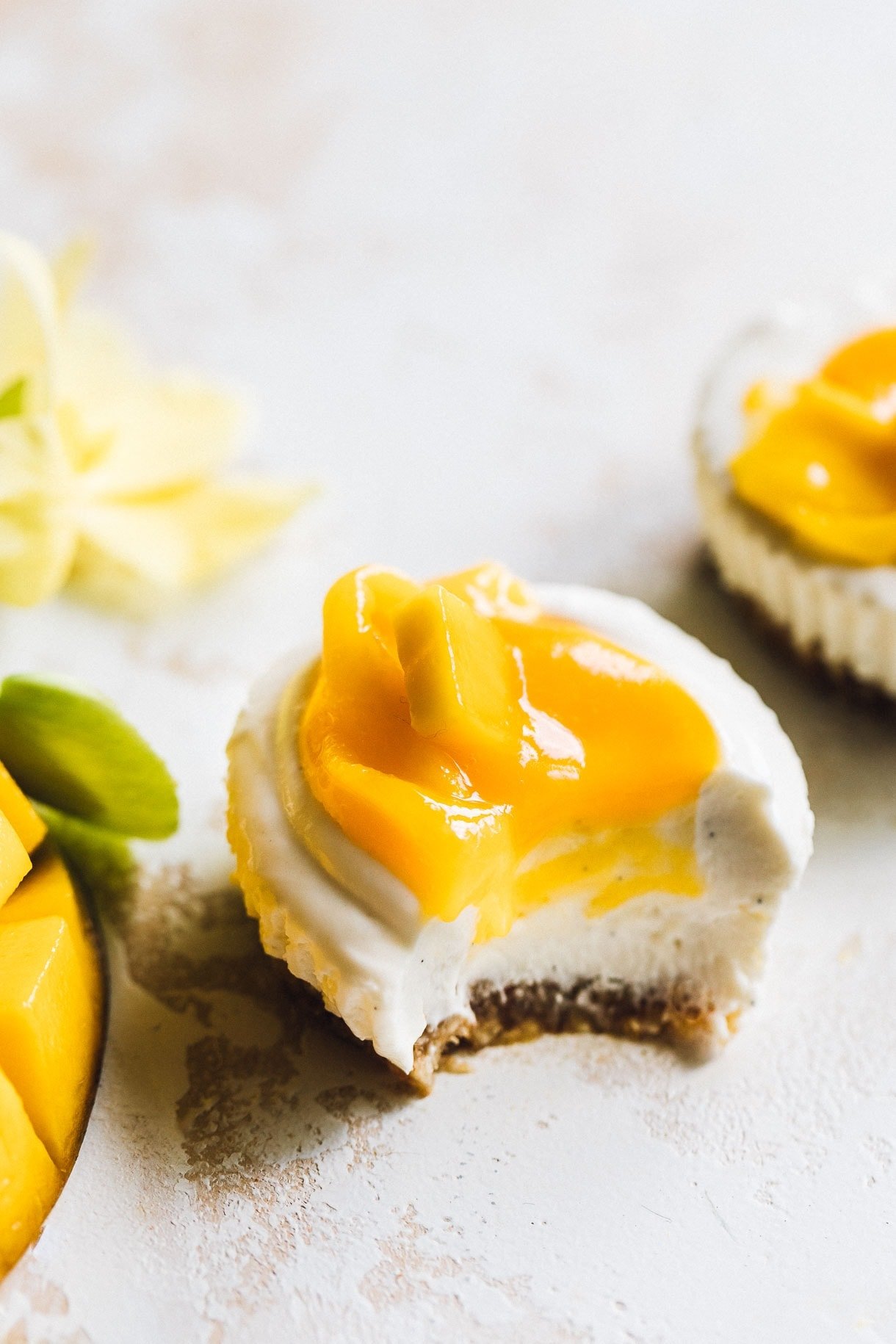 If your ideal cheesecake is impossibly smooth without a hint of graininess and has a filling that is perfectly sweet, creamy, and tangy, then you're going to LOVE this mango cheesecake recipe. If not, I have 25 other gluten-free dessert recipes for you to try. :)
No-bake cheesecakes come together quickly and easily, one reason I prefer them. And there's no guess work in getting them to set without cracking. No eggs to mess with either!
Expect the filling to be slightly softer and denser than a traditional cheesecake. It's the perfect vehicle for the radiant, refreshing, fresh mango puree that makes these bites a real eye-catcher on the dessert table.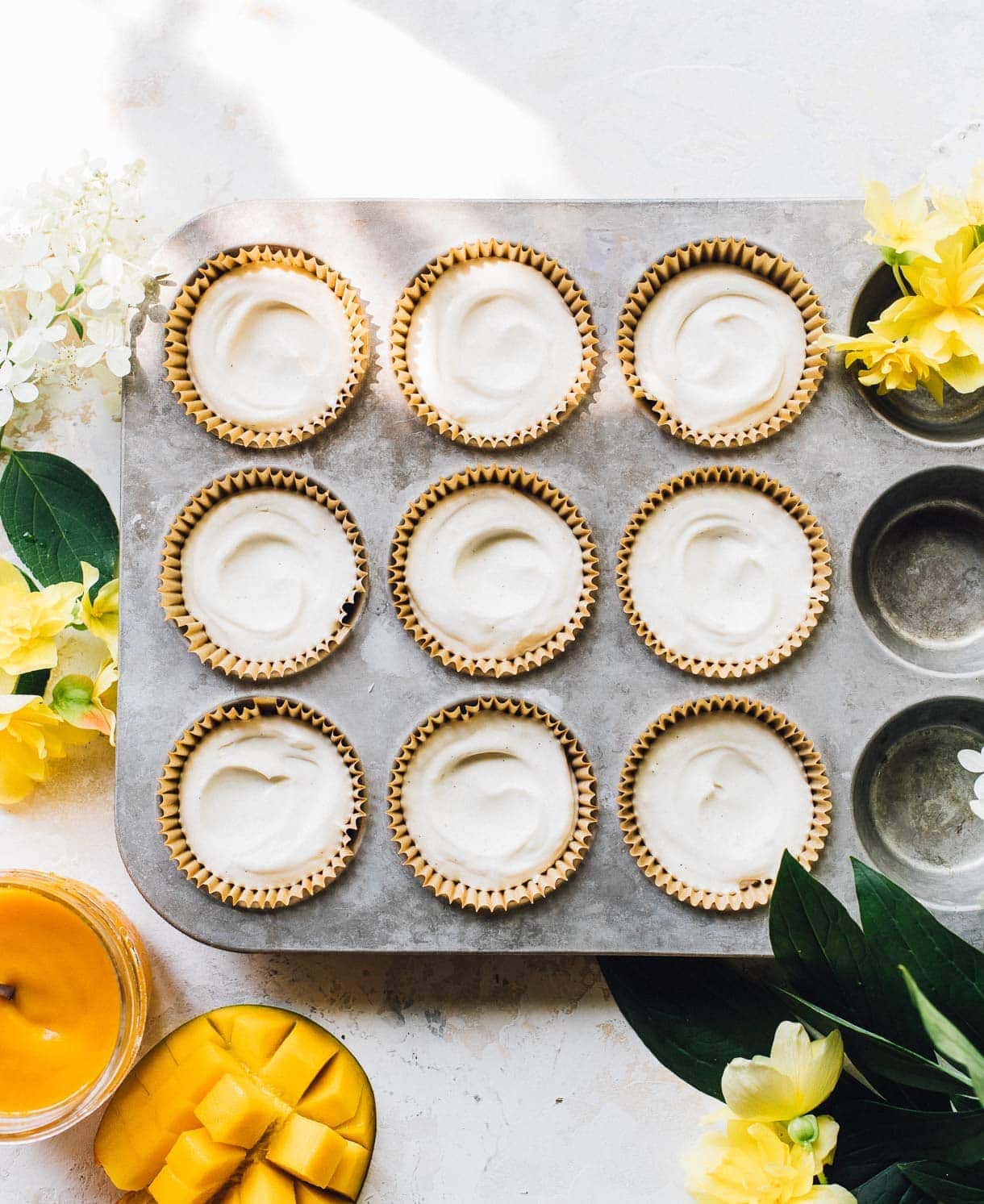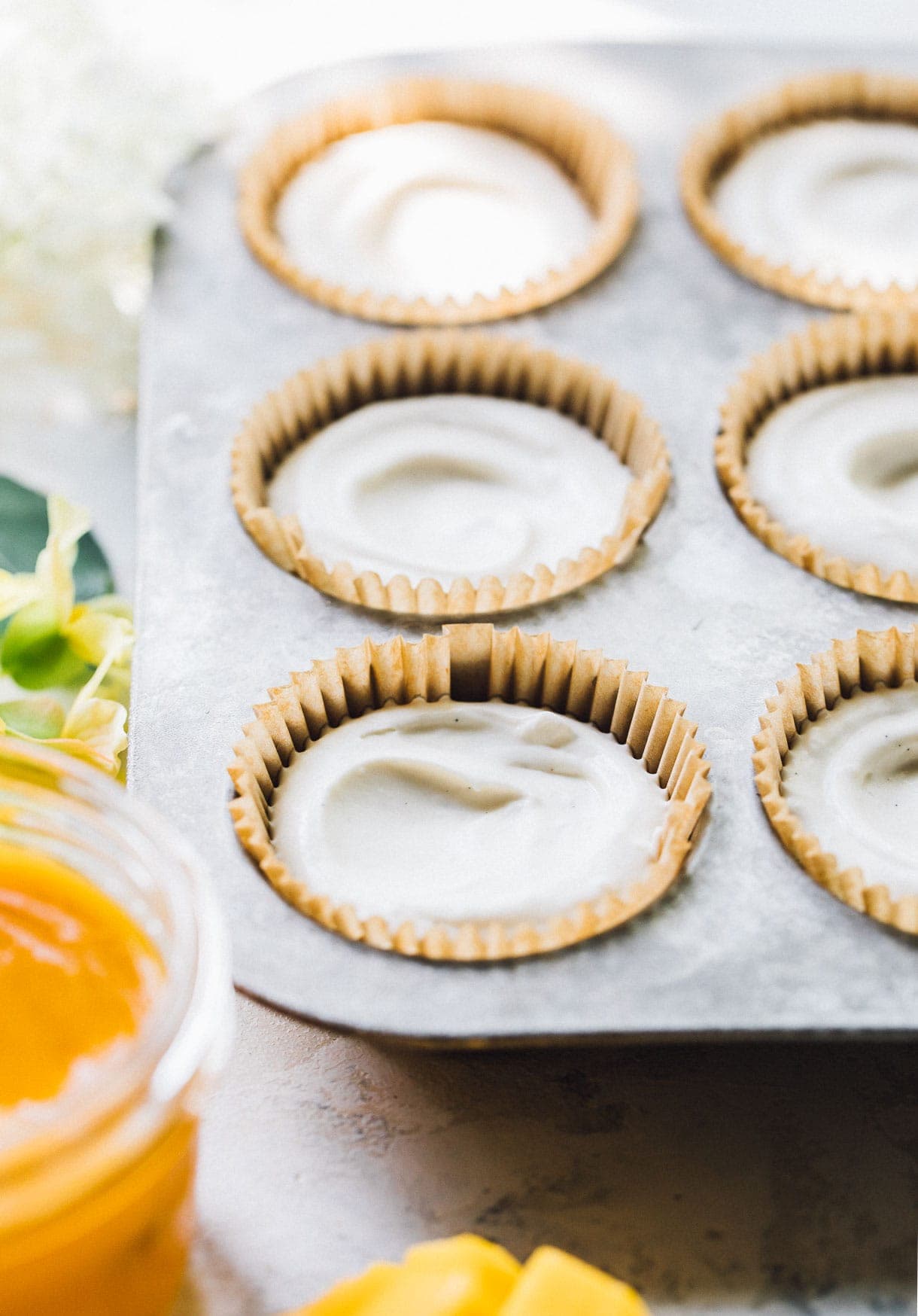 No-Bake Cheesecake Ingredient Notes:
No-bake cheesecakes typically use cream cheese in combination with sour cream or condensed milk. I used unsweetened coconut cream instead, to really enhance the tropical vibe when paired with the mango topping.
You'll use powdered sugar (less than a 1/2 cup because the coconut cream and vanilla bean paste give off notes of sweetness themselves) instead of granulated sugar. Powdered sugar is much finer and can dissolve easily into the cheesecake mixture. Granulated sugar will result in a grainy texture.

For the crust, make sure your dates are soft and fresh so they break down in the food processor. If they have been sitting in your pantry for awhile and turned hard, soak them in hot water for 5 minutes, then drain and pat dry.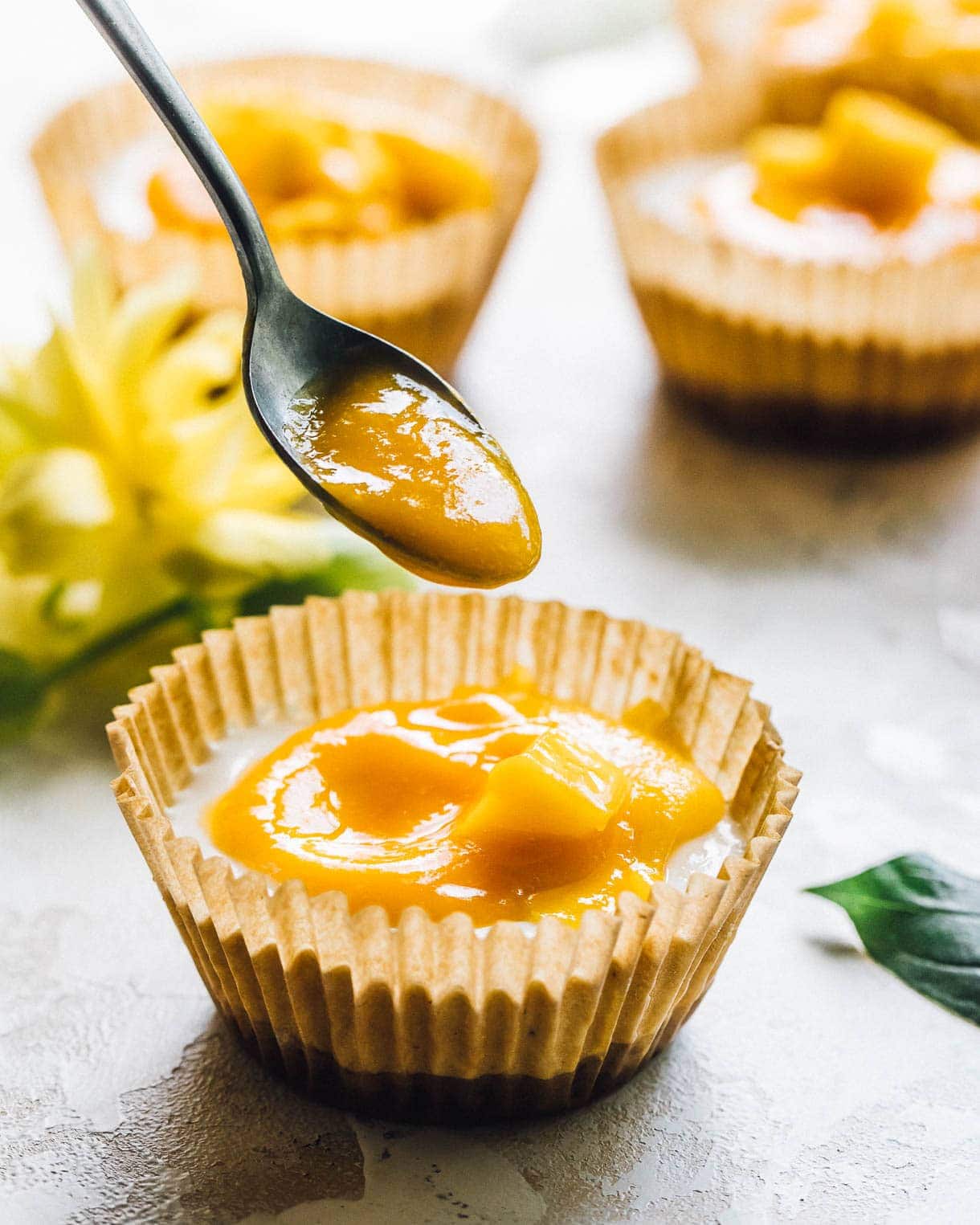 How To Make Mango Puree:
First, you'll want to pick a ripe mango. You can test if your mango is ripe by giving it a little squeeze, at which point it should give lightly. It should also give off a slightly sweet smell near the stem. Each mango variety has a slightly different color with spots of green or red, so do not use color as a guide to determine ripeness.
For this recipe, I used a Kent mango, which has a peachy, tropical aroma. This variety has a less fibrous flesh, so it's excellent for pureeing. A Kent mango is dark green and often has a dark red blush over a small portion of the mango. When it begins to ripen, yellow undertones will appear.
Second, cut the flesh off the mango, using the middle pit as a guide. Then use a spoon to scoop out the ripe flesh, away from the skin.
Lastly, puree the flesh in a food processor or blender.
No-Bake Crust for Mango Cheesecake:
Rather than a classic graham cracker crust, I decided to make these cheesecakes naturally gluten-free by using this date almond press in crust from my Peanut Butter Cup Tart. It's very simple to make in your food processor, with just 4 four ingredients.
Storing Cheesecake
You can freeze or refrigerate these cheesecakes once they're made! I like to freeze the plain cups, then top with the mango puree before serving.
More Gluten-Free Cheesecake Recipes: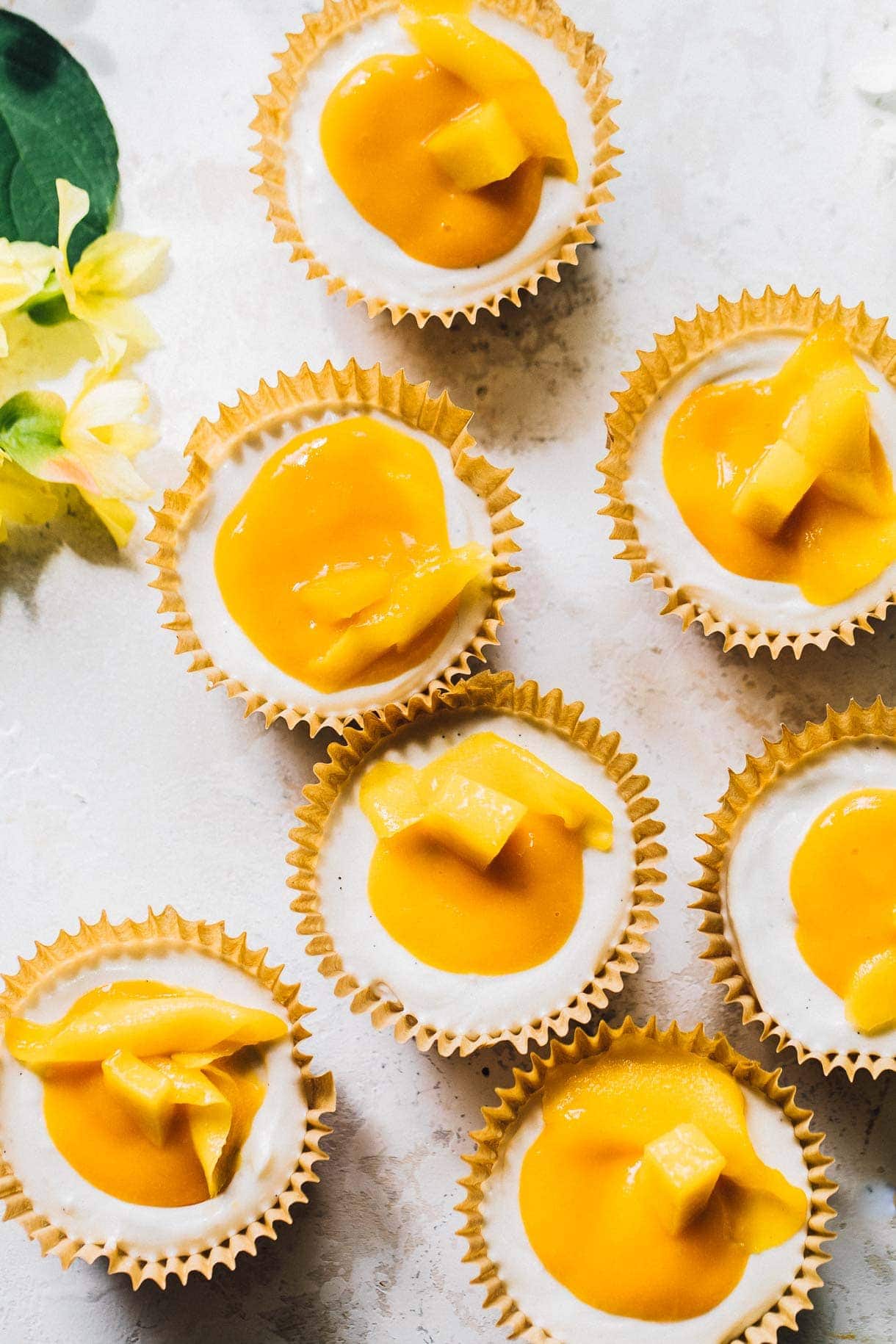 Yield:
9
mini cheesecakes
1

8 ounce package full fat cream cheese, softened to room temperature

1/3

cup

+ 1 tablespoon powdered sugar

2

tablespoons

fresh lemon juice

1

teaspoon

vanilla bean paste

1/4

teaspoon

sea salt

1

ripe mango

flesh scooped out
When you set your cream cheese out, put your can of coconut cream into the refrigerator. You want it to get a bit cold, so the cream separates from the liquid in the can. When it's cold, open one side of the can and gently scoop all of the coconut cream from the top, avoiding the water that has sunk to the bottom.

Add your softened cream cheese and the coconut cream to a food processor. Process for 20 seconds. Add powdered sugar, lemon juice, vanilla bean paste, and salt. Process until completely smooth.

To make crust, pulse almond flour and dates in a clean food processor, 20 times. Add oats, coconut oil, and salt. Continue to pulse and process, until mixture starts sticking together.

Press 1 tablespoon of mixture into the bottom of each of the nine muffin liners. If it is sticking to your finger, lightly wet it. Divide filling evenly into all cups.

Refrigerate for at least four hours.

Before serving, puree the mango and spoon some on top of each cheesecake. Serve or refrigerate until ready to eat.