This incredibly delicious gluten-free rhubarb crisp is the perfect balance of tart and sweet, topped with an oat based, brown sugar crumble that includes pepitas and sunflower seeds. Can be made on the grill or in the oven!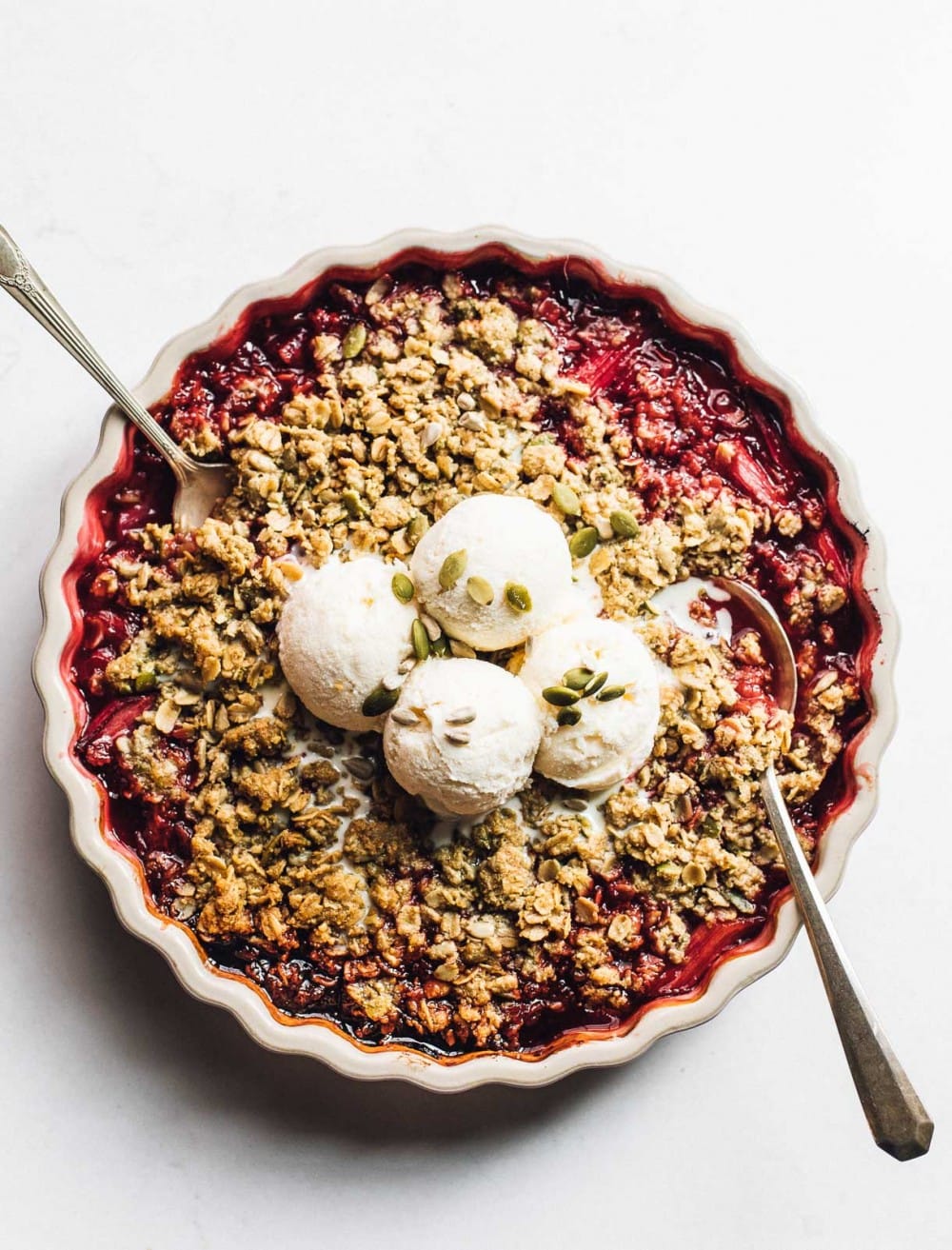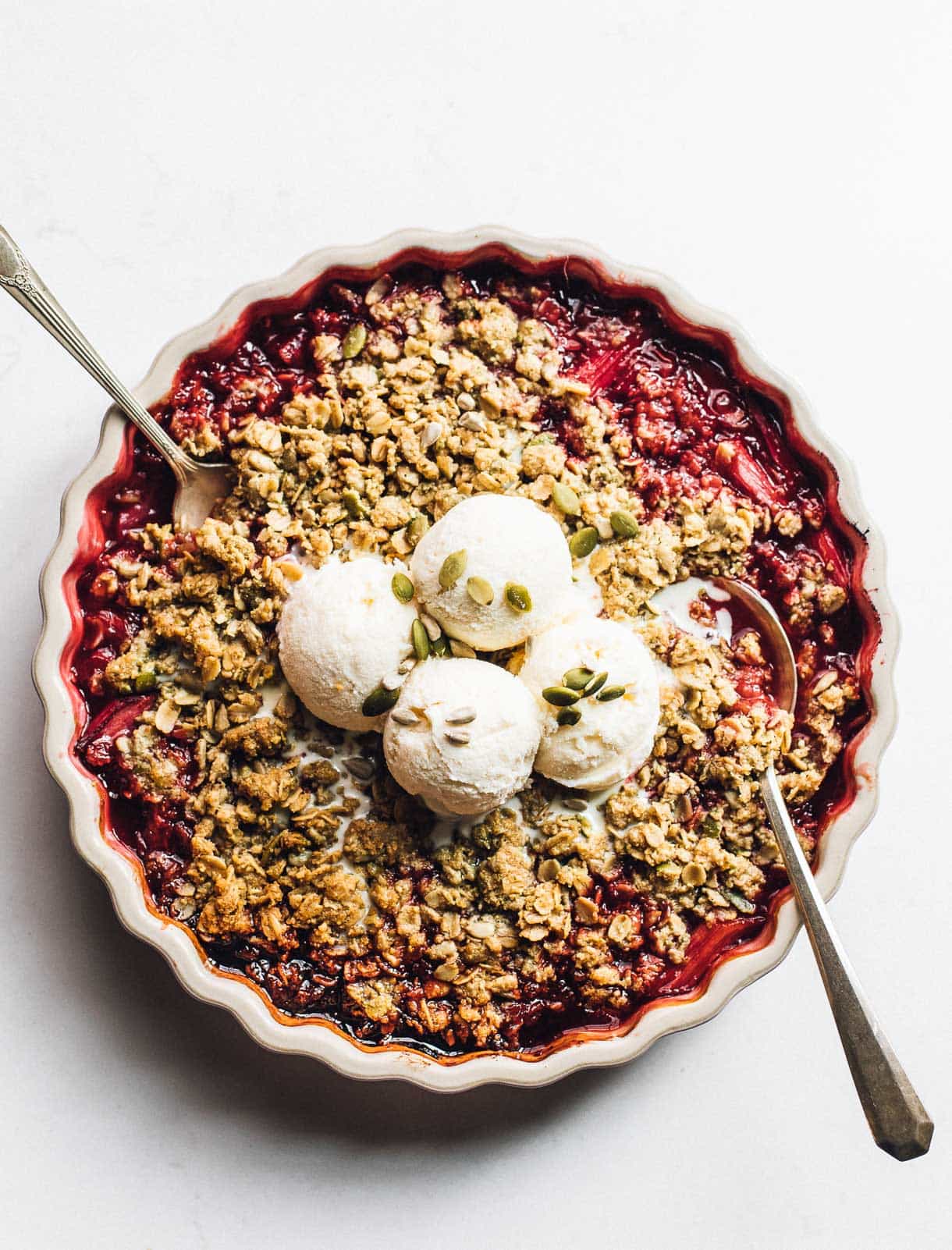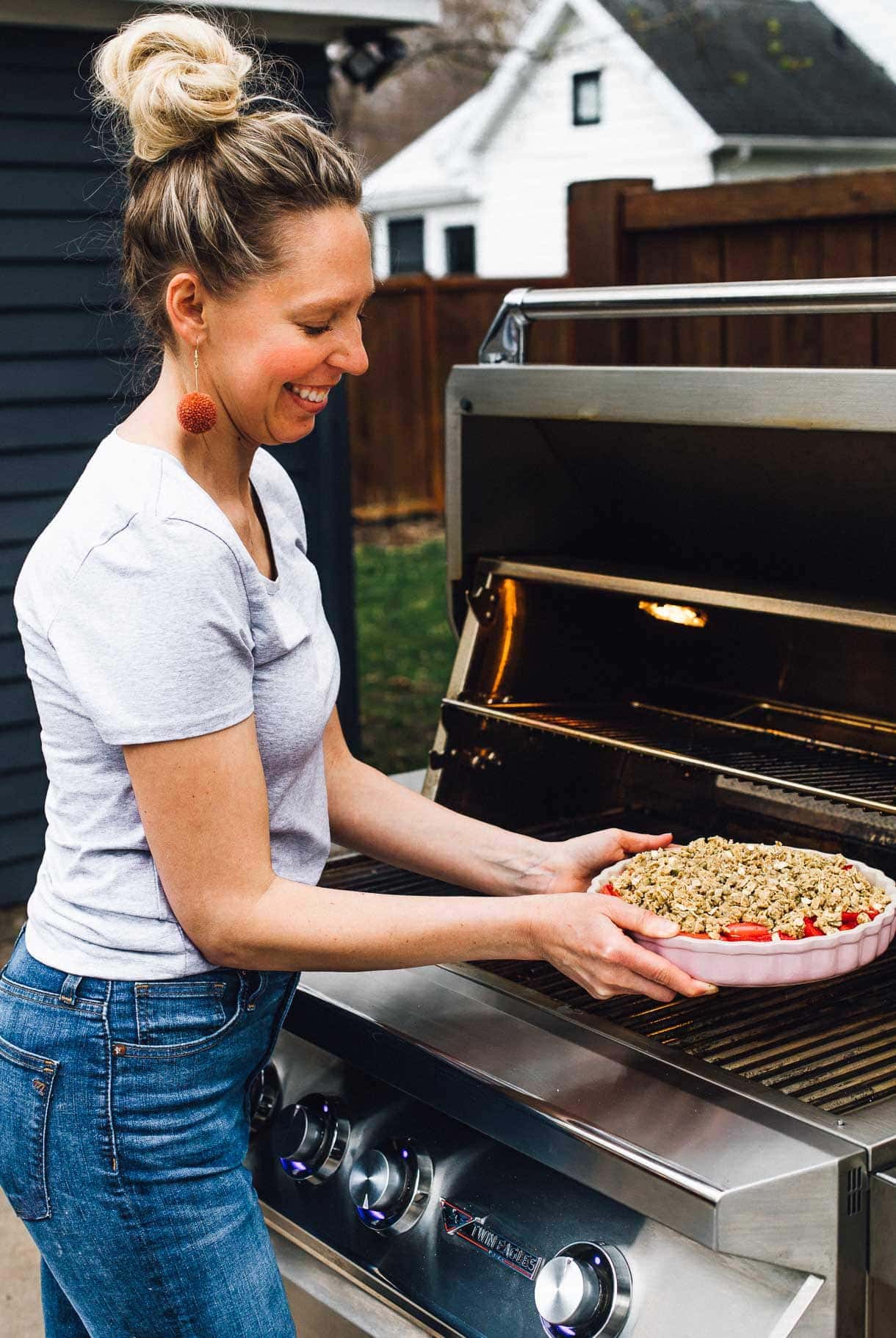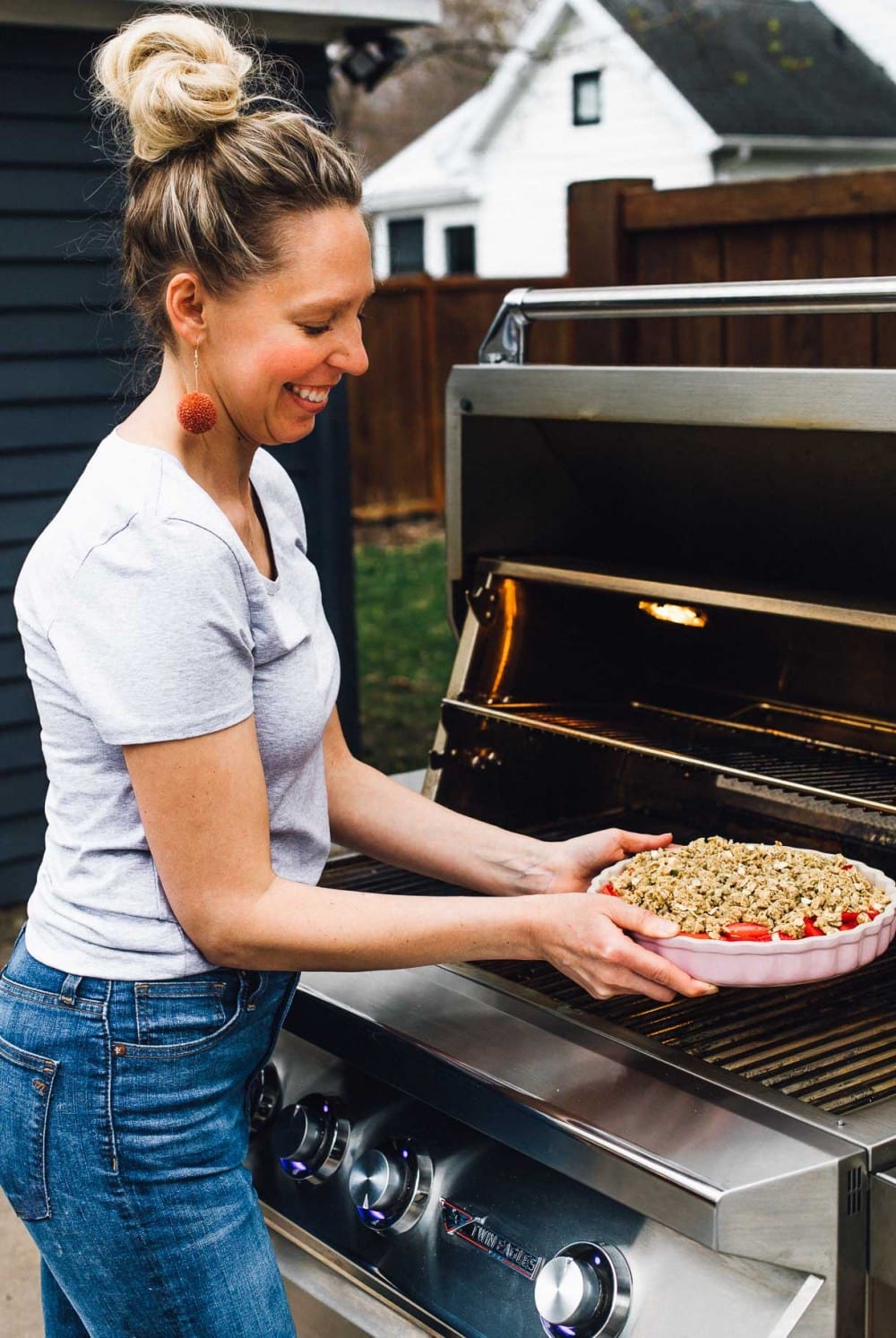 My rhubarb started peaking through the early April dirt in our backyard, my first sign that Spring was on the horizon here in the north land.
Inherited from the previous owners, our two flourishing rhubarb plants are such a gift each spring and summer. As the Victoria variety, they produce a bounty of crimson red stalks. I love the color it gives to this delicious rhubarb sauce, and rhubarb simple syrup.
Last summer I made rhubarb crisp on the grill (but you can also make this recipe in the oven, instructions for both are included). Brian and I stood outside on a warm June night, eating warm spoonfuls of it straight from the pan, with vanilla ice cream dripping down our chins. The heat of the grill had done something special to the rhubarb, concentrating the flavors and evoking just the slightest hint of smoke.
The oat and seed streusel topping was crisp and golden brown, and the juicy, sweet-tart filling bubbling underneath, the ruby red juices peaking through. I was convinced from that point on, that dessert straight off the grill should be a regular occurrence.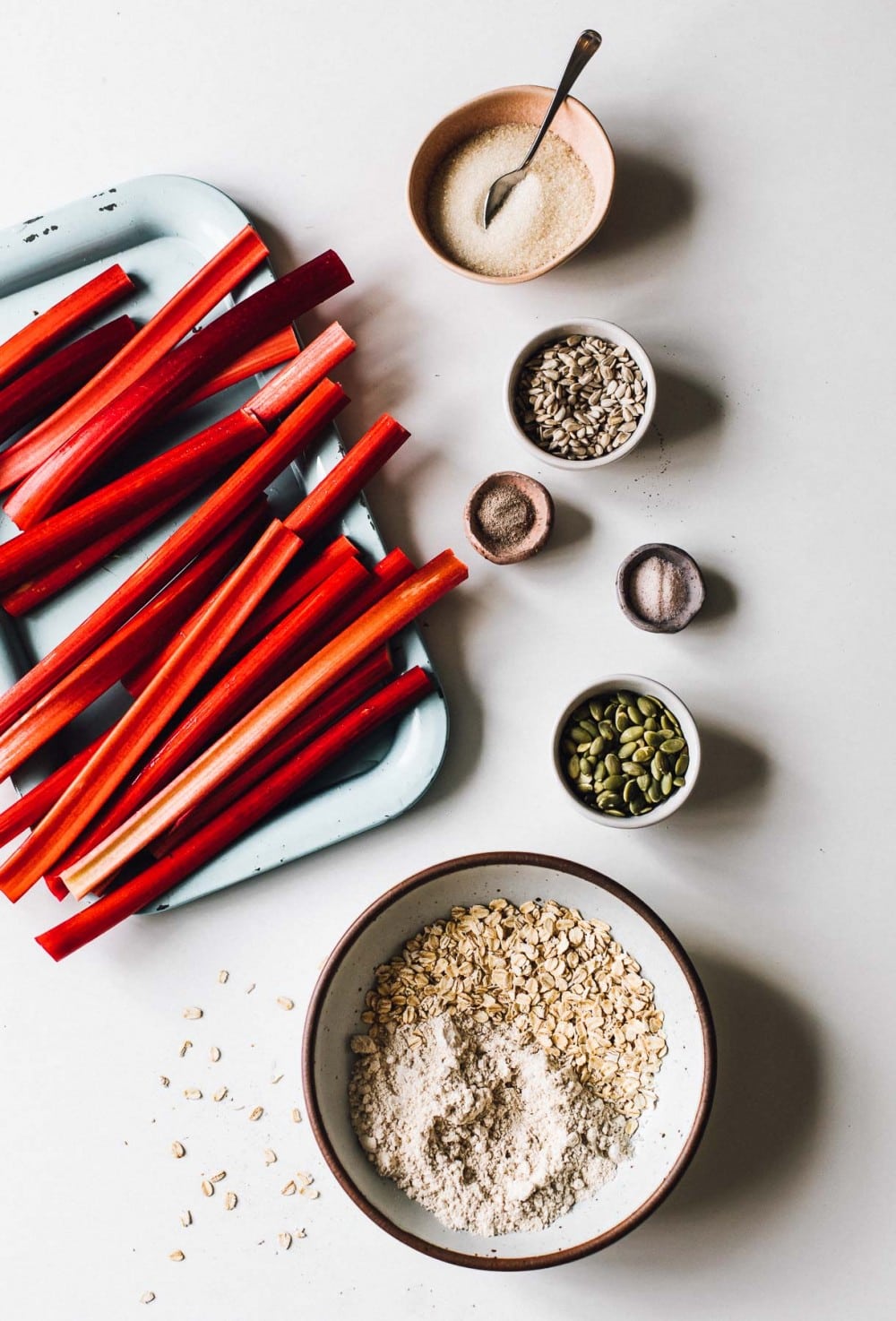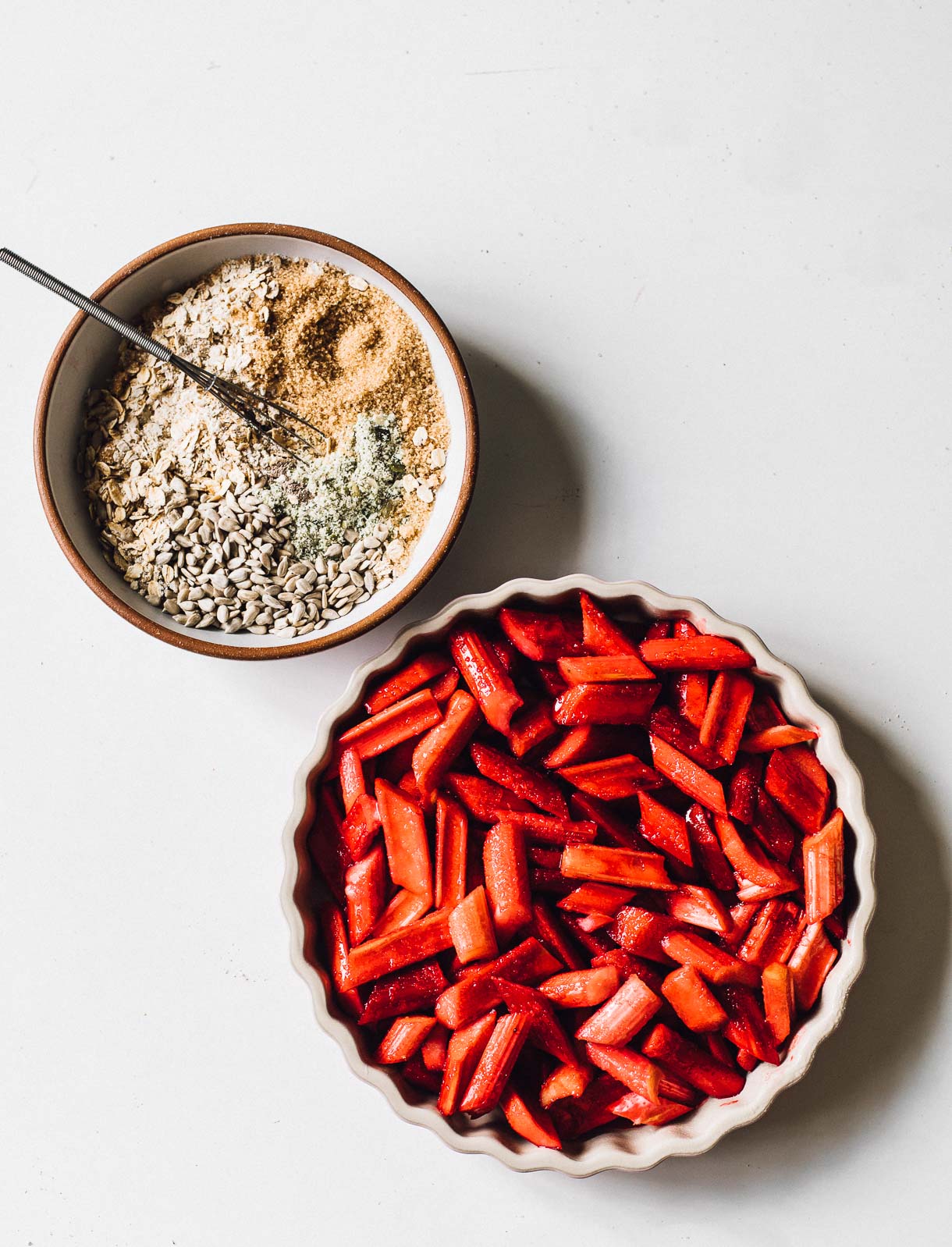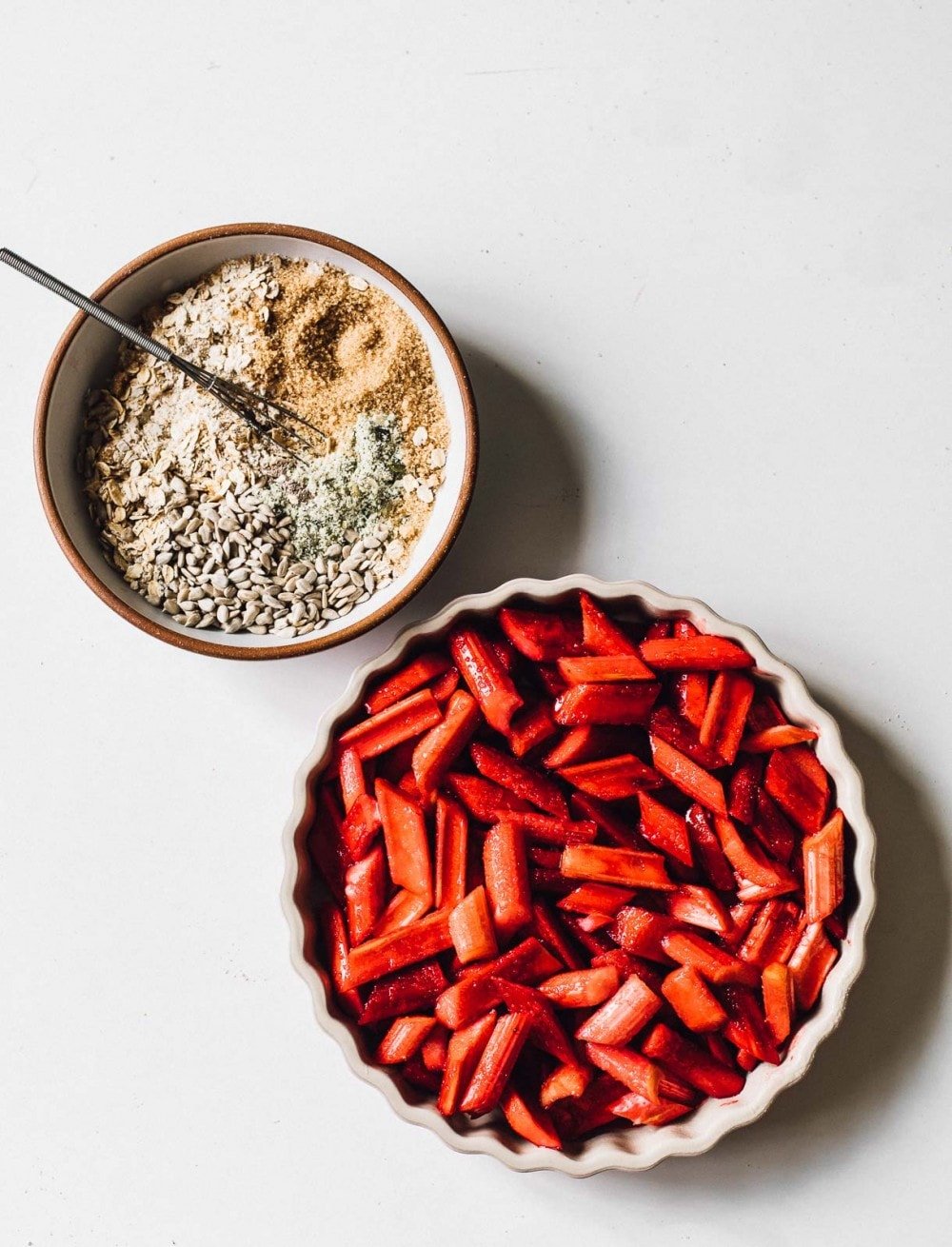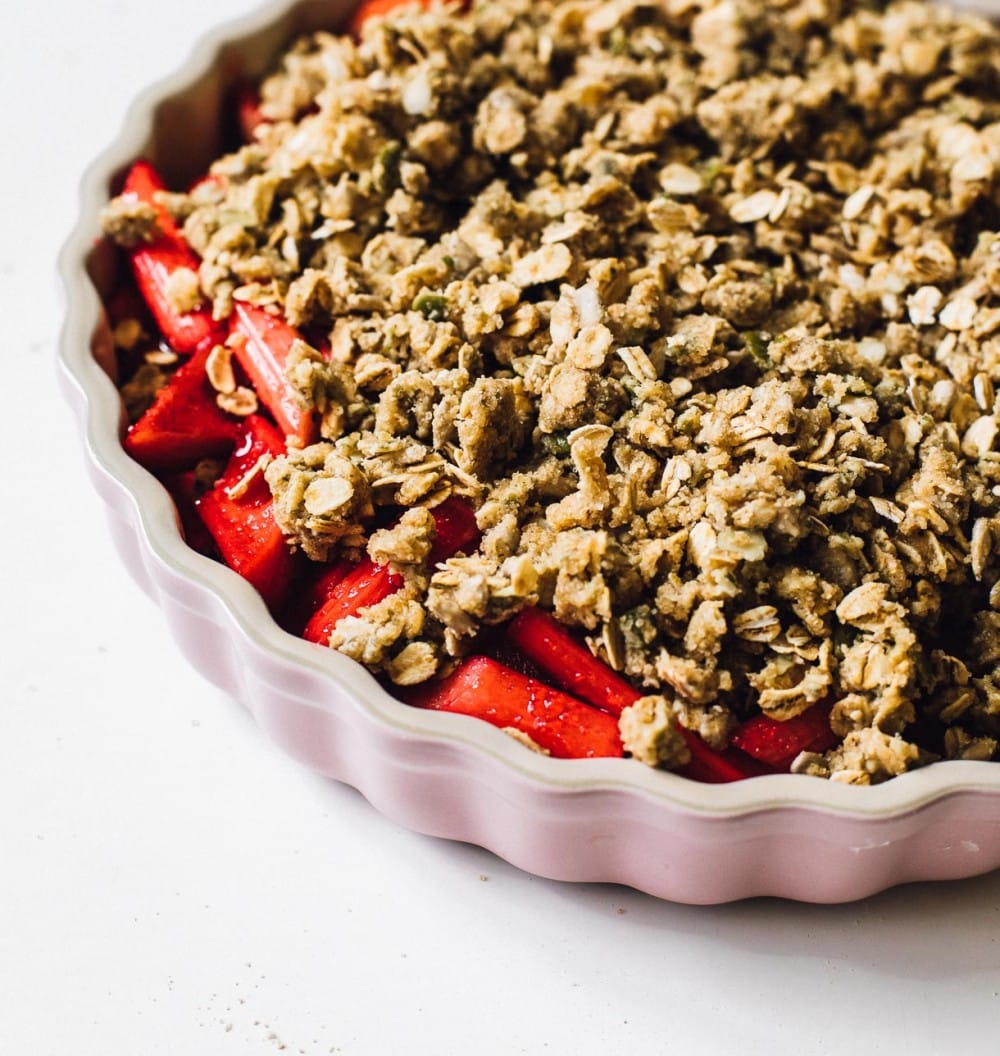 The Best Gluten-Free Rhubarb Crisp
I might be biased, but the unique crisp topping with seeds and brown sugar is sooooo good! It tastes like an elevated oatmeal cookie. It's a gluten-free dessert that everyone will love.
Along with oat flour and rolled oats, I ground up pepita seeds to make another "flour", and also added sunflower seeds. Brown sugar for sweetness, and butter. Because butter. The streusel topping has such a lovely texture and the richness of the seeds is so delicious. And don't forget the salt! It's what makes everything pop.
No one will ever know this gluten-free. Promise.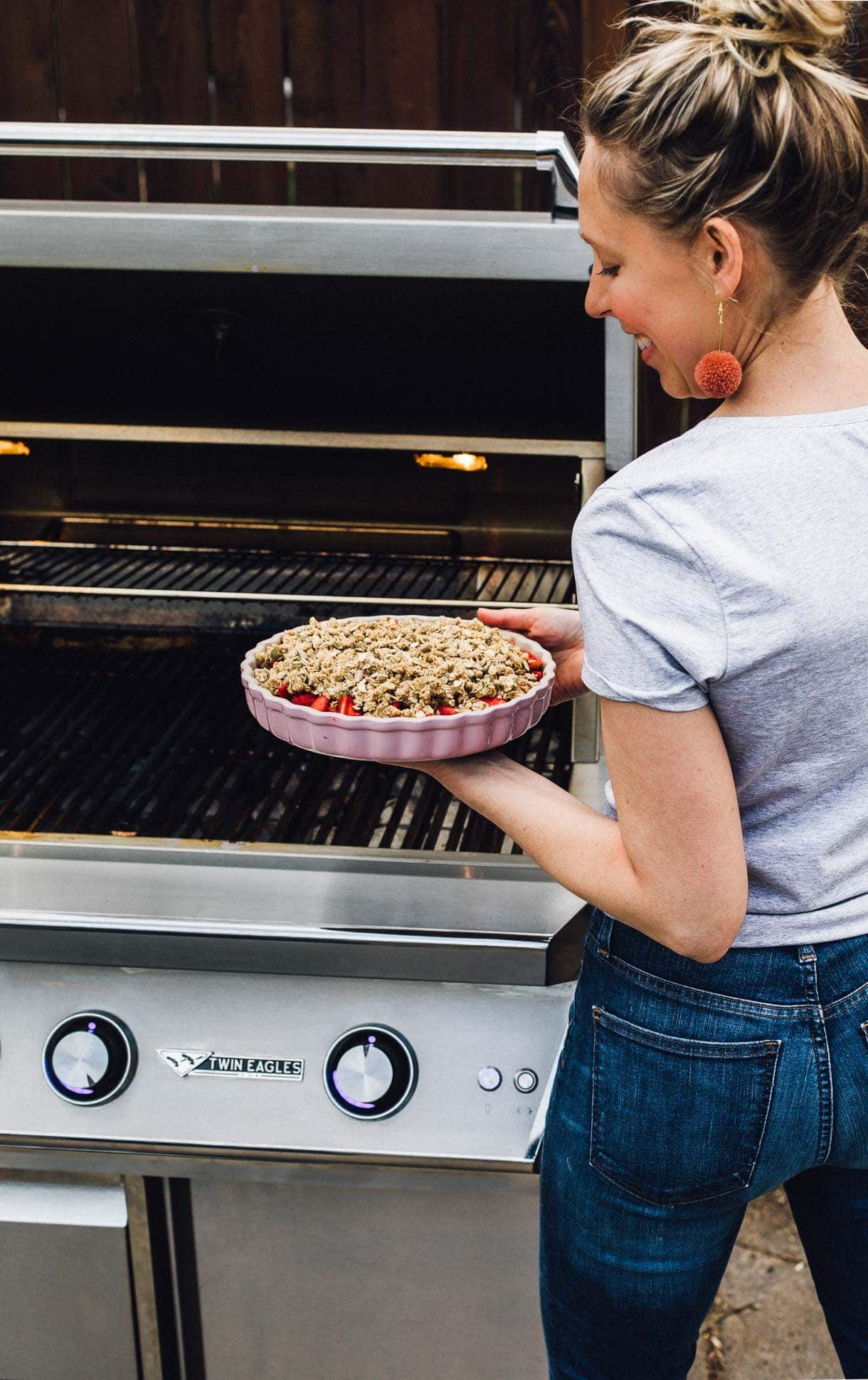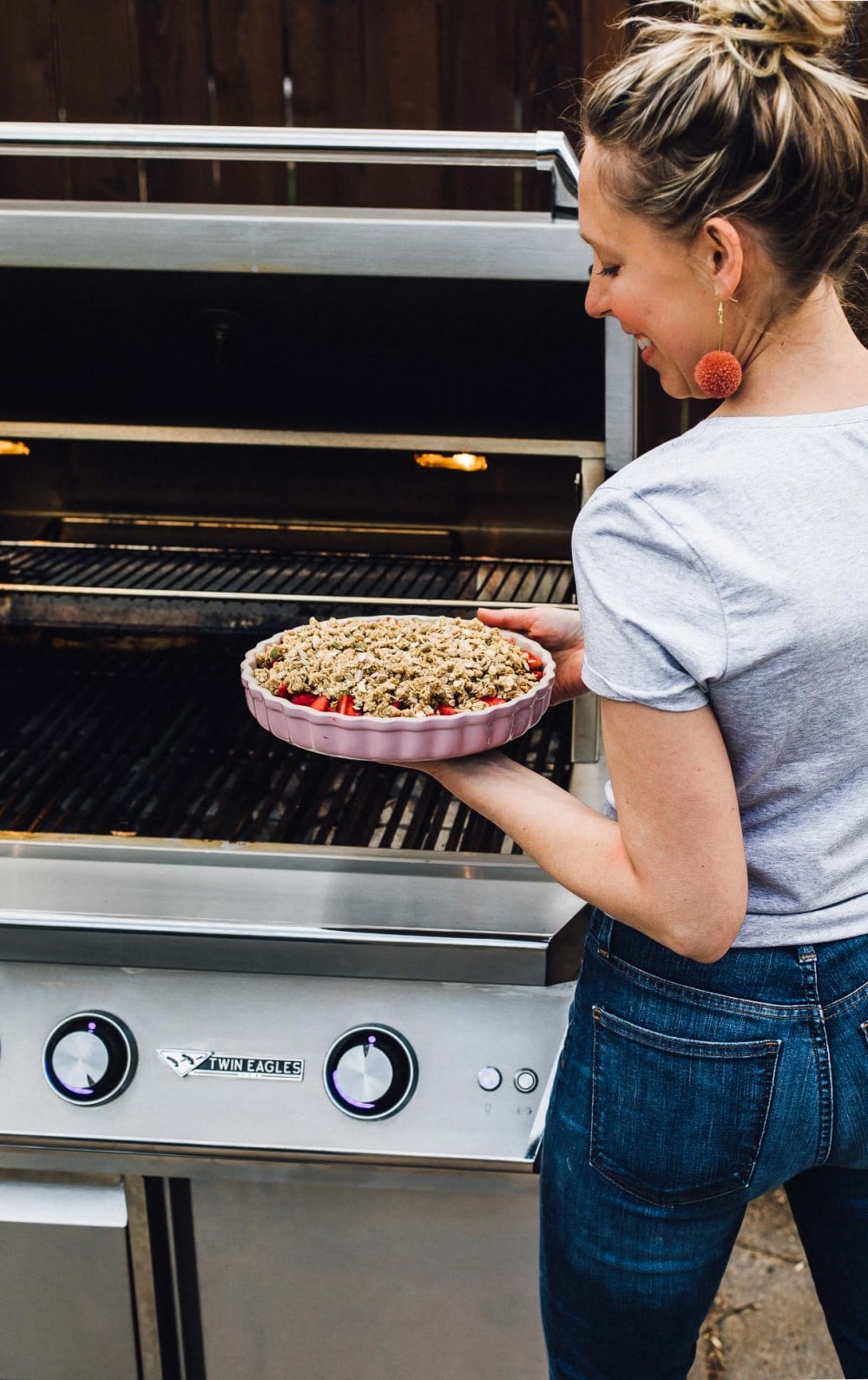 How to Make Gluten-Free Rhubarb Crisp:
Although we often think of a grill for its direct heat and searing capabilities, I've come to think of it as an outdoor oven too, the result of using indirect heat.
For this recipe, you'll assemble the crisp the exact same way as if you were using your regular oven. Then you'll get your grill ready.
With my 36 inch Twin Eagles Grill, I have such great control over the temperature, whether that be direct or indirect heat. This grill has zone dividers, which makes regulating different temperatures so easy. Plus, Twin Eagles grates actually aid in the grilling process by absorbing, retaining and conducting heat. The thicker or heavier the grate, the more heat it will absorb and retain. They use 3/8 inch hexagonal stainless steel rods in their grates. This makes it much easier to hold a steady temperature when you're using the indirect heat method.
I turn the left two burners to medium low, and leave the right one completely off. Then I close the lid, and let it heat up until it holds steady at about 400 degrees. At that point, I set the crisp on the right side of the grill, where there is no direct heat, and cover it with foil. It bakes for 25 minutes covered, then 20 to 25 minutes uncovered.
And that's it!
Well, besides for topping it with vanilla ice cream and enjoying it outdoors.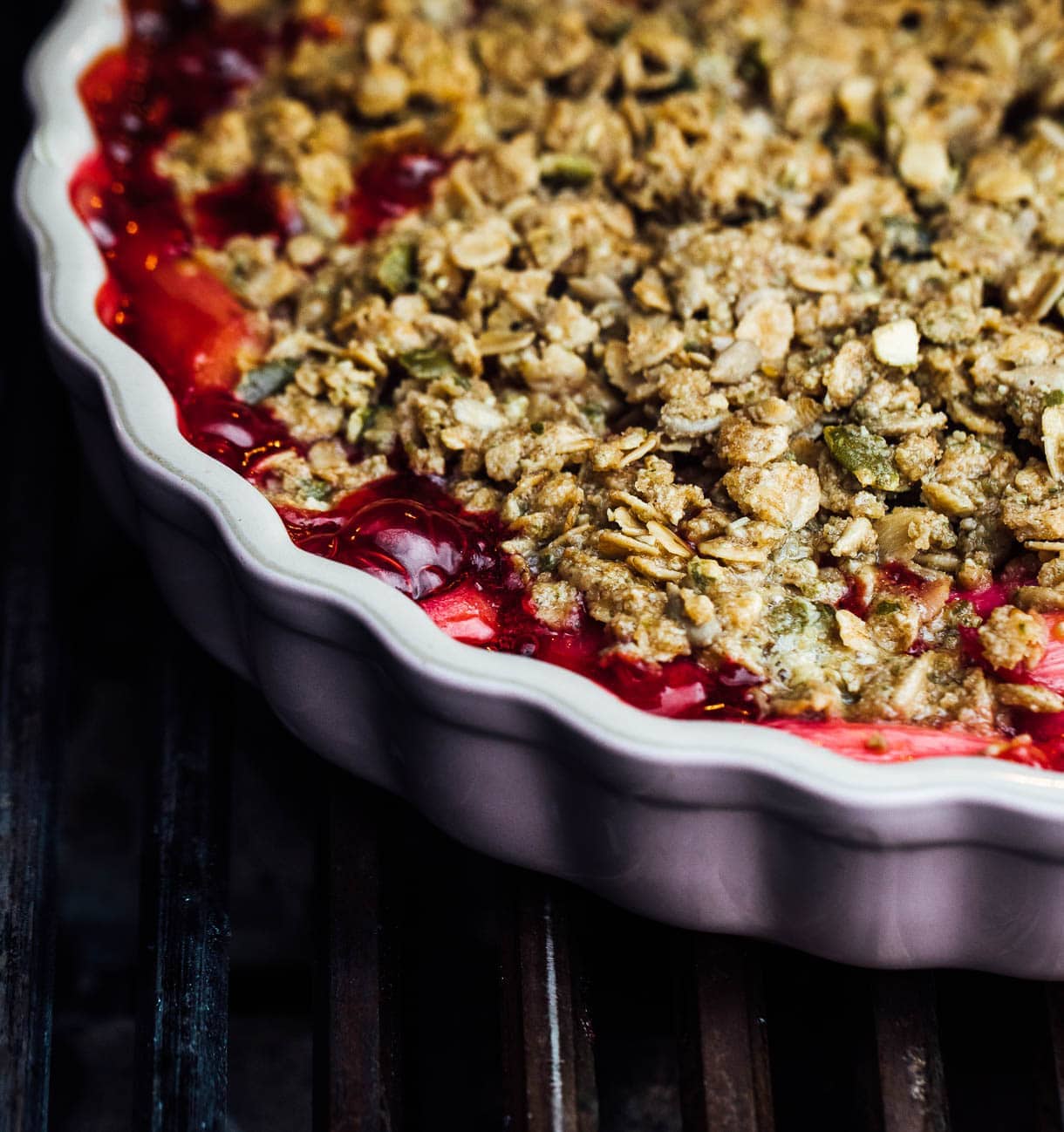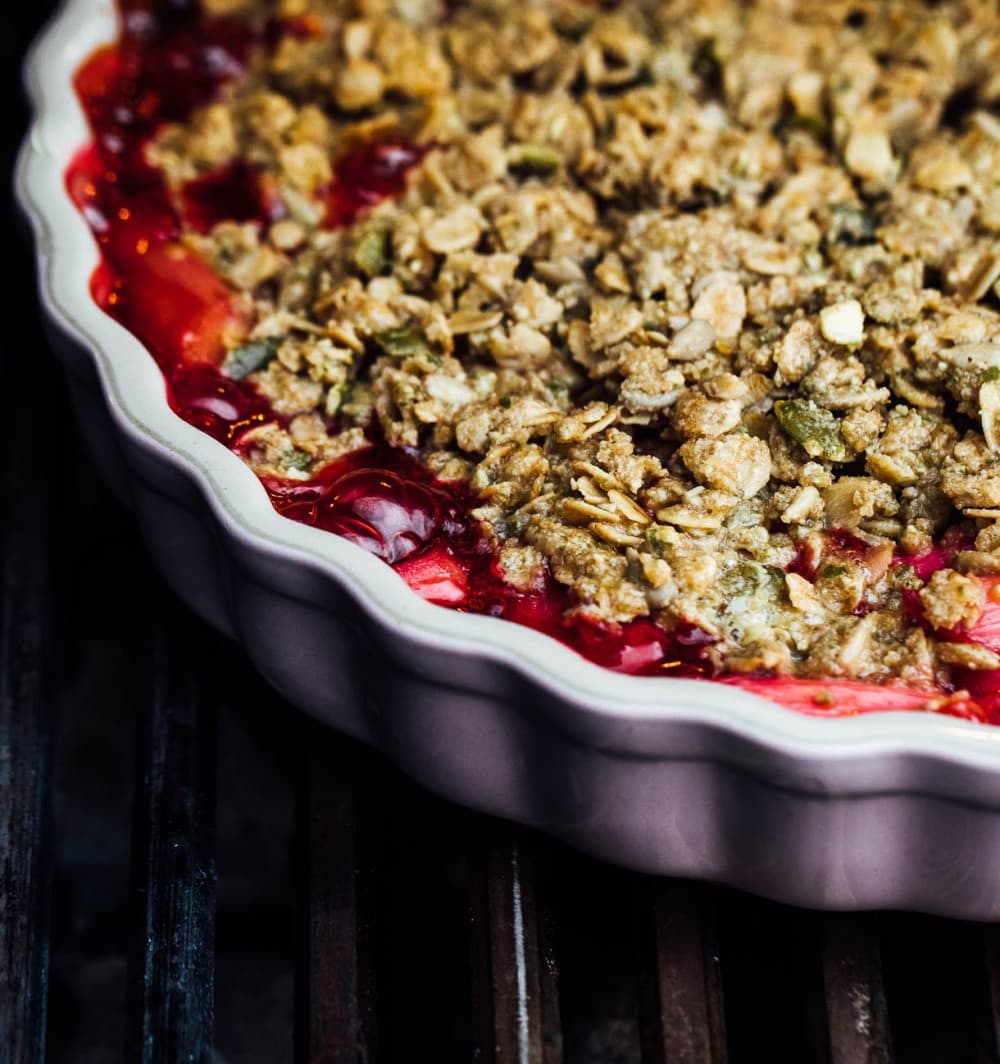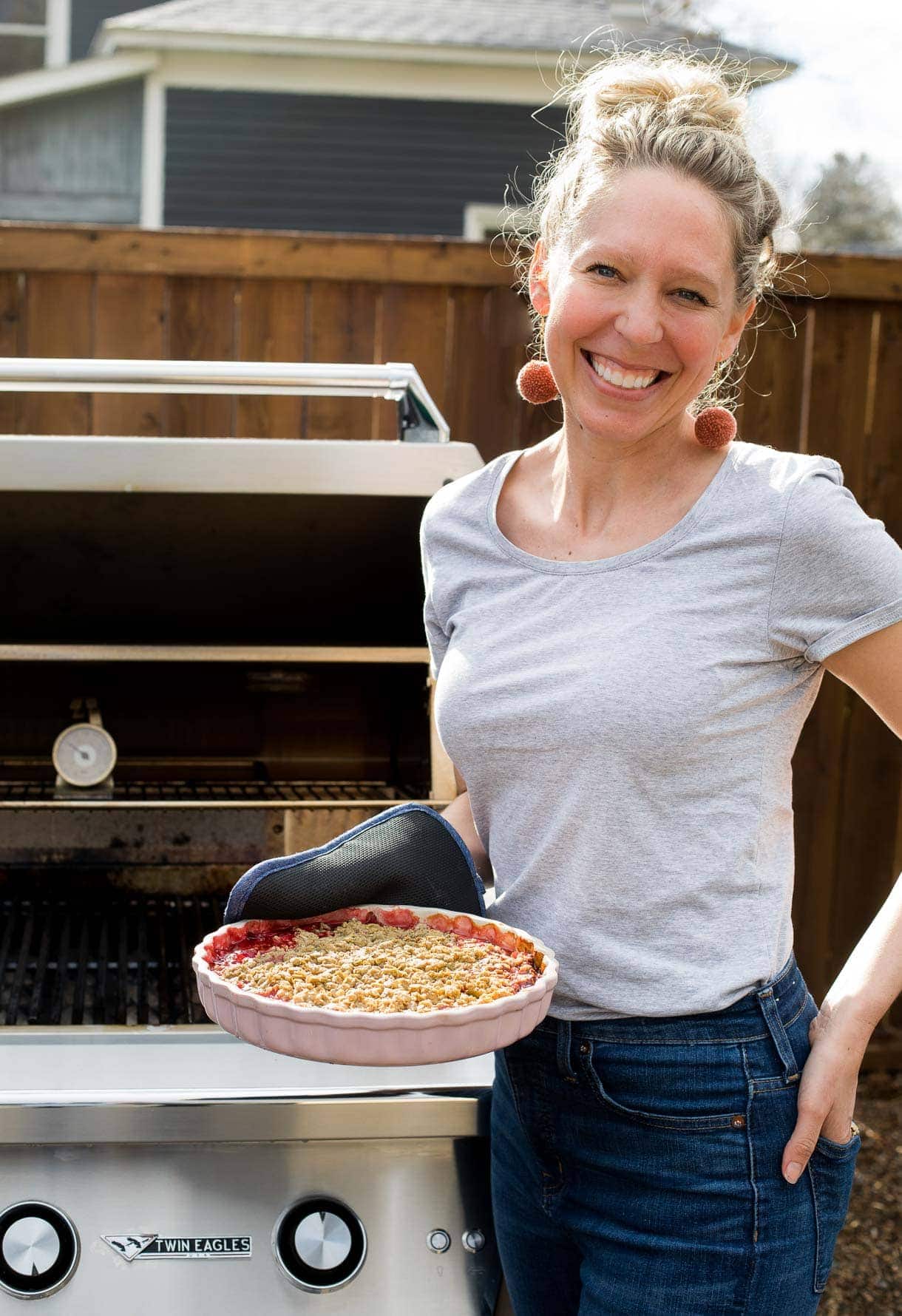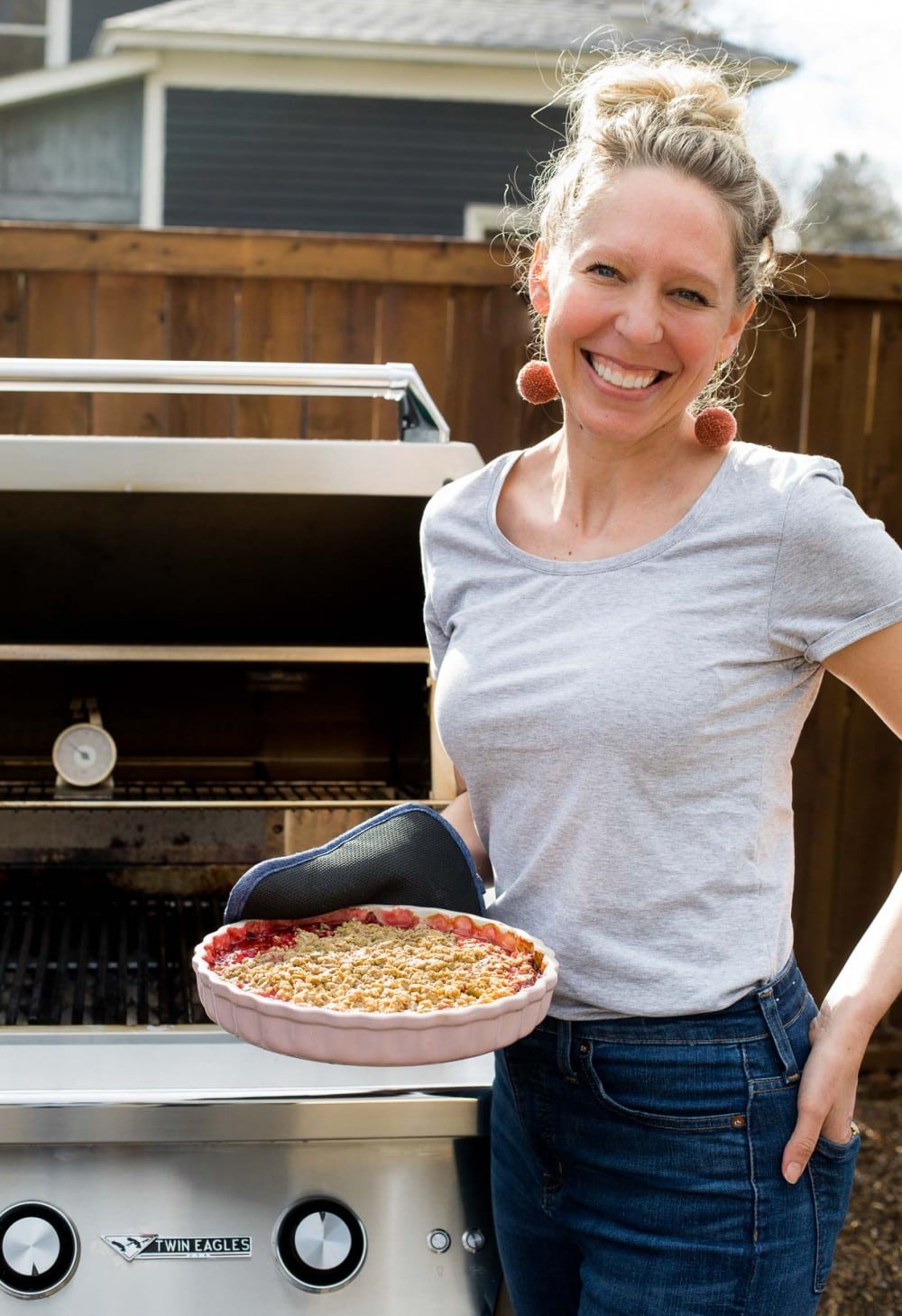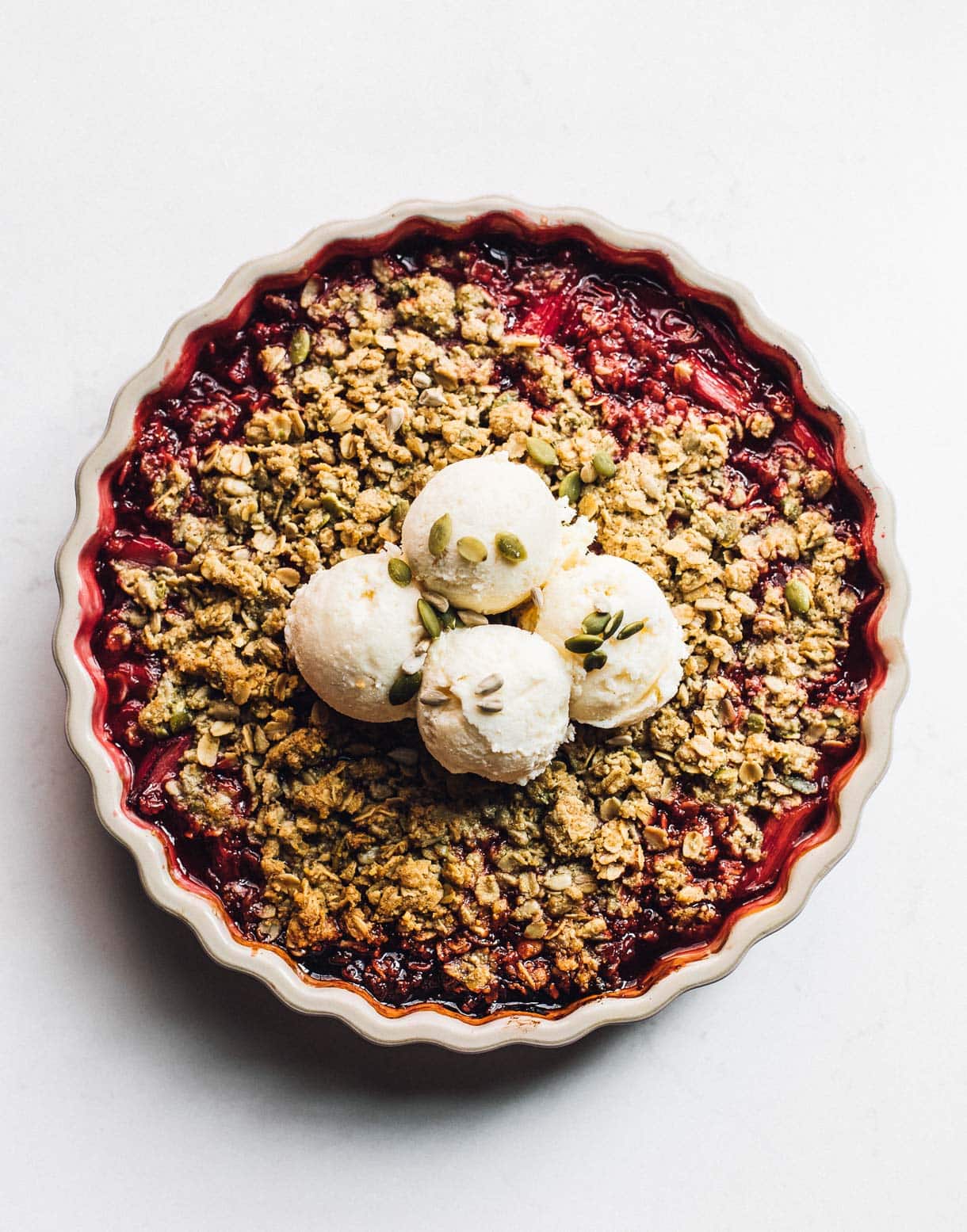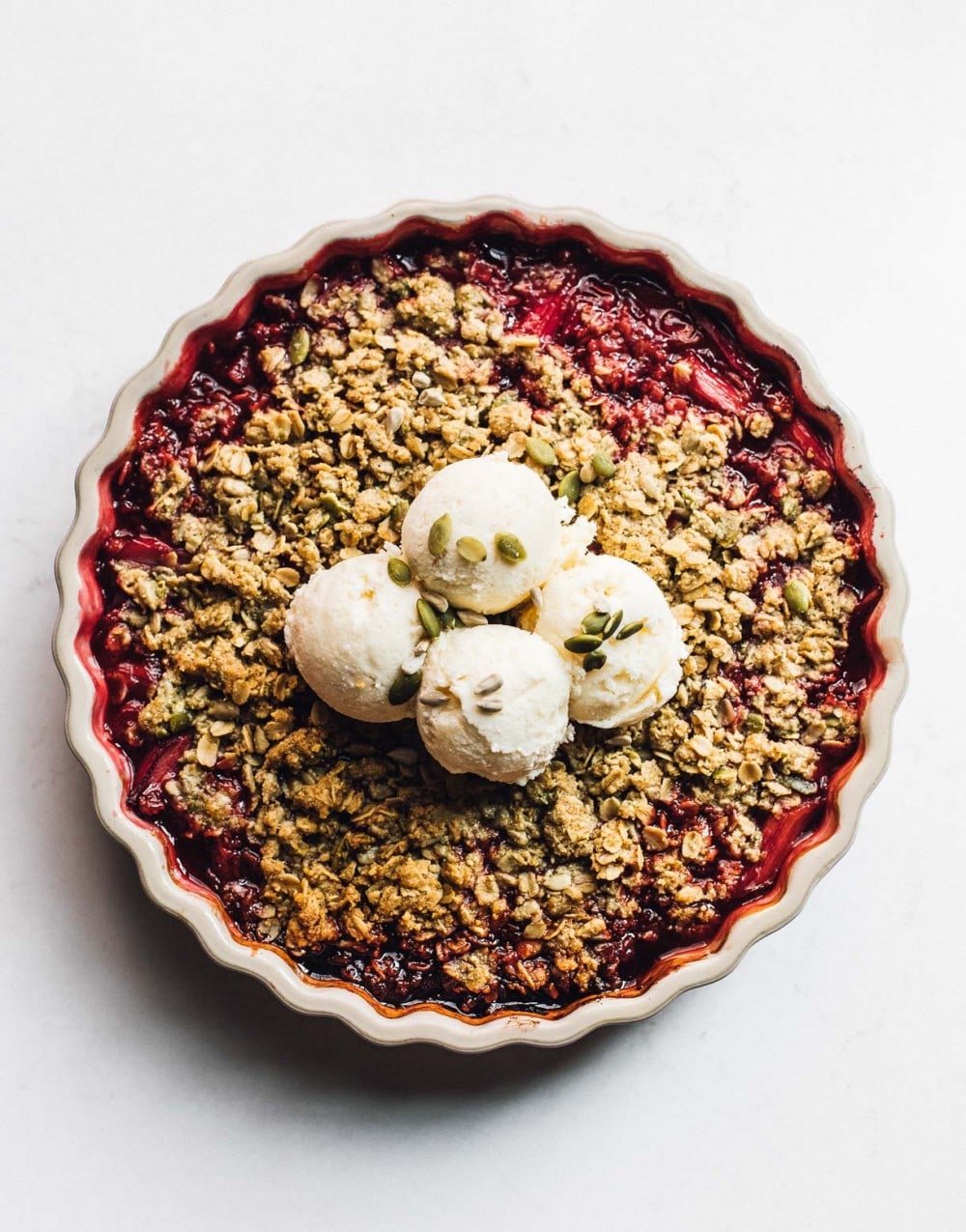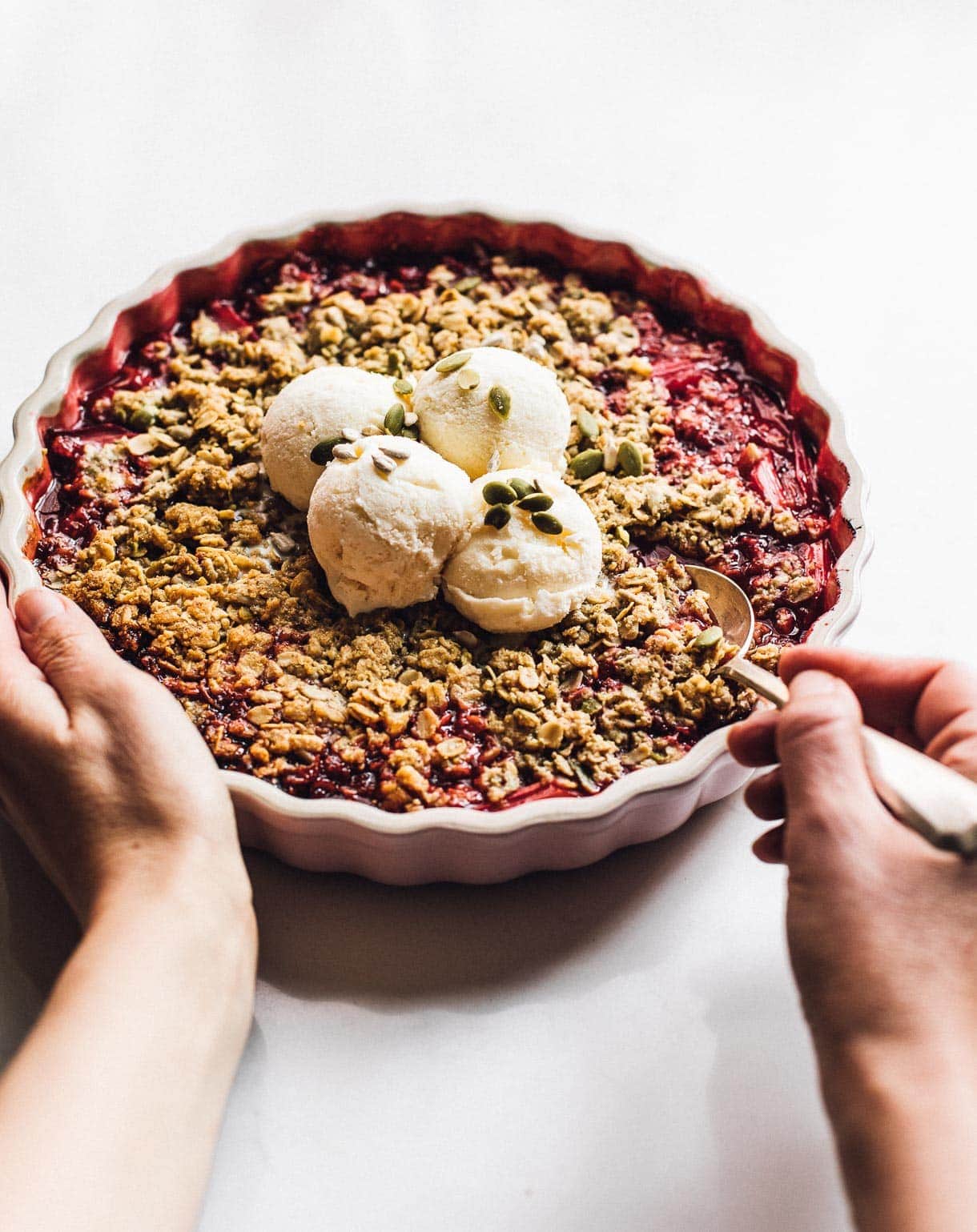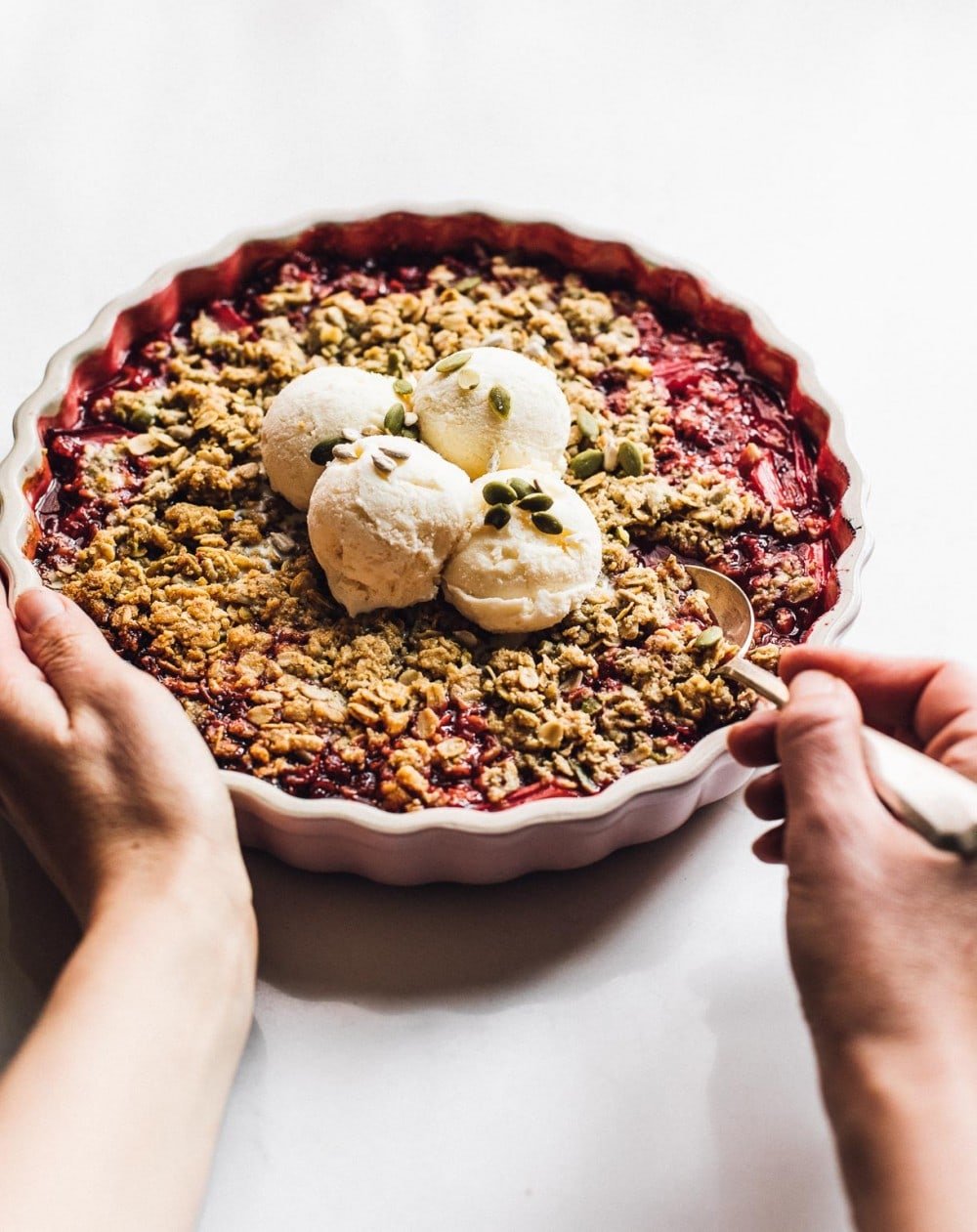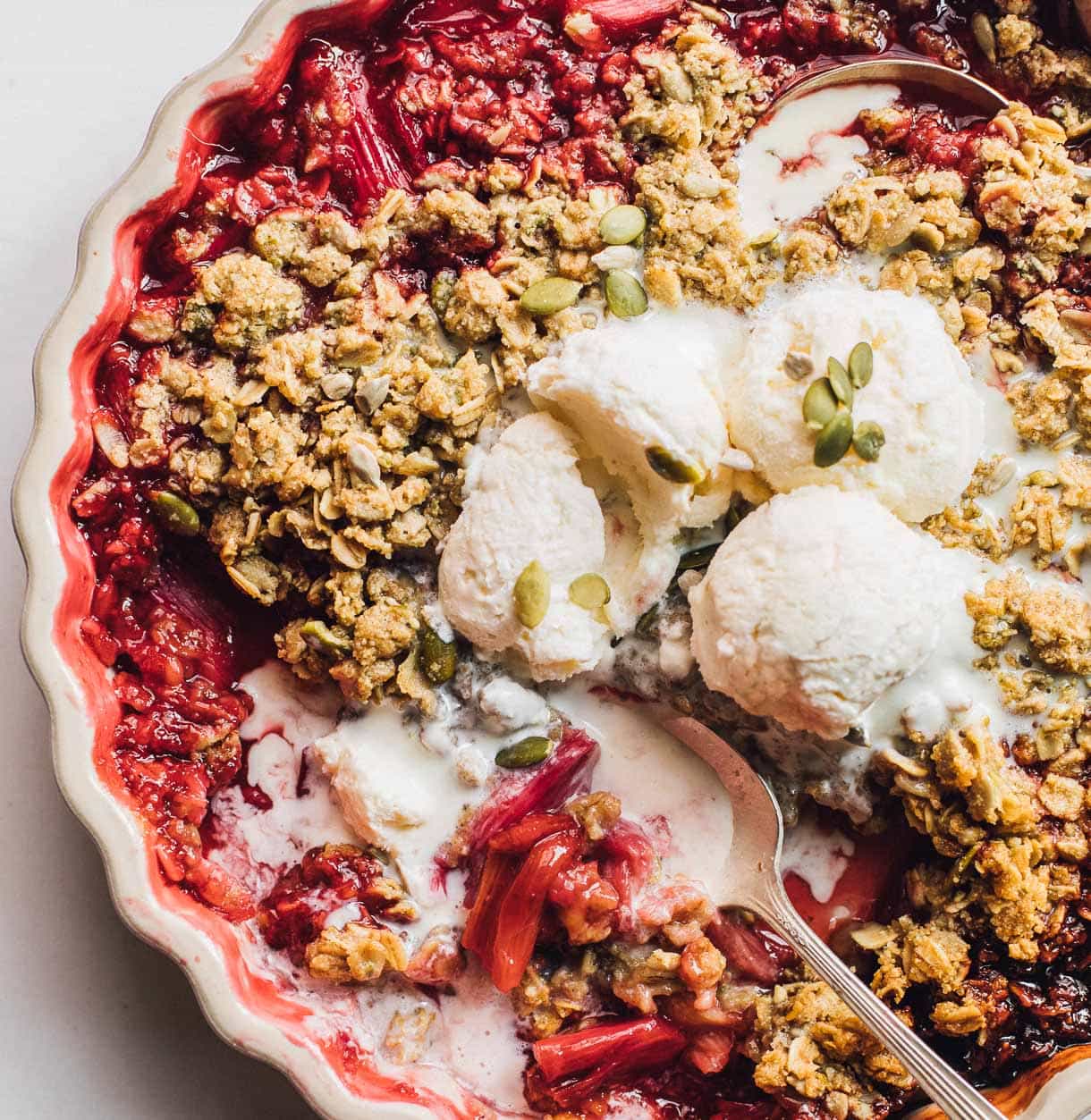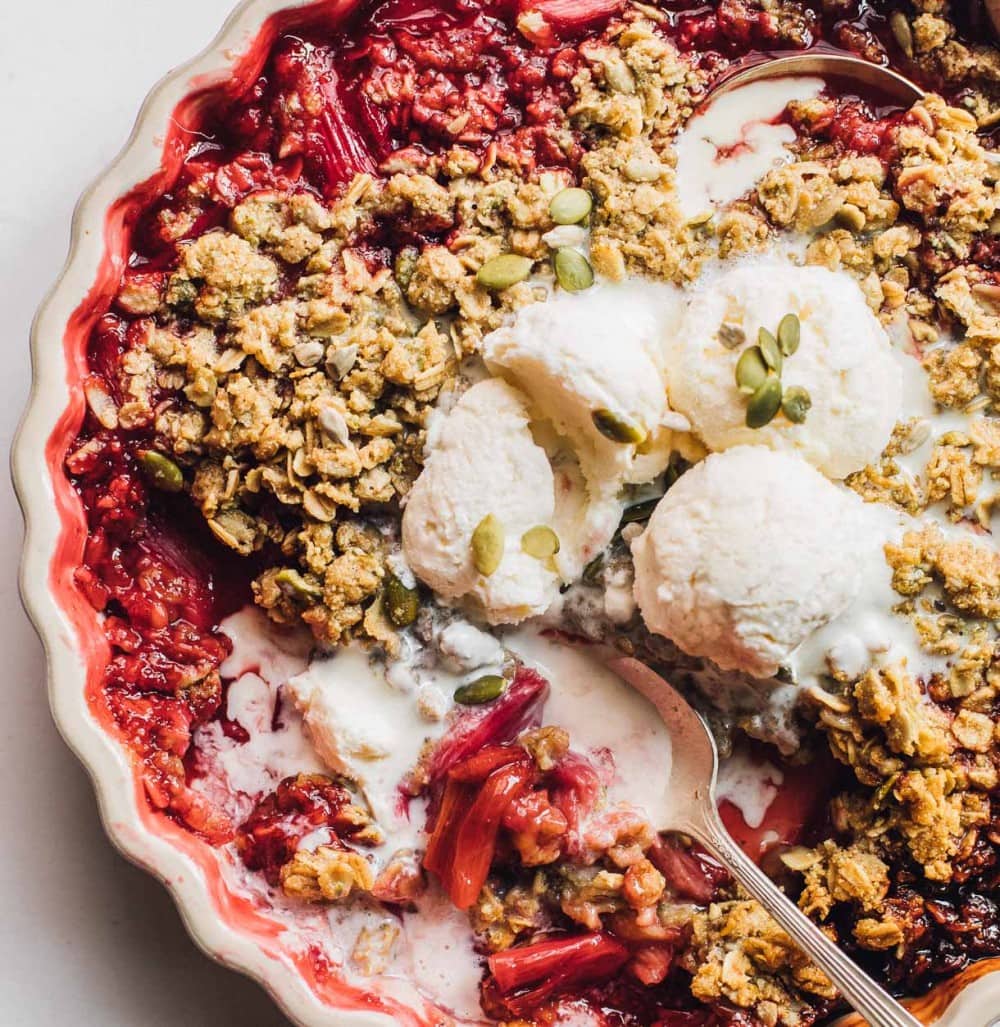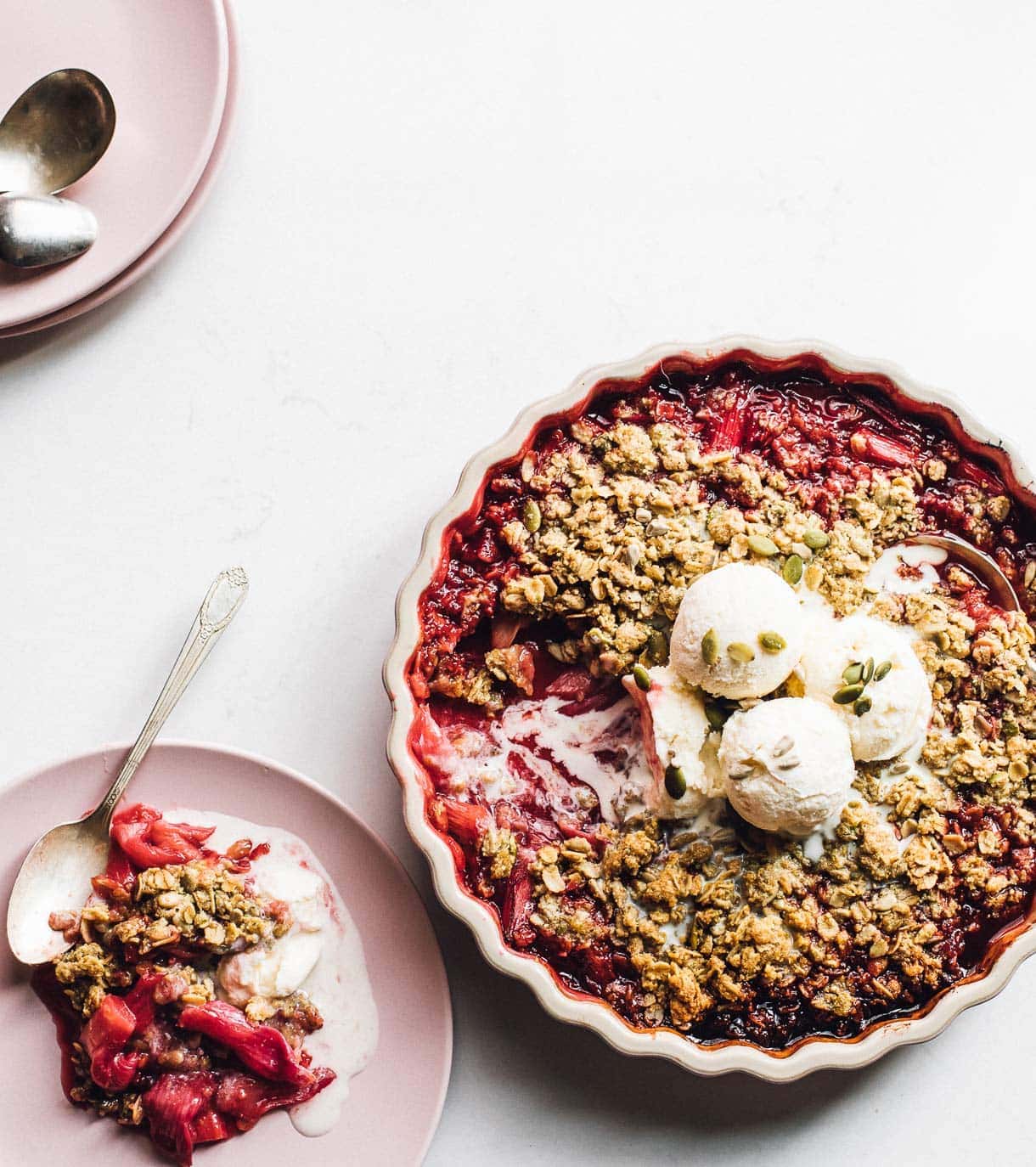 More gluten-free rhubarb recipes: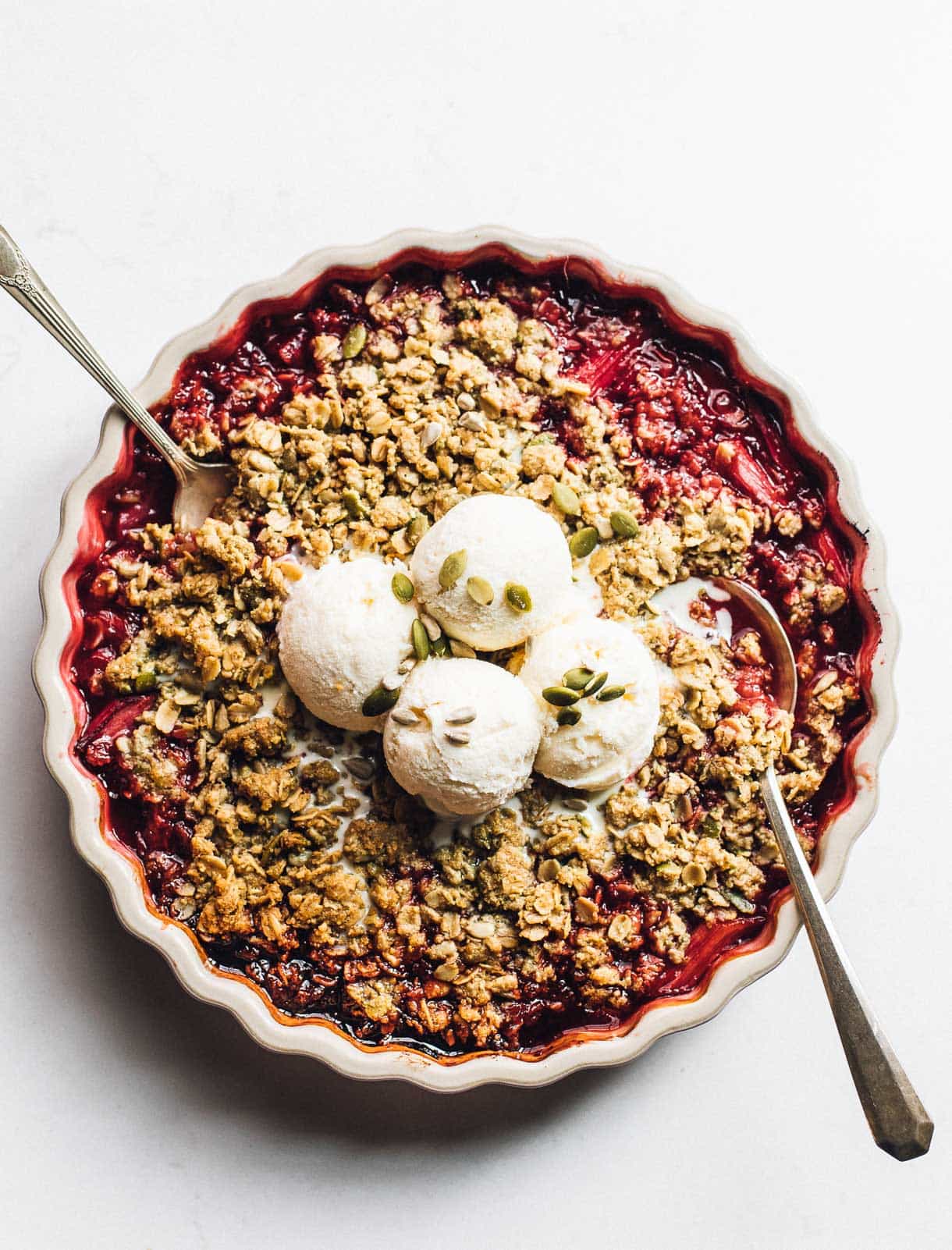 Mix all filling ingredients together and let sit while preparing the crisp topping.

In a separate bowl, whisk together all topping ingredients, everything but the butter. Then stir in the melted butter, and fully combine.

Add filling to a 9 or 10 inch baking dish or , 10 inch cast iron skillet. Top with crumble, leaving about 1/2 inch gap around the edges so you can see the rhubarb peak through.

Turn on left and middle set of burners of your grill, leaving one side of the grill unheated. Preheat rest of grill to 400 degrees F. When temp holds steady, put the crisp on the side of the grill with no burners on, and cover with foil. Close grill lid. For the grill, Let bake for 20 minutes. Then remove foil, and rotate the pan clockwise. Close lid. Continue to bake for 25-30 more minutes, until bubbling and top is crisp is lightly browned.

To bake in oven, preheat oven to 375 degrees F and bake crisp for 40 minutes, until fruit is softened and bubbling and the top is golden brown.

Let cool for 20-30 minutes before eating with vanilla ice cream.