These tasty gluten-free rhubarb bars are filled with a sweet and tart raspberry rhubarb compote, making them the perfect spring treat! The delicious crust is made with oat flour and oats, and there's a crumble topping too.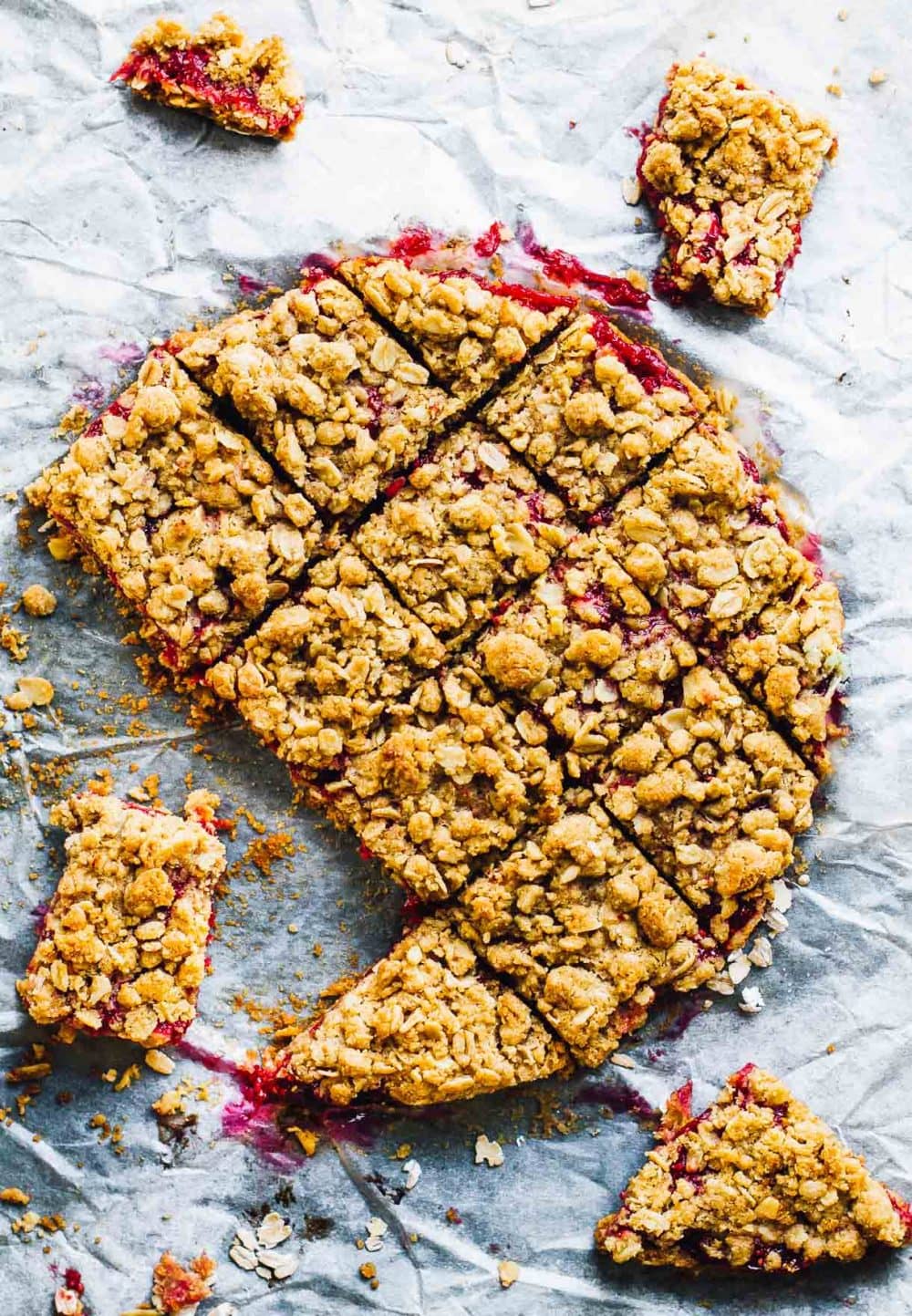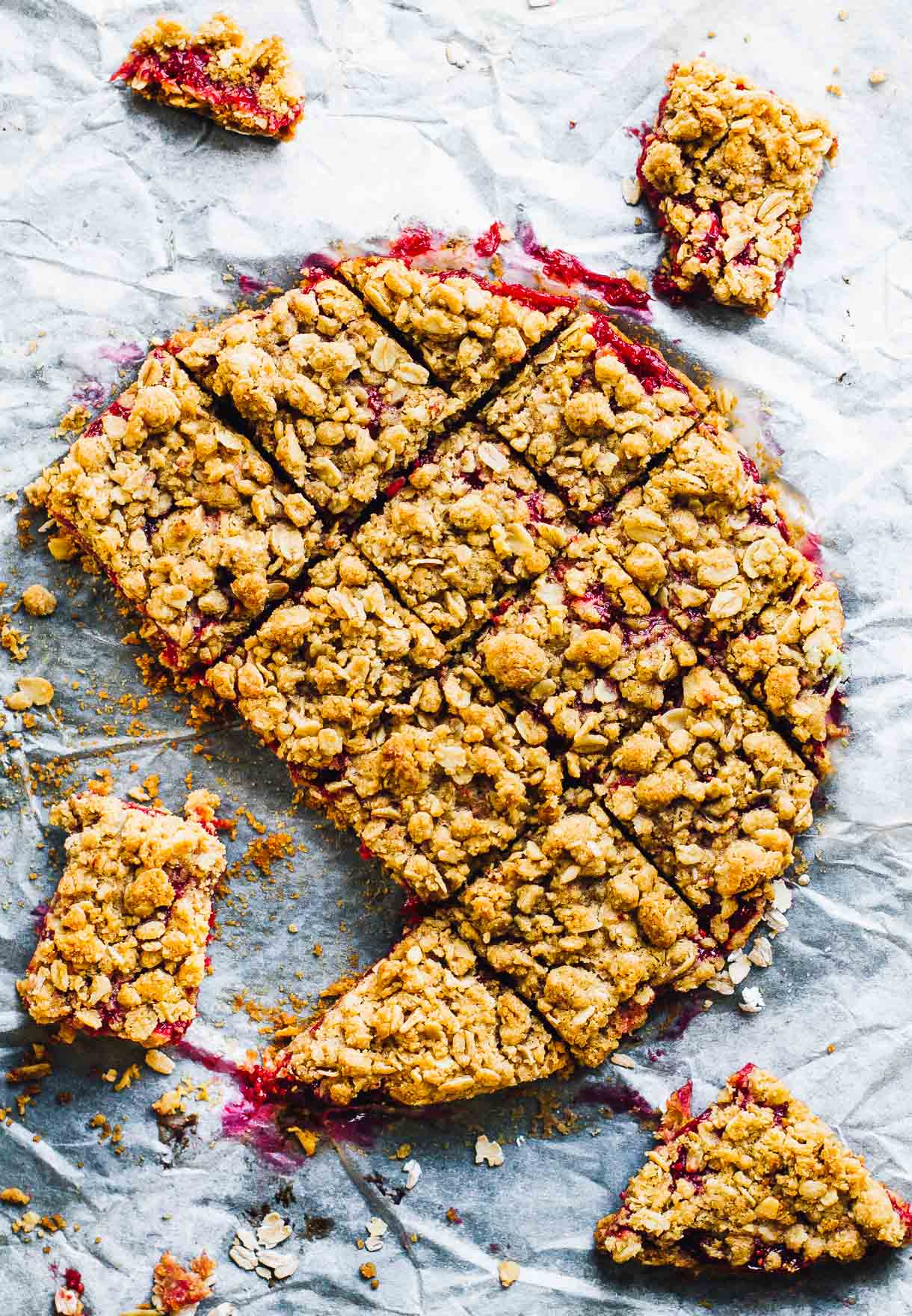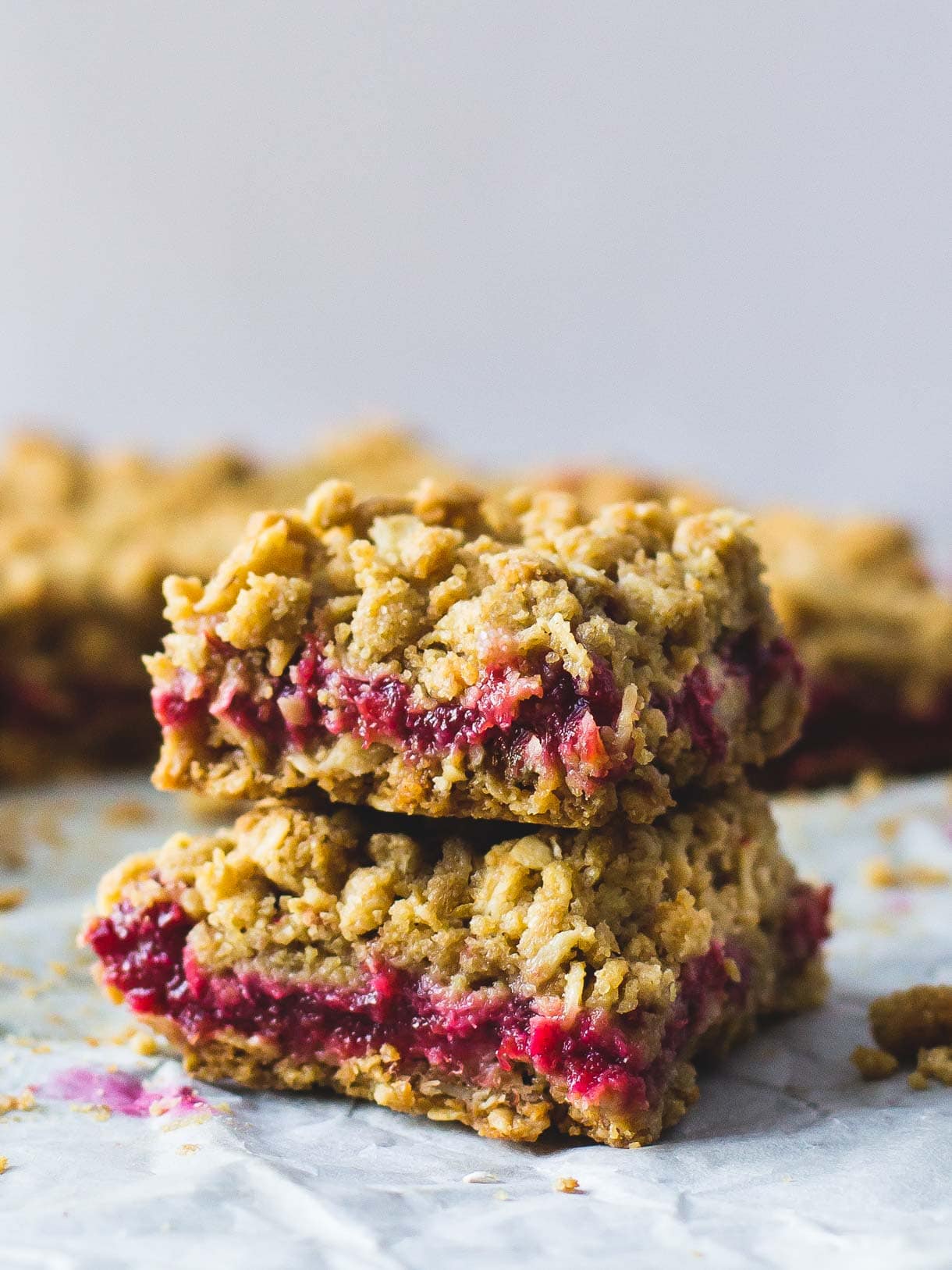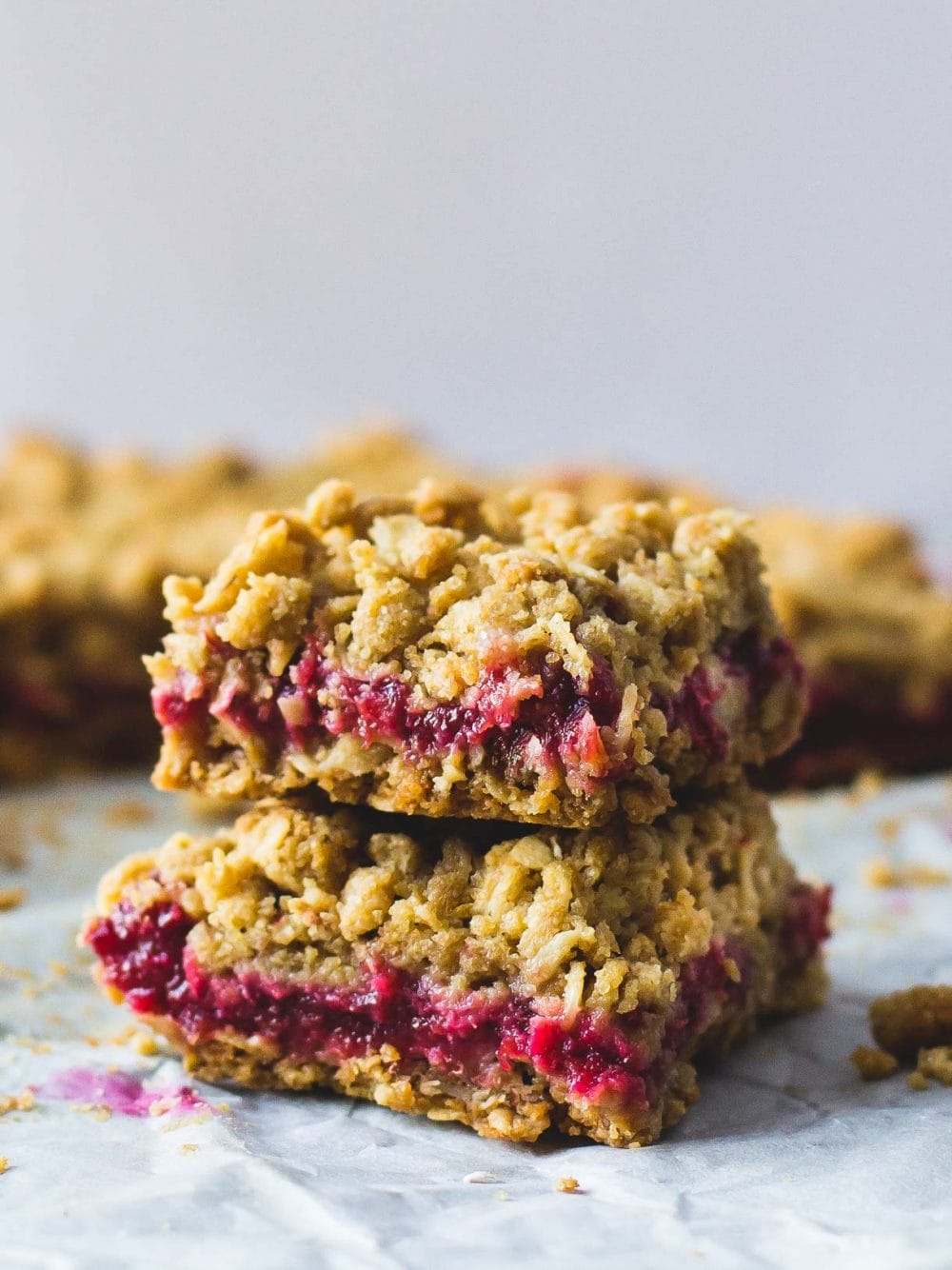 I don't mind when terrific ingredients finally get their day in the spotlight, even becoming a little "trendy", like kale or brussels sprouts!
And, rhubarb… for years known as the vegetable trying to being a fruit.
Too tart for some, not pretty enough for others.
But now it's abundantly seen on dessert & bakery menus across the country, recipes and pretty photos plastered in food magazines.
Earlier this week I posted a Rhubarb Fig Jam that I've been eating on sourdough toast, and yesterday I made these Gluten-Free Raspberry Rhubarb Crumble Bars for my segment on Twin Cities Live. We talked about tips & tricks to eating gluten-free on a budget, like DIY ingredients such as the oat flour used to make this spring treat.
Making gluten-free rhubarb bars:
The combination of raspberries and rhubarb is one of my favorites! The tart rhubarb plays off the sweetness of the raspberries, and wow, does it create the most gorgeous magenta scene ever.
Oats are the main ingredient for the base of this recipe, and the crumble top. They have a natural salty sweet component that I love for baking, and make the texture of the top crumble just like the crunchy bits on those bakery muffins.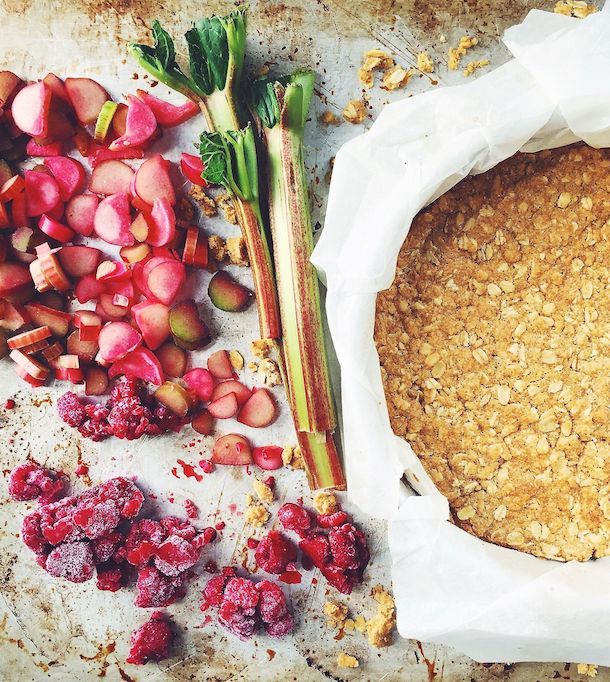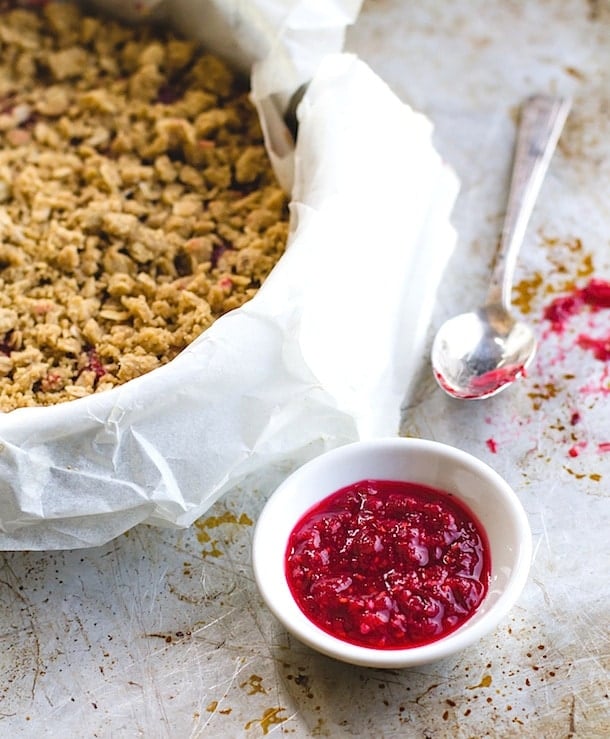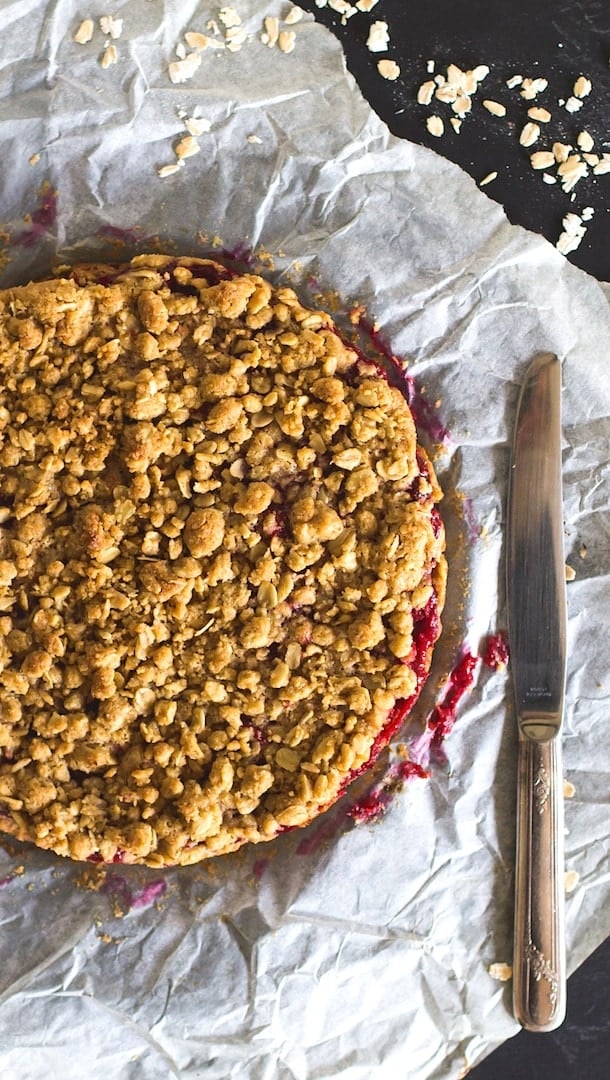 Main Ingredients for Gluten-Free Rhubarb Bars:
Old fashioned oats
Oat flour
Brown Sugar
Tapioca Starch
Vegetable shortening or butter
Raspberries
Rhubarb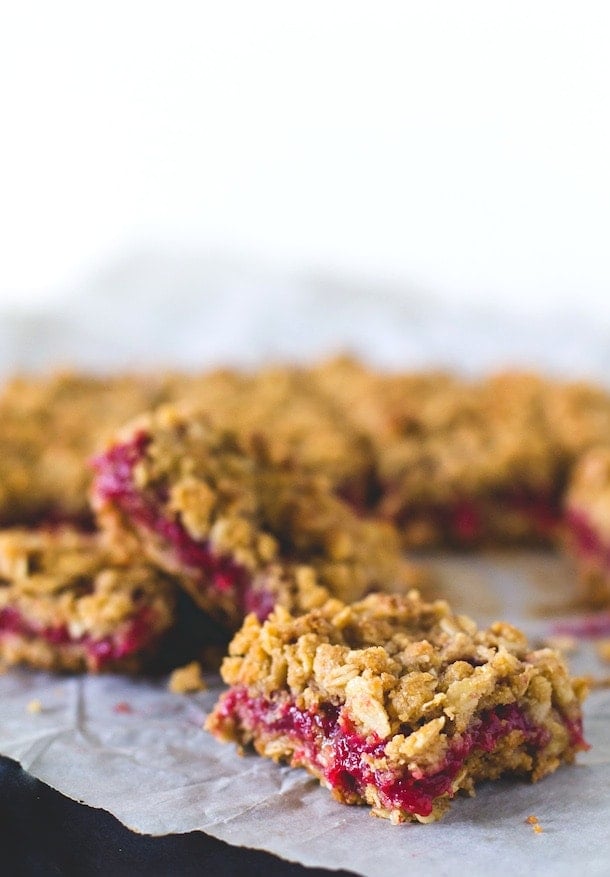 How to Store Gluten-Free Rhubarb Bars:
I like to store these tender and moist bars in the refrigerator in a covered container. They'll last for five days when stored properly, and freeze well too. Wrap them tightly in foil if you want to freeze, then into a plastic bag.
More Gluten-Free Rhubarb Recipes: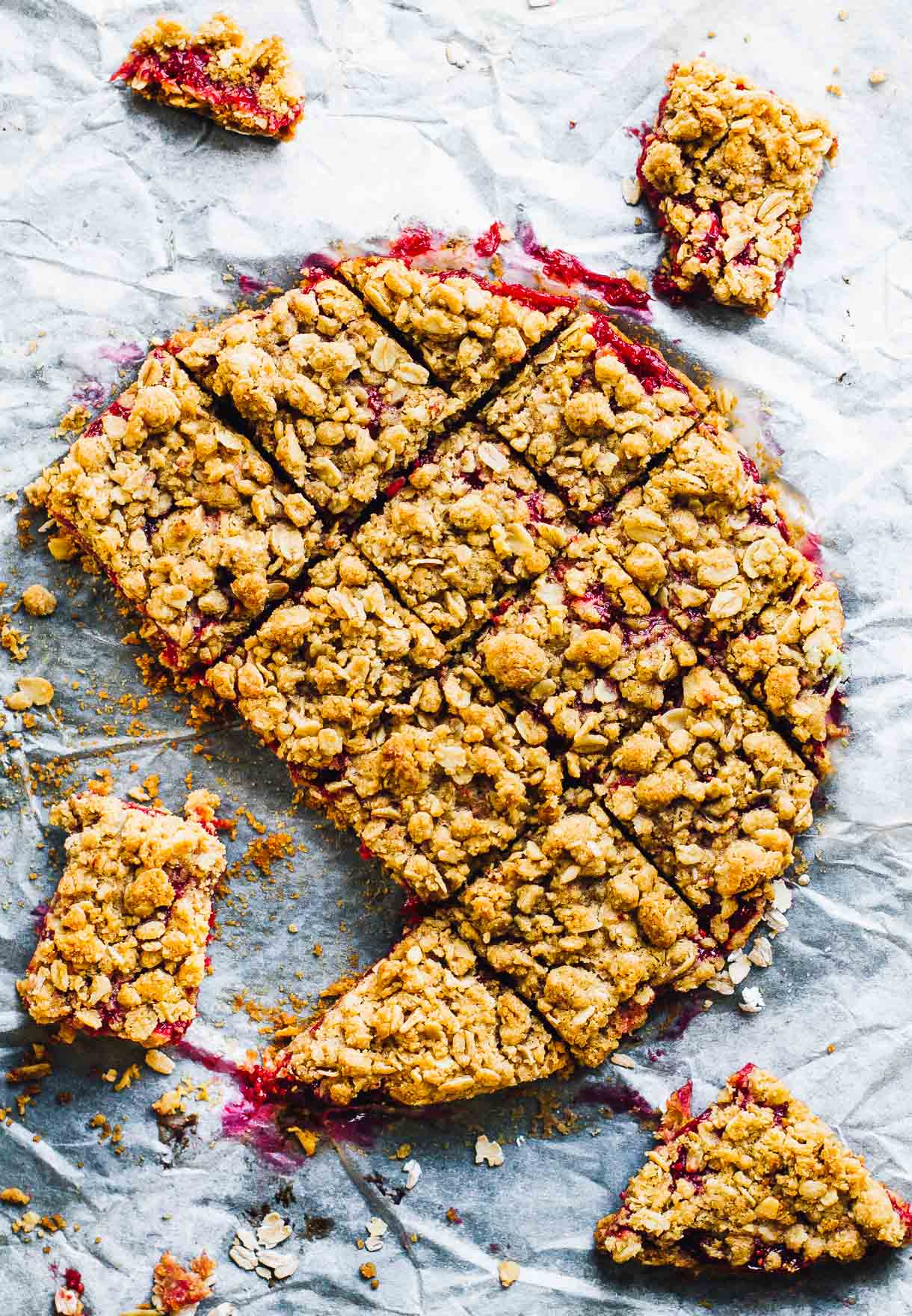 Compote:
2

cups

diced rhubarb (frozen or fresh)

(225 grams)

1 1/4

cups

organic raspberries (frozen or fresh)

(170 grams)

1/3

cup

+ 1 tablespoon raw cane sugar

zest and juice of one lemon

3

teaspoons

cornstarch or tapioca starch

1/2

teaspoon

vanilla extract
For the compote, combine rhubarb, raspberries, sugar, lemon zest and juice in a heavy bottom saucepan over medium heat. Bring to a hard boil, stirring, and let simmer for 10 minutes. Add cornstarch or tapioca starch, and stir to dissolve. Let cook for 3 minutes longer, until mixture has thickened slightly. Stir in vanilla. Remove from heat and let cool for 15 minutes.

Meanwhile preheat oven to 350 degrees F. In a large mixing bowl, whisk together oat flour, oats, brown sugar, tapioca starch, baking powder, sea salt and cinnamon. Stir in butter and mix well so that no white streaks remain.

Using the back of a spatula or spoon, firmly press a heaping cup of oat mixture into a parchment lined 8×8 baking pan. I find a spoon works really well to press it together and get it smooth.

Prick crust with fork a few times. Bake for 12 minutes, until crust is fragrant and lightly browned. Remove from oven and let cool for 10 minutes.

Top with 1 1/4 cups of rhubarb compote, then sprinkle the top with the rest of the oat mixture. Bake for additional 25-30 minutes, or until topping is browned. Set aside to cool, then refrigerate. Then cut. They taste best this way! And it gives them the best texture, firm and sturdy.