These soft gluten free rhubarb muffins are made with almond flour, easy to make in less than 40 minutes! No mixer needed, just a bowl and whisk. Rhubarb is folded into the batter, providing each bite with sweet, tart flavor that is complimented by coconut sugar.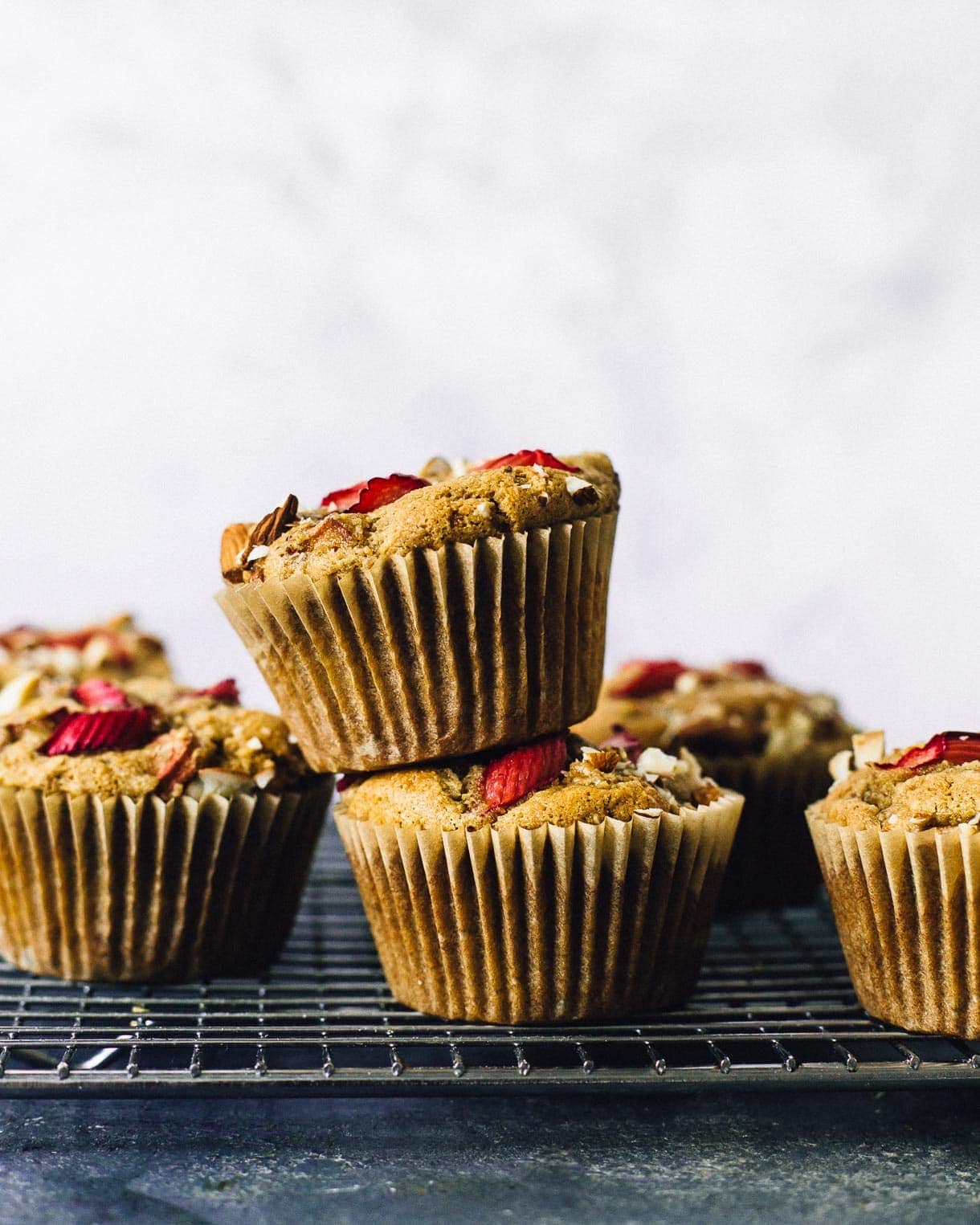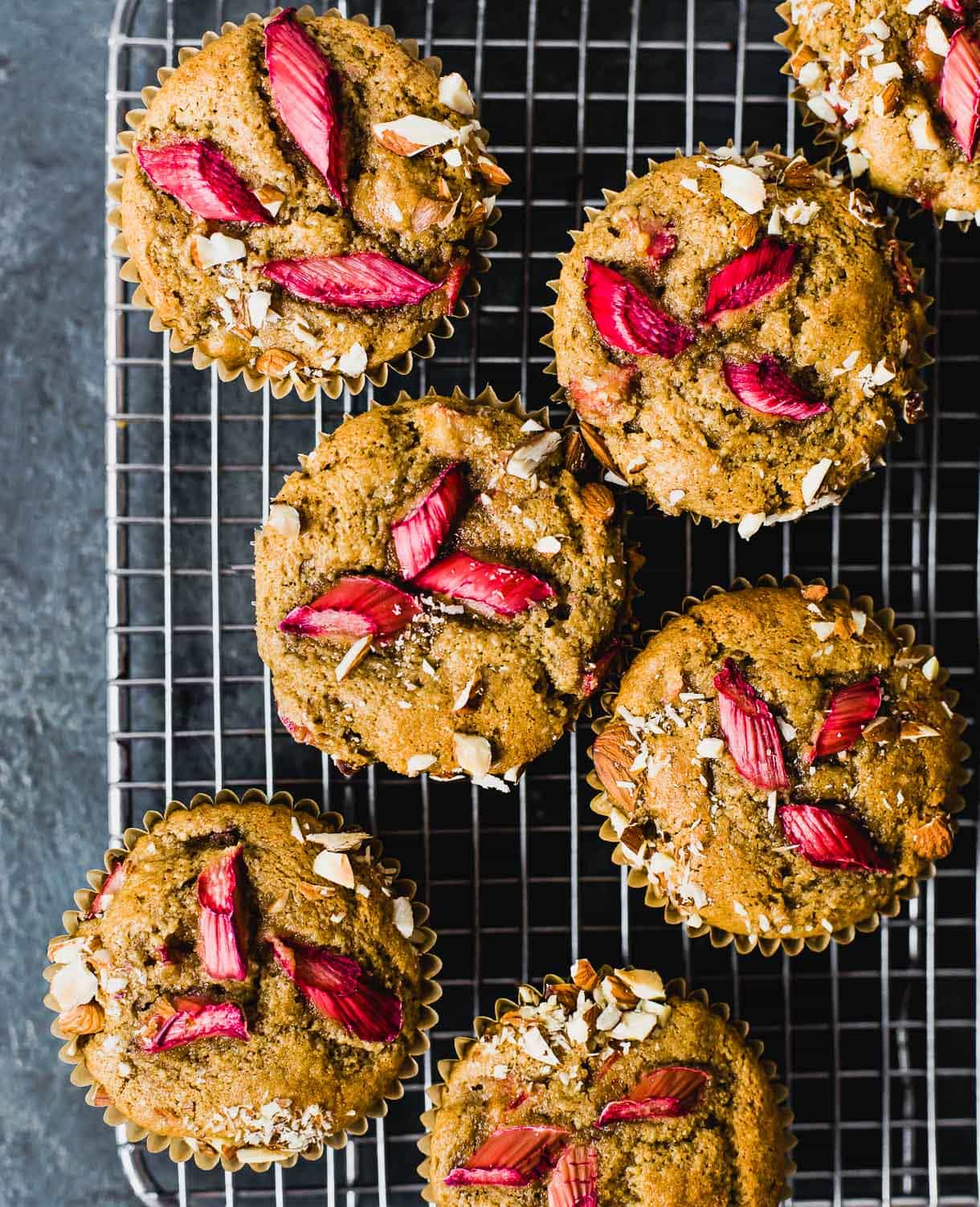 Thanks to Instagram, rhubarb is no longer a strange Midwestern child that "is too tart and too sassy". A blessing, because no one should be missing out on its glory. You've likely scrolled through your feed and stopped on an artistic, geometric tart, velvety rhubarb sauce for oatmeal, rhubarb syrup for drinks, and rhubarb cake that uses the lanky, magenta-red hues to create a show-stopping dessert.
And hopefully it inspired you to buy a bunch at your farmers market, even though it was a little foreign….
Making Gluten-Free Rhubarb Muffins
Because you're going to want to make a batch of these soft and tender Rhubarb Almond Flour Muffins. It's an easy recipe, no mixer required, and just 25 minutes in the oven to come to life, similar to my Moist Gluten-Free Blueberry Muffins! The rhubarb pairs up with two of my favorite natural sweeteners, coconut sugar and maple syrup, to bring it to its most flavorful height.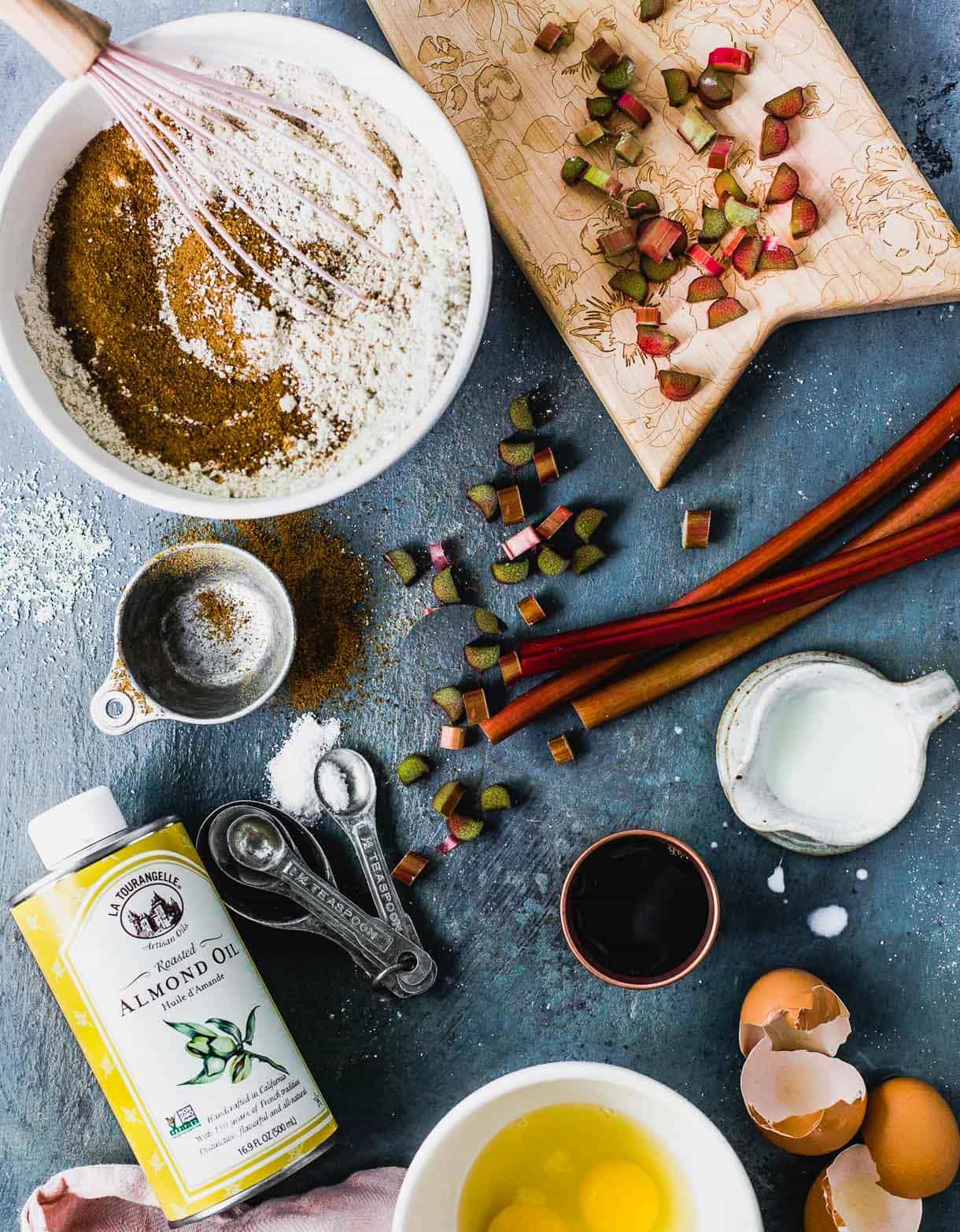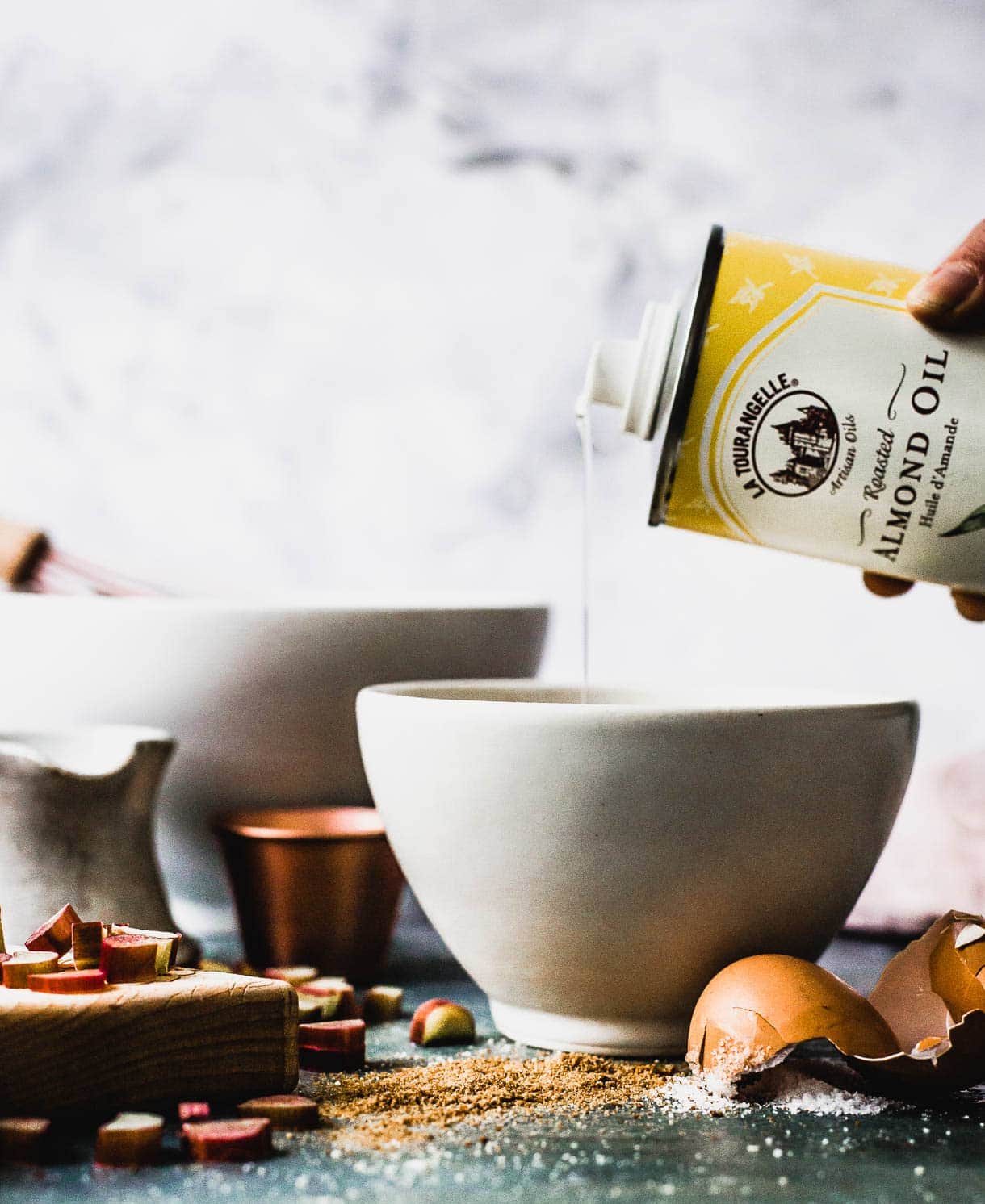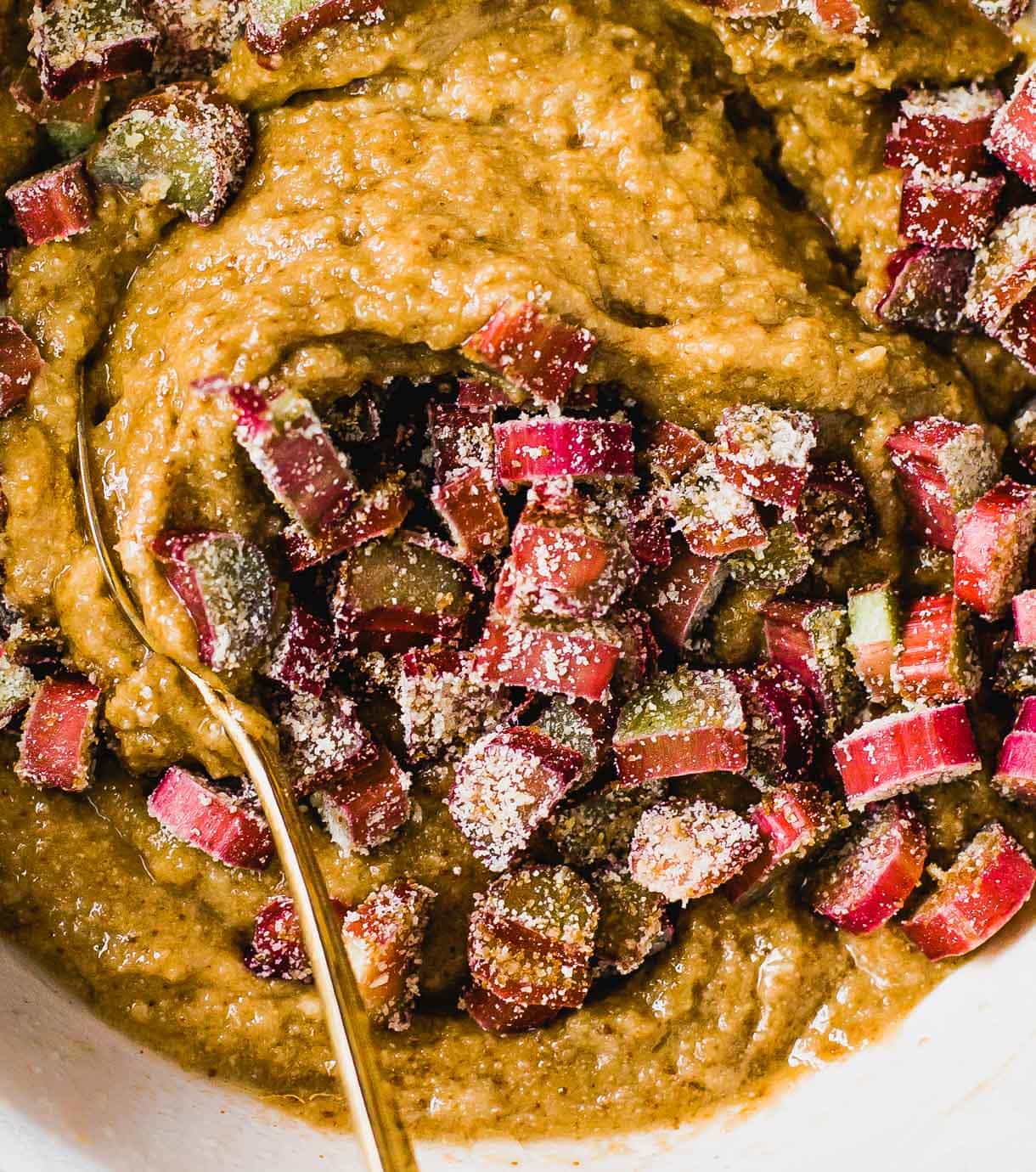 I've loved rhubarb since the first bite of my Mom's tangy meringue dessert, with shortbread crust and custard filling. I can picture the rhubarb patch that lined the single car garage of my childhood home. I can smell its earthiness. I can hear her telling me to go and pick 10 stalks for the rhubarb cake she was getting ready to bake.
When we looked at our now home in Wisconsin, and I saw that it had a flourishing rhubarb patch right outside the tiny shed in the backyard, I took it as another sign the home was meant for us.
Craving a breakfast kind of treat, I started testing gluten-free rhubarb muffins with the first harvest. The recipe is inspired by and adapted from my friend Sarah's Poppyseed Peach Muffins, who had the idea to use almond flour and oat flour to create the perfect texture in a muffin. I'll surely be making her peach variety later this summer!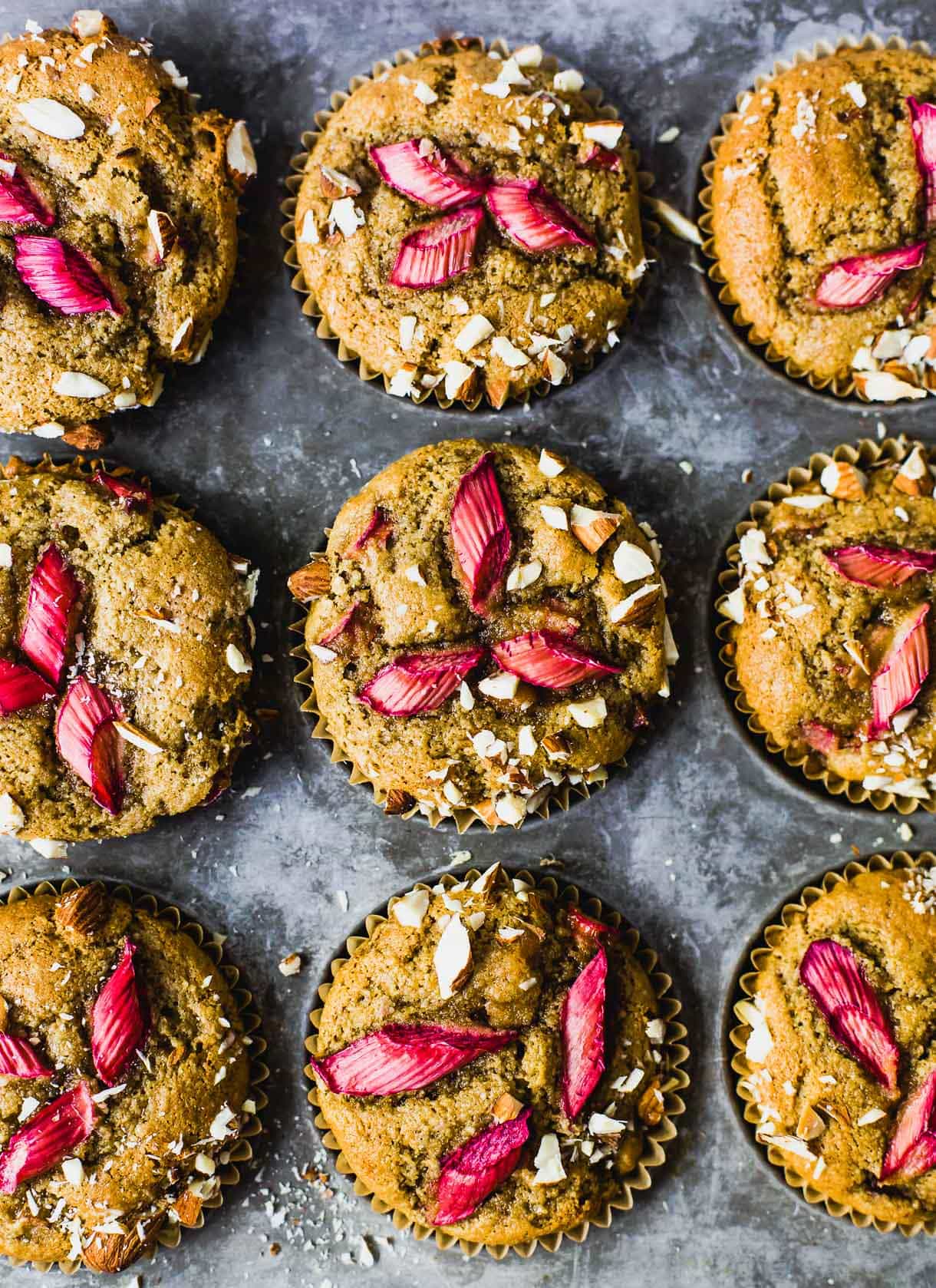 Instead of pairing the rhubarb with another fruit (like it often is) in this recipe, I wanted its unique taste to shine, while adding subtle hints of vanilla and nuttiness.
I used La Tourangelle's Roasted Almond Oil, which has an incredibly smooth flavor and richness that soften the tang of the rhubarb. And it keeps the muffins super moist. It's one of my favorite oils to use for baking!
Using rhubarb in muffins:
Rhubarb is both mixed into the batter, and arranged in a pattern on top, with a sprinkle of crushed almonds for crunch. As the muffins bake, the rhubarb turns soft and sweeter. I absolutely love them, any time of day.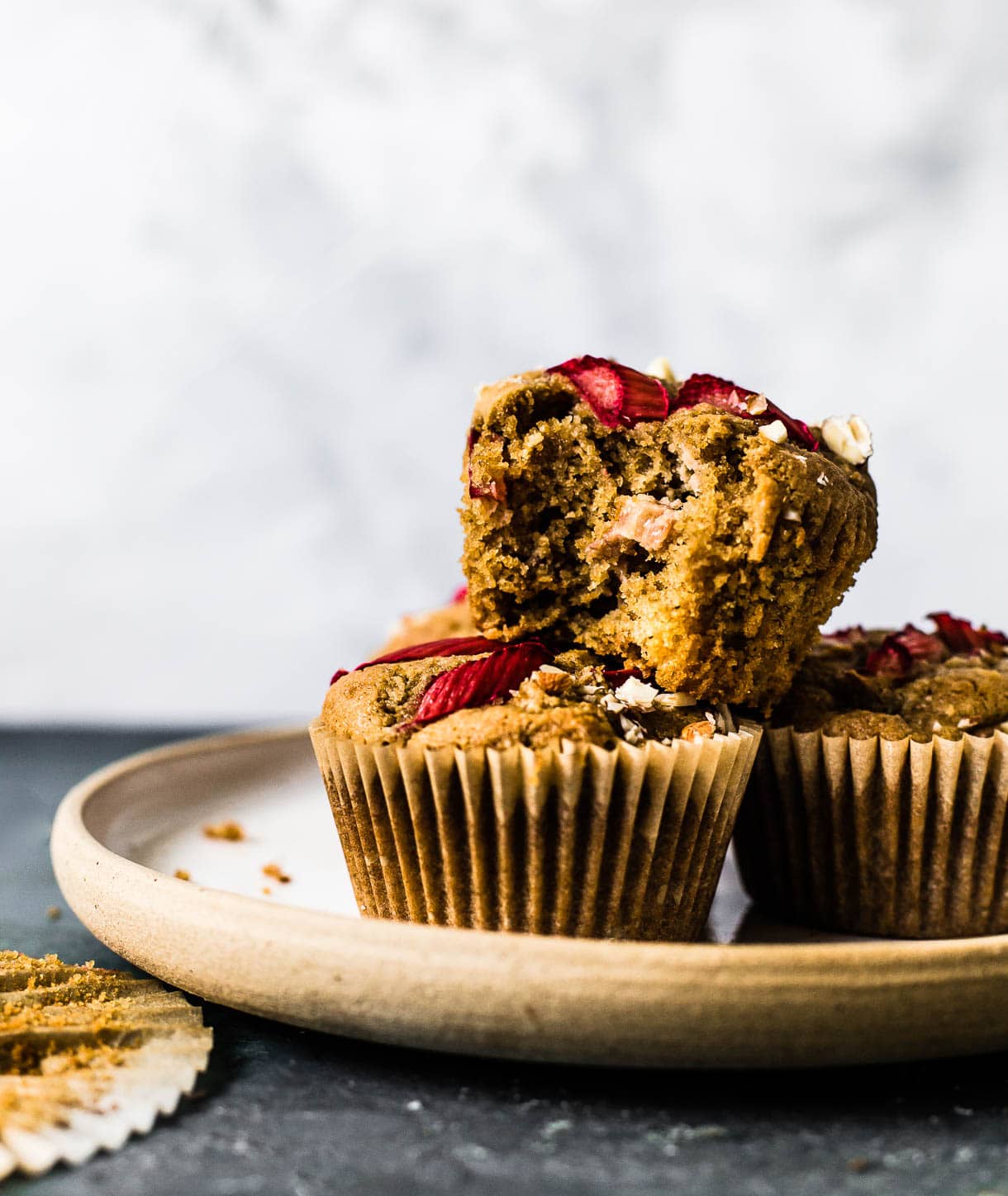 How do I store gluten-free muffins?
Place muffins in a covered container or kitchen bag, and cover them with a paper towel sheet. Then store in refrigerator. The paper towel absorbs the moisture that muffins give off, which keeps them from getting soggy and a weird film on top.
Can I freeze rhubarb muffins?
Yes, in fact I suggest it if you aren't going to eat all of the muffins within two days. They freeze extremely well, and stay at their best that way!
Can I halve this recipe?
Yes! I've halved this recipe successfully, and it will make 6 muffins. Perfect if you are a house of one or two.
More Gluten-Free Rhubarb Recipes: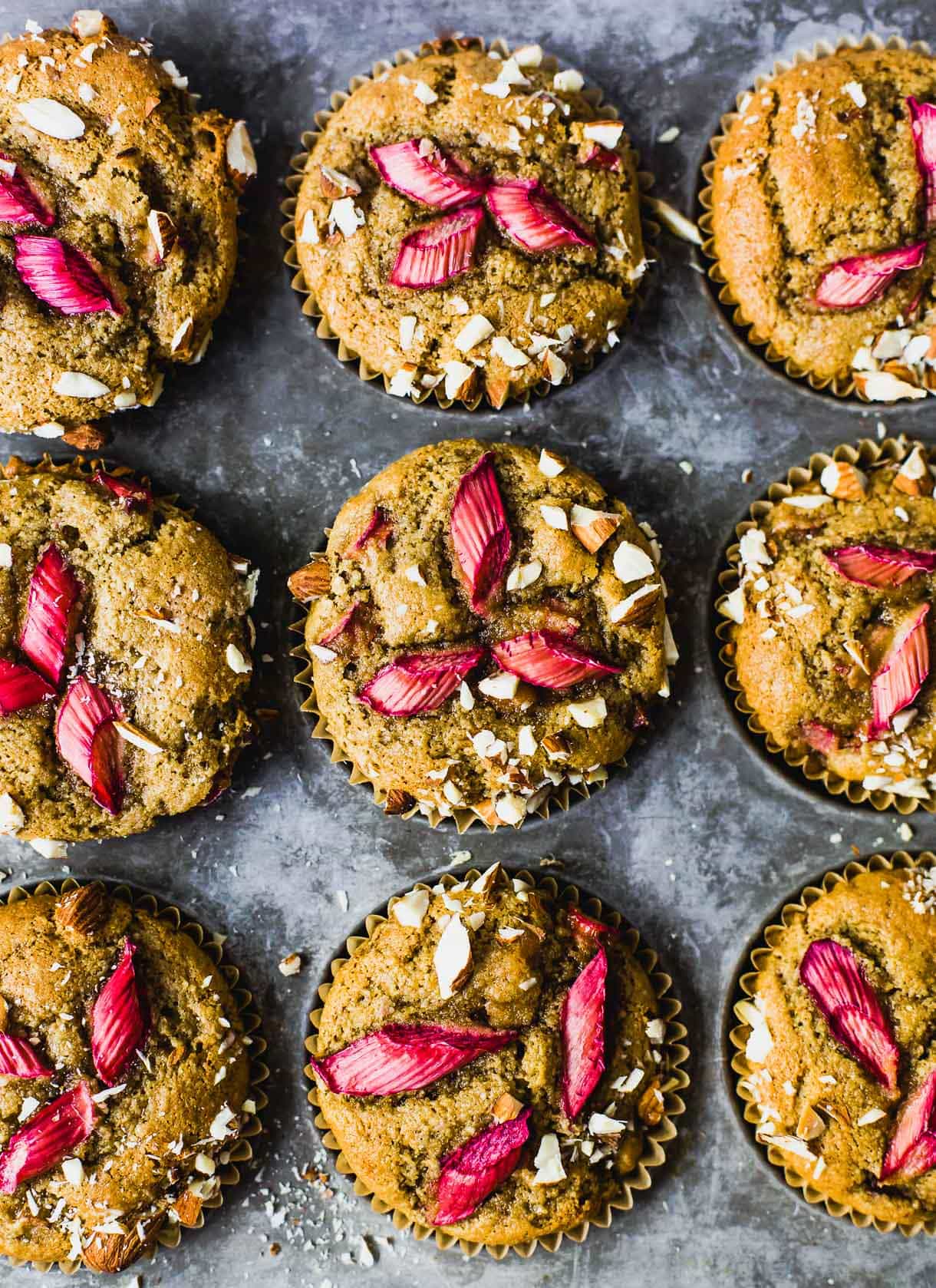 1 1/2

cups

(180 grams) finely blanched almond flour*

1

cup

(120 grams) oat flour*

2/3

cup

(100 grams) coconut sugar

1

teaspoon

baking powder

1/2

teaspoon

baking soda

1/2

teaspoon

sea salt

2

large eggs

1/4

cup

maple syrup

1/4

cup

milk

(2% or whole)

1 1/2

teaspoons

vanilla extract

1

cup

(100 grams) finely chopped rhubarb + 1 extra stalk for making the decoration on top

1/4

cup

chopped raw almonds
Preheat oven to 350 degrees F. Prepare a 12 cup muffin tin with liners.

Mix almond flour, oat flour, coconut sugar, baking powder, baking soda, and salt in a large bowl.

In separate bowl, whisk together eggs, maple syrup, milk, almond oil, vanilla.

Add wet ingredients to dry ingredients, and stir to combine until no flour streaks remain. Fold in rhubarb.

Use a large cookie scoop to add batter, almost near the top, of each liner.

Cut one inch diagonal pieces of rhubarb. Top each muffin with three pieces, in a triangle shape. Sprinkle with crushed almonds. Bake for 24-26 minutes, until toothpick comes out clean. Let cool on a wire rack.