These are the best gluten-free blueberry muffins you'll ever eat. With a sugar crusted lid, soft and moist crumb, and jammy blueberries in each bite. Each muffin rises tall and lofty! They come together in 20 minutes with just a bowl and a whisk, and are perfect in every way. You can use fresh or frozen blueberries, both yield fabulous results. The original recipe comes from Sarah Kieffer's cookbook, 100 Morning Treats.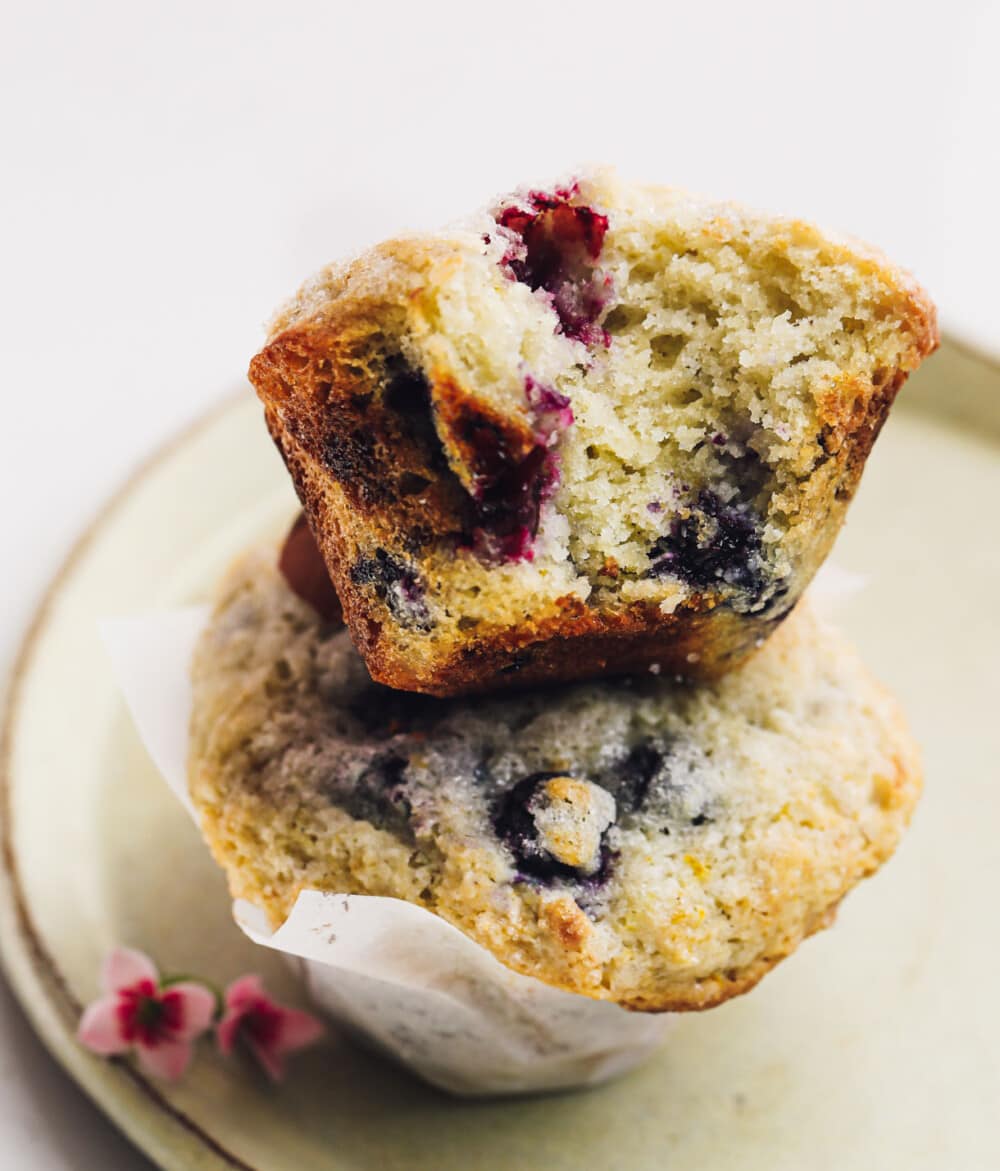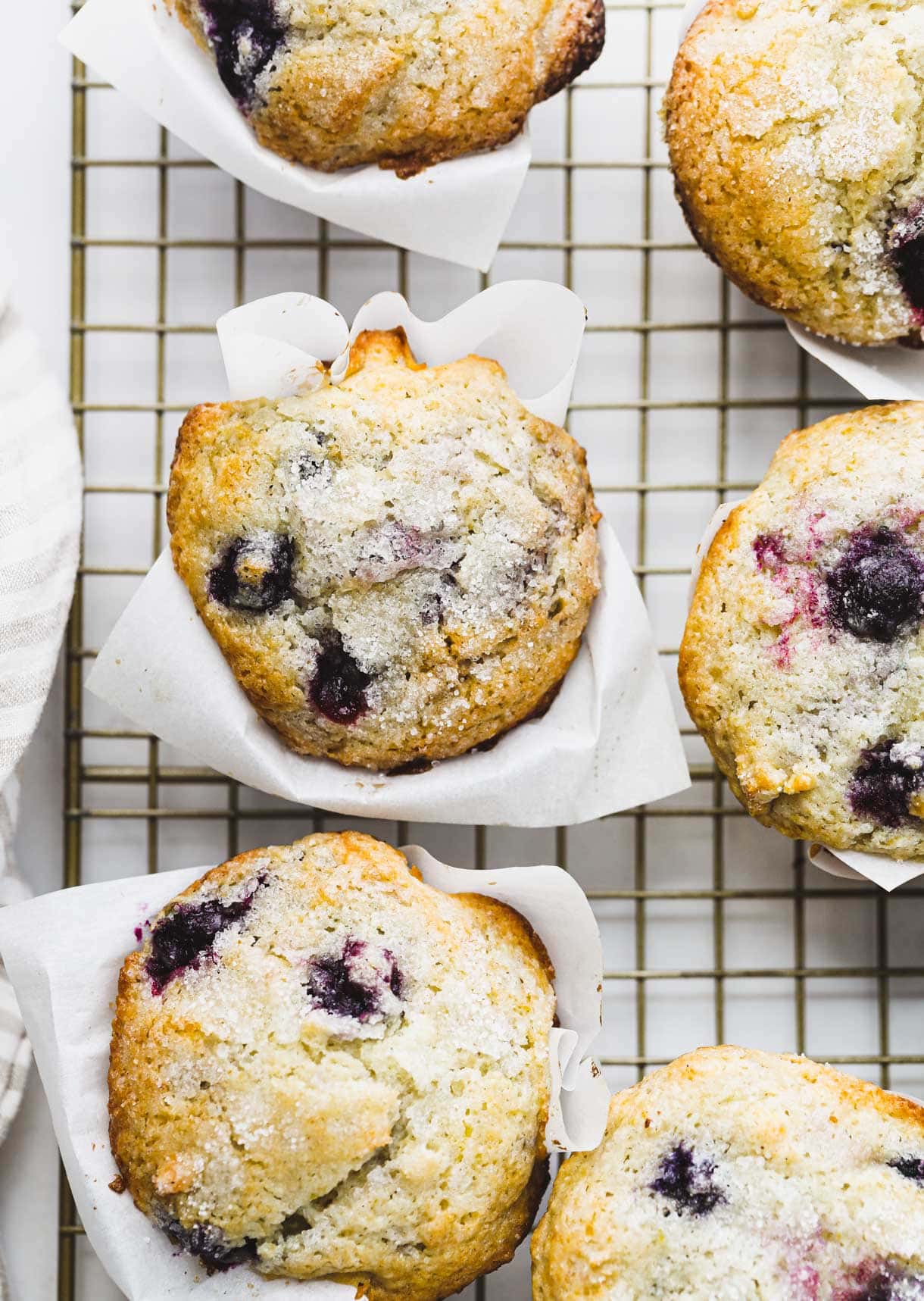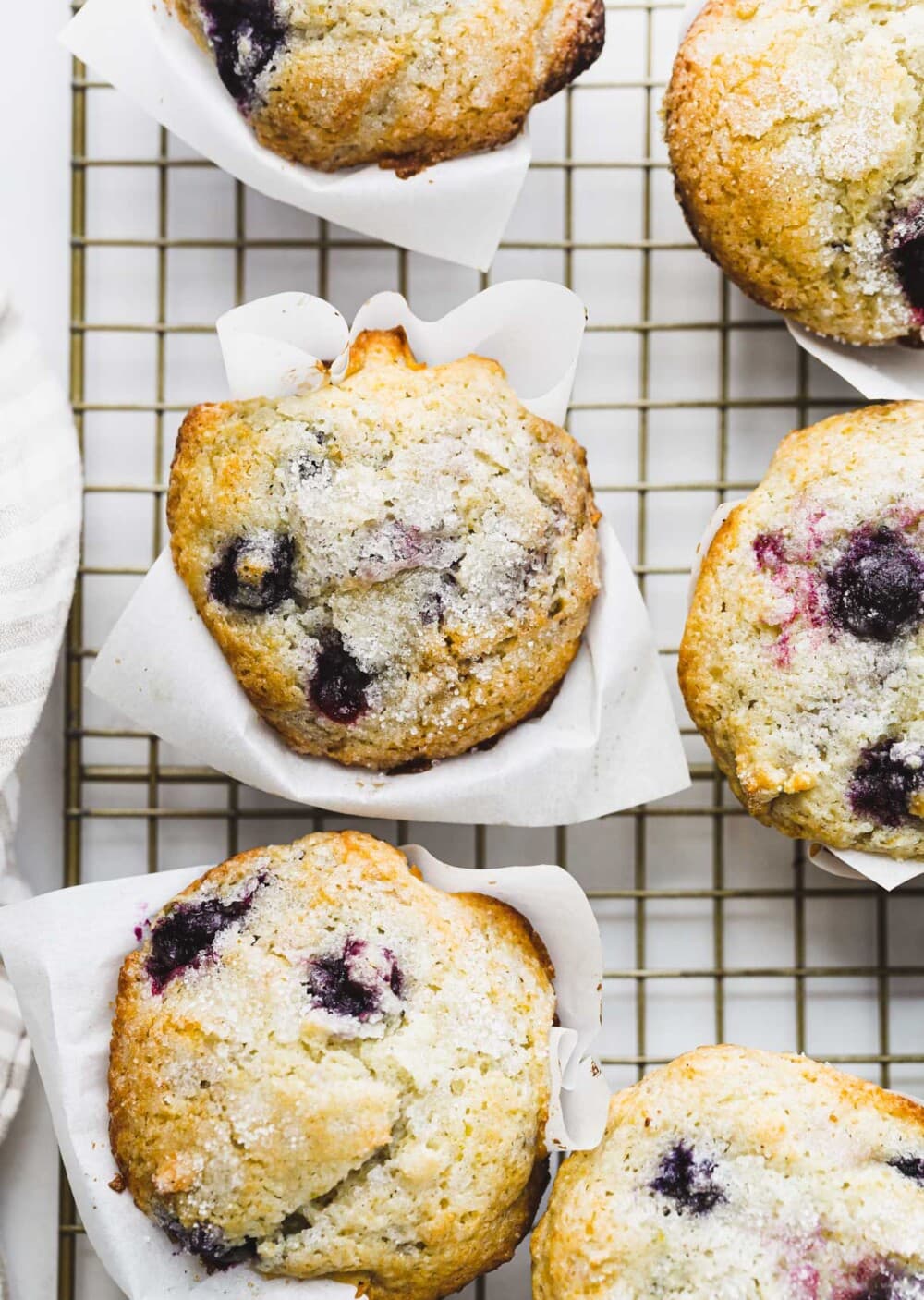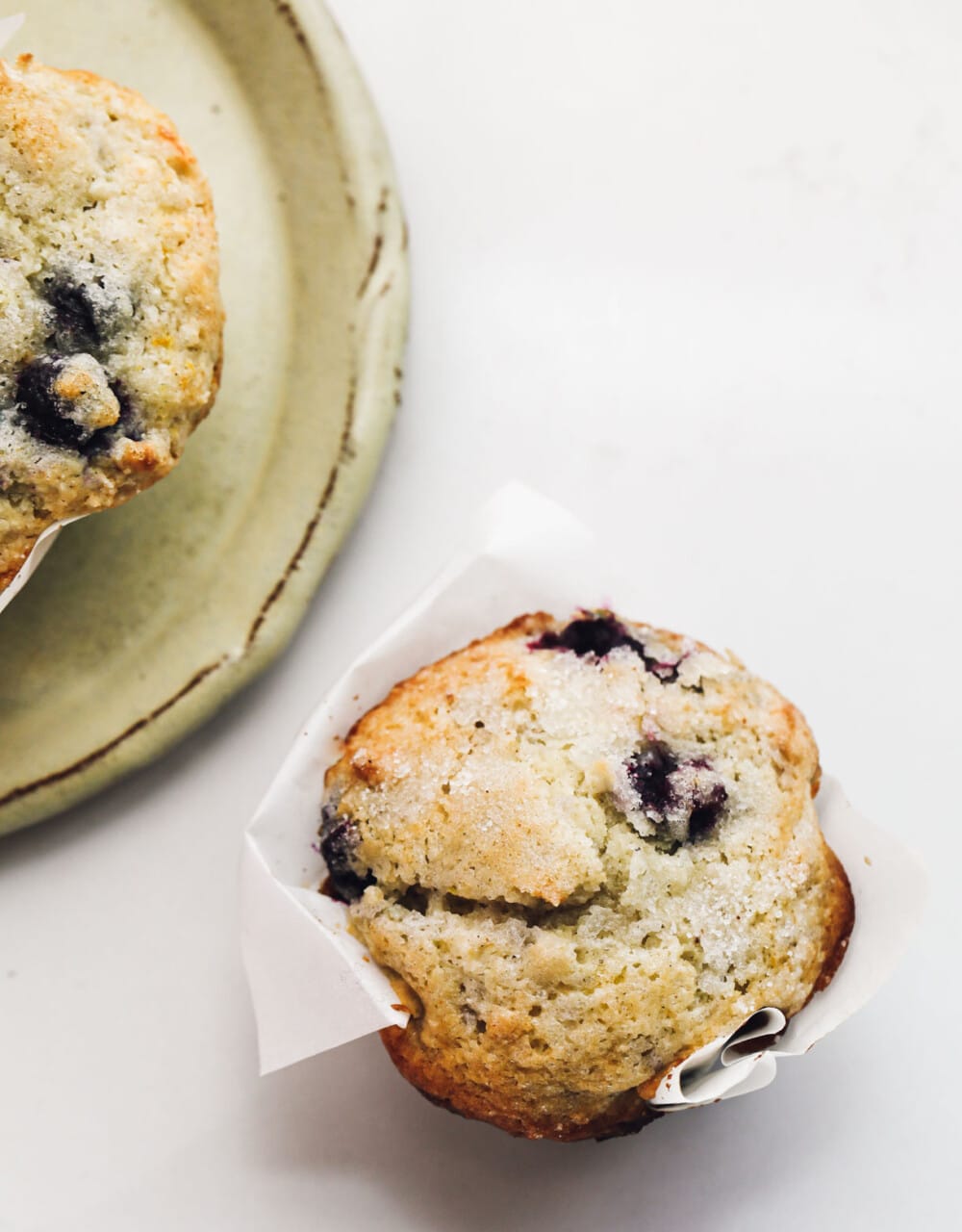 My Search for the Perfect Gluten-Free Blueberry Muffin is over.
And I think yours will be too.
Each one of these crunchy, sugar topped Blueberry Muffins is bursting with just the right amount of fruit, is sweet and moist, brightened with lemon zest. Their tall and lofty texture is everything you've dreamed of, with the crystals of sugar creating a lid for the soft, tender cake below. The blueberries turn jammy, and their tartness mellows. All around, the very best blueberry muffin I've ever eaten.
I take zero credit, as the incredibly talented Sarah Kieffer is the genius behind this recipe, which I'm excited to share a gluten-free version with you today in celebration of her new cookbook, 100 Morning Treats. I've loved Sarah's work for over 10 years, and am humbled to call her a friend as well. Her 100 Cookies cookbook is my go-to for all things cookies and has a permanent spot in my kitchen, stained and tattered from so much use. And I have no doubt 100 Morning Treats will be the same! She worked on perfecting this blueberry muffin recipe for years, and after one bite, you'll know she perfected it.
Sarah reminds me of a musical artist who puts out hit after hit. Her recipes are never a miss, the ones I can count on working in my kitchen and having unique, but familiar flavor combinations that inspire me to bake. Other recipes from the book that I'm excited to make include Creamy Jammy Coffee Cakes, Chocolate Chip Sour Cream Bread, Rhubarb Cream Cheese Swirl Muffins, and Apricot White Chocolate Overnight Scones.
How I Made This Recipe Gluten-Free
I only made a few changes to Sarah's recipe in order to make these muffins gluten-free.
Bob's Red Mill 1-1 Gluten-Free Flour never lets me down when using in place of regular all-purpose flour so that is the base I used. One of the thing that sets it apart from other gluten-free mixes is that a main ingredient is sweet rice flour, which is a champion in gluten-free baking. It helps bind the ingredients together, and is milled very fine so there is zero grittiness compared to something like rice flour. Sweet rice flour helps create a bouncy, light texture, and prevents baked goods from crumbling. It also has a neutral flavor, so doesn't impart off-putting notes compared to something like chickpea or millet flour.
Because gluten-free grains naturally have a little sweetness to them, I decreased the sugar in the recipe by 15 grams. It was perfect at this amount. Don't decrease by any more or they won't have the same delicious flavor, or texture.
Sarah calls for buttermilk in the recipe, which I don't usually have on hand. Lemon juice is also an ingredient, so to make a faux buttermilk I simply mixed whole milk and the lemon juice together.
The original recipe calls for sour cream, but I have used both sour cream and whole milk greek yogurt with the same success.
Main Ingredients for Gluten-Free Blueberry Muffins:
Bob's Red Mill 1-1 Gluten-Free Flour: (It's in the blue bag. I prefer this blend for gluten-free baking, it produces a texture nearly identical to all-purpose flour.)
Almond flour: This creates an excellent, tender crumb.
Whole milk
Blueberries, fresh or frozen (I used frozen with great results.)
Lemon zest and juice
Eggs
Greek yogurt or sour cream
Oil
Butter
Granulated sugar
The Secret to Tall and Fluffy Gluten-Free Muffins:
This recipe uses a few tricks to make the muffins tall and lofty like you'd expect from a bakery!
Resting the batter for 30 minutes to an hour allows the flours to absorb some of the moisture, giving the structure needed to result in tall, domed muffins. I do this for my Gluten-Free Rhubarb Muffins and Gluten-Free Pumpkin Muffins as well.
Rather than filling each muffin tin, leaving one open muffin cup in between allows the muffins to have enough room to expand and achieve beautiful round tops, along with better air circulation for even baking.
Fill the muffin cups liberally. Most people are used to making cupcakes, where you only fill the cups 2/3 full. With muffins, you want to fill the cup all the way, mounding just slightly above the lip.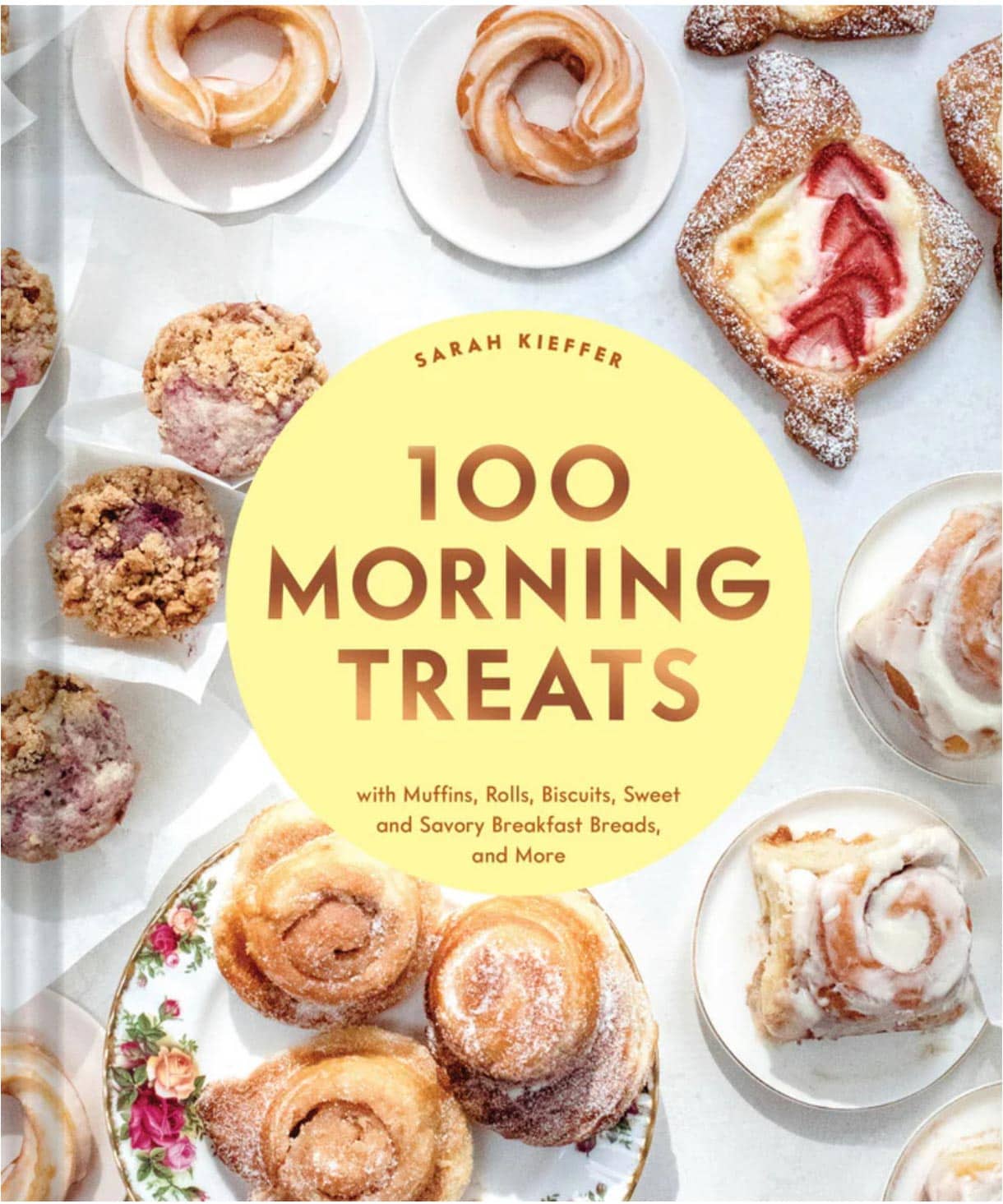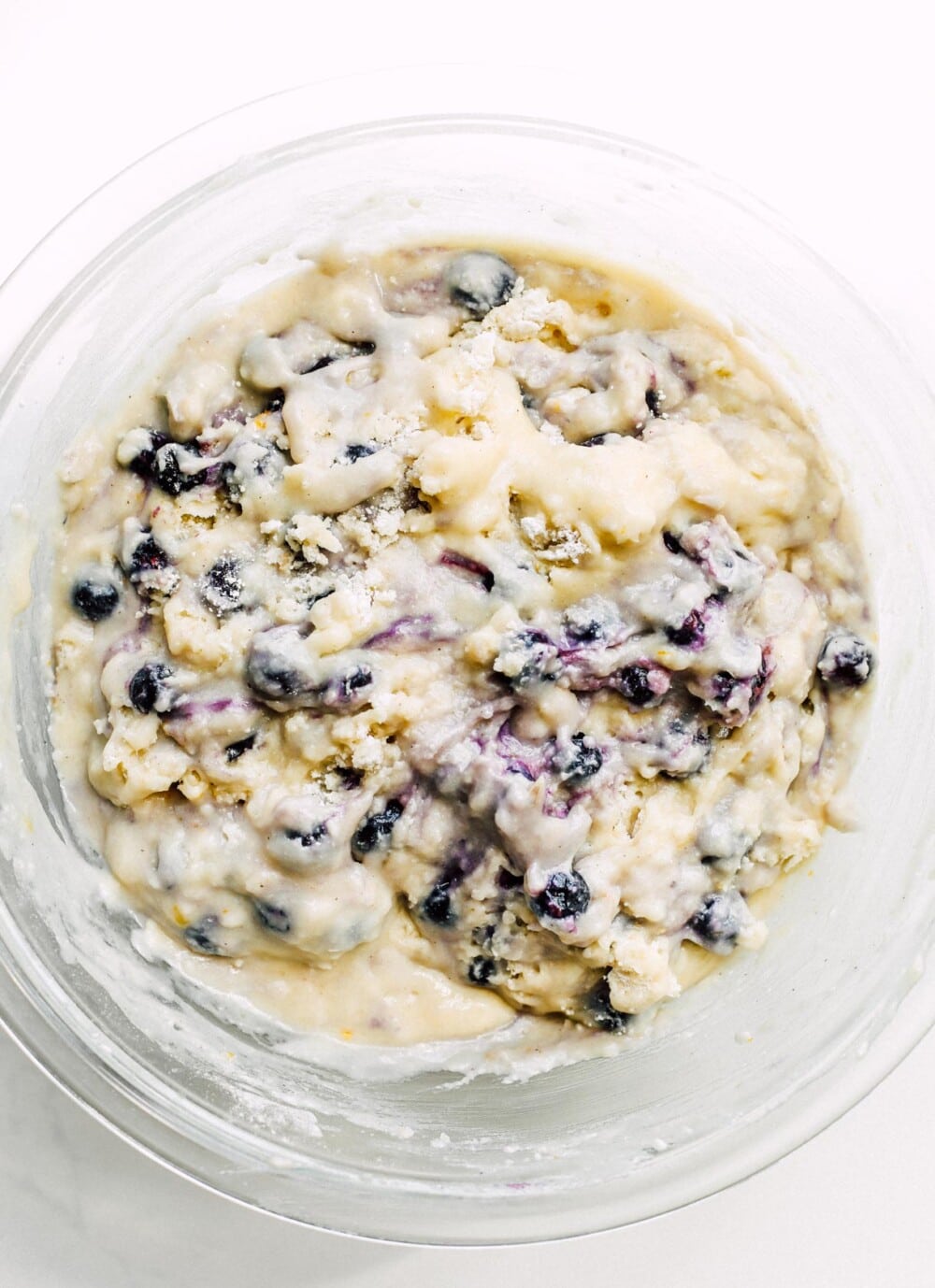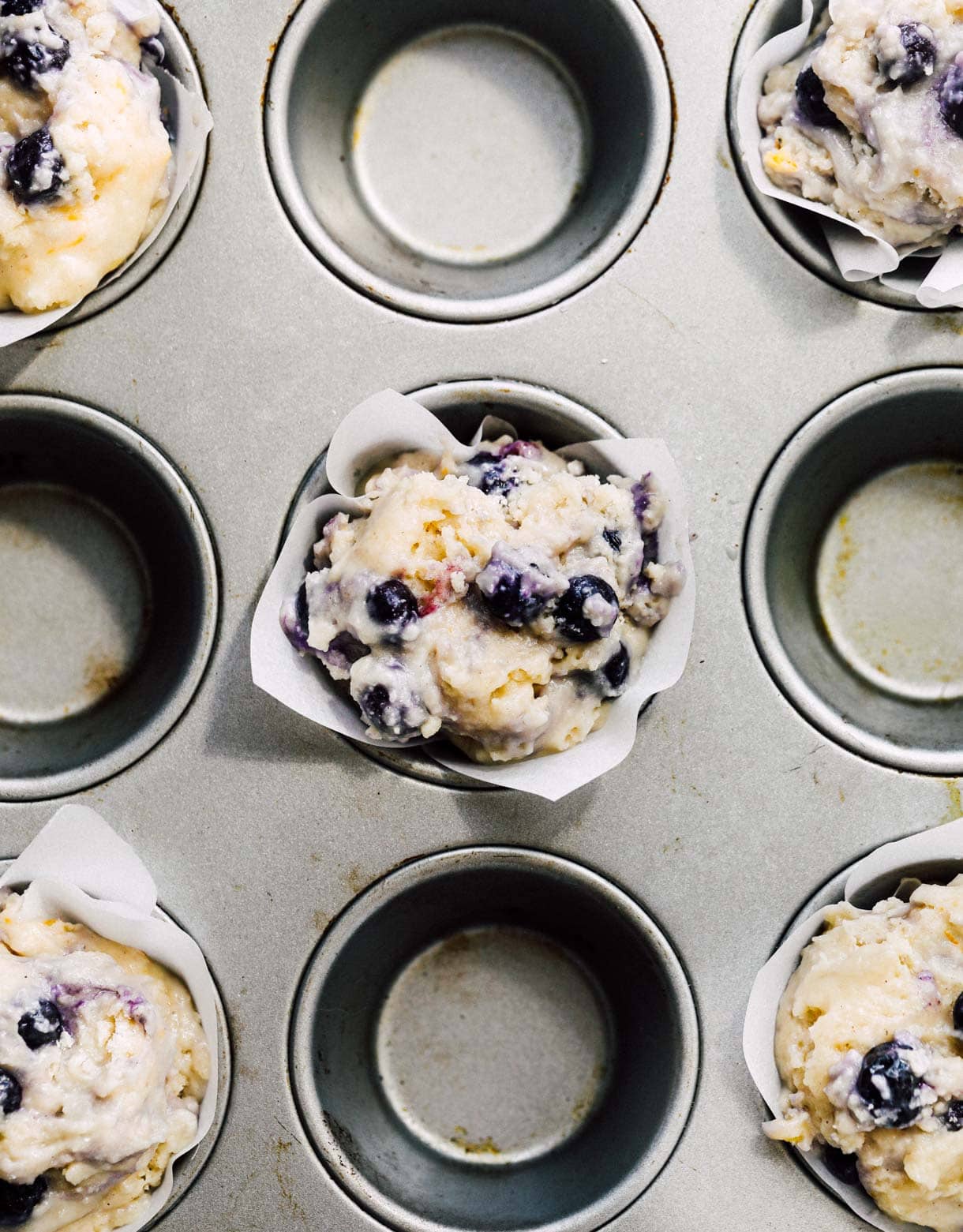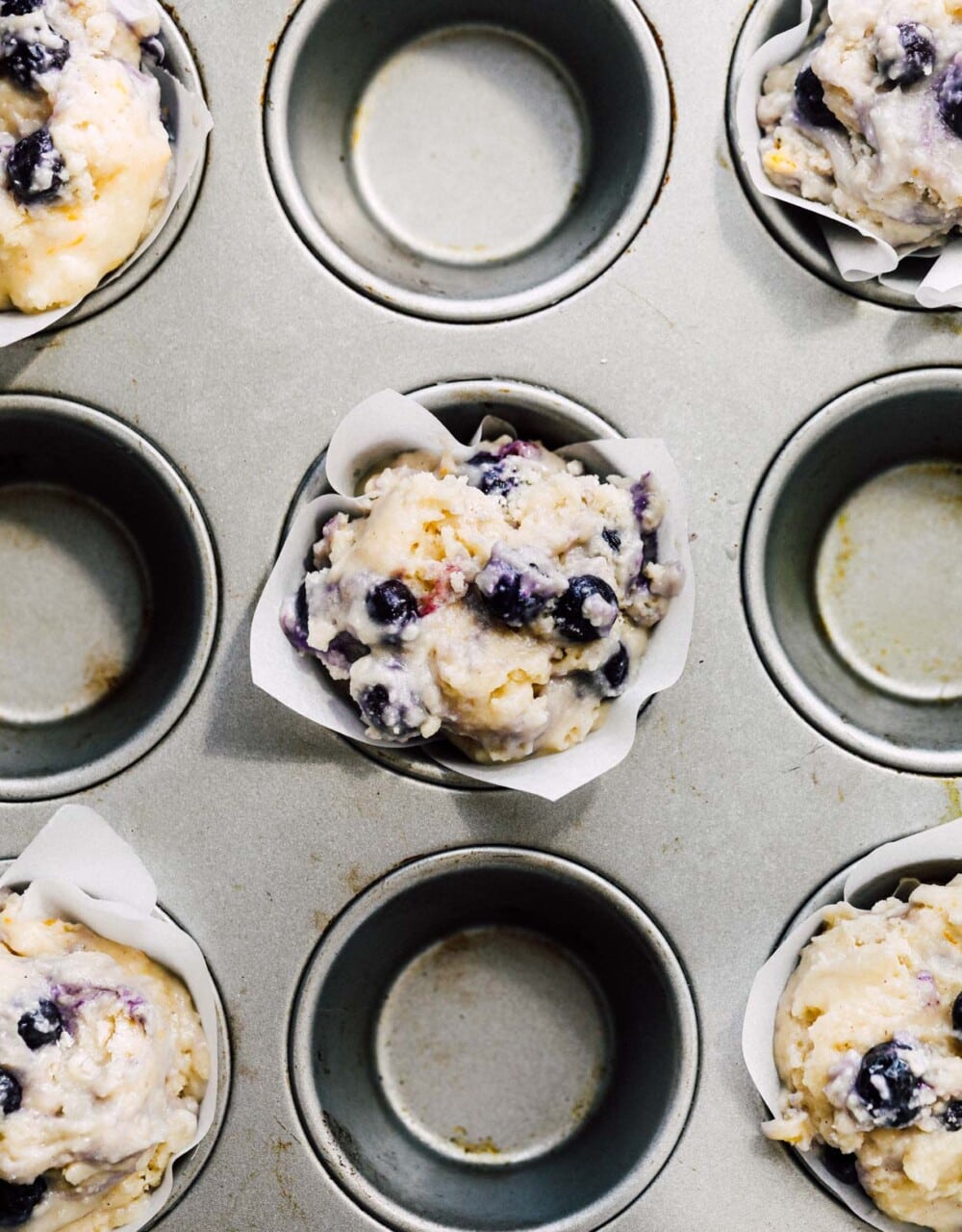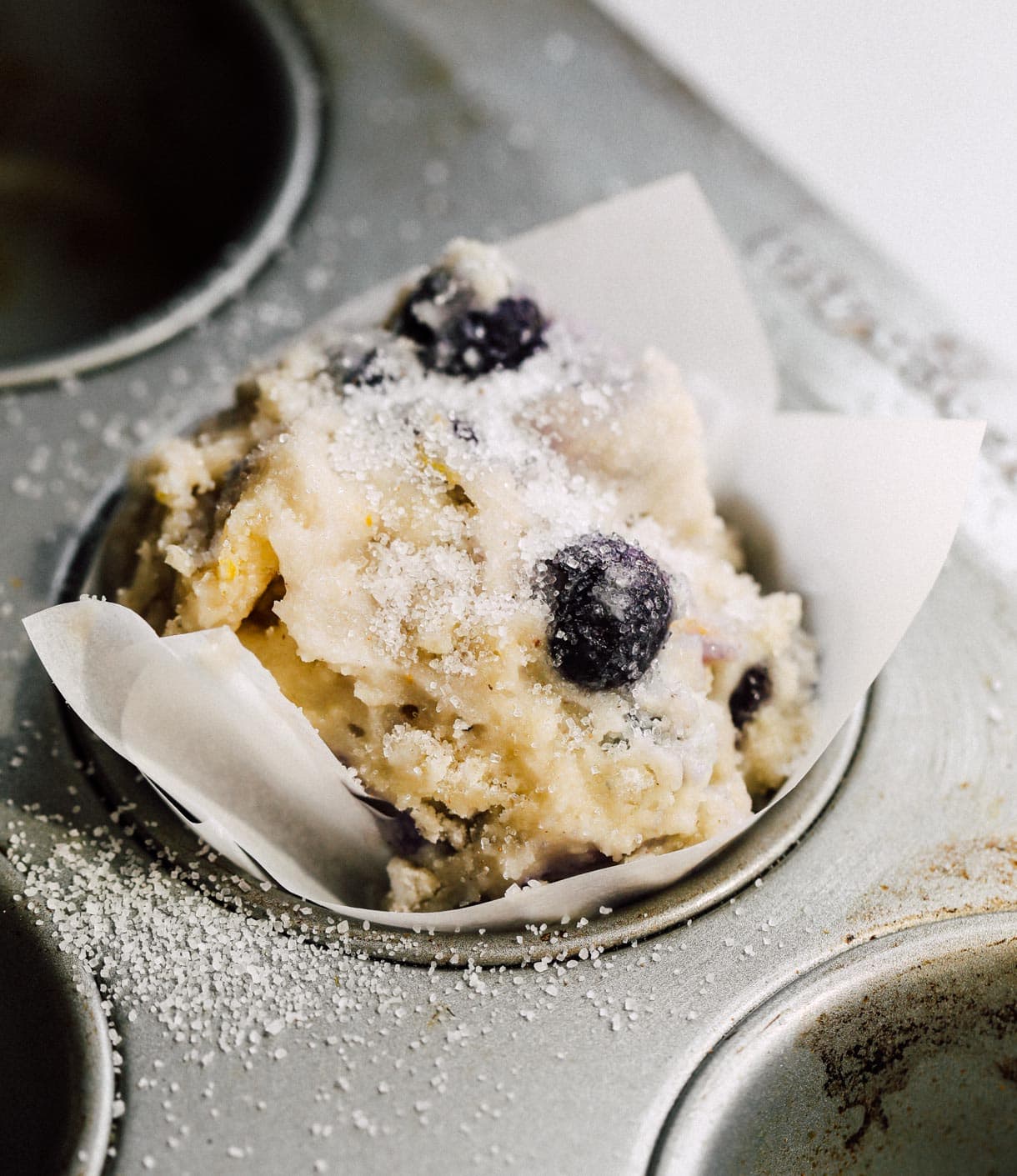 Why I use weight measurements instead of cups for gluten-free baking
When it comes to baking, weighing your ingredients is much more accurate than using volume measurements like cups. If you've ever had a cake turn out too dense, too wet, or anything other than expected, it could because of how you measured your flour. Not everyone uses a measuring cup the same way, and not every flour weighs the same amount.
How to Store Gluten-Free Blueberry Muffins:
I have found that storing muffins in the refrigerator in a sealed container or plastic bag lined with a paper towel helps capture extra moisture that may form on the top of the muffins, while ensuring the muffins stay fresh. When you'd like to eat one, reheat an individual muffin in the microwave for 15 seconds and they'll be just as delicious as the day you made them.
Muffins also freeze extremely well. Line the muffins on a baking sheet and let them freeze individually, then put in a freezer safe bag. When you want to eat one, take out of freezer bag and reheat for 30-45 seconds in the microwave, or until the middle is warm.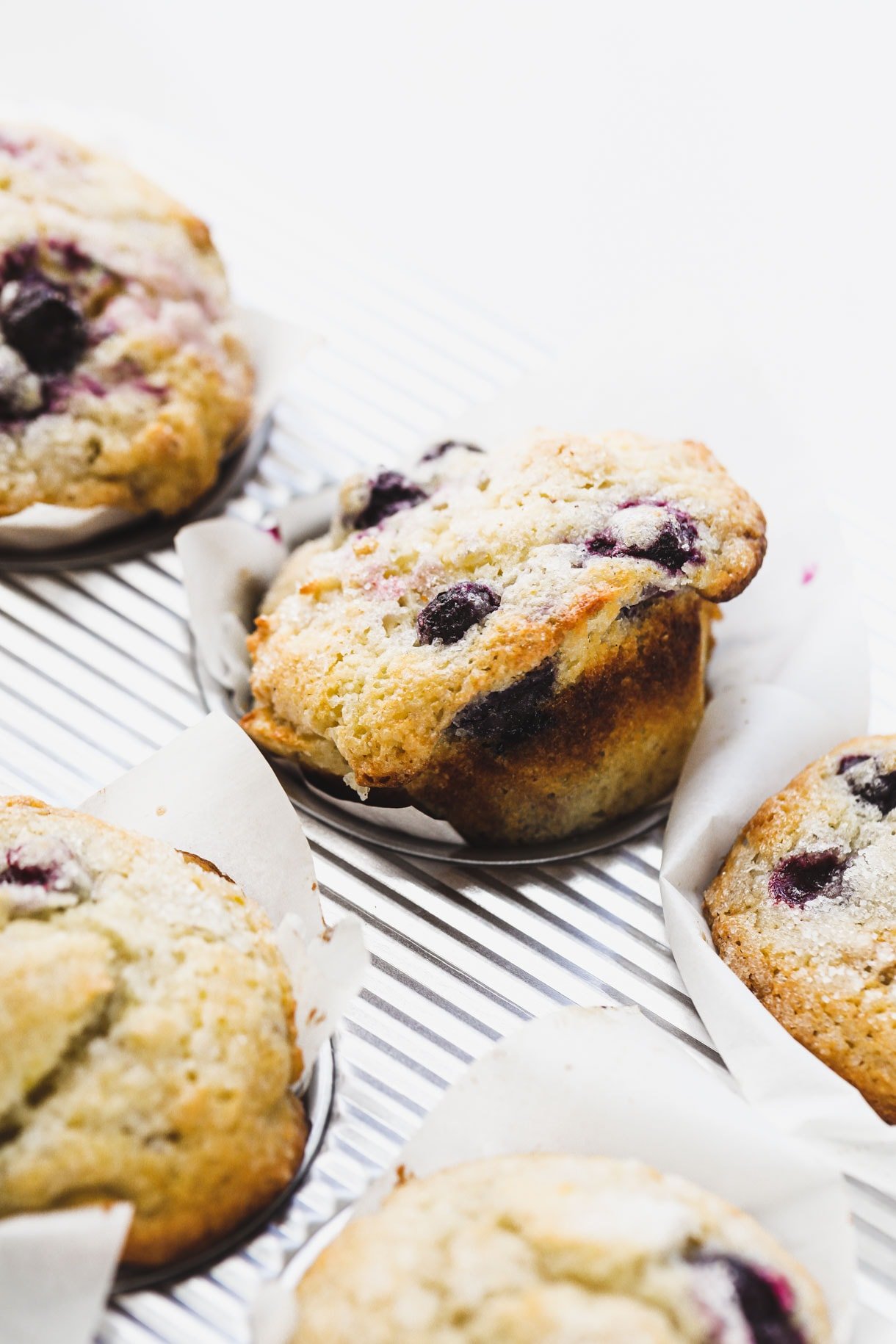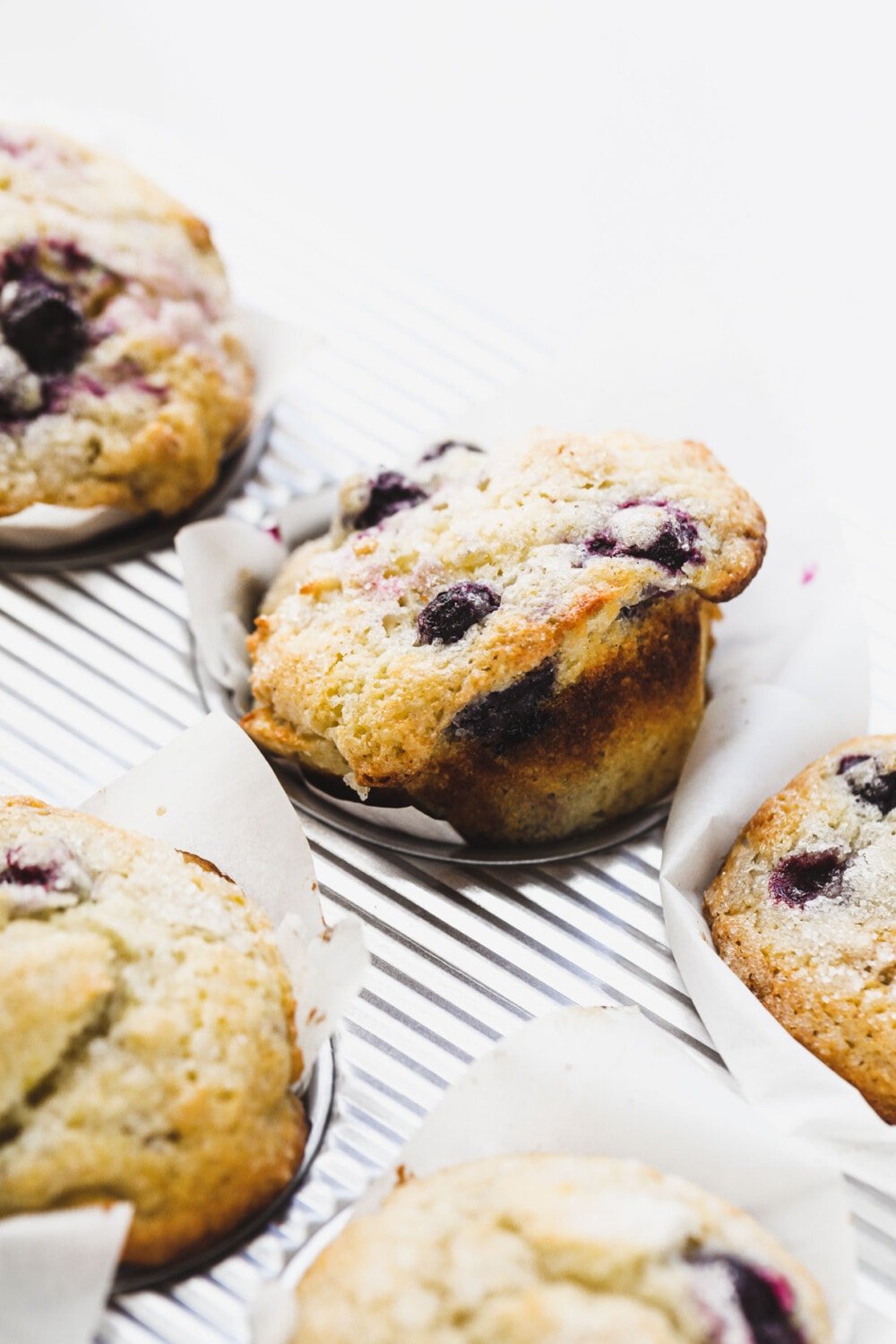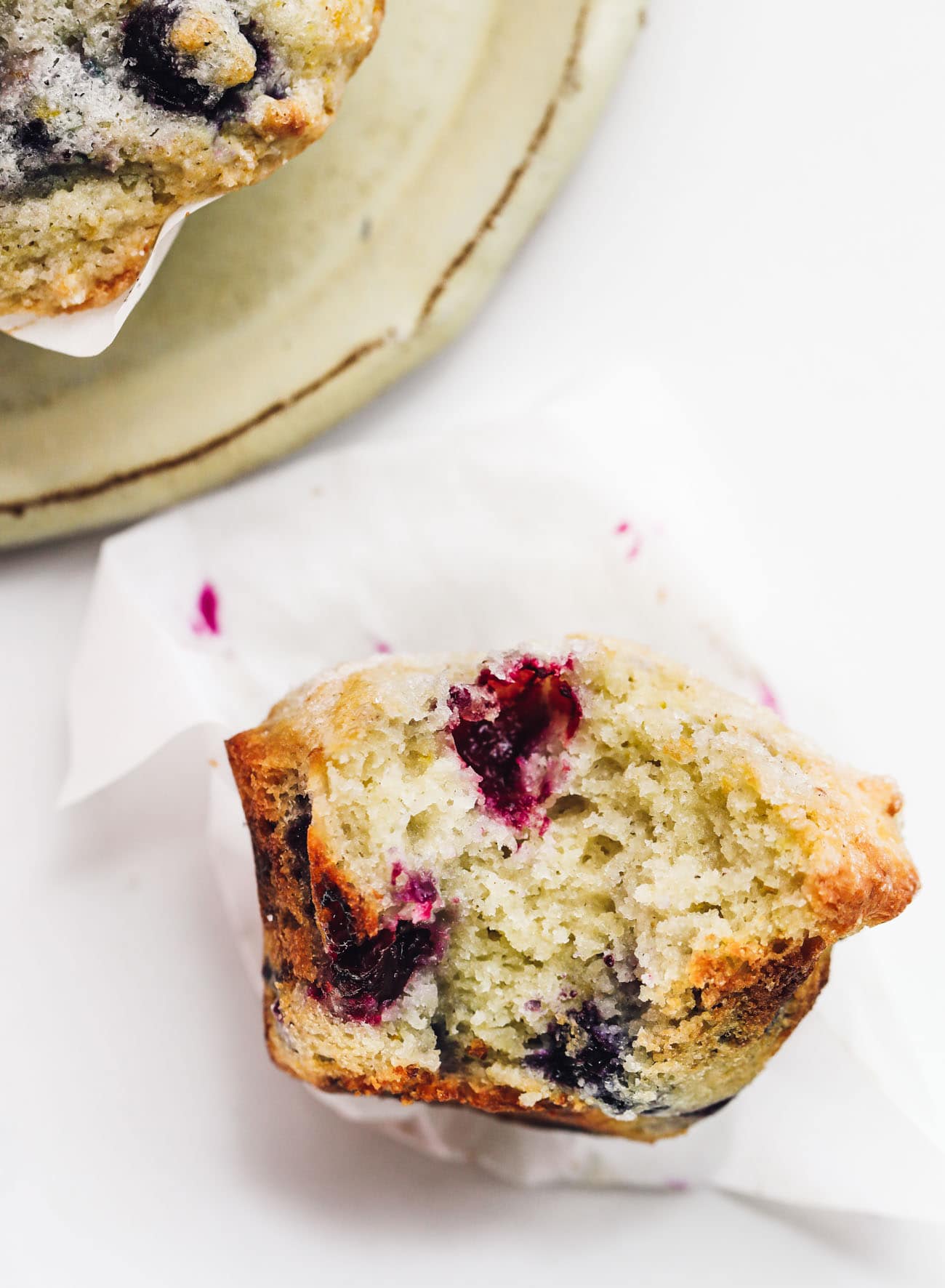 More Gluten-Free Muffin Recipes:
3/4

cup

whole milk,

room temperature

1

tablespoon

lemon juice

284

grams

Bob's Red Mill Gluten-Free 1-1 Flour

in the blue bag (you can also use the same amount of regular all-purpose flour if you are not gluten-free)

50

grams

finely blanched almond flour

2

teaspoons

baking powder

1/4

teaspoon

baking soda

1

teaspoon

fine salt

1

teaspoon

lemon zest

185

grams

granulated sugar

5

tablespoons

(70 grams) unsalted butter, melted

1/3

cup

(75 grams) sunflower or canola oil

1/4

cup

(60 grams) whole milk greek yogurt (or sour cream)

2

large eggs,

room temperature

1

teaspoon

pure vanilla extract

7 1/2

ounces

fresh or frozen blueberries

extra sugar for topping
Stir together the milk and lemon juice. Set aside to curdle (this is mimicking buttermilk).

Thoroughly grease top of muffin pan and cavities, or use muffin liners.

In a large bowl, whisk together the flour, almond flour, baking powder, baking soda, salt, and lemon zest. Make a well in the center.

In a large bowl, whisk together the sugar, milk, melted butter, oil, yogurt, eggs, and vanilla until completely combined. Pour into the well of the dry ingredients and gently mix until almost all combined. Fold in the blueberries until just incorporated, as to not overwork the batter.

Fill every other muffin cup (If you have a 12 cup muffin tin you will fill 6 of them. This helps the muffins to rise tall.) to the lip, full with batter. The batter should mound slightly. Sprinkle 1 teaspoon sugar over each muffin (don't skip this!). Preheat oven to 375 degrees F (we wait to preheat so that batter can rest).

When oven is ready, bake until the muffins are light golden brown and toothpick comes out with a few crumbs, rotating the pan halfway through baking, 17 to 20 minutes. Let the muffins cool in the tin for 5 minutes, then gently remove them to a wire rack. Repeat with remaining batter.