Soft and moist gluten-free pumpkin muffins with a crisp cinnamon sugar top! Plus you'll learn all the secrets to tall and lofty gluten-free muffins. Perfectly spiced with cinnamon and cardamom for lovely warm flavors that don't overpower the pumpkin. These pumpkin muffins are easy to make, no mixer needed. And they make a small batch of six muffins that can easily be doubled, or kept as is.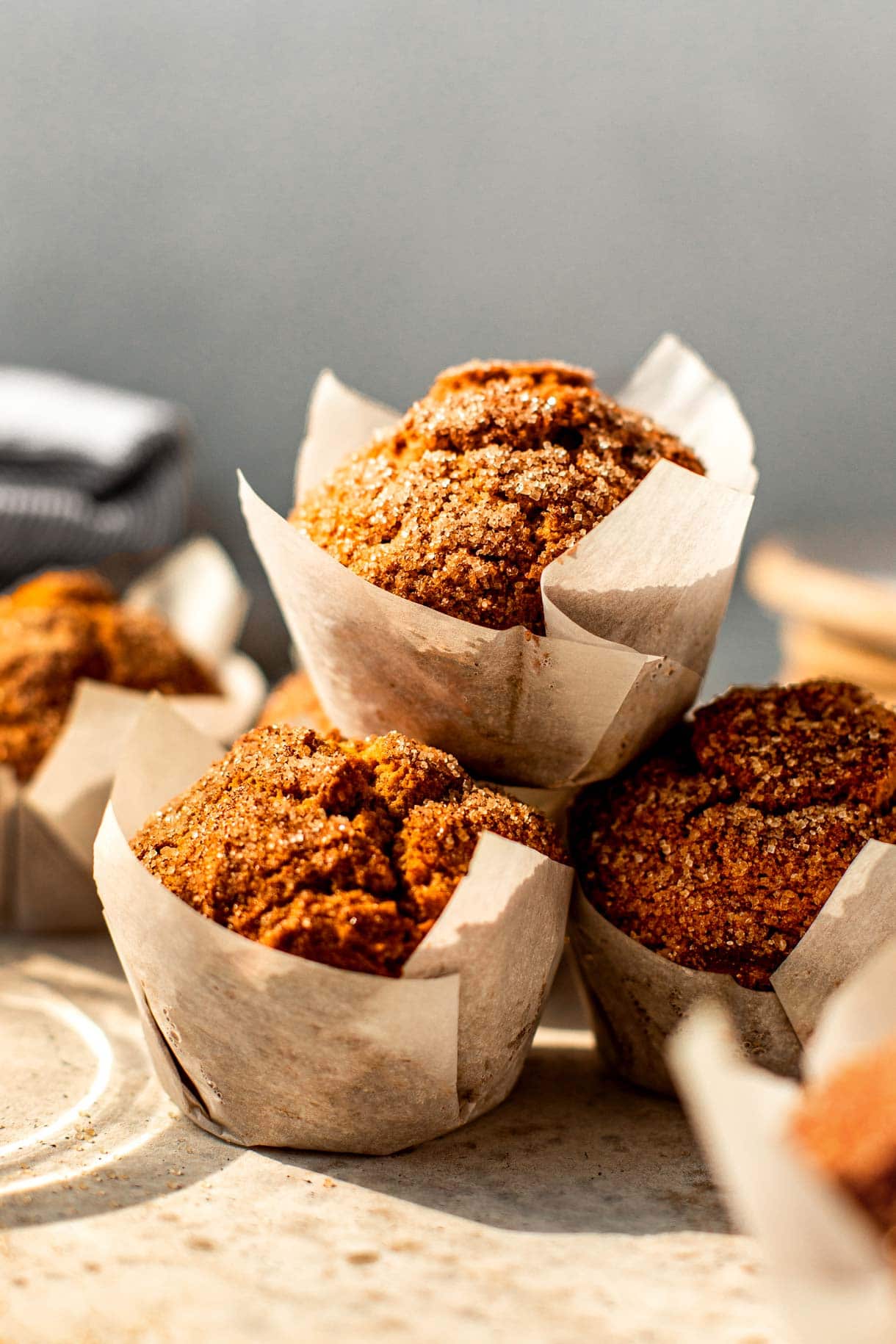 I love a good, bakery style muffin. Tall and lofty with perfect tops, moist and delicious.
Can it be done gluten-free? You bet it can. Starting with these tender and plush gluten-free pumpkin muffins with a crisp cinnamon sugar lid, my new fall anthem (along with gluten-free pumpkin cookies).
The flavor of these pumpkin muffins is outstanding, highlighted by cinnamon and cardamom (no pumpkin spice here!), and just the right amount of sweet. A combination of oil and melted butter, along with the moisture from the pumpkin gives them a swoon-worthy tender crumb. And they're so easy to make, no mixer needed.
Ingredient Notes for Gluten-Free Pumpkin Muffins
Bob's Red Mill Gluten-Free 1-1 Flour (in the blue bag): This is my preferred gluten-free all-purpose blend. It gives baked goods such a great texture and doesn't add off putting flavors. It's also easily accessible and affordable; you'll find it in most grocery stores. I also like Cup 4 Cup Gluten-Free All Purpose Flour.
Oat flour: I love using a bit of oat flour in gluten-free baked goods because it adds a toasty, nutty flavor. It's also inexpensive or you can even make your own.
Pumpkin puree: Use pure pumpkin puree for this recipe, not pumpkin pie filling. We'll add our own combination of spices.
Sunflower oil: This neutral oil, combined with the pumpkin, makes these muffins incredibly moist. If you don't have sunflower, canola or grapeseed oil will also work.
Warm spices: A combination of cinnamon and cardamom adds flavor depth and warmth, without overtaking the pumpkin flavor.
The Secret to Making Tall Gluten-Free Muffins
This recipe uses a few tricks to make the muffins tall and lofty like you'd expect from a bakery!
Resting the batter for 30 minutes to an hour allows the flours to absorb some of the moisture, giving the structure needed to result in tall, domed muffins.
Rather than filling each muffin tin, leaving one open muffin cup in between allows the muffins to have enough room to expand and achieve beautiful round tops, along with better air circulation for even baking.
Fill the muffin cups liberally. Most people are used to making cupcakes, where you only fill the cups 2/3 full. With muffins, you want to fill the cup all the way, mounding just slightly above the lip.
Cinnamon Sugar Topping
These pumpkin muffins are so soft and moist on the inside with the perfect contrast: crunchy cinnamon sugar tops! You may be tempted to forgo this last step in attempt to cut the sugar, but trust me when I say you really don't want to.
You'll mix cinnamon and sugar together, then sprinkle on top before baking the muffins. What results is the perfect pumpkin muffin top, that glistens and crunches.
Why I use weight measurements instead of cups for gluten-free baking:
When it comes to baking, weighing your ingredients is much more accurate than using volume measurements like cups. If you've ever had a cake turn out too dense, too wet, or anything other than expected, it could because of how you measured your flour. Not everyone uses a measuring cup the same way, and not every flour weighs the same amount.
And you save so many dishes! Each time you're ready to add an ingredient to the bowl, you just tare the scale and pour it in. Done and done. A regular food scale will do the job and they are very affordable.
Best Way to Store Leftover Muffins
I have found that storing muffins in the refrigerator in a sealed container or plastic bag lined with a paper towel to help capture extra moisture that may form on the top of the muffins, while ensuring the muffins stay fresh. When you'd like to eat one, reheat an individual muffin in the microwave for 15 seconds and they'll be just as delicious as the day you made them.
Muffins also freeze extremely well. Line the muffins on a baking sheet and let them freeze individually, then put in a freezer safe bag. When you want to eat one, take out of freezer bag and reheat for 30-45 seconds in the microwave, or until the middle is warm.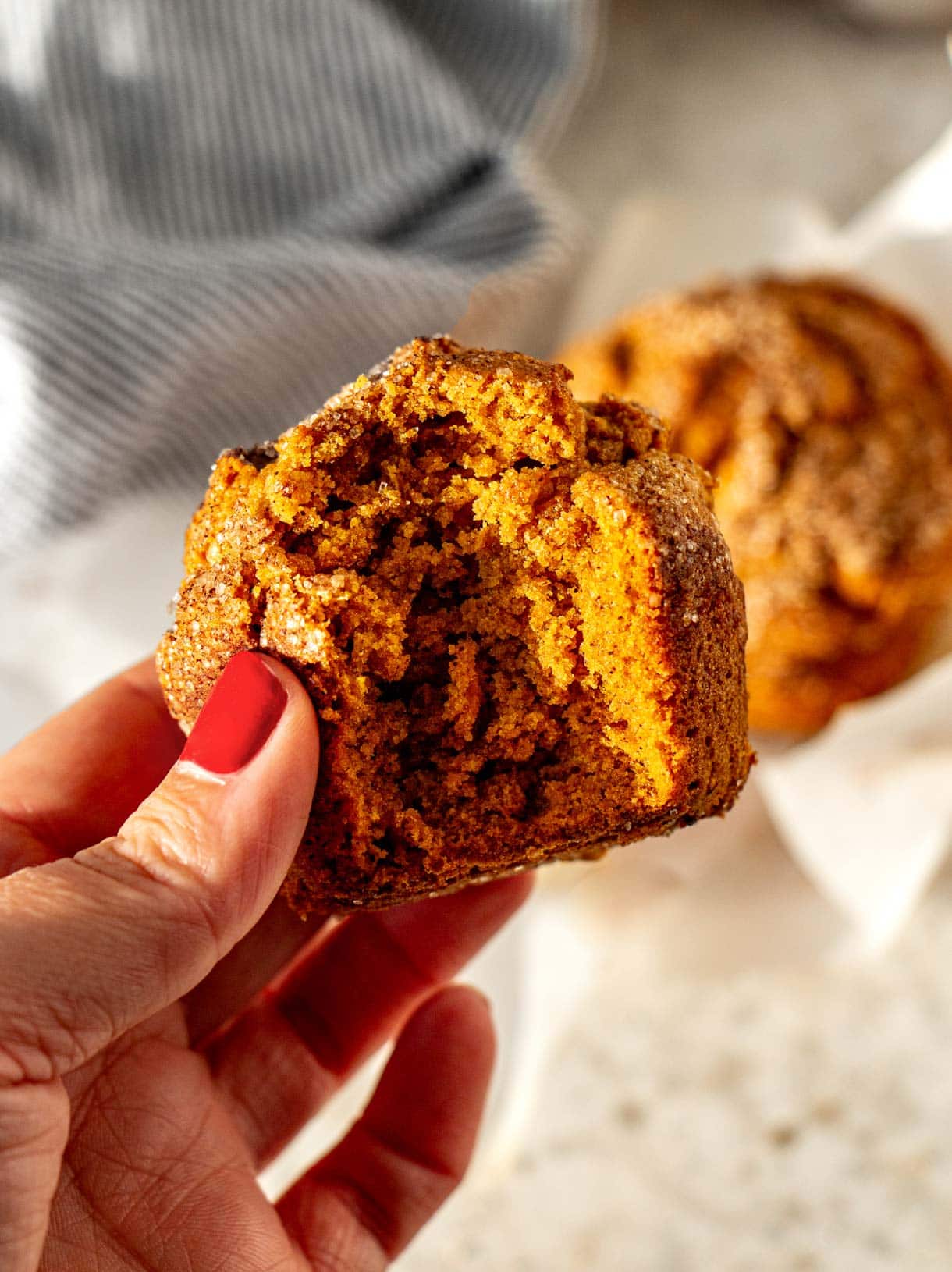 More Pumpkin Recipes: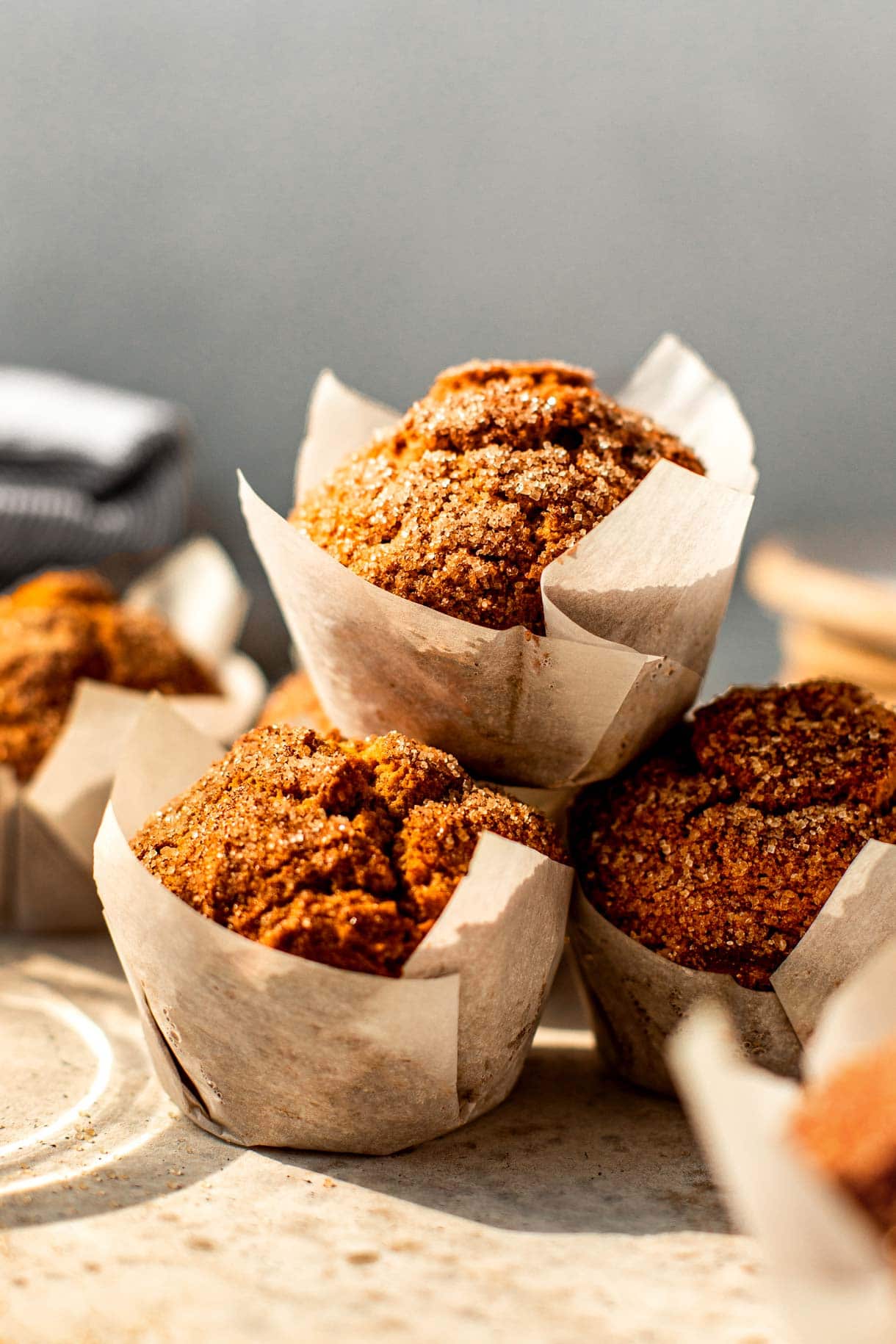 Whisk flours, sugars, salt, spices, baking soda, and baking powder together in medium sized bowl. Then whisk egg, pumpkin, butter, oil, and vanilla together in a medium bowl.

Make a well in the dry ingredients and pour the wet into the middle, then stir, scraping bottom of bowl, with spatula to combine, until no streaks left. A few small lumps are okay.

Let batter sit, covered on counter for 30 minutes to an hour. While batter is resting, preheat oven to 400 degrees F.

Place muffin liners in 12 cup muffin pan, leaving one open hole between muffin liners, or you can liberally grease cups and top of pan. You want to leave the cup next to a muffin cup you fill empty so that it has some room for the muffin to rise. Fill batter to just about top of each muffin cup, you should get 6-7 muffins. (The batter may be thicker than you are used to for muffins, and that is okay, its intentional.)

Mix cinnamon sugar topping in a small bowl and use a spoon to place a scant two teaspoons of cinnamon sugar on top of each muffin (do not skimp on this). Bake at 400 degrees F for 21-23 minutes, until toothpick inserted into middle of muffin comes out with no wet batter, a few moist crumbs is good.

Let cool on a cooling rack in the muffin tin for 10 minutes, then remove muffins and let fully cool.
Photos by Meg McKeehan